Thai Turkey meatballs are one of those things that you simply have to try! Traditional meatballs are a thing of the past because who can simply resist those lovely Thai flavours infused with the meat?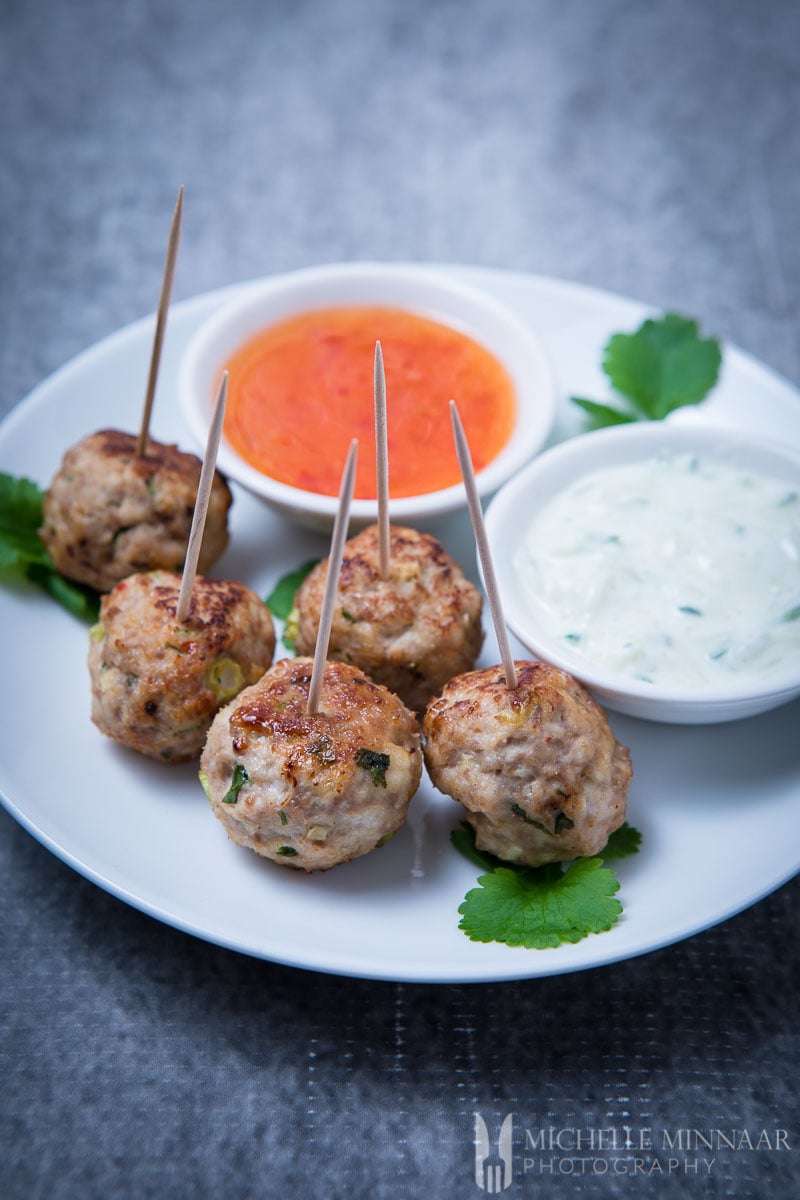 The meatball canapé is a wonderful starter served with your side dip of choice, but you can also serve it as a main if you double up on portion size.
Dare to try these with your kids and turn cooking these turkey meatballs into a fun family activity. Not only will you get your kids excited about cooking, but you'll teach them how to get creative. With so many helping hands cooking will be done faster too!
Turkey mince for turkey meatballs
The British are no strangers to cooking turkey Christmas. Other than that turkey isn't eaten very often. Here's an excellent way to make use of turkey mince.
You'll need 500g (1lb) skinless turkey breast and 500g (1lb) deboned, skinless turkey thigh. If you only have turkey breasts or turkey thighs, that's also okay.
As you know, I am always a fan of making my own stocks and everything from scratch. Therefore, turkey mince for these turkey meatballs in no exception.
Mince the thigh and breast together. Personally, I like meat more coarse in texture for meatballs. One thing you do need to keep in mind when cooking with this recipe is that turkey is naturally a dry meat.
This is because it is very lean and there is little fat content to keep it moist. Therefore, I urge you to add a little bit of water into the mix, just for a bit of moisture.
It will also help the ingredients and Thai flavours to bind together better. That's another reason why it's a good idea to mix in some thigh meat; for more fat and flavour.
Substitutions
The best substitution for turkey is to use other types of white meat such as chicken. You can also use quail or pheasant, but these would be rather expensive alternatives.
The chicken won't be a problem to source and it will be a tad juicier than the turkey due to its higher fat content. Chicken has a similar texture to that of the turkey, so transforming the chicken into meatballs won't be a challenge.
Other meat alternatives include using beef mince for traditional meatballs. Of course, being a multitasker, when I make beef meatballs, I always go for two types of dishes.
The first one is to create meatballs on their own for my kids. The second, I always spare a few of them for making my beef meatballs in a creamy red wine sauce dish, which is a very sophisticated dish.
Also, I have a very nice canapé recipe called BBQ meatballs using beef, which is really popular at dinner parties.
Lastly, people often forget this ingredient, but lamb meatballs takes the cake. Due to lamb's high fat content, these types of meatballs are very juicy. Often seen in indian cuisine as 'koftas', you too can try a delicious lamb dish such as the malai kofta gosht.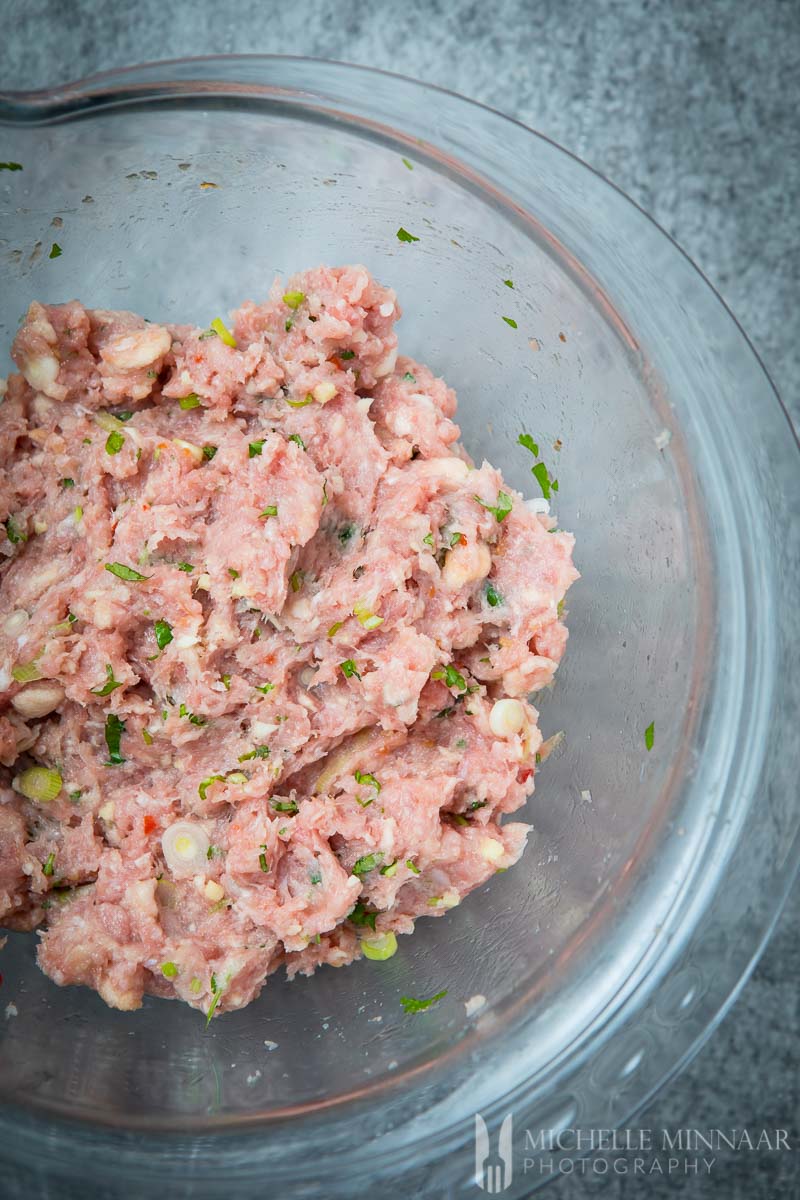 Thai flavours
Thai flavours comprise spring onion, ground and fresh coriander, diced ginger, garlic and fish sauce. If you also like chilli, then please feel free to add freshly chopped Thai chilli for a bit of a kick. Just remember not to serve these to your kids.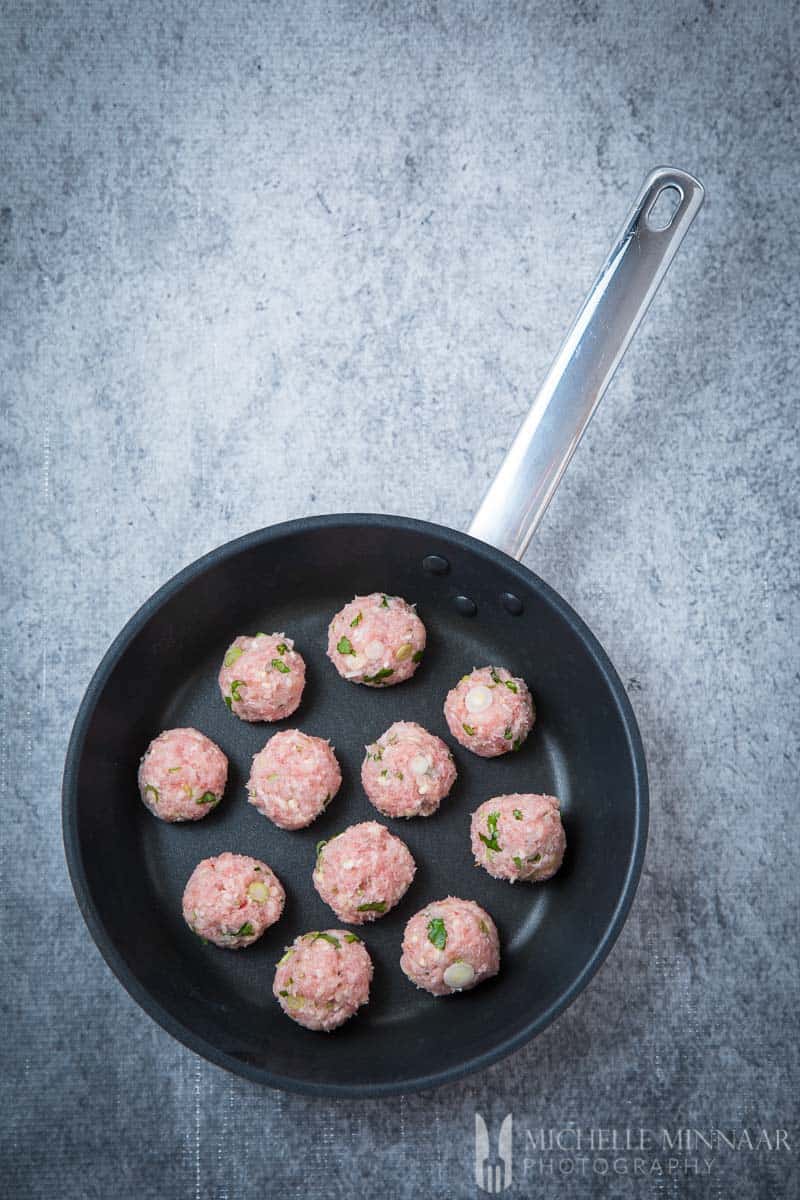 Fish sauce
When I started cooking Thai, I was also very worried about cooking with ingredients such as oyster sauce, shrimp paste of fish sauce. Mainly because of their smell.
However, I tried many versions without using these at first, and believe it or not, but the end result was never the same. As a former anxious cook using these Thai ingredients, I urge you to not leave them out in your cooking.
They are are essential part of authentic Thai flavours. Plus, you won't detect these strong flavours at all once you cook the turkey meatballs.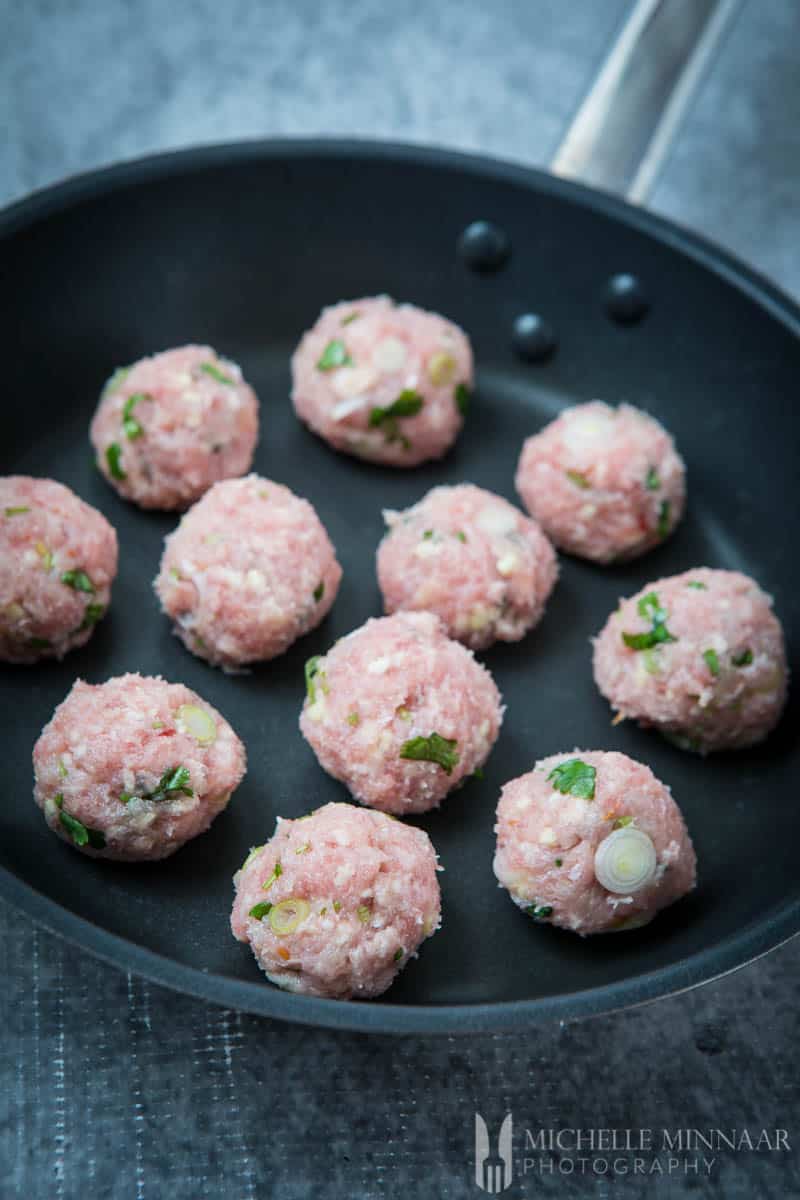 Vegetarian versions
Who said you need to make Thai turkey meatballs? You can easily turn this recipe vegetarian-friendly and please some of your vegetarian guests. Since I am in the process of turning vegetarian so I feel obliged to mention a vegetarian alternative to this amazing Thai starter.
An excellent substitute to turkey are lentils. Use the lentils in the same way as I did my lentil falafel with lime yogurt recipe. Lentils are not too strong and will not overpower the Thai flavours.
You can also opt for a sweet potato and mung bean base, as I did with my sweet potato and mung bean falafel.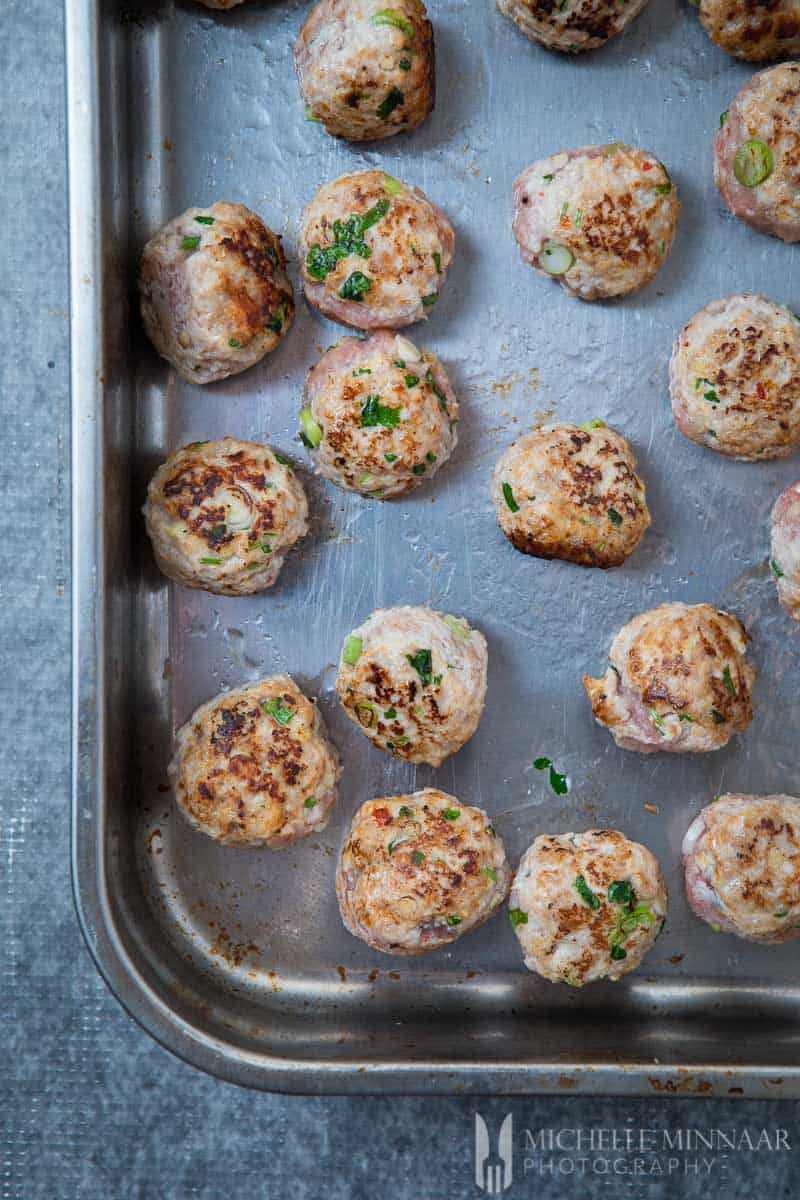 By the way, have you though about cooking the meatballs with an air fryer? Just take a look at my air fryer meatballs recipe.
Serve them with Dips
The best dip for these Thai turkey meatballs is my chilli and lime yoghurt dip. Not only will you counter the dryness of the turkey meat, it's a very complementary flavour combination. 
You can also try making a coriander chutney, although it is better suited for Indian dishes. Regardless, you can serve the turkey meatballs with a sweet chilli sauce.
If you're looking for more canapé ideas, you simply have to try stuffed cherry tomatoes.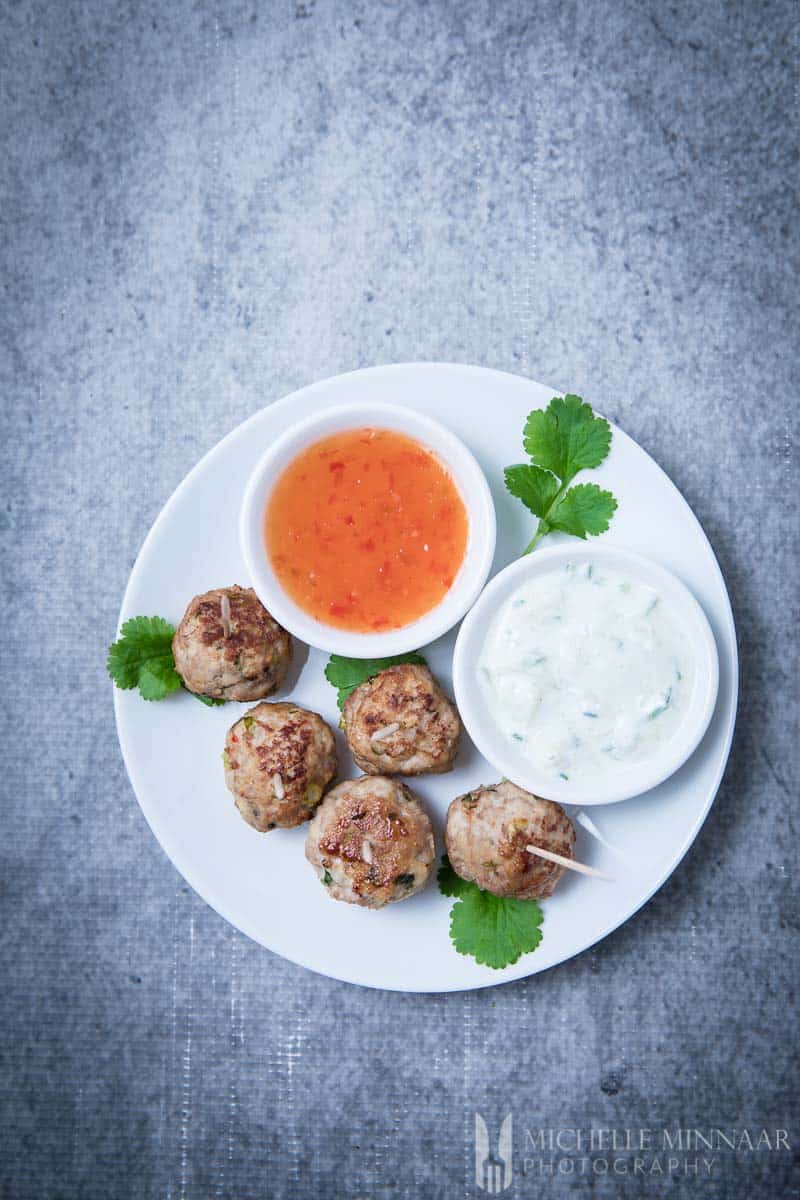 Play around with the shape
One variation of this turkey meatball recipe is forming them into flat discs or patties. The end result will be creating Thai turkey burgers. If you are not sure of the shape, then just take a look at my chana tikki for inspiration.
Inspire yourself with an Indian version by omitting the Thai spices and using Indian spices indeed, such as as cumin, garam masala, turmeric, etc. Enjoy!
What is your favourite meatball recipe?
Print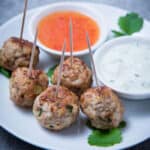 Baked Thai Turkey Meatballs
---
500g

(1lb) skinless turkey breast

500g

(1lb) deboned, skinless turkey thigh

250

ml (1 cup) fresh breadcrumbs

4

spring onions, washed and finely sliced

2.5

cm (1in) fresh ginger, peeled and finely minced

5

garlic cloves, peeled and crushed

15

ml (1 tbsp) fish sauce

15

ml (1 tbsp) ground coriander

250

ml (1 cup) fresh coriander, washed and chopped
---
Instructions
Preheat the oven to 200C/400F/gas mark 6.
Mix the mince and breadcrumbs in a large bowl.
Add the spring onion, both corianders, ginger, garlic and fish sauce and mix well.
Using damp hands, form the mixture into evenly shaped balls 4cm (1 1/2in) in diameter.
Heat the oil in a large non-stick frying pan and cook the turkey balls over high heat until browned all over.
Drain well on paper towels and then place them on a baking tray and bake for 15 minutes or until cooked through.
Notes
Chicken mince can be used instead of turkey.
You are welcome to keep the fat content of the meatballs low by using solely breast meat but might risk the balls being on the dry side. That's what dipping sauce is there for though!
Stumped about the breadcrumbs? Use 2 slices of white bread and blend to crumbs in a food processor.
One variation for this recipe is shaping the meatballs into flat discs instead and make some burgers!
Prep Time:

20 minutes

Cook Time:

40 minutes

Category:

Starter

Cuisine:

Thai
Nutrition
Serving Size:

1 serving

Calories:

242

Sugar:

2.1 g

Sodium:

1246 mg

Fat:

6.6 g

Saturated Fat:

1.5 g

Carbohydrates:

18.1 g

Fiber:

1.2 g

Protein:

26.9 g

Cholesterol:

76 mg
save the recipe to your pinterest board