This venison steak marinade has the ability to turn any steak recipe into a high-end restaurant quality meal. So, make this simple marinade for your gourmet venison steak recipe. You can marinate the steak from a minimal few hours up to 24 hours. This way the steak has the chance to tenderise. Enhance the marinade with your favourite deer steak seasoning. The venison steak marinade is very versatile and can be used for other game recipes as well as lamb. The end result is a juicy and tender venison steak. Pair it with root vegetables for beautiful earthy flavours as well as a creamy mash. Best enjoyed with a full-bodied red wine from a region that has lots of sun!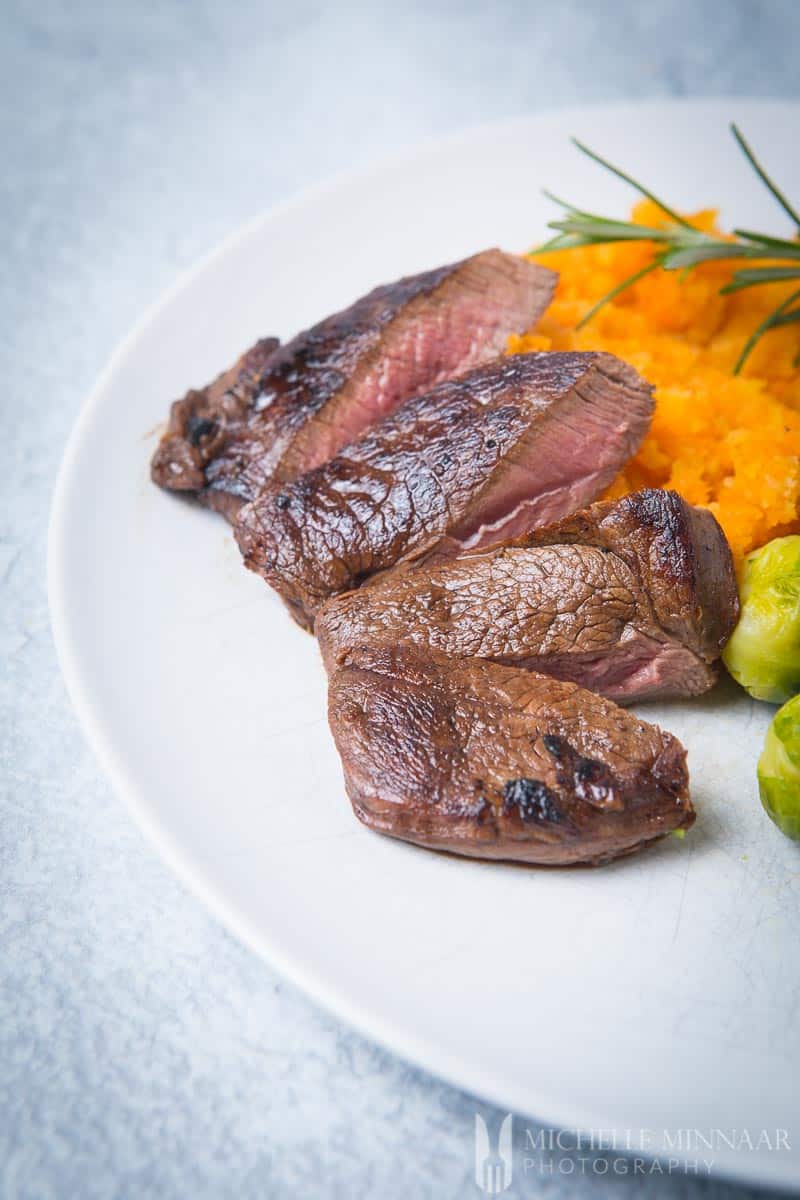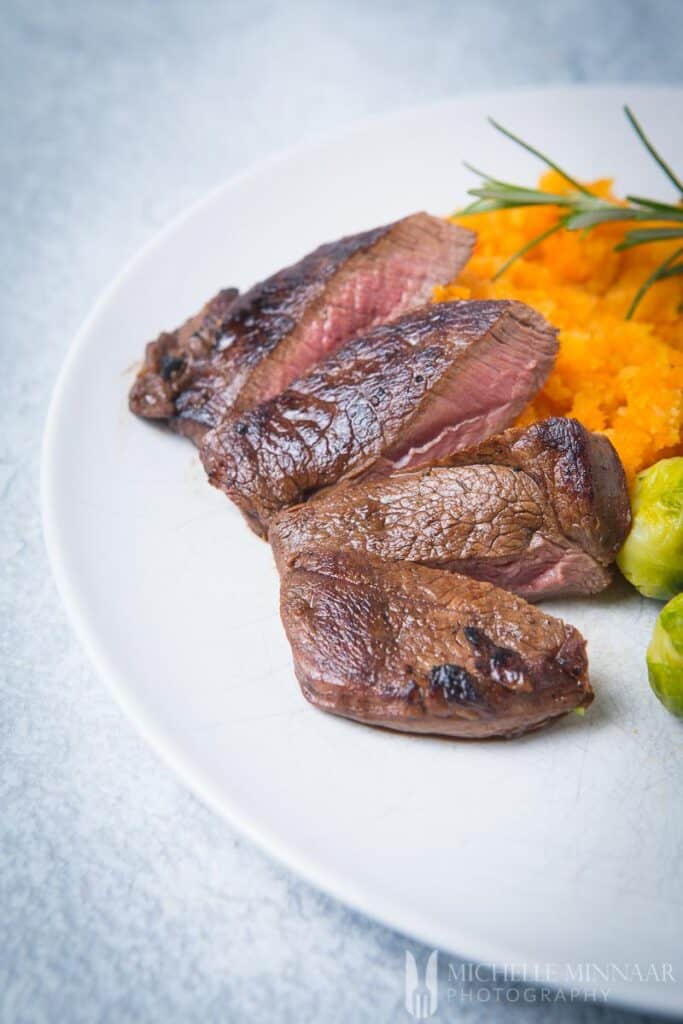 easy venison steak marinade recipe
Replicate this tasty venison steak marinade recipe with simple yet striking ingredients. All you'll need are the basics, including onion and garlic. Next, the balsamic vinegar adds a distinctive acidity to the marinade and lifts the dish up. Also, make sure to get your hands on juniper berries which resonate with a lovely pine flavour. Juniper berries are very specific. So specific. in fact, that these berries are an integral component of gin. You'll be able to source all of these ingredients in the supermarket. Hence, this venison steak marinade seasoning is inexpensive.
 venison steak marinade – balsamic vinegar
One thing I've learned while cooking amazing gourmet meals is that the quality of ingredients can make or break a dish. You don't necessarily have to purchase extremely expensive ingredients to make gourmet meals. However, freshness and authenticity are the key elements that count. For example, a vibrant fig salad will always taste much better if you drizzle it with fresh olive oil from Italy.
The same goes for balsamic vinegar. If you ever taste high-quality balsamic vinegar, you'll know the difference straight away. Hence, whenever I cook with balsamic vinegar, I always strive to use one from the Italian delicacy store. Honestly, in terms of price point, it's not very different to the one you find in the supermarket.
Trust me on this. The good quality balsamic vinegar will make all the difference in the world. Besides, you're more likely to enjoy the rest of the balsamic vinegar in fantastic summery salads.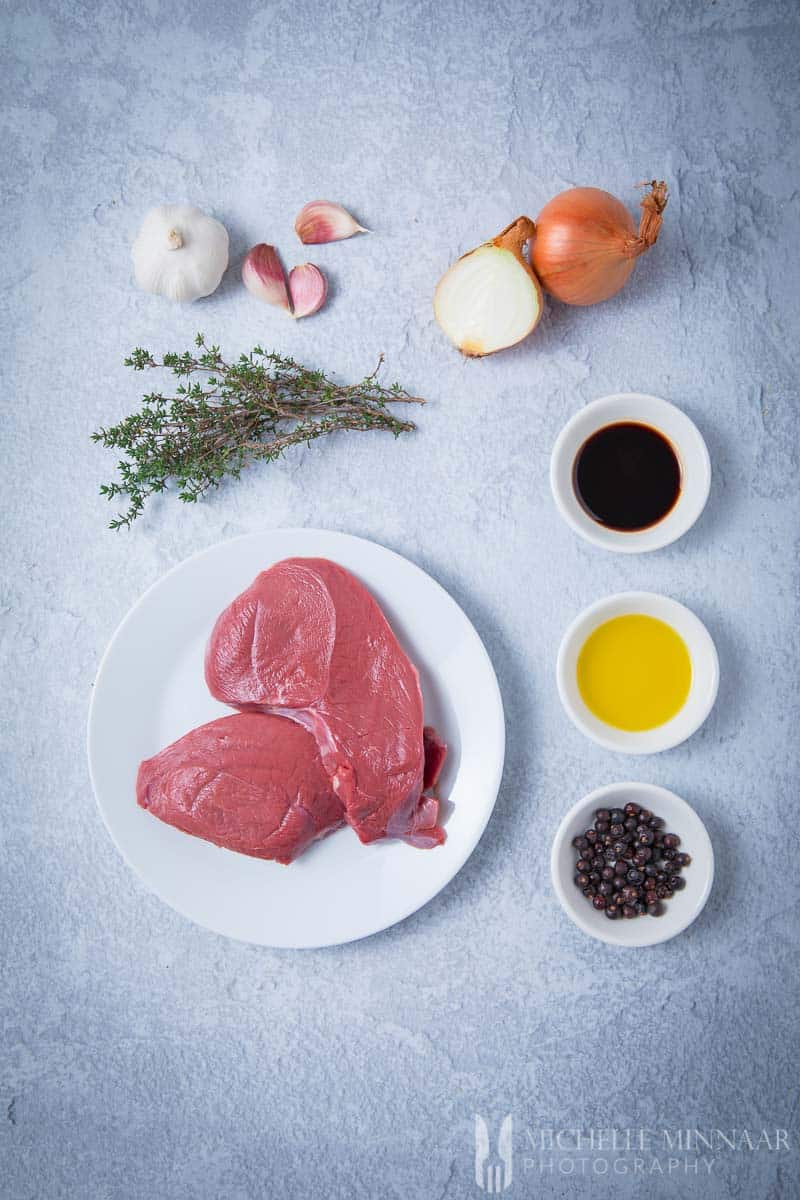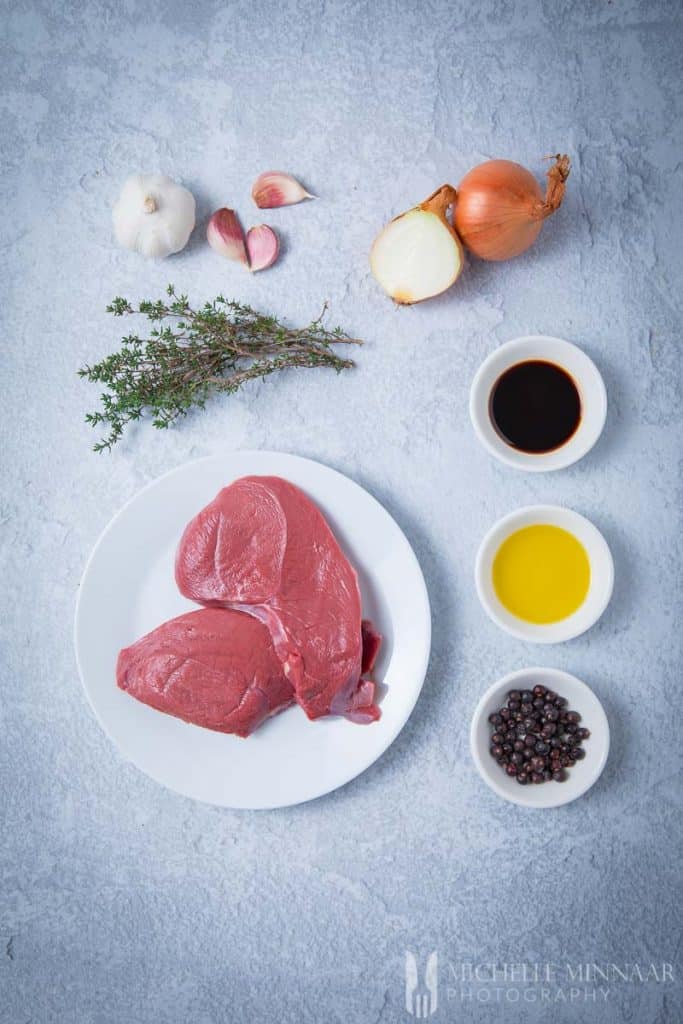 easy venison marinade
I've taken the commitment towards becoming a vegan via a step-by-step elimination approach. Last year, I gave up eating pork. By the end of this year, I am going to say goodbye to venison, which will be a sad undertaking as I love the taste of venison. Wish me luck!
Venison is truly a beautiful ingredient. I've cooked with various cuts of venison. For example, I've already made a stunning venison steak recipe with a glossy blackberry sauce. You can also reuse leftover cuts of venison steak and turn them into little venison kebabs. Otherwise, you can try purchasing some venison sausages and make a rich venison sausage casserole.
I've also made venison chilli which is a twist on the classic beef chilli recipe. So, as you can see, I love making delicious venison recipes. This venison steak is no less gorgeous, but the secret here is the venison steak marinade.
venison steak marinade variations
Let's talk about substitutions to the key ingredients that make up the marinade. This way, you can enjoy a bit of variation. Perhaps, you might even enjoy the other ingredient more and spin this recipe in your own direction.
balsamic vinegar
One of the best substitutes for balsamic vinegar is lemon juice, just because of its acidity. You can also opt for red wine vinegar. Also, put a dash (a glass) of red wine into the marinade mix. Just use the red wine you plan to enjoy when you serve the steak. The wine will give the marinade as well as the meal a nice depth.
If you do decide to go for a splash of wine, you can also add forest fruit for more flavour. Blackberries, blueberries or cranberries work well with venison.
juniper berries
Rosemary is the closest substitute to juniper berries. Plus, rosemary pairs so well with venison. Careful with the rosemary, though, as the essential oils can be bitter and overwhelm the dish. Feel free to use other herbs like thyme.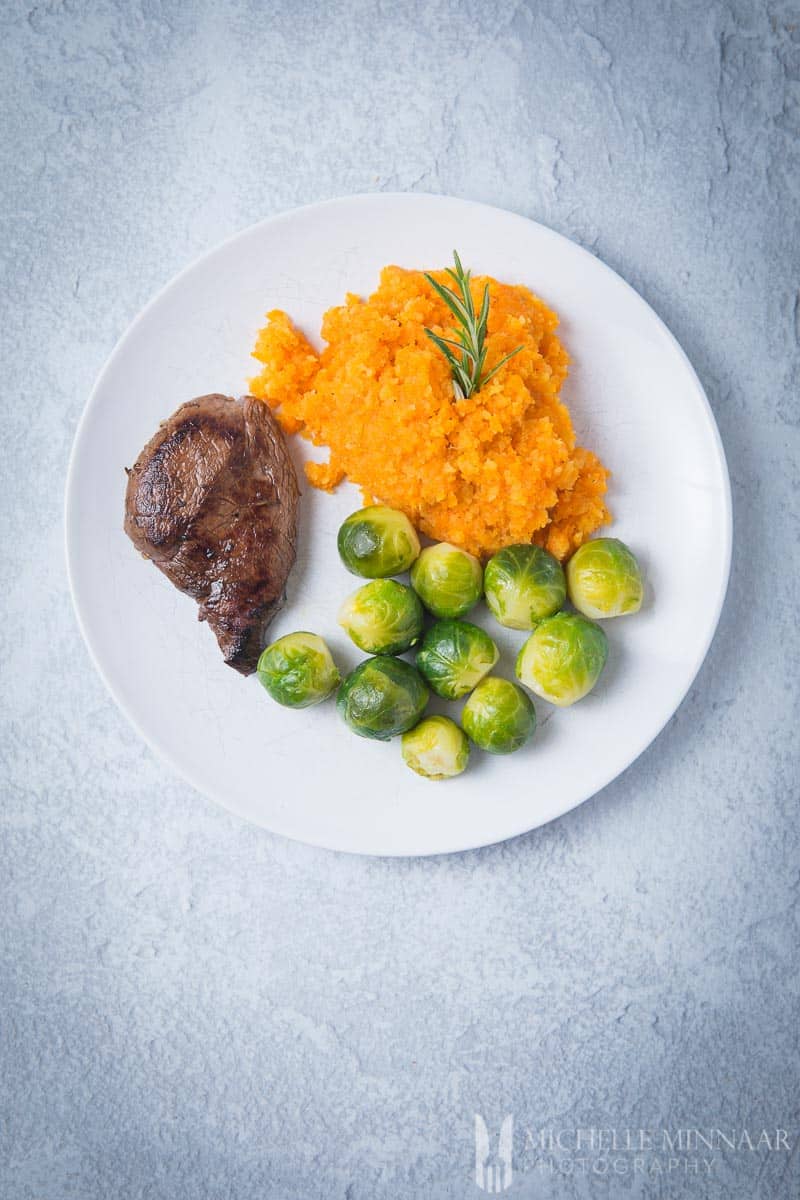 venison steak marinade on creamy mash
One thing I adore is a creamy mash with a rich marinade or gravy. What better way to pair this venison recipe than with a traditional roasted sweet potato mash? A lighter option is this amazing and luscious vegan cauliflower mash that pairs with anything! The sweet tones from the cauliflower will enhance the umami flavour of the venison.
Most importantly, if you are expecting a large company for dinner, then feel free to make these roasted sides:
roasted Jerusalem artichokes – they release a nutty yet creamy flavour. You can also mash them!
roasted carrots – earthy and sweet flavours. Best with a bit of char and a drizzle of butter.
simple roasted asparagus – earthy and tangy notes to cut through the full flavour of the meat.
carrot and turnip mash – a very light mash which you can eat guilt-free!
carrot swede mash – a combo of two amazing ingredients.
So, which side dish will you choose?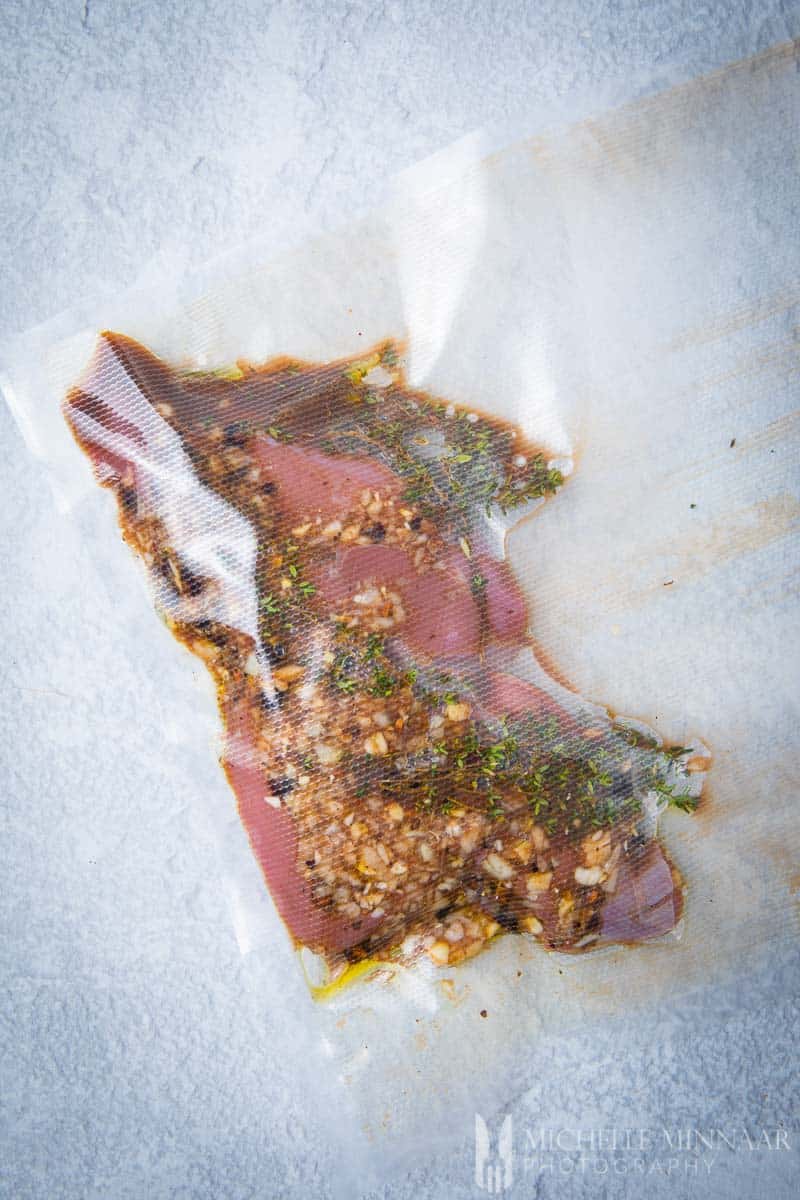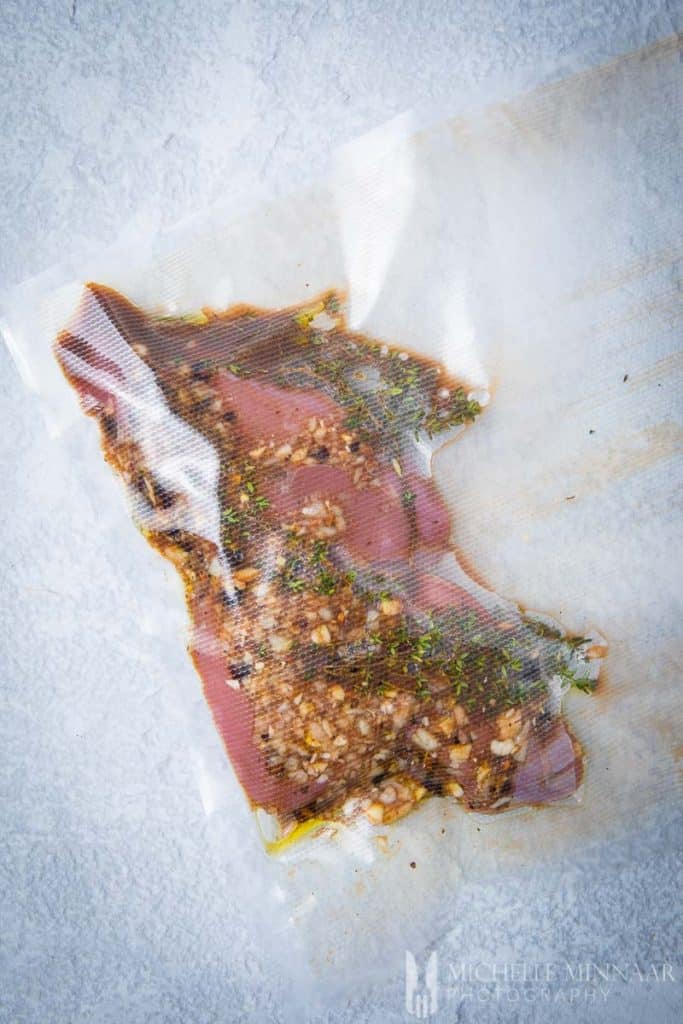 wine pairing with venison steak
For an extra special dinner, pair up the venison steak with beautiful red wine. Especially mature wines from Bordeaux are excellent for venison steak. The well-balanced body that comes from cabernet franc and cabernet sauvignon, complements the venison steak well. Subtle notes of black fruit, tobacco and vanilla go well with the delicate flavour of venison. Or, try a pinot noir from Oregon.
These typically have bolder flavours of vanilla. That's due to the American oak casks, which gives an earthiness that suits venison steak to a T. Whatever you choose, be careful not to use too heavy a wine. For instance, an Italian Amarone with high alcohol levels and flavours of dried fruits will easily take over. It will simply drown out the delicate flavour of the venison steak.
Print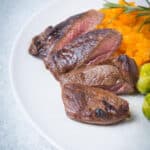 Venison Steak Marinade
---
Description
This venison steak marinade can turn any venison steak recipe into a gourmet steak meal. Make the steak marinade your own and pair the venison with a mash.
---
1

onion, peeled and finely diced

2

garlic cloves, peeled and crushed

60

ml (4 tbsp) olive oil

30

ml (2 tbsp) balsamic vinegar

10

ml (2 tsp) juniper berries, crushed

2

sprigs of thyme, washed

1.25

ml (

1

/

4

tsp) ground pepper

2

venison steaks
---
Instructions
Mix all the ingredients in a bowl then pour into a sealable plastic bag.

Place the steaks inside and ensure that the marinade covers all surfaces of the steak. Marinate for at least 2 hours but preferably overnight.

Remove the steaks from the marinade and dab them dry.

Cook the steaks to desired doneness and serve immediately.
Prep Time:

10 minutes

Cook Time:

10 minutes

Category:

Main Course

Cuisine:

Scottish
Nutrition
Serving Size:

1 serving

Calories:

403

Sugar:

2.4 g

Sodium:

53 mg

Fat:

30.6 g

Saturated Fat:

5.1 g

Carbohydrates:

7 g

Fiber:

1.6 g

Protein:

26.4 g

Cholesterol:

75 mg
save the recipe to your pinterest board