This watercress salad, with its robust flavours and a combination of beautifully paired ingredients, makes this a stand out dish. The best part of all is, that it only takes ten minutes to prepare!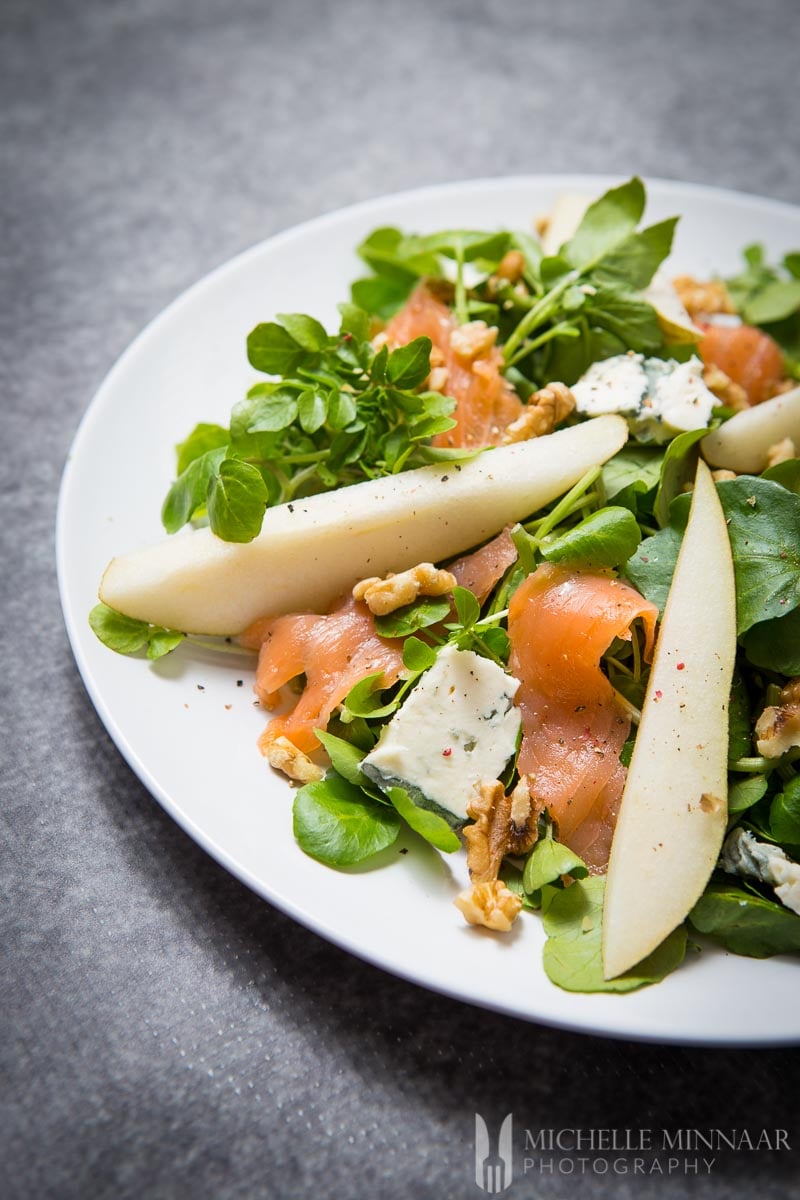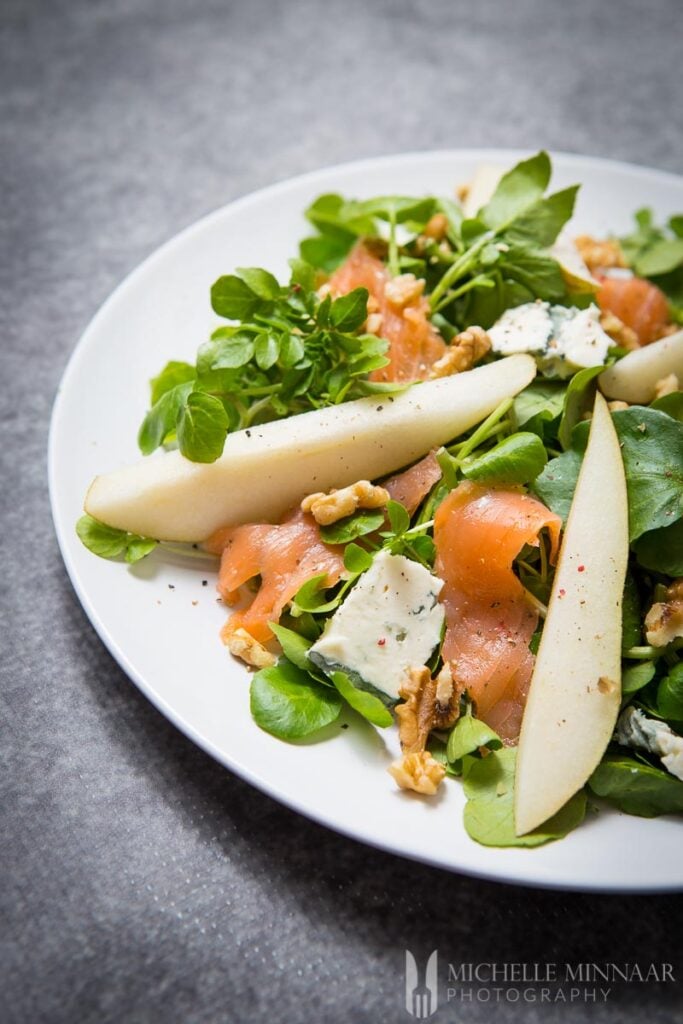 It's a sophisticated dish, excellent for dinner parties and impressing your guests. You won't have to worry about cooking and having the time to prepare everything in advance with your busy working schedule.
It's best enjoyed on a terrace with friends or family, coupled with a bottle of a nice French white wine.
What is watercress?
Watercress by definition is an aquatic plant that likes to grow in moist environments. Its leaves are picked and used for salads or soups. For more information on where you can purchase watercress and how to grow it, click here.
History of Watercress up to 1800's
Watercress can be traced back all the way to Ancient Greece and the Holy Roman Empire. Romans used to call watercress 'nasturtium', which is translated into 'twisted nose'. How funny is that?
In 400 B.C., the famous Greek physician Hippocrates grew watercress himself and used it for medicinal purposes. He firmly believed that it could cure blood disorders and blood clots.
Did you know that watercress was also one of Napoleon's favourite plants? Perhaps these people knew something about watercress that we don't.
Watercress eventually came to England in the early 19th century during the Victorian period. It was introduced in the stalls of Covent Garden Market.
The Watercress Queen
Who was the watercress queen? A lady, named Eliza James, was nicknamed the Watercress Queen due to her significant role in the watercress industry.
With great talent and determination, she became the sole watercress supplier in London and had a monopoly in Britain! She supplied only the best hotels and restaurants.
It was later rumoured, that lady Eliza James became the largest watercress farm owner in the world. She is remembered today for her significant presence at the Covent Garden Market, selling watercress.
Watercress in the 20th century
During the two world wars, watercress was the ingredient of choice for most households as there was a large food shortage. Watercress was easy to come by.
Tea-time always included watercress, bit of vinegar and a piece of bread. After the war, watercress popularity decreased rapidly.
It became known as a garnish rather than a separate food. Hotels and restaurants used it as toppings for soups and steaks to make their dishes more elegant. Today, there is an attempt to bring back watercress to Britain to regain its glory as the hero of the dish.
History of smoked salmon
In the past, people used the smoking technique to prepare food to be stored for the whole duration of the winter season. This would make the fish last longer.
Smoking salmon first showed up in the Middle Ages. Back then, smoked salmon was cooked during celebrations. Today, it is perceived as a key component of our diet and is accessible in any supermarket.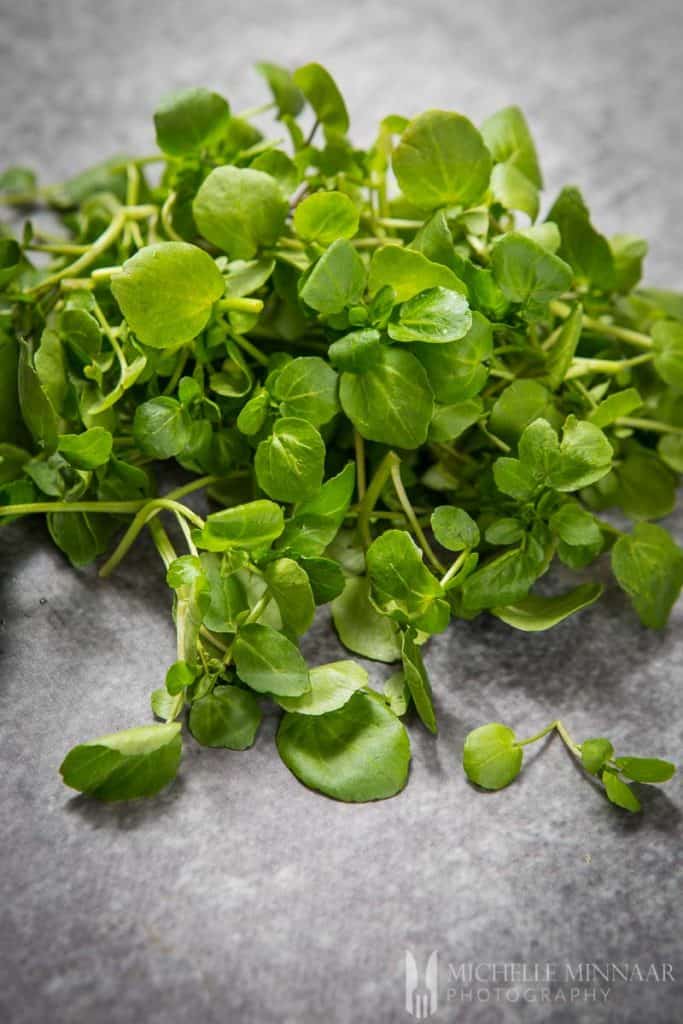 Smoking
Before the salmon is smoked, it needs to be cured. There are two types of cures that can be used: wet cure or a dry cure. The salmon that you purchase in the supermarket undergoes a wet cure with a salt solution.
Once the curing process is complete, the smoking process can begin. The salmon will be smoked depending on its size. The most popular smoking method for today's salmons is the cold smoking technique.
It gives the salmon a subtler smoky taste than the one obtained from the hot smoking technique.
Blue Cheese
Blue cheese works great against the sweetness of the pear. People are generally scared to eat the blue cheese due to its moldy appearance.
Don't worry, blue cheese tastes great and the mold is not harmful in any way! For this recipe, I suggest you pick between these two most popular types of blue cheeses:
Gorgonzola – origins in Italy and made from cow milk.
Roquefort – origins in France and made from sheep's milk.
Which one do you prefer? Make sure you leave a comment!
Pears
I love using pears in watercress salads There is nothing more delicious that a sweet ripe pear that taste of honey sweet flavours. Pears have a high fiber content and are great for people who suffer from diabetes.
Other fruits
If for some reason, you don't like the texture or taste of pears, you can also use the other fruits. You can use any fruit that is sweet enough to cut through the salty nature of the blue cheese.
Pair these fruits with the watercress salad and smoked salmon:
Dates – these are probably the sweetest out of the mentioned fruits.
Dried cranberry – slightly more bitter.
Figs – these would go great with a honey mustard dressing.
Nuts
Nuts are an excellent source of proteins and omega-3 fatty acids. I don't like using too many nuts in this recipe. You should just grab a handful to lend a crunchy texture to this dish.
Substitutes
If you are not a fan of smoked salmon or blue cheese, why don't you try the watercress salad with goat cheese? It is one of my favourite cheeses to use in salads and it would work very well with pears or figs, combined with honey.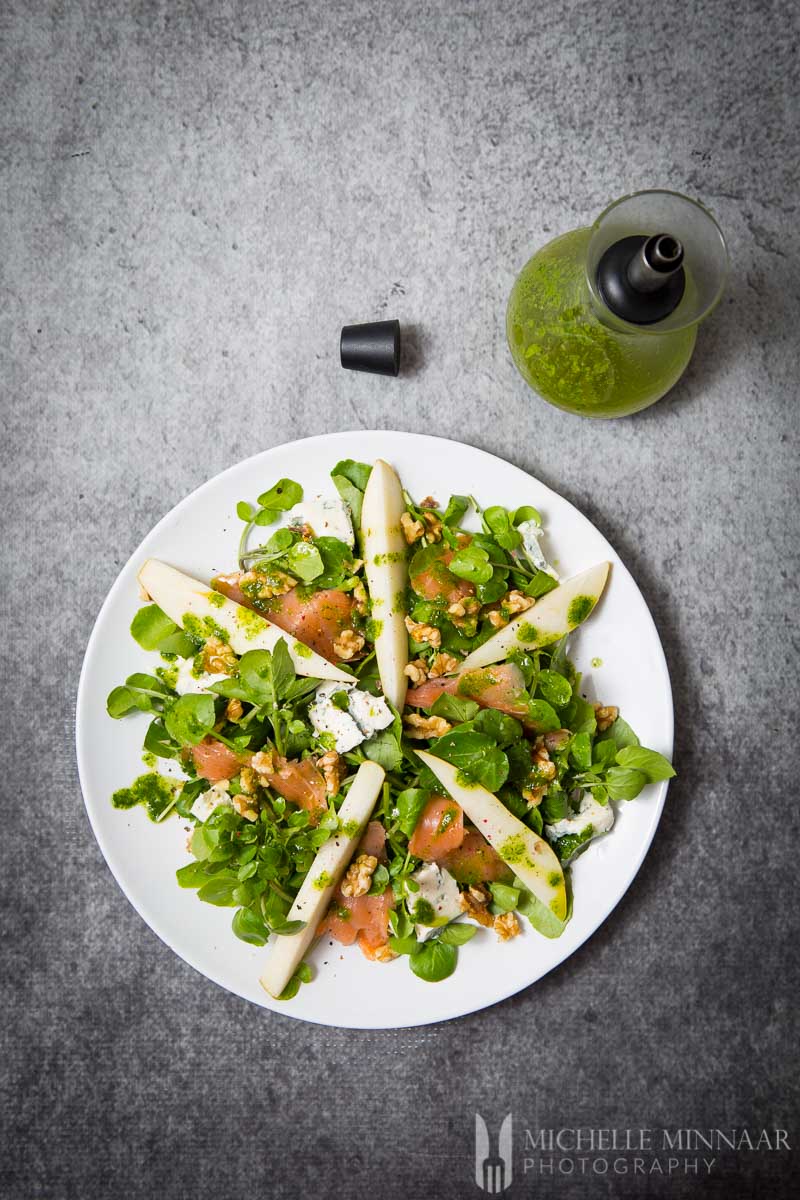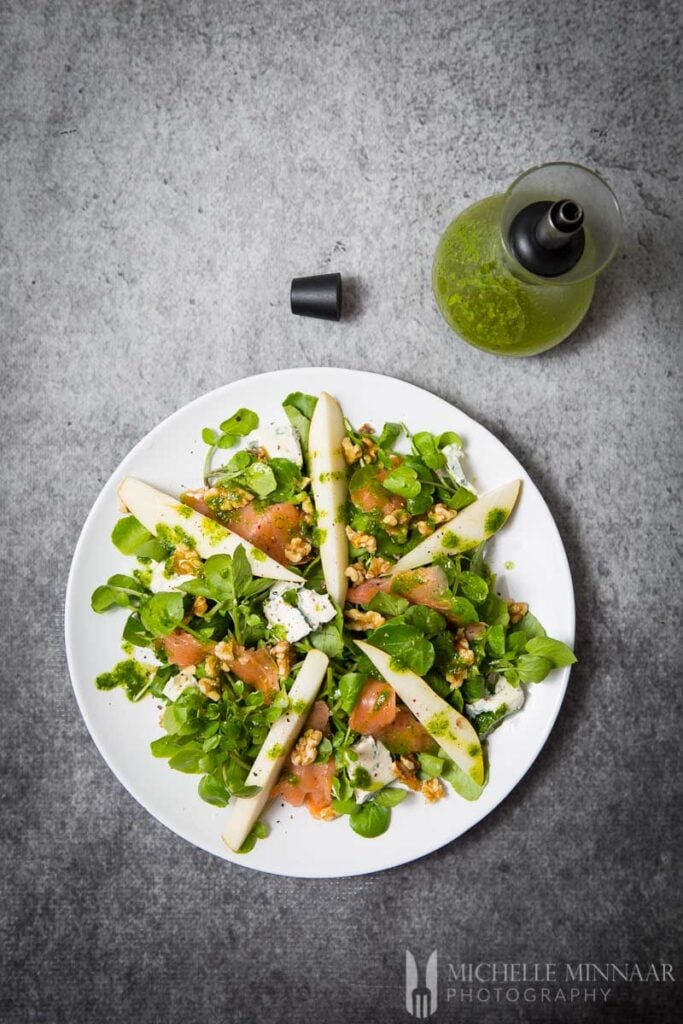 Salad
The great thing about watercress salad with smoked salmon is that it's versatile. You can use any type of salad you want for this recipe. I also like to use rocket salad or a mixed garden salad.
Dressing
My favourite type of dressing for this watercress salad is the honey and mustard salad dressing.
You can also use:
Watercress salad dressing – it's vegan, yummy and healthy.
Simple balsamic and olive oil dressing – this classic dressing is always great!
Olive oil – sometimes simplicity is key.
Wine
Enjoy this delightful dish in the company or friends or family, and make it even more enjoyable, by pairing it up with a nice white wine. I would recommend a white wine from the southern Rhone Valley in France, where the whites are commonly based on the grape variety Viognier.
These wines go into somewhat sweeter, more perfumed flavours, that will accompany the dish beautifully. You can choose from your preferred region or winemaker, or even try it with a rosé.
Just be careful not to pick too fresh a wine, as that can throw off the balance with the dish. Bon appetite!
If you love this recipe, you'll swoon about this smoked salmon starter recipe – salmon terrine!
Print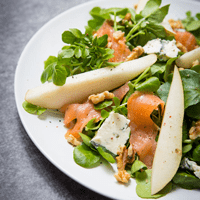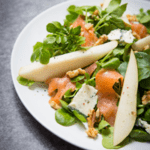 Watercress Salad with Smoked Salmon, Blue Cheese, Pear & Walnuts
---
Author:

Michelle Minnaar

Cook Time:

10 minutes

Total Time:

10 minutes

Yield:

2

1

x
Scale
Ingredients
75g

(

2½oz

) watercress, washed

120g

(

4oz

) smoked salmon slices

60g

(

2oz

) blue cheese

1

pear, washed and sliced

10

walnuts, crumbled
---
Instructions
Mix all the ingredients in a big bowl and divide the contents between two plates.
Season to taste and serve with your favourite salad dressing.
---
Notes
Consider using Honey & Mustard Salad Dressing or Watercress Salad Dressing
The following types of blue cheese will work well in this recipe: stilton, roquefort, cambozola, cashel blue, danish blue cheese, dolcelatte and gorgonzola.
Nutrition
Serving Size:

1 serving

Calories:

378

Sugar:

3 g

Fat:

19 g

Saturated Fat:

3 g

Carbohydrates:

24 g

Fiber:

5 g

Protein:

26 g
save the recipe to your pinterest board