Today, I am recreating another one of my favourite South African side dishes, boereboontjies. Traditional South African cuisine is a sturdy one, designed to bring nutrition and energy to the farmers' hard work in the fields.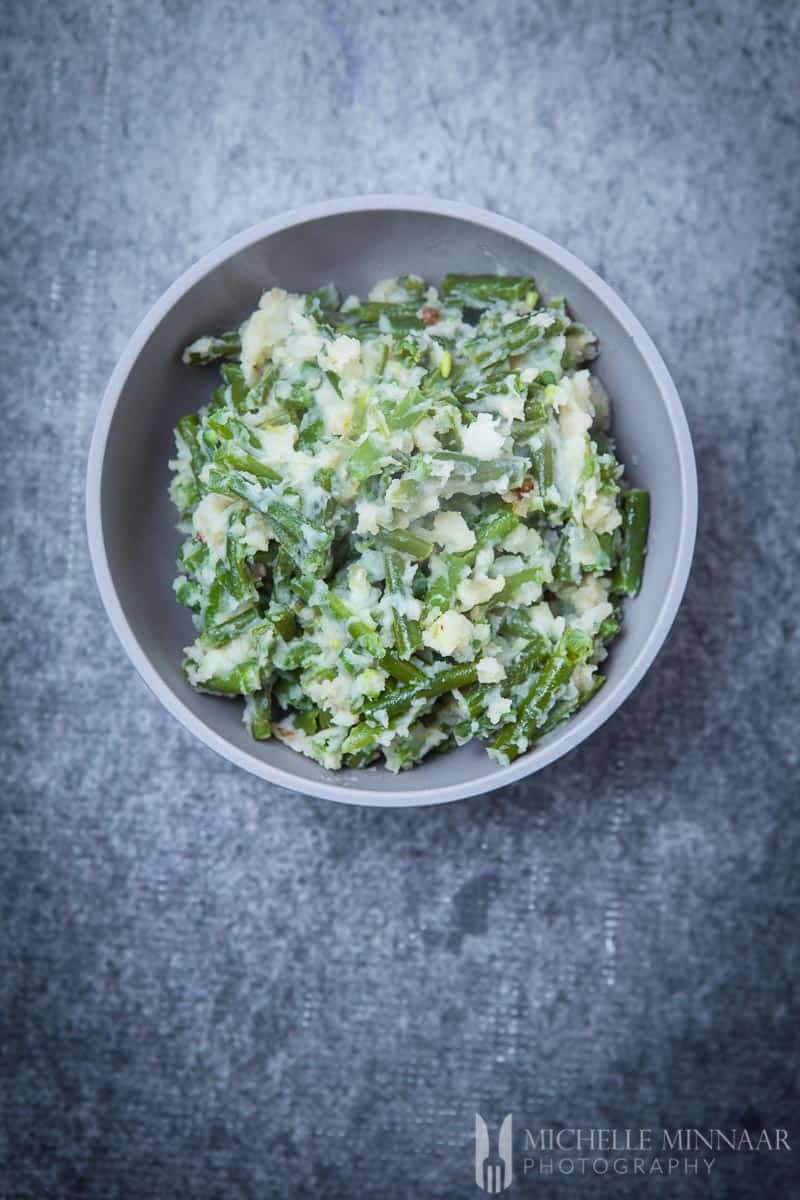 In fact, the word 'boer' means farmer in Afrikaans. Boereboontjies means farmer's beans and in essence, it's a potato mash laced with green beans and onion.
It sounds very simple and it is - but don't be fooled by its simplicity. This is straight forward tasty comfort food that everyone can enjoy, not just during the winter months but on any occasion.
You can serve boereboontjies with any number of things, even as a side for a barbecue instead of the usual baked potatoes. Vegetarians can enjoy it on its own, or ever add a fried egg or two on top.
origin of boereboontjies
It's hard to say exactly when and where the dish was invented. What we know is that it was a popular staple among the Dutch settlers in South Africa in the 1800s and since then it has become embedded in South African food culture.
Farming in those days was by no means an easy job, and the farmers needed a diet that would give them the necessary strength and energy. Hence sturdy dishes like boereboontjies found their way to the dinner tables.
Made from simple ingredients that the farmers could grow themselves, it was an ideal way to have a tasty nutritious meal for a low price. In some ways it is similar to the Dublin parsnip colcannon I published years ago.
Some South African recipes feature the addition of a fatty pieces of rib mixed in with the vegetables. If you want to stick with the South African theme you can serve boereboontjies with denningvleis, a traditional South African stew.
If you haven't already tried my denningvlies, I urge you to do so.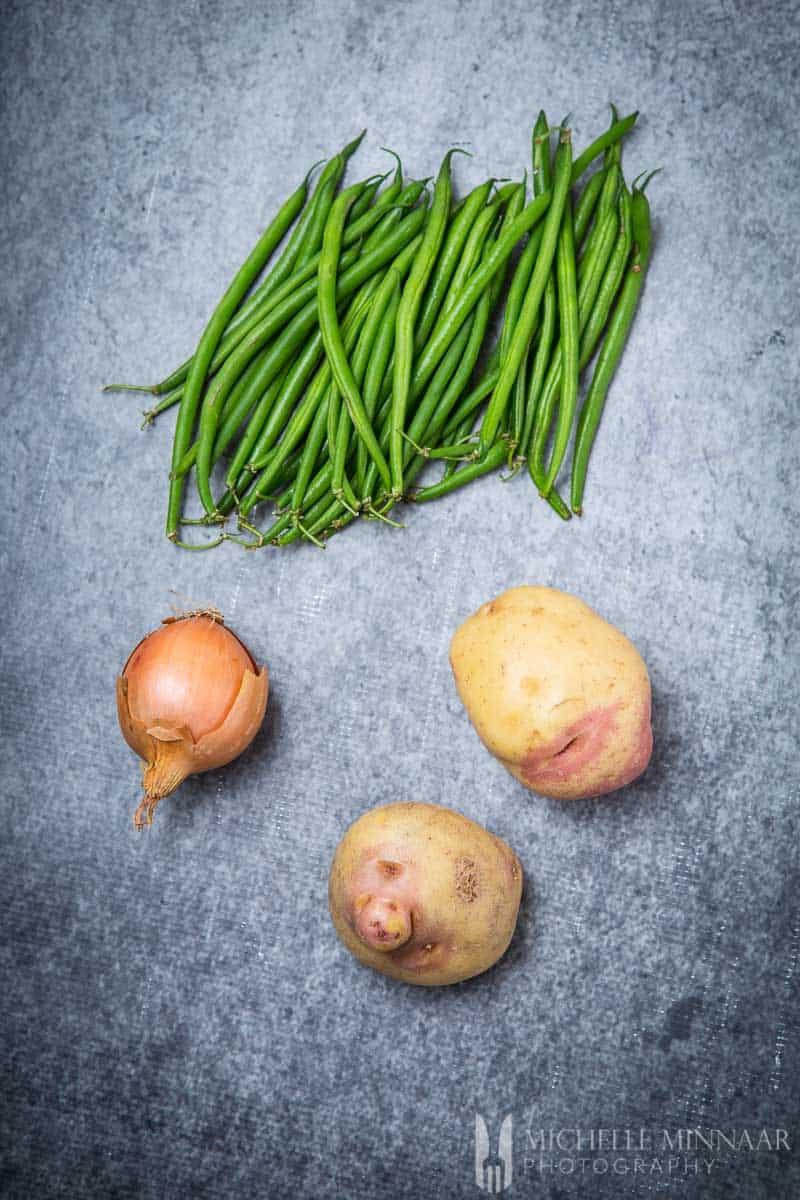 what kind of potatoes to use
For a mash it's important to use potatoes with medium to high starch content. These potatoes have a more floury texture once cooked and tend to fall apart quite easily.
This feature makes them less useful of you want to serve normal boiled potatoes as a side and still have a bit of bite in them. On the other hand, it makes them excellent for mash, or for boereboontjies, for that matter.
Normally the potatoes will be labelled, indicating whether they are starchy, so look out for this when you shop.
A great variety of potato for this purpose is the King Edward, which is widely available in the UK. For the boereboontjies you still want a bit of texture in there and not a 100% smooth velvety mash.
Therefore it's not a disaster if you can't get the potatoes specially meant for mash. I recently made a sweet potato mash which turned out fantastical. If you like the boereboontjies you will probably like this one too.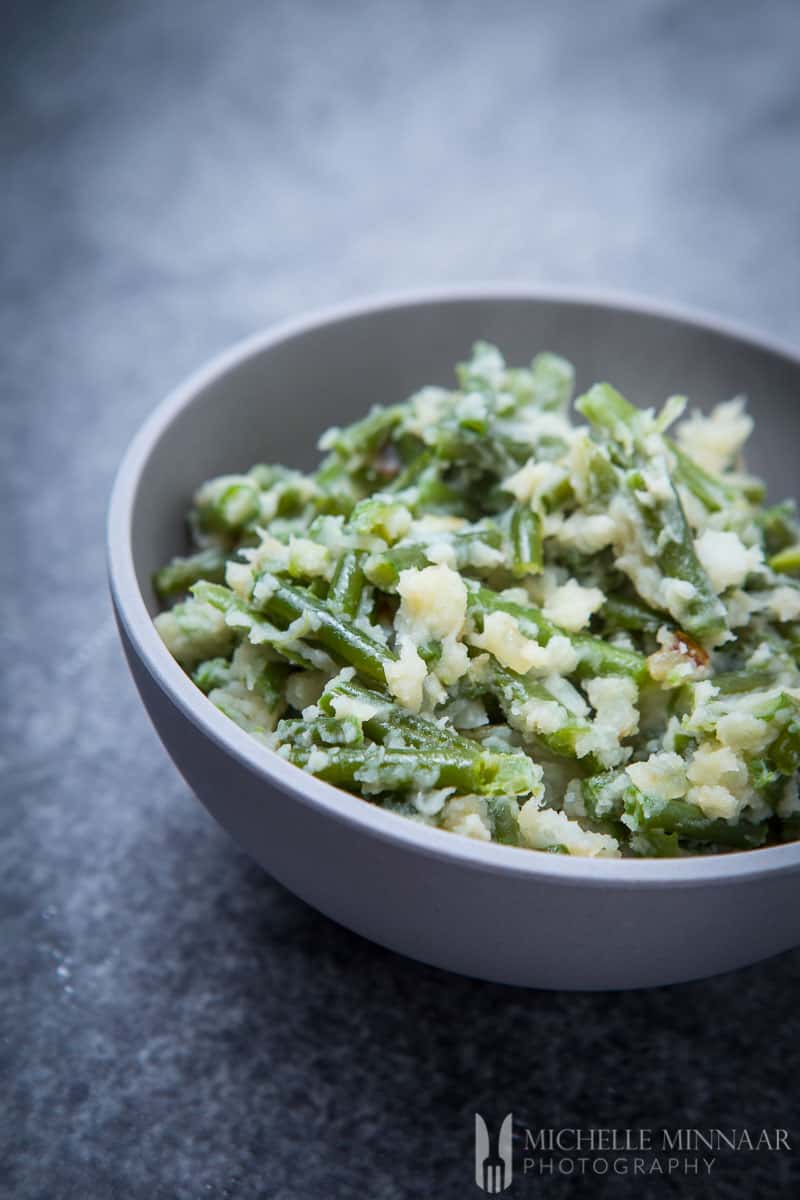 green beans
Green beans or string beans make an excellent companion for potatoes, which is why they work so well in this dish. When in season you should use fresh green beans.
Perhaps you are even lucky enough to be able to grow your own in the garden. Remember to snip off the ends when using freshly harvest green beans.
If you don't have any fresh green beans you can cheat a little and use frozen ones. If you do use the frozen ones, wait until the water boils before adding them in with the potatoes. Frozen beans need less time to cook than fresh ones.
variations
This traditional recipe for boereboontjies is a quite simple one. If you are looking for a bit more flavour than the basic version, there are lots of things you can do to jazz it up.
For instance, you can add garlic in with the onion. Garlic pairs well with potatoes and beans, so if you love garlic as much as I do, don't be afraid to break the tradition and sneak some in there.
Otherwise, you can make it even greener by adding other vegetables into the mash. Fry some finely sliced leek or some bell pepper alongside the onion and mix it with beans and potatoes.
As always, a little green sprinkle on the top does wonders for the dish. Parsley, chives, thyme or rosemary go particularly well with the traditional boereboontjies' flavours.
You can pick your own favourite herb, depending on what you serve with the boereboontjies.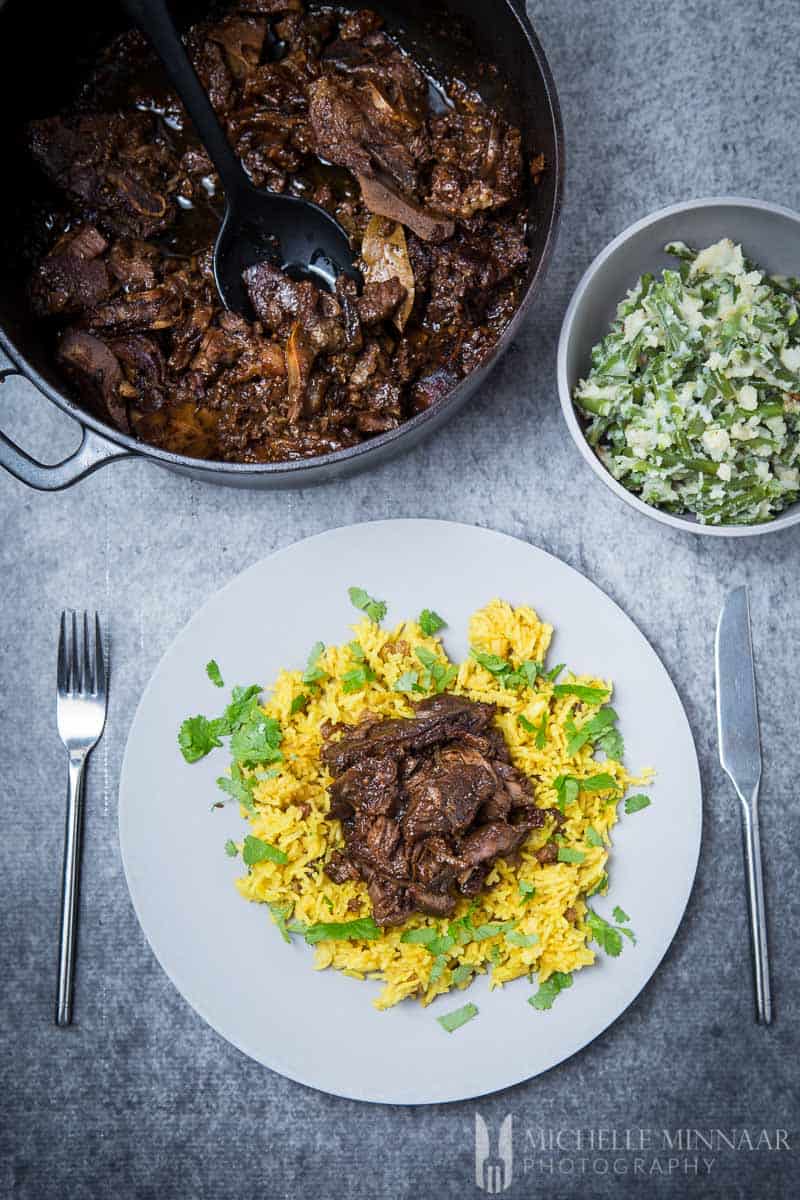 what to serve it with
Boereboontjies is a very versatile side dish that you can serve with a number of things. It works fantastically with meat and I recommend you to try it out for your next Sunday roast.
Don't get me wrong, I love roast potatoes with a good Sunday roast. In fact I made some with rosemary that are just amazing. You can find the recipe here.
If your kids like sausages with mash, you can replace the traditional mash with boereboontjies and get a bit more greens in them.
Somehow kids seem to be allergic to anything green on the plate, but mixed in with the potatoes it usually works. It also works well with any type of stew, especially now during the cold season.
There is just nothing as comforting as a good stew that has been left to simmer on a winter's day.
Nonetheless that doesn't mean that boereboontjies cannot be eaten in the summer too. It's a perfect companion for just about any type of grilled meat and will make a great addition to a barbecue on the terrace.
It is so easy to prepare that you will still have plenty of time to enjoy the barbecue outside with friends and family.
Roast marrow complements this side dish beautifully!
Print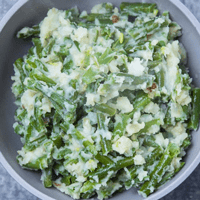 Boereboontjies
---
250

(1/2lb) peeled potatoes, chopped

500

g

(1lb) fine green beans, ends trimmed and cut into 2.5cm (1 in) pieces

15

ml

(1 tbsp) butter

15

ml

(1 tbsp) oil

1

large onion, chopped

30

ml

(2 tbsp) milk
Salt and pepper, to taste
---
Instructions
Boil the potatoes and beans in salted water until both are cooked and tender. Drain and put to the side.
Gently fry the onion in the butter and oil in a large saucepan until the onion is cooked.
Tip the potatoes and beans in with the onion and roughly mash with a splash of milk.
Season to taste and serve immediately.
Prep Time:

30 minutes

Cook Time:

20 minutes

Category:

Side dish

Cuisine:

South African
Nutrition
Serving Size:

1 serving

Calories:

103

Sugar:

3.5 g

Sodium:

306 mg

Fat:

4.4 g

Saturated Fat:

1.6 g

Carbohydrates:

14.3 g

Fiber:

2.7 g

Protein:

2 g

Cholesterol:

6 mg
save the recipe to your pinterest board