Many people aren't familiar with brussels sprouts, but they are basically tiny heads of cabbage that you eat whole. For many years Brussels sprouts have been the butt of jokes if you even mention you're going to cook Brussels sprouts, but there's nothing funny about how good crispy parmesan Brussels sprouts can be.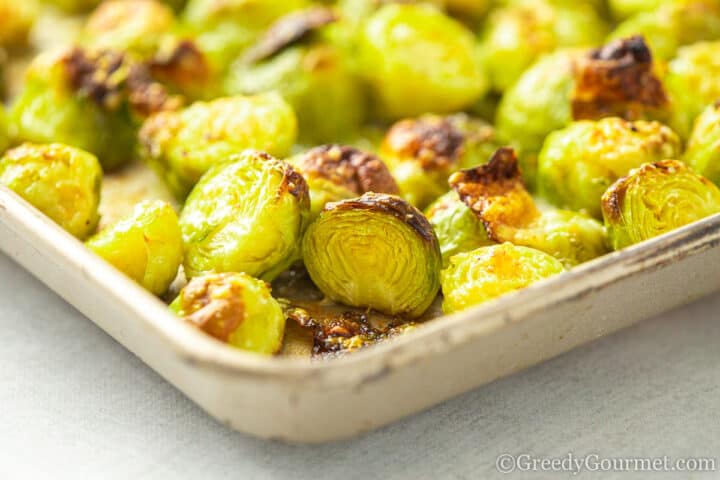 Why You'll Love This Recipe
If you have a family or spouse that doesn't think they'll ever eat brussels sprouts, this is probably the brussels sprouts recipe that will change the minds of brussel sprouts haters for good.
Roasted brussels sprouts, combined with a bit of olive oil, garlic powder, and parmesan cheese, resulting in some of the tastiest and most savory vegetables that you can bring to the table.
What to Pair with Parmesan Brussels Sprouts
Roasted brussels sprouts can be used as a main course, or they can be a great side dish cuisine for any mains. The salt content of parmesan brussel sprouts lends to matching well with dark beers.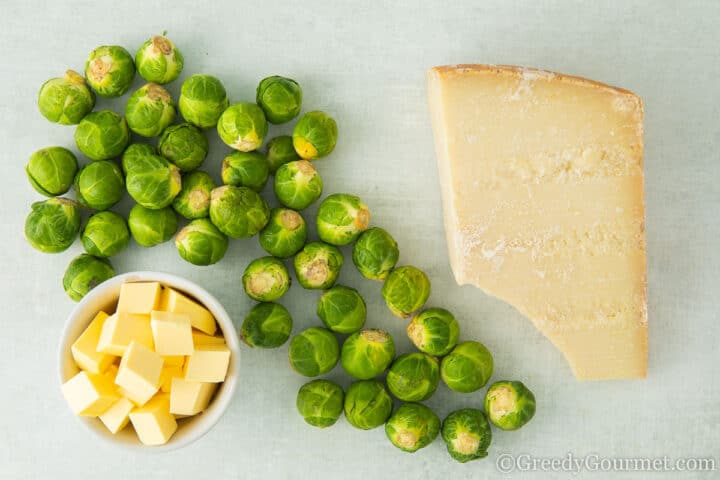 How to Make This Recipe
Parboil the Brussels sprouts, drain and steam dry.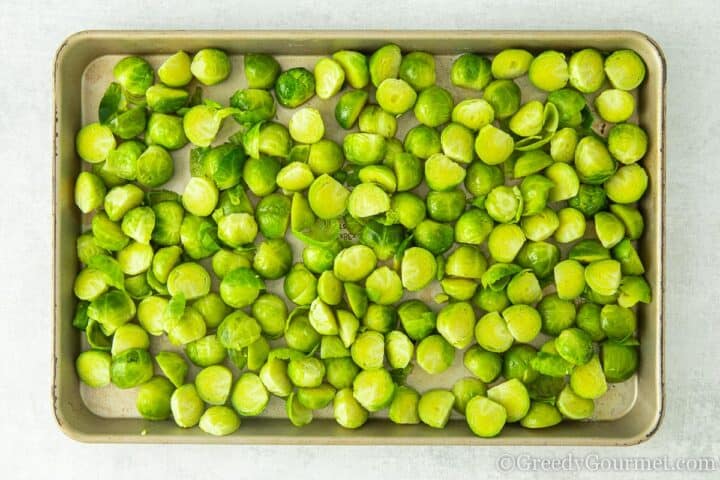 Arrange in a single layer on a baking tray. Mix with oil and season.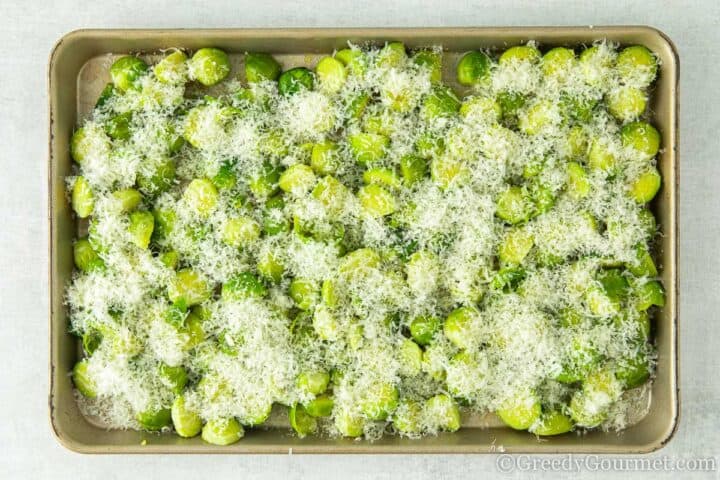 Sprinkle with cheese. Bake in the oven at highest setting.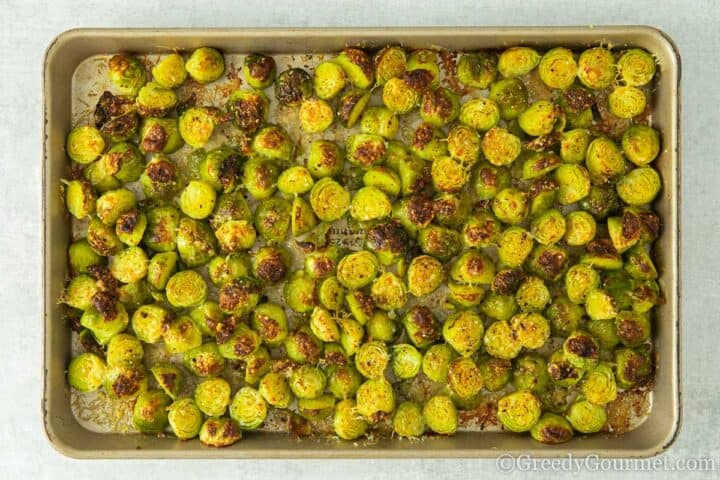 Result! Crispy, caramelized, cheesy Brussels sprouts!
Variations To This Recipe
Variations can be easily created by altering the mix of seasonings used when the brussels sprouts are roasted, to change the flavor easily. From simply salt and pepper to cajun seasonings, a sprinkle of Old Bay, or even Chinese five-spice can drastically change your experience.
For a crunchier topping, consider sprinkling panko breadcrumbs over the top of the brussels sprouts after the olive oil but before roasting them.
For an Italian twist, consider adding some high-quality prosciutto and more garlic. The meat will add some more fats and a depth of flavor that is hard to beat.
An amazing Asian take on this dish would have you toss the sprouts with a honey and sriracha blend, for a sweet-hot flavor that goes with everything. A little extra honey before roasting also creates a nice caramelizing effect.
Top Tips
Feel free to play with different types of cheese, you don't have to limit yourself to freshly shredded parmesan cheese, try other hard cheeses like asiago and romano for more complex flavors.
Like everything else in life, parmesan roasted brussels sprouts only get better with bacon. Fry up some bacon, and use that as the base to fry your brussels sprouts initially. Not only will the crispy bacon add worlds of flavor to your brussels sprouts, but they'll make them even more tender and add more browning ability.
Also, be sure to try this brussels sprouts recipe in your air fryer.
How do I store leftovers?
Leftovers should be refrigerated promptly in an airtight container.
How Long Will This Food Last In the Fridge?
Leftover parmesan roasted brussels sprouts should last several days in the fridge, up to a week, provided they are stored properly.
How do I Reheat This Dish?
It's recommended that leftovers are reheated in the microwave, as reheating in the oven can cause the Brussel sprouts to dry out.
The cheese used in this parmesan brussel sprouts recipe is also more likely to begin to burn if reheated in the oven.
Can this recipe be scaled?
Yes, it sure can. Working with a toaster oven in a small flat? Not a problem, the recipe can be halved or quartered easily.
Need to feed a fleet? Easily double or triple the recipe, and roast the parmesan brussel sprouts on a large baking sheet, or several!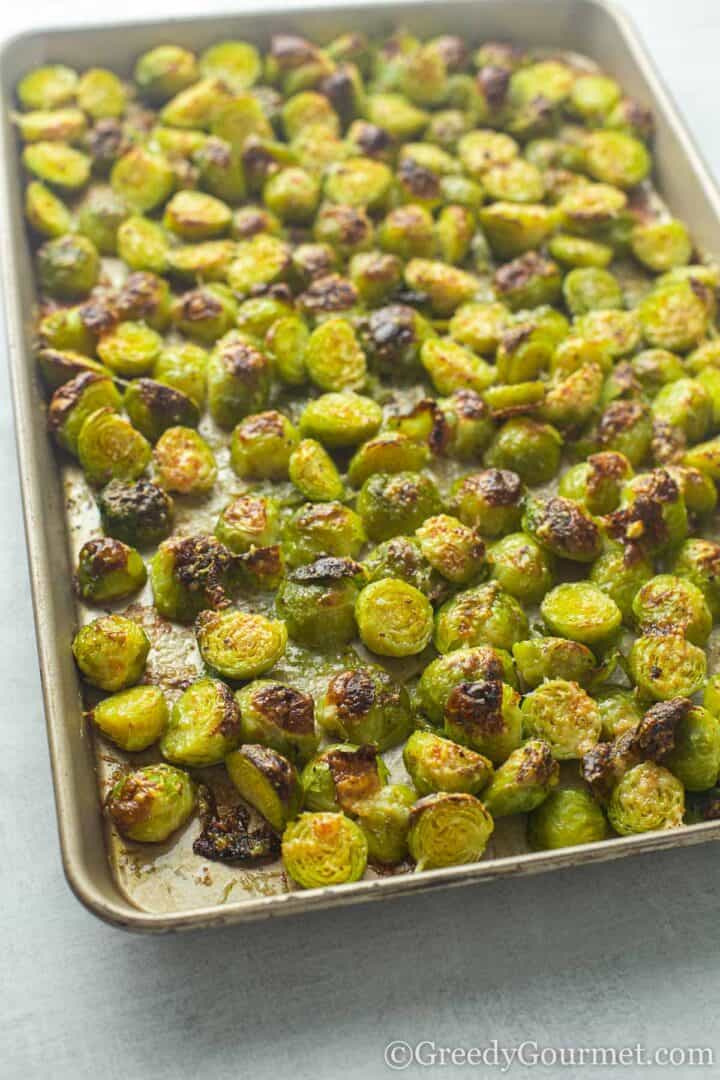 Other Brussels Sprouts Recipes You'll Love
Sous Vide Brussels Sprouts - Even when cooked just right to eliminate any bitterness, some folks who love the taste simply don't like the inherent crunch of brussels sprouts, and this is the recipe for them. Like anything else "sous vide", brussels sprouts become unbelievably tender and almost creamy. Loaded with butter and a modest amount of basic seasoning, sous vide brussels sprouts can be a keto dream come true.
Leftover Brussels Sprout Soup - Even with the best planning, holiday meals usually still produce more food than we can eat in a week, and this recipe for leftover brussels sprout soup can make the most of those leftovers. Even better is when you have a pile of potatoes leftover, whether whole or mashed, they can be incorporated into this soup and save you even more cooking time. For a quick winter meal, you just can't beat this soup.
Don't forget to come back and let me know how your recipe turned out!
Print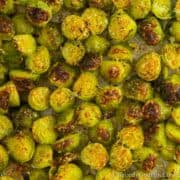 Roasted Parmesan Brussels Sprouts Recipe
---
Author:

Michelle Minnaar

Total Time:

30 minutes

Yield:

6

servings

1

x

Diet:

Gluten Free
Description
For this Roasted Parmesan Brussels Sprouts you only need brussels sprouts, oil, butter, cheese and 30 minutes to make a tasty dish. You can pair them with just about any Western meal. 
---
1

kg

(2lbs) brussels sprouts

14

g

(1 tbsp) butter

15

ml

(1 tbsp) oil

135

g

(1 1/2 cups) grated Parmesan cheese
---
Instructions
Preheat the oven to its hottest setting.
Prepare the Brussels Sprouts: Trim off the bottom stem of the sprouts. Peel off and discard any outer leaves that are yellowed or blemished. Cut the sprouts in half lengthwise through the stem.
Parboil the Brussels Sprouts: Boil the brussels sprouts in a large pot of salted water for 5 minutes. Drain and let them steam dry. 
Roast the Brussels Sprouts: Place the oil and butter in a 25 x 38 x 2.5cm (10 x 15 x 1in) roasting tin and place in the oven for 1 minute or until the butter has melted.
Remove the tin from the oven and gently tip in the Brussels sprouts. Toss them in the butter and oil and arrange in a single layer. 
Sprinkle the cheese abundantly over the vegetables. 
Place the tin in the oven and bake for 10 minutes or until the cheese has melted and turned golden brown and crispy. 
Remove from the oven and serve immediately. Enjoy!
Notes
Feel free to play with different types of cheese!
Prep Time:

15 minutes

Cook Time:

15 minutes

Category:

Side Dish

Method:

Roast

Cuisine:

American
Keywords: parmesan brussels sprouts, roasted brussels sprouts, cheesy brussels sprouts, christmas brussels sprouts, christmas side dish, brussels sprouts recipe