Cacık, also known as Turkish cacik or tzatziki, is a yoghurt-based sauce. You can have a wonderful lunch dipping warm pita bread in cacik, and even enjoy the latter as a soup, as they do in Turkey.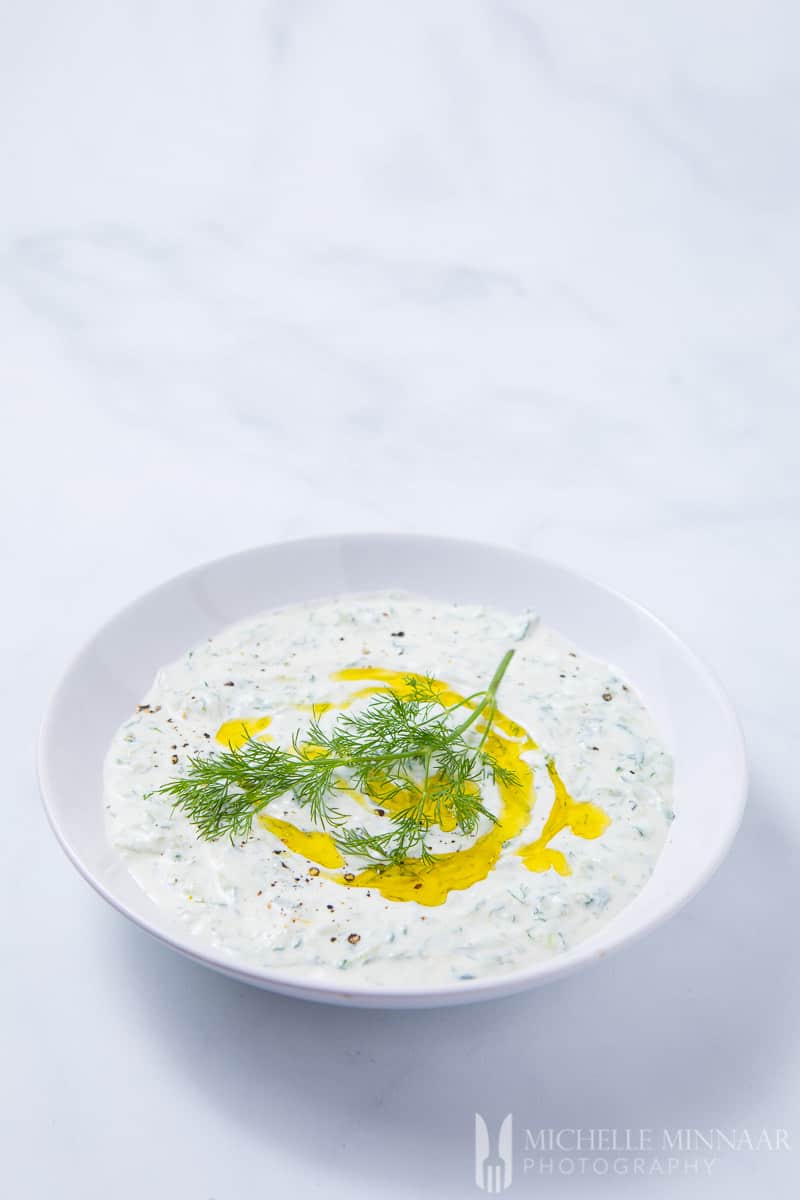 Being light and refreshing, this cacik sauce is commonly served with heavier meat recipes, such as lamb tikka. This side dish recipe goes hand-in-hand with any Mediterranean-inspired meal.
Preparation time is very low and it doesn't involve any cooking. However, to make this recipe a success, you'll need to make use of premium quality ingredients, with the most important element being yogurt.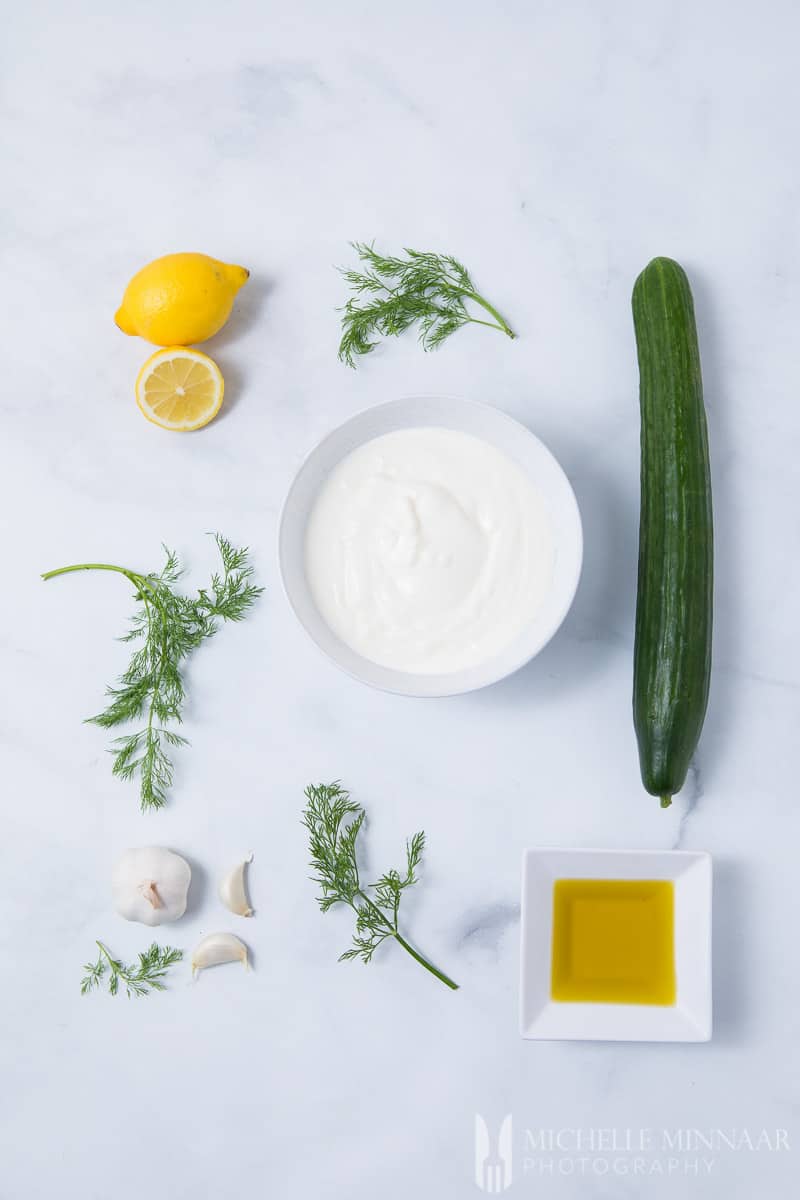 history and origins of Turkish cacik
Cacik is native to Turkey but is very much enjoyed all across Middle Eastern countries, South Balkans and especially in Greece. Over there, you might know it as tzatziki.
The word 'cacik' is historically derived from the Persian word 'zhans' which means herb mixture. In the past, and in the Middle East today, it was prepared with a cheese, called labneh.
Labneh is a really thick yoghurt cheese which is strained, hence tasting slightly on the sour side.
what is the difference between cacik and tzatziki?
Cacik and tzatziki are more or less the same. It only depends on where you eat it! Generally, you associate cacik with Turkey, whereas tzatziki is Greek. Generally speaking, tzatziki has a Greek-yoghurt base and contains extremely thin slices of cucumber and lots of shredded garlic and dill.
This Greek dip recipe is finished off with dried oregano, salt, pepper and a few drops of extra virgin olive oil. In Greece, it's best enjoyed with souvlaki meat, pita bread or olives.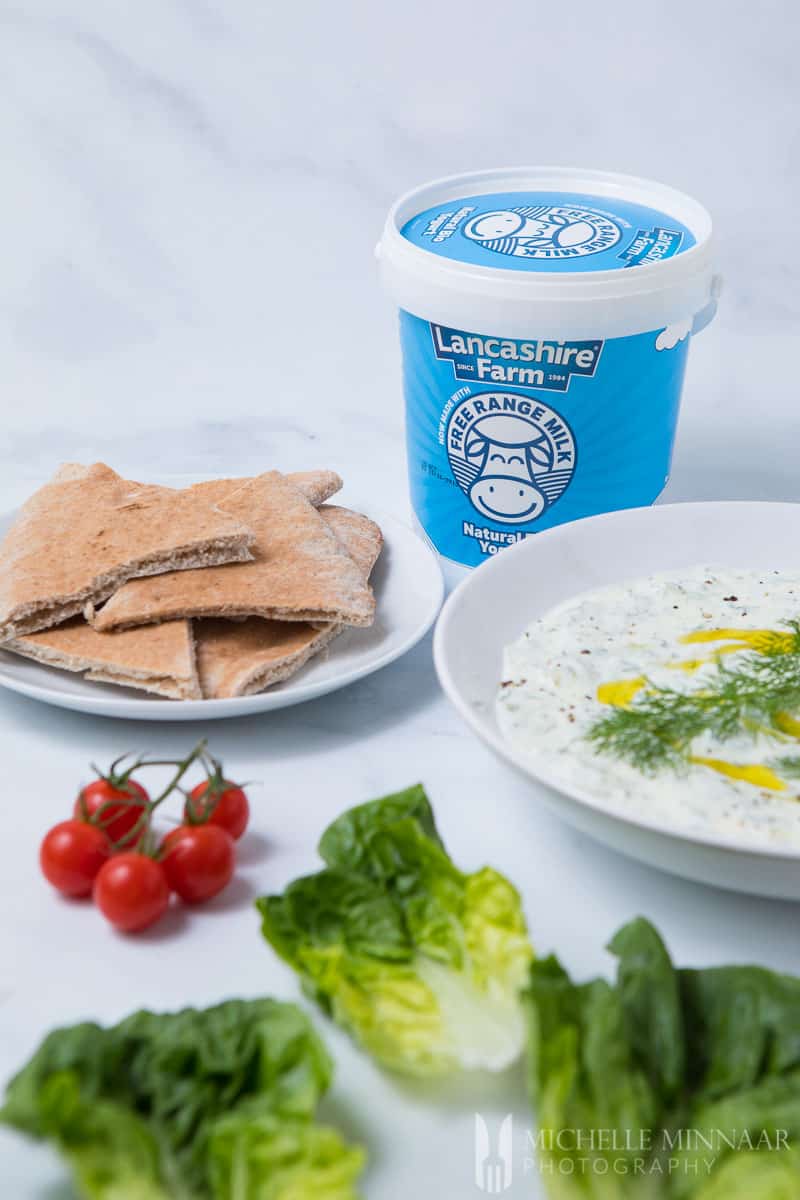 how to make authentic Turkish cacik
Cacik slightly varies from tzatziki in the sense that it's finished off with sumac, which is an acidic spice with vinegary taste. Furthermore, the Turkish version sometimes calls for fresh mint, instead of dill.
In Turkey, it's traditional to dilute the cacik with water and serve it as a soup. The locals use it to cool down during hot and sunny Mediterranean summers.
Let's not also forget the Balkan version of cacik. Here, you might know the cacik as 'tarator'. Tarator dip usually contains pieces of nuts and thinly sliced onions and is commonly found in Balkan countries like Albania where they serve it as a side dish to grilled squid.
cacik tips and variations
Here is some food for thought. If you want to play around with different textures, you can alter the way you prepare the cucumber. You can peel the vegetable, leave the skin on for extra texture, grate it or cut it into tiny cubes.
The cubes will lend some crunchiness to the yogurt sauce. However, the traditional way to serve cacik is to grate the cucumber so that it blends into the yoghurt.
Also, when you're preparing cacik, you can easily substitute lemon juice with standard vinegar for extra sharpness. Feel free to play around with different herbs; oregano, mint and fresh thyme - have fun!
delicious Mediterranean and Middle Eastern dip
If you love cacik, you'll also love making these Greek dips - melitzanosalata. It's another popular dip as well as a side dish that you can't ignore if you travel to Greece or the rest of the Mediterranean region.
Likewise, a hummus dip, white bean dip or htipiti can also be just what you are looking for.
What is your favourite Turkish recipe?
Print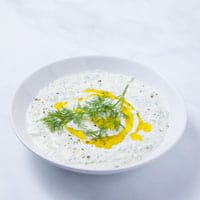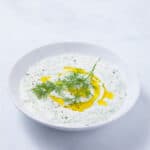 Cacık
---
Description
Cacik is a delicious yogurt-based dip with grated cucumber and dill. Learn the difference between a Turkish cacik, Greek tzaziki or Balkan tarator. Enjoy!
---
250g

(

½

lb) cucumber, peeled and finely chopped

2

garlic cloves, peeled

20

ml (4 tbsp) extra virgin olive oil

40g

(

1½ oz

) dill, finely chopped

1

kg (2 lbs) Lancashire Farm Greek yogurt
Salt, to taste
Pepper, to taste
---
Instructions
Place the cucumber in a sieve, salt it abundantly and let it stand for 5 minutes.
After the allotted time squeeze all the excess water out of the cucumber.
Add the garlic and olive oil to the food processor and blend until it forms a smooth paste.
Place the cucumber, garlic paste, dill and yogurt in a big bowl along with some salt and pepper. Mix the ingredients with your hands until all the elements have dispersed evenly.
Place the dip in a bowl, drizzle it with olive oil and enjoy.
Notes
Serve with any barbecued meat or eat with vegetable crudités, chips or fresh bread.
Prep Time:

20 minutes

Category:

Side Dish

Cuisine:

Turkish
Nutrition
Serving Size:

1 serving

Calories:

227

Sugar:

19.5 g

Sodium:

127 mg

Fat:

4.1 g

Saturated Fat:

1.8 g

Carbohydrates:

23.4 g

Protein:

24.1 g

Cholesterol:

5 mg
save the recipe to your pinterest board