How to make perfect caramelised onions.
What's not to love about caramelised onions? There are plenty of ways to use them, e.g. added to a steak or chicken sandwich. You can spruce up any old boring potato salad and who could possibly live without onion gravy when having bangers and mash? Do you like a bit of sweet tang? Check this out.
Did you know you can freeze caramelised onions? You can also make jam of them! These two books will help you along the way: Fresh from the Freezer: 100 delicious, freezer-friendly recipes
and Salt Sugar Smoke: How to Preserve Fruit, Vegetables, Meat and Fish
.
Caramelised Onions and Special Diets
It falls outside the scope of this article to cover what the role of each vitamin and mineral play in the body for but I can tell you that onions are rich in fiber, chromium and vitamin C. It also contains small quantities of vitamin B-6, calcium, manganese, phosphorus and folate.
As for people on low-fat diets, you simply need a bit of oil for the wonderful chemical process of caramelisation to take place. If not, you'll end up with steamed, crunchy onions that are unpalatable.
Just about everyone can enjoy caramelised onions since it's gluten-free, wheat-free, dairy-free, lactose-free, kosher, and vegetarian and vegan friendly.
As long as you don't use too much oil it is relatively healthy.
What type of onion is best for caramelising?
You can caramelise any type of onion but admittedly some caramelise better than others.
Red onions can be caramelised but most of the time their once attractive purplish colour turns into an unappealing mishmash of grey, green and brown which some people find off-putting.
Sweet onions seem to be the obvious choice but even though they contain 25% more sugar, their flavor difference when raw has more to do with the amount of tear-inducing lachrymators they contain, i.e. they contain less sulphur compounds that make onions pungent. Once cooked, they are marginally sweeter than other varieties but lack complexity.
Yellow onions are the winners in this regard. When cooked, their pungent compounds mellow developing into deep, rich and complex flavours and they come out sweet. Pick the firmest ones!
5 Different cooking methods
You can use a microwave to par-cook the onions for a few minutes to shave some time off cooking, then finish frying the onions in pan to caramelise them.
Yet again you can save time by using a pressure cooker to cook the onions a bit. The problem with trying to caramelising onions in a pressure cooker is that none of the moisture escapes the pot and ends up joining the onions again and you end up more with a sauce than anything else.
It is possible to use a slow cooker to caramelise onions. Apparently it takes between 8 and 10 hours to do the job.
Some people swear by the oven. I tried one recipe by baking sliced, oil covered onions at 190°C/375°F/gas 5 for 40 minutes. What a crock of bull. The fan dried out the onions and they have a strange green-pinking tinge to them. I tried for longer and ended up using tonnes of oil and the results weren't nearly as good as pan frying.
Herbs & Spices that Match well with Onions
cinnamon
cloves
nutmeg
paprika
parsley
black pepper
sorrel
mint
rosemary
sage
thyme
32 Playful Ideas
Sometimes all that's needed is a spoonful (or two, three or four in my case) to cheer up a plate of food. Be inspired.
Potatoes, baked or mashed
Cooked pasta
Couscous
Grilled-cheese sandwiches
Omelettes and frittatas
Sauces
Cheese, such as feta, gruyere or goat's
Dips
Empanadas
Salmon
Pizza
Quesadillas
Risotto
Sautéed vegetables, e.g. any greens, mushrooms and bell peppers
Savory tarts
Spinach salad
Meat: steaks, chicken, burgers, pork chops, and sausages
Stews and soups, like lentil or French onion
Vinaigrette
How to store caramelised onions
Chances are you love onions as much as I do and in order to save some time make big batches from time to time. You can refrigerate caramelised onions for three to four days, or freeze them for up to three months. Mind you, when frozen their texture may change a bit.
---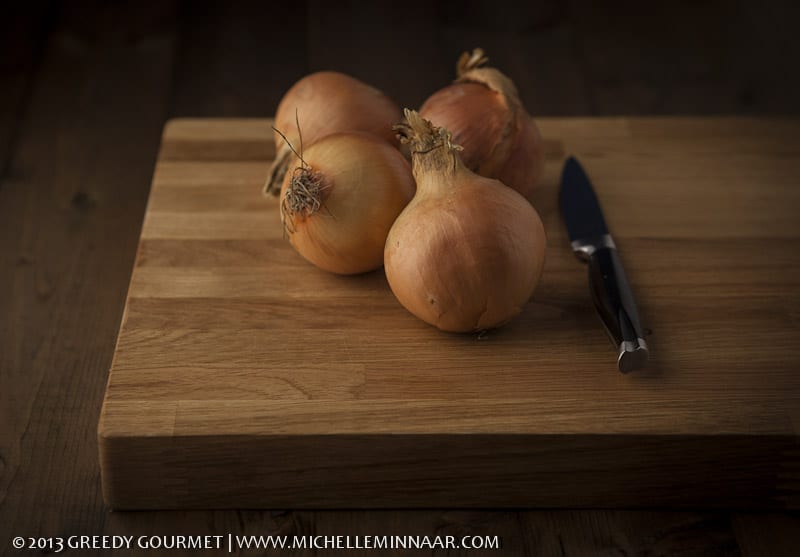 Right. Are you ready to start crying? Or are you one of those ultra-prepared people who have a super sharp knife, chilled their onions and have your gas tight goggles or mask on? Wearing contact lenses do have its benefits.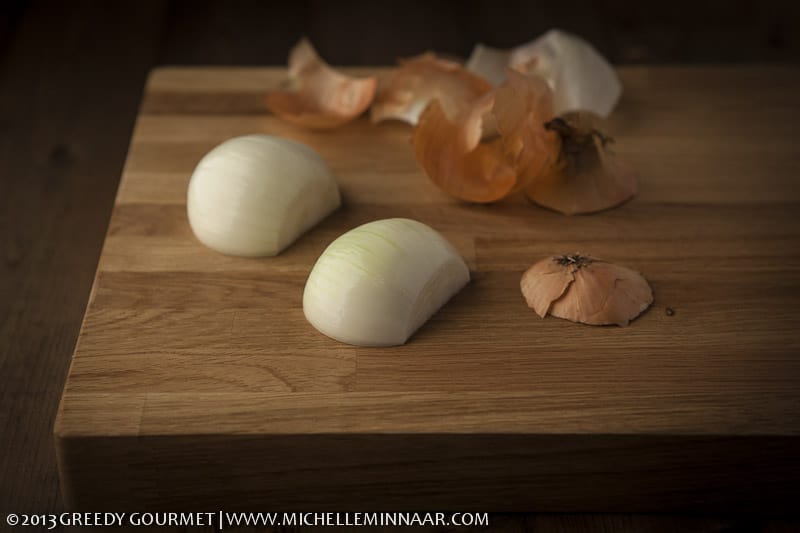 Top and tail the onions, peel and halve them. Get ready to start slicing blubbering!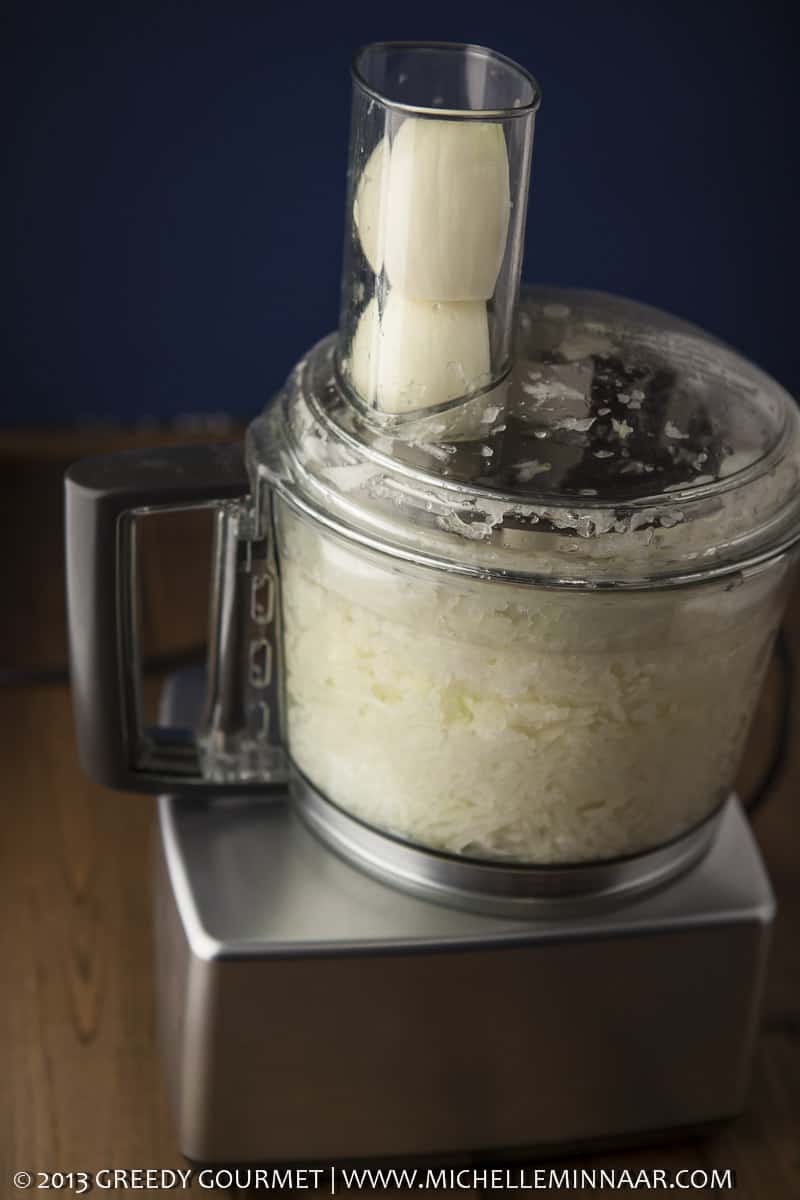 Or you can be lazy like me and grate them all in a food processor
.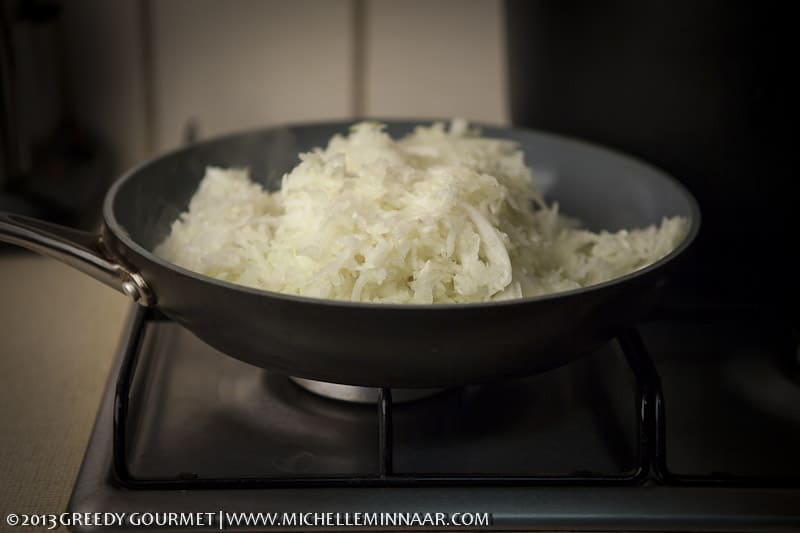 Add the whole lot to a heated pan with a bit of oil.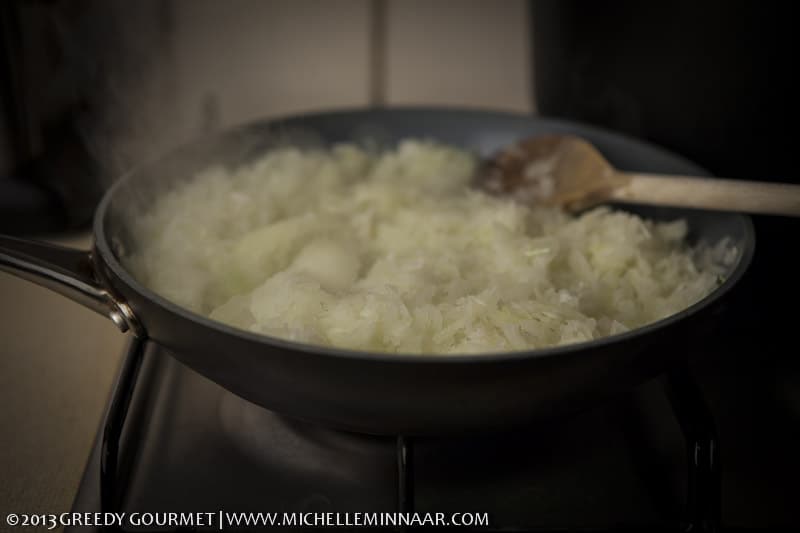 A big part of caramelising onions is waiting for the moisture to evaporate as they cook.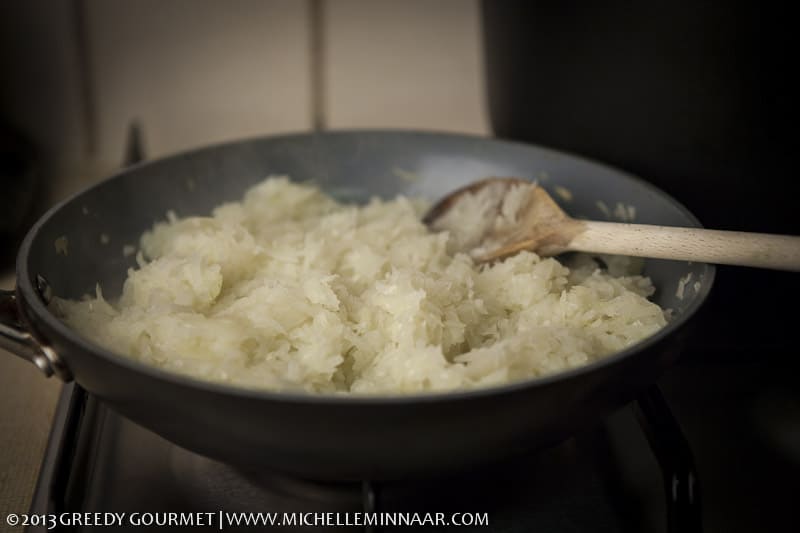 Keep on stirring them. You'll notice their volume decreasing little by little.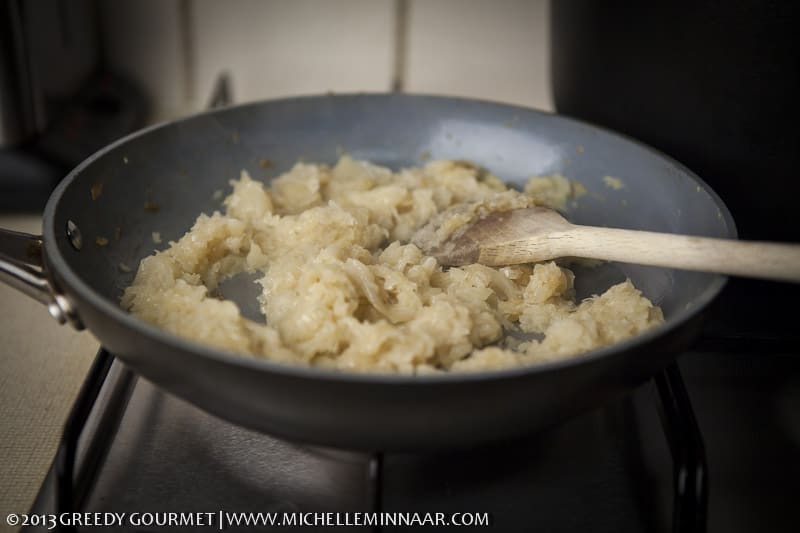 When the water is gone the magical process of caramelisation will start. Keep on stirring!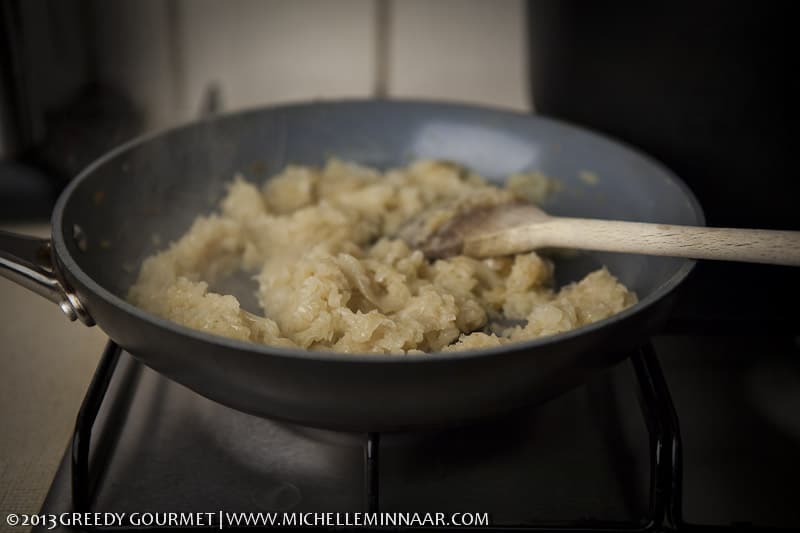 The onions will get sticky. If it sticks too much to the pan you can add a dash of water to deglaze the pan a bit. It will evaporate in an instant thanks to all the heat.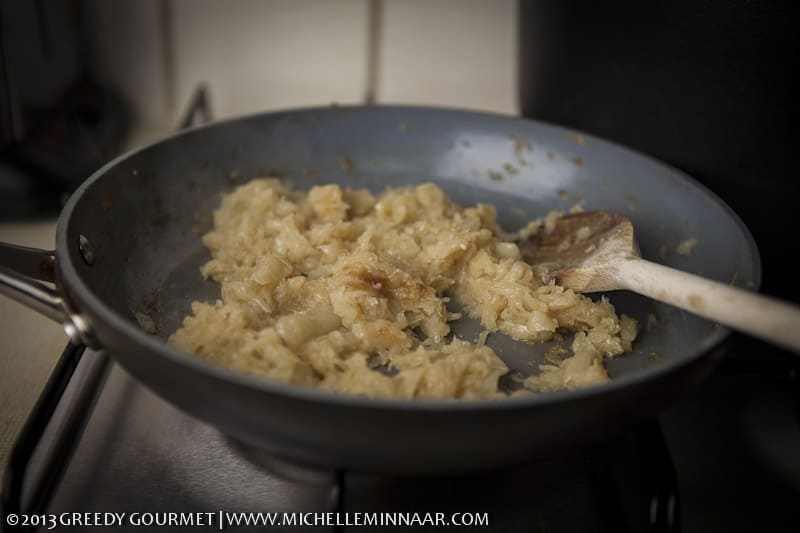 Because these onions are grated, more surface area got caramelised and at last the browning has taken place.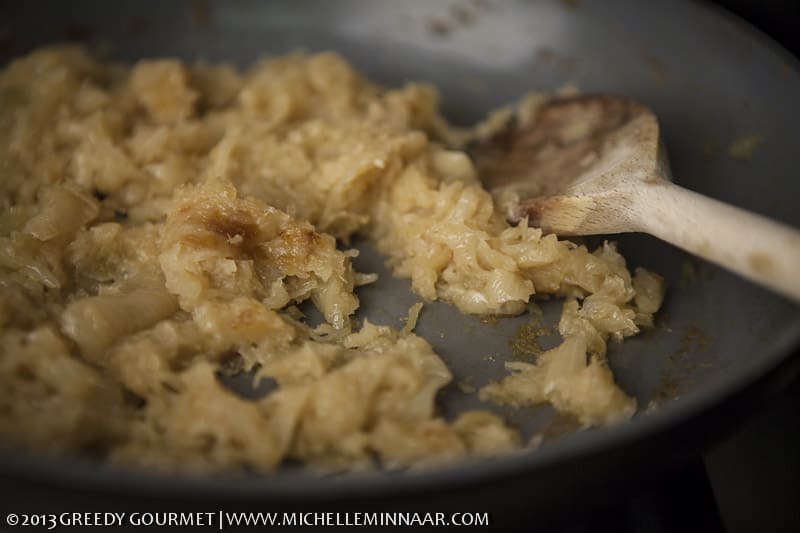 By now I've stood in the kitchen for an hour. I could have still carried on browning the onions even more but these tasted just perfect and melting in my mouth as soon as the spoon delivered the goods. It really is up to you how browned you would like your onions.
Wait…WHAT?! Why would I place caramelised onions in a blender? Here's why.
If you love onions, check out these tobacco onions!
Print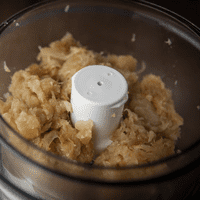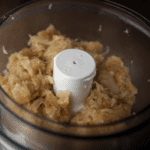 Caramelised Onions
---
50

ml (2 fl oz) vegetable oil

1

kg (2.2 lb) white onions, coarsely chopped
---
Instructions
Heat the oil gently in a large, heavy skillet.
Add the onions to the pan and make sure everything gets coated with oil.
Add a pinch of salt and pepper. [optional]
Continue to stir until the onions turn darker in colour and start sticking to the pan.
Continue to stir until the onions turn darker and darker.
Fry the onions slowly and stir frequently. If you think the onions are sticking to the pan too much, add a dash of water or white wine to deglaze.
Continue this process of cooking and deglazing until the onions have reached the colour, flavour and texture you desire.
Prep Time:

15 minutes

Cook Time:

1 hour

Category:

Side Dish

Method:

Pan Fry

Cuisine:

French
Nutrition
Calories:

104

Sugar:

Sugars

Sodium:

5 mg

Fat:

6.2 g

Carbohydrates:

11.7 g

Fiber:

Dietary Fiber

Protein:

1.4 g