Referred to in France as "pommes mousseline", these creamy, dreamy mashed potatoes are a healthy addition to any menu. They can stand on their own as a light main, or they can complement any other main course.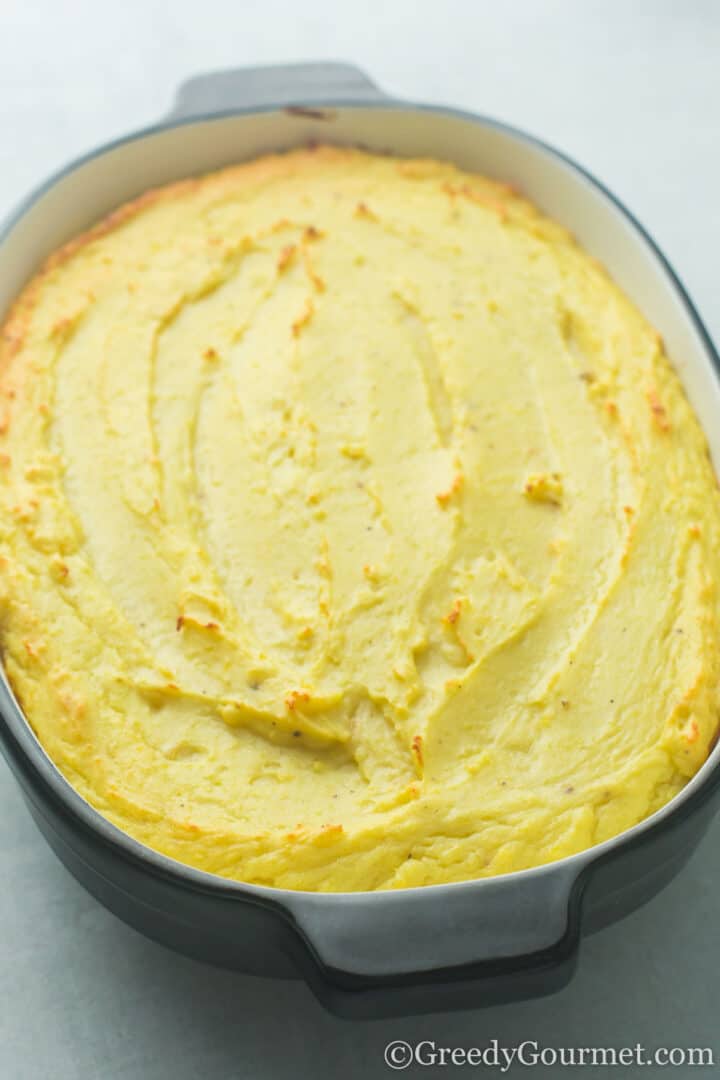 Why You'll Love Potato Mousseline
Potatoes mousseline is not only savory and delicious but very easy to make. They are also a great match for just about any meal you plan to make, since they only need minimal intervention, being on autopilot in the oven for most of the cooking time.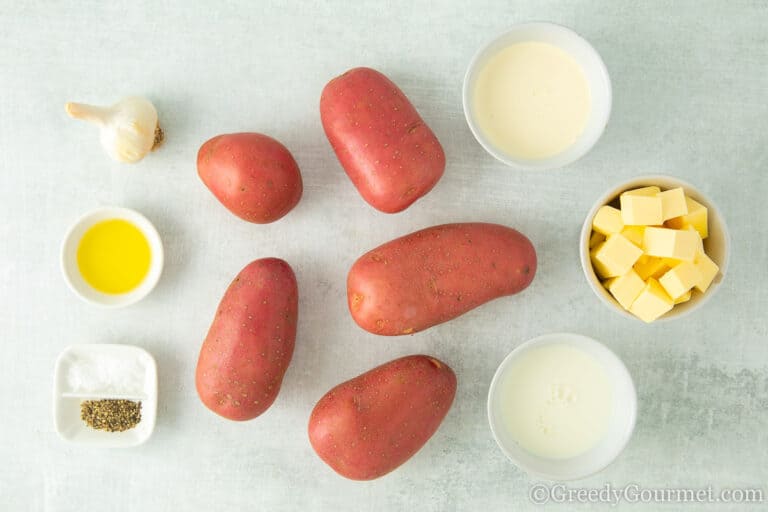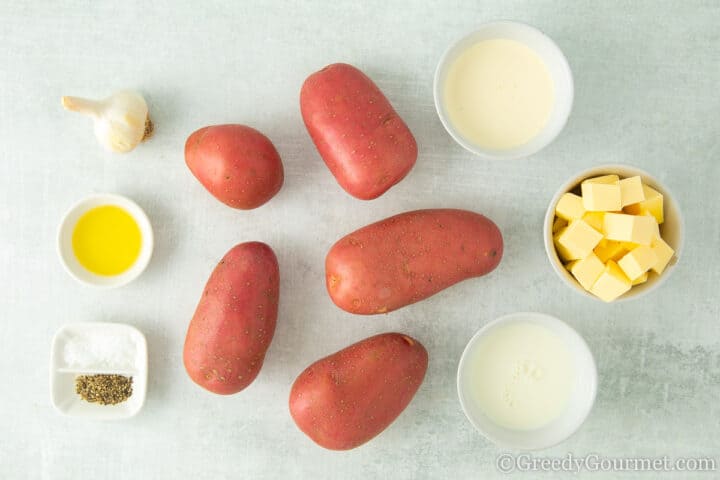 Special Equipment Needed To Make Pommes Mousseline
All you'll need to make these amazingly creamy mashed potatoes is a pot to boil water, some foil to roast the garlic, and a baking dish or casserole dish to finish in. You'll also need a wooden spoon to stir it all.
How to Make This Recipe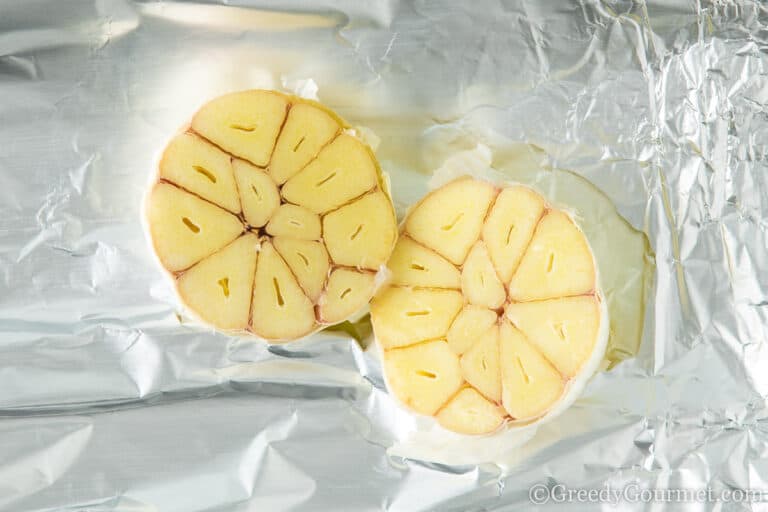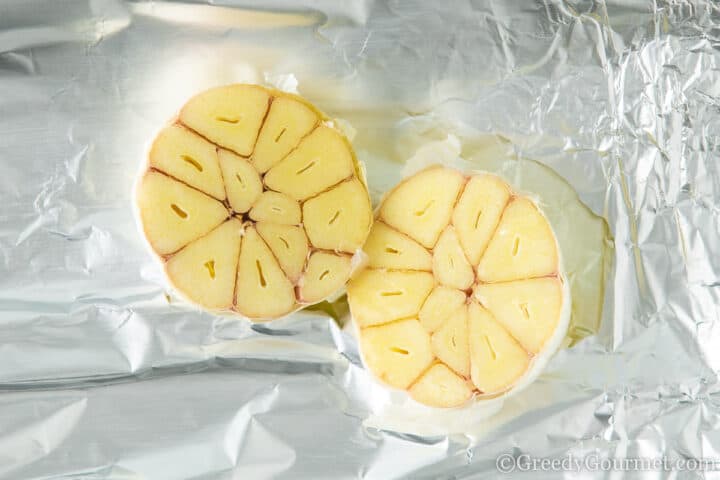 Roast the garlic with olive oil in foil.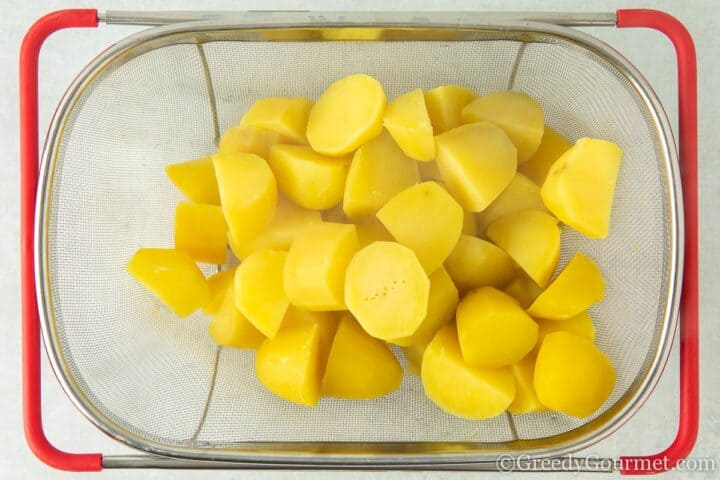 Boil the potatoes and drain them.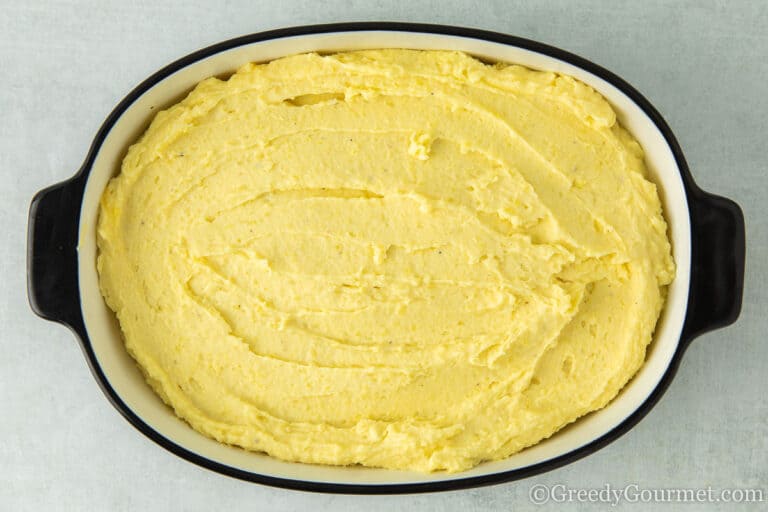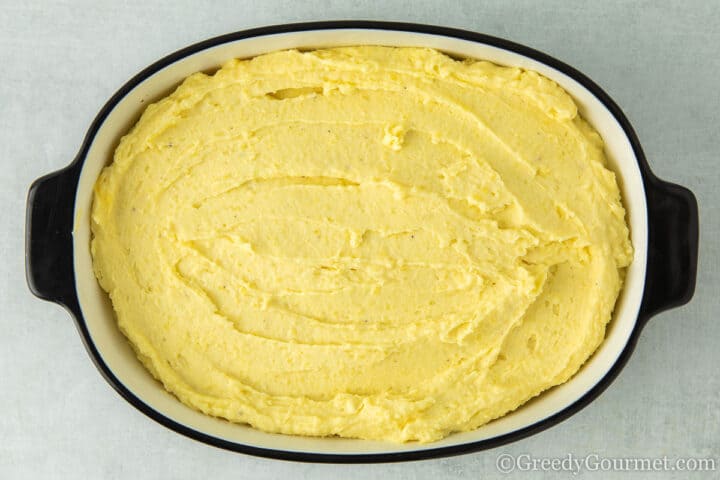 Mash the potatoes with the garlic, cream, butter and milk.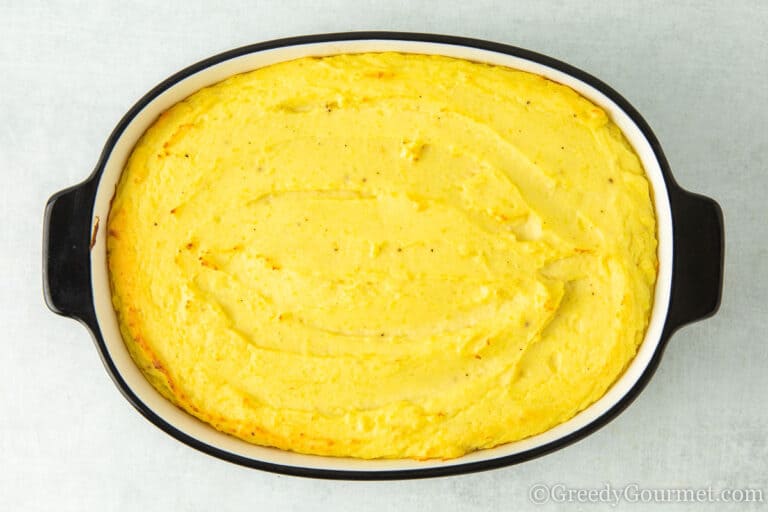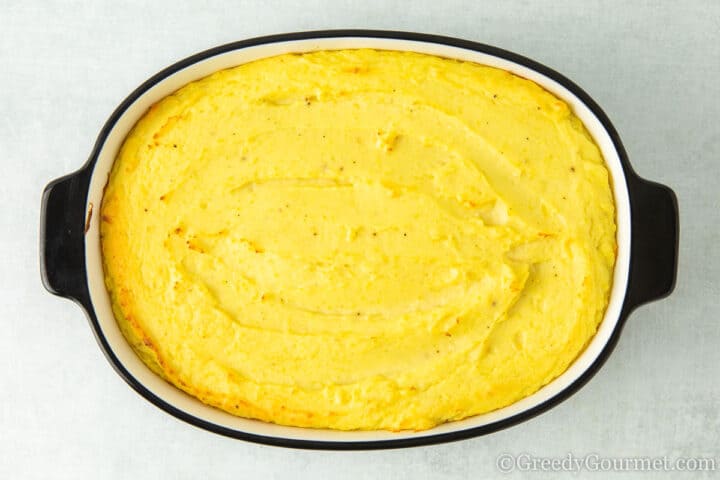 Popular Substitutions For Mousseline Potatoes
For a lighter texture, replacing some of the double cream with whipped cream can give the potato mixture an airy feel.
Whipping cream will need to replace the cream at about 2:1 since the whipped cream is much lighter. Whole milk can also be used as a middle ground between the heavy cream and the whipping cream.
Variations To This Recipe
Popular variations to potatoes mousseline include incorporating any one of a variety of vegetables into the mixture.
Another variation is to make the dish with sweet potatoes, adding ground black pepper and salt to taste. The sweet potatoes give the dish more fiber and less starchy carbohydrates.
Top Tip
Be sure to mash the potatoes very well. part of the attraction to this dish is the creamy, velvety texture. Also, feel free to put the pan under the broiler for the last few minutes of the bake, and allow the very top of the potatoes to brown sightly. This will bring out the rich flavors that you've incorporated even more.
What to Serve/Pair with Your Creamy Mashed Potatoes
Mains
Most chicken dishes, particularly when accompanied by gravy or sauces
Any beef dish
Pork tenderloin or pork chops
FAQs
How do I store leftovers?
Leftovers can be easily stored in the fridge or freezer. In both cases, they should be stored in an air-tight container, and put away promptly. If freezing, zipper-seal bags are ideal, since you can purge the air from them before sealing, preventing flavor loss and freezer burn.
How Long Will This Food Last In the Fridge?
Properly stored, potato mousseline will last 5-7 days in the fridge.
Can I Freeze This Recipe?
Absolutely! Potato mousseline and mashed potatoes can be frozen for several weeks. This makes them great for meal prepping. 
The biggest thing to remember is to let them cool to room temperature before freezing, so they don't create condensation and air pockets in the freezer container. Be sure, whether you bag them or use a container, that you burp all of the air out to stop freezer burn.
How do I Thaw This Dish?
Remove from the freezer and thaw in the fridge over a few hours. To speed thawing, you can set the sealed container in a sink with a few inches of cool water in it, as you would to quick-thaw frozen poultry.
How do I Reheat This Dish?
Potatoes mousseline can be reheated in the microwave or the oven. Microwaving will require less time but will require stirring. Reheating in the oven will take more time but will heat more evenly.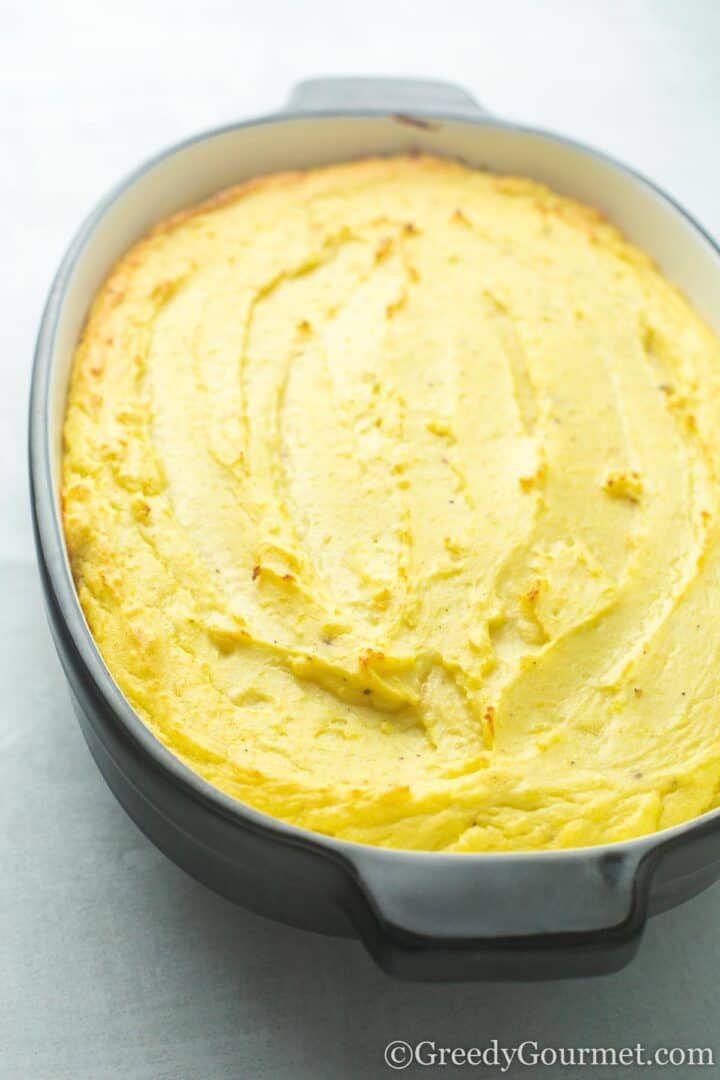 Other Potato Recipes You'll Love
Marmite Roast Potatoes - One reason potatoes are so versatile is that they can take to nearly any flavor profile. That being said, simple roast potatoes with the magical Marmite incorporated and some rich duck fat is some of the most amazing spuds you'll ever have. They have soft and fluffy inside, with a crunchy, savory punch on the outside.
Boulangere Potatoes - If you wanted to try something different from the usual Sunday roasties, boulangere potatoes give you a perfect cheesy potato, without the heavier cream base of a scalloped or au gratin that is other standard go-to options. They are thinly sliced, oiled, cheesed, and baked for the perfect side dish to any meal.
Potato Bhajis - The bhaji is one of the most famous street foods in India, and for good reason. They are made from shredded or spiralized potatoes, combined with a delicious batter, then deep-fried. They can be made and seasoned in countless ways, and take to the incorporation of other vegetables well. Since they are a fun finger food and a perfect starter, for families with kids that prefer fries or chips to just about any other form of potato, these can be leveraged to great success!
Don't forget to come back and let me know how your recipe turned out!
Print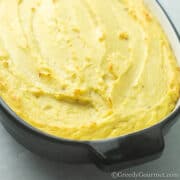 Mousseline Potatoes
---
Author:

Michelle Minnaar

Total Time:

1 hour 50 minutes

Yield:

6

servings

1

x

Diet:

Vegetarian
Description
These Mousseline Potatoes are a creamy mashed potato side dish and is a delicious addition to any meal.
---
Roasted Garlic
1

garlic bulb

15

ml (1 tbsp) olive oil
Mashed Potatoes
1

kg (2.2lbs) potatoes, peeled and sliced

125

ml (½ cup) double cream

125

ml (½ cup) milk

56g

(

4 tbsp

) butter
salt and pepper, to taste
---
Instructions
Roasted Garlic: Preheat the oven to 175°C / fan 155°C / 350°F / gas mark 3.
Slice the top of the garlic bulb off to expose the cloves.
Place the garlic on a sheet of foil and drizzle with olive oil, then wrap it up and place it in the oven.
Roast for 40 minutes or until the garlic is very soft and golden. Remove from the oven and set aside to cool.
Mashed Potatoes: Meanwhile, boil the potatoes in a large pot of salted water until tender. This should take between 10-15 minutes.
Strain the potatoes and let them steam dry.
For best results, put all of the potatoes through a potato ricer to ensure a perfectly smooth mash. Alternatively, you can place them back in the pot and squish them with a potato masher.
Squeeze the roasted garlic's innards onto the mashed potatoes and then stir in the cream, milk and butter. Once everything is well incorporated, season to taste.
Place the mashed potato in a suitably sized oven proof dish and smooth over evenly.
Bake in the oven for 30 minutes then serve immediately. Enjoy!
Prep Time:

20 minutes

Cook Time:

1 hour 30 minutes

Category:

Side Dish

Method:

Bake

Cuisine:

French
Keywords: potato mousseline recipe, french potato side dish, potato and garlic recipe, side dish recipe, potato mousseline vs mashed potatoes, baked mashed potatoes, vegetarian potato recipe