A cool, creamy, smoky dip that's as delicious as it is easy to make, mutabal is a Middle Eastern marvel!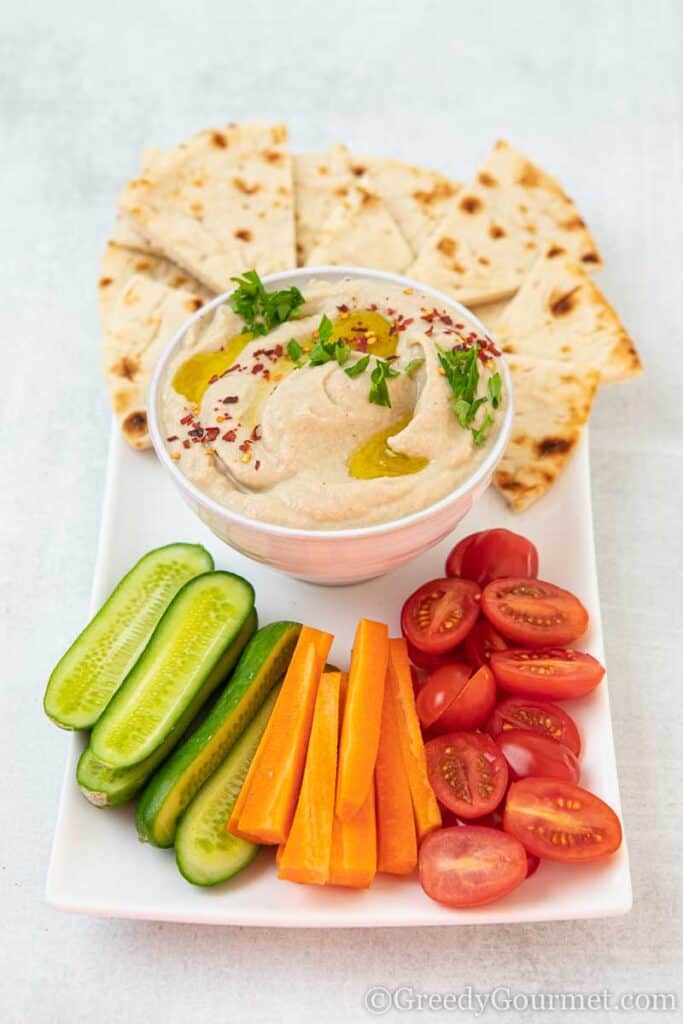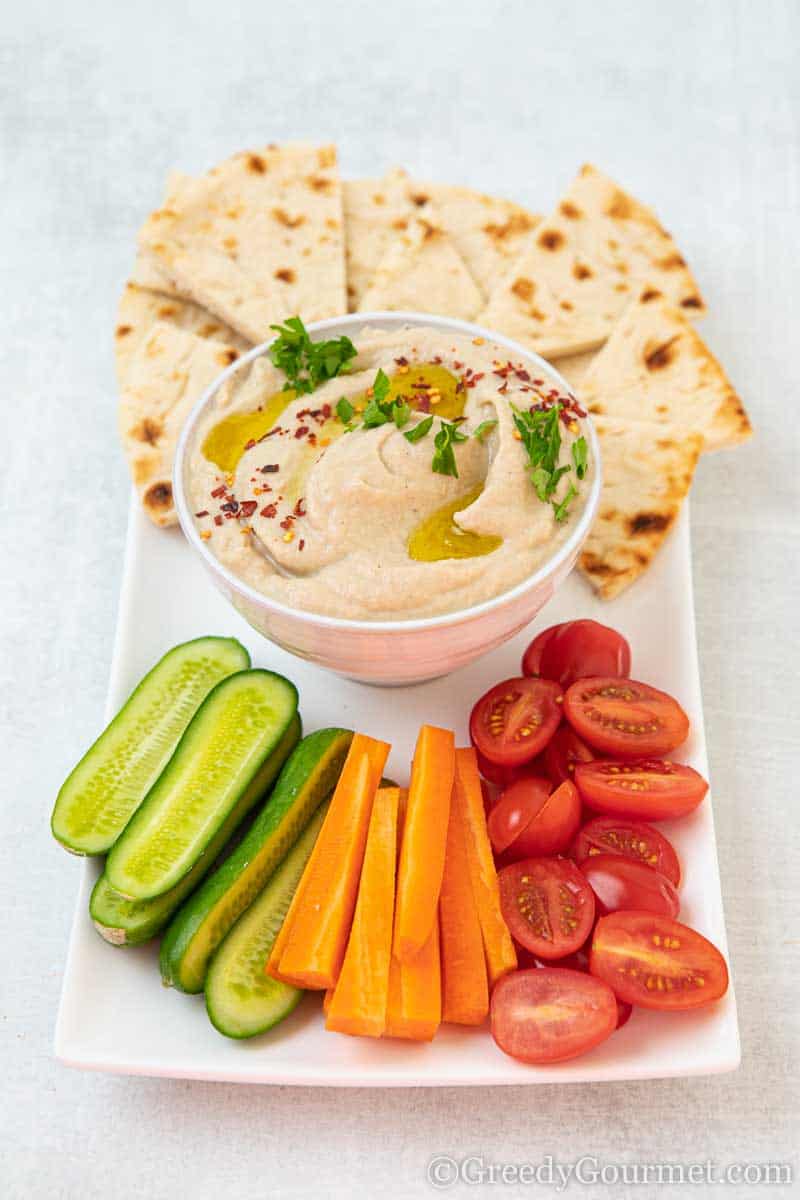 This eggplant dip is very similar to baba ganoush, with a few key additions giving it extra flavor. So, if you're looking for an exciting eggplant recipe or want to try making a homemade dip, this recipe is for you.
Products you need for this recipe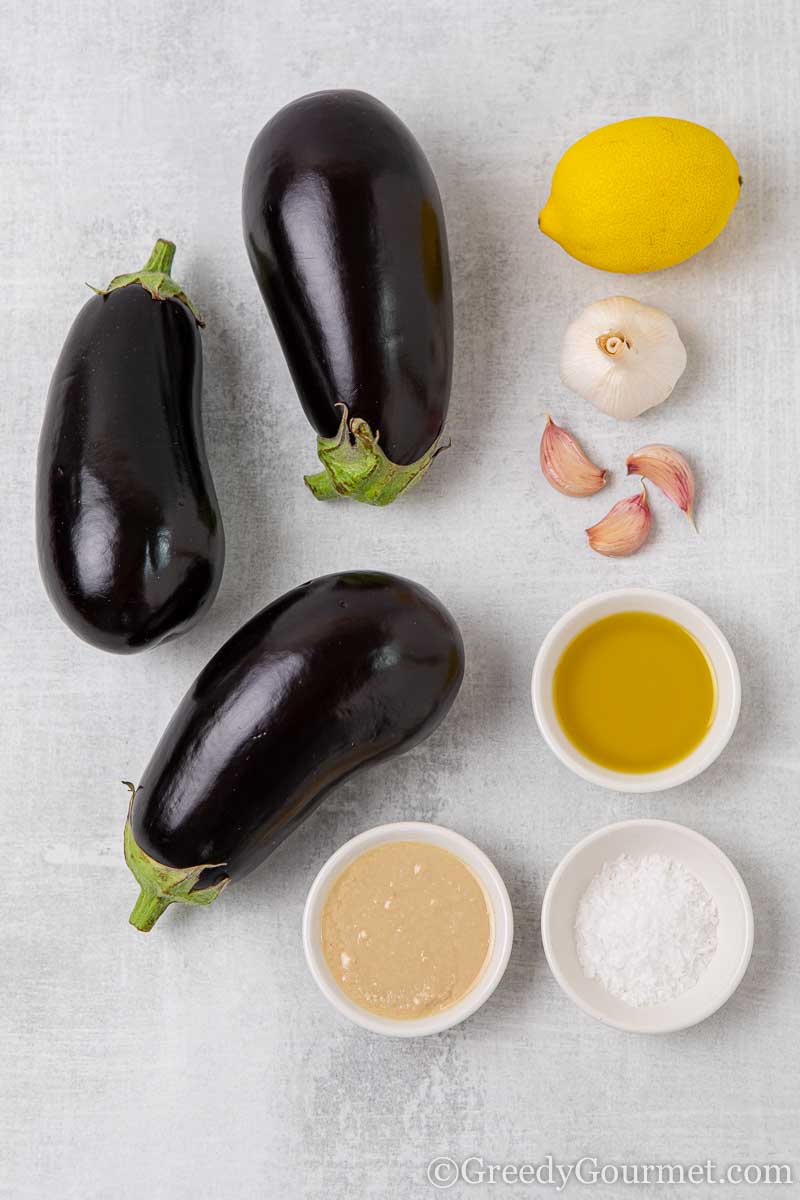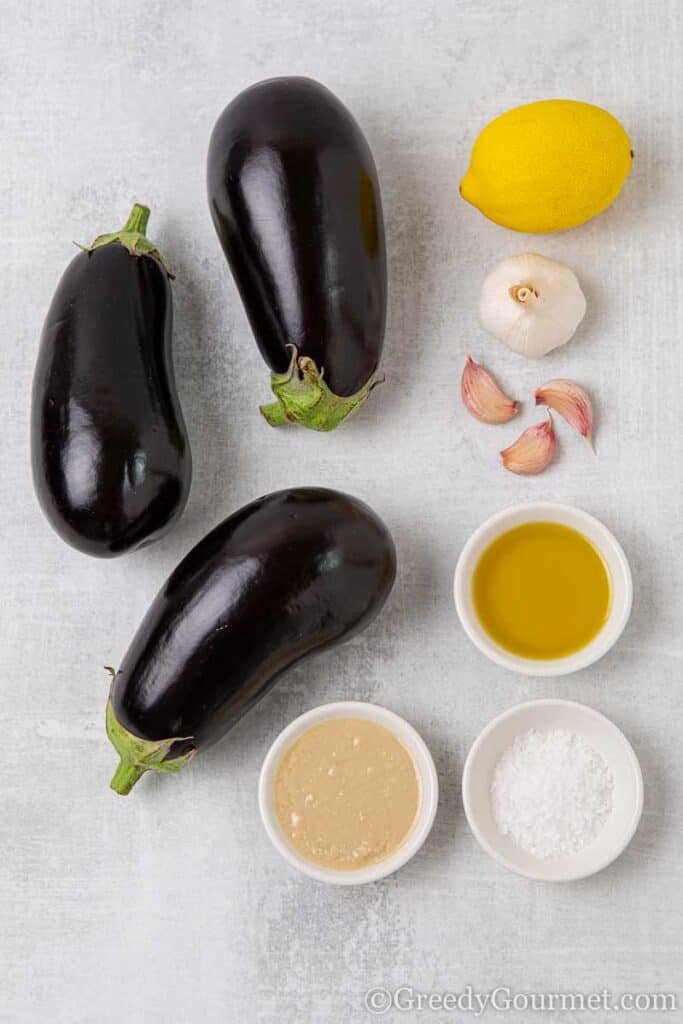 What is mutabal?
This beautiful creamy dip is one you have to try! It's essentially an eggplant dip, with the addition of extra virgin olive oil, tahini, lemon juice, garlic and salt to taste. It's such an easy recipe, with barely any prep time and is made from just a few select ingredients.
The smoky flavor comes from charring the eggplant first. You grill the eggplant directly on an open flame. The taste of flame grilled eggplant really takes this eggplant dip to another level.
Once you've got your eggplant nice and chargrilled, you make your dip by blending the eggplant with the other ingredients.
Olive oil brings a smooth velvety texture and a nice light Mediterranean flavor to the dip. Garlic is essential, for that unique depth of savory flavor. Lemon juice brings some acidity and tahini adds the all-important earthy, nutty flavor.
Where does mutubal come from?
With a long history of amazing cuisine, Middle Eastern countries know how to make delicious food! This incredible eggplant dip is no exception!
One of the most traditional mezzes of Middle Eastern cuisine, mutabal originated in that part of the world, most likely Syria or Lebanon.
Mutubal is derived from baba ganoush, which is also a Middle Eastern dip containing very similar ingredients.
What is the difference between baba ganoush and Mutabal?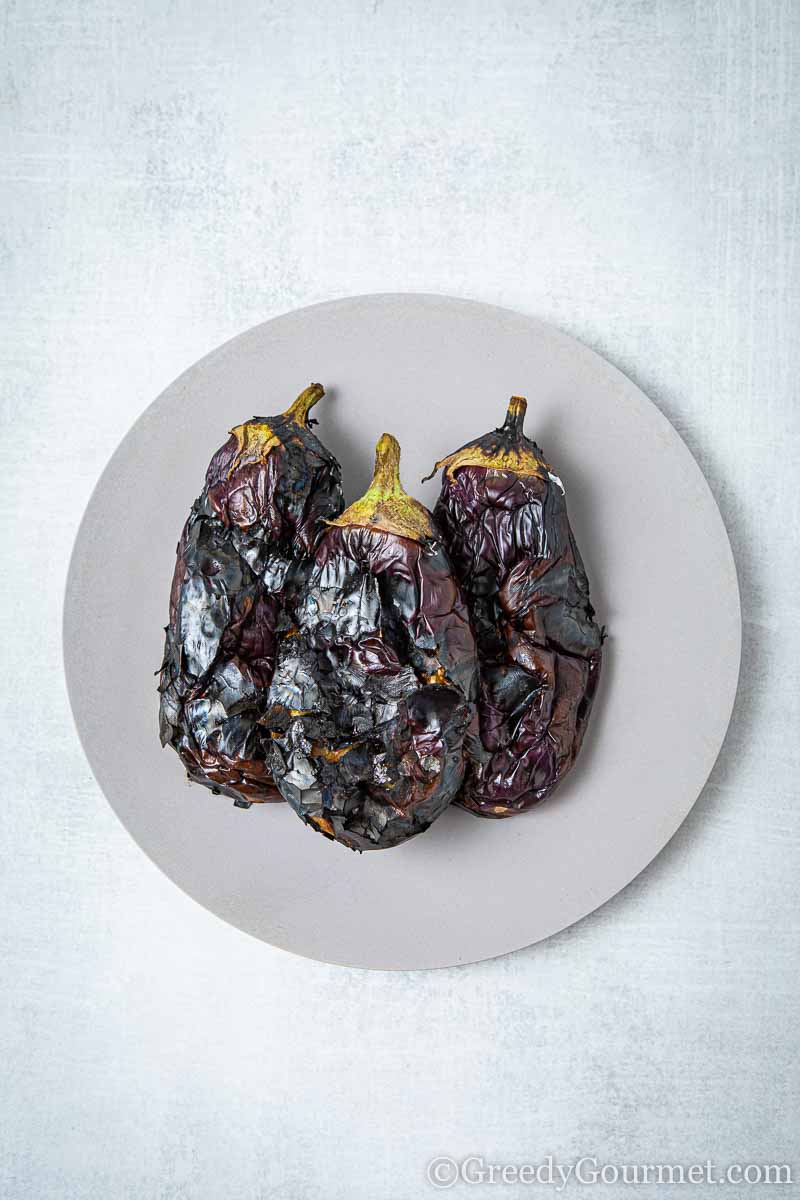 Both mutabal and baba ganoush are made using grilled eggplants. In fact, they both contain garlic, lemon and salt too.
The difference comes down to a specific ingredient. In mutabal, tahini, which is a slightly bitter, earthy, nutty paste made from sesame seeds, is added. This adds a very distinct flavor and texture, which really separates one eggplant dip from the other. 
Secondly, baba ganoush is often served with onions, tomatoes and other vegetables, while mutabal is normally just served as a dip, although the Lebanese version is sometimes served with pomegranate seeds and walnuts.
What does the word mutabal mean?
The word mutabal originates from the Arabic word tabala, which means to 'add fragrance and spice.' So, as this eggplant recipe is an extra aromatic version of baba ganoush – with the addition of the tahini – it kind of makes sense.
What is moutabel?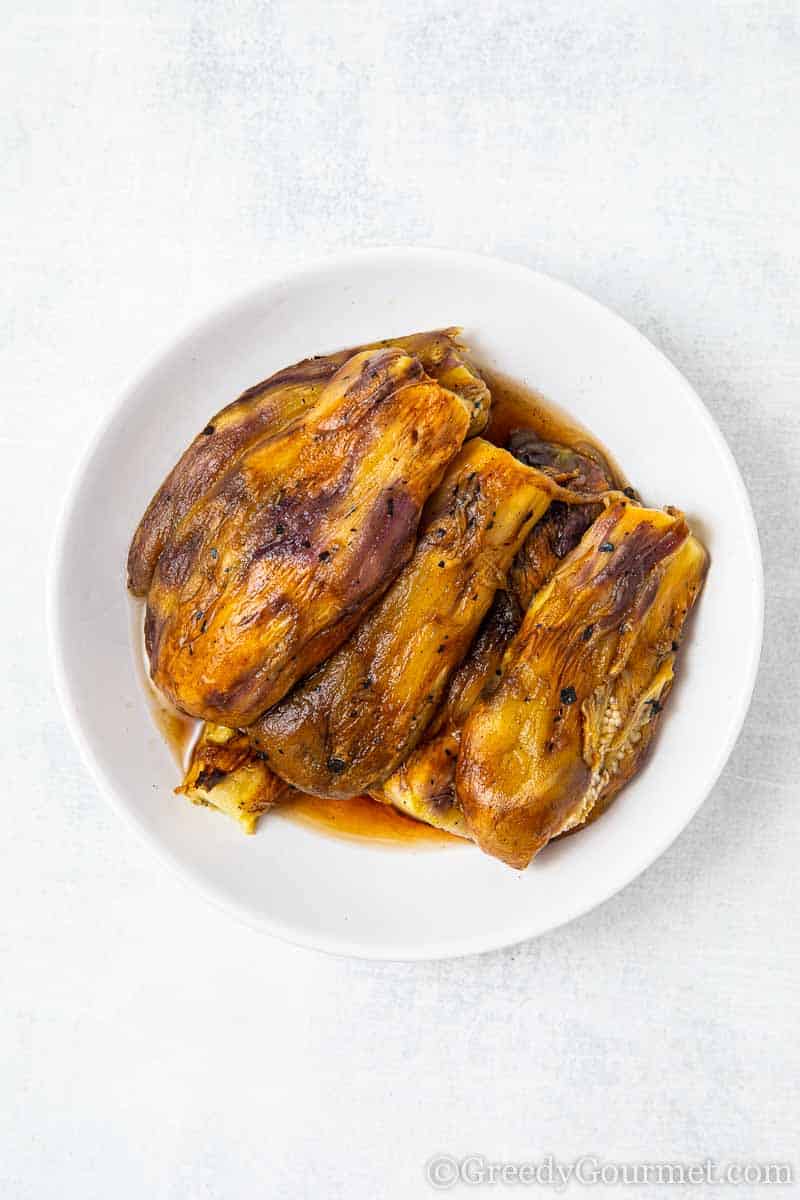 Moutabel is the same thing as mutabal. It's just a different way to spell it.
Moutabel is not the only alternative spelling. It's sometimes called moutabal. 
Whether you call it mutabal, moutabel, moutabal, or incredible eggplant dip, it's delicious either way!
How many calories does mutabal have?
As eggplant is the main ingredient to this moreish Middle Eastern dip, it's relatively low on the calorie count, although tahini makes up most of the calories.
Mutabal contains about 140 calories per 100g serving. In comparison, hummus is around 160 calories per 100g serving.
Is mutabal healthy?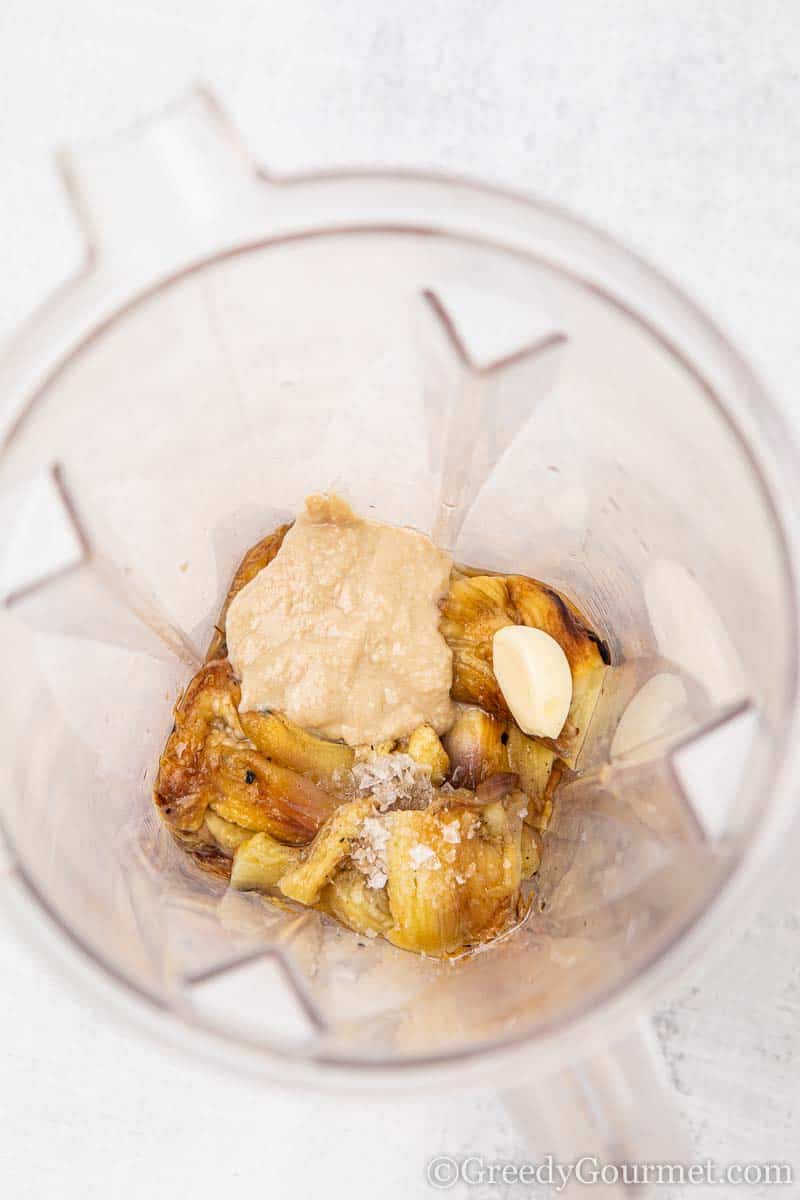 First of all, the main ingredient of mutabal, eggplant has a range of health benefits.
It's rich in nutrients, including essential vitamins and minerals. It's also high in antioxidants, which can help protect your body against serious diseases.
It could also aid weight loss, help control blood sugar levels and, if it's high in fiber, can lead to good digestive health.
What do you eat with mutabal?
Want to know what to eat with this delicious creamy Middle Eastern dip? Here's some inspiration:
Crudités – finely chopped carrot sticks, celery sticks, cucumber sticks, bell pepper strips, or broccoli stalks would make for the perfect finger food to dip in your mutabal
Flatbread – try spooning some mutabal on a delicious homemade flatbread such as this Pakistani favorite aloo ki kachori, for an amazing fusion of flavors.
Crusty bread – you could also keep it simple and spread mutabal on crusty bread. Take it one step further and make a homemade chia seed bread to pair with your eggplant dip
Burnt Aubergine Chilli – This vegan aubergine based dish works fantastically well with mutabal.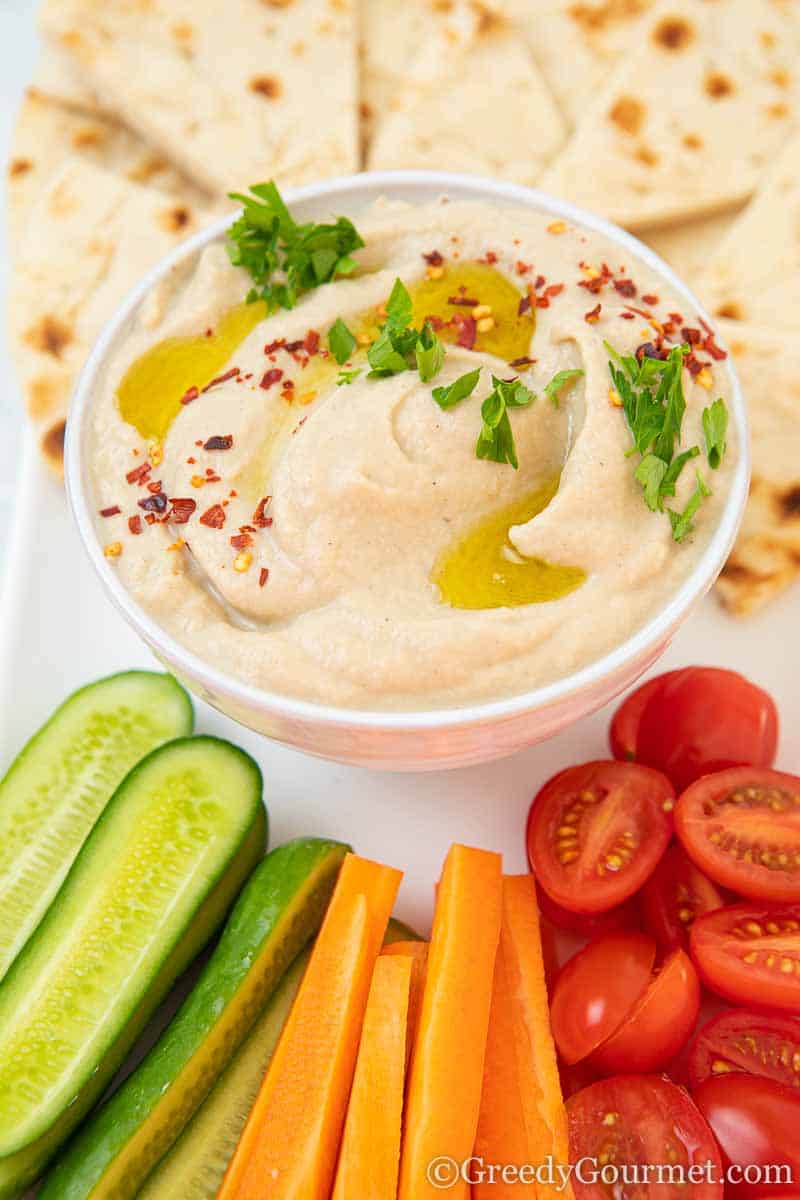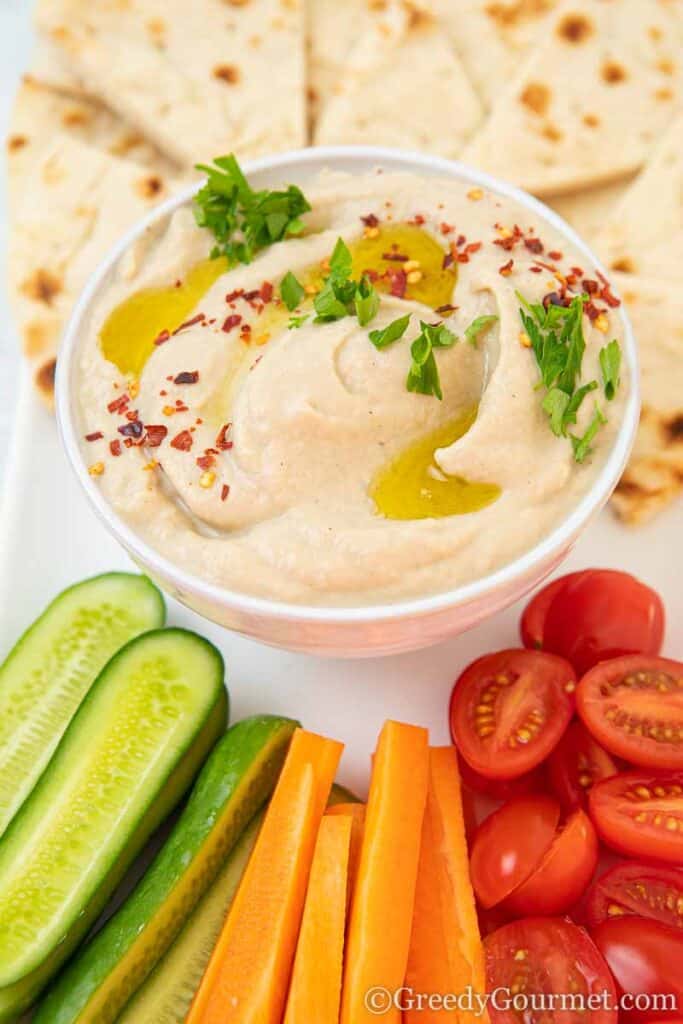 More delicious dip recipes
Print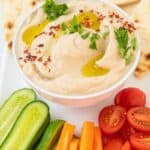 Mutabal
---
Author:

Michelle Minnaar

Total Time:

35 minutes

Yield:

4

servings

1

x

Diet:

Vegan
Description
Mutabal, an eggplant dip, is a vegan recipe from the Middle East. Roasted eggplants are peeled and blended until smooth with other simple flavours. Best served with vegetable crudités and warm flatbread.
---
1

kg (2.2lbs) eggplants, washed and pierced with fork

30

ml (2 tbsp) olive oil

30

ml (⅛ cup) tahini

1

lemon, juiced

1

garlic clove, peeled

2.5

ml (½ tsp) salt
---
Instructions
Place each eggplant on a gas hob and turn a quarter every 5 minutes. The process should take 20-30 minutes in order for the eggplants to be completely charred all over and completely cooked through. They will have a "collapsed" appearance.
Remove from the heat and set aside to completely cool down.
In a food processor blitz the eggplant, along with all the remaining ingredients, until a smooth paste is formed.
Serve with flatbread, crudités or breadsticks as part of a main meal, light lunch or simply a snack on its own. Enjoy!
Notes
You'll need about 3 medium eggplants for this recipe.
If you want bigger quantities of this recipe, you can easily double up on the ingredients.
If you don't have a gas range, you can cook them under the broiler/grill. Preheat the latter first then cook on a high setting for 20-30 minutes, turning frequently, until completely cooked through.
The bigger the eggplant, the longer it will take to cook. You want the flesh to give way upon touch. If it gives resistance, it needs further cooking.
If you're in a hurry you can peel the skins off the eggplant by running them under tap water until they're cool enough to handle. Ensure to squeeze out the excess water. The process might dampen the vegetable's flavour a bit in the process.
If you prefer your dips on the chunkier side, blitz the olive oil and garlic first. Add the rest of the ingredients and blitz sparingly to desired consistency.
Prep Time:

15 minutes

Cook Time:

20 minutes

Category:

Starter

Method:

Roast

Cuisine:

Syrian
Keywords: mutabal, mutabbal recipe, eggplant dip, vegan arabic recipe, Middle East eggplant dip, roasted aubergine dip, moutabel, vegan aubergine recipe