A tangy pickled cabbage and red onion slaw recipe brings a bright addition to every meal. The punchy flavour of thyme makes it even more interesting.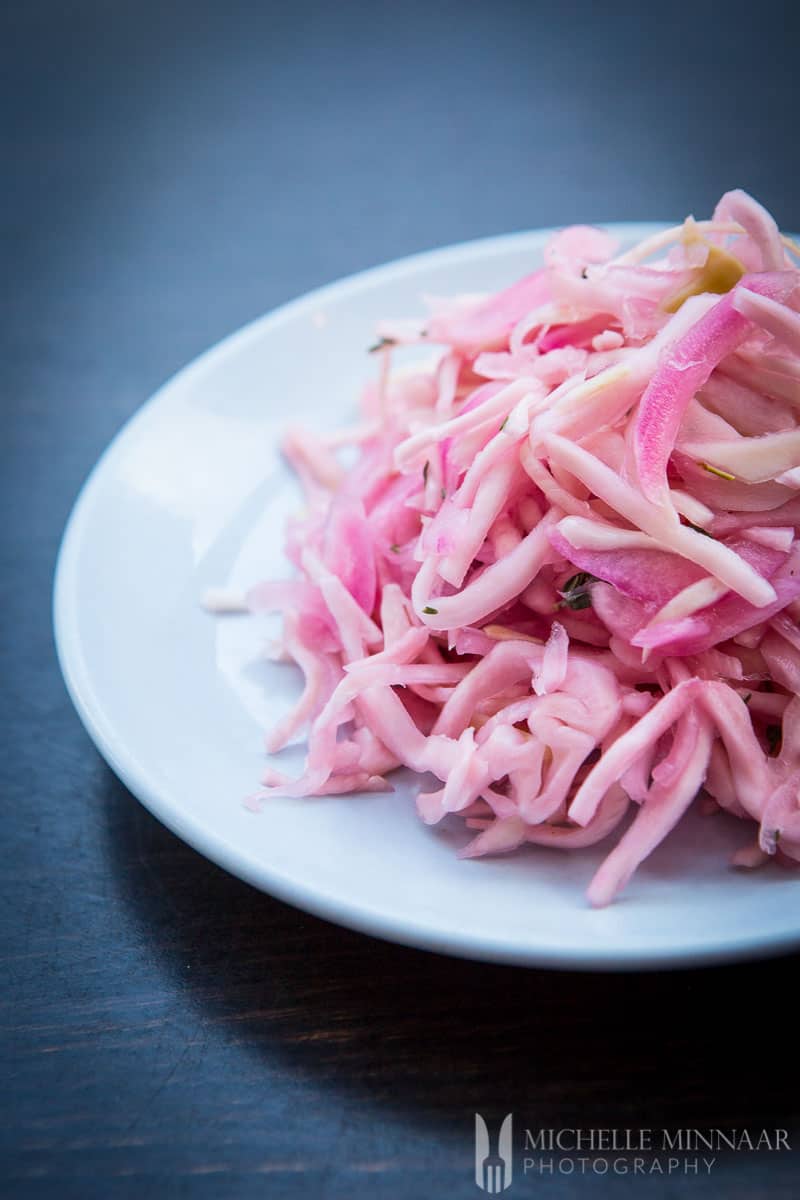 Bring this low-calorie and high fibre salad to your next party as a healthy side dish which your friends and family will love.
Crunchy and tangy - it's a light, mayonnaise-free salad which requires no cooking but must be made in advance.
Pickling
By immersing food such as meats, eggs, fruits and vegetables in brine or vinegar, you extend its shelf life. When anaerobic fermentation has taken place, it is called "pickle".
This process changes the flavour and texture of the food. Vinaigrette, a mixture of oil and vinegar originally from Asia, is now also used around the world as a pickling medium.
If the food you are pickling contains enough of its own moisture like onions and cabbages a pickling brine is produced by simply adding salt to the foods, without any added moisture or liquid.
This is typical in Korean kimchi and German sauerkraut. Also, perhaps you might have heard of Japanese pickled daikon, called takuan.
This versatile slaw is a perfect side for a number of dishes. It can be eaten with warm or cold meats, such as pork chops or cold ham. It can be used for filling in a sandwich or in a homemade burger or kebab.
In the Real Greek restaurants, you'll find it being served as a side with practically anything! The Real Greek restaurants work with the greatest Greek and Cypriot suppliers to bring the best ingredients and products from this region. You'll get the freshest and tastiest ingredients straight from Greece!
Since the pickled cabbage and red onion slaw pairs well with so many things, it makes it ideal for a party buffet. Speaking of parties, they know how to throw one at The Real Greek restaurants.
Therefore if you have a special day coming up - be it a birthday, graduation party, new job or if you are just in the mood for celebrating, consider The Real Greek.
At The Real Greek restaurants, they love to celebrate, and to this aim they have created four different party menus.   There is something here for every taste and every budget.
With 15 locations in England, ten of which are in the Greater London area, there is a good chance that you will have a Real Greek restaurant nearby.
So, next time you have something to celebrate, why not do it with authentic Greek food in an amazing and friendly atmosphere?
Antimicrobial Herbs and Spices
The flavouring of pickles is enhanced by adding antimicrobial herbs and spices such as garlic, cloves, cinnamon and mustard seeds.
Pickling preserves foodstuffs for months on end. Unlike canning, there is no strict sterilisation process required in pickling due to the natural fermentation process taking place.
I always advise to err on the side of caution though and I do boil my pickling jars and lids before throwing in the ingredients.
The acid or saline levels, in conjunction with the fermentation temperature and the exclusion of oxygen, will determine the flavour of the end product.
History of Pickling
India began pickling cucumbers over 4000 years ago. In ancient times due to the lack of refrigeration "pickling" was necessary not only to preserve fresh foods out of season but also to keep them healthy on extremely long voyages either by land or sea.
Sailors required huge stockpiles of preserved foods and nutrients on sea travels especially to prevent disease and illnesses such as scurvy. Salted pork and beef were common staples for ships.
Today a lot of us eat and make pickles because it's fun and it we enjoy the various flavours of common foods. Pickling can also improve nutritional values of the contents by introducing B vitamins through bacterial production.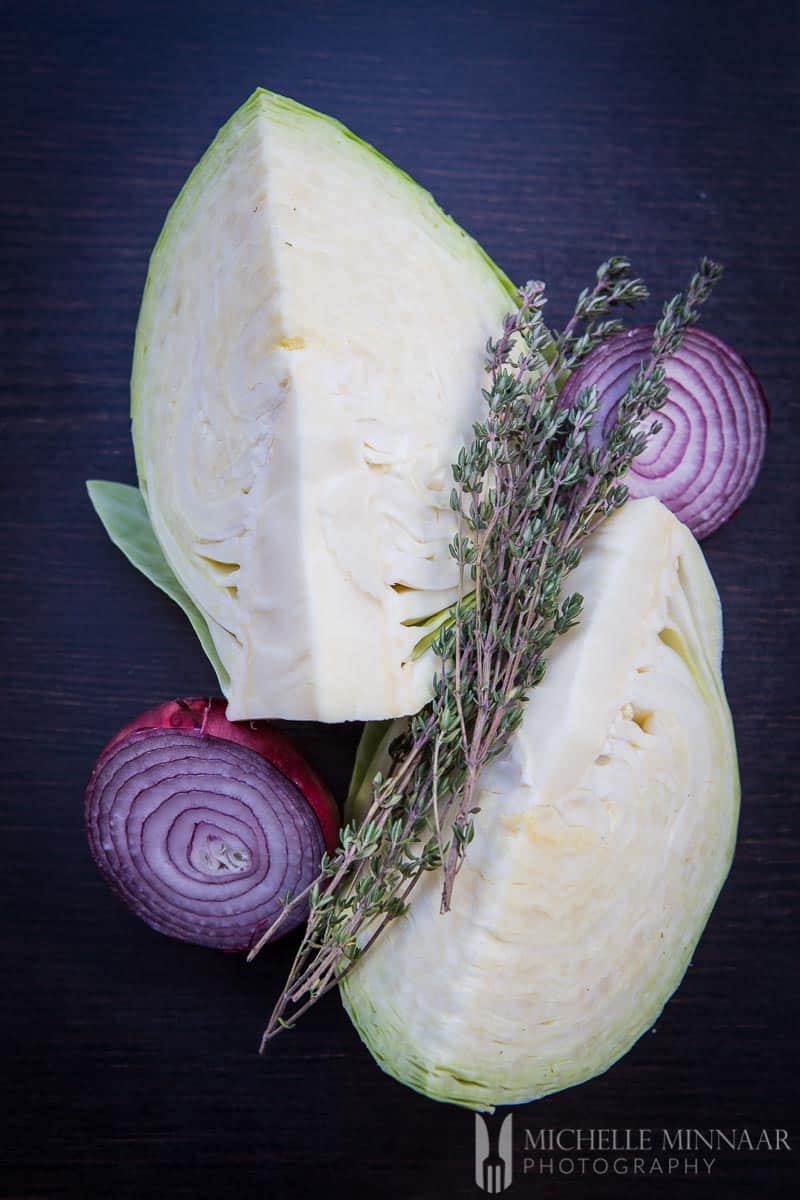 History of Cabbage
Cabbage has an extensive history but no-one can pinpoint the exact origins. This is mainly due to many leafy greens all classified under one Latin name "Brassicas".
Examples are cabbages, Brussel sprouts, kale, cauliflower and broccoli. They represent one of the three ancestral lines of which all other brassicas originated. Related vegetables in the kale family are very different.
Ancient Greeks considered cabbages to be unfavourable around grape vines, believing that the former would impart the unwelcome odour to the grapes. This is a Mediterranean sentiment which still holds today.
Brassica was considered by some Romans a table luxury and a prominent ingredient in European cuisines by the Middle Ages.
Added Vinegar
The Roman elder Cato seems to have started the pickled cabbage cuisine by eating it often dressed with vinegar. Cato was instrumental in dictating the medicinal directions and uses of cabbage which included rinsing babies in a cabbage eater's urine!
Cabbages with round heads appeared in 14th-century England and were referred to as "cabaches" and "caboches", old French words for "unopened leaves.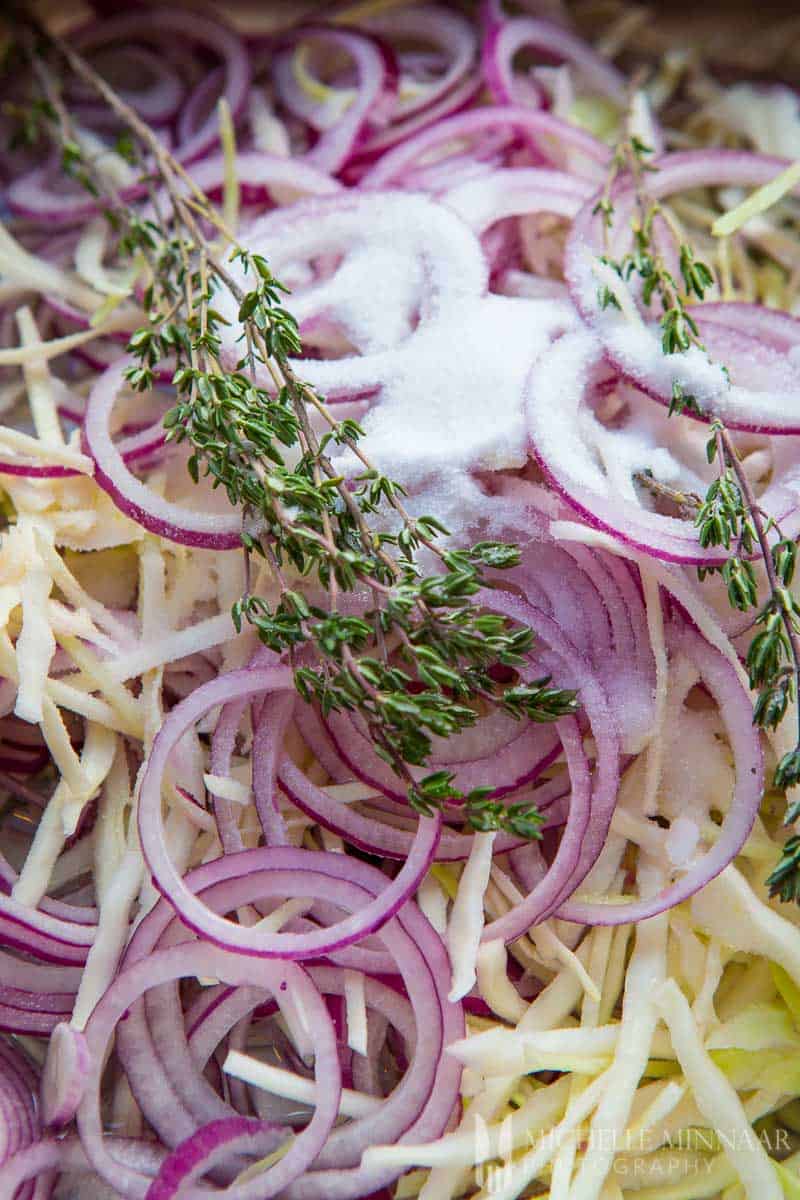 Only Cabbage, No Salt and Bread
In Istanbul, Sultan Selim III wrote about cabbages referring to the "halva feast" and insinuated the festival and feast was incomplete without cabbage.
Portuguese traders introduced it to India from the 14th to 17th centuries. Cabbages make an appearance in the lean and poverty stricken year of 1420. The poor people of Paris ate nothing but cabbages and turnips with no bread or salt.
Further cabbage varieties were introduced into Europe in the 16th century. This is where we start seeing the common pickling of cabbage and the first mentions of sauerkraut.
Sauerkraut was instrumental in the prevention of scurvy on ships for the Scandinavian, Dutch and German sailors. In the world of literacy, cabbage is well known to be eaten by the poor.
Remember when Charlie Bucket and his family, in Roald Dahl's Charlie and the Chocolate Factory, started starving eating nothing but watery cabbage soup?
What is a Red Onion?
Red onions are a lineage of the onion with white flesh and red purplish skin. They are sweet in flavour and consumed as they are raw, grilled or cooked with other foods. They add exciting colour and flavour to many dishes.
History of Onions
It is believed onions originated in central Asia however other research suggests that onions may have first grown in Iran and possibly West Pakistan.
Wild onions were presumably eaten before writing or farming was invented. This wild humble vegetable is believed to have been a prehistoric staple diet.
Archaeologists, food historians and other researchers are all in agreement that the onion has been cultivated for over 5000 years. As they are so easy to grow and germinate easily in various climates, it is very likely they were one of the first crops to be formally cultivated in farming, as we know it today.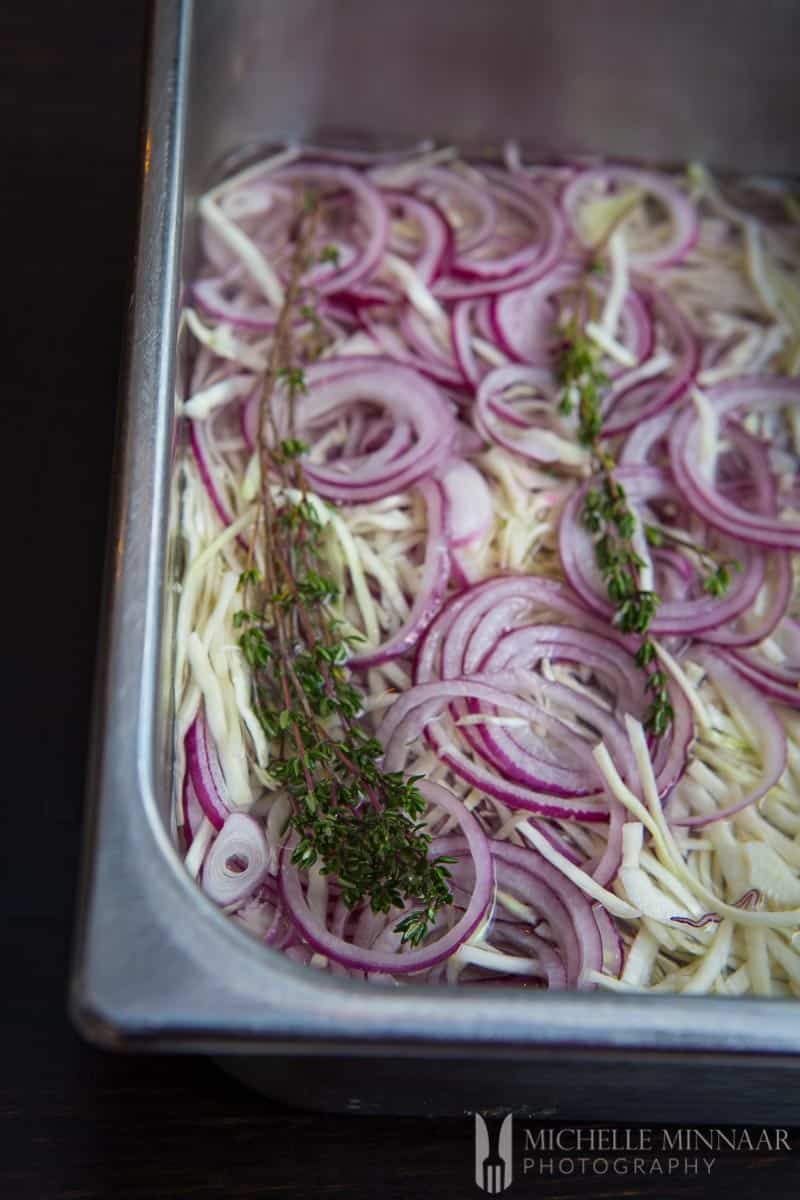 Life Giving Onions
They were instrumental in sustaining life. Used for thirst prevention they were dried and preserved for later consumption in scarce times. Historic documentation details the importance of the onion in medicine, art and mummification.
Research shows that onions were grown in Chinese gardens as far as 5000 years ago. There are ancient Indian Vedic writings that refer to onions. Egyptian evidence suggests onions were used from 3500 B.C. and the Sumerians as early as 2500 B.C.
One Sumerian document from about 2500 B.C. tells a story of the city governors onion patch being ploughed over by a citizen.
Bow Down to Onion Eternity
Onions were worshipped in Egypt. Symbolising eternity they were buried with the Pharoahs. I'm sure you have heard of the onion layer story and how we use that to represent personalities in modern business culture and psychology.
Well, the same story was used to edify the onion in Egypt - eternal life being represented by the circle upon circle of onion flesh.
A slightly more bizarre use of onions was in the mummification of the dead. They were inserted into the pelvic area of the body, pressed flat against the ears, embedded in the thorax and in the cavities of the sunken eyes.
Flowering plants were laid on the chest, whole onions were attached to the legs and on the soles. The Israelite slaves ate onions in Egypt according to the bible and lament the missing onions in their diet in the desert with Moses.
Apicius, the Father of the "Cook Book"
The Romans brought onions with them on journeys into Germany and England. Apicius, the Roman gourmet, includes many references to onions in his recipes in the eighth and ninth centuries.
European cuisine in the Middle Ages consisted of three main vegetables; onions, beans and cabbage. As the main component of medical treatment, onions were prescribed to heal snake bites, alleviate headaches and hair loss. O
nions were so versatile in this time period that rental payments were made with onions and they were given liberally as wedding gifts.
Pilgrims travelled to the New Worlds with onions on the Mayflower. Upon their arrival though they found that different varieties of wild onions already grew profusely throughout North America.
Native American Indians ate them raw or cooked as seasonings or as vegetables. Their medicinal properties were used in syrups, ingredients in dyes, as poultices and even as toys.
Diaries of colonists portray onions as the first agriculture planted as soon as the Pilgrims' could clear their lands for planting food.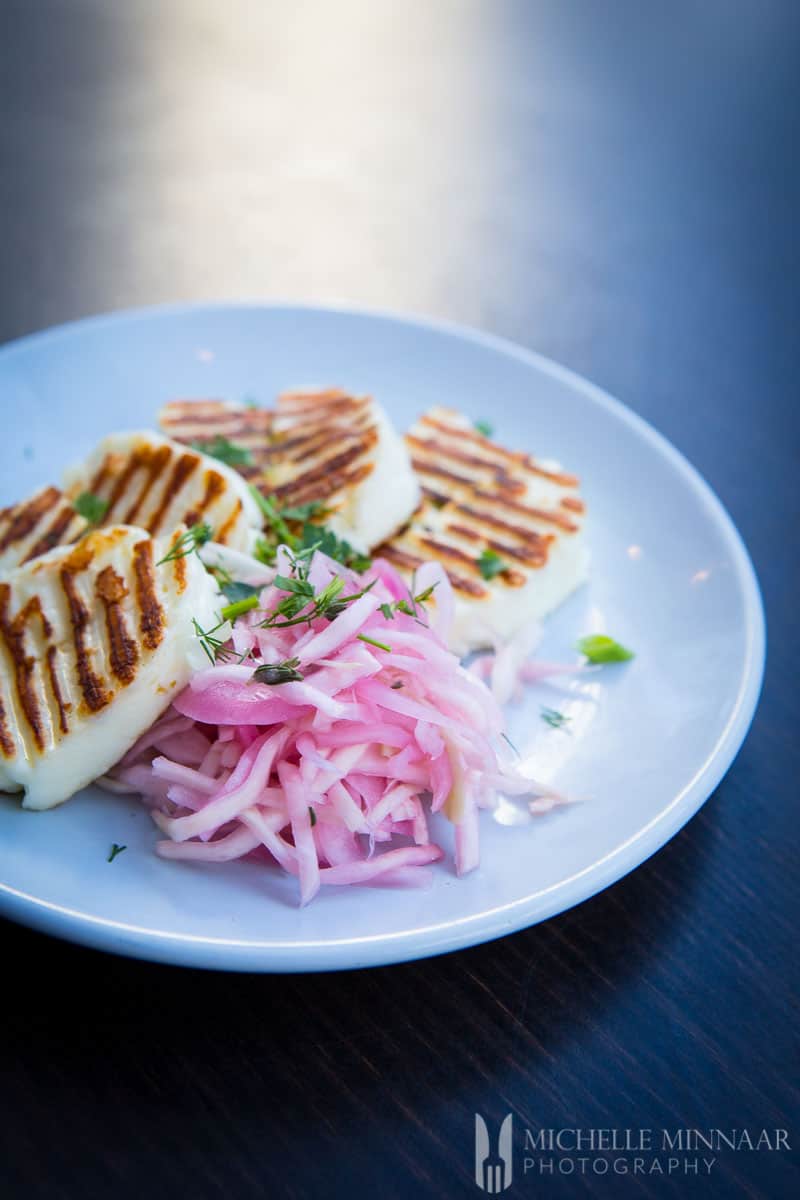 Nutritional Value
Red Onions
Have a high polyphenol content and a very rich concentration of flavonoid polyphenols. The flavonoids include a particularly large amount of quercetin which provides the antioxidant properties that have curing and preventative properties related to cancer, digestive and heart illnesses.
Cabbage
Packed full of vitamin C, vitamin B6 and vitamin K, a source of manganese, potassium, dietary fibre, vitamin B1, folate and copper, cabbage also has choline, vitamin B2, phosphorus, magnesium, selenium, calcium, iron, protein, pantothenic acid and niacin.
Quite a mouthful of healthy compounds for one vegetable.
Pickled Cabbage and Red Onion Slaw
How to serve
This Pickled Cabbage and Red Onion Slaw recipe takes tacos to a new level.
This slaw is a great accompaniment to cold meats.
Add a bright colour explosion to you grilled and fried fish.
It is perfect on a sandwich or as a topping on a lean protein for a fresh, low-calorie lunch.
The wonderful side dish to any meal, especially to high-fat meals like eisbein. Just like the Germans eat sauerkraut with the latter.
Delicious on any sliders. Absolutely extra specially delicious on lamb sliders.
If you love onions, check out these tobacco onions!
Print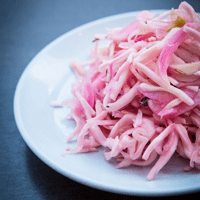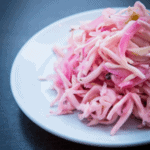 Pickled Cabbage and Red Onion Slaw
---
400g

(1lb) red onion

400g

(1lb) white cabbage

750

ml (1½ cup) white wine vinegar
A few sprigs of fresh thyme

150g

(

5oz

) sugar

10

ml (2 tsp) salt

250

ml (1 cup) water
---
Instructions
Using a mandoline or mini food processor, finely shred the cabbage and onion and leave aside.
Mix together white wine vinegar, salt, sugar, water and thyme.
Add your cabbage and onion to the liquid formula mix and press down so all the vegetables are covered in liquid.
Leave in the fridge overnight. 
Once left for 24 hours it is ready to use.
Notes
This is best served as a small side dish.
In the photos this pickled slaw was served with Halloumi (link to Grilled Halloumi). It is ideally served with hearty food because its acidity cuts through the richness.
Nutrition
Serving Size:

1 serving

Calories:

104

Sugar:

22.3 g

Sodium:

603 mg

Carbohydrates:

25.4 g

Fiber:

2.3 g

Protein:

1.4 g
save the recipe to your pinterest board