We all probably know the line from the Christmas song "Chestnuts roasting on an open fire…" Nothing says Christmas like the rich comforting aroma of roasted chestnuts wafting from the fireplace, if you are lucky enough to have one. Roasted chestnuts are a must every year during the holidays, at least in my family. The warm creamy nuttiness along with the rich texture is filling and soulfully satisfying. It is also a good party food if you are having people over during the holidays – a nice variation to the sweet Christmas puddings and biscuits. Make large batches so you can use the roasted chestnuts in other Christmas recipes too.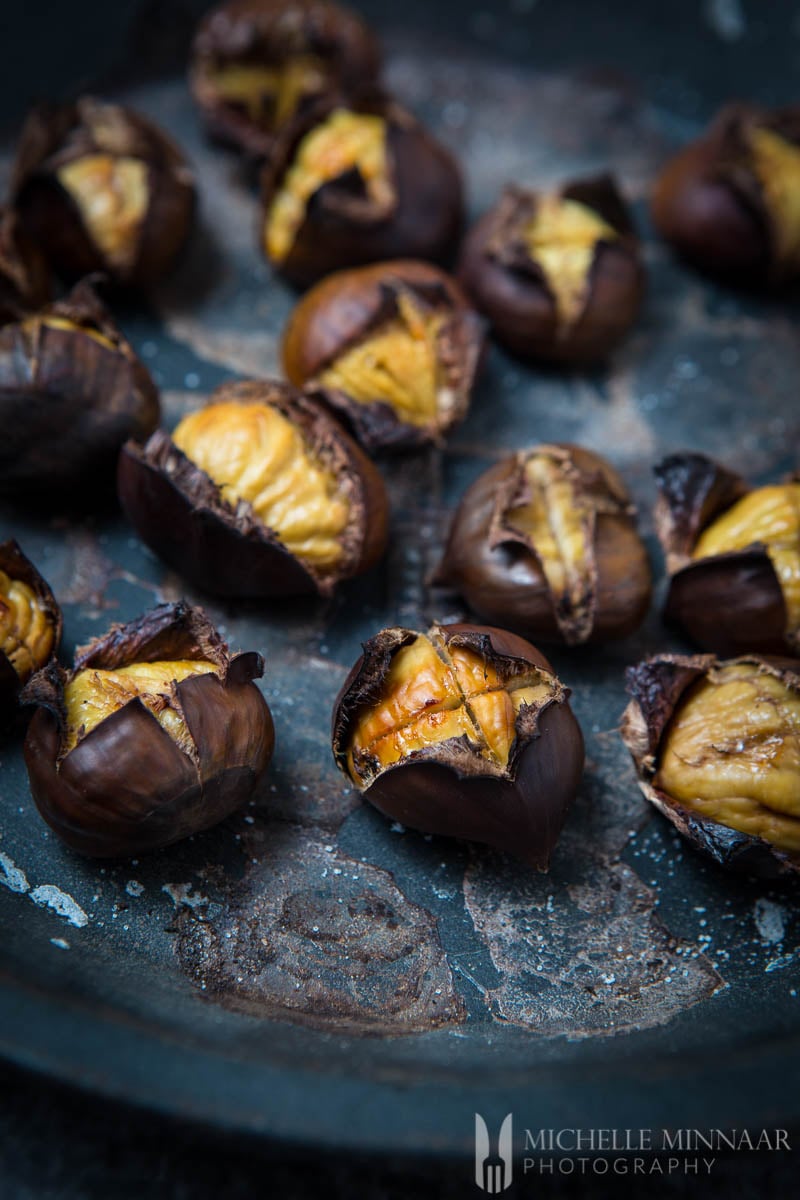 roasted chestnuts from the past
I remember my first trip to Europe. It was December 1997 in London. Every single time I catch the scent of roasted chestnuts, I go back to this exact moment. Even though the weather was ghastly, very unlike the South African weather I was used to, I still remember this day. Outside the British Museum my father dragged my mother and me to a street vendor. In a few seconds I was holding a piping hot, brown paper bag in my hands. My father took one foreign looking object out of the bag and showed me how to peel it, revealing a pale, caramel flesh.
It was my turn to try one. The chestnut was soft, crumbly and sweet. I was hooked. Since then I have moved to England and can never grow tired of chestnuts when they arrive on the shops' shelves. Seeing them is a confirmation to me that winter and the holiday season are coming.
Growing up in South Africa, I associated summer with lychees and my father and I frequented greengrocers in the hunt for the best fruit in town. Afterwards, we would share a whole 2kg box in one sitting, eating in complete silence, enjoying life's simple pleasures.
Since lychees aren't exactly in great supply here I have resorted to chestnuts to bond with my daughter. Every winter I buy a bag of chestnuts at least once a week, and in each other's company we would peel the chestnuts systematically and gobble it up with more butter than the government says is good for you. This has now become one of our favourite family traditions.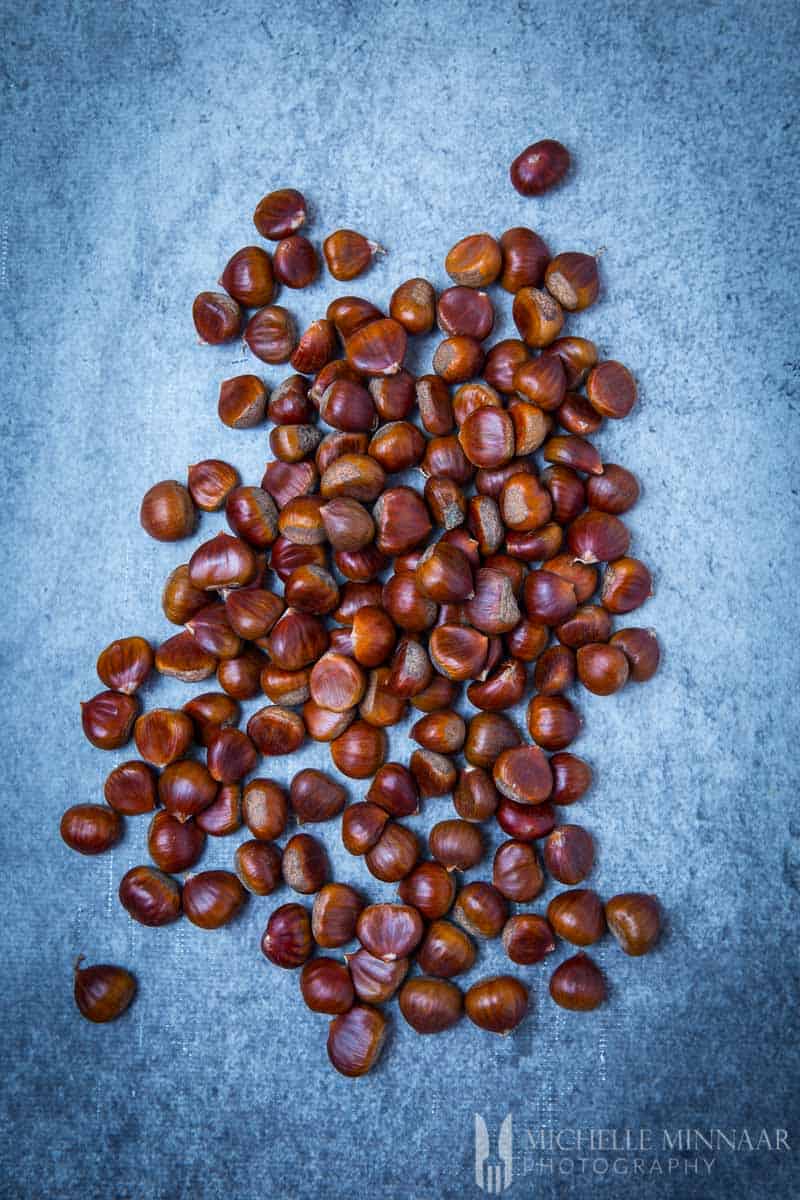 the chestnut
The chestnut is a filling ingredient, perfect for rich recipes. In fact, I have made a delicious chestnut soup recently out of roasted chestnuts. In this recipe, I described the different types of chestnuts. Did you know that the ones you generally find on the street are not edible? Check out my chestnut soup recipe for more information on how to distinguish edible and non-edible chestnuts.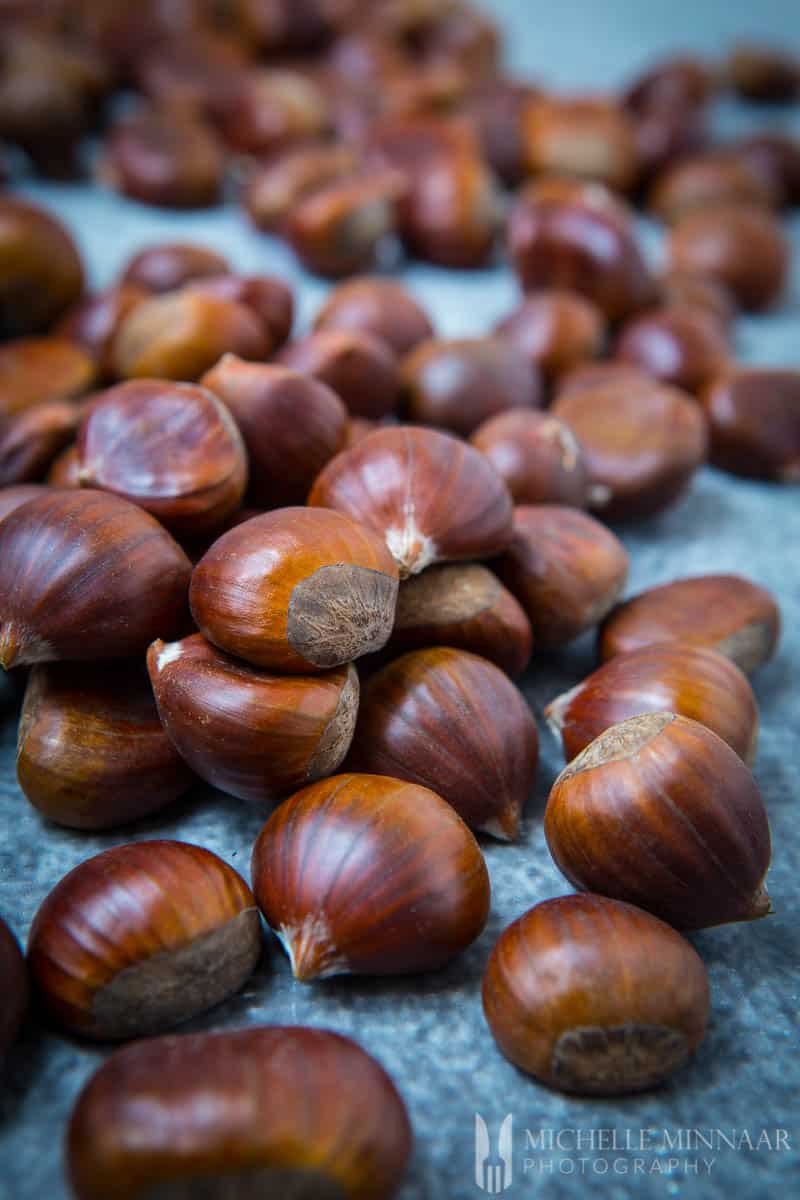 the cut
To score the roasted chestnuts you'll need to use a sharp knife. Take care with your fingers, so it's best to use protection gloves. Why is it important to score the chestnuts before roasting them? The scoring prevents them from exploding in the oven or on the skillet. Also, they cook faster. Most people cut the roasted chestnuts with a cross-cut, however a single cut works much better. This is the type of cut you'll find in the carts on the street. The single cut makes the roasted chestnuts much easier to shell. Admittedly, I regularly use the cross-cut method because it's faster.
Once you score the chestnuts, soak them in water at room temperature. Leave them in for about 10 minutes. The residual water helps the roasted chestnuts steam up and cook faster. The end result will be chestnuts with perfect consistency. No need to worry about them drying out!
roasting
There are a few methods how you can roast the chestnuts. Either, you can use your fireplace, gas stove or your oven. If you are lucky enough to have a fireplace at home, your roasted chestnuts will taste rich with lovely smoky flavours. The more you char them in the fire, the more intense they will be. You will need a special cast iron skillet or a carbon steel pan with large holes at the bottom. These holes allow high heat transfer and are perfect for roasting and charring. You can use this type of skillet also with a gas stove.
If you don't have a fireplace nor gas stove at home, you can always rely on using your oven for perfect roasted chestnuts. Just place the scored roasted chestnuts in the baking tray and turn the heat up. Now, depending on the size of your chestnuts and how you soaked them, you'll need to roast them accordingly. My readers tell me that a good ten minutes is more than enough, but feel free to keep them in a little longer. You can control the charring and the intensity of the smoky flavours. It's best to test one after 10 minutes, because overcooking will result into the hardening of the flesh, which is very hard going on your teeth.
Some people like to add in a little flavour already as the chestnuts are roasting. For example, you can sprinkle with coarse salt and add in a little nutmeg. Or you can pour over a little bit of wine, port or liquor. However, one of my readers cleverly said – "why ruin the perfect flavours of the roasted chestnuts?? They are excellent alone; however you can tweak the taste to your liking.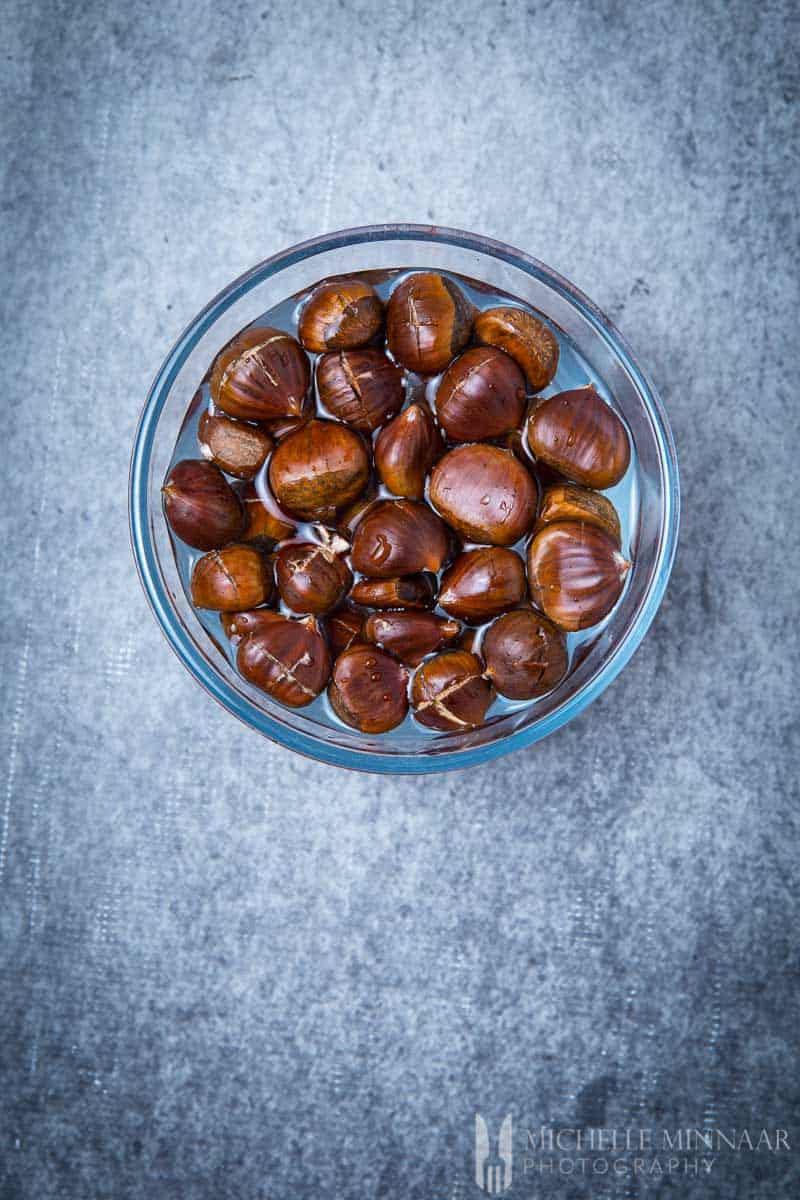 almost ready
Once you feel that the roasted chestnuts have enough colour and are ready, remove them from the heat. Put them in a cloth towel or a heat resistant bag. Leave them in there to cool for a while. At this point, I like to shake the bag of roasted chestnuts as it helps them cool faster. As soon as it's possible to handle the roasted chestnuts, you can start peeling the hard shell off.
If this is your first time eating roasted chestnuts, then you'll see that they are also covered with a secondary skin. This skin is woody and dry, but edible. You can eat the latter; however I recommend eating the chestnuts with the shell and skin peeled off. In any case, the skins will come off easily while the roasted chestnuts are still warm.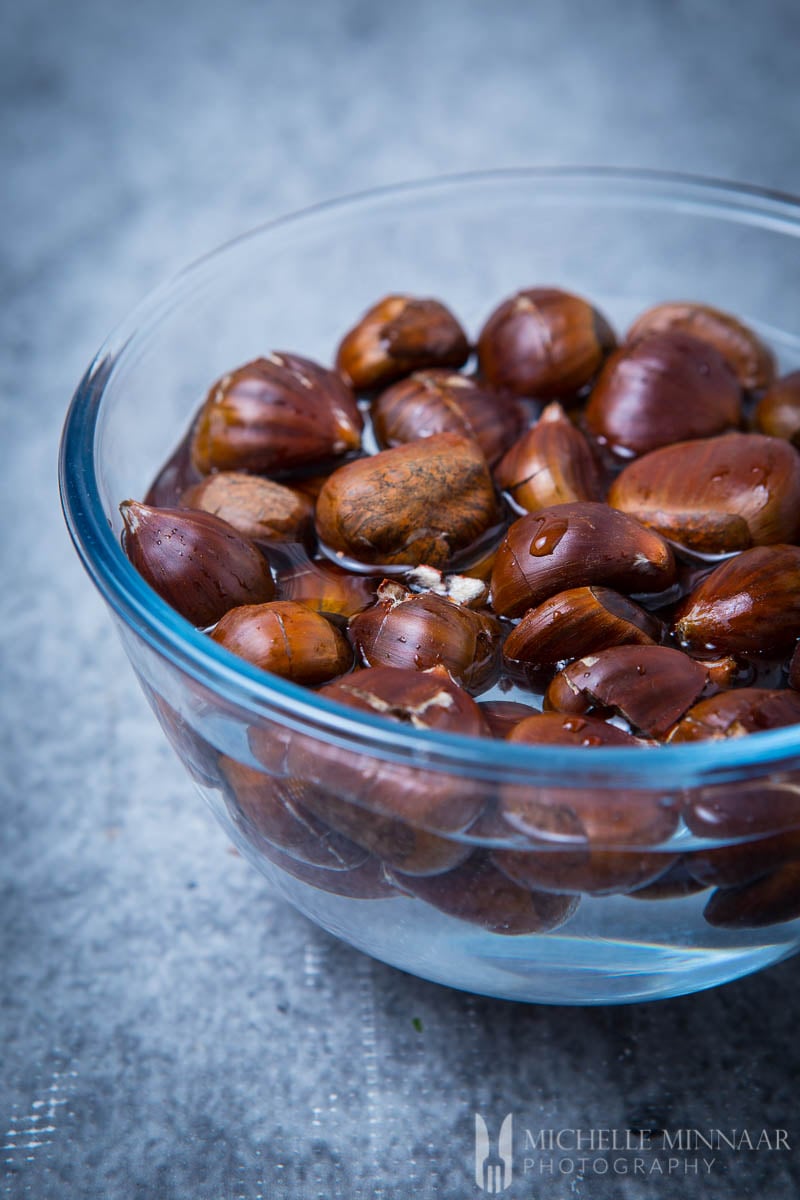 toppings
A reader recommended to top the roasted chestnuts off with butter while they are hot. This combination is divine! The butter makes the chestnut softer and creamier. I also recommend using whipped cream and sprinkling with nutmeg and ginger spice. Those Christmas spices work extremely well, and you can even use cocoa powder or powdered sugar. This is why I love roasted chestnuts, you can tweak them in a savoury or sweet direction. Which one would you go for?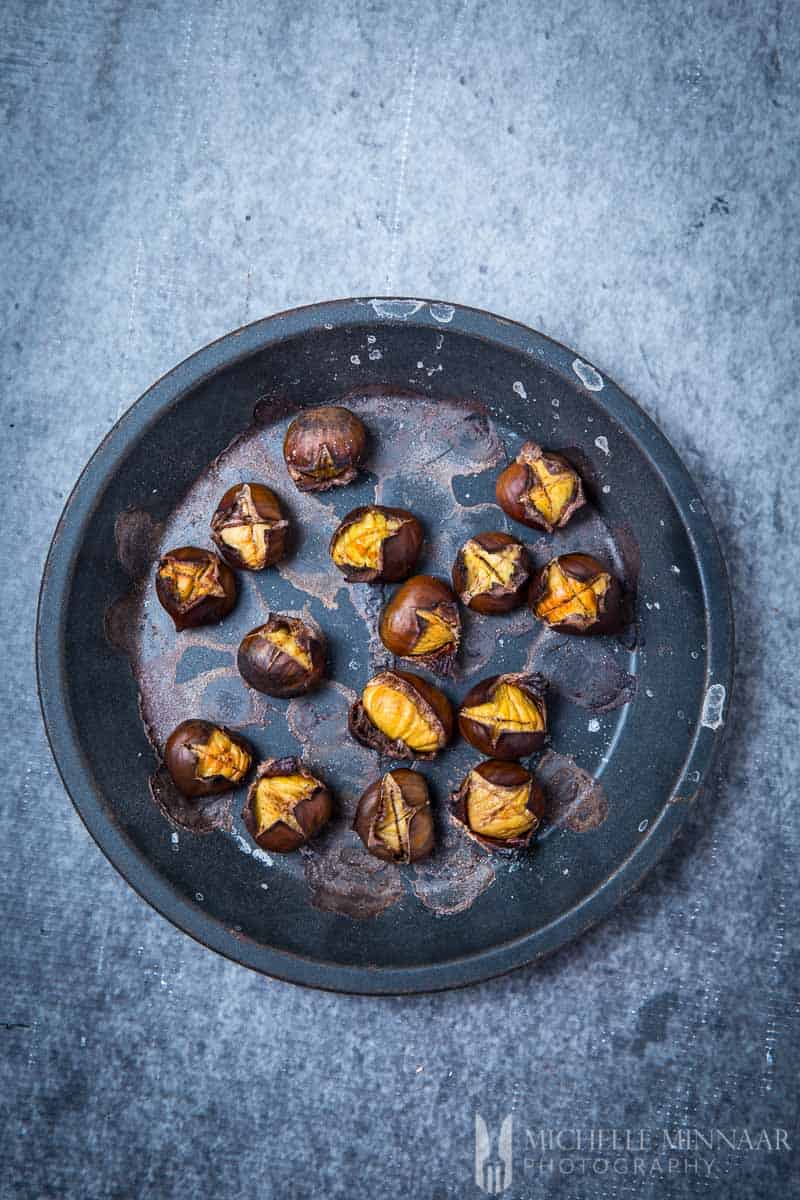 leftovers
Generally, once I decide to roast chestnuts, I make a large batch. For one, when I start eating these, I can't stop and they end up disappearing rather fast. However, when I do make a large batch, I love to use them in a chestnut soup, as mentioned before. For those of you who have a sweet tooth, you can also try making crème de marron. Crème de marron is a fresh sweet 'paste' made out of blended sugar, roasted chestnuts, vanilla, water and sugar. A fantastic spread on top of pancakes or croissants. Very similar to the Italian 'crema al pistacchio'.
What is your favourite way to enjoy chestnuts?
Print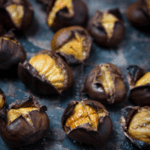 Roasted Chestnuts
---
chestnuts, as many nuts as you reckon you can eat but let's say 150g (5oz) per person
---
Instructions
Preheat oven to 200°C (fan 180°C/400°F/gas 6).
Using a very sharp knife (and being very careful not to cut yourself), cut a 2.5cm/1 inch cross into one side of each nut. The intent is to allow steam to escape gently instead of by explosion, which can be very messy.
[Optional] Place the chestnuts in a large bowl filled with salted, ice cold water and soak for ten minutes before draining them. 
Put in a roasting tin and bake until the skins open and the insides are tender after about 20-30 minutes.
Hot chestnuts peel easier than cold ones, so it's best to eat right away. So when you remove them from the heat, immediately cover them with a towel and keep them covered as you remove one at a time to peel. Peel away the skin and the pithy white bit inside to get to the sweet kernel. If you are sharing with people, make everybody peel their own!
[Optional] Serve with butter!
Prep Time:

5 minutes

Cook Time:

20 minutes
Nutrition
Serving Size:

1 serving

Calories:

170

Fat:

2 g

Carbohydrates:

36 g

Fiber:

4 g

Protein:

2 g
save the recipe to your pinterest board