Tender and delicious with a satisfying crunch, sous vide asparagus is simply sensational!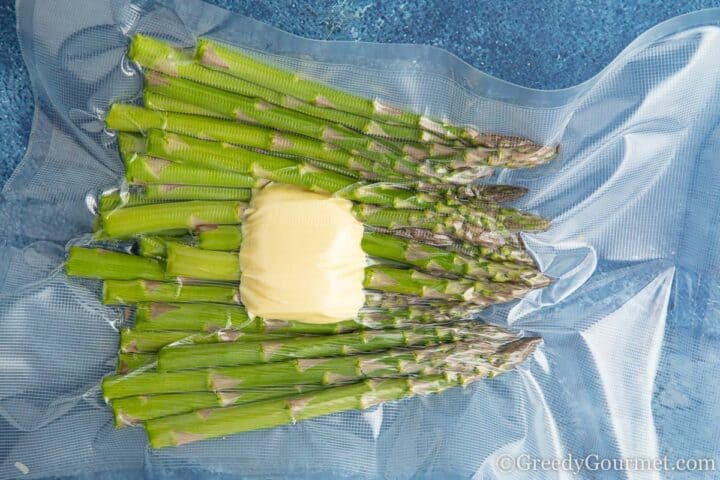 Once you've cooked asparagus sous vide style, you'll never go back to the boil ever again. This sous vide cooking method ensures perfectly cooked asparagus every time.
Plus, it's so simple – a pinch of salt and a knob or two of butter. The rest is down to your super sous vide cooker!
Why you'll love this recipe
Asparagus is healthy
The vegetable is delicious
It's a simple recipe – just fresh asparagus, some butter, some seasoning and a sous vide bag – your sous vide cooker does the rest of the work!
Equipment needed to make this recipe
Before you make this sous vide asparagus recipe, there are a few items of equipment you'll need in your kitchen.
Sous vide cooker – this little gizmo is where the magic happens, this sous vide machine has great reviews
Sous vide bags – you'll need plenty of bags to sous vide your vegetables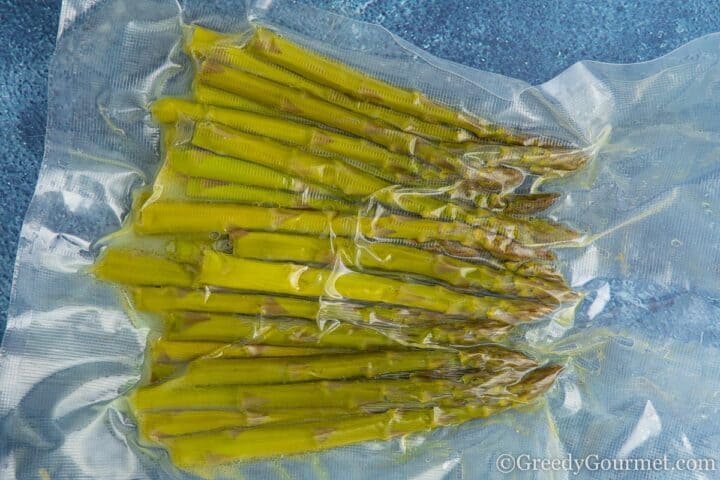 What to serve with sous vide asparagus
Main meal
Asparagus sous vide goes well with lots of different types of meat and seafood. From grilled chicken, pork or salmon to pan fried steak, duck or cod, it's a great addition to a rich, hearty meal.
Here are a few recipe suggestions to serve alongside this sous vide asparagus recipe:
Seasonings
Hollandaise sauce makes for a perfect dip
Balsamic glaze
Some citrus, either lemon or lime
Fresh herbs like mint, dill or tarragon
Wine pairing
Go for a Pinot Grigio wine when pairing with fresh asparagus.
Popular substitutions for this recipe
Here are a few ideas when it comes to swapping ingredients:
This recipe works for green and white asparagus
If you like lemon, you can add 15ml (1 tbsp) of lemon zest or a squeeze of lemon juice to the asparagus before vacuum sealing them
Variations on this recipe
Add crushed garlic to the butter for a delicious garlic butter flavor to your sous vide asparagus
Add a sprinkling of parmesan cheese to your asparagus sous vide for a rich twist
A drizzle of quality extra virgin olive oil gives your sous vide asparagus a different dimension
Add a pinch of sugar for subtly sweet asparagus
Top tips
Try to keep the asparagus in a single layer or, if not possible, two layers
Suck out as much air as possible from the sous vide bag before sealing it
Trim the bottom of the asparagus by hand. The asparagus should snap at the right part naturally if you apply a little pressure
Don't season the asparagus until after it's cooked. This helps it retain it fresh green color
When serving your sous vide asparagus, keep them whole. They look much better when whole than they do when chopped up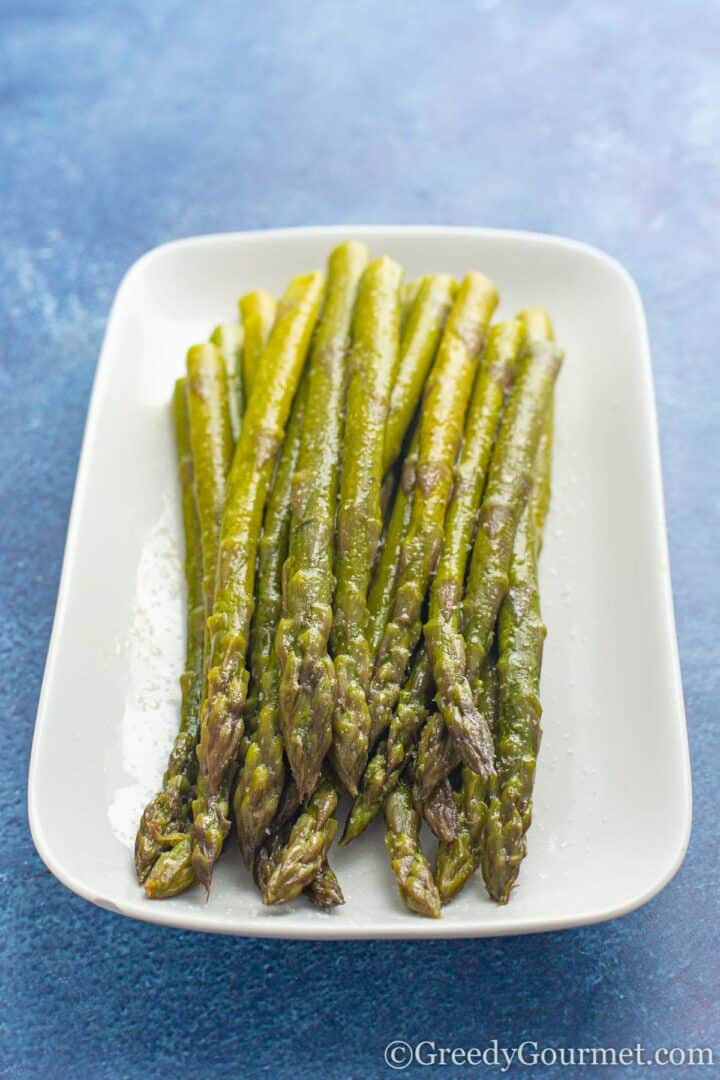 What does 'sous vide' mean?
The phrase 'sous vide' is a French term that means 'under vacuum.'
What is sous vide cooking?
It's a method of cooking that was invented in France in the early 1970s.
Cooking sous vide style means sealing your food in a ziploc bag and cooking it in a water bath. It's then cooked at a low temperature for a long period of time.
This method of cooking allows the food to retain moisture, keeping it succulent and tasty.
Why cook asparagus in a sous vide machine?
Asparagus is a delicious vegetable that's also very good for you. The problem is, it's very easy to overcook asparagus. Cooking asparagus in a sous vide means you can keep the flavor in the asparagus and prevent it from overcooking.
Cooking sous vide also means you can set up the sous vide machine and let it do its thing, without having to be in the kitchen overseeing everything. So, the sous vide method is all about quality and simplicity.
What temperature do you sous vide asparagus?
The best temperature to cook asparagus sous vide is 85°C (185°F). This will ensure you get the perfect asparagus every time – slightly tender, with that all-important crunch!
How do you select asparagus?
First of all, freshly picked asparagus is best! Thick asparagus is generally more mature than pencil thin asparagus, but thickness isn't an indicator of how fresh the asparagus is.
If you're lucky enough to have homegrown asparagus, you'll get the freshest ingredients possible! However, if you're buying at the store, there are a few things to keep in mind.
Here's what to look for when choosing asparagus at your grocery store: 
A rich, vibrant green coloring
Straight stalks with a smooth texture
Stalks that are not dry but have have kept their moisture
Tips that have a purple tinge and are tightly closed
Do you need to peel asparagus?
It's not necessary to peel asparagus, only to remove the woody stem from the bottom. If you do wish to peel your asparagus, peel off a layer using a vegetable peeler.
How long does it take to cook asparagus sous vide?
Sous vide asparagus is quicker than many other types of sous vide cooking. Still, the point of cooking asparagus sous vide is to get that incredible taste and texture. So, the slower you cook it, the better.
This recipe calls for you to cook your asparagus for 40 minutes to 1 hour. The exact timing depends on the thickness of your asparagus stalks – thin asparagus needs less time than thick asparagus. 
Can you overcook sous vide vegetables?
If you leave your vegetables in a sous vide water bath for too long, they'll end up too soft and mushy. That's why it's important to follow sous vide recipes precisely and keep the cooking time in mind.
What is the right texture for asparagus sous vide style?
When cooking sous vide asparagus, your end goal is to get asparagus that has softened slightly, but has retained that perfect little crunch when you bite into it.
The last thing you want is stringy, overly-soft asparagus, which is how it tends to turn out when you boil it.
What if my asparagus turns brown or gray?
Sometimes asparagus can change color during the sous vide cooking process. This is usually due to a reaction with the salt used to season the asparagus. Generally, if you use sea salt, you won't have a problem.
Remember, as long as you use fresh asparagus, you've nothing to worry about.
How do you store asparagus?
In order to keep your asparagus perfectly fresh, store it in the fridge.
How long does asparagus last?
If stored properly, asparagus should keep for around about a week.
How do you store cooked asparagus?
If you want to store sous vide asparagus, you can keep it in an airtight container for up to 5 days. After this time, it will start to lose its bright green color and lovely texture.
Can you freeze asparagus?
Yes! Freezing asparagus is a great way to extend its shelf life. If you've bought a big batch of asparagus and you don't want to use it all in one go, freezing is definitely an option.
When freezing asparagus, you should also blanch it first. This helps to preserve the taste and texture, while also extending its shelf life. Blanching involves parboiling then rapid cooling the asparagus in ice water.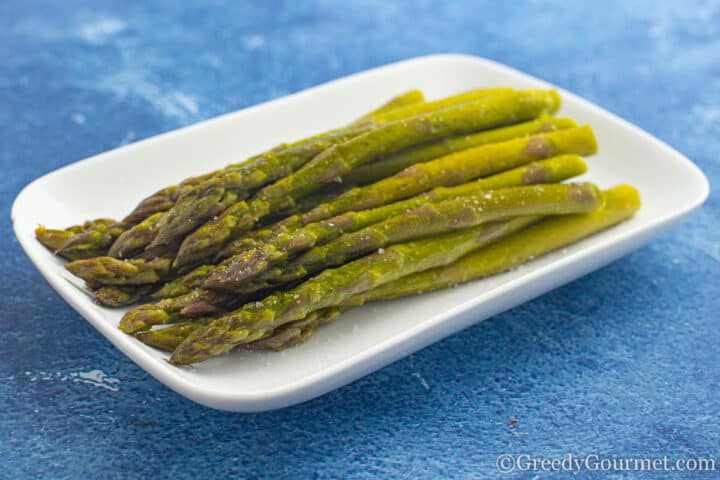 More ways with asparagus
If you're a fan of asparagus – I mean, who isn't right? – here are some more delicious and healthy recipes for you to try:
More great sides
If you fancy expanding your side dish cuisine repertoire, here are some more delicious recipes:
Print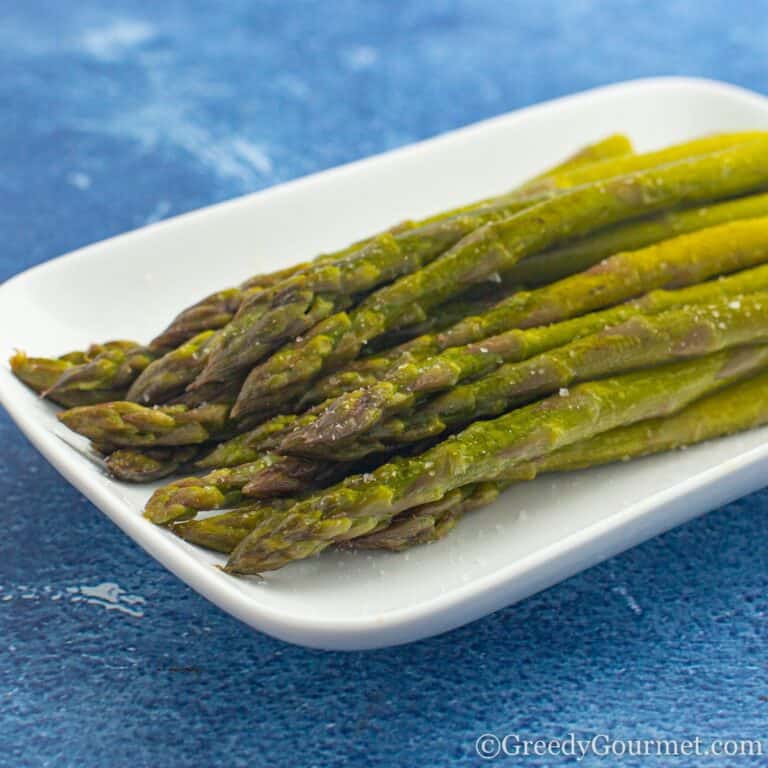 Sous Vide Asparagus
---
Author:

Michelle Minnaar

Total Time:

50 minutes

Yield:

4

Servings

1

x

Diet:

Vegetarian
Description
Sous vide Asparagus is so simple! You only need three ingredients and the asparagus is perfectly cooked every time. 
---
225

g

(1/2lb) asparagus

30

ml

(2 tbsp) butter
salt and pepper, to taste
---
Instructions
Preheat the sous vide machine to 85°C (185°F).
Remove the woody stem from each asparagus, if there is any.
Wash the asparagus then pat them dry. 
Place the asparagus in a vacuum sealable bag in a single layer if possible. Mine turned out to be 2 layers deep. 
Add the butter to it, then vacuum seal the bag. 
When the water bath's desired temperature has been reached, place the bag in the machine and cook for 45 minutes but no longer than 60 minutes. 
After the allotted time, remove the asparagus from the bag, season to preference and season immediately. Enjoy!
Notes
This recipe works for green and white asparagus.
If you like lemon, you can add 15ml (1 tbsp) of lemon zest to the asparagus before vacuum sealing them.
Prep Time:

5 minutes

Cook Time:

45 minutes

Category:

Side Dish

Method:

Sous Vide

Cuisine:

French
Keywords: Sous vide asparagus, sous vide recipe, asparagus recipe, asparagus side dish