Do you want perfectly cooked potatoes every time? Sous vide potatoes are the answer! Super simple to make and with a taste that will blow you away, these potatoes are the perfect sumptuous side dish to any meal.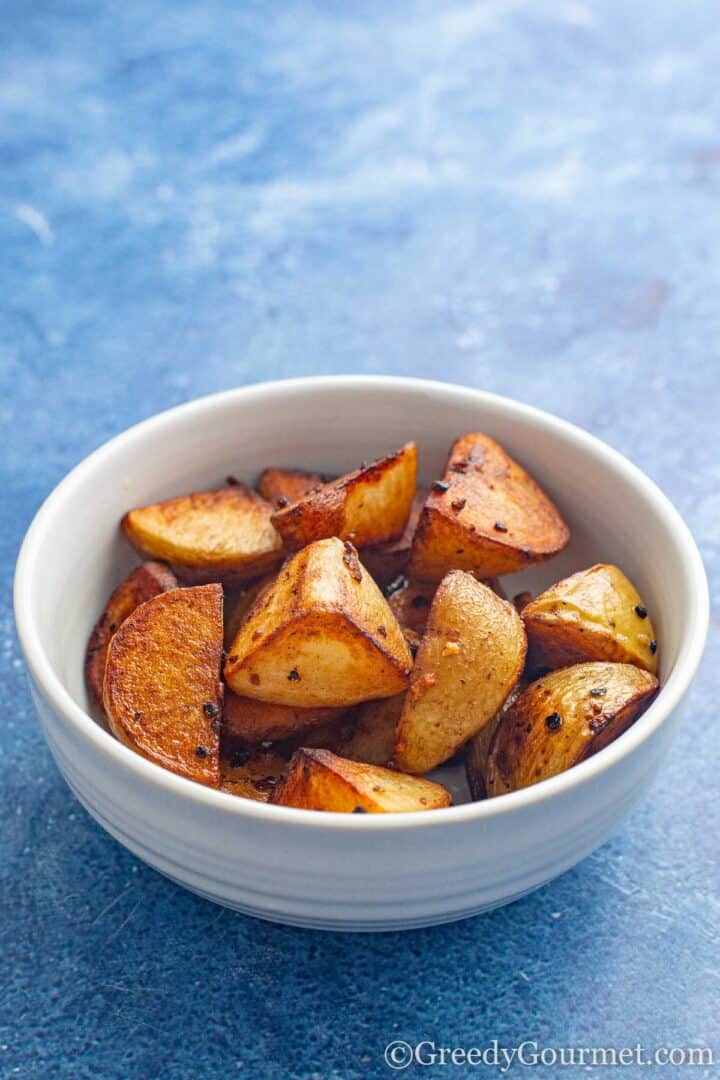 If you're a fan of this form of cooking, you'll already know just how amazing it is to cook sous vide. If you're a newbie, however, you're about to be introduced to a cooking technique that will change the way you cook. That's because, when it comes to consistency and quality, sous vide cooking is unrivalled.
Why you'll love this recipe
The sous vide process produces potatoes that are incredibly tender and full of flavor.
It's such an easy recipe – the sous vide machine takes care of business!
This sous vide potatoes recipe is consistent. Just follow the steps below and you'll get perfectly cooked, delicious results every time.
Once you've made these amazing sous vide potatoes, you can use your sous vide machine to cook many different recipes.
Equipment you'll need to make this recipe
There are a few key items you'll need before you start making these sous vide potatoes:
How to make sous vide potatoes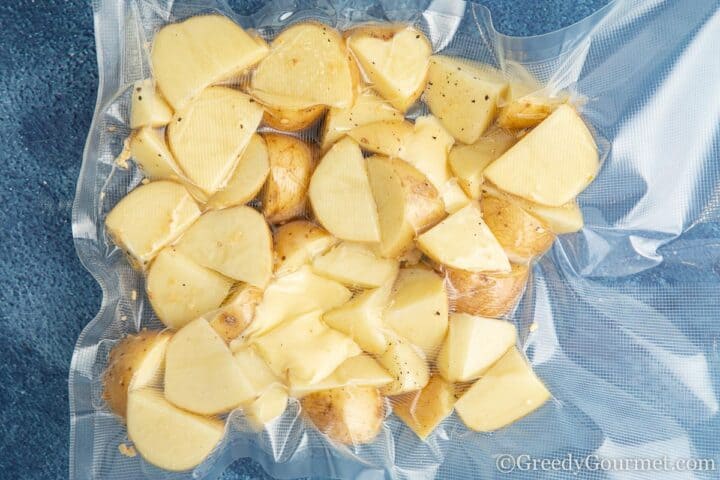 Season the potatoes and vacuum seal in a single layer with garlic and butter.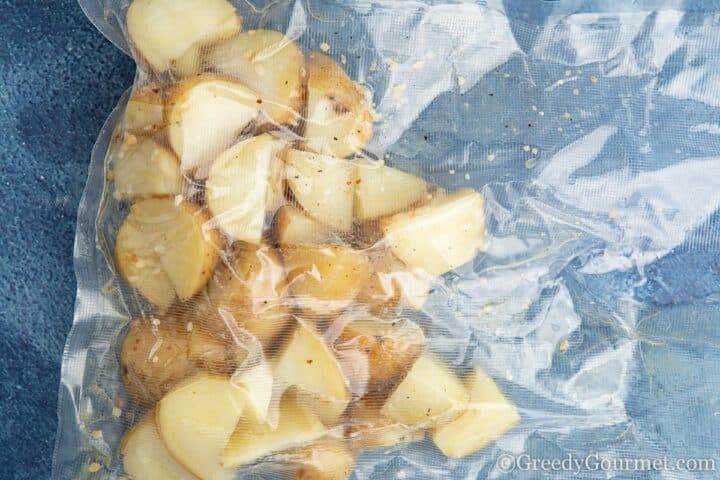 Sous vide for 1 hour at 80°C / 175°F. Optional step: fry at a high temperature in a bit of oil until golden and crispy. Serve as a side dish to just about any meal.
What to serve with sous vide potatoes
Mains
Roast
Forget those roasted potatoes or flavorless boiled potatoes! Instead, serve these sous vide potatoes as the side dish of choice for a big hearty roast dinner. The creaminess and depth of flavor makes them perfect side dish cuisine, and they work wonders with meat dishes including the following:
Salad
When cooked sous vide style, potatoes go really well in a salad – especially with a drizzle of quality extra virgin olive oil. Try a potato salad or add the potatoes to a green leafy salad. Here are a few salad recipe suggestions that you could add these sous vide potatoes to:
Variations to this recipe
You can crisp up the potatoes after the sous vide process – heat oil in a frying pan on a very high heat. Fry the potatoes on each side until golden brown and crispy. Serve immediately.
You can add fresh herbs to the sous vide bag. Fresh thyme, rosemary, mint, tarragon, chives or sage would be perfect.
Sprinkle some spices into the bag for a nice and spicy twist. The likes of paprika, cumin, cayenne pepper and turmeric would be delicious.
You can turn these sous vide potatoes into mashed potatoes – simply whisk some leftover sous vide cooking water into your potatoes and mash until smooth. They will be creamy, dreamy and just divine!
Popular substitutions
You can replace the garlic clove with garlic powder – use a 1/4 teaspoon of garlic powder for every clove.
For this recipe I've recommended using vegetable oil when crisping up the potatoes, but you can use olive oil instead.
Instead of standard sea salt, use a quality kosher salt for an extra depth of flavor.
Top Tip
Add a sous vide weight to your bag.
Cut potatoes into bite size pieces. If they are too big, you won't get the amazing softness and full flavor.
Make sure the potatoes are arranged in a single layer in the vacuum sealed bag.
Pan fry the potatoes once cooked to crisp them up.
How does sous vide work?
Sous vide cooking works by using an immersion circulator to create a consistent cooking temperature. It's a low and slow approach to cooking that helps ingredients retain moisture, producing incredible flavors and textures.
The term 'sous vide' (pronounced soo-veed) means 'under vacuum' in French. This is because the food is cooked in a sealed bag with excess air removed from it.
Once the food is vacuum-sealed in a bag, it is then cooked for a long period of time in a warm water bath at a precise temperature.
What kind of potatoes are best to cook sous vide?
There are a few options when it comes to picking the perfect potatoes for this sous vide recipe. Here are some suggestions:
Yukon gold potatoes
The high starch level makes Yukon Gold potatoes the perfect fluffy and creamy kind of potato to use for this recipe.
Fingerling potatoes
These small, stubby, long potatoes are ideal for sous vide cooking.
Russet potatoes
Another high starch potato, Russet potatoes are ideal for low and slow cooking.
Do you need to peel sous vide potatoes?
Peeled potatoes are not a necessity. If you prefer your potatoes peeled, then go ahead. However, they will need to be scrubbed before you start cooking.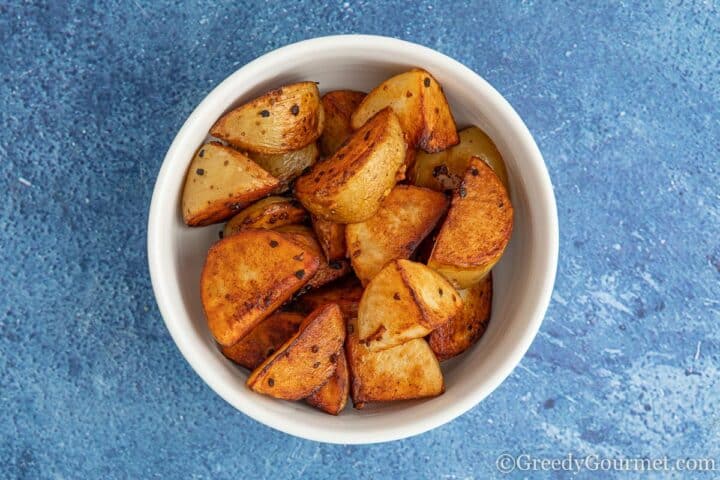 How to prepare potatoes for sous vide cooking
Potatoes need a simple scrub before you chop them into bite size pieces.
Can you vacuum seal the sous vide bag without using a vacuum sealer?
I recommend using a vacuum sealer, but you can use good quality large zip lock bags. Close the zip most of the way, leaving a gap of about 2cm through which air can escape. Slowly lower the bag into the water bath – the air will be forced out as you lower it.
Just before the zip part of the bag reaches the water, zip up the gap and use a weight to keep the bag immersed in the water.
When are sous vide potatoes done?
Cooking time varies. When cooked at the standard sous vide temperature of 194 f 90 c, sous vide potatoes take about 1 hour to cook. My cooking temperature is slightly lower than this, so you might have to wait up to 1 hour 30 minutes. You'll get better results though, so it's worth the extra wait!
Can you overcook sous vide potatoes?
While you can't technically overcook potatoes in the sous vide machine, they can get too mushy after a while. That's why I recommend cooking these sous vide potatoes for an hour and 30 minutes. Any longer than that and you risk turning them too mushy.
Can you sous vide potatoes at a lower temperature?
The minimum temperature is 175 F. Any lower and you won't reach the desired softness.
How do you make sous vide potatoes crisp on the outside?
The best way to crisp up your ingredients is to pan fry them in oil for a few minutes after the low and slow cooking process.
Can you make this recipe in an Instant Pot?
Yes. You can make this recipe in an Instant Pot using the 'sous vide' function button.
Can you use ziplock bags for sous vide?
The quality of the plastic in the zip-top bag has a lot to do with how safe it is, and how well it performs. Some brands of zip-top bags are better than others for sous vide cooking. Anyone curious can read more about sous vide and plastics here.
Freezer ziplock bags are made from a safer, higher-grade plastic and are approved for use below these temperatures. If you have a vacuum sealer, you can also purchase plastic bags that are specifically created for sous vide cooking and seal them yourself.
The quality of the plastic used (e.g. name brands versus store brands) matters a lot.
Can this recipe be scaled?
Yes! You can cook a big batch of potatoes, store them in the fridge and add them to meals throughout the week.
Can you make these potatoes ahead of time?
Absolutely! One of the great things about this recipe is that you can whip these bad boys up well ahead of time and they'll still be perfect when they hit the plate!
You can make these potatoes at the start of the week, then store them in the fridge and eat them as you please throughout the week.
A little tip for you: make them in advance, then crisp them up in a frying pan and serve them as the perfect quick side for your Sunday lunch! Better than waiting an hour for the roast potatoes to crisp up!
More sous vide recipes
Sous vide cooking is so impressive that, once you've made these potatoes, you'll want to try more. Luckily, I've got a whole host of scrumptious simple recipes to inspire you!
Print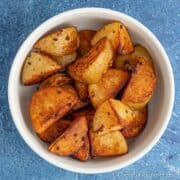 Sous Vide Potatoes
---
Author:

Michelle Minnaar

Total Time:

1 hour 40 minutes

Yield:

4

portions

1

x

Diet:

Vegetarian
Description
Experience perfectly cooked Sous Vide Potatoes with this simple recipe. They come out tender and ready to be enjoyed in various dishes!
---
1

kg

(2.2lbs) potatoes, scrubbed

1

garlic clove, crushed

28

g

(2 tbsp) butter
salt and pepper

30

ml

(2 tbsp) vegetable oil [optional]
---
Instructions
Preheat the water bath to 80°C / 175°F.
Cut the potatoes into bite-size pieces.
Season the potatoes with salt and pepper.
Vacuum seal the potatoes with the garlic and butter, ensuring the potatoes are arranged in a single layer.
Place the pouch into the water bath and cook for 1 to ½ hours. 
Remove the potatoes from the pouch. 
At this point you can serve the potatoes immediately but here's an optional step for sensational results.
[Optional] Heat the oil on a very high heat. Fry the potatoes on each side until golden brown and crispy. Serve immediately. Enjoy!
Notes
You can use baby potatoes for this recipe.
If you don't like potato skin, you can peel them before cooking. 
Be sure to remove the eyes and any blemishes from the potatoes before cooking.
Prep Time:

10 minutes

Cook Time:

1 hour 30 minutes

Category:

Side Dish

Method:

Sous Vide

Cuisine:

French
Keywords: sous vide potatoes, sous vide recipe, sous vide potato recipe, potatoes sous vide, sous vide fried potatoes, sous vide russet potatoes, sous vide potatoes low temperature, sous vide small potatoes