If you're partial to a tasty dip for your chips, you simply have to try making your own. When it comes to homemade dips full of flavor, blue cheese dip is as tasty as it gets.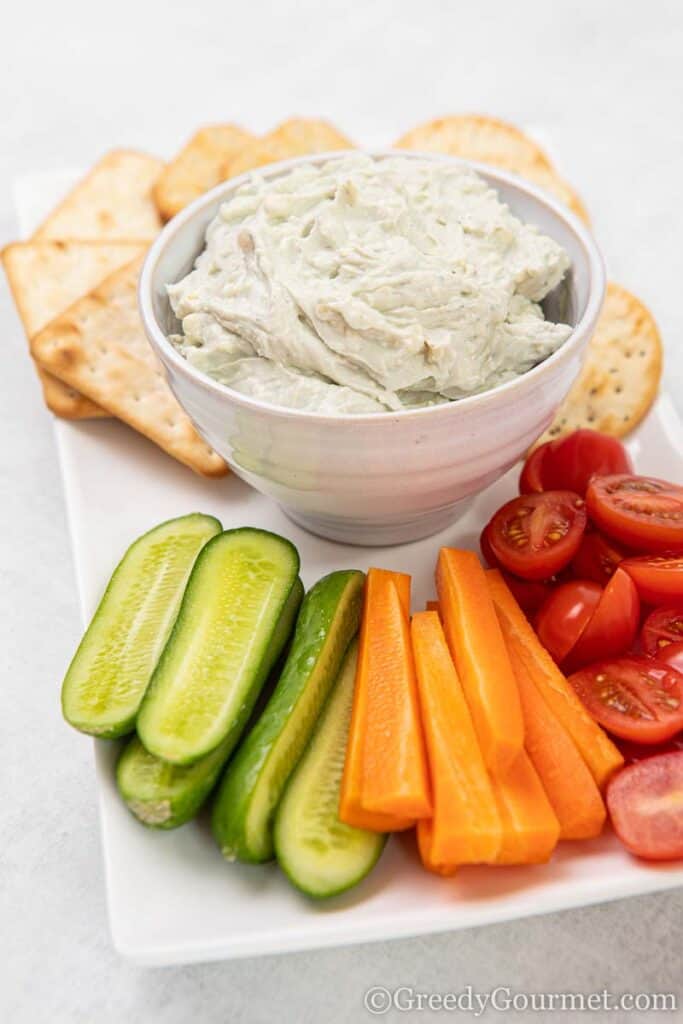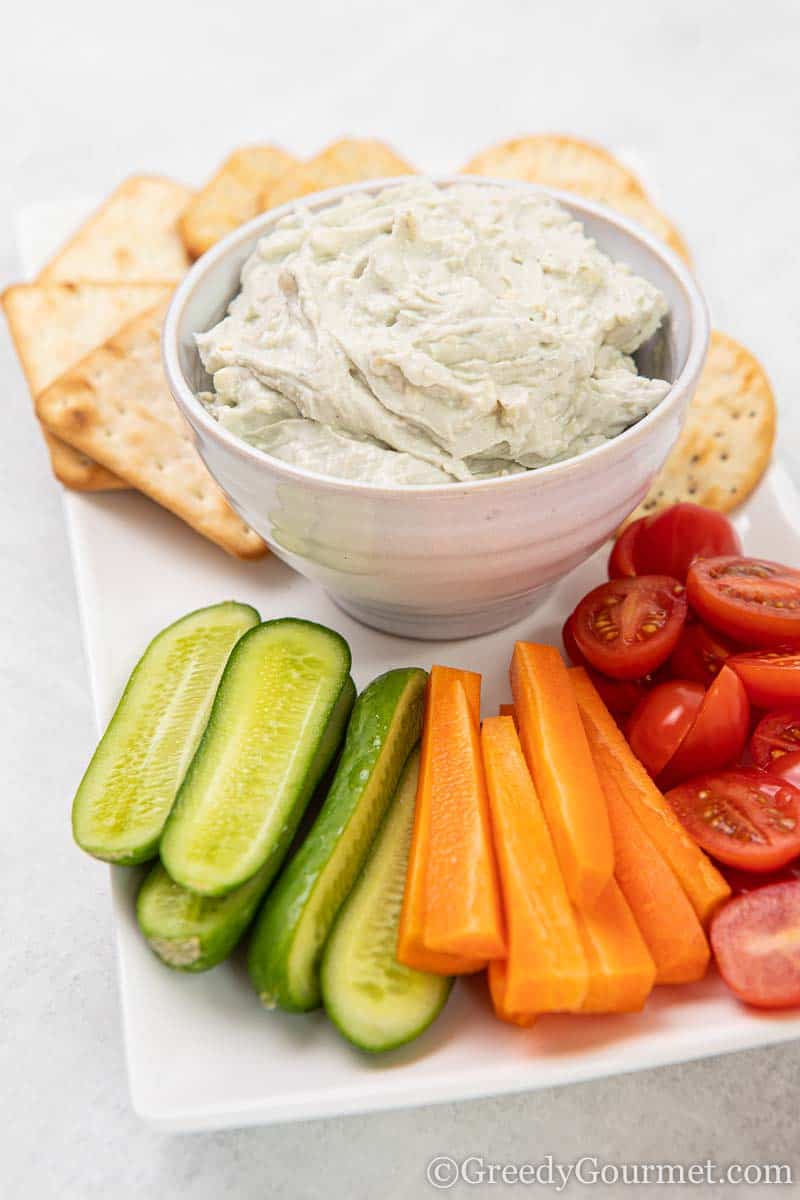 It's quick and easy to make, and the ingredients are very simple to get hold of. Try dipping some chicken wings into this sumptuous dip. You'll be blown away!
Products you need for this recipe
There are a few important items you'll need to get hold of before making your blue cheese dip: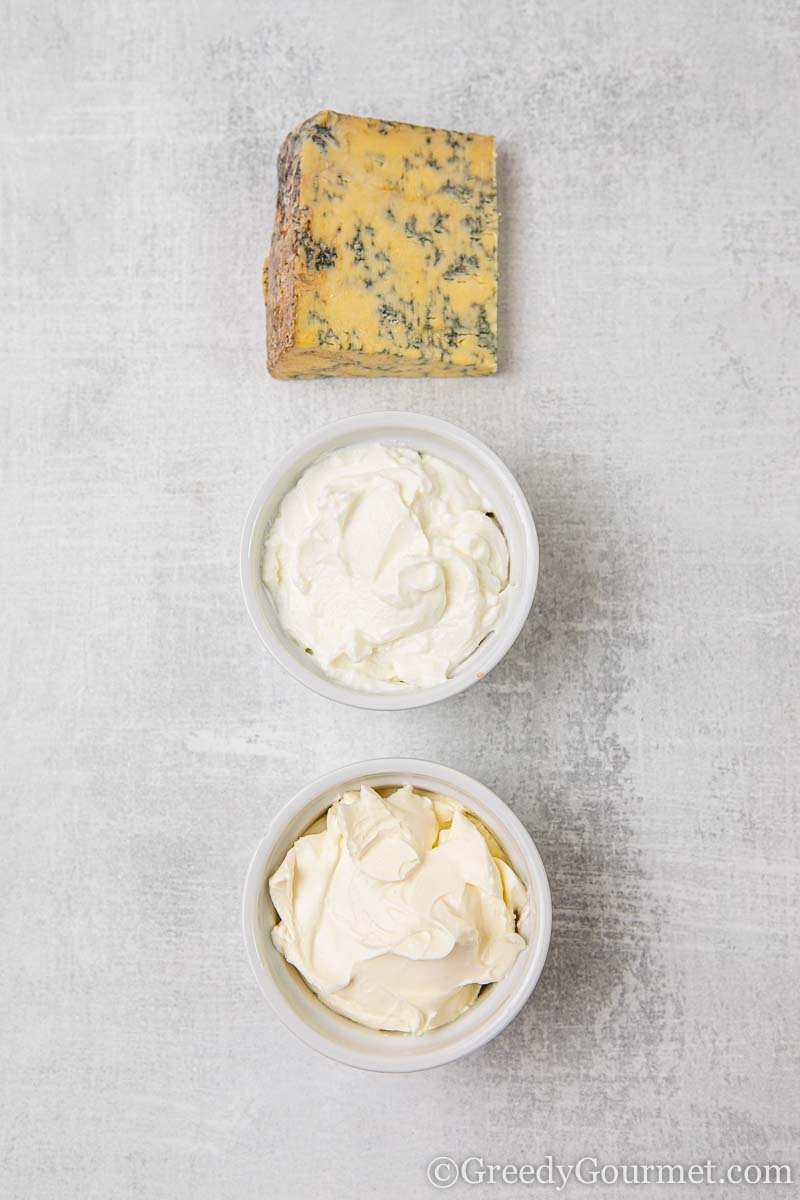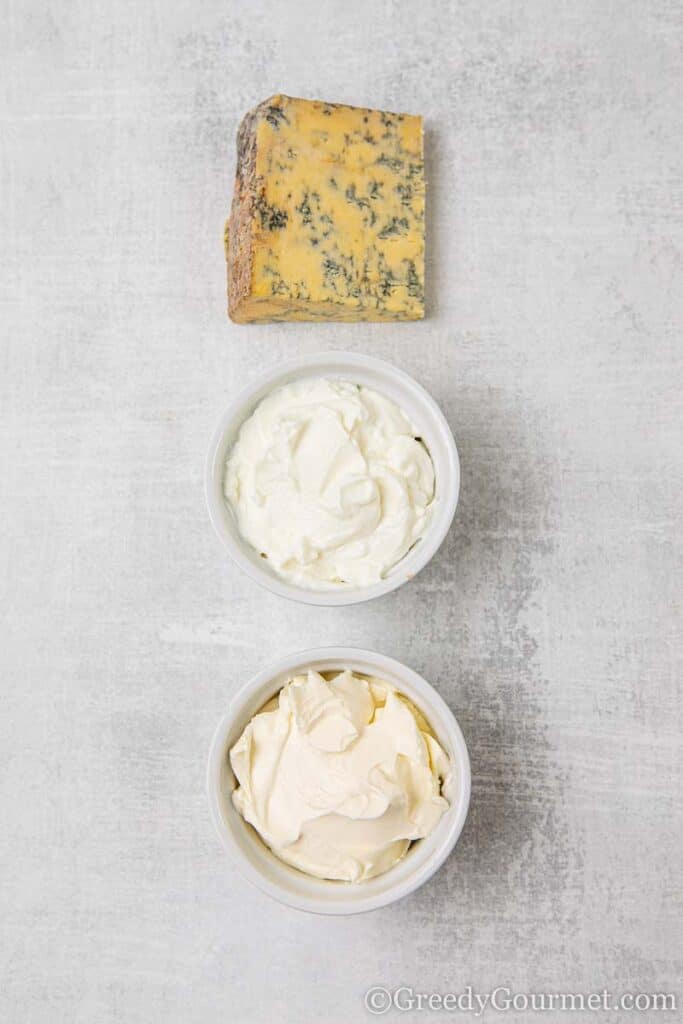 Blue cheese dip recipe
This recipe is so easy to make! Firstly, you crumble the blue cheese into a mixing bowl. Blue cheese crumbles easily, so you can do this by hand.
You'll need to beat it with a wooden spoon, so that you have extra crumbled blue cheese. Then add some cream cheese and mix into the crumbled blue cheese.
Next comes the Greek yoghurt, for that silky smooth texture. You could also add a spoon of mayonnaise. Get mixing!
Add some seasoning. A pinch of salt might be needed, but black pepper is essential. You might want to add a splash of lemon juice for some acidity.
If you really want some extra richness, add a splash of Worcestershire sauce! Can't find any? Check out my Worcestershire sauce substitute guide.
If you like things spicy, why not add some hot sauce?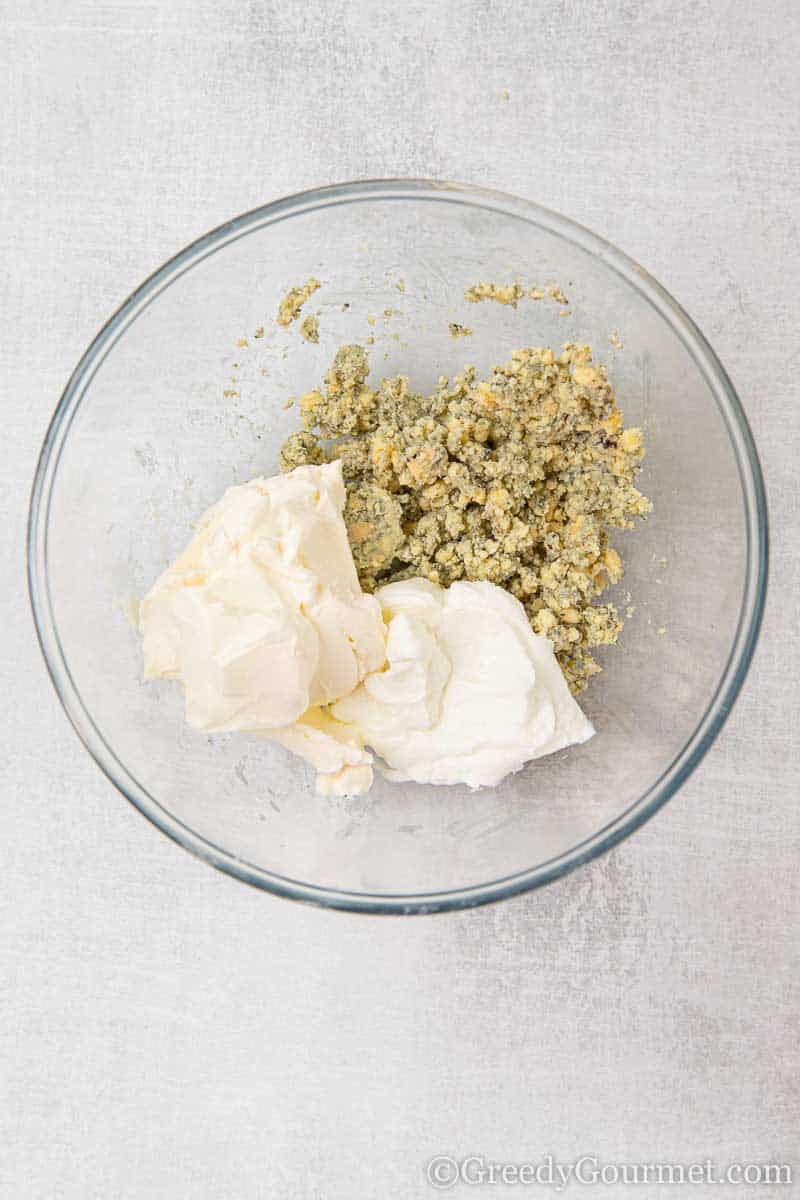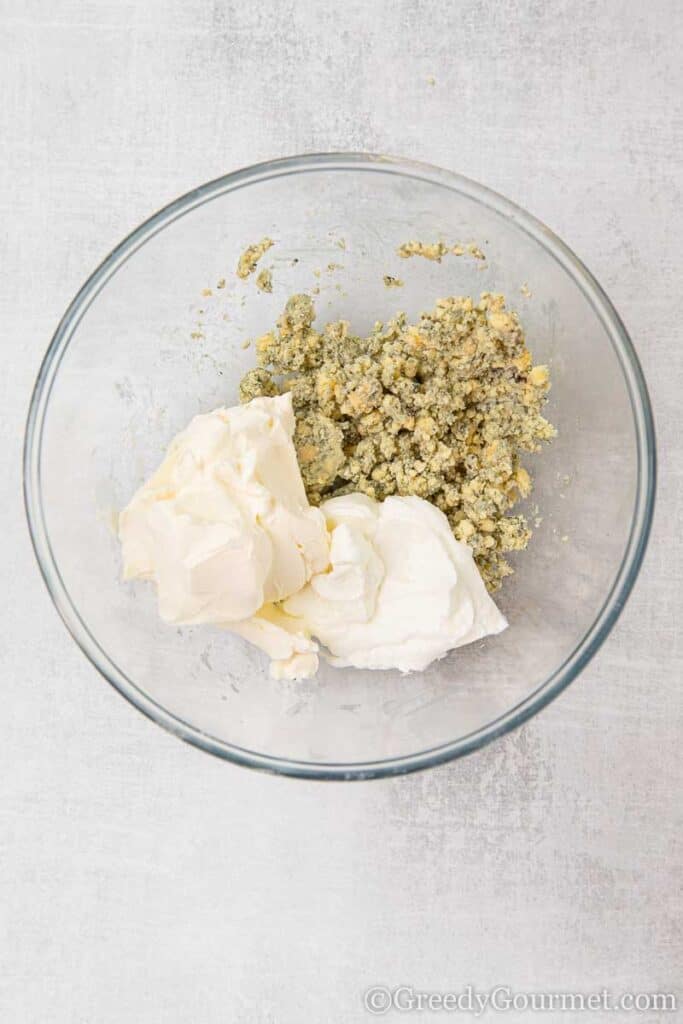 The history of blue cheese
Legend has it that it came about by accident sometime around 600AD. Roquefort was said to be the first. The story goes that a scatter-brained shepherd boy fell asleep in a cave in rural France, when he awoke he returned to his duties, forgetting his lunch.
Days later, he discovered that the Roquefort had grown a blue mold. As well as being a forgetful shepherd, he was also very curious and somewhat greedy. So he munched down the mouldy Roquefort sandwich and was pleasantly surprised by the taste.
From sleepy shepherd boys to kings and noblemen, it soon became a delicacy. By the 11th century, it had a special production process. Over the years, different types, from Stilton to Danablu, would crop up all over the world.
By the 20th century, it's position as a gourmet ingredient used by some of the world's top chefs was cemented. With such a unique, strong flavor, there's no wonder it's so revered.
What is the best blue cheese for this recipe?
How do you store blue cheese dip?
Your blue cheese dip will last up to 1 week in the fridge. Normally, it lasts a lot longer, but as a dip, with other ingredients, it'll last a week.
Can you freeze blue cheese?
If you've bought more of the main ingredient than you need for this dip and you want to know how to store it, you can freeze it. It can be frozen for up to 6 months – just place it in an airtight storage container.
What does blue cheese dip taste like?
A blue cheese dip has got big bold flavors. The blue cheese crumbles bring a pungent smell and strong cheesy taste. 
The salt and pepper add to the balance. The Greek yoghurt gives it that luscious creamy taste and texture. 
You could also add a dash of lemon juice, for a little zesty flavor. 
Traditional blue cheese dip recipes call for sour cream. For me sour cream doesn't work quite as well. 
I prefer normal creamed cheese for this blue cheese dip. If you like, you can use sour cream for a slightly sour taste. 
Can you melt blue cheese?
Blue cheese crumbles really easily. It also melts very easily, which is why it's often added to sauces for extra flavor.
Try melting it over pasta or into sauces for an extra rich taste. Check out my blue cheese sauce recipe!
Why does homemade blue cheese dressing get watery?
The best way to avoid a watery blue cheese dip is to avoid using low fat ingredients. There's a time and a place for low fat ingredients, but this recipe just ain't it!
Full fat cream cheese, full fat sour cream or full fat mayonnaise are a must. Also, if you do use lemon juice, don't overdo it. This could also lead to a watery blue cheese dip.
What do you eat with blue cheese dip?
Want to know what to eat with this delicious blue cheese dip? Aside from dipping buffalo wings in (chicken wings with this dip is absolute heaven!), crudites and crunchy crackers, here are a few suggestions:
Veggie puffs – these little spicy snacks would go great with this recipe
Salt and chili chips – make this homemade chips recipe for the ultimate chips and dip experience. You could also make pita chips or any other kind that take your fancy
Parmesan parsnips – if you're a fan of parsnips, you've got to try this! I've taken the humble root vegetable and given it a twist, to create a full flavored finger food! 
Salad olivieh – a delicious potato salad, salad olivieh would be all the more glorious with a flavorful dressing. Just make this recipe, making it thinner by using a little more Greek yoghurt, then drizzle over the salad 
Pear and rocket salad – jazz up this salad with a few crumbs of delicious, pungent Roquefort or Stilton
Pumpkin and beetroot salad – another light and healthy salad that would take on another dimension with a big tasting dressing mixed in
Rocket salad with parma ham, papaya, parmesan and pecan nuts – swap out the parmesan for this recipe and take this salad to another dimension! Then serve it with chicken wings for an amazing weekend meal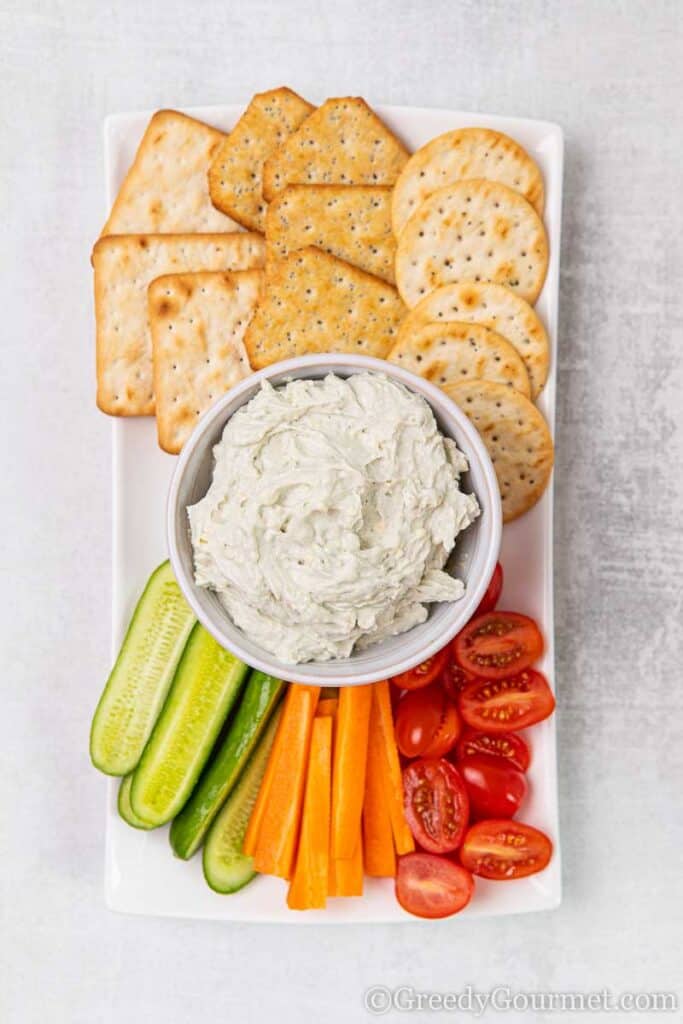 More blue cheese recipes
Can't get enough of the stinky stuff? Here are some other fantastic recipes:
Other great dip recipes
This blue cheese dip is just the tip of the iceberg. Check these other mouthwatering dip recipes:
Competition Question: How would you enjoy this blue cheese dip?
Print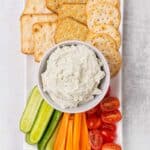 Blue Cheese Dip
---
Author:

Michelle Minnaar

Total Time:

10 minutes

Yield:

8

servings

1

x

Diet:

Vegetarian
Description
This blue cheese dip requires only 3 ingredients: blue cheese, yogurt and cream cheese. Mix together and serve with vegetable crudités and crackers. A great recipe when you're in a rush!
---
---
Instructions
Crumble the blue cheese into a mixing bowl.
Beat with a wooden spoon until softened.
Add the cream cheese and stir until well incorporated.
Stir in the Greek yogurt.
Season to taste and serve with vegetable crudites and crackers. Enjoy!
Notes
For the blue cheese, Stilton and Danish Blue are good options.
Cream cheese-wise, Philadelphia is the best. Alternatively, you can use a soft cheese instead.
The dip is quite thick. You can make it runnier with the addition of more yogurt.
You can easily create a salad dressing by systematically adding yogurt until the desired consistency.
This is a brilliant dip recipe you can make ahead of a party and store it in the fridge until needed.
Store in an airtight container in the fridge for up to 4 days.
Blue cheese and pear makes one heavenly combination, so you can serve it with pear slices!
Prep Time:

10 minutes

Cook Time:

0 minutes

Category:

Appetizer

Method:

Stir

Cuisine:

American
Keywords: blue cheese dip, cold blue cheese dressing, dip for vegetables, vegetarian dip recipe, blue cheese recipe, easy veggie dip, celery dip