Coffee and chocolate lovers rejoice – this baked espresso cheesecake is pure heaven!
This is the one for you if you're after a decadent cheesecake with rich, complex flavors. The perfect balance of chocolate and coffee with a crunchy Oreo biscuit base is a baked cheesecake you won't want to miss out on.
Products you need for this recipe
There are several key items you'll need to make this baked chocolate espresso cheesecake.
Baked espresso cheesecake recipe
Few flavors fit together so perfectly than coffee and chocolate! Put those flavors together in a cheesecake, and you've got something very special indeed.
A crunchy chocolate cookie crust makes up the base. On top of the cooled crust sits a luscious, velvety espresso cream cheese filling.
A creamy vanilla semi-sweet chocolate ganache tops it all off, with more chocolate shavings for the melt-in-your-mouth final flourish.
Cream cheese filling
This baked espresso cheesecake's silky smooth, velvety filling comprises creme fraiche, cream cheese, heavy cream, instant espresso powder, and eggs.
The instant espresso brings the coffee flavor to the filling of the cheesecake. Espresso mixed in with a creamy velvet filling is just so satisfying, especially when sitting on top of a crisp Oreo crust.
Melted butter chocolate cookie crust
With every bite of this baked espresso cheesecake, the first thing that hits your tastebuds is the coffee and cream. Then, as you discover that luscious crunch, the chocolate cookie crust comes through to seal the deal!
I don't know about you, but for me, few chocolate biscuits come close to Oreos. They work so well in chocolate-based cheesecakes. This is one chocolate cookie crust that you won't be able to resist.
You'll need a lot of them, too. Around 28 Oreo cookies make up the base of this espresso cheesecake! Hey, it's all about decadence with this chocolate espresso cheesecake!
The Oreo cookies are blitzed in the food processor with melted butter to form the perfect chocolate base. Once cooled, your prepared crust is ready for the other layers.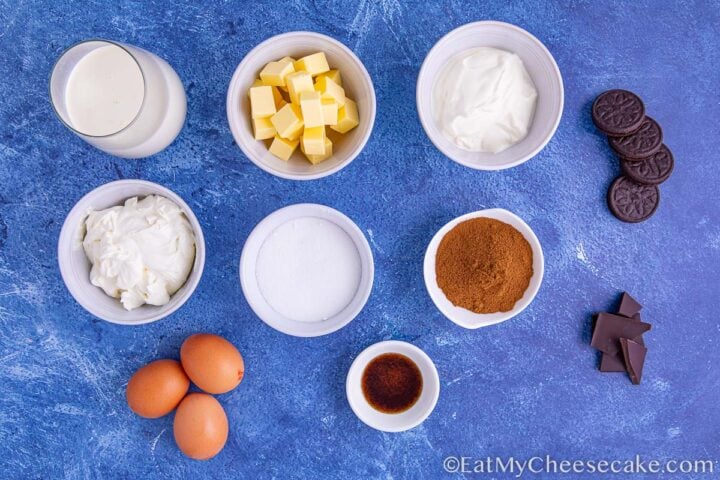 Chocolate ganache
The final luscious layer of this chocolate espresso cheesecake is the rich, creamy chocolate ganache poured on top.
This involves heating double cream in a small saucepan, pouring the hot cream over chocolate chips or chopped chocolate, and adding corn syrup and vanilla extract or paste. Then, after you've let the chocolate ganache cool completely, add it to the top of the cake.
Syrupy, creamy, smooth and irresistible, the chocolate ganache takes this chocolate espresso cheesecake to the next level!
What is an espresso cheesecake?
Think of a creamy mouse dessert crossed with a tasty pie, with the flavors of your favorite morning coffee added for good measure.
Then, imagine the taste of your favorite chocolate biscuit blended in. 
If you love coffee and chocolate flavor decadent desserts, it just doesn't get any better.
No bake vs baked cheesecake: which is better?
A baked chocolate espresso cheesecake uses eggs, which help it to set correctly and keep its shape. When you bake cheesecake, you'll end up with a decadent dessert that's dense and velvety.
A no bake cheesecake tends to be airier and lighter. There are no eggs, and no oven is used to make it. Instead, the cheesecake sets in the fridge.
Baked cheesecakes are the traditional way to go. Sometimes, you might fancy making a no-bake without using an oven and with an easy prep.
If you do, check out my no bake espresso cheesecake recipe.
Should I use sour cream or creme fraiche?
You can use either. Creme fraiche is thicker, richer, and less tangier than its sour counterpart. It has around 30% fat. It's the more decadent option.
As the name suggests, sour cream will bring a tart, tangy element to the creamy filling. It's typically around 10% fat, so it's a lot lighter than creme fraiche.
Either of these will be backed up with heavy cream and cream cheese. So, whichever you use, sour cream or creme fraiche, you'll have a luxurious, delicious recipe.
Can I substitute Oreos for the biscuit base?
Can I make this cheesecake in advance?
Yes, you can! You can make this chocolate espresso cheesecake up to 2 days in advance. Cover it in a suitable container and keep it fresh in the fridge.
What kind of coffee should I use?
There are unique kinds of espresso coffee powder that you can buy that are specifically for baking. In terms of getting that wonderful coffee flavor, it's the way to go.
You can also use ground espresso beans, although the flavor won't be as intense.
How do I cool this cheesecake?
The cooling process for this baked espresso cheesecake comes in two parts.
First, the slow cooling process in the oven. Once your cheesecake is baked, you'll need to switch the oven off and leave it in there, with the door ajar, for about 2 hours.
This slow cooling-off period helps to produce the perfect texture for your cheesecake. It also prevents the cracking of the cream cheese filling.
Once the first in-oven cooling process is complete, you'll chill it in the fridge. This is best done overnight to give the cheesecake plenty of time to firmly set before adding the final decorative layer.
How do I store leftover cheesecake?
The best way is to store it in the fridge. Just cover it with foil or in a suitable container. It will last for up to 4 days.
Can I freeze baked cheesecake?
Yes, you can. If you want to store your cheesecake long-term, freezing it is the way to go.
Whenever you freeze cheesecake, you should always do it before adding any decorative toppings. First, wrap it in plastic wrap, then add a layer of aluminum foil.
Alternatively, you can use a freezer-friendly airtight container.
An even better idea – you can slice your cheesecake and freeze the pre-portioned slices. Place your slices on a baking sheet, then wrap each in foil and place in a ziplock bag.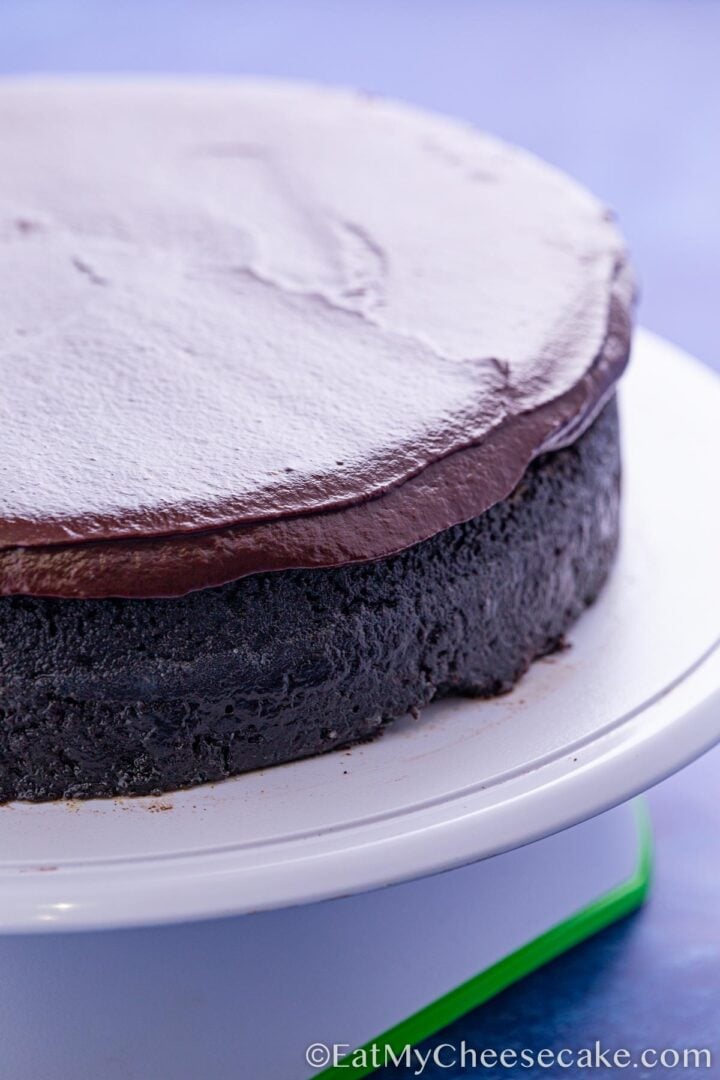 Tips for the perfect espresso cheesecake
For better consistency and an easier-to-whip mixture, ensure your cream cheese, sour/creme fraiche, and eggs are all at room temperature. You must keep them out of the fridge for around 2 hours.
Add the eggs into the cream cheese mixture one at a time. Over-beating the eggs will cause the cheesecake batter to crack.
A spring-form pan is an absolute must! It will make it a lot easier to remove your cheesecake.
Allow the cheesecake to cool in the oven (with the door cracked) for 1 hour.
Decorating tips
Use a chocolate shaver to add some shaved chocolate curls to the top of the chocolate ganache of the cheesecake. If you want to up the chocolate factor, add small decorative chocolate balls, Ferrero Rochers, or even mini Oreos on top of the chocolate ganache.
You could also add crushed pecan pieces scattered across the top of the cake.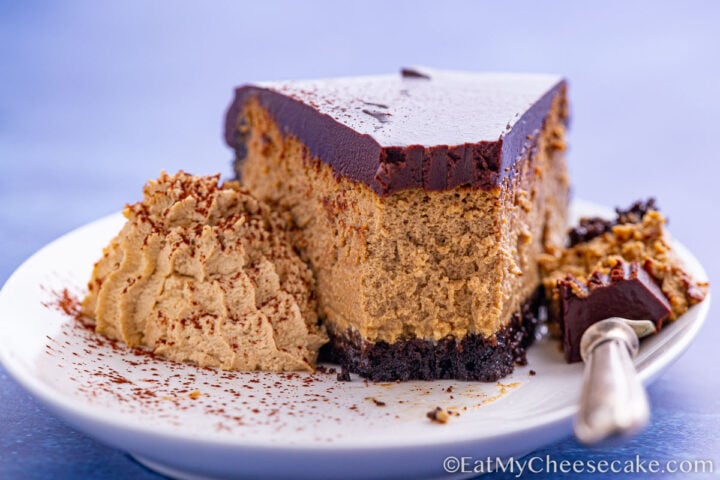 Other cheesecake recipes
If this chocolate espresso cheesecake has got you in the mood for more baking, make sure you check out some of these delicious recipes:
Mocha cheesecake – another coffee cheesecake that will tantalize the taste buds. It's straightforward to make, too!
Baked limoncello cheesecake – a fresh, summery Italian-style cheesecake- is one for fans of all things lemon.
Oreo cheesecake – if you're a chocoholic – especially if you're a fan of Oreos – you won't want to miss this one
Salted caramel cheesecake – amazing flavors and nice and straightforward to make
Amarula cheesecake – the delicious South African liqueur takes center stage for this wonderfully indulgent cheesecake
Banoffee cheesecake – one of my favorites- is an out-and-out classic with a taste that's simply unforgettable.
Chocolate orange cheesecake – few flavor combos excite the taste buds quite like chocolate and orange. Add luscious cream cheese into the mix, and you've got a cheesecake that's simply irresistible
Print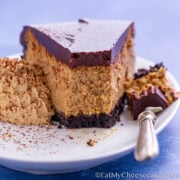 Baked Espresso Cheesecake
---
Author:

Michelle Minnaar

Total Time:

7 hour 20 minutes

Yield:

12

portions

1

x

Diet:

Vegetarian
Description
This Baked Espresso Cheesecake is a mouth-watering chocolate glazed cheesecake made with rich espresso.
---
Biscuit Base
308

g

Oreo biscuits, roughly 28 biscuits

150

g

salted butter, melted
Espresso Cheesecake Filling
675

g

cream cheese at room temperature

10

g

vanilla paste

250

g

caster sugar

16

g

espresso powder

45

g

plain flour

3

large eggs at room temperature

185

g

sour cream/creme fraiche at room temperature

60

ml

heavy (double) cream at room temperature
Decoration
---
Instructions
Preheat your oven to 180°C / 160°C fan / 350°F / gas mark 4
For the Biscuit Base: Place the Oreo biscuits in your food processor and blitz into a crumb. While the food processor is still running, add the melted butter and allow it to combine, which should only take about 15 seconds, then turn off.
Prepare your 23cm (9 inch) springform pan by putting a layer of greaseproof paper over the base and then clasping the springform ring around the outside, as I find this easier when removing the cheesecake at the end.
Pour your crumb into the pan and flatten evenly - I use the bottom of a large glass.
Cover with greaseproof paper and fill with baking beans. Place in the oven for around 10 minutes. Remove from the oven, take out the baking beans and paper, and allow to cool before putting in the fridge.
Increase the oven's temperature to 220°C / 200°C fan / 430°F / gas mark 7.
Espresso Cheesecake Filling: In a stand mixer with the whisk attachment, mix the cream cheese and vanilla paste for a minute or two to loosen it up, and then on a low speed, gradually add the espresso powder, sugar, and flour. I add them a spoonful at a time and ensure each spoonful is fully incorporated before adding the next one.
Once this is done, on a low speed, add one egg at a time, waiting for each egg to be fully incorporated before adding the next.
Fold through the heavy (double) cream and sour cream (or creme fraiche) and then pour into the tin – bake in the oven for 15 minutes at the temperature stated above and then reduce the oven temperature to 110°C/90°C fan/210°F/gas mark -1.5 and bake for a further 30-35 minutes.
Turn the oven off and leave the cheesecake to cool (while still in the oven) with the door slightly ajar for 2 hours.
Once cooled, wrap the cheesecake (still in the tin) in foil and refrigerate overnight.
Once chilled overnight, use a knife to run around the edges of the tin and carefully remove it from the tin.
To decorate: Place the cream in a small pot over medium-high heat until simmering.
Pour the hot cream over the chopped chocolate (or chips).
Add the corn syrup and vanilla.
Whisk together until smooth.
Once cooled, pour over the cheesecake and return the cheesecake to the fridge for an extra 30 minutes.
Remove from the fridge, portion up, and enjoy!
Prep Time:

20 minutes

Chilling Time:

6 hours

Cook Time:

1 hour

Category:

Dessert

Method:

Bake

Cuisine:

Italian
Keywords: baked espresso cheesecake, chocolate espresso cheesecake, espresso cheesecake, espresso cheesecake recipe