An Italian twist on the traditional lemon dessert, baked limoncello cheesecake is out of this world!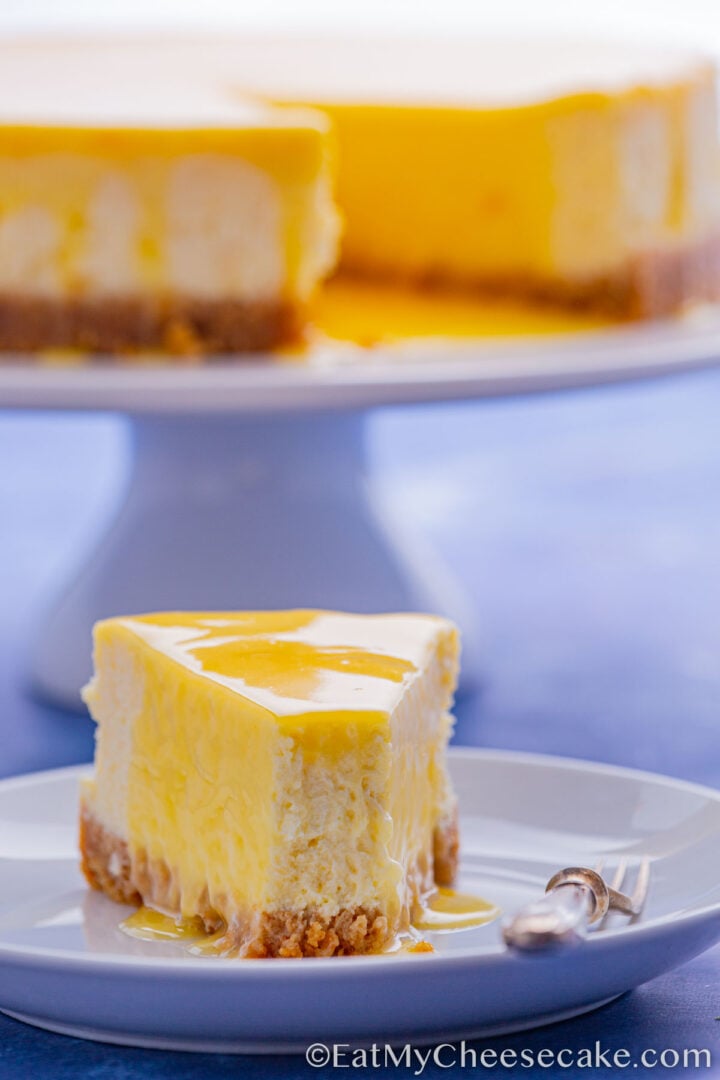 Zesty, fresh, slightly boozy, and full of flavor… it's the dream dessert for a summer day, although I'd devour a slice all year round. Are you ready to bake your new favorite cheesecake?
Products you need for this
Before getting going with this baked limoncello cheesecake, there are a few key items you'll need:
Baked Limoncello cheesecake recipe
Creamy and light, with a bold lemon flavor, this baked limoncello cheesecake is something special.
Every slice is like a little slice of summer. If you're a fan of limoncello, you can imagine just how good it is in a cheesecake. If you've never tried it, you're in for a treat!
This limoncello cheesecake is the baked kind. If you want to try the no bake version, check out my no bake limoncello cheesecake recipe.
I've gone for a plain biscuit base for this cheesecake. For me, the limoncello brings so much divine flavor that nothing should get in the way.
The filling is a luscious combination of cream cheese (always at room temperature), caster sugar, plain flour, eggs, lemon zest, juice, limoncello, and sour cream or creme fraiche.
Finally, for the topping, I whipped up a mixture of limoncello (can't get enough of it!) with lemon curd. It's a fittingly delicious topping for a genuinely delicious cheesecake!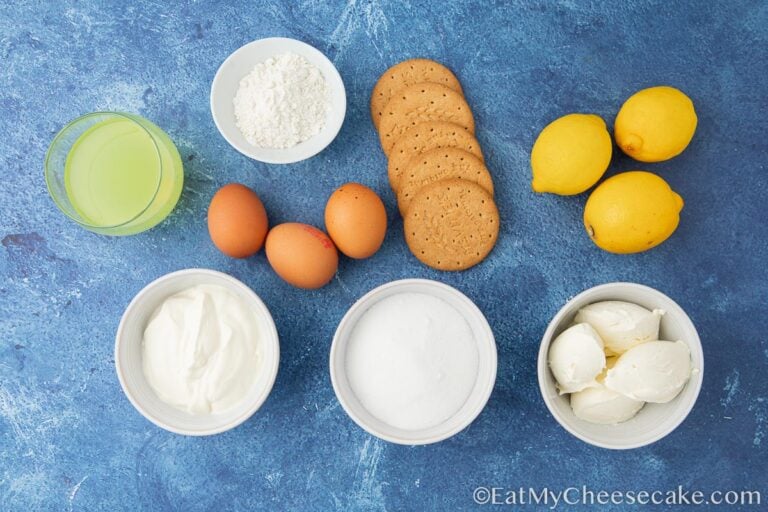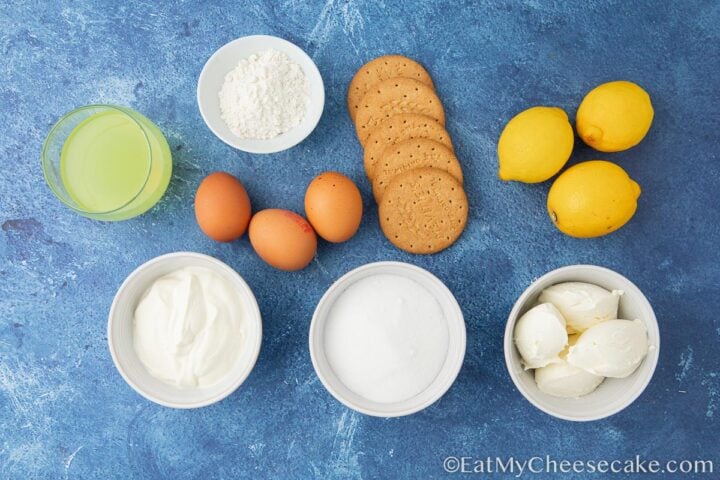 What is limoncello liqueur?
This drink is like the essence of a summer day. It's made using unique lemons that only grow in a specific region of Italy. 
Limoncello is protected. This means it can't be made anywhere else in the world.
The lemons are lovely and don't have the sourness of a regular lemon. When limoncello is made, only the skins are used. They're steeped in alcohol for at least two days (up to ten) and then added to sugar water.
Commercial limoncello goes back over 100 years. The original recipes go back even further than that. Like much of Italian cuisine, the origins of limoncello are shrouded in legend and mystery.
One thing is for sure. It has got that timeless quality, which is what makes this cheesecake extra special. 
How much alcohol is in limoncello?
Limoncello is a liqueur. So, while it tastes fresh and fruity, it will also give your cheesecake a booziness.
Can I use a substitute for limoncello?
If that booziness is not for you, don't worry! You can substitute lemon extract for limoncello. Add about half the amount of lemon extract as it calls for limoncello. Then, add sugar to taste. You could also use lemon syrup. 
What's the best biscuit base for this cheesecake?
For me, this cheesecake needs something simple. Leave the flavor to the limoncello liqueur.
I've gone for plain digestives – McVitties are the classic and my fave.
If you're in the States, you can, of course, opt for Graham crackers. Graham cracker crumbs are perfect for a cheesecake base. 
If you want, you could add some grated lemon zest to the biscuit base. It's the only thing I would use to flavor the biscuits and melted butter.
Why is lemon zest used in baking?
Grating lemon zest into your baking ingredients is a great way to get some delicate, subtle flavor. The zest brings all the bold taste and aroma of lemon without the bitterness.
 
Use a handheld zester when grating your lemon zest, and be careful not to grate the white bitter pith underneath the skin.
Should I use sour cream or creme fraiche in this cheesecake?
It's totally up to you! Some people use creme fraiche, which is richer and has a thicker, creamier texture. Others prefer the tang of sour cream.
I'm in the sour creme camp on this one. The tang works great with the lemon flavors in this cheesecake. However, use either one. Your cheesecake will taste amazing regardless!
Should I have cream cheese at room temperature?
Yes! It's crucial to have it at room temperature. It won't mix well if it's too firm, and you'll end up with lumps in your mixture. Leave it out of the fridge for up to two hours before baking.
How long does this cheesecake last?
If you're anything like me, about 5 minutes.
Oh, you mean storage-wise? You can store your limoncello cheesecake in the fridge in a suitable container – I recommend this one – and it will last up to 5 days.
Can you freeze this cheesecake?
Yes, you can. Limoncello cheesecake freezes better than most cheesecakes.
Before freezing your cheesecake, make sure it has cooled completely. Then, wrap it in plastic before adding a tin foil layer.
You could also use an airtight container.
It will keep its flavor for up to a month, although you can freeze it for months.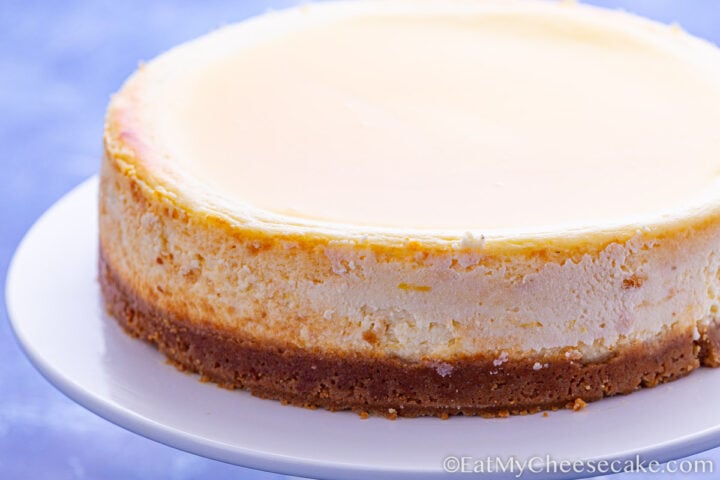 Tips for the perfect limoncello cheesecake
A few pointers to get your cheesecake to sing!
Don't skimp on the lemon! A lemon dessert without enough punchy flavor is a crying shame. So, follow the measurements below, from the zest and the juice to the limoncello and the lemon curd.
Remember to take your eggs and cream cheese from the fridge a few hours before making this cheesecake. You'll have much better results.
Unless you're teetotal, I recommend sticking to this recipe's limoncello. While you can use a substitute – see above – there's nothing quite like it. Well, it's not called a "limoncello" cheesecake for nothing, huh?
You want more cheesecake?
I tasted this luscious cheesecake, and you want some more? Check these out:
Lemon cheesecake – fresh and zesty, this is another lemon-based dessert you'll love!
Baked pomegranate cheesecake – an unusual fruit for a cheesecake, yet this pomegranate cheesecake recipe is the perfect dessert for summer
No bake cherry cheesecake – cherry fans, this is your recipe!
More luscious lemon recipes
Can't get enough lemon in your life? Get inspired with these fantastic lemon-based recipes:
Lemon chess pie – simple ingredients and so easy to make
Preserved lemons – a traditional Middle Eastern ingredient, preserved lemons are a magical ingredient that takes recipes to another level.
Drizzled lemon curd cupcakes – these little bad boys are easy to make and taste amazing! The perfect balance between sweet and sour
No-bake lemon cheesecake - another zesty cheesecake for you to try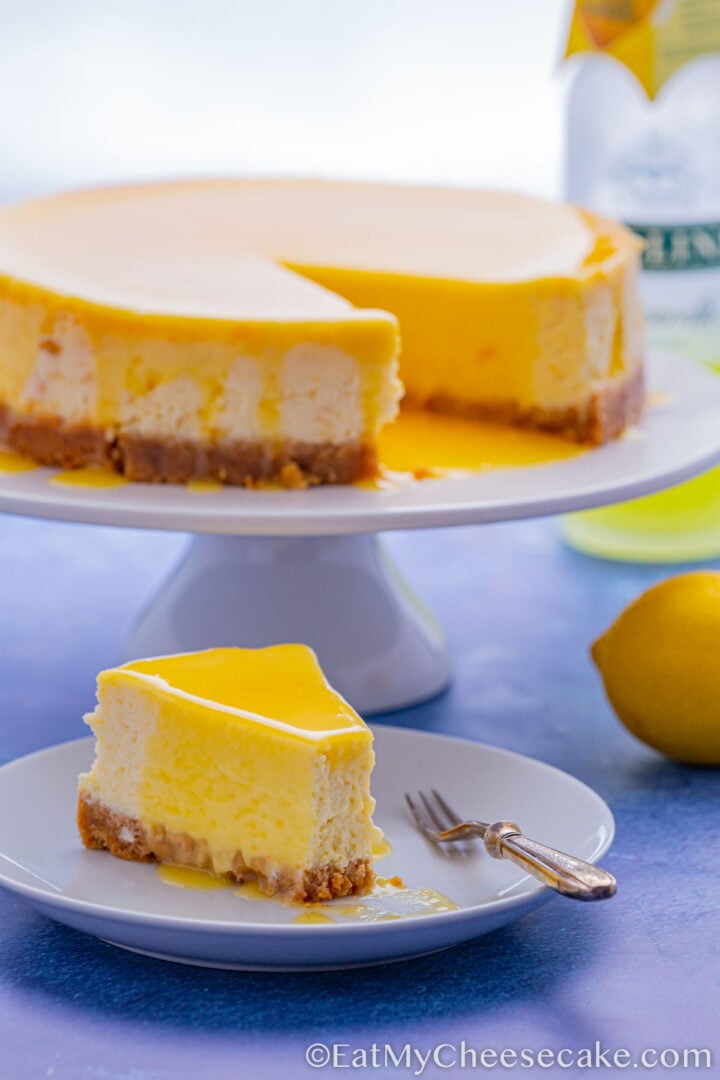 Print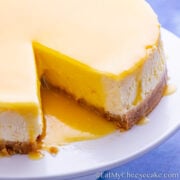 Baked Limoncello Cheesecake
---
Author:

Michelle Minnaar

Total Time:

6 hours 45 minutes

Yield:

12

servings

1

x

Diet:

Vegetarian
Description
This Baked Limoncello Cheesecake is an easy recipe using fresh lemons and the famous lemon liqueur, called Limoncello.
---
Biscuit Base
300

g

digestive biscuits, such as McVities

150

g

unsalted butter, melted
Limoncello Cheesecake Filling
675

g

cream cheese at room temperature

250

g

caster sugar

45

g

plain flour

3

medium eggs, at room temperature
zest of

2

lemons
juice of

1

lemon

125

ml

limoncello

185

g

sour cream/creme fraiche
Decoration
125

g

lemon curd

60

ml

limoncello
---
Instructions
Preheat your oven to 220°C / 200°C fan / 430°F / gas mark 7
For the Biscuit Base: Place the digestive biscuits in your food processor and blitz into a crumb. While the food processor is still running, add the melted butter and allow it to combine, which should only take about 15 seconds, then turn off.
Prepare your 23cm (9 inch) springform pan by putting a layer of greaseproof paper over the base and then clasping the springform ring around the outside, as I find this easier when removing the cheesecake at the end.
Pour your crumb into the pan and flatten evenly - I use the bottom of a large glass.
You can place it in the fridge for around 10 minutes to chill.
Limoncello Cheesecake Filling: In a stand mixer with the whisk attachment, mix the cream cheese for a minute or two to loosen it up, and then, on a low speed, gradually add the sugar and flour. I add the sugar and flour a spoonful at a time and ensure each spoonful is fully incorporated before adding the next one.
Once again, gradually add the lemon juice, Limoncello, and the lemon zest.
Once this is done (still on a low speed), add one egg at a time, waiting for each egg to be fully incorporated before adding the next.
Fold through the sour cream (or creme fraiche) and then pour into the tin – bake in the oven for 15 minutes at the temperature stated above and then reduce the oven temperature to 110°C/90°C fan/210°F/gas mark -1.5 and bake for a further 30-35 minutes.
Turn the oven off and leave the cheesecake to cool (while still in the oven) with the door slightly ajar for 2 hours.
Once cooled, wrap the cheesecake (still in the tin) in foil and refrigerate overnight.
Once chilled overnight, use a knife to run around the edges of the tin and carefully remove it from the tin.
To decorate: I just mixed some lemon curd with Limoncello and poured it over the top. I just loved the way Limoncello took the lemon curd to another level. Enjoy!
Prep Time:

15 minutes

Chilling Time:

6 hours

Cook Time:

30 minutes

Category:

Dessert

Method:

Bake

Cuisine:

Italian
Keywords: baked limoncello cheesecake, limoncello dessert, limoncello recipe, no bake limoncello cheesecake