This baked pomegranate cheesecake is everything a cheesecake should be! A rich, crumbly, buttery biscuit base, a creamy, fruity filling with just the right balance, and luscious fruit to decorate the top.
Whether you're a cheesecake expert or a complete newbie, this simple recipe is a great way to bake a delicious dessert to please the whole family.
Products you need for this recipe
There are a few key items you'll need for this cheesecake recipe:
Baked pomegranate cheesecake recipe
Few things are as delicious as a proper baked cheesecake! This one, in particular, is exciting. It's slightly different to most fruit-based cheesecake recipes.
It all starts with the base. For this recipe, I've gone for a pistachio crust. There's something about the nutty flavour that works well with the pomegranate. It's an absolute winner and different from a standard crust.
The roasted pistachios are blended with butter to make a luscious, buttery base.
The filling is smooth and creamy, with a blend of cream cheese, double cream, lemon zest (not lemon juice), and pomegranate juice. It tastes like a dream!
You can also use sour cream instead of double cream if you prefer a sour cream mixture.
On top the pomegranate sauce tops it all off.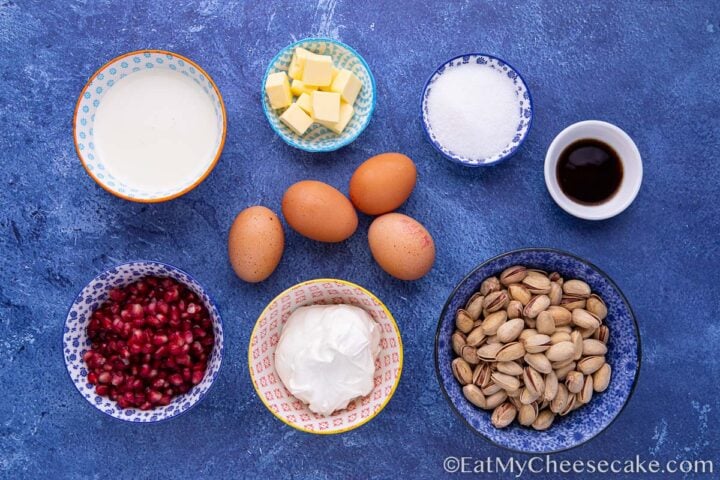 No baked or baked… that is the question
So, which is better… baked or no baked recipes? Well, it depends on what you want out of a cheesecake.
Baked cheesecakes are the traditional way to go. Baked cheesecake recipes use eggs to set the filling. So, you end up with a more solid cheesecake with a rich taste.
No bake recipes set in the fridge, and don't use eggs. They don't hold together quite as well as a baked cheesecake. Still, they taste great and are quicker and less hassle to make. 
Also, there's no oven involved – a big plus if you're making it in the middle of summer.
If you want to make a pomegranate cheesecake but don't want to use an oven, you can try my no-bake pomegranate cheesecake.
What kind of pan should you use to make a cheesecake?
The best pan to use to make this recipe is a 9 inch (23cm) spring form pan. You can unclasp the side and remove the bottom with this type of pan. This helps the cheesecake stay together when removed from the pan.
How do you deseed a pomegranate?
It's the thing that seems to put people off eating them. Yet, deseeding a pomegranate is easy when you know how.
First, slice the pomegranate in half. Then, hold the pomegranate, one half at a time, over a bowl, open side down. Using a wooden spoon, give the back of the pomegranate half a good wack. The arils, or seeds, should start to fall out.
Repeat until all the seeds have been removed.
How do you make pomegranate sauce?
The thick, syrupy pomegranate sauce is the big show-stopping decoration on this cake. It's sweet and tart, with a fantastic fruity flavor that tingles the taste buds.
It's easy to make. It involves bringing pomegranate juice to a boil, reducing it to a simmer, and adding cornstarch and sugar.
Simple!
Can you make your own pomegranate juice?
If you don't want to use a bottle of pomegranate juice from a store, you can easily make your own.
You must add pomegranate seeds into a blender, pulse a few times, and then strain into a container. Use the back of a spoon to push the pulp through and get as much juice through the strainer as possible.
Is this cheesecake gluten-free?
The only ingredient that contains gluten is the plain flour in the filling. To make this recipe gluten-free, replace plain flour with arrowroot or a similar alternative to arrowroot.
How to decorate this pomegranate pistachio cheesecake
Decorating cakes like this is a chance to release your inner Jackson Pollack. Go nuts(!) with the pistachios and with drizzle upon drizzle of pomegranate sauce. 
I also like to stud the side of the cake with pistachios. This gives it that extra classy look.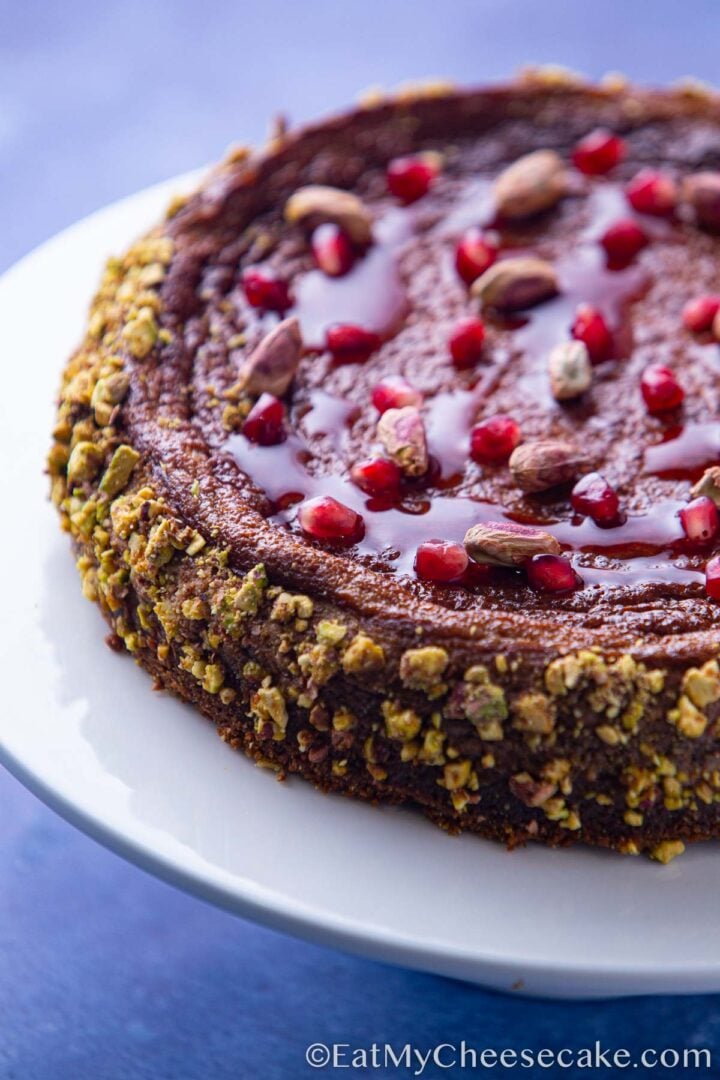 Tips for the perfect pomegranate cheesecake
The batter
Don't overbeat the batter. This will cause too much air to get into the batter, giving you all sorts of problems later.
Don't overdo it
Don't over-bake the cake. The outside should be firm, but there should still be a wobble when gently shaking it.
Timing
Make sure you follow the timings and temperatures. Slowing down the cooking helps to cook it to perfection.
Play it cool
Allow the cheesecake to cool in the oven. This gentle cooking/cooling process is going to make all the difference.
A little slice of heaven
Want a clever little tip to get the perfect slice? You must submerge the knife in boiled water for a few seconds before you slice your cake. It will cut through easily, giving you a clean slice.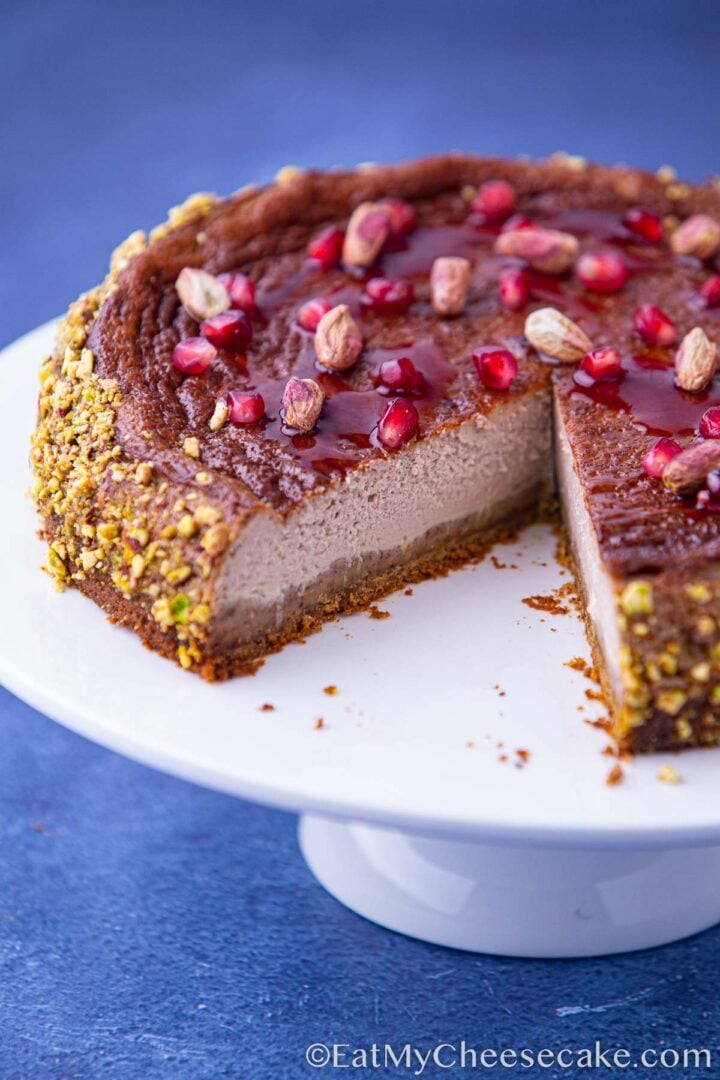 More fruity cheesecake recipes
If this delicious baked pomegranate cheesecake has got you in the mood for more creamy, fruity goodness, check these recipes out:
No-Bake Lemon cheesecake
Baked limoncello cheesecake
Pineapple cheesecake
Banoffee cheesecake
More pomegranate recipes
Can't get enough of this delicious fruit? Here are more pomegranate recipes for extra inspiration:
Print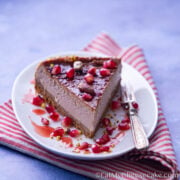 Baked Pomegranate Cheesecake
---
Author:

Michelle Minnaar

Total Time:

1 hour 30 minutes

Yield:

12

portions

1

x

Diet:

Vegetarian
Description
This Baked Pomegranate Cheesecake is a dessert made with fresh pomegranates and has a pistachio crust.
---
Pistachio base
225

g

roasted shelled pistachios

90

g

unsalted butter, melted

25

g

caster sugar
Pomegranate Cheesecake filling
900

g

cream cheese, room temperature

13

g

vanilla paste

100

g

granulated sugar

45

g

plain flour

375

ml

pomegranate juice, room temperature

1

lemon, zest only

4

large eggs, room temperature

250

ml

heavy (double) cream
Pomegranate Sauce Decoration
500

ml

pomegranate juice

50

g

brown sugar

8

g

cornstarch

1/2

a pomegranate, arils (seeds) only

75

g

shelled pistachios, chopped

37

shelled pistachios, whole
---
Instructions
Preheat your oven to 220°C / 200°C fan / 430°F / gas mark 7
For the Biscuit Base: Place the pistachios and caster sugar in your food processor and blitz into a crumb.
While the food processor is still running, add the melted butter and allow it to combine, which should only take about 15 seconds, then turn off.
Prepare your 23cm (9 inch) springform pan by putting a layer of greaseproof paper over the base and then clasping the springform ring around the outside as I find this easier when removing the cheesecake at the end.
Pour your crumb into the pan and flatten evenly - I use the bottom of a large glass.
You can place it in the fridge for around 10 minutes to chill.
Pomegranate Cheesecake Filling: In a stand mixer with the whisk attachment, mix the cream cheese and vanilla paste for a minute or two to loosen it up, and then, on a low speed, gradually add the sugar and flour. I add the sugar and flour a spoonful at a time and ensure each spoonful is fully incorporated before adding the next one.
Once again, gradually add the pomegranate juice and the lemon zest. Once this is done (still on a low speed), add one egg at a time, waiting for each egg to be fully incorporated before adding the next.
In a separate bowl, whisk the double cream until soft peaks are formed. Add the heavy (double) cream to the cream cheese mix, fold through, and then pour into the tin – place the tin in the oven for 15 minutes at the temperature stated above and then reduce the oven temperature to 110°C/90°C fan/210°F/gas mark -1.5 and bake for a further 30-35 minutes.
Turn the oven off and leave the cheesecake to cool (while still in the oven) with the door slightly ajar for 2 hours.
Once cooled, wrap the cheesecake (still in the tin) in foil and refrigerate overnight.
Once chilled overnight, use a knife to run around the edges of the tin and carefully remove it from the tin.
To make the sauce for decoration, place the pomegranate juice into a pot, put it on the stove, and bring it to a boil.
Reduce heat and simmer until it reduces to 1 cup. This should take around 10 minutes.
Mix the cornstarch and 2 tbsp water in a cup and then whisk into the sauce with the sugar until fully incorporated. Remove from the heat and allow to cool.
To decorate: brush the edge of the cheesecake with some of the pomegranate sauce and then press the chopped pistachios onto the side of the cheesecake.
Over the top sprinkle the whole pistachios and pomegranate arils (seeds) and then pour some of the sauce over the top anyway you see fit. I let my inner Jackson Pollock out when doing this.
You can use the leftover sauce with the portioned pieces of cheesecake and enjoy.
Notes
To portion the cheesecake, I put the knife into boiled water, giving me a much cleaner slice each time.
Prep Time:

30 minutes

Cook Time:

1 hour

Category:

Dessert

Method:

Bake

Cuisine:

Morrocan
Keywords: baked pomegranate cheesecake, pomegranate cheesecake, no bake pomegranate cheesecake, pomegranate dessert, pomegranate recipe, pomegranate dessert, pomegranate recipe