Summer desserts aren't much better than this incredibly easy Italian lemon cheesecake. You'll be living la dolce vita like a forkful of sunshine, just one mouthful of no bake Limoncello cheesecake!
Products you need for this recipe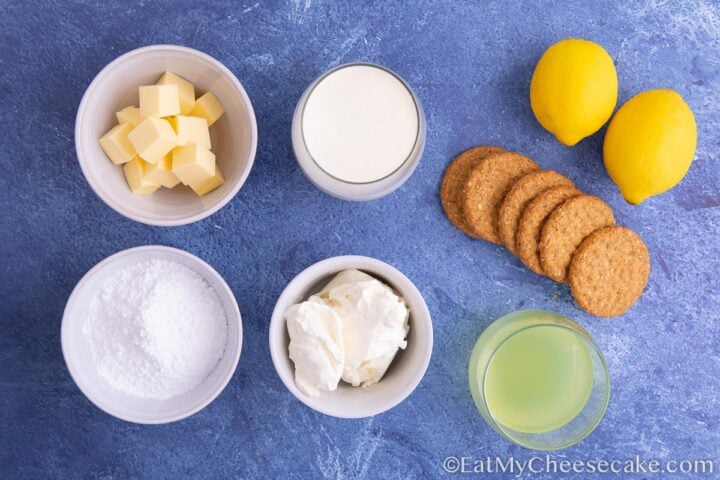 Which is better: baked or no baked Limoncello cheesecake?
Sometimes, baking can be too complex and take up too much time. Sure, baked cheesecakes are great, but you have the time and energy to spare. Otherwise, you won't even be able to enjoy your creation.
That's what makes no bake cheesecakes so great. Minimal prep time (all the time is in the chilling period), no oven, and only a little bit of effort. This is the perfect recipe for those of us with busy, busy lives!
I recommend you check out my Baked Limoncello Cheesecake recipe if you have spare time. They have similar flavors but with a very different overall texture. Try making both to see which one you like best. I'm sure your friends and family will be happy to give their verdict!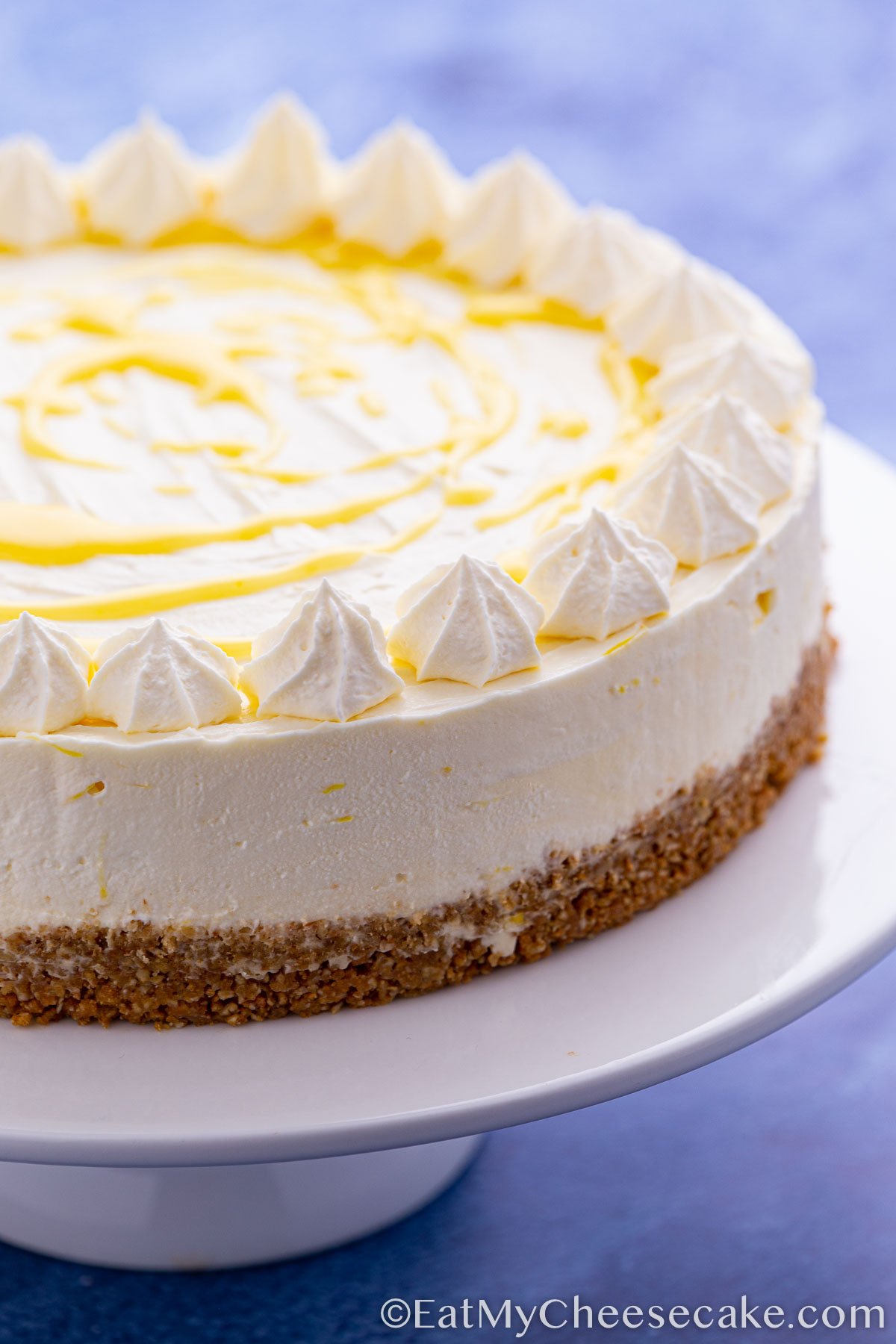 What is limoncello?
Pronounced "lee-mon-che-lo," Limoncello is a rich, smooth liqueur produced in the Amalfi region of Italy. Like parmesan or Serrano ham, it's a protected ingredient, meaning it has to be made in this region to be regarded as genuine Limoncello.
Amalfi lemons taste like no other lemon. Far less tangy, sweeter, and bigger than the average, they are unique to this part of the world.  
The original recipe for Limoncello stretches back many years and is shrouded in legend. Some say fishermen created it to keep colds at bay. Others credit monks with its invention, and according to some, the origin of the liquor goes back to the first cultivated lemons.
Either way, today, Limoncello is made by steeping lemon peel in pure alcohol for between three days and a week until all the lemon oil is extracted. It's then strained into a simple syrup mixture.
What does limoncello taste like?
Limoncello has a rich, intense lemon flavor. It's not as sour as lemon juice. Instead, it's syrupy and sweet, with a balanced, refreshing taste. 
Perfect for a summer cheesecake!
What biscuits are best for a no bake cheesecake base?
For me, plain digestives are perfect. Others swear by Graham cracker crumbs. So, if you're a Graham cracker fan and they're easier to get hold of, go ahead and use them! 
Why is my no bake cheesecake not firm?
There are three main reasons why a no bake cheesecake fails to firm up. Firstly, the ingredients. 
It's crucial to use full-fat cream cheese and heavy double cream when making a no bake cheesecake. If you're tempted to go for low-fat varieties, be warned: they won't set nearly as good as the full-fat kind.
Secondly, it's essential to stick to the chill time. You must let your no bake cheesecake chill for at least six hours, preferably overnight. 
Lastly, a too soft cheesecake can be caused by overmixing the cheesecake mixture. That's why a stand mixer is such a great tool to use. You can set it to low speed and mix lightly until everything is fully incorporated.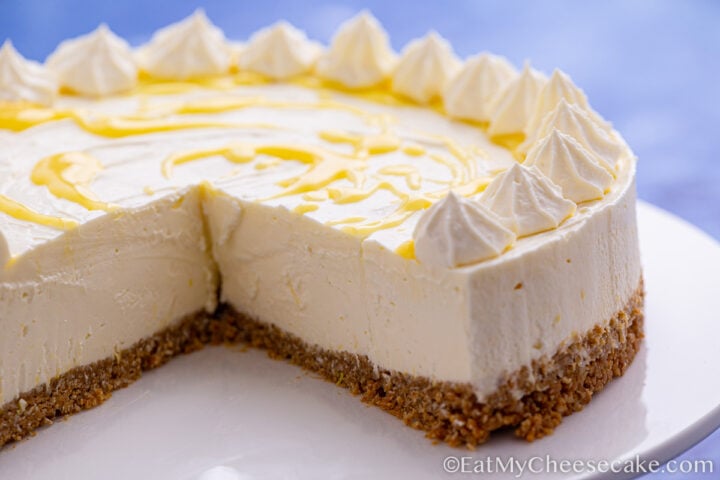 Taste the summer with these recipes
Loved this no bake Limoncello cheesecake? Check out some of my other favorite sweet summer recipes:
Lemon chess pie – the perfect balance between sweet and acidic, this recipe is irresistible. When life hands you lemons, make this pie.
Drizzled lemon curd cupcakes – another great showcase for lemons, these cupcakes are divine! Not only that, but they're so easy to make
Sicilian cannoli – if you've never had a cannoli, stop what you're doing and make this recipe! I picked it up when I visited Sicili, the home of the cannoli
Don Pedro drink – a South African favorite, this is pure heaven in a glass. Add ice and a giddy smile
Pornstar martini – now we're getting frisky. Passion fruit liqueur, champagne and vanilla – let's get the party started!
No-Bake Lemon Cheesecake - if you liked this Limoncello cheesecake you're sure to love another zesty cheesecake
No-bake cherry cheesecake - something about the combination of cherry and cream cheese filling really does it for me. Well, this recipe doesn't just use ordinary cherries. These are extra special Italian cherries, and they taste incredible!
Print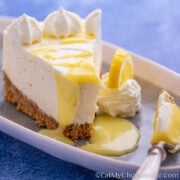 No Bake Limoncello Cheesecake
---
Author:

Michelle Minnaar

Total Time:

6 hours 45 minutes

Yield:

12

portions

1

x

Diet:

Vegetarian
Description
No Bake Limoncello Cheesecake is an offbeat dessert that packs a tangy punch. It makes a great end to any meal. Click here for the recipe!
---
Biscuit Base
300

g

digestive biscuits

1

lemon, zested

150

g

unsalted butter
Cheesecake Filling
750

g

cream cheese

125

g

confectioner's sugar

1

lemon, zested and juiced

125

ml

Limoncello liqueur

435

ml

heavy (double) cream
Cheesecake Topping
160

g

lemon curd

45

ml

Limoncello liqueur

125

ml

heavy (double) cream

15

g

confectioner's sugar
---
Instructions
For the Biscuit Base: Place the digestive biscuits in your food processor, blitz them into a crumb, and add the lemon zest.
While the food processor is still running, add the melted butter and allow it to combine, which should only take about 15 seconds, then turn off.
Prepare your 23cm (9 inch) springform pan by putting a greaseproof paper over the base and then clasping the springform ring around the outside. I find this easier when removing the cheesecake at the end.
Pour your crumb into the pan and flatten evenly - I use the bottom of a large glass.
Place in the fridge for around 10 minutes to chill.
Limoncello cheesecake filling: In a bowl, beat the cream cheese - I use a KitchenAid stand mixer on level 2 or 3 as I find this so much easier, until smooth.
Add the icing sugar a bit at a time and continue to mix.
Pour in the Limoncello and lemon juice a bit at a time, then add the lemon zest and mix until fully incorporated.
In a separate bowl, whisk the heavy (double) cream until you achieve soft peaks, and then fold the cream cheese mix and heavy (double) cream until the cream is fully incorporated.
Remove the tin from the fridge and cover the whole base with the cheesecake filling, then gently drop the tin onto the kitchen counter 5 to 10 times to let any bubbles out.
Place the cheesecake in the fridge for at least 6 hours, preferably overnight.
Remove the cheesecake from the tin. Tip: I use a kitchen blowtorch to loosen the sides. Alternatively, I use a cloth dipped in hot water to complete the job.
To Decorate: Place the heavy (double) cream and the icing sugar into a mixing bowl and whisk until you achieve soft peaks.
Fill a piping bag with this mixture and decorate as you see fit, then mix the lemon curd and the limoncello, then let your inner Jackson Pollock come out. Enjoy!
Notes
Please feel free to add more or less limoncello to the lemon curd. It all comes down to your taste, but I found this topping delicious, even if I say so myself!
If you forget to put the lemon zest into the base, don't worry, as you can still add it to the cheesecake filling.
Prep Time:

30 minutes

Chilling Time:

6 hours

Cook Time:

15 minutes

Category:

Dessert

Method:

Chill

Cuisine:

British
Keywords: limoncello dessert, limoncello recipe, no bake cheesecake recipe, no bake limoncello cheesecake