Looking for an indulgent cheesecake? Oreo cheesecake is the perfect dessert to satisfy that sweet tooth!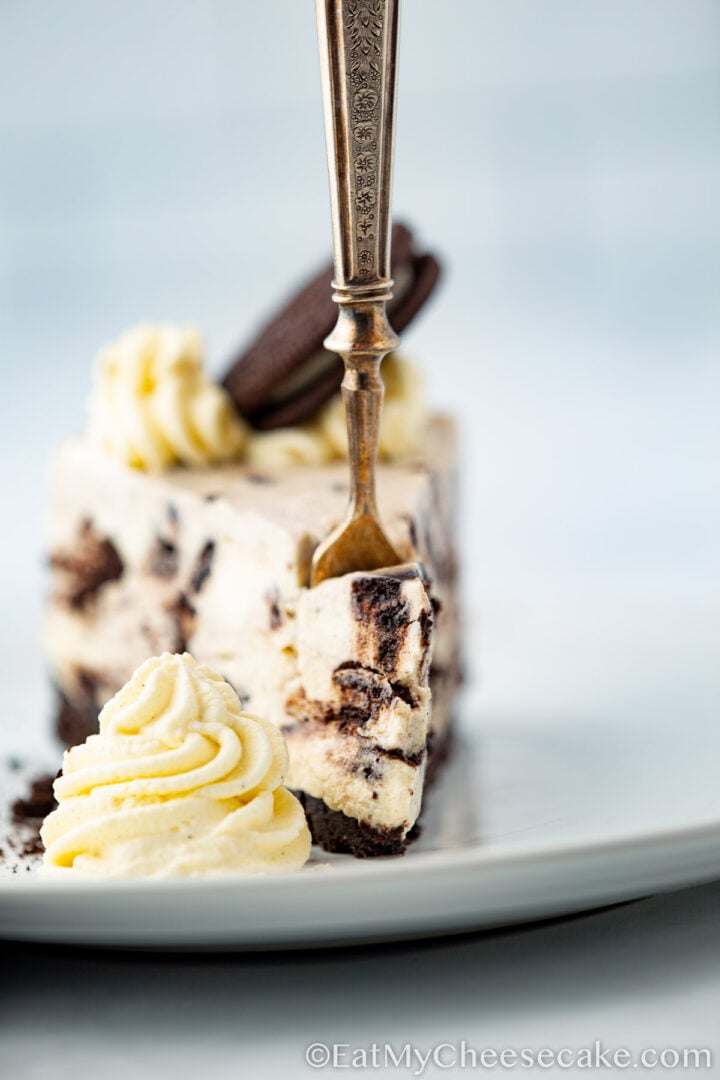 It's a simple no bake recipe that's silky smooth and impossible to resist, with few ingredients that are easy to get hold of. Just one slice of Oreo cheesecake and you'll fall head over heels in love.
Products you need for this recipe
There are a few simple items you'll need to make this no bake Oreo cheesecake: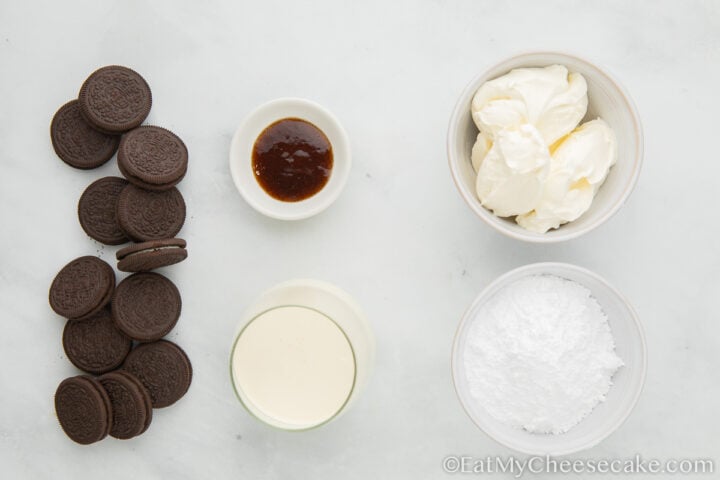 Oreo cheesecake recipe
When it comes to decadent chocolate cheesecakes, they don't come much better than a no-bake Oreo cheesecake.
Just a handful of simple ingredients and not an oven in sight! This no-bake dessert is perfect for the summer and all year round.
No bake Oreo cheesecake ingredients
The ingredients to this recipe are simple and easy to get hold of:
Oreos
You'll need 28 Oreo cookies for the base, 28 for the filling, and 12 mini Oreos for the topping. I recommend buying in bulk.
Butter
Go for unsalted butter. Salted butter comes in varying amounts. Oreos contain salt, of salt, and so more isn't necessary.
Cream cheese
Always go for the whole-fat kind when making no-bake cheesecakes. If you don't like cream cheese, sour cream is a great alternative.
Powdered sugar
Super fine sugar is essential for no bake cheesecake recipes. Otherwise you'll end up with a gritty filling.
Vanilla paste
Use pure vanilla paste for the best taste and texture. You can also use vanilla extract.
Heavy whipping cream
Heavy whipping cream or double cream is the best kind of cream to use. Using heavy whipping cream creates a creamy, fluffy no-bake cheesecake that will set properly. For best results, make sure the whipping cream is cold before whipping it.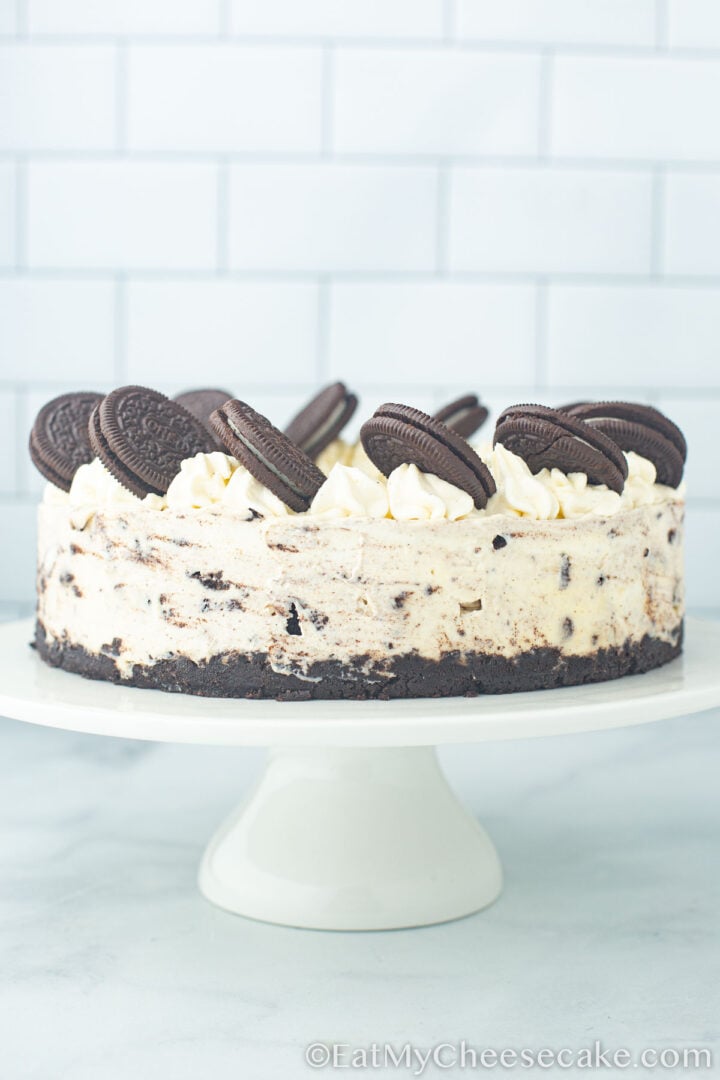 Which cheesecake is better: bake or no bake?
It depends on what you're looking for. Baked cheesecakes tend to be smoother and creamier due to the addition of eggs.
No bake cheesecakes are still delicious though. A big plus is that no baking is required, which is particularly significant if you want to make a cheesecake in the summer.
How do you make Oreo cheesecake from scratch?
The best thing about a no bake Oreo cheesecake – aside from the taste, obviously – is the sheer simplicity. You're going to love this recipe… making it is a cinch!
Here's what goes into making a no bake Oreo cheesecake from scratch.
Oreo crust
For the gloriously buttery biscuit base, we're going with Oreos. Well, what else?!
The Oreo crust is a simple mixture of cookie crumbs and butter, which helps bind the base together. This ensures each slice of Oreo cheesecake will keep its shape. 
Another way to help the Oreo crust hold together is to bake it for about 10 minutes at 176ºC/350°F before chilling the base in the fridge. It should be fine without baking. 
Just make sure to press the Oreo crust down firmly into the pan. Flattening the Oreo crumbs mix also helps keep it nice and solid. The bottom of a large glass is ideal.
Filling
With a no bake cheesecake, getting the perfect filling is tricky. Unlike a standard run-of-the-mill cheesecake, it's not baked and doesn't have that set consistency. So, we have to work to get it to hold its shape.
This comes from a mix of whipped cream cheese, sugar, vanilla paste, heavy cream, and crushed Oreos. Please take a look at the instructions below for how to get the perfect creamy cheesecake filling.  
Topping
The topping is all about using your creativity. This recipe calls for mini Oreos, vanilla paste, and double cream. Use a piping bag for the cream and get inventive with the mini Oreos to add the finishing touches to your no bake Oreo cheesecake.
What Oreos should I use in this recipe?
Go for the classic kind. Nowadays, there are a million varieties, but the best to use for this no bake Oreo cheesecake are plain chocolate Oreos.
For the topping, you'll need mini Oreos.
How do I crush the biscuits without a food processor?
For any cheesecake recipe, I'd recommend using a food processor to blitz the biscuits. If you don't have a food processor and don't want to invest in one, there are a couple of other options:
Use a pestle and mortar.
The old-fashioned way to create those biscuit base crumbs is to use a pestle and mortar. It's a bit of a slow, laborious process, as you'll need to crush up the biscuits in batches. 
Use a bag and a rolling pin.
The best way to crush your cheesecake crumbs when you don't have a food processor is to use a food bag and a rolling pin. Place your Oreos in the bag and give them a good old bash with the rolling pin.
Quick, easy, and incredibly satisfying! Especially if you've had a rough day!
Do I need to soften the cream cheese?
Yes! When making a no bake cheesecake, it's always better to soften the cream cheese before you beat it. This is because it won't mix well when it is too solid. You'll end up with lumps in your homemade whipped cream cheese mixture.
The easiest way to soften it is to take it out of the fridge 30 minutes beforehand. A block or tub should only need about 30 minutes (1 hour max) to soften at room temperature.
Can I use whipped topping instead of heavy whipping cream?
If you can't find heavy cream or would instead use whipping topping (like Cool Whip), you can swap it in. 
For me, homemade whipped cream is the best way to go. If you do want to use a whipped topping like Cool Whip, leave out the icing sugar.
Why is my no bake cheesecake not firm?
The most likely reason for your cheesecake not being firm enough is that you haven't allowed it to cool for long enough.
No bake cheesecakes require at least 6 hours in the refrigerator to cool and set completely. If your cheesecake isn't set yet, place it back in the fridge and give it a little more time.
How do you stiffen a no bake cheesecake?
If yours hasn't been set correctly and all else fails, you can use a quick fix to stiffen the filling.
Adding a thickener like gelatin to the mix will thicken it up and allow it to set correctly. Although gelatin is a natural thickener, you should be aware that adding it to this Oreo cheesecake recipe will make it unsuitable for vegetarians. 
How do you know when a no bake cheesecake is set?
You'll know when it has adequately set when it's shiny and firm to touch. If it still hasn't been set correctly, leave it in the refrigerator for another 30 minutes or so.
If you need to speed things up, transfer it to the freezer. Please don't keep it in the freezer for longer than 30 minutes, though.
How long does it take a no bake cheesecake to set?
You'll need around 6 hours for it to be set appropriately. For best results, refrigerate overnight for at least 8 hours.
The longer you allow for your cheesecake to set, the easier it will be to slice, and the better it will hold its shape on your plate.
Is this recipe suitable for vegetarians?
Yes! There's no gelatin in this recipe! All you need is to follow the instructions below to get a perfectly set cheesecake.
How do I store Oreo cheesecake?
In the unlikely event that you and your loved ones don't wholly devour your Oreo cheesecake in one go, you'll want to know how to store it.
Leftover Oreo cheesecake will be kept in the refrigerator for up to 4 days. Good luck keeping it for that long!
Can I freeze no bake Oreo cheesecake?
No bake cheesecakes freeze perfectly well. That being said, the longer you freeze it, the more the quality of the cheesecake will suffer.
The best way to freeze a no bake cheesecake is by portion. Use a cheesecake slice container for each slice of Oreo cheesecake, then store them in a freezer-safe airtight container.
You could also use a cheesecake container to freeze the whole pie.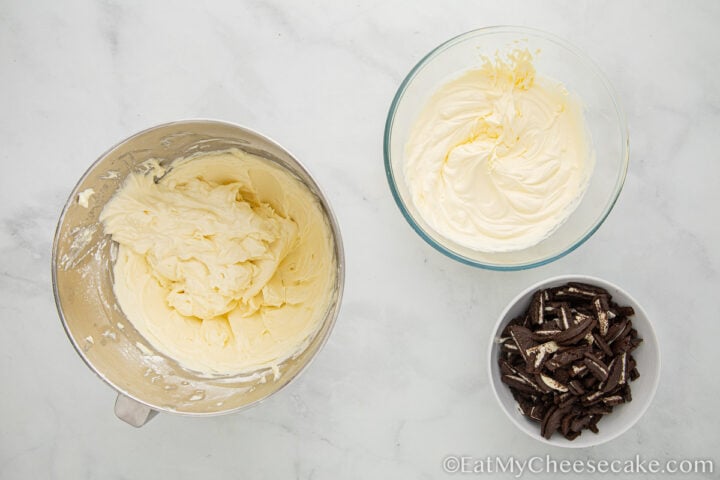 How to decorate Oreo cheesecake
Decorating a no bake Oreo cheesecake is simple. Use chopped Oreos, crushed Oreos, or mini Oreo cookies to adorn the top of your cheesecake. Also, use a piping bag to create swirls with the whipped cream. Use the photos for inspiration!
You could also scatter chopped mint leaves for a bit of color.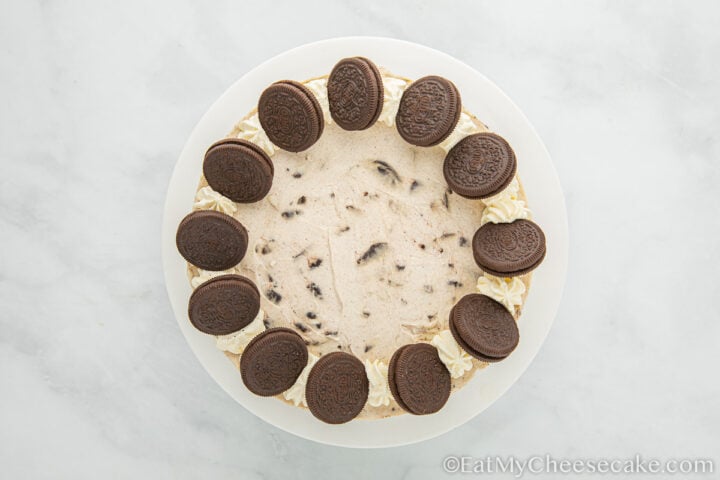 Tips for making Oreo cheesecake
Let's recap some of the important points for this no bake cheesecake recipe:
Room-temperature cream cheese mixes much better than chilled – leave it out of the refrigerator for 30 minutes before blending.
Line the springform pan with parchment paper – it makes it far easier to remove.
Chill properly in the refrigerator before slicing.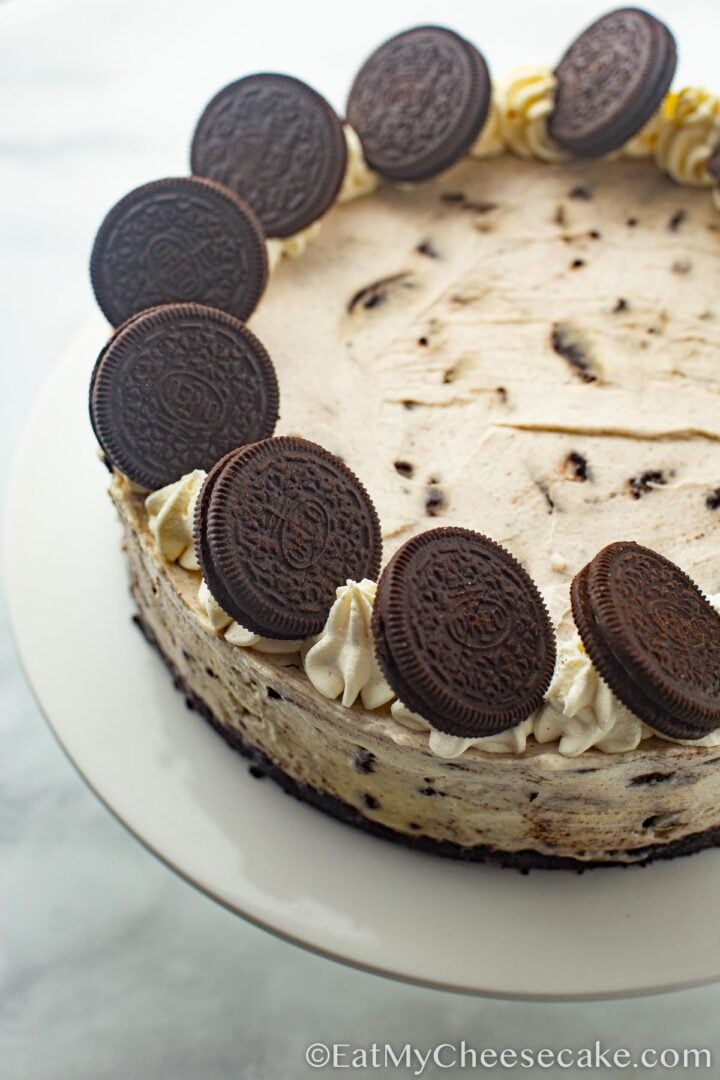 Variations on this recipe
There are a lot of things you can do to change things up a bit:
Use Cool Whip instead of heavy whipping cream. If you go for Cool Whip, leave out the powdered sugar.
Use vanilla extract in place of vanilla paste.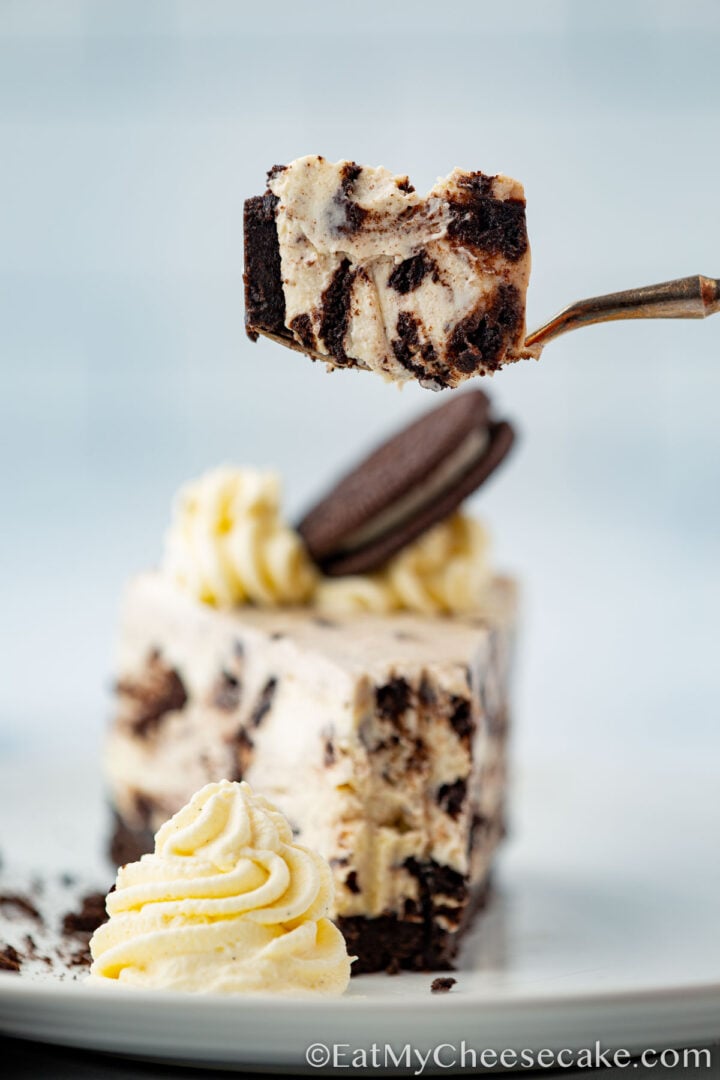 More Oreo desserts
A couple more decadent desserts, Oreo style:
More chocolatey cheesecakes
For those chocoholic cheesecake lovers:
No bake espresso cheesecake
No bake mocha cheesecake
Print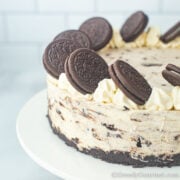 No Bake Oreo Cheesecake
---
Author:

Michelle Minnaar

Total Time:

6 hours 30 minutes

Yield:

12

servings

1

x

Diet:

Vegetarian
Description
This No-Bake Oreo Cheesecake is a perfect dessert for anyone with a sweet tooth and is impossible to resist.
---
Biscuit Base
300

g

(3 cups) Oreo biscuits, roughly 28 biscuits

115

g

(1/2 cup) salted butter, melted
Oreo Cheesecake Filling
790

g

(3 1/2 cups) cream cheese, at room temperature

5

g

(1 tsp) vanilla paste

125

g

(1 cup) icing sugar

430

ml

(1 3/4 cups) heavy (double) cream

300

g

(3 cups) Oreo biscuits, roughly 28 biscuits
Decoration
125

ml

(1/2 cup) heavy (double) cream

65

g

(2 tbsp) icing sugar

5

g

(1 tsp) vanilla paste

12

mini Oreo biscuits
---
Instructions
For the Biscuit Base: Place the Oreo biscuits in your food processor and blitz into a crumb.
While the food processor is still running add the melted butter and allow to combine which should only take about 15 seconds then turn off.
Prepare your 23cm (9 inch) springform pan by putting a layer of greaseproof paper over the base and then clasping the springform pan ring around the outside as I find this easier when removing the cheesecake at the end.
Pour your crumb into the springform pan and flatten evenly - I use the bottom of a large glass.
Place into the fridge to cool.
Oreo Cheesecake Filling: In a stand mixer with the whisk attachment, mix the cream cheese and vanilla paste for a minute or two to loosen it up and then on a low speed gradually add the icing sugar. I add a spoonful at a time and make sure each spoonful is fully incorporated before adding the next one.
Crush the Oreo biscuits and mix with the cream cheese, I used a spoon to try to keep the chunkiness of the Oreos.
In a separate bowl whisk the heavy (double) cream until you achieve soft peak consistency.
Fold together the cream cheese mixture and the heavy (double) cream until combined.
Remove the biscuit base from the fridge and pour the filling onto the biscuit base.
Drop the tin onto the counter top to release any bubbles that may have been trapped, I do this 5-10 times from about 5 inches from the counter top.
Transfer to the fridge and leave to set for around 6 hours or preferably overnight.
To decorate, place the heavy (double) cream, icing sugar and vanilla paste into a bowl and whisk until you achieve soft peak consistency.
Transfer the whipped cream to a piping bag and decorate as you so desire. Use our pictures for inspiration and top with mini Oreos. Have fun!
Portion up. Enjoy!
Prep Time:

30 minutes

Chilling Time:

6 hours

Category:

Dessert

Method:

Chill

Cuisine:

American
Keywords: no-bake oreo cheesecake, oreo cheesecake, oreo recipe