A refreshing, sweet, tart cheesecake with bold flavors, this no bake pomegranate cheesecake is natural beauty.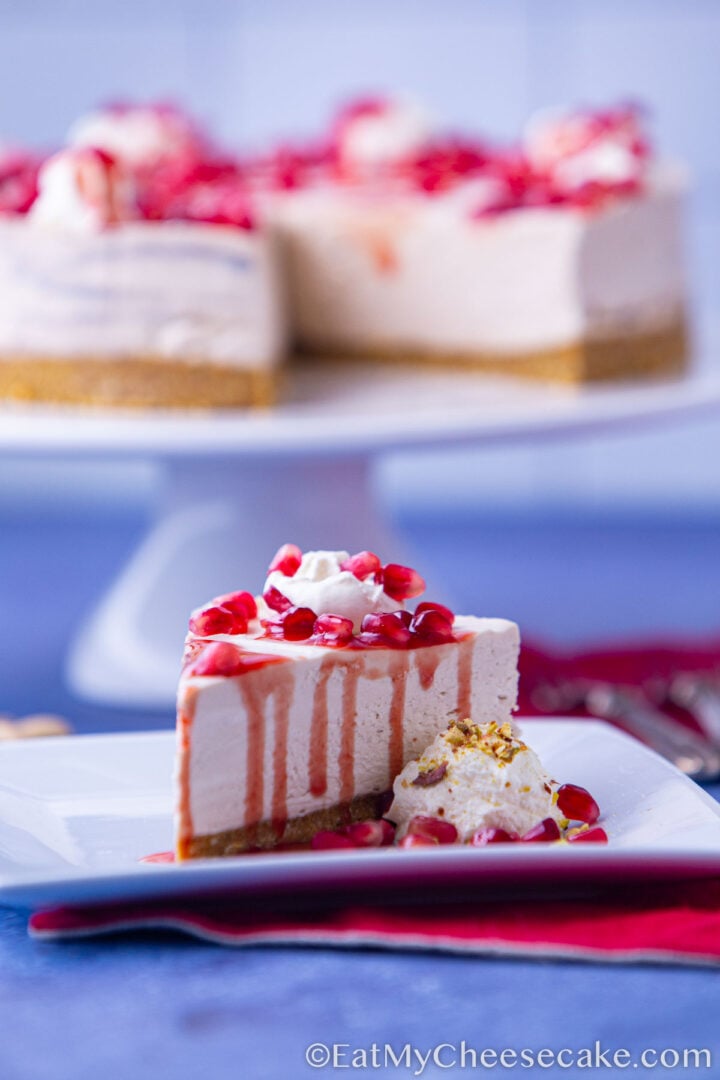 The perfect dessert for a summer day – or ANY day, for that matter – it's so simple and requires absolutely no oven time. So, break out your pomegranates… it's cheesecake time!
Products you need for this recipe
No bake pomegranate cheesecake recipe
While trying to conjure up a new, fresh cheesecake recipe, I thought about what fruit makes me think of summer. For me, pomegranates are one of the very best summer fruits. 
They're so underrated! I think the tricky prep puts many people off. It's a lot easier than it seems… read on to learn a few tricks to get to those delicious little pomegranate seeds, or "arils" as they're known.
Pistachio Crust
The base of this no bake pomegranate cheesecake recipe is a blend of biscuits – digestives, baby! – melted butter and pistachios. For me, the pistachios bring an authentic, fresh pine flavor that goes together really well with the tartness of the pomegranate.
That sweet, tart flavor works incredibly well with a smooth cream cheese mixture. Absolute heaven!
This pomegranate cheesecake recipe gives you plenty to play with regarding decoration. A delectable cream piped on top, with a scattering of pomegranate seeds for that pleasant crunch and the sauce! Oh, the sauce! 
Just wait until you try it...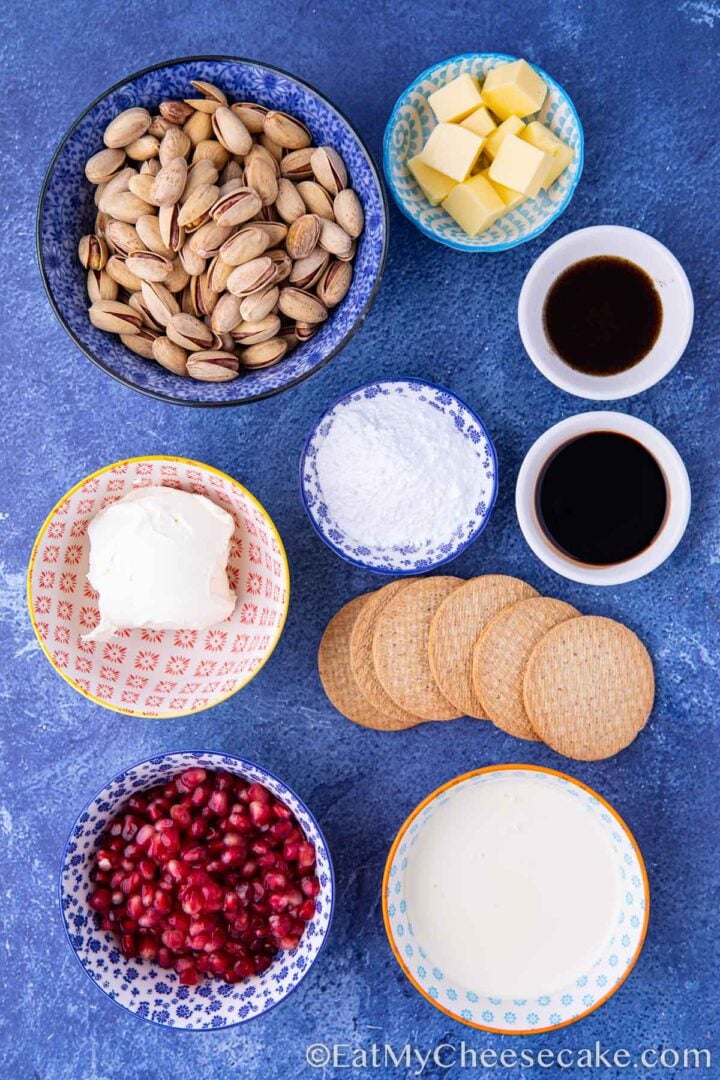 What is a pomegranate?
The pomegranate is a big dark red fruit with ancient origins in the Middle East, Asia, and the Mediterranean.
They have a hard, smooth exterior and seeds in the middle, known as "arils." Pomegranate seeds are the edible part of the fruit. Rich, sweet, and tart, these seeds contain nutrients, including vitamin C, K, and potassium. 
They are delicious, too… like little candied bursts of summer!
The name pomegranate comes from "pomme garnete" – French for "seeded apple."
How do you prepare a pomegranate?
People tend to be put off pomegranates because of the prep. Still, it's easy when you know how:
Using a sharp knife, make a slice about half an inch from the top of the pomegranate. Gently take the "lid" off. You'll be able to see the seeds inside. Slice down through each of the white parts inside the pomegranate. Pry each section apart. Then, carefully turn the pomegranate inside and gently pop the seeds into a bowl.
What are pomegranate molasses?
It's concentrated pomegranate juice. It's made by boiling the liquid until it becomes thick, syrupy, and sweet. 
Pomegranate molasses is a great ingredient for both sweet and savory dishes. It's excellent in everything from salad dressings and marinades to fruit sauces. You can even make your own tea with it!
How long does no bake pomegranate cheesecake last?
Can you freeze no bake cheesecake?
Yes, you can! Freeze it without the toppings and store it in an airtight, freezer-safe container for up to three months.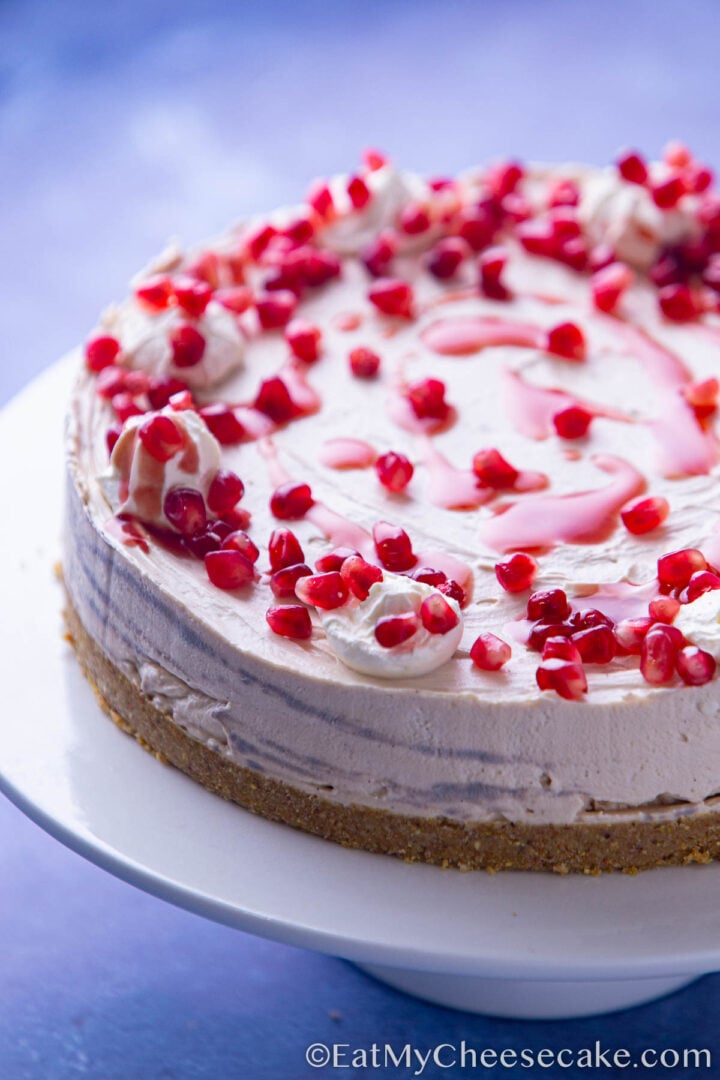 More fruity cheesecake recipes
Pineapple cheesecake
Strawberry cheesecake
No-Bake Lemon cheesecake
Print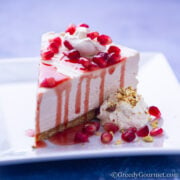 No Bake Pomegranate Cheesecake
---
Author:

Michelle Minnaar

Total Time:

6 hours 30 minutes

Yield:

12

portions

1

x

Diet:

Vegetarian
Description
No Bake Pomegranate Cheesecake is a unique cheesecake recipe that can be enjoyed any time of the year. It makes a fantastic Christmas dessert!
---
Biscuit Base
200

g

digestive biscuits

60

g

shelled pistachios

150

g

unsalted butter
Cheesecake Filling
750

g

cream cheese

10

ml

vanilla paste

90

g

icing sugar

60

ml

pomegranate molasses

435

ml

heavy (double) cream
Pomegranate Sauce Topping
500

ml

pomegranate juice

50

g

brown sugar

8

g

cornstarch

1/2

a pomegranate, arils (seeds) only
To Decorate
125

ml

heavy (double) cream

21

g

icing sugar
---
Instructions
For the Biscuit Base: Place the digestive biscuits and the pistachios in your food processor and blitz into a crumb. While the food processor is still running, add the melted butter and allow it to combine, which should only take about 15 seconds, then turn off.
Prepare your 23cm (9 inch) springform pan by putting a layer of greaseproof paper over the base and then clasping the springform ring around the outside, as I find this easier when removing the cheesecake at the end.
Pour your crumb into the pan and flatten evenly - I use the bottom of a large glass. You can place it in the fridge for around 10 minutes to chill.
Pomegranate cheesecake filling: In a bowl, beat the cream cheese and vanilla paste - I use a KitchenAid stand mixer on level 2 or 3 as I find this so much easier, until smooth.
Add the icing sugar a bit at a time and continue to mix.
Pour the pomegranate molasses and whisk until mixed through, then turn off.
In a separate bowl, whisk the heavy (double) cream until you achieve soft peaks, and then fold the cream cheese mix and heavy (double) cream until the cream is fully incorporated.
Remove the tin from the fridge and cover the whole base with the cheesecake filling, then gently drop the tin onto the kitchen counter 5 to 10 times to let any bubbles out.
Place the cheesecake in the fridge for at least 6 hours, preferably overnight.
Remove the cheesecake from the tin. Tip: I use a kitchen blowtorch to loosen the sides. Alternatively, I use a cloth dipped in hot water to complete the job.
To make the sauce for decoration, place the pomegranate juice in a pot, place on the stove, and boil.
Reduce heat and simmer until it reduces to 1 cup. This should take around 10 minutes.
Mix the cornstarch and 2 tbsp water in a cup and then whisk into the sauce with the sugar until fully incorporated. Remove from the heat and allow to cool.
To decorate: Whisk the icing sugar and heavy (double) cream together until you form soft peaks, then place into a piping bag.
Pipe the cream around the edge of the cheesecake and then sprinkle over the pomegranate arils (seeds).
Get your sauce a tablespoon at a time and pour the sauce over the top of the cheesecake; as you may see by the pictures, I went for my usual Jackson Pollock-inspired splashes, but feel free to decorate as you see fit.
To serve - place the slice of your cheesecake on the plate and add some leftover cream and a couple of spoonfuls of the pomegranate sauce, then enjoy!!
Prep Time:

30 minutes

Chilling Time:

6 hours

Cook Time:

0 minutes

Category:

Dessert

Method:

Chill

Cuisine:

Morrocan
Keywords: pomegranate cheesecake, no bake pomegranate cheesecake, pomegranate dessert, pomegranate recipe