The Spanish tapas, patatas bravas, is ideal for social gatherings, especially if you feel like eating a hearty meal. This dish is beautifully spiced and very easy to make.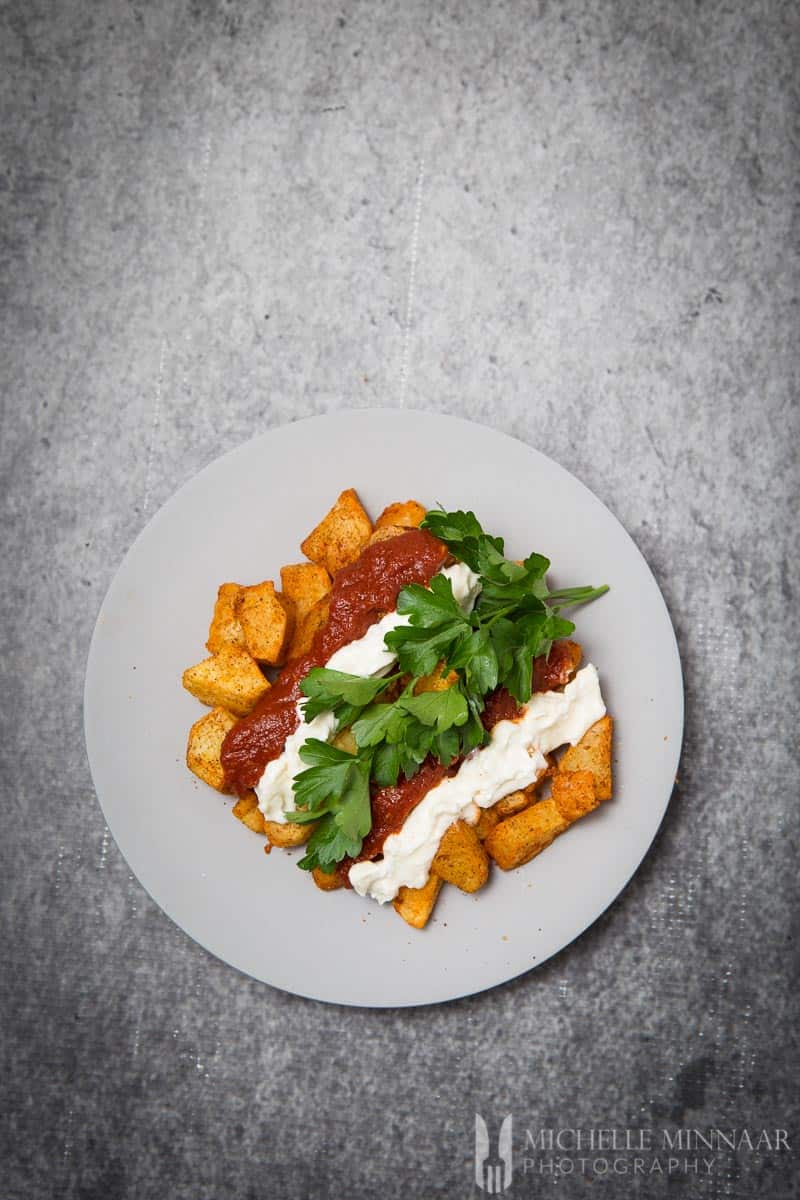 You can make a big batch in advance and keep left overs for up to five days in your refrigerator. Sometimes, I just don't have the energy to cook a complex meal, let alone have time to go the supermarket and buy the ingredients, which is why this recipe is ideal.
patatas bravas with Hello Fresh
Do you ever feel like you never have time to cook something proper because you simply don't have time? This is where Hello Fresh can help.
This company delivers fresh ready-to-make meals directly to your door step just in time for dinner. You can choose from a variety of recipes and pick a meal that fits your taste and lifestyle.
Different recipes are planned out for every day of the week, which you can alter via an application. Not only that, but they only source ingredients of the highest quality, so you don't have to go to three different supermarkets to get the best pick.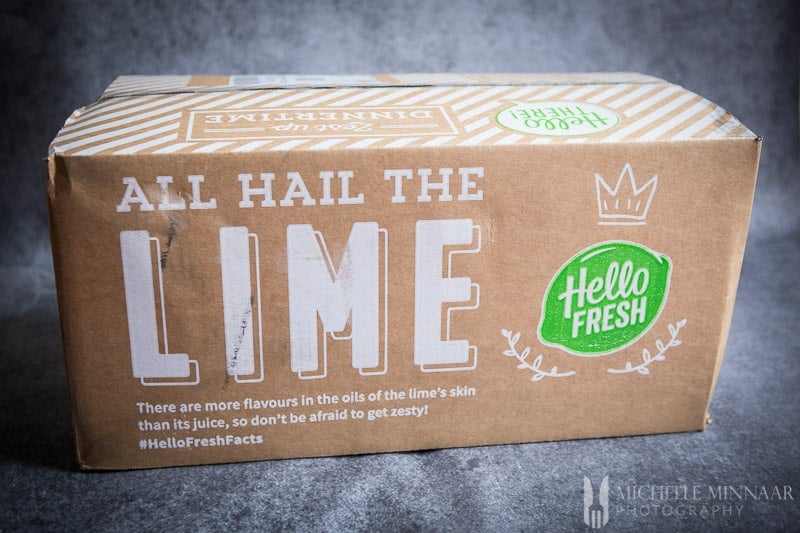 To help busy parents with dinner preparations, Hello Fresh has launched the new Family Box. Just check out this link here to find out more about this product.
What's really handy is that Hello Fresh keeps children in mind so that even the greatest of fusspots will have their interest piqued at dinner time. Most of the meals go easy on the chilli or gives you the power to tweak as needed.
Each meal serves four people. I've always been a skeptic to pre-packed ingredients or meals. However, when I received my family box, I was pleasantly surprised.
The quality and the flavours all worked out well and even my kids loved it, which is quite something! Plus, the ingredients were really fresh.
The recipe I've made was the patatas bravas. which formed a part of the cumin roast chicken dinner.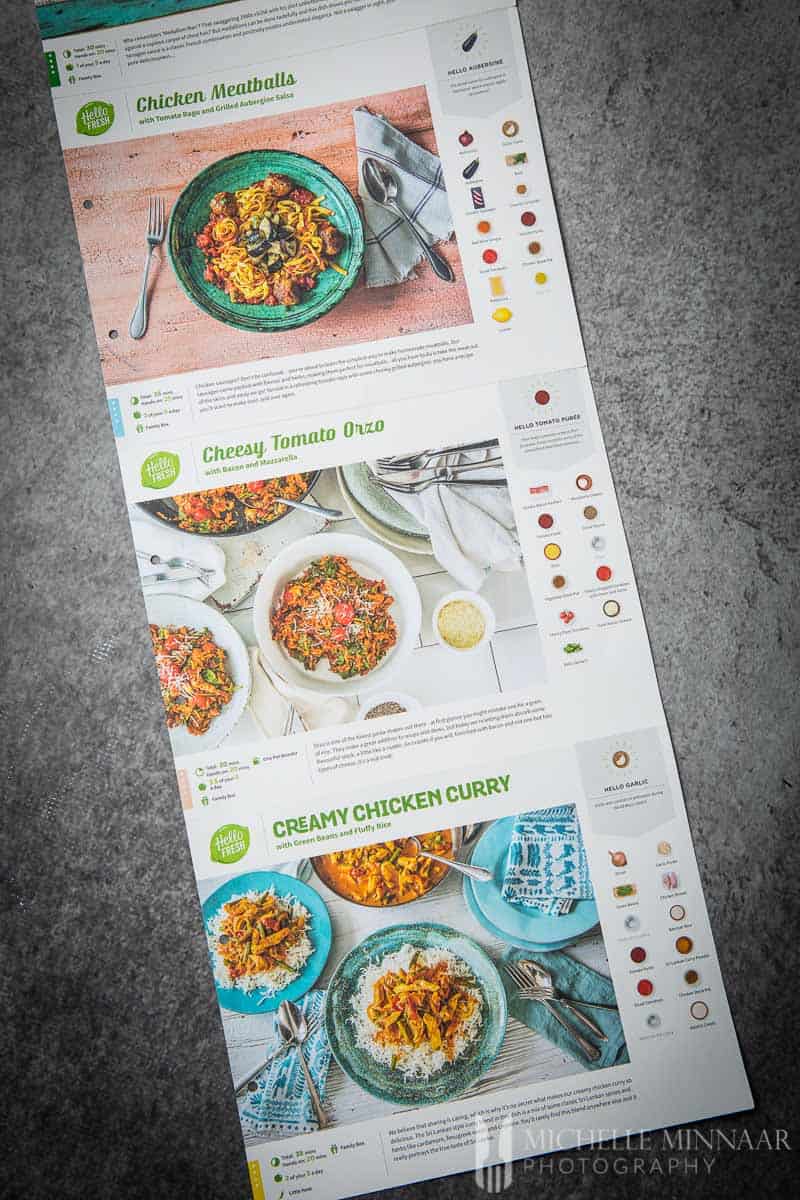 how it works
A weekly box arrives directly to your door. Upon opening, you'll discover four colourful recipe cards, which will show you how to prepare the dish.
The pictures are very easy to understand and they make the meal so appetising that you just want to start cooking stat.
Each recipe's pantry and fresh ingredients are packaged in a brown bag to make finding items easier. There's also a cooler bag with the critical items that should go into the fridge.
However, since everything is so well packaged, including the chilled items, the box can wait until you're home to unpack.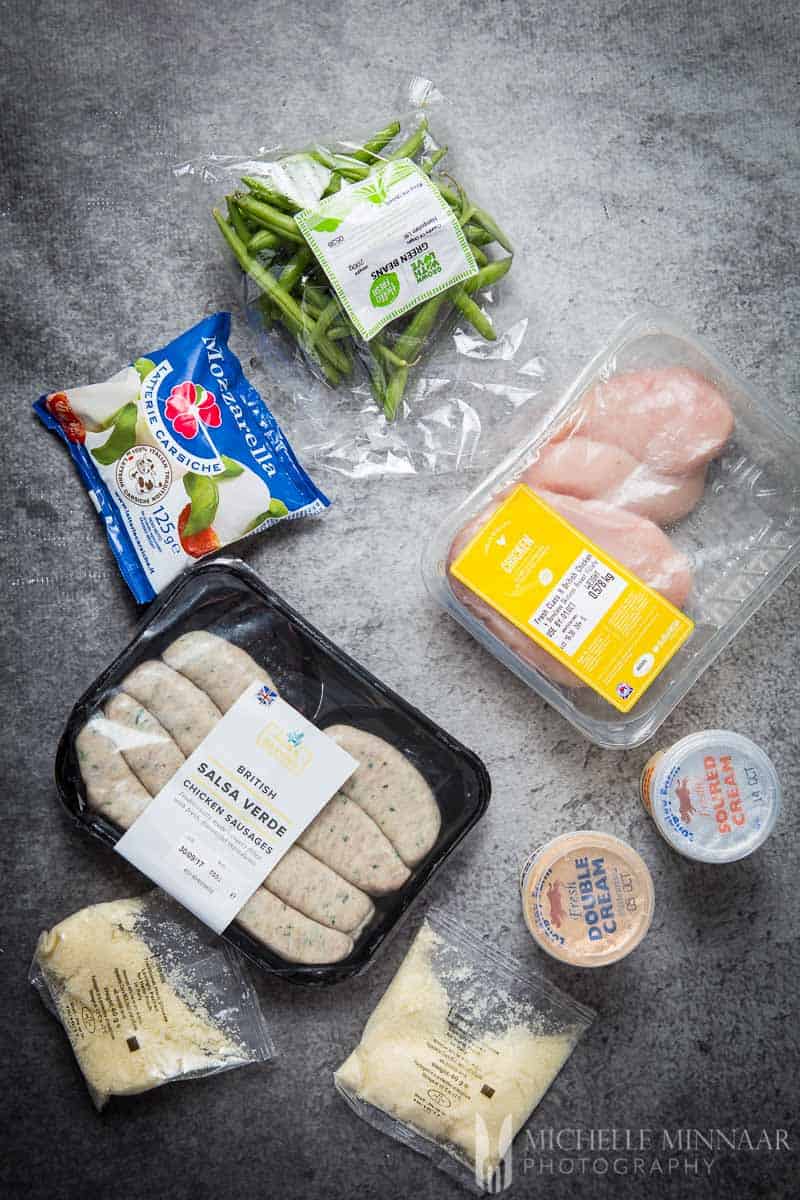 You can browse through recipes here to get idea of what kind of meals are on offer. Recipes hail from various cuisines and it's a great way to get kids involved and I've even managed to get them to try new things.
Also, I must say that the archive is really handy to refer to. This way if something is exceptionally good you can make it again when temptation strikes.
I can't even tell you just how much time I've saved from weekly meal planning and shopping. Instead, everything arrives at home and you simply cook each night. What's not to love about it?!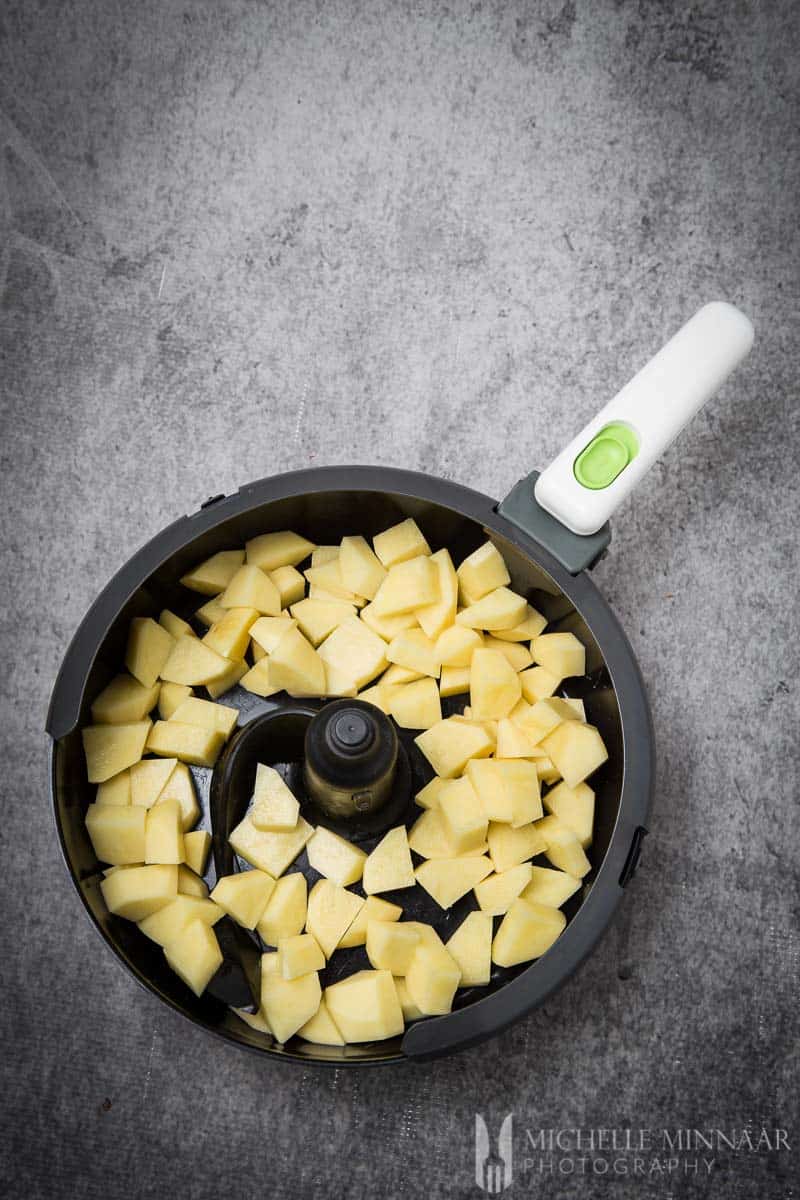 what are patatas bravas?
Patatas Bravas are cut up potatoes, crisp-fried until they are crunchy on the outside with a hint of smoked paprika. Next, you cover them with a spiced tomato based sauce and top them off with a delicious mayonnaise.
This Spanish recipe's literal translation is "brave" or "fierce potatoes". This must be because of the chilli.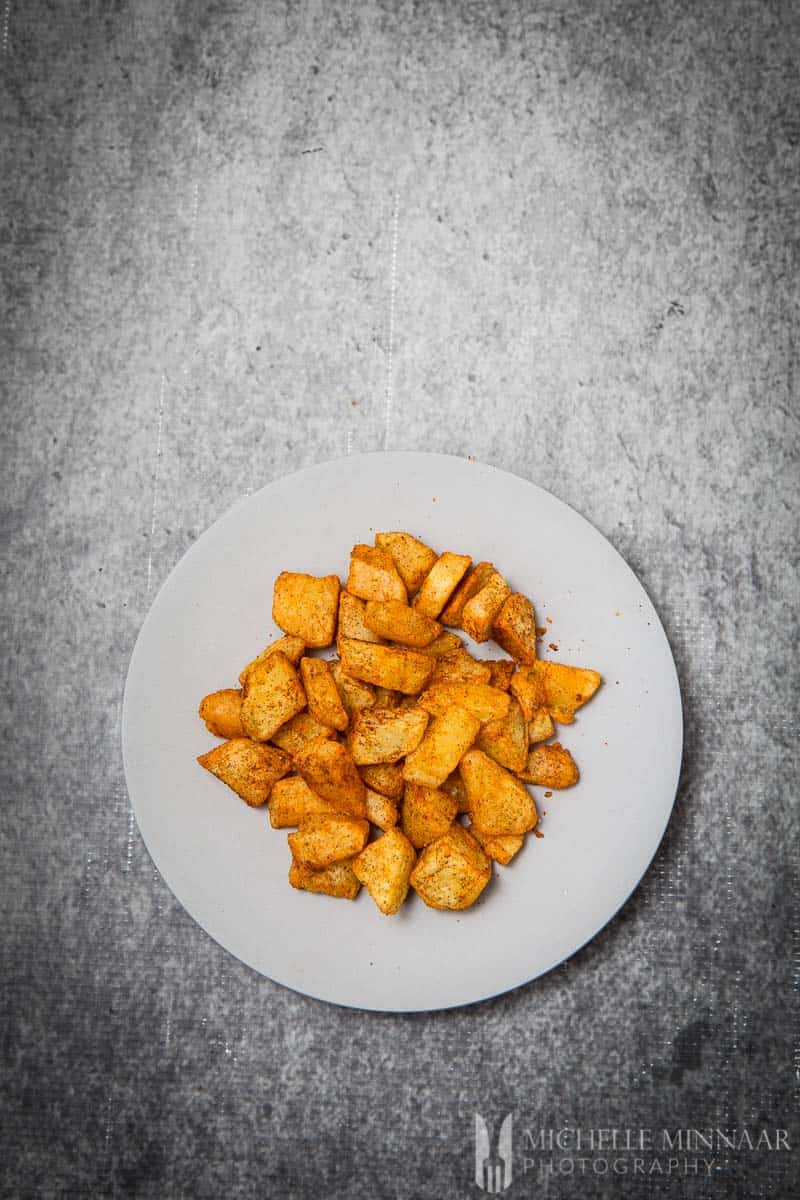 the potato
Did you ever buy potatoes, boiled them and then they fell apart? That's because that variety was for mash! Yes, it does matter what type of potatoes you choose.
Basically, you can categorise potatoes according to starch levels and waxiness. The starchier the potatoes, the more likely they'll fall apart.
Some can't hold their shape at all after cooking. The waxy potatoes are creamy and firm. These are the ones you can use for potatoes salads or casseroles.
Technically, you can use both for the patatas bravas, depending on the type of texture you prefer. Personally, I like my potatoes a bit more firm in any type of meal.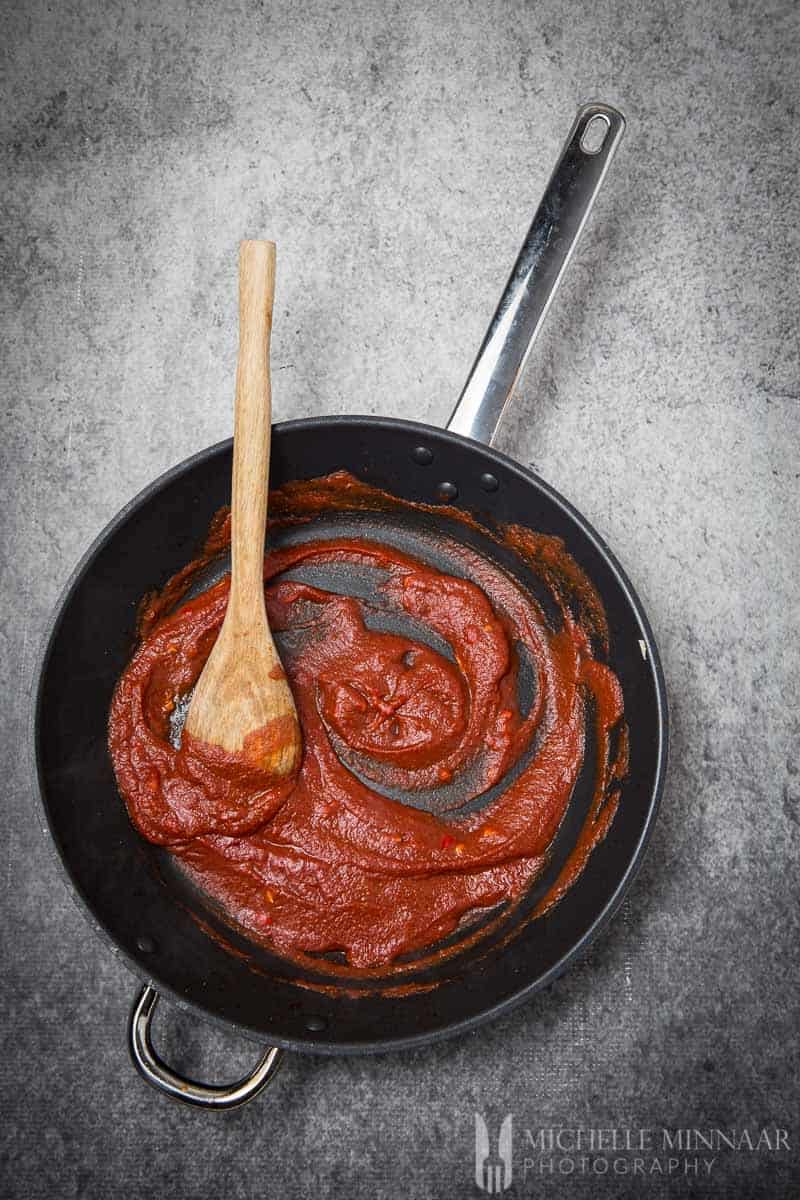 types of potato
Now that you know how starch levels affect the potato's texture, you might need help with the more specific potatoes.
I don't know about you, but every time I go to the supermarket, I can never identify if the potato I've put in my basket is the type I want. So, I made a guideline that could help us all.
The starchy potatoes are Idaho Russet, Katahdin, Purple Viking. The waxy potatoes are Red Bliss, new potatoes, Fingerling, Carola, Inca Gold and Rose Gold. There are also the all-purpose potatoes with a mix of starch and wax.
These are Yukon Gold and Purple Peruvian – the latter sounds dodgy, but this is actually a white potato. Patatas bravas call for a white potato, so you can use any of these.
The choice of potato depends entirely on you and what you prefer.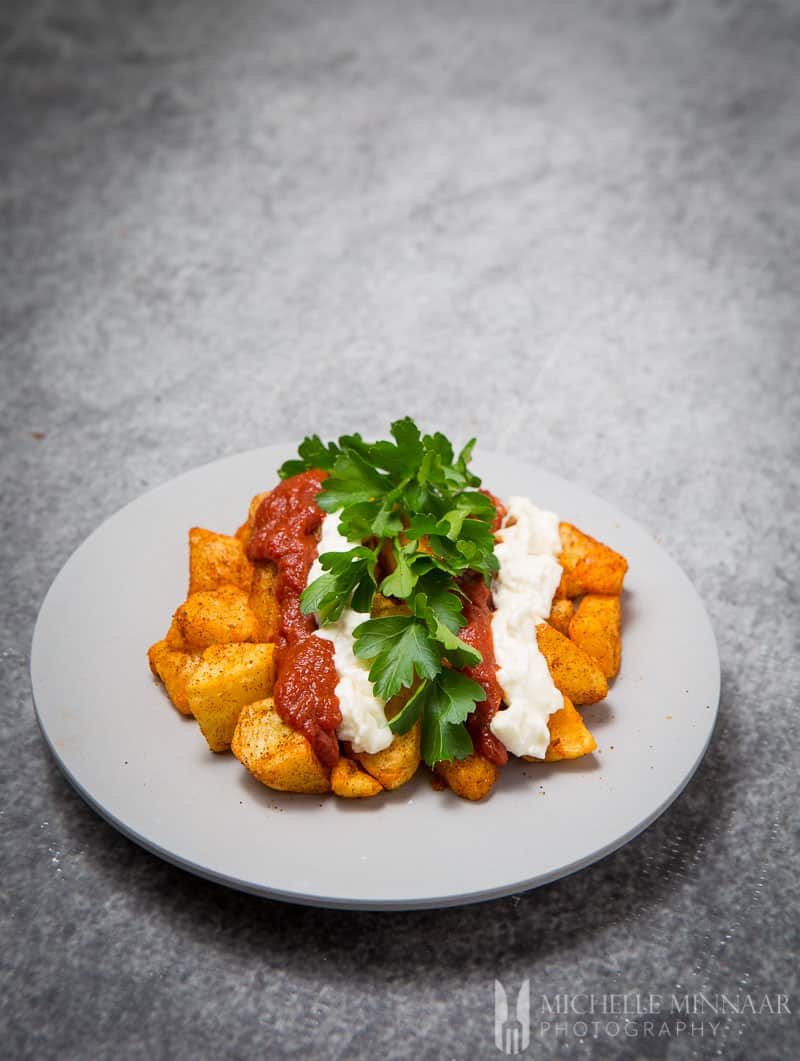 tomato sauce
For the tomato sauce make sure you caramelise the onions with the spices first. This will add a nice sweet note to the patatas bravas.
Also, the longer you let the tomato sauce simmer on low heat, the better and more concentrated the flavour. So, if you've got time to spare, leave it on the stove for a bit longer.
To make the sauce more kid-friendly, you don't need to add the chilli pepper in. This is an optional step.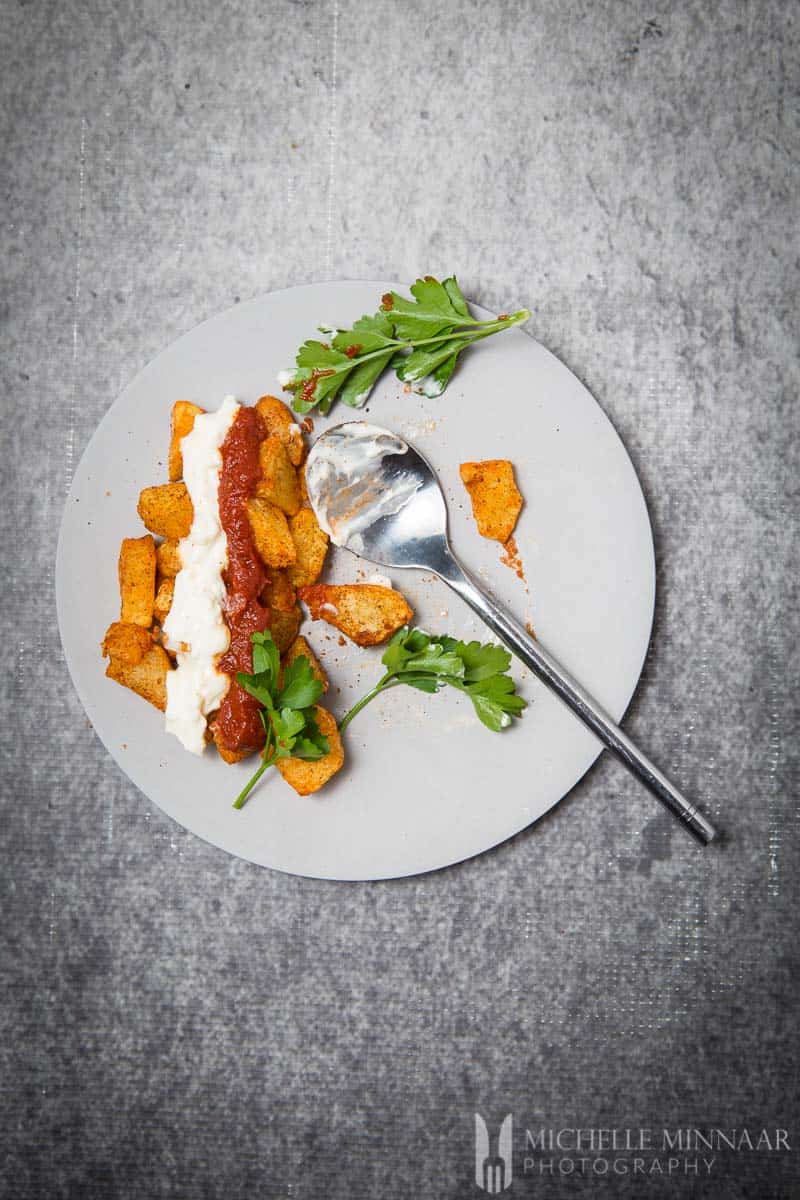 serving
It's very common to serve patatas bravas as tapas. Just put them on a piece of bread or simply place them on small little plates. It's a great accompaniment for wine with good discussions.
Lastly, I would whip up a fresh mayonnaise and chop up some fresh parsley to go along with it.
More potato recipes
Print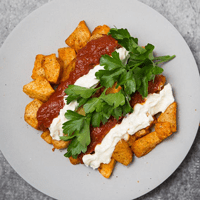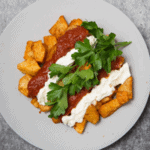 Patatas Bravas
---
Author:

Michelle Minnaar

Prep Time:

20 minutes

Cook Time:

40 minutes

Total Time:

60 minutes

Yield:

4

1

x
Scale
Ingredients
900g

(2lbs) potatoes, peeled

30

ml (2 tbsp) oil

15

ml (1 tbsp) smoked paprika

2

garlic cloves

1

red chilli

5

ml (1 tsp) ground cumin

400g

(1lb) passata
Salt and pepper, to taste
---
Instructions
Preheat your oven to 200°C/390°F/gas mark 6.
Chop the potato into 2cm chunks and pop on a baking tray. Drizzle over half of the oil. Season with salt and black pepper and sprinkle on the smoked paprika. Toss to coat, then spread out and roast on the top shelf of your oven until slightly crispy, 30 mins. Give the tray a shake halfway through.
To make the sauce, peel and crush the garlic. Halve the red chilli lengthways, remove the seeds and finely chop.
Pour the remaining oil in a large saucepan on medium heat. Add the garlic, remaining ground cumin and the chilli.
Cook for 1 minute, then add the tomato passata.
Season with salt and black pepper, stir and cook on low heat for about 7 mins.
When the potato is ready, remove the tray from your oven. Pop the potato onto plates and spoon over some of the bravas sauce and some mayonnaise. Enjoy!
---
Notes
Alternatively, you could use a Tefal Actifry to cook the potato cubes for 35 minutes, which is what I did.
Nutrition
Serving Size:

1 serving

Calories:

263

Sugar:

2.8 g

Sodium:

15 mg

Fat:

7.5 g

Saturated Fat:

1 g

Carbohydrates:

43.7 g

Fiber:

7.2 g

Protein:

5.4 g
save the recipe to your pinterest board

P.S. I received four boxes from Hello Fresh. All opinions are my own.