Who doesn't love the earthy flavours of roasted beetroot? If you know how to roast beets in the oven, you'll know that the end result is delicious.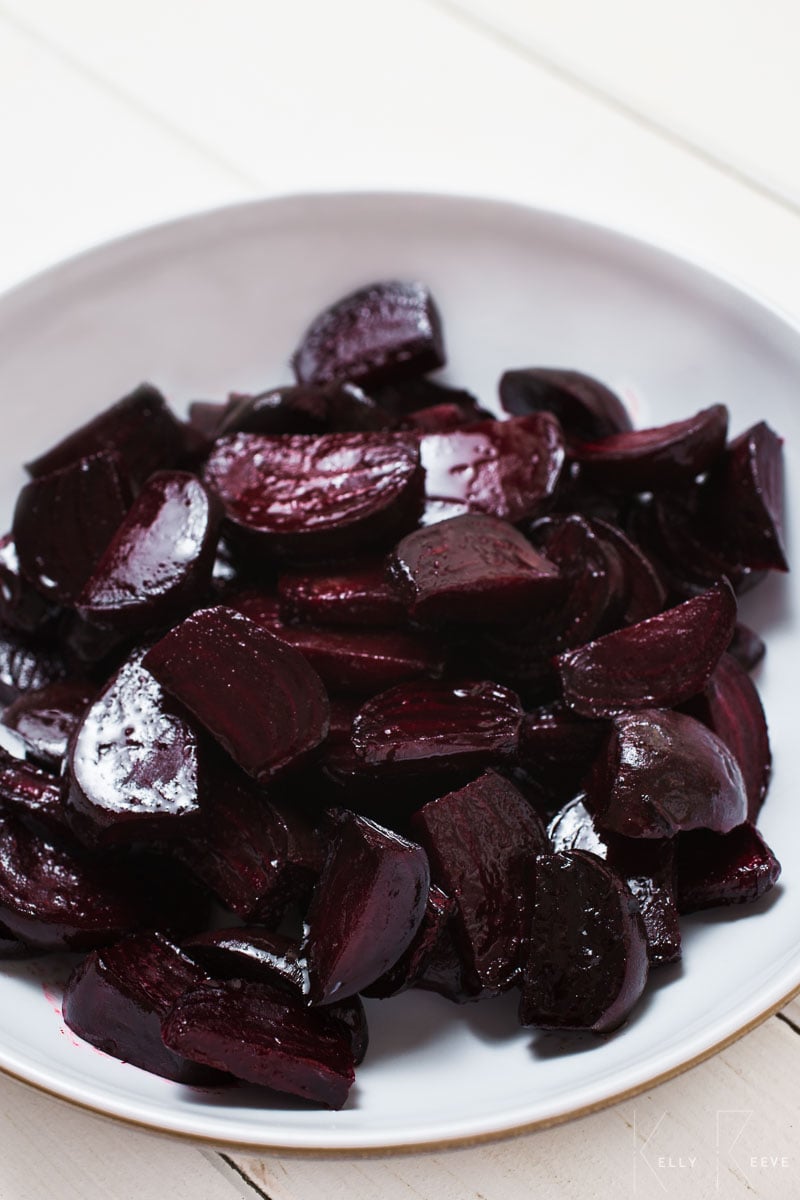 You can make roasted beetroot wedges, a roasted beetroot salad or you can just enjoy the beets as they are. Simply put, beetroot is a very versatile ingredient that can be prepared in many ways.
Don't be afraid to cook with this colourful ingredient. A lot of people fear the mess factor, however, there are ways to get around this.
I will detail these tricks in this article, that will help you prepare this simple roasted beetroot recipe. All you need to do for quick and easy roasted beets is just peel and cut them up!
The hardest and most tedious part is waiting for the roasted beetroots to cook in the oven. Don't miss out on this exceptionally healthy side dish.
This recipe is perfect for vegans or for those aspiring towards healthier diets. Surprisingly, beets are extremely low on calories. I recommend adding roasted beetroot to your weekly meal plan.
quick and easy roasted beetroot recipe
Beetroot is a time old ingredient that is used in multiple cuisines. You might also know beetroot as a beet. More specifically, you might have heard of garden beets, golden beets, red beets or table beets.
Many people associate this vegetable with the autumn and winter months because that's when it comes into season. However, it is widely available in supermarkets all year around.
You can eat beetroot raw and you can also juice it. Otherwise, roasted beetroot is a classic favourite vegan side dish that completes any dinner.
There are many ways on how you can enjoy this ingredient. Roasted beetroot can be eaten as is with a dash of olive oil and balsamic vinegar.
Toss it in a salad or on top of couscous. Put slices of beetroot in a sandwich. Include the juice and small cubes in a risotto.
Your choices are endless. Keep your eyes open for delicious beetroot recipes and keep reading for more inspiration.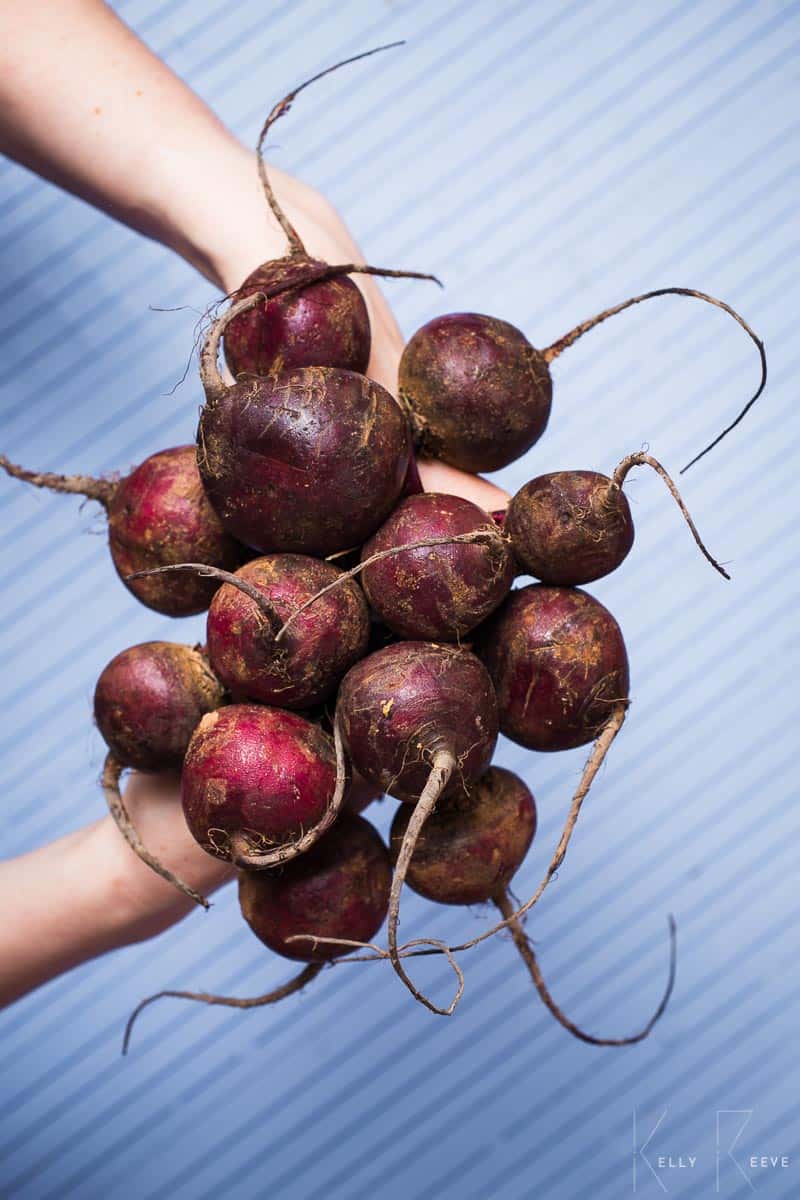 best way to clean beetroot
The best way to clean raw beets is to first separate them from the stalk. Next, wash the bulbs to get rid of any excess dirt.
Now comes the tricky part when you have to peel the beetroot. In this step, this is where your hands might get a little bit stained.
As a precaution, wear plastic gloves when you peel the beetroot. Also, it's always a good idea to peel the beetroot in a deep sink with running water.
This way, you can clean the beet juice quickly and get it over with without staining the kitchen counter.
Another great way to clean the beetroot is to roast it in the oven with the skin on. Wait until the roasted beetroot goes soft, although this might take some time.
Then, place the beetroot in cold water and peel the beets in the bowl directly. This way, the juice from the beetroot won't spread anywhere else in your kitchen. The skin should peel right off.
how to roast beets in the oven
When it comes to roasted beetroot, to accelerate the cooking process, some people boil the beets first in water for an hour. You can skip this step, however, it will take that much longer for the beets to roast in the oven.
For best results, I recommend roasting the beetroots without foil and on a low heat. This way, you won't burn the exterior of the beetroot.
Plus, the beetroot will cook really well in its juices, enhancing the earthy flavours even more!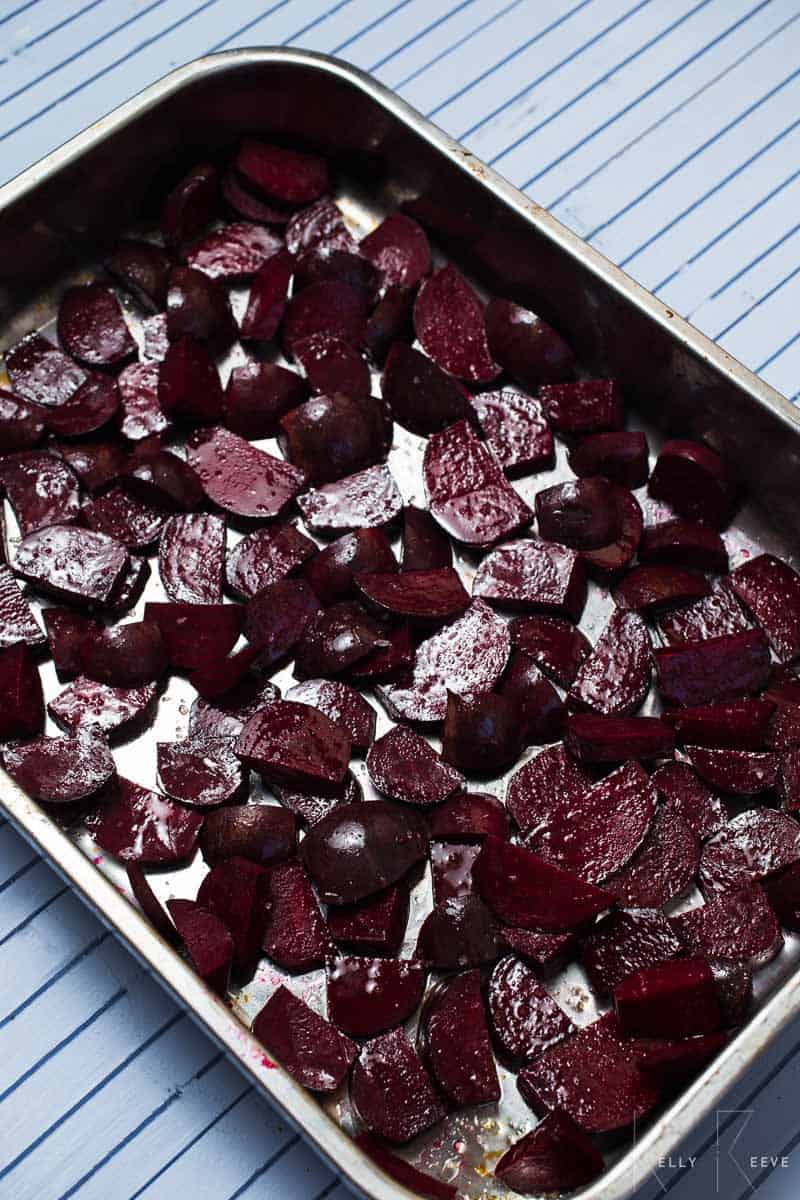 top roasted beetroot recipes
Roasted beetroot is so versatile, you can use it to make really quick and simple recipes. In addition, you can use it to jazz up a simple salad for some vibrancy.
The earthy flavours will complement any taste, whether it be sweet, salty, or umami, you name it.
roasted beetroot on toast
I love using roasted beetroot as an ingredient to make up a sandwich due to its firm texture. Beetroot never really goes soft, no matter how long you keep it in the oven.
It will always keep its solid shape. Therefore, it's perfect to slice it up into thin round pieces and include it in a sandwich.
It's a great vegetarian substitute for slices of ham. For example, substitute chicken with beetroot in this brie and pear sandwich.
roasted beetroot salad
I love making a simple roasted beetroot salad with a dash of olive oil and balsamic vinegar. It's so tasty, you won't need to add any extra ingredients.
However, if you feel like something is missing, I highly recommend adding a hint of firm goat cheese. Goat cheese and beetroot is a combination made in heaven.
Otherwise, just toss the beetroot into this smoked salmon salad or this nutritious beetroot lentil salad.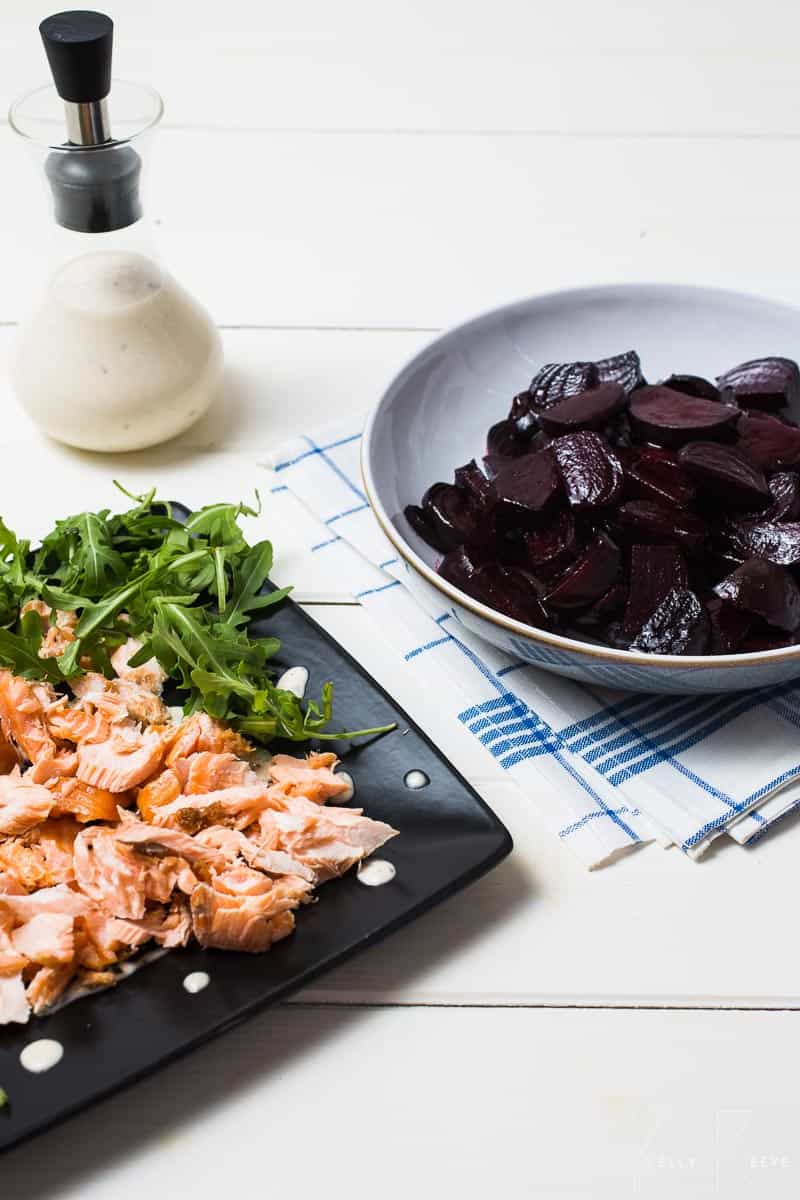 roasted garlic and thyme beetroot
If you want to eat beetroot alone as it is, then jazz it up with some garlic and thyme. These herbs will really get you ready for the season to come!
Beetroot also works well not only with traditional herbs, but also with exotic spices. Be sure to experiment with miso or with traditional Indian spices.
beetroot rice with goat's cheese
You can also use roasted beetroot in small amounts in a nutritious beetroot rice with goat's cheese. Just cut up the beets into small cubes and sprinkle over to add some crunch to the rice.
indian beetroot recipe
This is a type of Indian beetroot stir-fry recipe that involves curry leaves, chilli and coconut milk. Give beetroot poriyal recipe a go, it's very easy to master. It just might become your favourite beetroot recipe.
easy beetroot tart
Again, beetroot is so versatile you can practically toss it on anything. Try placing some slices on a tart and see what amazing dish comes out of the oven. This goat's cheese and beetroot tart makes a fantastic healthy dinner.
roasted beetroot dip
Lastly, roasted beetroot makes a fantastic beetroot dip recipe. Try this roasted beetroot and pistachio dip. You'll be addicted to this in no time.
For more side dish recipes, check out the ones below:
Print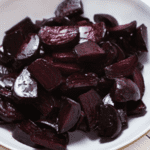 Roasted Beetroot
---
Author:

Michelle Minnaar

Prep Time:

10 minutes

Cook Time:

30 minutes

Total Time:

40 minutes

Yield:

4

1

x
Description
Roasted beetroot is a very nutritious, yet low-calorie ingredient of any beetroot recipe. Learn all the tricks how to prepare beetroot correctly. Enjoy!
---
6

beetroots

30

ml (2 tbsp) vegetable oil
Salt and pepper
---
Instructions
Preheat the oven to 375ºF/190ºC/gas mark 5.
Scrub the beetroot thoroughly to remove any dirt, then top and tail them.
Cut them in 1cm (½ in) slices and toss them in oil.
Place them in a roasting tin and cook in the oven for 25-30mins or until they are tender and a little bit charred on the edges.
Season to taste and serve hot or cold.
Nutrition
Serving Size:

1 serving

Calories:

117

Sugar:

10.2 g

Sodium:

98 mg

Fat:

7.1 g

Saturated Fat:

1.4 g

Carbohydrates:

12.7 g

Fiber:

2.6 g

Protein:

2.1 g
save the recipe to your pinterest board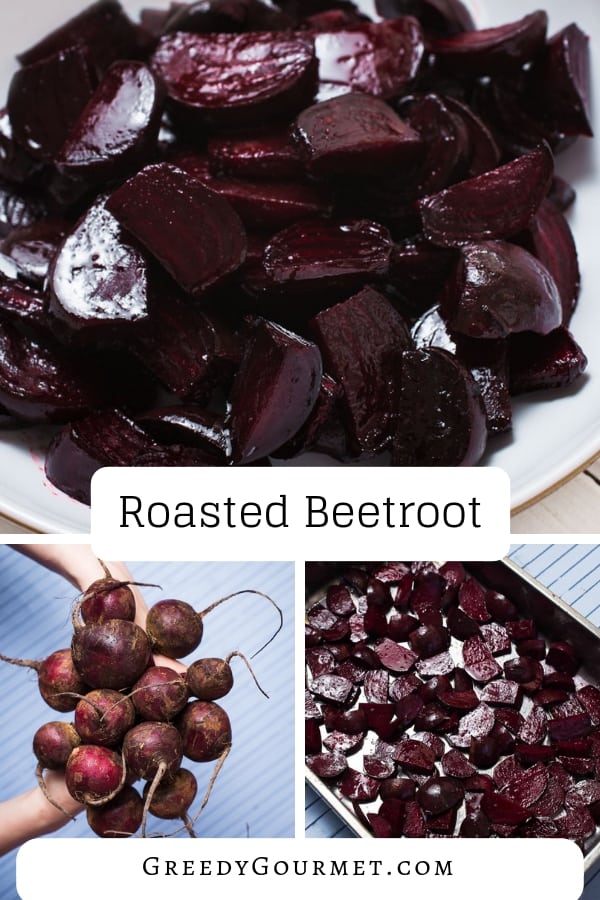 A special thanks to Kelly Reeve for assisting with the recipe shoot.