This simple and easy roasted carrot recipe will transform your main meal with the help of intensified flavours and a dash of colour. A healthy side dish that works with just about any meal.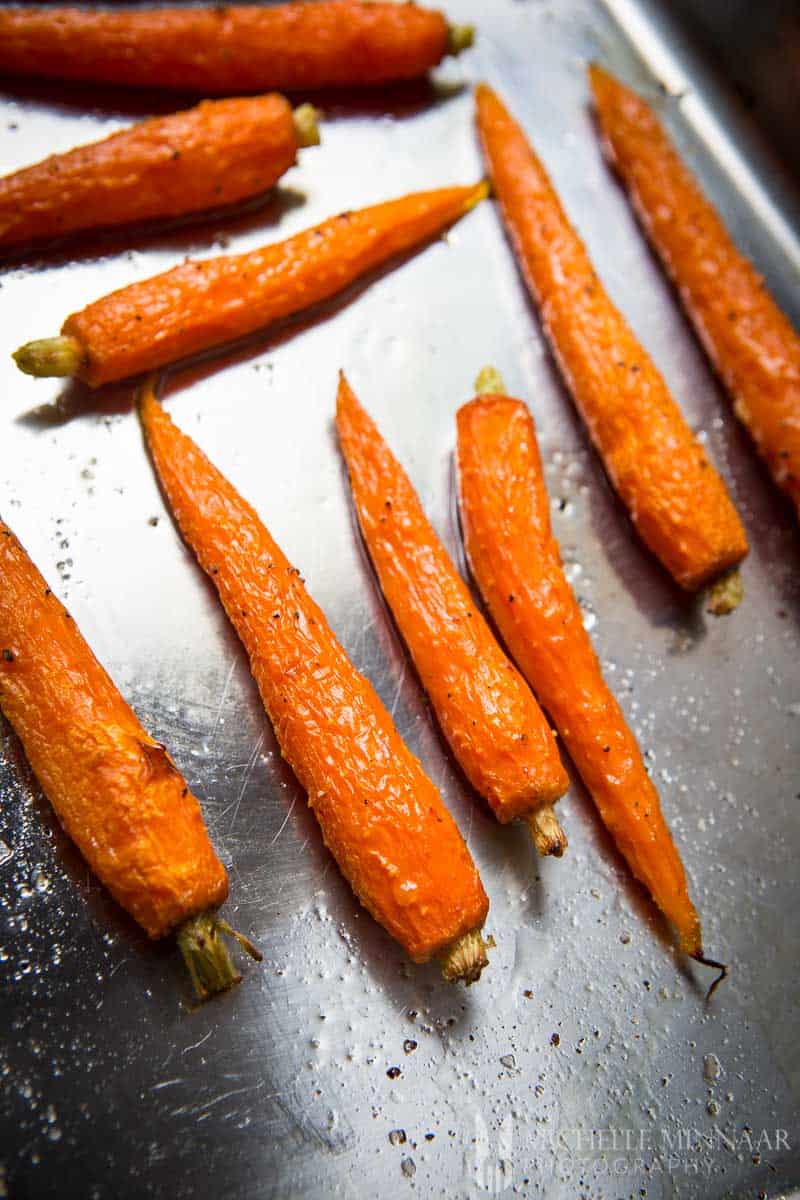 What is Roasting?
Roasting is classified as dry, high-heat cooking (over 200˚C/400˚F). The dry cooking means, no added water or stock liquid which would constitute boiling or steaming.
When it comes to roasting vegetables oil is added as a light coating which caramelises the veggies and brings out sweeter flavours. All vegetables roast differently, even the way they are sliced can also affect the results.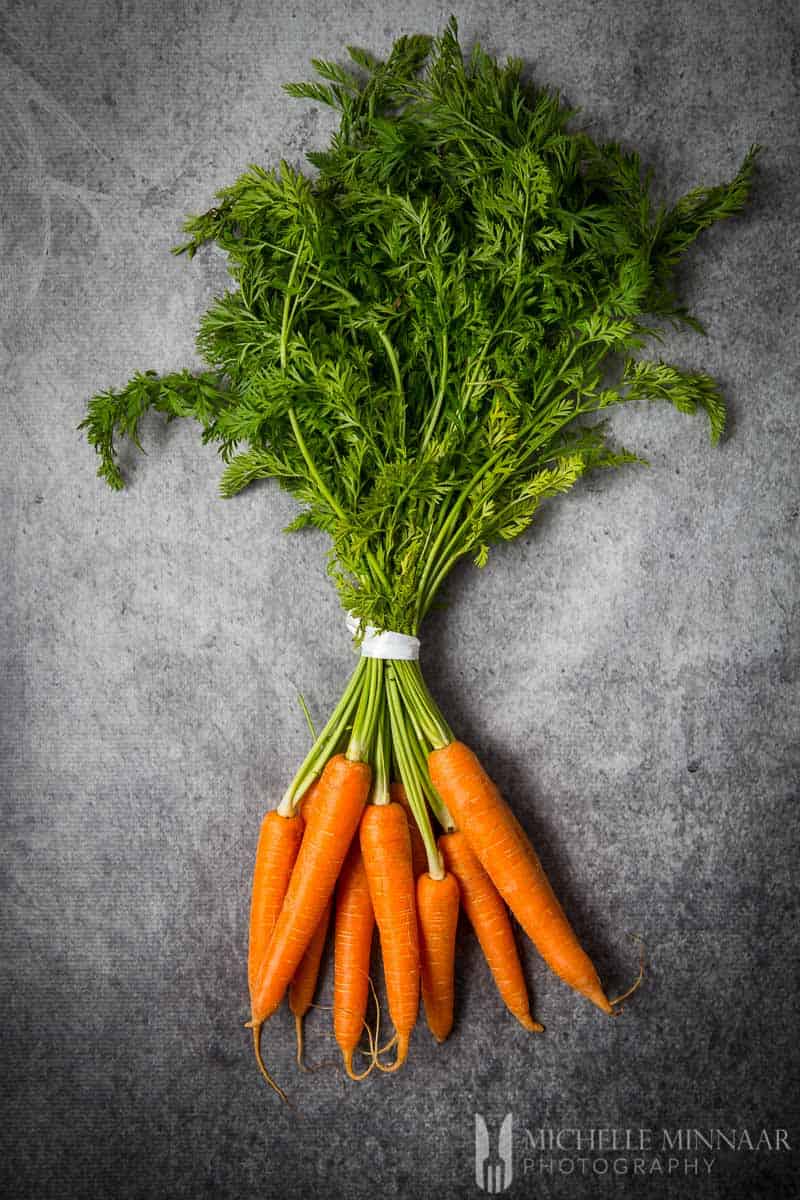 Roasting Different Vegetables
Some vegetables prefer being roasted at lower temperatures while others, especially root vegetables, take longer and prefer much higher temperatures.
Thinly sliced vegetables, tomatoes and leafy vegetables, like spinach or kale, must be roasted at lower temperatures. Peppers produce amazing results under very high temperatures.
A lower heat cooks the vegetables but does not produce the crispy, browned exterior we aim to achieve with the roasting process. Check out my roasted green beans recipe as an example.
Adding liquids to the roasting process boils or steams the veggies and they lose the sweet flavonoids we want to extract during the roasting process.
Parboiling
A lot of chefs do maintain it is easier and goes faster if you parboil root vegetables, like potatoes before roasting. Although it certainly speeds up the process, for maximum results it is best if you roasted vegetables from their raw state.
Roasted Fruit
Fruit can also be roasted. There are some spectacular dishes you can prepare for dessert by roasting fruit and adding other ingredients like chocolate chips or nuts during the roasting process.
Adding liquids to fruit for roasting is accepted and encouraged mainly because of the sugar content of fruit.
With sugar burning easily, adding liquid counteracts the burnt bitterness, which would be completely counter-productive when you are preparing a dessert.
The History of Roasting Vegetables
I have never really thought about the origins of roasted vegetables. My interest in food and cooking processes grew along with the rest of the global foodie explosion being experienced worldwide.
Thinking about it though, I remember while growing up no-one ever experimented with various cooking techniques of vegetables.
Traditional South African cooking methods, boiling and barbecuing (!), were used in most households. Every home you went to cooked their vegetables the same way so not much innovation was going on.
Now suddenly, almost every household roasts vegetables.
Roasting Trends
It got me thinking. How did this happen? We went from generations of boiling, mashing and infrequently steaming to roasting and caramelising just about any ingredient we can find.
Roasting makes the vegetables look gorgeous,. You actually want to eat them, unlike the boiled, colourless insipid boredom of our past.
Roasted Neanderthals
As it turns out there is scientific evidence that Neanderthals who roamed the earth, a very long time ago, cooked and may have even roasted their vegetables.
I would have imagined they followed the most prestigious diet of "raw and fresh" but apparently that is not true. Read all about the scientific study here.
Before closed ovens were invented, roasting was done out in the open. There would be someone standing,  turning the handle of a stick which the body of the animal is pierced with.
Thus cooking slowly and turning over an open fire for hours on end.
Turning Meat
Vegetables were a part of this roasting process. They were "dressed", spiced and cooked with the meat on the spit.
It seems the changing of the vegetable cooking process in the USA can be traced to just after the Civil War. The generational, traditional forms of cooking were forgotten.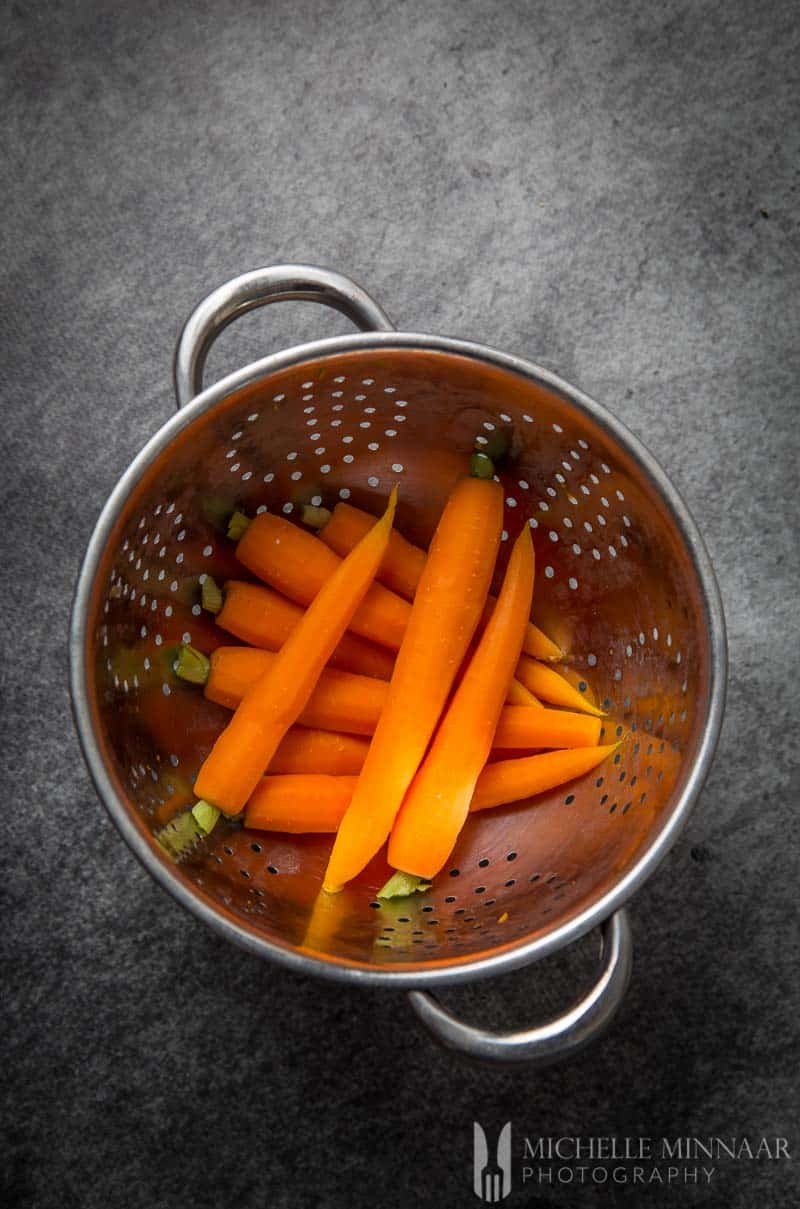 Boring Recipes
I did quickly have a scan through some recipes of that time period and they really are very boring and colourless. Certainly not dishes that I would find intriguing or even appetising. This dreary form of cooking seemed to continue well into the 21st century.
Twenty or thirty years ago everyone boiled vegetables and there were no other options. How this sudden revolution in vegetable cuisine came about no one is entirely sure of.
Exciting Vegetables
One of the theories is that roasting vegetables became popular in the early 2000's thanks to the Italians in the USA. This makes sense to me as Italians have never lost their traditional ways of cooking and they roast vegetables in a lot of their cuisine.
Examples are antipasti dishes such as charred red peppers and roasted plums for tomato sauce.
Roasting Italians
A famous Italian restaurant in Rhode Island only had an oven and the chefs started experimenting with roasting vegetables in the oven and charring them on top of the hot plates. They wrote a cookbook in 1991, Cucina Simpatica, that changed the face of vegetables and vegetable cooking as we know it today, in which they gave extensive advice and tips on roasting vegetables.
The launch of the book and the extraordinary ways they prepared vegetables started gaining more and more popularity.
This led to Florence Fabricant writing an extensive article in the New York times about the advancing trend of roasting vegetables, and doing a survey of chefs countrywide who were starting to use these techniques more expansively.
This all happened in the same year that the Food Network started further boosting the foodie culture that is still going strong around the world.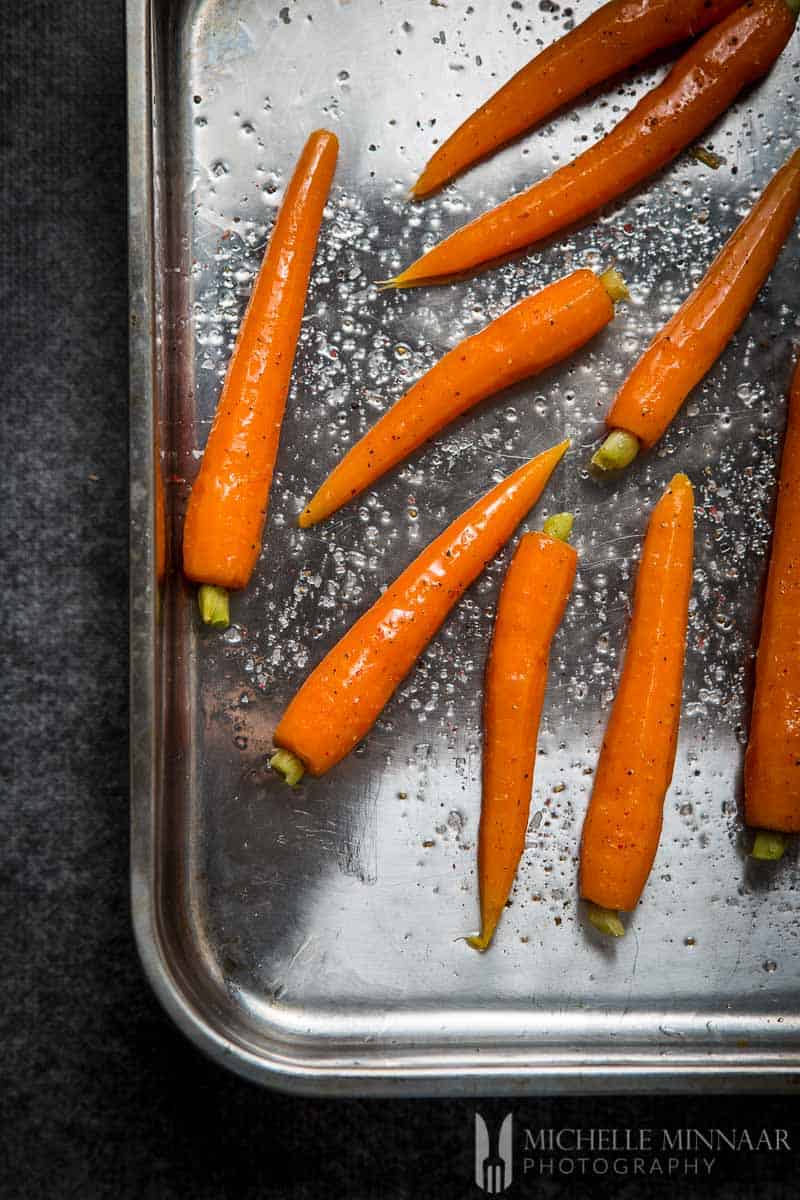 Roasted Carrots
This is a simple, quick and easy roasted carrots recipe which will make your main meal burst of colour and nutrition.
There are several ways to roast vegetables – follow the recipe and add some other flavourings.
Balsamic Vinegar
Doing something as simple as sprinkling balsamic vinegar over your carrots before roasting them, you add a complexity of flavours.
If you want to add variety to your dishes cut the carrots differently when preparing them. Chopped, diagonally sliced or whole. Carrots shrink while roasting so make sure your slices are big, you don't want them disappearing.
Garlic
When you sprinkle your oil on the carrots, rub them with some minced garlic or leave whole pieces of garlic in the pan to roast with them.
Butter
Use butter instead of oil for a change of flavour. Do remember to add a little bit of oil to prevent the butter from burning though.
Honey
Toss the carrots in honey and a little oil before roasting. Check them regularly as the honey could burn under such high temperatures.
Make your roasted carrots are even more attractive and use coloured heirloom carrots. Very few people will be able to resist them!
More side dish recipes for you to try
Print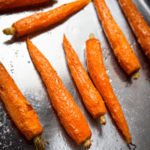 Roast Carrots
---
Author:

Michelle Minnaar

Prep Time:

10 minutes

Cook Time:

45 minutes

Total Time:

55 minutes

Yield:

4

side dish servings

1

x
Description
In this Roast Carrots recipe you'll learn how to parboil carrots as well as how long to roast carrots for. The end results? Super sweet, caramelised carrots!
---
1

kg (2lbs) carrots

30

ml (2 tbsp) oil
Salt and pepper
---
Instructions
Preheat oven to 200°C/180°C fan/gas 6.
Either scrub the carrots thoroughly or peel them.
Top and tail the vegetables, then halve or quarter them lengthways.
Bring a large pan of salted water to the boil.
Add the carrots and boil for 5 minutes.
Drain the vegetables in a colander.
Toss the carrots in a large roasting tin with the oil and season to taste.
Roast the carrots for 30-40 mins.
Serve immediately as a side dish.
Notes
You can use olive, vegetable or sunflower oil.
When tossing the carrots in oil you can add your favourite spices to them, such as cayenne, cinnamon, cloves, cumin, garlic, ginger, mustard, nutmeg or paprika. Give them a twist!
Category:

Side Dish

Method:

Roast

Cuisine:

English
Nutrition
Serving Size:

1 serving

Calories:

163

Sugar:

12.3 g

Sodium:

463 mg

Fat:

7 g

Saturated Fat:

1 g

Carbohydrates:

24.8 g

Fiber:

6.1 g

Protein:

2.1 g
Keywords: roast carrots recipe, how to parboil carrots, how long to roast carrots for
save the recipe to your pinterest board