Roasted chickpeas are an extremely healthy and appetising snack that will impress your guests. Why not give your next dinner party a hint of oriental mystery, by presenting your guest with these delicious homemade nibbles? The best part is that it's super easy to do! You can let your creativity run loose and use some of those jars on the spice rack, that otherwise don't see too much action.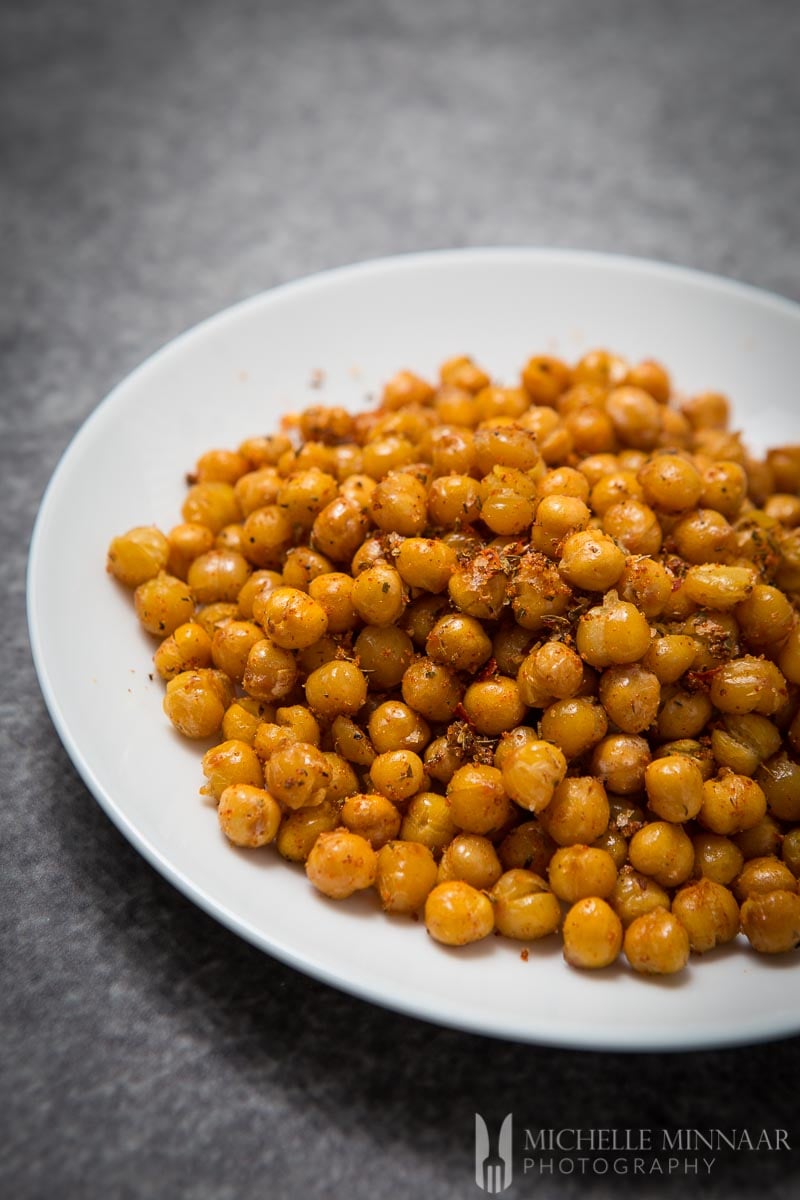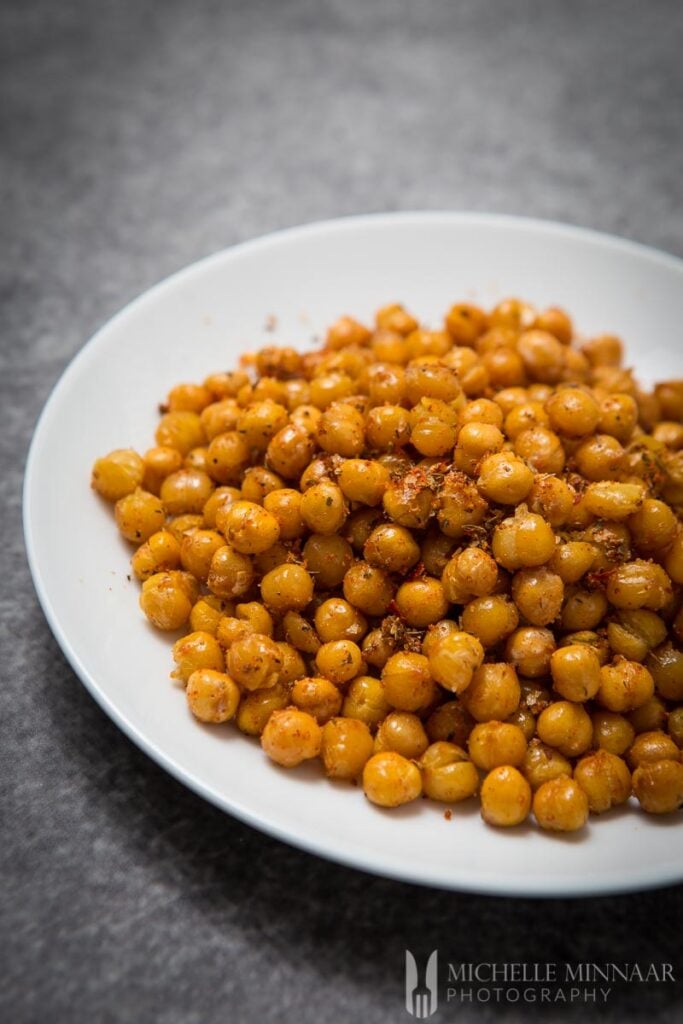 Why roasted chickpeas?
Roasted chickpeas is a nutritious snack that is easy to make, healthy and very practical, not to mention delicious. You can roast the chickpeas in no time at all and pack yourself a healthy lunch for work tomorrow. Kids love it too and it helps with the daily goal to achieve their daily intake of proteins and vitamins. All you need is a can of chickpeas, or boiled dried chickpeas, some spices and some olive oil. That's it! No mystery to it! Very practical.
Chickpeas
It will come as no surprise if I tell you that chickpeas are from the Middle East. They date back almost 8000 years. You can find more detailed information on chickpeas at another one of my blog posts where I used chickpeas to make a delicious vegan chickpea soup. You can access it here.
You will not regret clicking that link. For all you foodies and history lovers, I discuss the history of chickpeas in great detail. You might learn something new.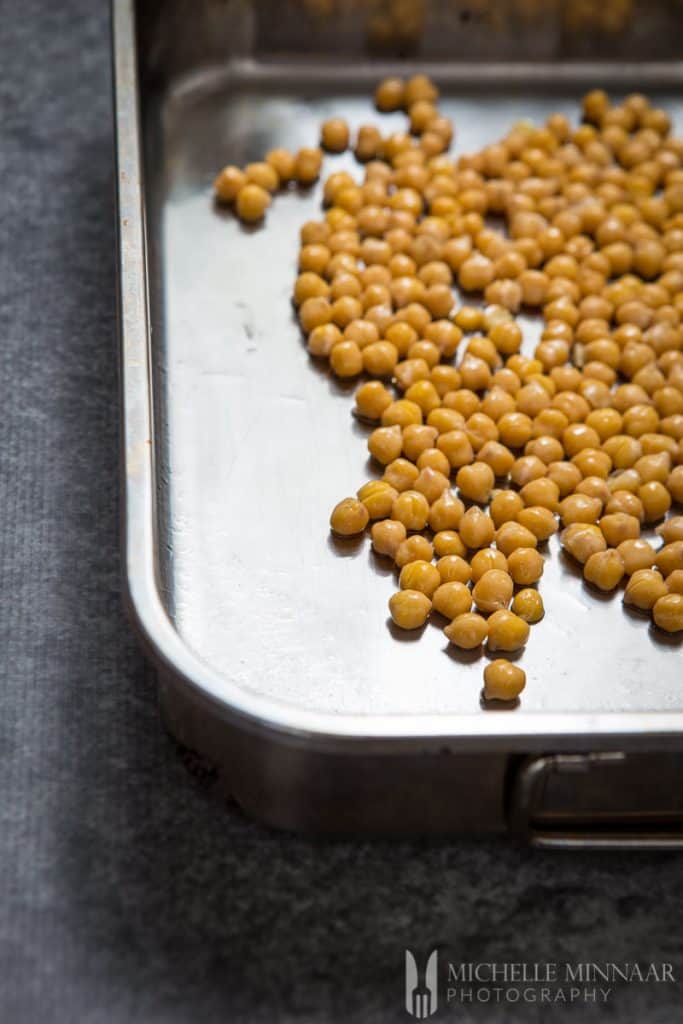 Canned chickpeas
Firstly, you can buy chickpeas in a can in your local supermarket – as usual. This is the most common method of sourcing chickpeas for creating your dishes. No need to boil these, however you can roast them until they are nice and crispy.
Dried Chickpeas
Do you have experience with cooking dried chickpeas? The boiling method of cooking chickpeas is for you if you bought a bag of dried chickpeas for this recipe. How does one cook dried chickpeas? The answer is simple. Place the contents of the bag into a bowl and pre-soak in cold water overnight. By pre-soaking the dried chickpeas, you will enable faster cooking times. It is also so much healthier for you in terms of digestion. After you soak them, you need to boil them for about one hour or until they are nice and soft.
Roasting chickpeas
Roasting is a method that the lazy foodies usually opt out of. Many people don't realize how delicious roasted chickpeas are! If you like your food to have a slight texture and a crisp at the end, then the roasting method is for you.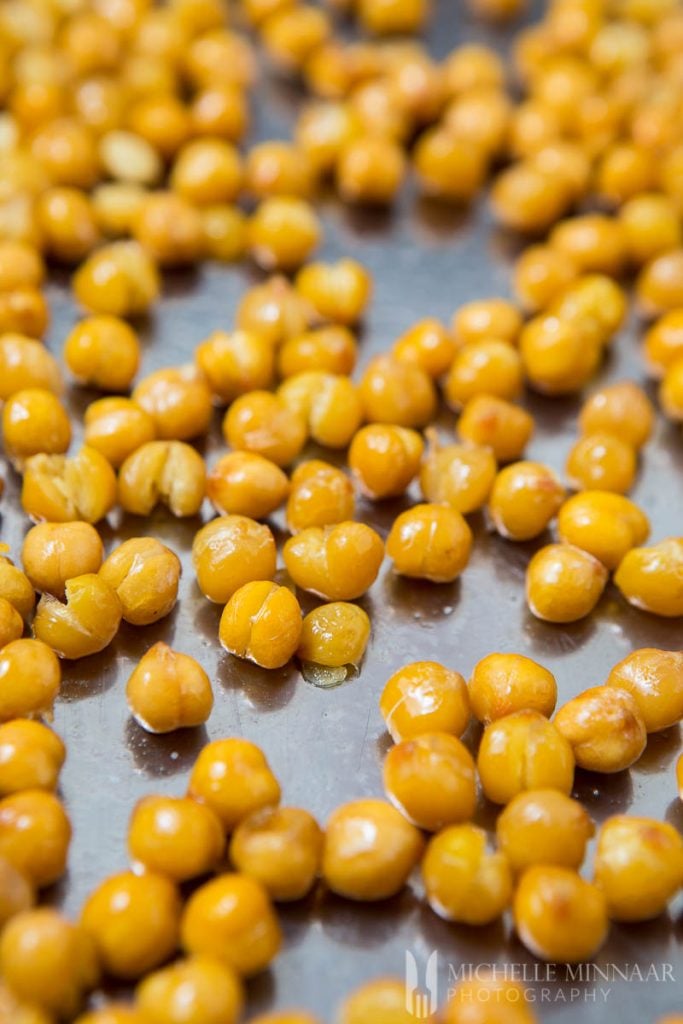 Health benefits
Chickpeas are great for diabetics and vegans. You can create incredible vegan recipes with chickpeas. I will mention a few at the end of this post. Chickpeas are great for controlling sugar levels in your blood, therefore it will help you regulate food cravings at work or in the afternoons. With its high fiber content, it is great for digestion, as it will cleanse your intestines. Amongst other vitamins, it's mostly a great source of plant-based proteins.
Spices
I used Cajun spices in this recipe. I like the tanginess of the Cajun spice. Of course you can use more spices. Chili or curry powders are obvious, but you can also add paprika, dried coriander, cumin or garam masala. I like to use all sorts of spices with this recipe, but the choice is yours, of course!
By the way, if you feel like reusing these chickpeas, then you can make a lovely masala chana chaat recipe. It's a sort of chickpea salad.
Practical information
Be careful when you add spices to your chickpeas. High heat reduces the flavor and intensity of spices. So if you add the Cajun spice (or whichever spice you choose), chances are that you will lose half of the intensity and taste of the spices. My advice for you is add sprinkle the spice over the roasted chickpeas once they are done and out of the oven. Be careful not to overdo it!
If you used canned chickpeas for this recipe and happened to have left some in the can. Don't. It is not healthy for you to leave food in the metallic can once opened for a longer period of time.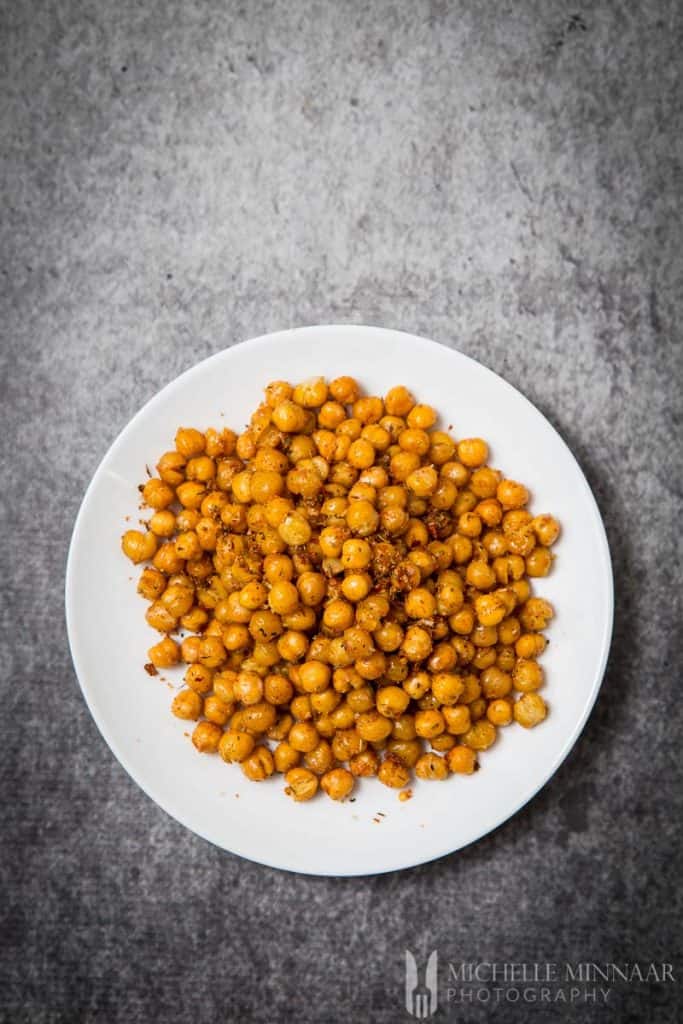 Herbs
I am a big fan of coriander. I recommend sprinkling the roasted chickpeas with only a little bit of coriander to add a green element to the dish. If coriander is not your preferred herb, you can use freshly chopped parsley. With the addition of parsley and a hint of lemon, you will truly create a beautiful middle eastern dish.
Roasted chickpeas as a side
Roasted chickpeas as a side is very popular nowadays. Vegetarians and vegans regard this as the protein on the plate and load up with vegetables to complete the meal. If you want to be more creative, toss in a little of mixed herb garden salad. You can make a stunning roasted chickpea salad. Sounds delicious!
I hope that I've inspired you to create you own version of roasted chickpeas! Let me know if this recipe works out for you!
If you enjoy roasted chickpeas or roasted vegetables in general, you can find more inspiration below:
Print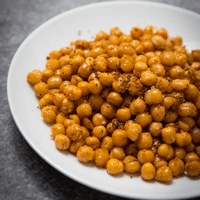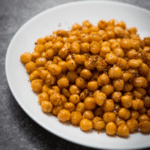 Roasted Chickpeas
---
Author:

Michelle Minnaar

Prep Time:

40 minutes

Cook Time:

5 minutes

Total Time:

45 minutes

Yield:

8

1

x
400g

(

1

can) cooked chickpeas, washed and drained

15

ml (1 tbsp) olive oil

15

ml (1 tbsp) spice
---
Instructions
Heat oven to 200°C/180°C fan/gas 6.
Arrange the chickpeas in an even layer in a large baking pan.
Drizzle with oil and give pan a vigorous shake to ensure the chickpeas are thoroughly covered.
Roast the chickpeas for 30-40 minutes or until they are golden and crisp.
Remove from the oven and place them in a mixing bowl.
Add the spice of your choice to them. Mix well and serve.
Notes
You can use dried chickpeas as well. Just cook them first!
Some spices burn when exposed to high heat. In this case, I only added the Cajun spice mixture to the chickpeas after they've been roasted.
Nutrition
Serving Size:

1 serving

Calories:

99

Sugar:

2.4 g

Sodium:

4 mg

Fat:

3.1 g

Carbohydrates:

14.2 g

Fiber:

4 g

Protein:

4.5 g
save the recipe to your pinterest board