Roasted jerusalem artichokes are simply delicious. Most people want to make roasted jerusalem artichokes because of the nutty flavour that they release, accompanied by the crispiness of the skin.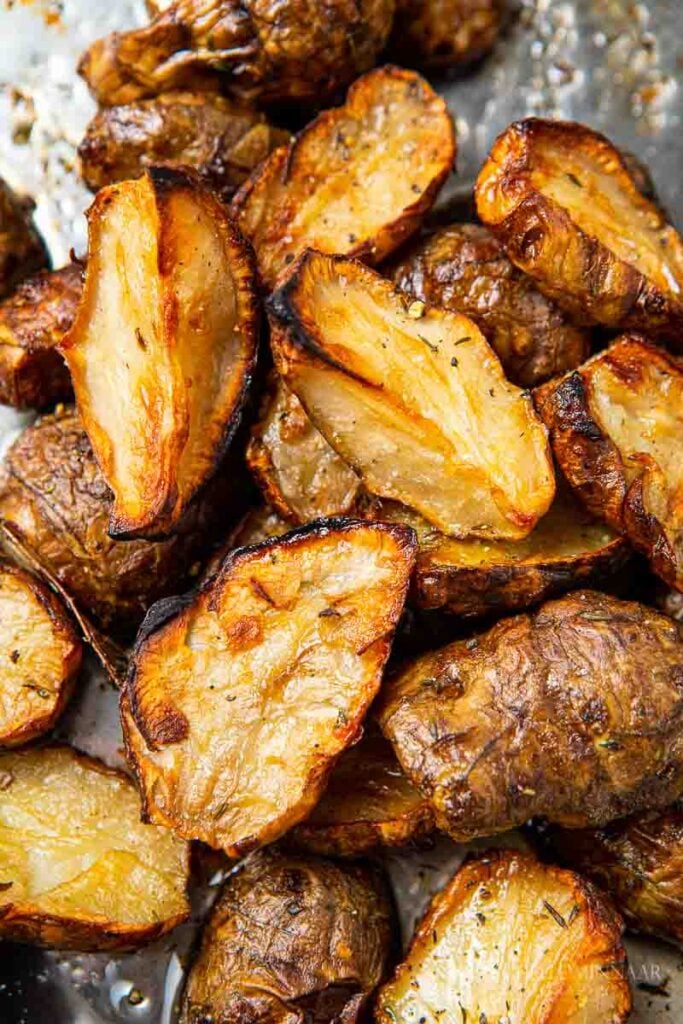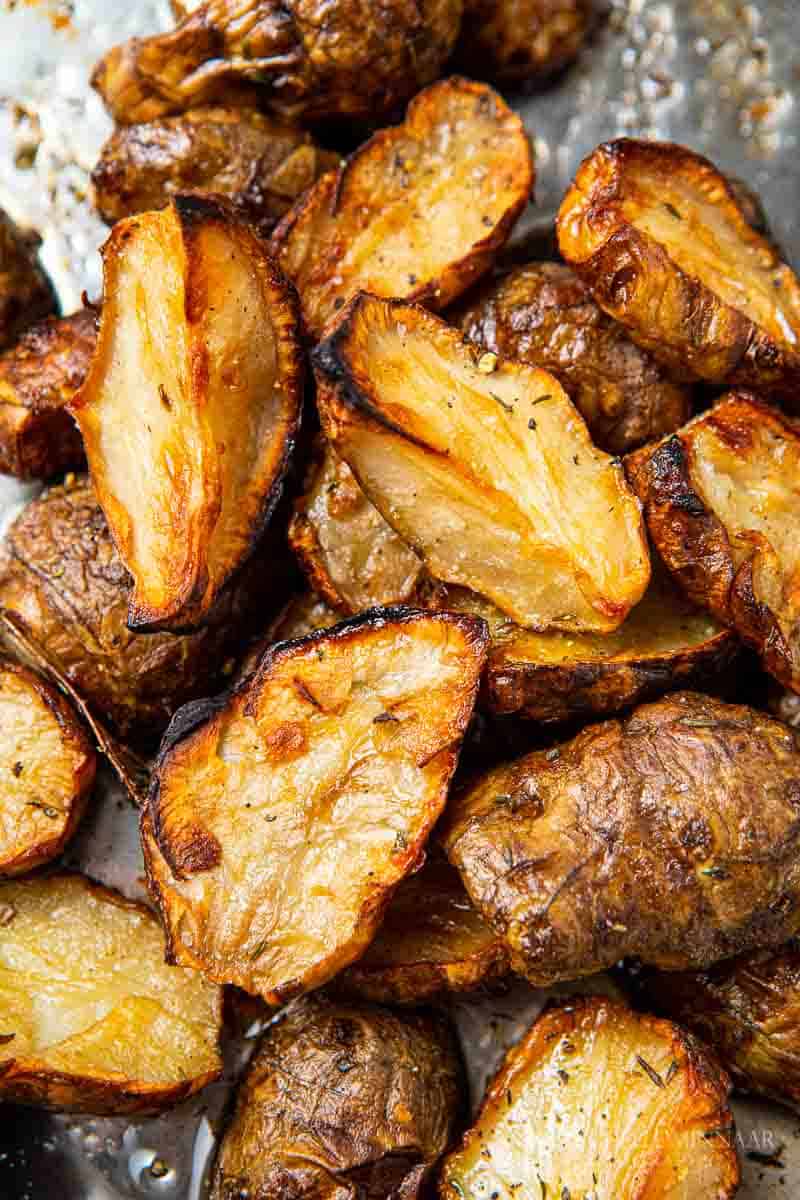 They are also nice and creamy when roasted. With all these different elements and textures going on, these natural flavours will create a beautiful taste in your mouth that will make you want to eat them right out of the oven.
Careful though, even though they are delicious and irresistible, they are hot. This recipe serves four people. The total time to make this delicious side dish is approximately 50 minutes. Enjoy!
Products you'll need for this recipe
Before you whip up this tasty wild garlic soup, there are a few kitchen items you'll need: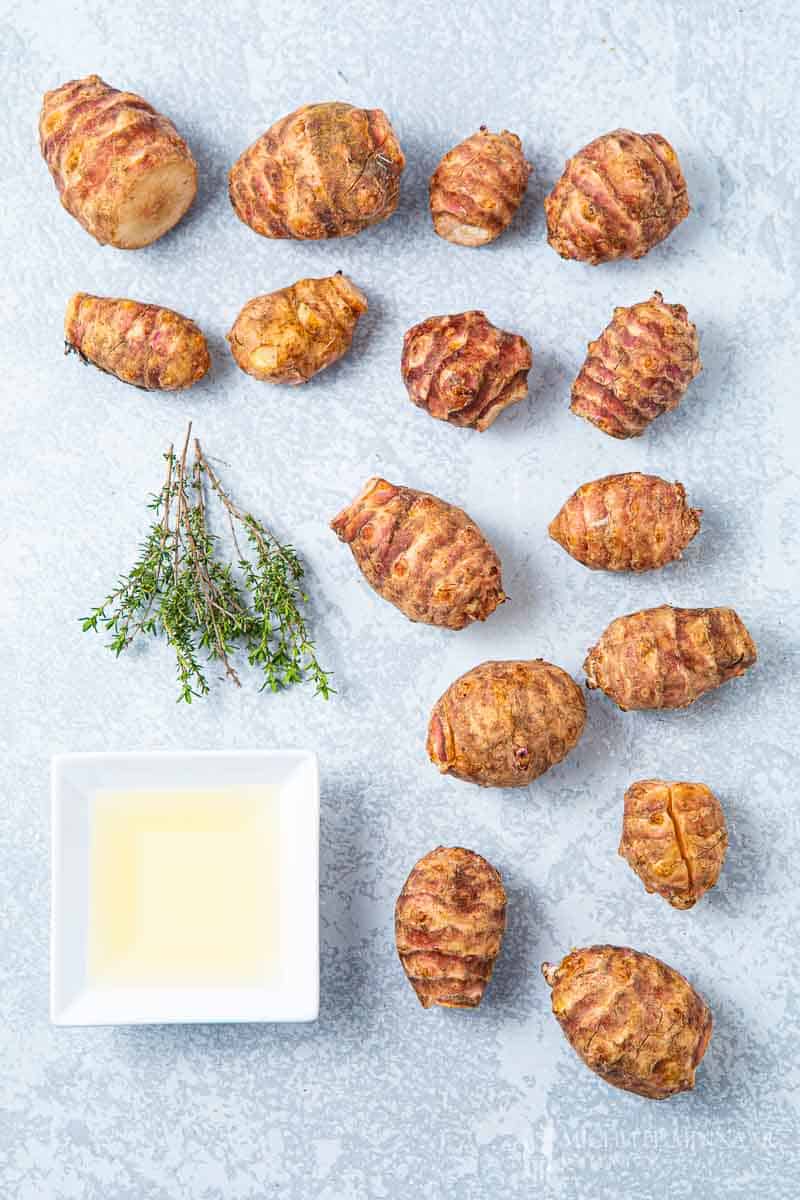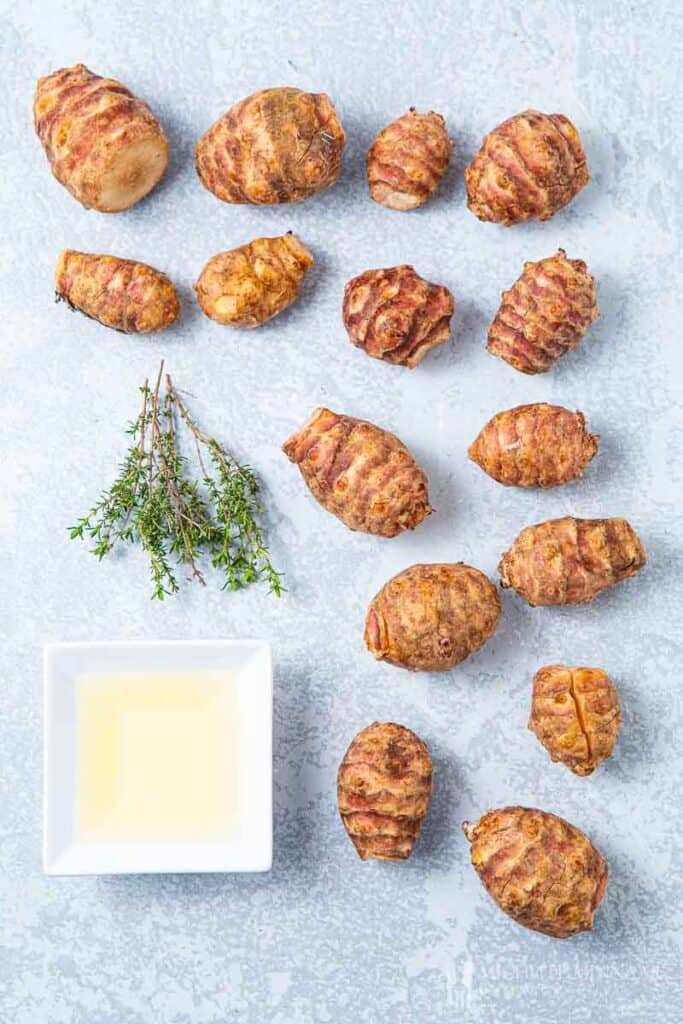 What are Jerusalem artichokes?
Jerusalem artichokes belong to the winter vegetable family. You might also know them as: sunroot, sunchoke, earth apple or topinambour.
Would you believe that jerusalem artichokes actually belong to a species of sunflower? They are very similar to potatoes, as they are also a tuber. The only difference is that potatoes don't go soft and creamy like roasted jerusalem artichokes do.
what is the difference between artichokes and Jerusalem artichokes?
There are major differences between the two types of vegetable.
First of all, the globe artichoke is green and round in shape, with edible leaves. It grows in milder climates with lots of sunshine. The origin of the globe artichoke is in North Africa.
On the other hand Jerusalem artichokes are tubers. They look like ginger root. These grow in cooler climates with cooler soil. They originate in North America.
Click here to learn how to cook globe artichokes. They also make an excellent dish when roasted. Just check out my roasted globe artichoke hearts, which is an authentic Sicilian recipe, which I've mastered during my time in Sicily.
are Jerusalem artichokes from Jerusalem?
Don't worry, you're not the first or last person to question whether Jerusalem artichokes are actually from Jerusalem. The answer is no, they're not.
In fact, they originated in North America, long before the arrival of the European colonies. It's most likely that Pocahontas used to eat this vegetable. Jerusalem artichokes only made their way into the European market after the colonisation of the east coast of North America.
Where can I get Jerusalem artichokes?
When in season, you can buy Jerusalem artichokes in supermarkets and greengrocers. My suggestion to you is to get these from a local market, to ensure you obtain the highest quality produce. These usually have the most nutrients and flavour.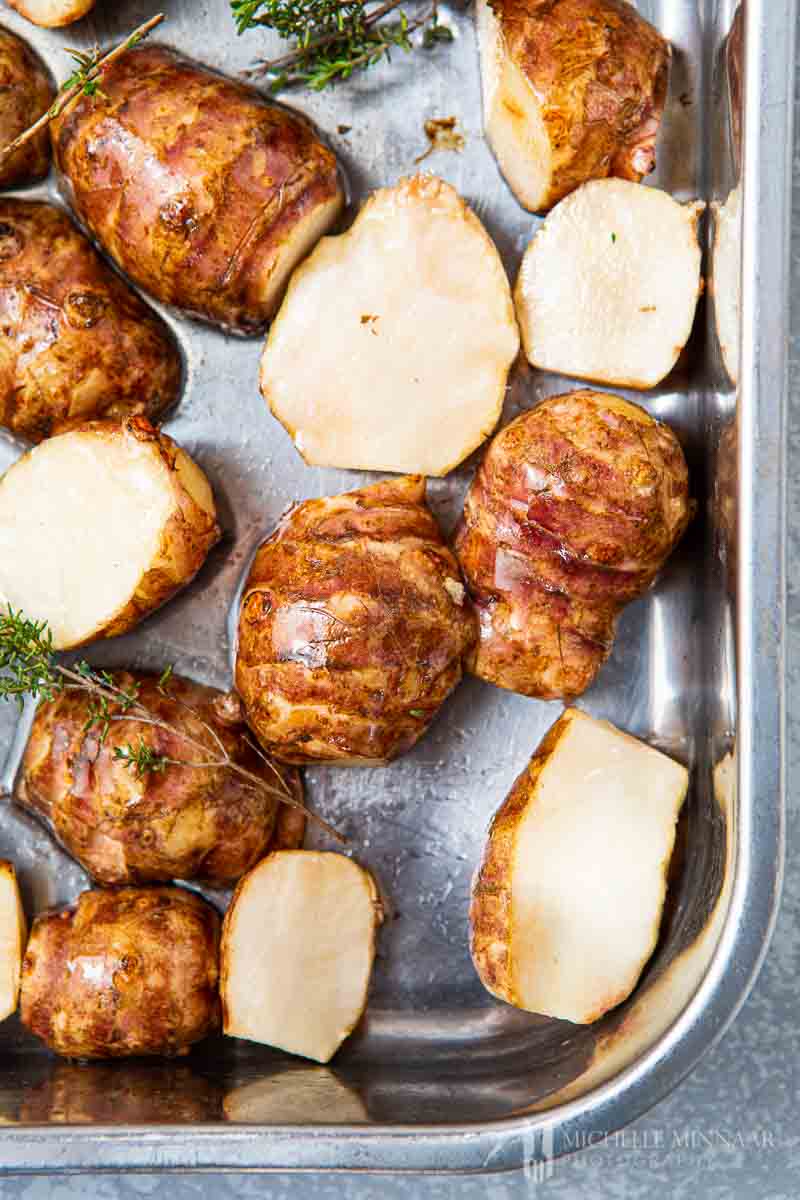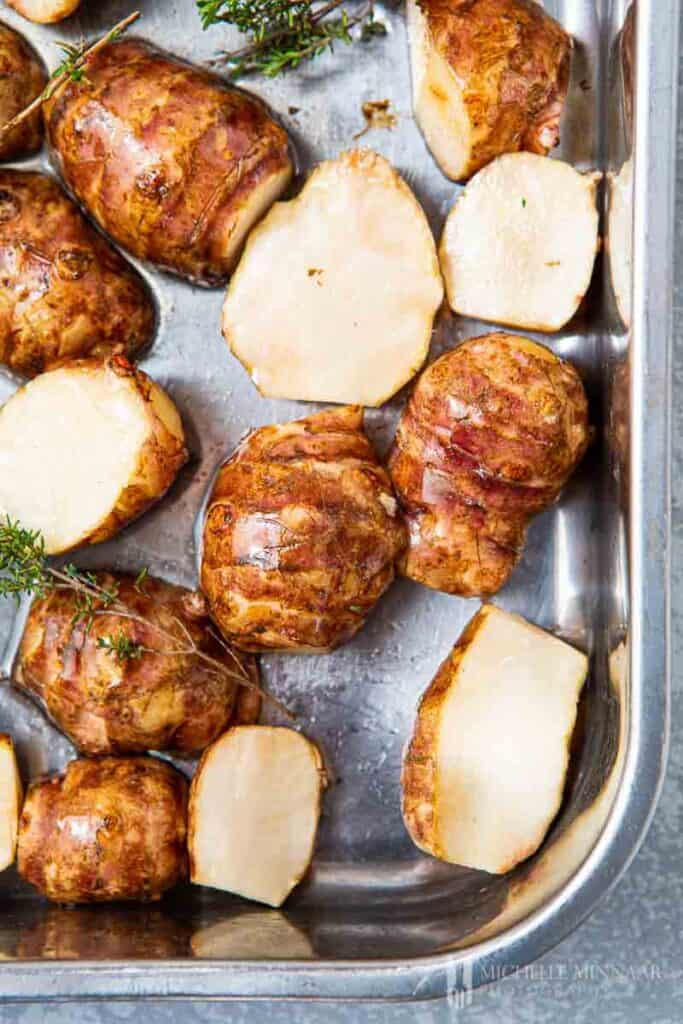 can you eat the skin of Jerusalem artichokes?
They sort of look like ginger or galangal at first glance. Be very cautious
The skins are edible. So, yes, you can eat the skin of Jerusalem artichokes. It is recommended that you scrub the skins however, with a vegetable brush.
The skin is full of vitamins and if you roast the Jerusalem artichokes properly, you'll get a great crispiness and you won't even notice the skin. Again, remember to clean them thoroughly.
Here are the different types of Jerusalem artichokes you can find:
White-skinned: these are easy to grow in colder climates and shorter summers – basically perfect for Britain. They have round roots and they mature quickly.
Red-skinned: these are a bit easier to clean and they don't have so many nodules attached to them. They're a bit tougher to grow and come in various tones of colour, sometimes even appearing purple.
Be generous when it comes to the salt. The artichokes can absorb salt well when they are roasted. You can use course salt or fine salt – the choice is yours.
do you have to peel Jerusalem artichokes?
It depends on which artichoke recipes Jerusalem you're attempting. In essence, you don't have to peel Jerusalem artichokes if you roast them or grill them. I do recommend that you wash them thoroughly to remove any excess dirt. Use a vegetable brush every time you leave the skin on.
Also, think of it this way. If you leave the skin on, the recipe serves more people.
However, if you would like to make a mash recipe or a soup, then it is recommended that you peel the artichokes as the skins may affect your consistency. Peeling the skin in advance will enable smooth results!
how to roast Jerusalem artichokes
The health benefits of this recipe are just never-ending. Jerusalem When you roast your artichokes, cut them in half. This will decrease the cooking time in the oven. Also, having a nice crispy layer on the inside part of the artichoke is great!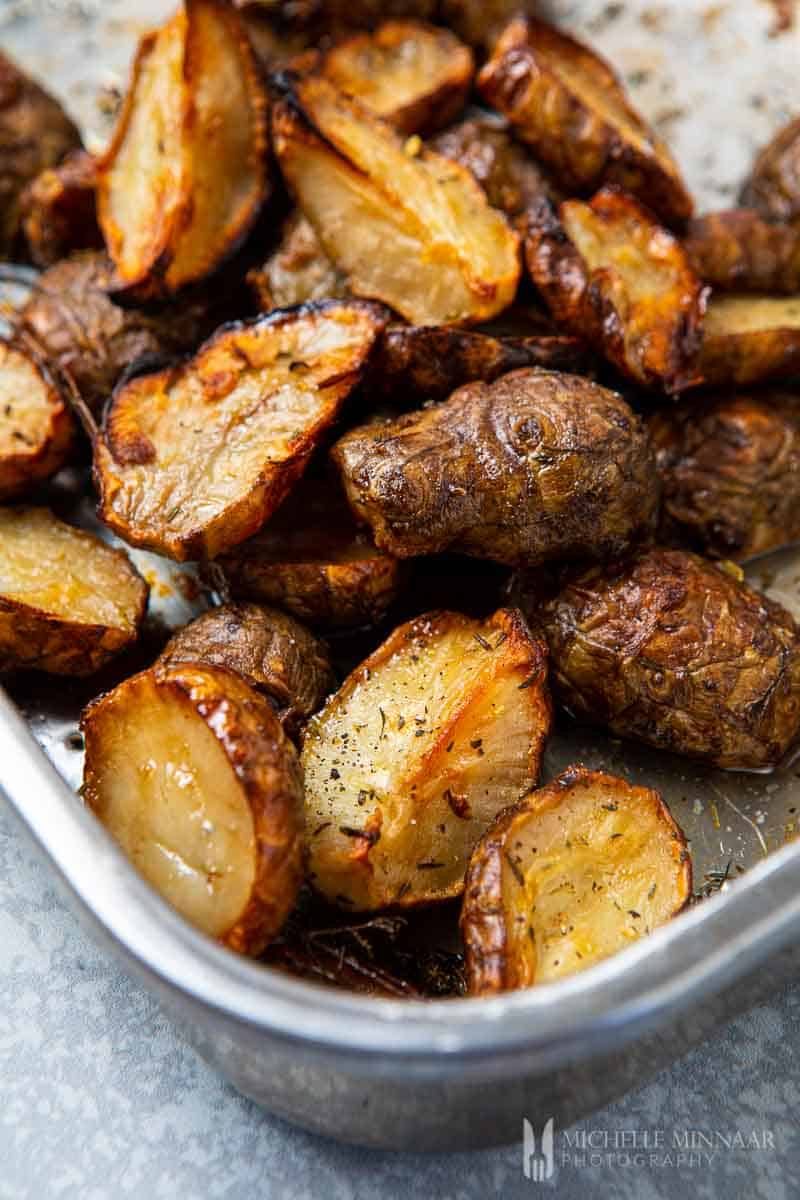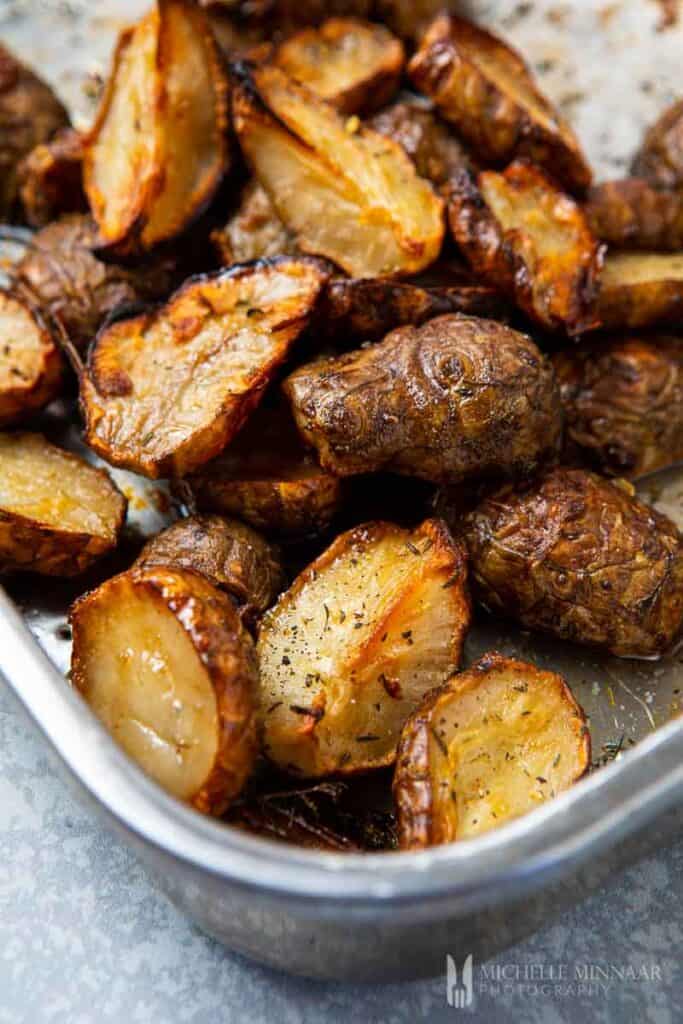 how do you make Jamie Oliver Jerusalem artichokes?
Since Jerusalem artichokes are low in starch, have natural occurring fructose and help regulate sugars in the blood, they are great for people Jamie Oliver is known for making simple yet complex recipes.
His simple roasted artichokes are made with garlic, a few bay leaves, approximately 15ml (1 tbsp) of white wine vinegar, olive oil, salt and pepper.
In essence, you can follow my recipe, just include the added ingredients. In his recipe, Jerusalem artichoke is also halved before roasting.
Great dish for vegans and how to get the best flavour
You can use these herbs to add flavour to your roasted Jerusalem artichokes dish:
thyme [go for as much as 15ml (3 tbsp)]
rosemary [use 1 or 2 small branches]
bay leaf [use a handful]
chives [go for as much as 45ml (3 tbsp) in the case of toppings]
cloves [use only a handful as these are aromatic]
dried garlic powder [again, go for as much as 45ml (3 tbsp)]
whole garlic [use 5–8 whole garlic cloves and spread them out on the baking tray]
When it comes to garlic, it's one of my favourite flavour enhancers. Garlic contains lots of health benefits. It is very good for the heart and blood. Although, for some people garlic can be quite an overpowering ingredient.
Garlic pairs very well with Jerusalem artichoke recipes. For instance, you can add as much garlic as you want into this delicious Jerusalem artichoke soup.
This soup is also best topped with fresh thyme or dried thyme. The soup serves a total of 4 persons and takes a very short amount of time to make.
If you want to add extra creamy flavour to the roasted Jerusalem artichokes, try roasting them with butter instead of olive oil. Then they will really be creamy.
Just toss the butter in a pan, cook it and pour it over the artichokes. To cut through the nuttiness, you can also top the pieces with grated lemon zest.
For more side dish inspiration, check out the following recipes:
Print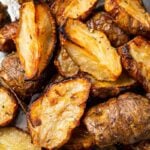 Roasted Jerusalem Artichokes
---
Author:

Michelle Minnaar

Total Time:

50 minutes

Yield:

4

side dish servings

1

x

Diet:

Vegan
Description
Roasted Jerusalem Artichokes are simply cleaned, then sliced in halves. Toss in oil, salt and thyme and bake until golden and crispy.
---
450g

(1lb) jerusalem artichokes

30

ml (2 tbsp) vegetable oil
Salt and pepper
Fresh thyme sprigs, optional
---
Instructions
Preheat oven to 170°C/350°F fan/gas mark 3.
Scrub the artichokes thoroughly, removing any blemishes with a knife.
Halve them lengthwise and cover with oil and season liberally. Place in a roasting tin.
[Optional] Add the thyme sprigs.
Roast in the oven until tender and golden, which takes around 45 minutes.
Serve as a side dish.
Notes
For best results, give them a shake now and then to get all surfaces golden and crispy.
Prep Time:

5 minutes

Cook Time:

45 minutes

Category:

Side Dish

Method:

Roast

Cuisine:

English
Nutrition
Serving Size:

1 serving

Calories:

145

Sugar:

10.8 g

Sodium:

295 mg

Fat:

7 g

Carbohydrates:

19.8 g

Fiber:

1.8 g

Protein:

2.3 g
Keywords: roasted Jerusalem artichoke, roasted artichokes recipe, Jerusalem artichoke recipe, baked sun chokes
save the recipe to your pinterest board