I love a good mash. It is such a versatile dish that you can use for so many things. With a few additions, it can be a standalone dish for a filling vegetarian lunch.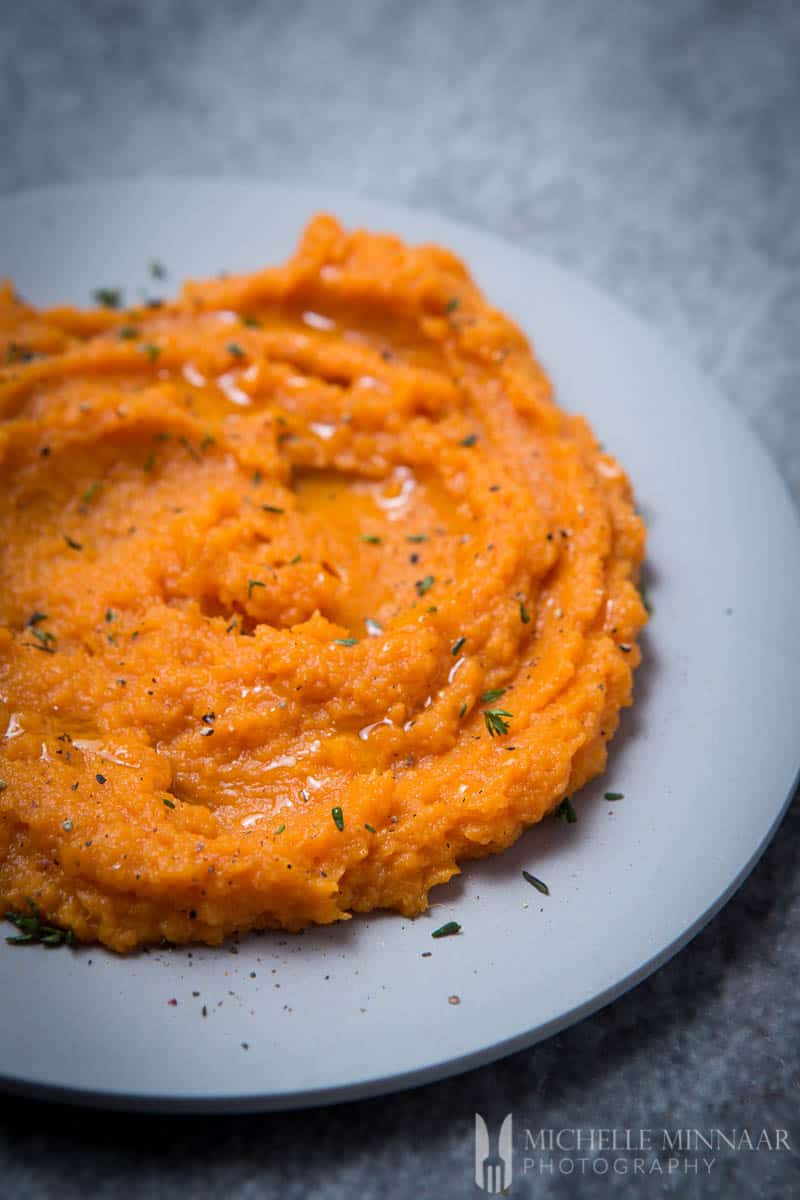 Mind you, although this is a simple recipe, this is not just any plain old mash. My roasted sweet potato mash has a depth in the flavour that I promise will make your mouth water and come back for more.
Sweet potato mash is a great accompaniment for any type of stew or roasted meat are cooked during these cold months. Simple to prepare, it is difficult to get it wrong.
This is one of my favourite side dishes at the moment and I'm sure it will quickly become one of yours too.
Advantages of sweet potato
Sweet potatoes come in different shapes and colours so your sweet potato mash may not turn out to be orange, depending on where you live! Oh, how I miss the yellow flesh variety I grew up with in South Africa!
The most widespread is the orange one but there are also yellow, white and even purple varieties.
What they have in common though is that they are very good for your health because they are rich in vitamins and minerals, particularly in vitamin B6 which is beneficial for your veins.
Its potassium content helps lower the blood pressure and prevent heart attacks. As sweet potatoes are also very rich on vitamin C, A and E they can help strengthen the immune system and help battle inflammatory infections.
Even though they are called sweet potatoes they are not actually sugary. In fact, sweet potatoes can help regulate the blood sugar while keeping you energised.
This is why sweet potatoes are often recommended as part of the diet for diabetic patients.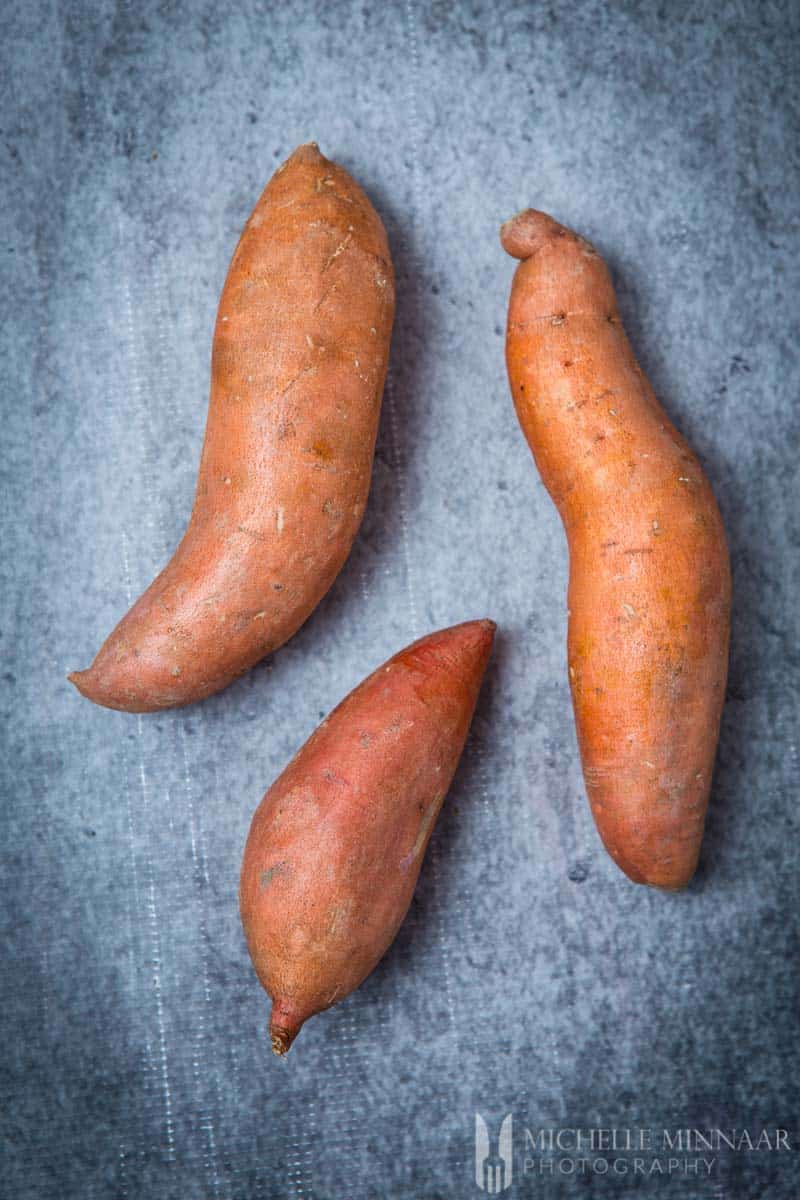 Why roasted sweet potato mash?
There are several good reasons for roasting the sweet potatoes in the oven instead of boiling them. First of all, it's great if you're a bit on the lazy side. Or, if you like me just want to avoid unnecessary tasks.
All you need to do is wash the sweet potatoes and prick them all over with a fork. Then stick them in the oven directly on the wire rack. No need to toil away at the sink peeling the sweet potatoes.
My method allows you to cook them with the skins on. After roasting the sweet potatoes cut them open with a knife and you should be able to slip the skins right off.
Keeping the skins on the sweet potatoes during the roasting also has another advantage.
Roasting the sweet potatoes with the skins on helps preserve the flavours and vitamins inside, that would otherwise be partially lost with the cooking water.
Furthermore, the roasting gives a deeper and sweeter flavour to the sweet potatoes. In the end making the mash more intense and flavourful.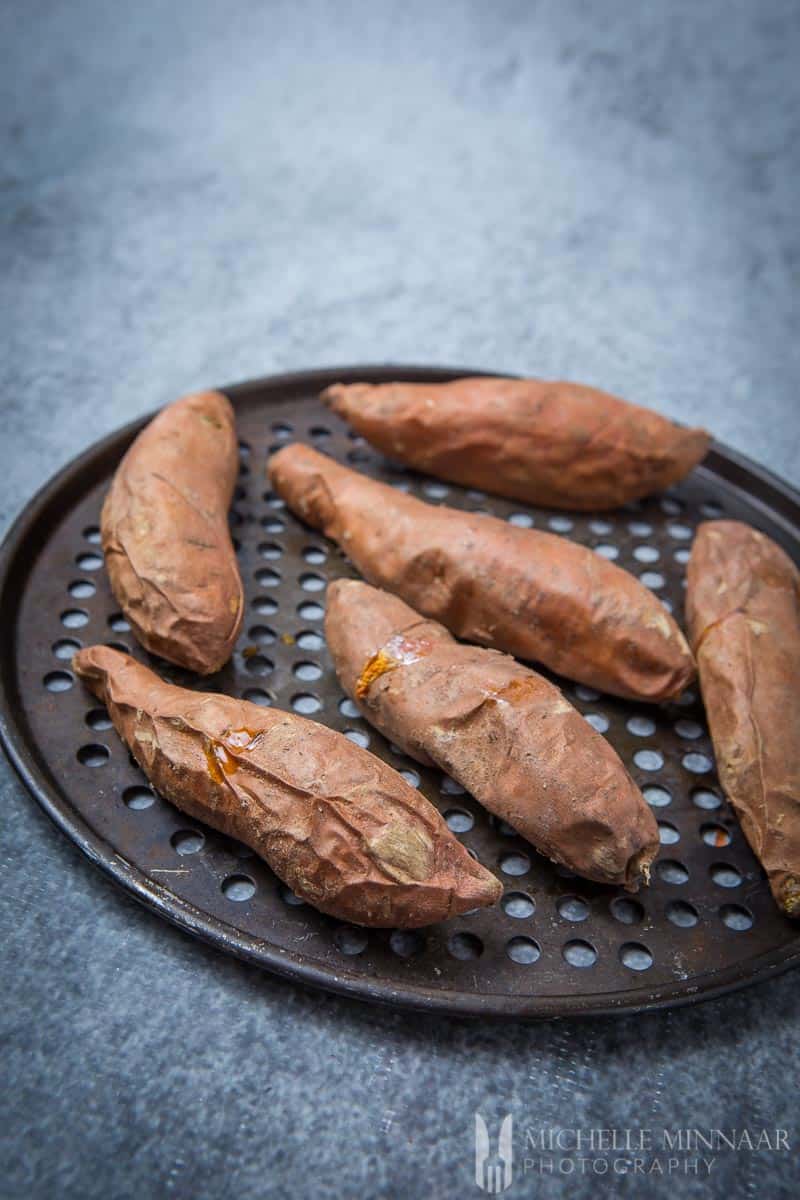 Spice it up
Now the roasted sweet potato mash in its simplest form is already good. However, you need to season it well to get the best out of it.
On the other hand, this is also the stage where you can be a little bit more creative. Obviously, you need to season with salt and pepper, that goes without saying.
But there are many possibilities to adjust the flavour. For instance, you can add garlic to the mash.
If you roast the garlic before mixing it in the mash, the taste will be sweeter and less sharp than it will with fresh garlic.
You can also add any number of spices or fresh herbs that you would like. Why not give some heat by adding a bit of chili powder into the mash?
Alternatively, it can be an ideal companion for a venison roast by mixing in some fresh thyme or rosemary. I did this for example in my rosemary roast potatoes recipe.
If you fancy a more oriental version mix in some cumin, as with cumin roast carrots. Delicious! The possibilities here are almost endless.
If you come up with something brilliant, I would love to hear about it, so please leave a comment below.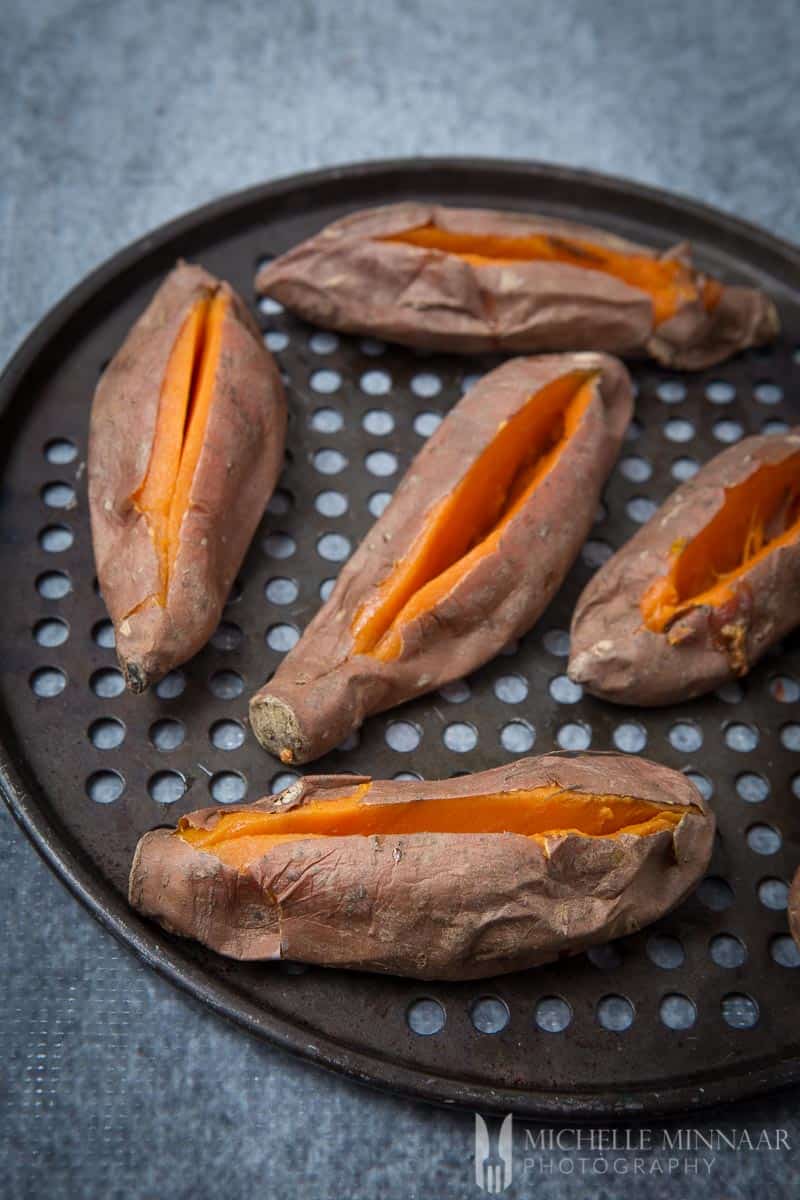 Variation with other vegetables
Herbs and spices are not the only ingredients you can use to tweak your sweet potato mash. Another twist is to add another vegetable into the mash.
You can add standard potatoes or another root vegetable with more flavour to it. Adding a couple of carrots or half a celeriac really richens the roasted sweet potato mash.
You can use the same method of roasting as for the sweet potatoes, only in this case you do need to peel the vegetables first.
You can also use a different fat to fit suit your lifestyle needs. In order to make this dish vegan I have made my roasted sweet potato mash with coconut oil.
Unless you have got your hands on unscented coconut oil, you will be able to detect the flavour of coconut. If you are not vegan, you can make the mash with butter instead.
I would not recommend olive oil though because the flavour will be too overpowering.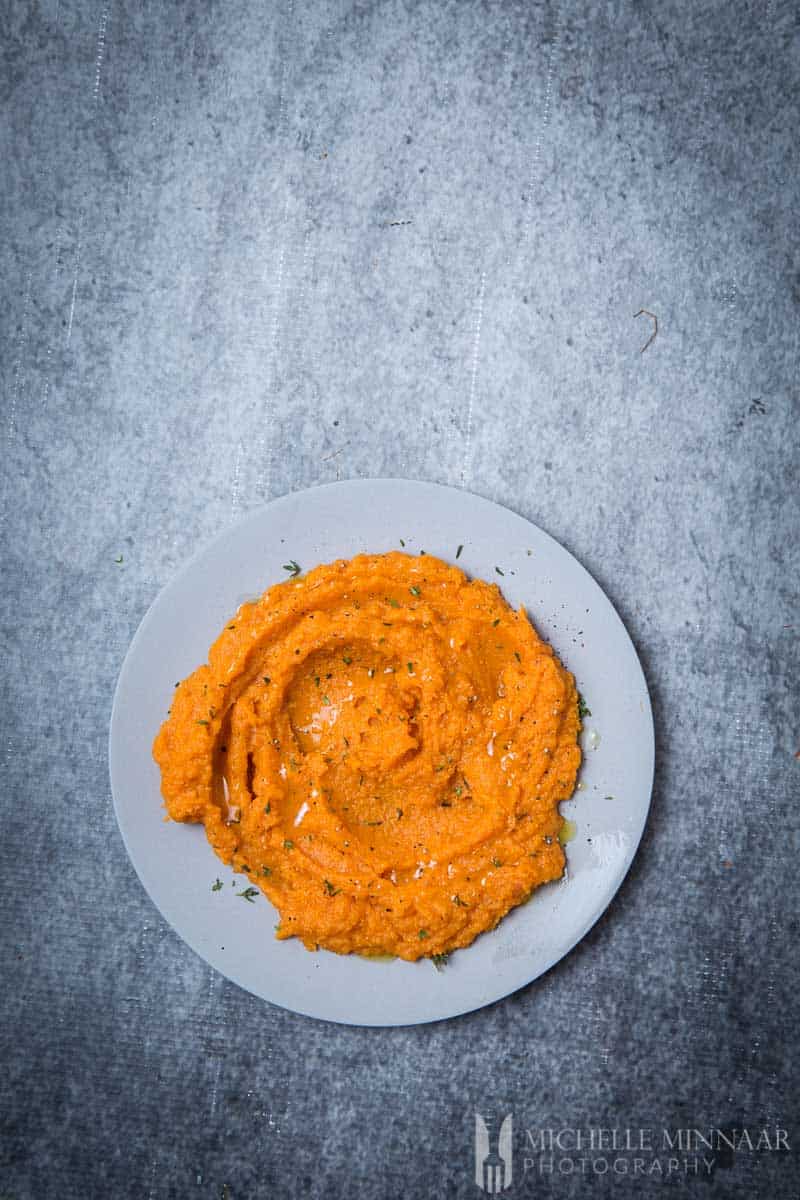 Serving and storing
Roasted sweet potato mash can be served with pretty much any meat dish you desire. At this time of the year, it is particularly good with stews or pot roasts in a nice, rich sauce.
For example, it works wonders with my venison steak with black sauce recipe. It also works well with roasted chicken, smoked chicken, whole smoked turkey or even oven baked or steamed fish.
That being said, you can easily keep the recipe in mind for the summer as well. Roasted sweet potato mash is a perfect side for a barbecue dinner, serving it with BBQ smoked ribs, spicy smoked ribs or honey glazed smoked ribs.
It fits well with any type of grilled meat or vegetables, such as my bacon-wrapped sweetcorn. You can even roast the sweet potatoes on the grill and thereby give the mash a more smoky flavour, which will make it optimal with grilled sausages.
For this, I highly recommend my sausage traybake with vegetables and chickpeas. So remember that mash doesn't have to be a winter dish only.
The mash will easily keep in the fridge for 2-3 days, although it can dry out and stiffen a bit. In that case you can bring it back to life by adding a little fat of your choosing when reheating it.
Looking for more side dish inspiration? Check out this the ones below!
Print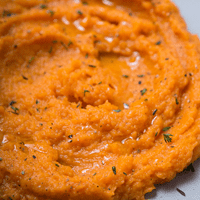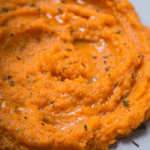 Roasted Sweet Potato Mash
---
Description
Learn how to make this vegan sweet potato mash recipe at home! Bake or roast the sweet potatoes in the oven, scoop out the flesh and mash with your fat of choice.
---
4

medium sweet potatoes

60

ml

(4 tbsp) fat, such as butter or coconut oil
Salt and pepper, to taste
---
Instructions
Preheat oven to 200°C/180°C fan/gas mark 6.
Prick the sweet potatoes all over with a fork.
Place the sweet potatoes directly onto the oven's wire rack and bake for 45 minutes or until soft. Be sure to place a tray underneath to catch the syrup of the vegetables.
When the sweet potatoes are cooked, remove from the oven and make a slit down the side on each sweet potato.
The flesh should slide easily out of its jacket. Place all the sweet potato flesh in a large bowl or pot, and discard the skins.
Mash the sweet potato with a fork or masher, along with fat and spice of your choice. Season to taste.
Serve immediately as a side dish to a meal.
Notes
This is a very basic recipe that can easily be spruced up with the use of different fats, and herbs or spices.
Prep Time:

15 minutes

Cook Time:

45 minutes

Category:

Side Dish

Method:

Roast

Cuisine:

American
Nutrition
Serving Size:

1 serving

Calories:

205

Sodium:

7 mg

Fat:

13.1 g

Saturated Fat:

5.3 g

Unsaturated Fat:

0

Trans Fat:

0

Carbohydrates:

20.9 g

Fiber:

3.1 g

Protein:

1.2 g

Cholesterol:

7 mg
Keywords: sweet potato mash, sweet potato mash recipe, baked sweet potato mash, roasted sweet potato mash, how to make sweet potato mash
save the recipe to your pinterest board