Looking for a healthy vegan salad for lunch or dinner? This 4 bean salad is an excellent alternative if you don't feel like going shopping. The reason behind this is because this 4 bean salad uses ingredients that store very well and can last for months! So chances are that you've got the ingredients for this 4 salad in your kitchen cupboard without you even realizing it.
In either case, for those of you who love a vibrant and colourful salad like this one, then you'll definitely enjoy this 4 bean salad as well. The best part is that it uses only vegetables, so it doesn't get any more vegan than that! Enjoy the different textures brought forward by the four types of beans and dress the salad with your favourite dressing. Can you guess which four beans make up this 4 bean salad?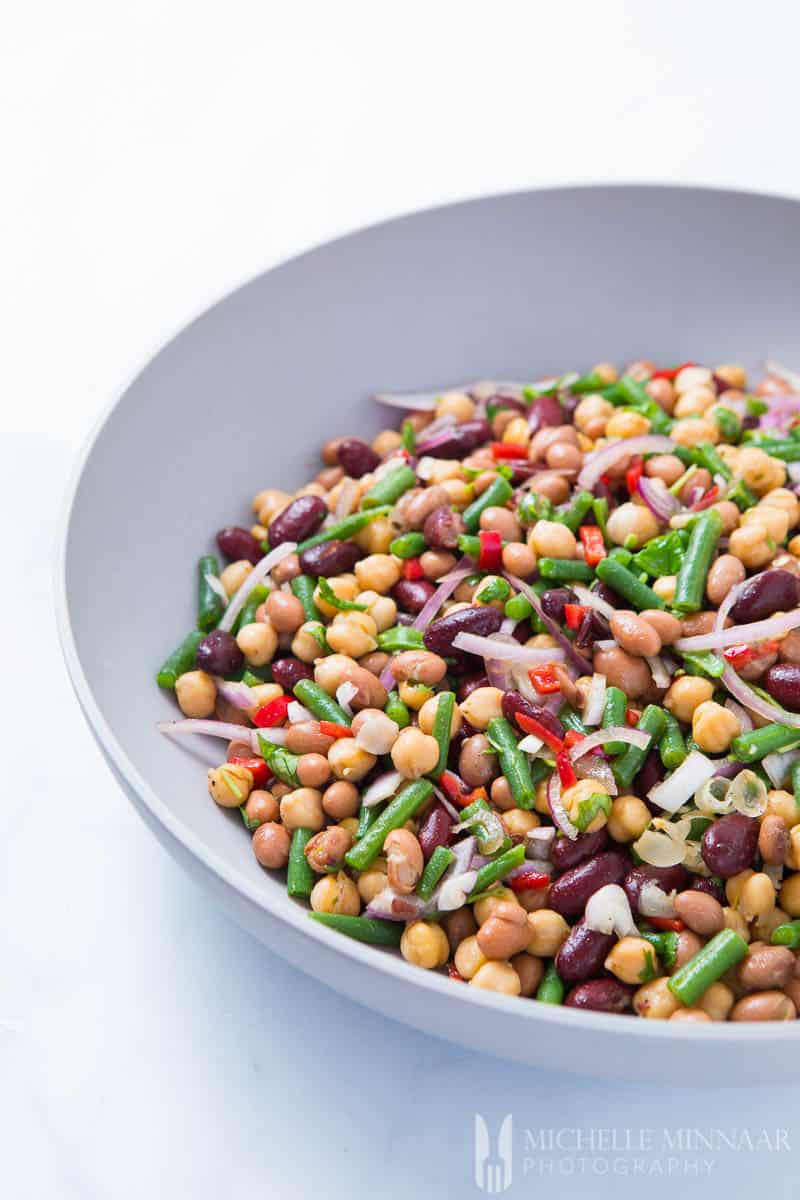 4 bean salad recipe balsamic dressing
This 4 bean salad calls for four types of beans: red kidney beans, garbanzo beans (chickpeas), pinto beans and green beans. Yes, it's a lot of beans, but a lot of nutritious fiber! Combined with all four types of beans, the one thing that will bind these ingredients together is a balsamic vinaigrette. As a result, you'll end up with a flavourful and nutritious salad that you won't be able to stop eating. Besides, what a better way to eat healthy than with this 4 bean salad. You can eat all you want guilt-free. You'll find that each type of bean is unique in its own way when it comes to delivering texture and flavour. Read below to find out how each bean contributes to making a 4 bean salad that rocks in all ways!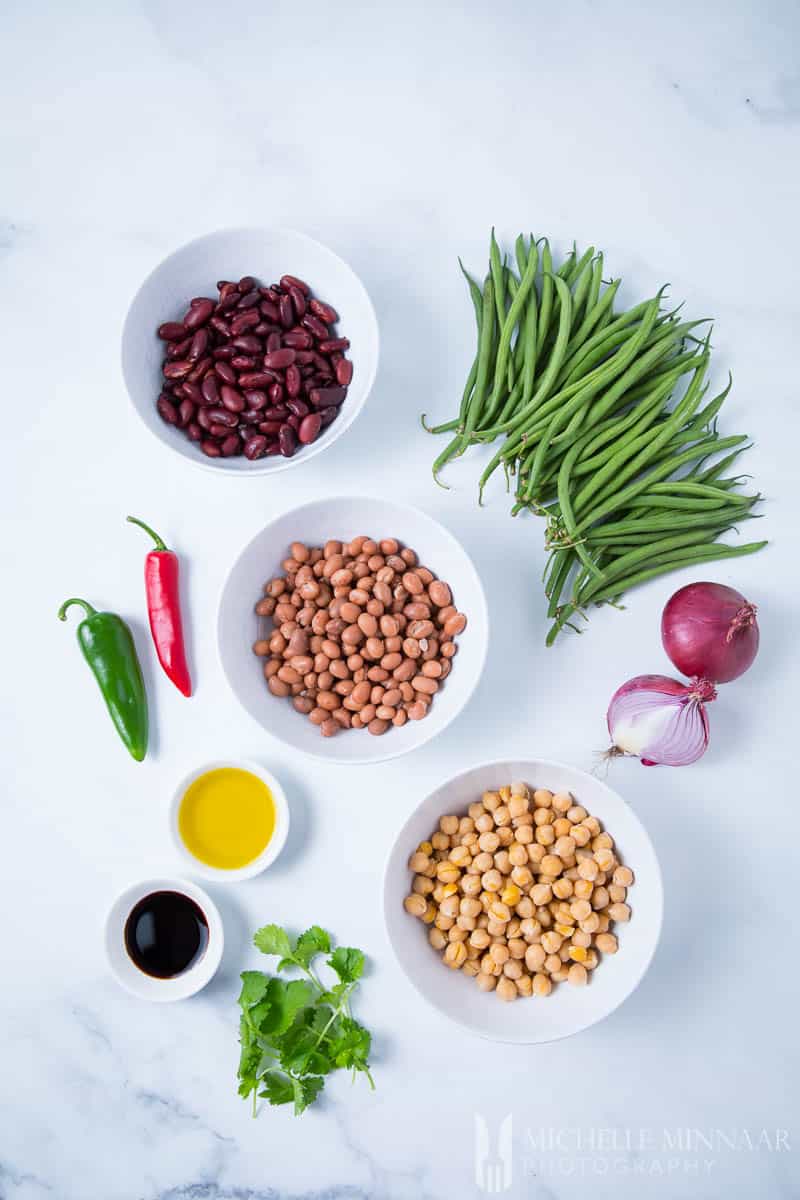 red kidney beans
The red kidney beans are known for their firm texture. They hold up very well in soups, so that's why they are a very practical component of a cold salad. They would also hold up very well in stews or soups that are simmered for a longer period of time, just like this sausage soup with butter beans. When it comes to taste, they deliver a flavour very reminiscent of green peas or lentils. However, because the red kidney beans are so firm, then need to be pre-soaked in water to soften up.
garbanzo beans
You might know garbanzo beans as chickpeas! Chickpeas are very high in protein and it is a very versatile ingredient. It is used across many cuisines in the form of creating chickpea salads, chickpea soup, chickpea falafels or even eating roasted chickpeas alone. In terms of texture, they are usually soft and buttery, but you can easily change their texture by roasting them off. This way, they will become crispier.
pinto beans
Pinto beans are an integral part of Mexican cuisine. It is very common to add them into burritos, wraps or make refried beans with them. Since they are soft, expect a buttery texture. They will most likely fall apart and taste slightly creamy. Also, they are a good source of protein and other healthy nutrients.
green beans
Green beans are probably my favourite vegetable side dish. Besides using roasted green beans as a side dish, they make an excellent addition to a salad once you cut them into smaller pieces. For example, they complement this warm butterbean salad very well. You can even control the texture of this salad. If you like your green beans a bit more firm then take them out of the boiling water a bit earlier. Otherwise, if you love your green beans extra soft, toss them in a frying pan for some extra heat.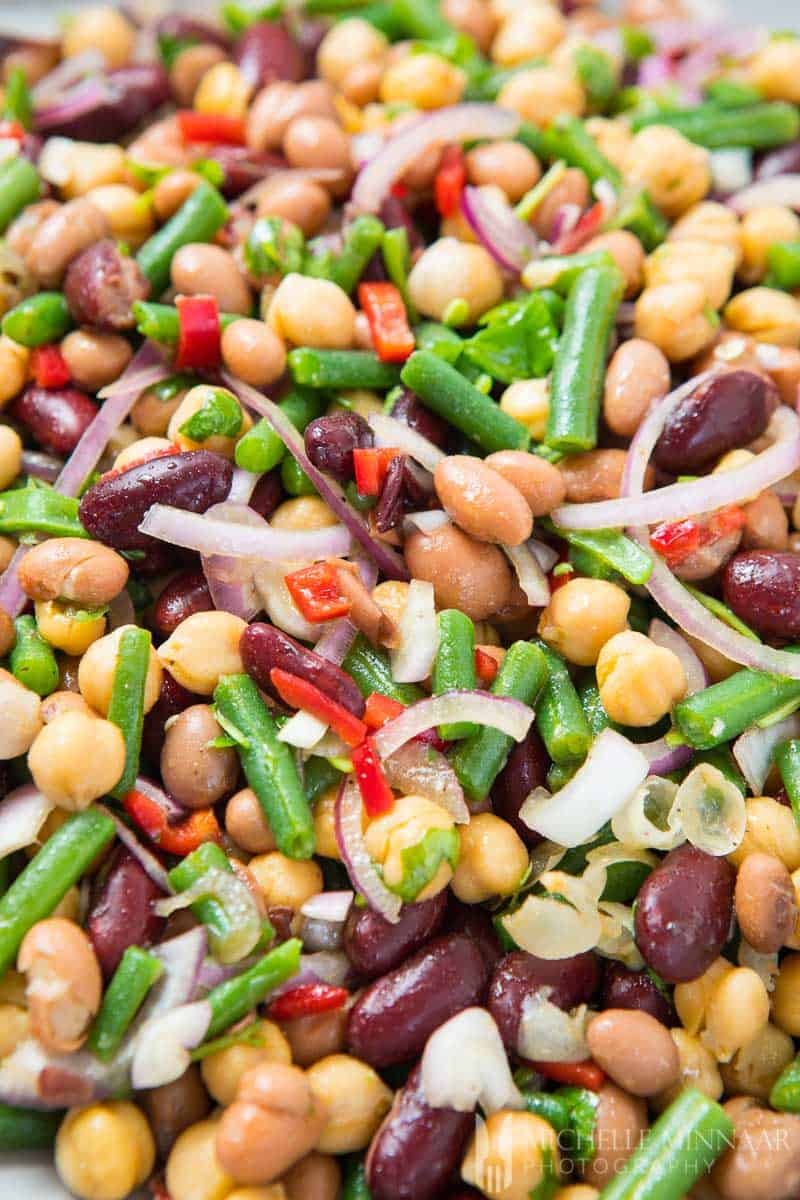 canned four bean salad recipe
As mentioned before, this 4 bean salad is very practical and handy for when you have run out of perishables in your refrigerator. Or when you don't feel like going to the supermarket. All you need to do is take a closer look in your kitchen cupboard and see whether or not you've got the four types of beans. Naturally, you can opt for the dried beans. However, you need to soak these overnight. If this is the case, then put them in a bowl full of water before you leave for work. They should plump up by the time you get back from the office. If you skip this step, your beans will take twice or three times as long to cook and their texture won't be as tender.
You can also used canned beans as an alternative. Canned beans don't need to be soaked in water, however you do need to be careful not to overcook these. If this happens, they might become too mushy and start falling apart in your 4 bean salad. Remember, it's about getting the texture right!
Mexican 4 bean salad
If you love Mexican cuisine as much as I do, you'll most likely want to spin this salad into a Mexican salad. To do so, just slice up one large avocado into thin strips. You can take inspiration from my mung bean salad where I've carefully cut the avocado. Next, cut up some fresh coriander, fresh chilli and sprinkle over with a bit of lime juice. If you want to take the salad to the next level, feel free to combine chipotle powder into the olive oil or just buy a chipotle style dressing. Lastly, nothing screams Mexican more than cutting up some fresh tomatoes into small squares with some thinly diced onions.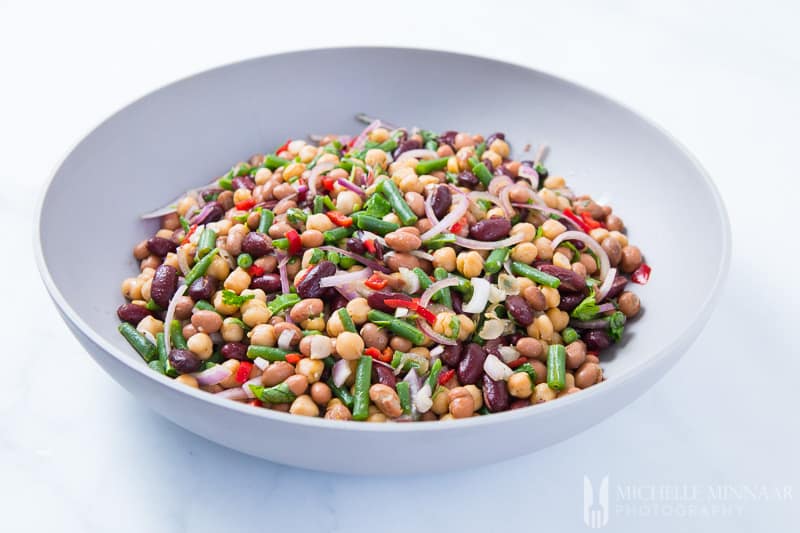 4 bean salad dressing
4 bean salad is far from being a plain salad. The best part is that you can easily spice up this 4 bean salad with the right dressing. This recipe calls for a traditional balsamic vinaigrette. However, you can also opt for other dressings. For a creamy dressing, you can use ranch dressing or a creamy watercress sauce. For a tangy dressing, try this watercress dressing, which is super healthy! Otherwise, you can always go for the classic honey mustard salad dressing. The choice is yours. Which dressing would you include in the 4 bean salad?
What is your favourite type of bean salad?
Print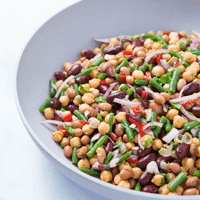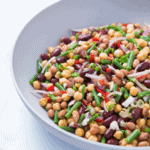 4 Bean Salad
---
Description
This 4 bean salad recipe is unlike all the others. It is a perfect combination of textures, where the contribution of each bean was carefully thought-out.
---
200

g

(7oz) green beans, topped and tailed

240

g

(1 tin) cooked chickpeas

240

g

(1 tin) cooked kidney beans

240

g

(1 tin) cooked cannelini beans

2

red onions, peeled and thinly sliced

1

red chilli, washed and finely chopped

30

ml

(2 tbsp) olive oil

15

ml

(1 tbsp) balsamic vinegar

125

ml

(1/2 cup) fresh coriander leaves, washed and chopped
Salt and pepper, to taste
---
Instructions
Boil the green beans in salted water until fork tender. Drain and set aside.
Once the green beans are cooled down, toss all the ingredients together in a large bowl and serve.
Notes
Substitute the different beans with your favourite pulses.
You can play with different salad dressings too!
Prep Time:

15 minutes

Cook Time:

10 minutes

Category:

Side Dish

Cuisine:

American
Nutrition
Serving Size:

1 serving

Calories:

278

Sugar:

3.5 g

Sodium:

24 mg

Fat:

5.9 g

Carbohydrates:

43.9 g

Fiber:

11.5 g

Protein:

14.7 g
save the recipe to your pinterest board