An Italian classic, caprese salad takes literally a minute to make and is full of fantastic flavors!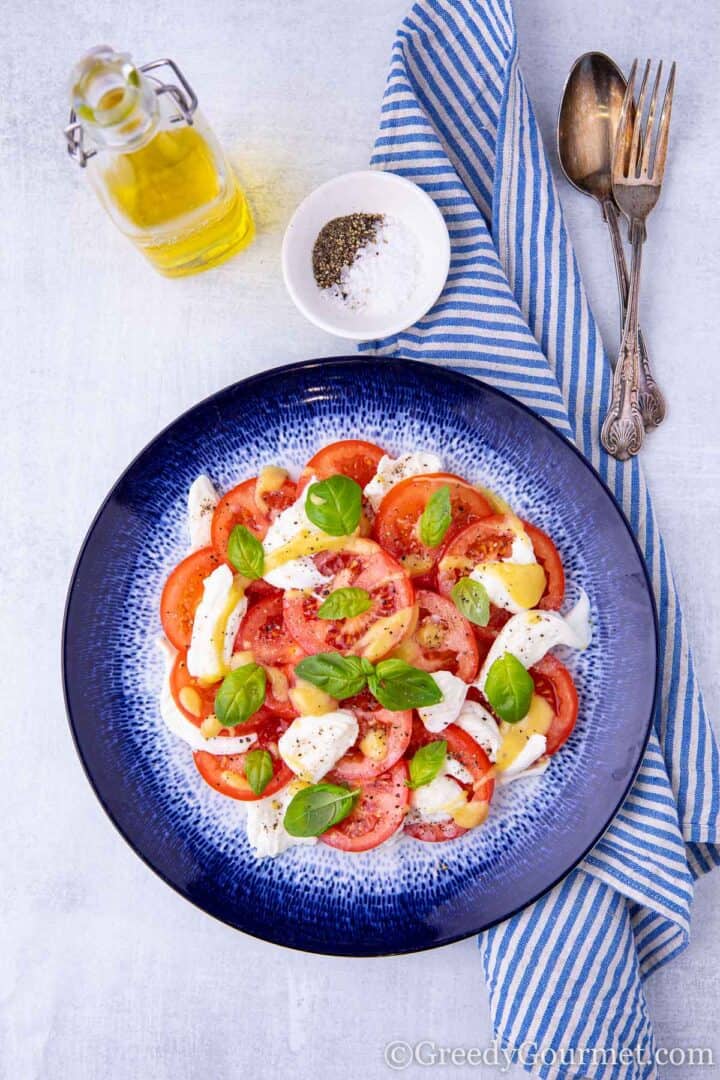 Juicy fresh tomatoes scattered with fragrant basil and layered with slices of heavenly mozzarella, finished with a drizzle of vibrant vinaigrette… irresistible!
Products you need for this recipe
There are a few important items you'll need to make this caprese salad.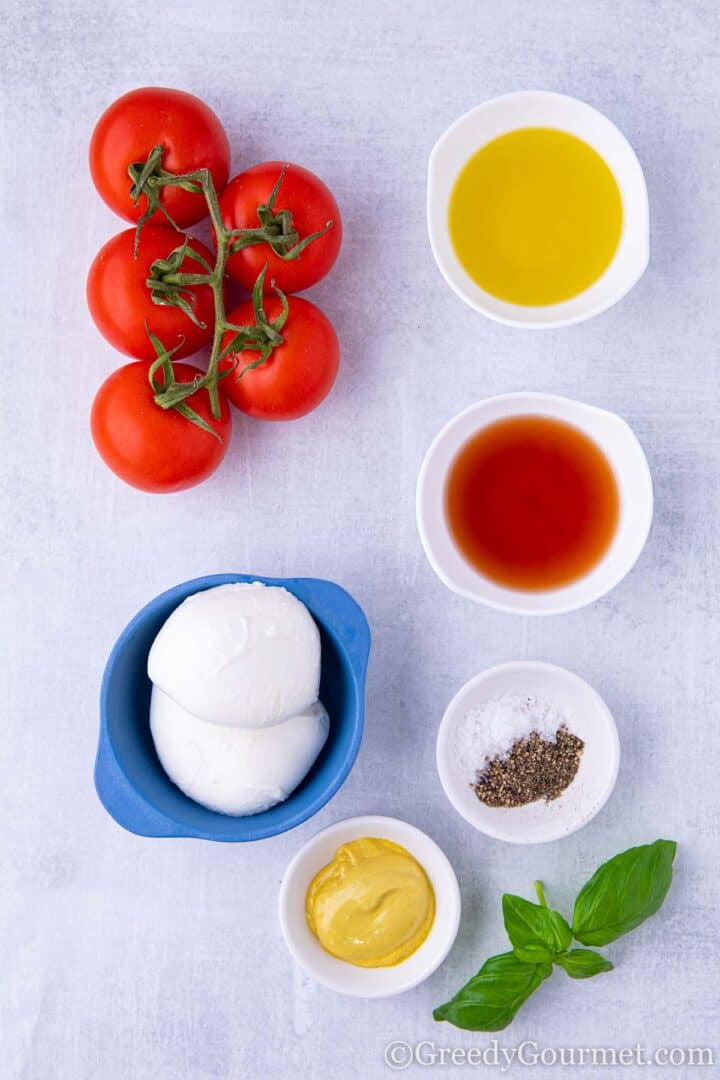 Caprese salad recipe
The Italians do simplicity so well. The old school Italian philosophy is that food should be simple.
Get the best ingredients and let the food do its thing. Don't overcomplicate things and let the flavors work together to create something special.
With a caprese salad, tomatoes, mozzarella and basil make a delicious triple act, with flavors that complement each other perfectly. These ingredients are often topped with a drizzle of extra virgin olive oil and balsamic vinegar.
My recipe calls for a delicious vinaigrette – a mix of extra virgin olive oil, red wine vinegar and Dijon mustard. It will make your caprese salad extra special!
It's so simple to make a caprese salad. It takes just a minute! What's more, it's light, healthy and incredibly tasty. Perfect for a light lunch or to serve up as a tastebud tingling appetizer.
Why is it called caprese salad?
Pronounced "cah-PRAY-ze," this dish originated on the island of Capri, in the Campania region of Italy. In Italy, it's known as "insalata caprese."
Who invented caprese salad?
Like a lot of classic Italian dishes, the origins of caprese are unclear. There are two main theories about who first invented this delicious Italian salad.
The first is a tale of patriotism that goes back to just after World War I. It's said that an Italian mason would decorate his sandwich in the colours of the Italian flag. So, the green of the basil, the white of the mozzarella and the vivid red of the tomatoes.
It certainly sounds plausible, right?
The second popular theory is that in 1952, when Egypt's ousted monarch King Farouk visited the island of Capri, he was served a caprese salad in a sandwich as an afternoon snack. He loved it so much that word soon spread of a new supremely tasty salad. 
This royal tale seems unlikely though, as there are apparently mentions of caprese salad in Italian cookbooks as far back as the 1920s.
Whatever the origins, by the late 1950s, the dish became a big hit, spreading across the rest of Italy and throughout Europe. By the 1980s, it was a classic to be found on menus across some of the world's finest restaurants.
Can I add a balsamic glaze?
It's not the traditional way to do things, but of course you can use a balsamic reduction. 
I prefer the flavor of red wine vinegar mixed into a vinaigrette with dijon mustard and extra virgin olive oil. It's lighter and works better with the tomates, fresh mozzarella cheese and fresh basil leaves.
Do you eat caprese salad cold or at room temperature?
Caprese salad is best served at room temperature. So, make sure you take the tomatoes and mozzarella out of the fridge at least an hour before assembling the salad.
How long does caprese salad last?
I definitely recommend that you eat it fresh. However, you can store caprese salad in the fridge for 2–3 days after making it.
Where can I buy fresh mozzarella?
You can buy it at your local supermarket or grocery store. Find a specialist Italian store for the best quality mozzarella.
Is caprese salad healthy?
Absolutely! Tomatoes contain many antioxidants and are a great source of vitamin C, while mozzarella is one of the healthiest types of cheese, containing vitamin B2 as well as other essential vitamins and minerals.
Meanwhile, basil is good for the immune system and can help aid digestion.
The best tomatoes for caprese salad
Large, juicy, ripe tomatoes are best. Not too ripe though. You want them to let out some juice when sliced, but still to maintain their shape.
Variations of this caprese salad recipe
The great thing about this recipe is that you can adapt it. Let's take a look at a couple of ways you can play with this Italian classic.
Baked caprese salad
You can even adapt this caprese salad recipe by serving it on top of bruschetta and baking it in the oven.
Just brush a thick slice of baguette with extra virgin olive oil (both sides). Place on a baking sheet, top with a slice of tomato and a tear of mozzarella and sprinkling of salt and pepper. Then bake in the oven at 220ºC/428ºF for 5–7 minutes.
Take out of the oven and top with a basil leaf. There you have it… baked caprese salad!
Caprese skewers
If you want to get really creative with your caprese salad, check out my caprese skewers recipe.
It's perfect as a starter at dinner parties or as part of a spread during the festive season, and also works really well as a side dish for summer barbecues.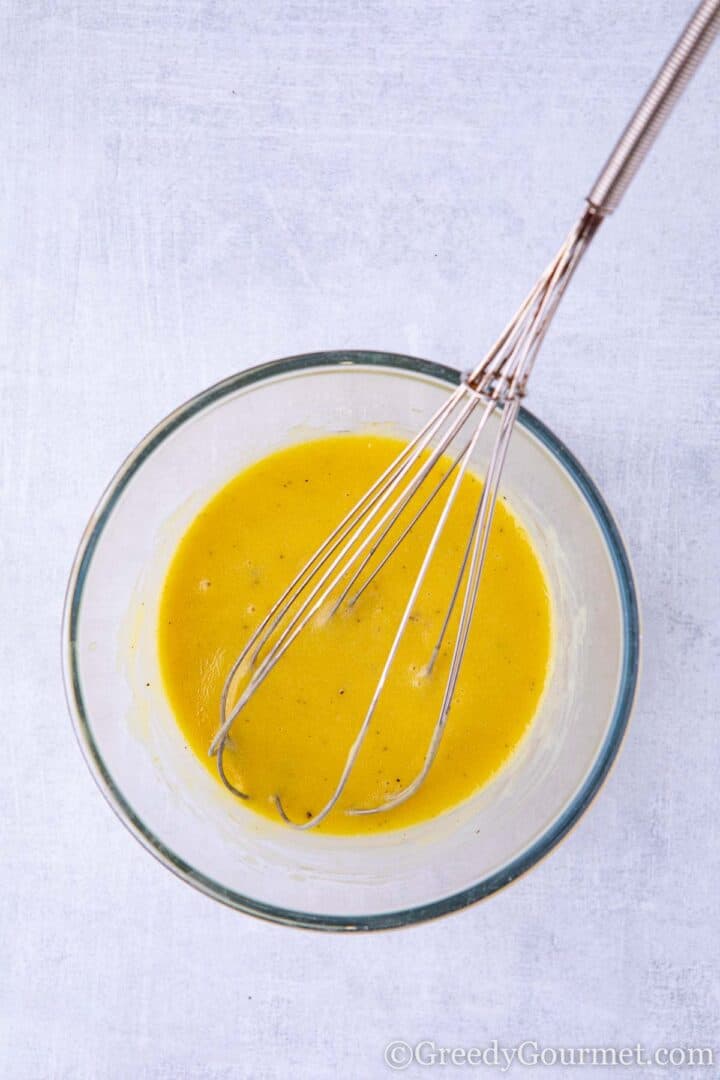 Tips for traditional caprese salad
If you want to go full Italian while making this salad, put on some Andrea Bocelli while you work, and follow these traditionalist tips:
Get the biggest piece of fresh mozzarella you can find. The bigger the size, the better the taste – look for at least 500g – and go for buffalo mozzarella over cow mozzarella. If you can find fresh mozzarella di bufala – a handmade fresh mozzarella cheese – it's the best!
Use room temperature tomatoes. If keeping them in the fridge, take them out an hour beforehand. Also, make sure they're neither too ripe nor too unripe. You want them to be sweet and juicy, but still hold their shape.
Tear up your basil leaves by hand instead of chopping them with a knife. Italians believe that chopping basil gives it a metallic taste.
After you've assembled it, leave the caprese salad to rest for 15 minutes. This allows the flavors of the fresh mozzarella, the tomatoes and the basil to settle and to blend in with one another.
Some old school Italians leave it there. They don't even drizzle with olive oil! Of course, you can go with your personal tastes here – whether that's a drizzle with olive oil, balsamic vinegar, balsamic reduction or my delicious vinaigrette.
What to serve with caprese salad
As a starter, a light lunch or a quick snack, it's fantastic on its own!
However, there are plenty of dishes that pair perfectly with this Italian salad.
If you're after something a little more filling, simply serve this salad with fresh bread or inside a freshly baked baguette. After all, the Italians have served it this way for decades.
You could also serve it on a large salad platter alongside some cured meats – I'm thinking Parma ham would be delicious – as well as olives.
You could also serve it on the side of a quiche or with bruschetta. Check out my broad bean bruschetta with Parma ham and tomato bruschetta with Parma ham recipes!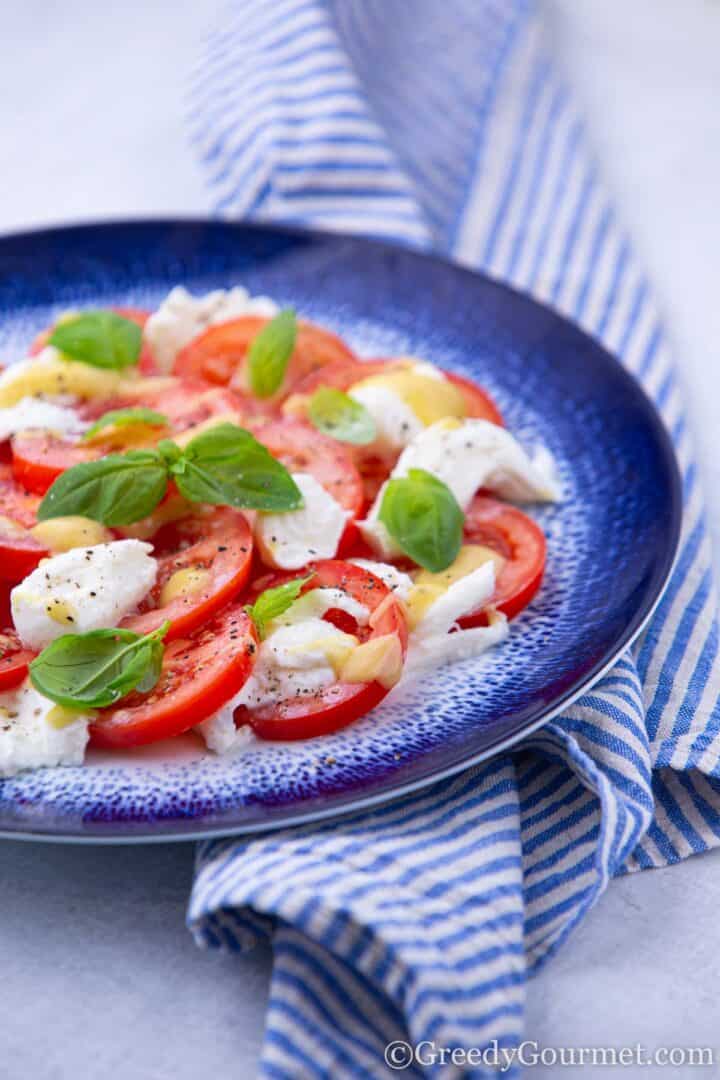 More sumptuous salads
Anyone who thinks salads are boring, can think again! It this recipe isn't proof enough, feast your eyes on these absolute beauties:
Cucumber ribbon salad – you'll be amazed at how satisfying this salad is. Perfect when you want something light, healthy and easy to make, yet with plenty of flavor
Rocket salad with avocado, blue cheese and pecans – so many fantastic flavors in harmony. This is a salad with big flavor
Pumpkin and feta salad – two flavors that work together so well. A very healthy, supremely tasty salad that's very easy to prepare
Cherry tomato salad – just for that joyous burst of flavor, it's hard not to love a cherry tomato. A whole dish based around cherry tomatoes? It just works
Mediterranean salad – for those who love the Mediterranean diet, this is another salad you'll want to check out. Simple flavors add up to something light, delicious and very special indeed
Salad olivieh – almost the complete opposite of a caprese salad, this one is about lots of ingredients. Chicken, potato, eggs and a lot of mixed vegetable create a big hearty salad, Persian style
Print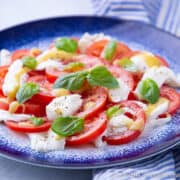 Caprese Salad
---
Description
A classic Italian recipe, this Caprese Salad is simple to make and features all the colours of the Italian flag. Red, white and green - tomato, mozzarella and basil, respectively. This vinaigrette is great but you can play with different salad dressings! 
---
Salad
4

tomatoes, sliced

2

balls (300g / 10oz) mozzarella, sliced or torn

1

handful of basil leaves
Vinaigrette
15

ml

(1 tbsp) red wine vinegar

5

ml

(1 tsp) Dijon mustard

45

ml

(3 tbsp) extra virgin olive oil
salt and pepper, to taste
---
Instructions
Arrange alternating tomato and mozzarella slices on a large serving platter and top with basil leaves. 
Mix all the vinaigrette ingredients together and drizzle over the salad. 
Season with salt and pepper, then serve immediately. Enjoy!
Notes
When it comes to tomatoes, look for large, properly ripened tomatoes. After all, you're not cooking them, so the better quality you can get, the better the salad will taste!
Buy buffalo mozzarella if you can get hold of it.
Prep Time:

10 minutes

Cook Time:

0 minutes

Category:

Starter

Method:

No Cook

Cuisine:

Italian
Keywords: caprese salad, caprese, caprese salad recipe, tomato and mozzarella salad, tomato caprese, caprese recipe, how to make caprese salad, what is caprese salad