Refreshing, creamy, minty and nutty, this cucumber ribbon salad might be set to become your new favorite summer salad.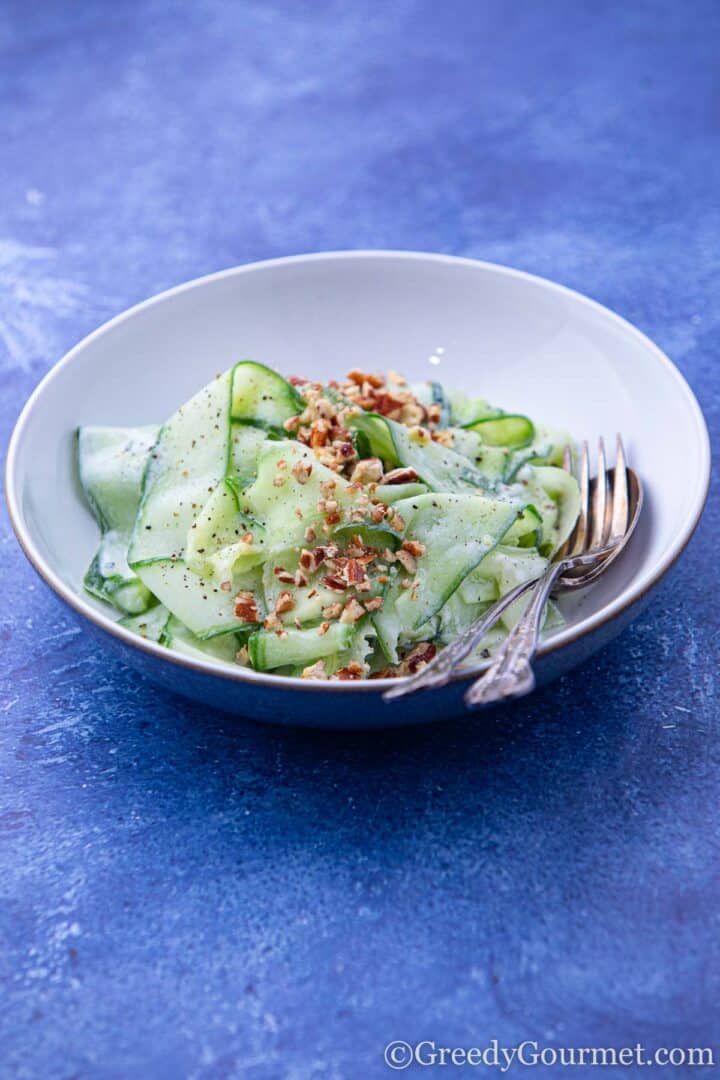 It's got so much going for it. Not only is it vegan and keto-friendly, it's also a cinch to make and will please the whole family.
Products you need for this recipe
There are a few key items you'll need for this recipe: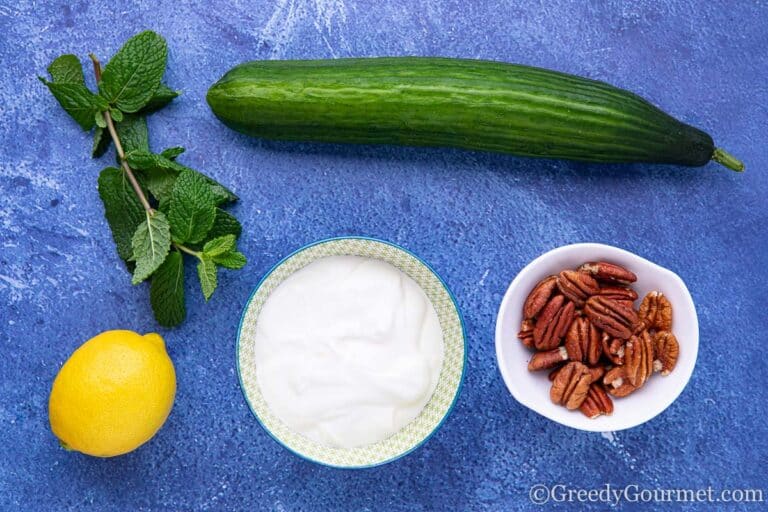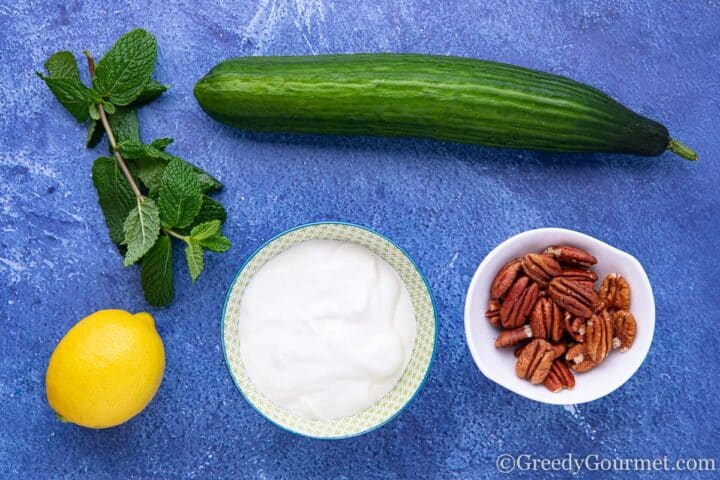 Cucumber ribbon salad recipe
Is there anything as refreshing as a cucumber? It's one of those ingredients that, for me, is totally underrated.
I think it's due to a lack of imagination. I mean, sure you can chop up a cucumber and throw it into a salad, with some leaves and tomatoes and a dressing. Still, there's so much potential here.
That's why I created this cucumber ribbon salad. Minimal work brings delicious results. As the cucumbers are sliced into thin ribbons, you get a really interesting texture to go with that vibrant flavor.
The creamy Greek yoghurt, a sprinkle of salt and pepper and the lemon juice produce a zesty, luscious dressing. The pecan nuts bring it all back down to Earth, with a wonderful nuttiness that adds that perfect counterbalance to the other flavors.
Finally, fresh mint wraps it all up with an aroma to make your swoon.
Intrigued? You should be!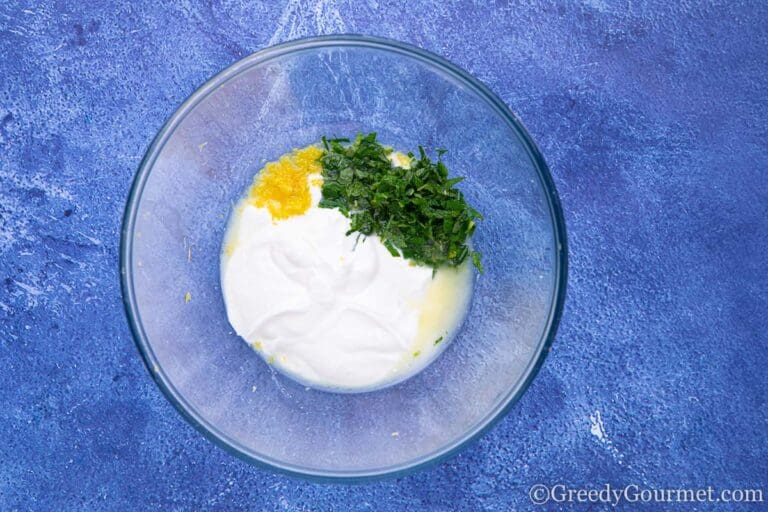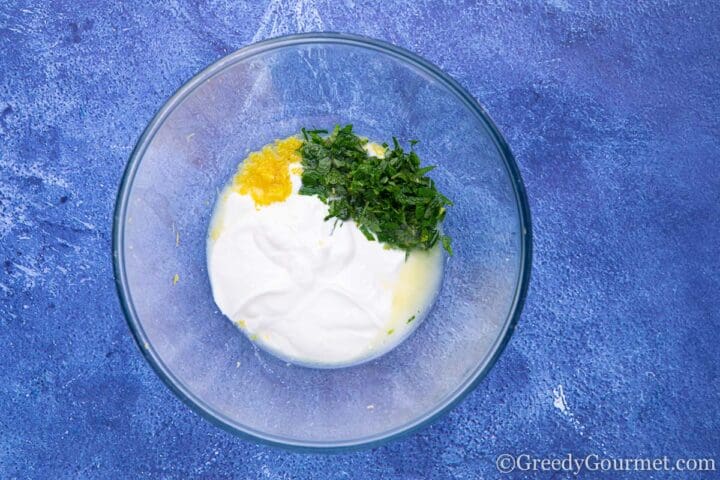 Should you peel cucumbers for a salad?
I haven't peeled the cucumbers for this recipe. For me, it brings a little extra color to the ribbon salad. Cucumber that is peeled loses some nutrients, so there's another reason for you.
Still… hey, if you're not a fan of cucumber skin, peel away!
How do you make cucumber ribbons?
By far the easiest way to make ribbons out of your cucumbers is to use a spiralizer. It will take less than a minute to make all the ribbons you need for this salad.
Cucumber ribbon is also great to use in place of pasta or noodles, especially if you're on a low-carb or keto diet.
If you don't have a spiralizer, do yourself a favor and get one. If you're thinking "no, I don't want one"... fair enough. You can use a vegetable peeler and get the same effect. It will take you longer and will be a lot more fiddly though.
How do you stop cucumber salad getting watery?
Cucumbers contain a lot of water. In fact, with a water content of around 96%, they contain more water than any other food.
So, when added to a salad, they can have the unintended effect of making the salad very watery.
The best way to prevent this is to sprinkle them with salt, then leave them to stand in a bowl for 30 minutes. The salt draws the water out of the cucumber.
Then, once you've drained the cucumbers, you can assemble your salad, free from worrying about it turning into a soggy mess.
What's the best cucumber to use in a salad?
Believe it or not, there are actually quite a few different varieties of cucumber. They can all be broken down into three distinct categories: pickling, slicing and specialty cucumbers.
For this salad, we want a slicing cucumber. Some of the most popular types include diva cucumbers, sweet success cucumbers and straight eight cucumbers.
The best when it comes to salads are English cucumbers. They are long and straight with a particularly thin skin. This makes them perfect for slicing and throwing into salads with the skin still on.
They also have a sweeter flavor than most other cucumbers and their seeds are far smaller than the standard type. This means they don't need to be deseeded before eating.
What herbs and spices go well with cucumber?
One of the great things about cucumber is just how many flavors it complements. As it's a fairly neutral flavor, it sits well with flavors that are a little more intense.
In terms of spices, coriander, cumin, dried chili, turmeric and fenugreek all go well with cucumber. On the herb side of things, basil, chervil, dill, mint, oregano, parsley, sage, tarragon and thyme are all a great match.
What can I use in place of pecan nuts?
If pecan nuts aren't your nut of choice, there's plenty of opportunity to play around. The idea is to bring a crunch to the cucumber ribbon salad, so really anything will do, as long as it doesn't overpower the other flavors.
Pine nuts, macadamia nuts and walnuts would work well. You could also plump for seeds, such as sesame seeds, to get that desired crunch.
Should you serve this salad straight away?
Yes, I recommend that you dive straight in! You can keep it in the fridge for up to 4 hours, but after that time it's going to start to get soggy and won't be very appetizing.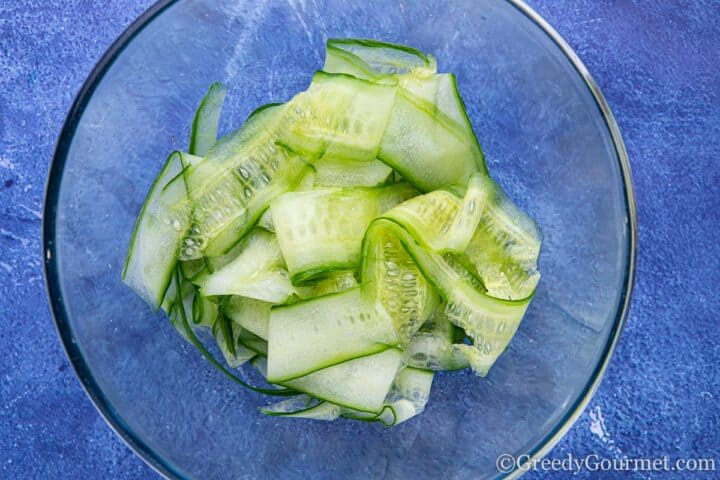 What to serve with this cucumber ribbon salad
Yes, it's delicious on its own when served as a light lunch or a starter. You can, however, serve it up as a great side dish for any of the following: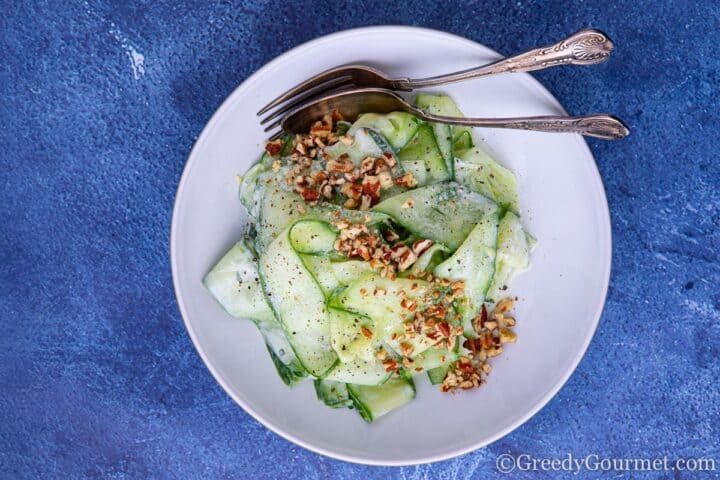 More deliciously refreshing cucumber recipes
After you've mastered this cucumber ribbon salad, check out some of these cucumber recipes:
Print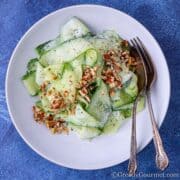 Cucumber Ribbon Salad Recipe
---
Description
Perfect for summer, this cucumber ribbon salad is tasty and refreshing. This easy to make salad is great for vegan and keto diets. Serve as a starter or side dish
---
2

cucumbers, washed and shaved into ribbons

6

g

(1 tsp) salt

250

ml

(1 cup) Greek yogurt

1

lemon, juice and zest

10

g

(1/2 cup) fresh mint leaves, finely chopped

30

g

(1/4 cup) pecan nuts, chopped
salt and pepper
---
Instructions
Place the cucumber ribbons in a bowl and sprinkle them with salt. Leave to stand in a bowl for 30 minutes.
Meanwhile, mix the yogurt with the lemon juice, zest and mint, then season to taste.
Rinse the ribbons and pat dry with a kitchen paper towel. 
Place the ribbons in a large salad bowl and drizzle with the yogurt dressing. 
Sprinkle with pecan nuts and serve immediately. Enjoy!
Notes
You can peel the cucumbers first, if you prefer. I tend to keep the skins on for a splash of colour and the added nutrients.
The pecan nuts can easily be swapped with your own preferred crunch. Try pine nuts, walnuts and sesame seeds.
If you find that you have a lot of cucumber left-over, don't let it go to waste! Check out my guide on freezing cucumber.
Prep Time:

10 minutes

Cook Time:

0 minutes

Category:

Side Dish

Method:

No Cook

Cuisine:

American
Keywords: cucumber ribbon salad, cucumber recipe, cucumber salad recipe, vegetarian salad, keto salad, keto cucumber recipe