Going on a mid-summer detox plan? Detoxing doesn't necessarily mean drinking vegetable and fruit smoothies all day long. Been there, done that!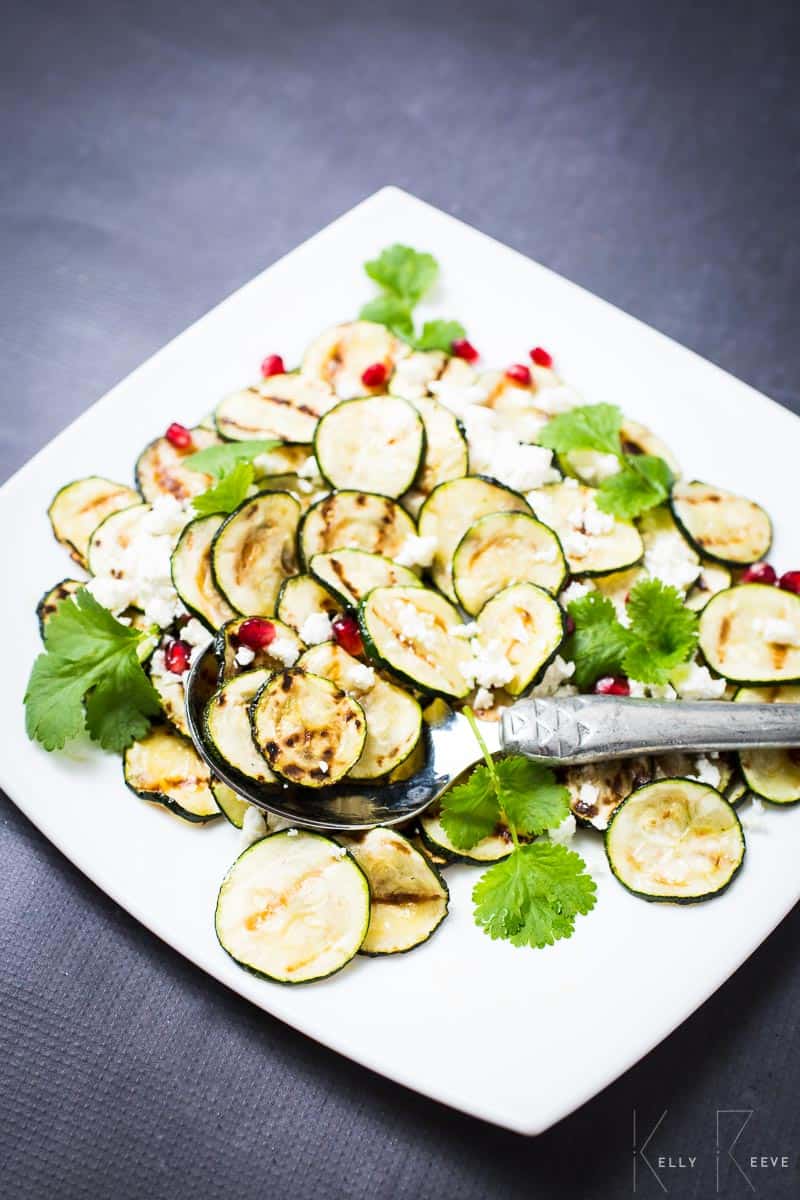 Let me tell you, it takes a lot of self-control and it's not easy to keep it going for a long period of time. Still, detoxing can imply ridding your intestines from elements such as gluten and other food intolerances.
Therefore, this grilled courgette salad with feta and pomegranate is an excellent a superb choice for those who are especially going for the 7-day gluten-free challenge.
You can read more about this challenge in my gluten free Spaghetti Bolognese. This clever light salad might help you achieve those summer goals while keeping your digestion system intact!
basics first
Since courgette is the hero of this salad, I believe it should be cut perfectly. Remember guys, presentation is everything and it can make or break a dish.
Therefore, I advise you to make your raw courgette slices as uniform as possible. Determining the thickness of slice is entirely up to you. However, since the recipe calls for grilling the actual courgettes, 1cm (1/2in) slices should do the trick.
With this thickness, you can achieve softness and a slight crunch at the same time. If you cut them too thin, they can become soggy really easily.
If you want to make your dish more modern, you can also cut your courgettes into long strips. I prefer these being cut a little thinner.
Once grilled, they become these beautiful delicate strips that I adore eating in any meal. Lastly, if you really feel creative and artsy, you can also roll up the long strips. It seems like a lot of people are doing this presentation technique nowadays.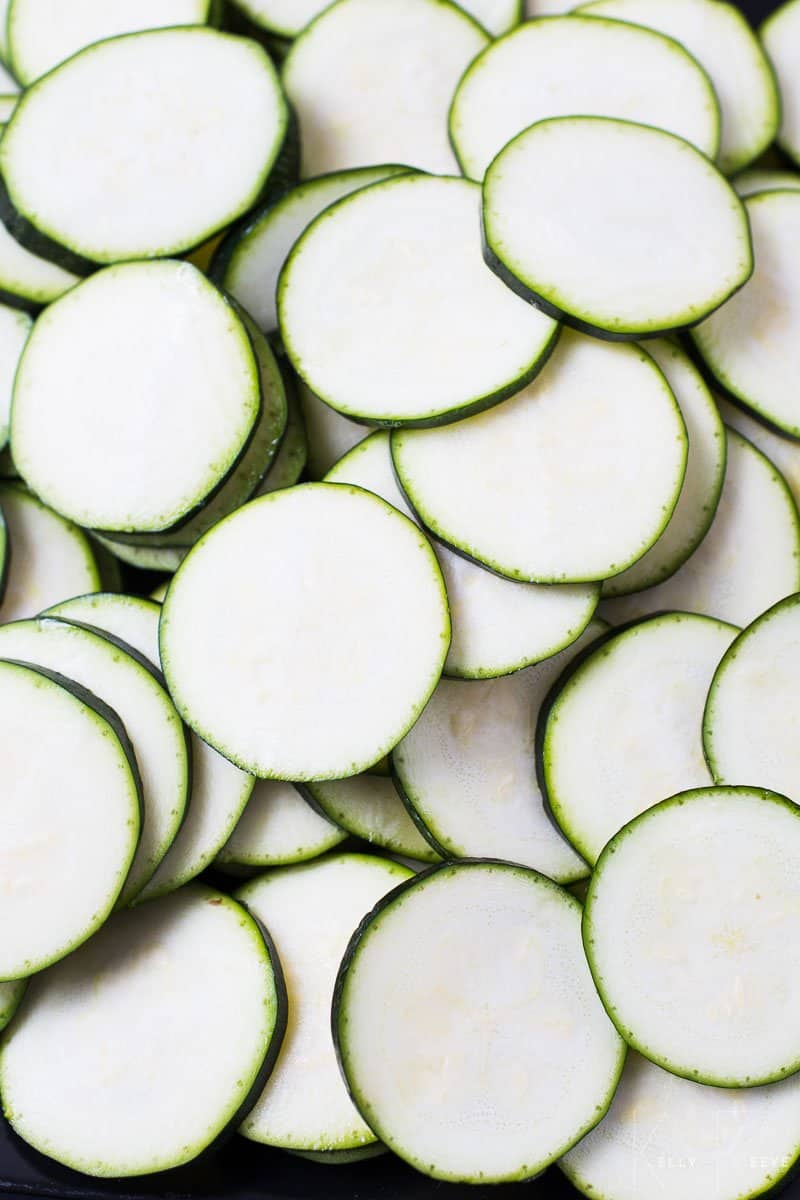 courgetti anyone?
Instead of serving larger slices for the grilled courgette salad with feta and pomegranate, you can also try making courgetti. Courgetti is a great way to substitute pasta.
Just yesterday, I made them for the creamy curried courgetti noodles recipe. This was exceptional and I didn't crave any rice noodles or pasta.
You can also use courgetti in this salad. The only thing is, that you will not be able to grill them, so just pan fry with some olive oil.
the perfect grill marks
Assuming you've got the traditional grill at home, here's a handy trick. Make sure you prepare larger batches of courgette slices.
This will speed up the grilling process and you can save a good minute or two. Essentially, grill marks are the essence of perfectly grilled courgettes.
Leave them long enough on the grill, so they get caramelised. They will have a sweet and smoky taste, adding complexity and flavour to this salad. Who said healthy meals are boring and flavourless?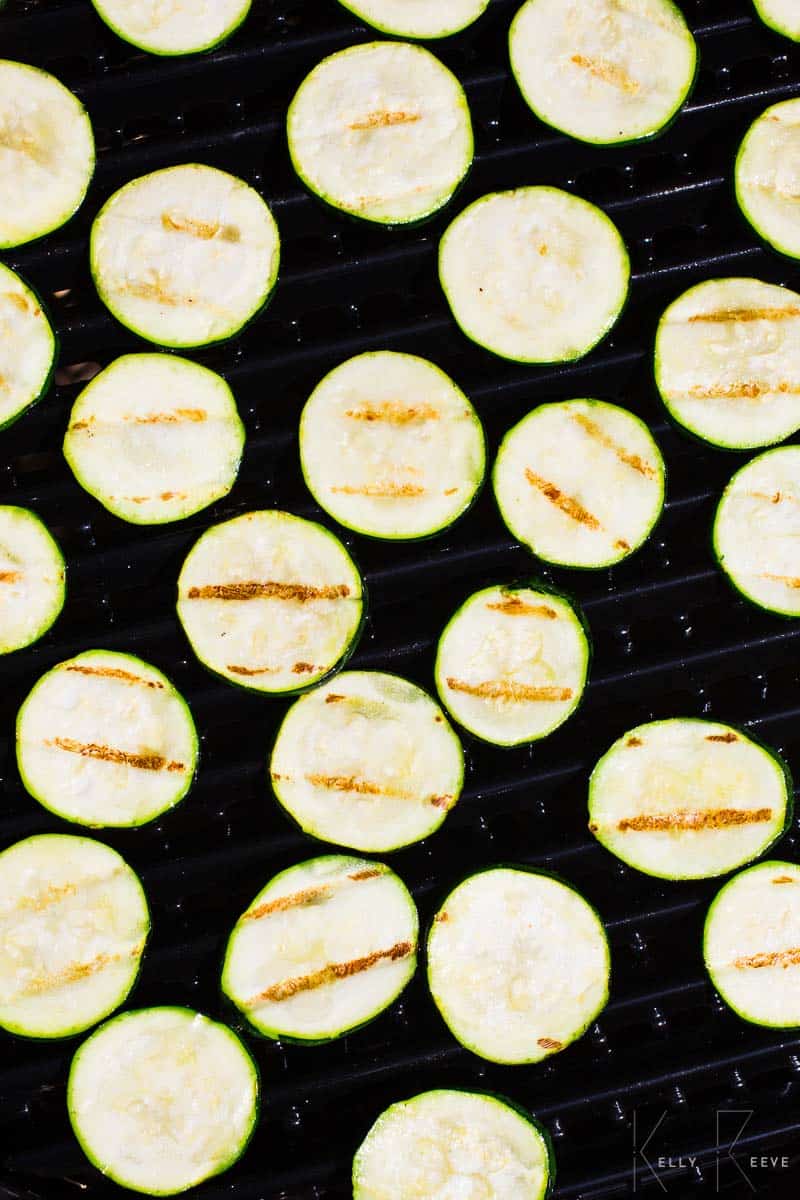 feta
Feta is an excellent source of nutrition. In addition, I love the salty taste it gives. Generally made from sheep's milk, it's a much healthier option than other cheeses made from cow's milk.
I like to crumble the feta in a small plastic bag or inside its wrapper. This way, more bits are spread evenly across the grilled courgette salad.
A good substitute to feta can be goat's cheese or the less popular blue cheese. Both work very well with the pomegranate. In general, I prefer using the feta for this salad.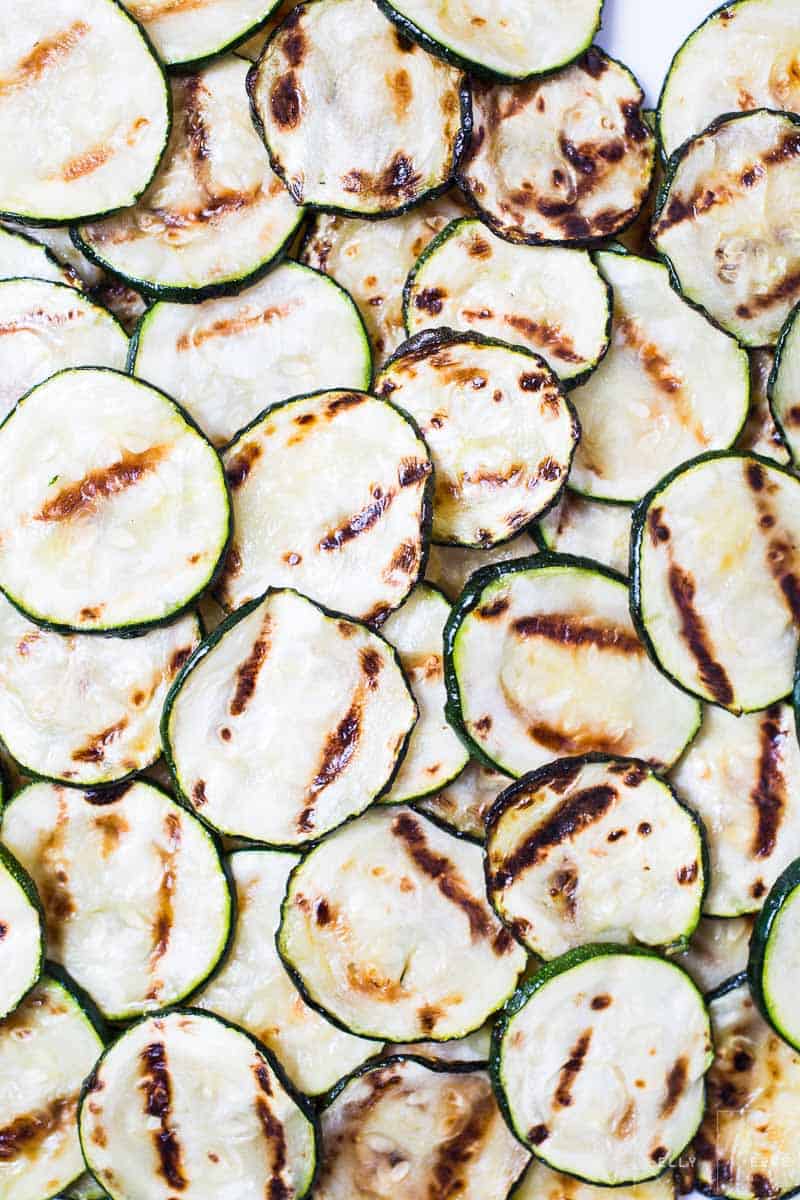 pomegranate
Is the thought of pomegranate juice splattering you everywhere putting you off? Pomegranate is a tricky fruit to clean.
There was a time, I didn't even consider buying this amazing fruit because of the mess it creates in the kitchen. Luckily, a friend of mine gave me great advice.
Simple take a bowl and fill it up with water. Once its full, cut the pomegranate open inside the water and the seeds will be pop out.
Help the seeds by gently cracking some areas of the pomegranate open. You'll see, this is the best way how to avoid that mess of spraying pomegranate juice everywhere.
toppings
This courgette salad works wonders with coriander. Remember, coriander is really aromatic and you just need to add a little bit for taste. Fresh parsley works really well but if you have neither you can resort to basil.
other ideas
Toss in a bit of rocket salad, drizzle a dash of high quality olive oil and add a few halved cherry tomatoes. You'll have one heck of a salad, which will rock your world with those delicious Mediterranean flavours.
You can also take a slight Greek approach and add olives, whether it be black or green. If you are not a huge fan of olives, why not make the dish even healthier and cut up some beautiful avocado.
substitute to courgette
Instead of making a courgette salad, why not use beetroot instead of the courgette? Grilled beetroot has those gorgeous sweet and earthy flavours.
Similarly, you can also cut up some carrots and grill them. Sprinkle some coriander powder over the carrots and enjoy.
Toss in more leaves and make it a nice leafy salad. Finally, you can also serve this salad as a side to meaty dishes such as the spicy smoked ribs.
If you have overgrown courgettes in the garden, you simply have to check out this roast marrow recipe!
More side dish recipes
Print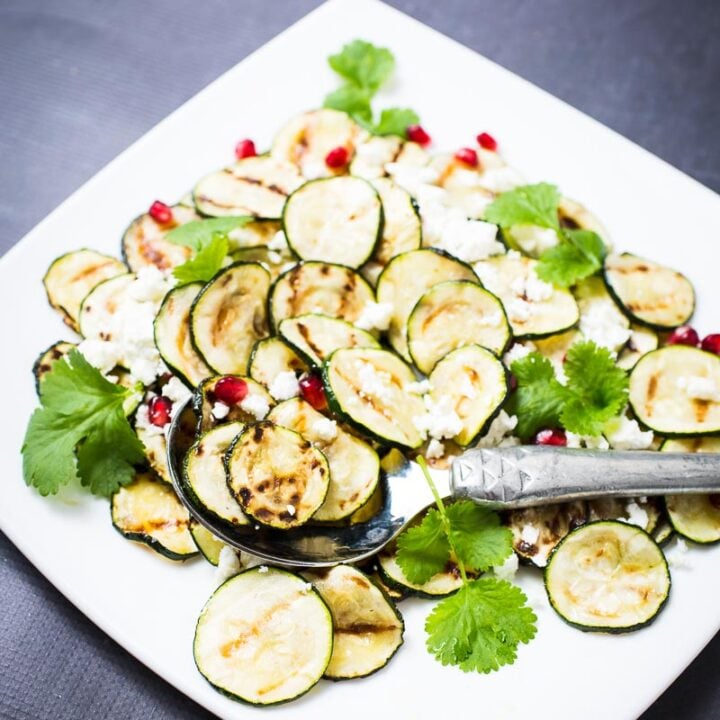 Grilled Courgette Salad with Feta and Pomegranate
---
Description
This grilled courgette salad remains a family favourite year after year when we enjoy scorching summer days. It makes for the perfect BBQ courgette recipe!
---
4

courgettes, washed and sliced into thin rounds

30

ml (2 tbsp) olive oil
Salt and pepper, to taste

100g

(

3oz

) feta cheese, crumbled

1

pomegranate, just the seeds

15g

(

½oz

) fresh coriander leaves, washed and finely sliced
---
Instructions
In a large bowl, mix the oil and courgette slices together until all areas of the vegetables are covered in oil.
Season the courgettes to taste.
Place the slices in a single layer on the barbecue and grill on both sides. This will take about 5 minutes, depending on how cooked you like your courgettes. This will most likely be needed to be done in batches.
Place all the courgettes in a salad bowl and sprinkle with feta, pomegranate and coriander. Serve immediately.
Notes
Alternatively, you can cut the courgettes in long strips.
Prep Time:

10 minutes

Cook Time:

30 minutes

Category:

Salad

Method:

Grill

Cuisine:

Lebanese
Nutrition
Serving Size:

1 serving

Calories:

184

Sugar:

9.7 g

Sodium:

300 mg

Fat:

12.8 g

Saturated Fat:

4.8 g

Carbohydrates:

14.3 g

Fiber:

2.5 g

Protein:

6.3 g

Cholesterol:

22 mg
Keywords: courgette salad recipes, zucchini salad recipe, grilled courgette salad, bbq courgette recipes
save the recipe to your pinterest board

A special thanks to Kelly Reeve for assisting with the recipe shoot.