A quick and easy, simple couscous salad with a sweet and sour pomegranate twist. A perfectly refreshing dish for hot and humid days.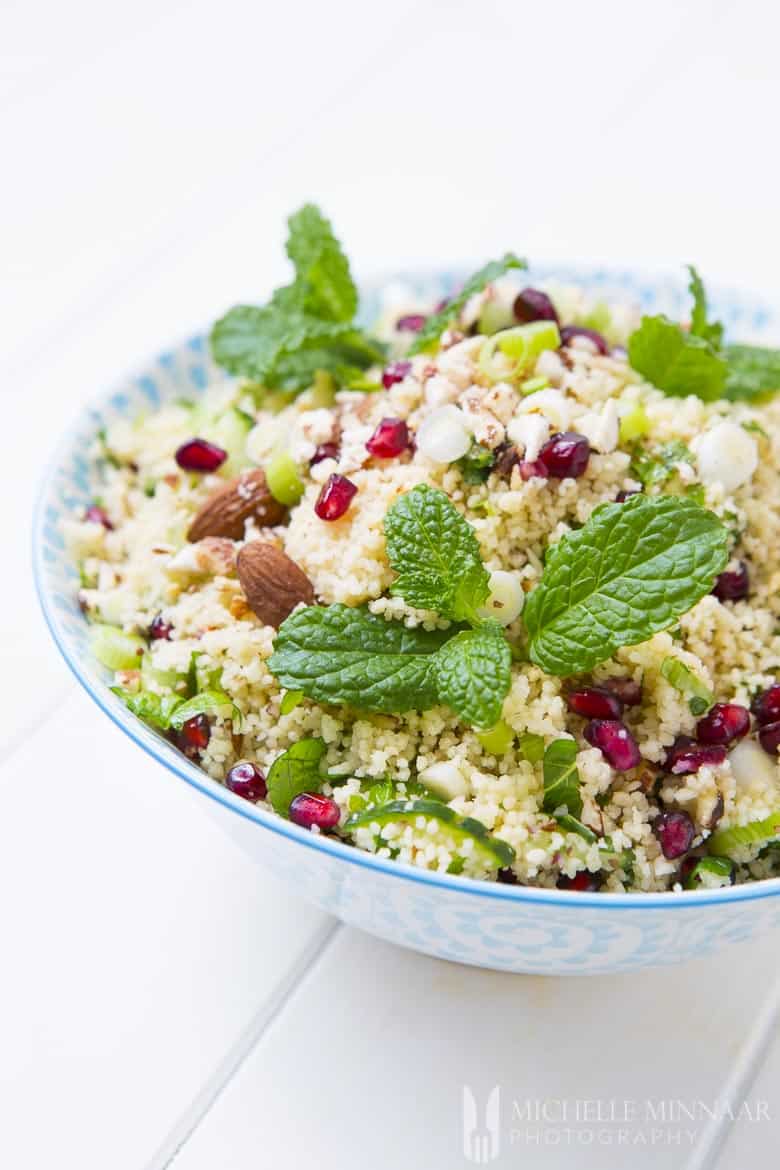 It is hard to imagine but a few years back almost no one knew what Couscous was in the western world. Now this ingredient is taking over the "health world" and making an appearance in the newest recipes. Some consider couscous a super grain, however, there is a continuous debate on the actual identification of this food group. Is it a grain, pasta or rice? I would like to think of it as a manipulated grain.
In the western world, couscous has gained popularity due to the influence and spread of Middle Eastern and Mediterranean cooking plus we have now been exposed to the innumerable health benefits this tiny grain has.
What is Couscous?
Couscous is a dish made from tiny granules of durum wheat (semolina). Durum wheat is ground into semolina flour to make pasta hence the close relationship of couscous to pasta. The couscous grains are steamed until they reach a light fluffy consistency and are ready to eat.
Originally couscous was made from millet. There has been controversy among historians as to the exact date when wheat started replacing millet in couscous. This conversion seems to have started early in the 20th century.
The rural traditional making of couscous is a group effort when several women join together and make batches over a few days.
"Couscous is made from two different sizes of the husked and crushed, but unground, semolina of hard wheat using water to bind them. Semolina is the hard part of the grain of hard wheat ………that resisted the grinding of the relatively primitive medieval millstone. When hard wheat is ground, ……….the floury part of the grain—is cracked into its two parts, the surrounding aleurone with its proteins and mineral salts and the central floury mass, also called the endosperm, which contains the gluten protein that gives hard wheat its unique properties for making couscous and pasta."
"The original "from scratch" process involves rubbing and rolling together large grains of hard wheat semolina with finer grains of semolina sprayed with salted water to raise the humidity of the semolina so the two sizes affix to each other to form couscous, the large grain serving as a kind of nucleus for the smaller grains."
"The couscous is then sieved in three stages through sieves with progressively smaller holes. It is sieved numerous times to form a uniform grain. The couscous is then left for four or five days to dry in the sun on a white sheet with occasional light sprays of water. It must be completely dry before storing."
2001, Clifford A. Wright
"What is couscous and how does one prepare it", Winner of the James Beard/ KitchenAid Cookbook of the Year 2000 and Winner of the Beard Award for the Best Writing on Food 2000.
Once these batches are dried, they are stored and used for many months after that by the families of the women who made it.
Couscous is now manufactured and developed en masse as instant couscous, where the couscous is pre-steamed, dried, packaged and sold in retail outlets. The preparation time of instant couscous is much shorter than the normal preparation process. We are definitely spoilt by technology and the advances made in food preparation.
The History of Couscous
"One of the first written references to couscous is in the anonymous thirteenth-century Hispano-Muslim cookery book "Kitāb al-ṭabīkh fī al-Maghrib wa'l-Āndalus." There one finds a recipe from Marrakesh, "alcuzcuz fitīyānī", a couscous made for the young and described as "known all over the world." The fact that the name is given with the Arabic article al- is a flag to the linguist that the original couscous preparation probably was not an Arab dish, but a Berber dish…"
2001, Clifford A. Wright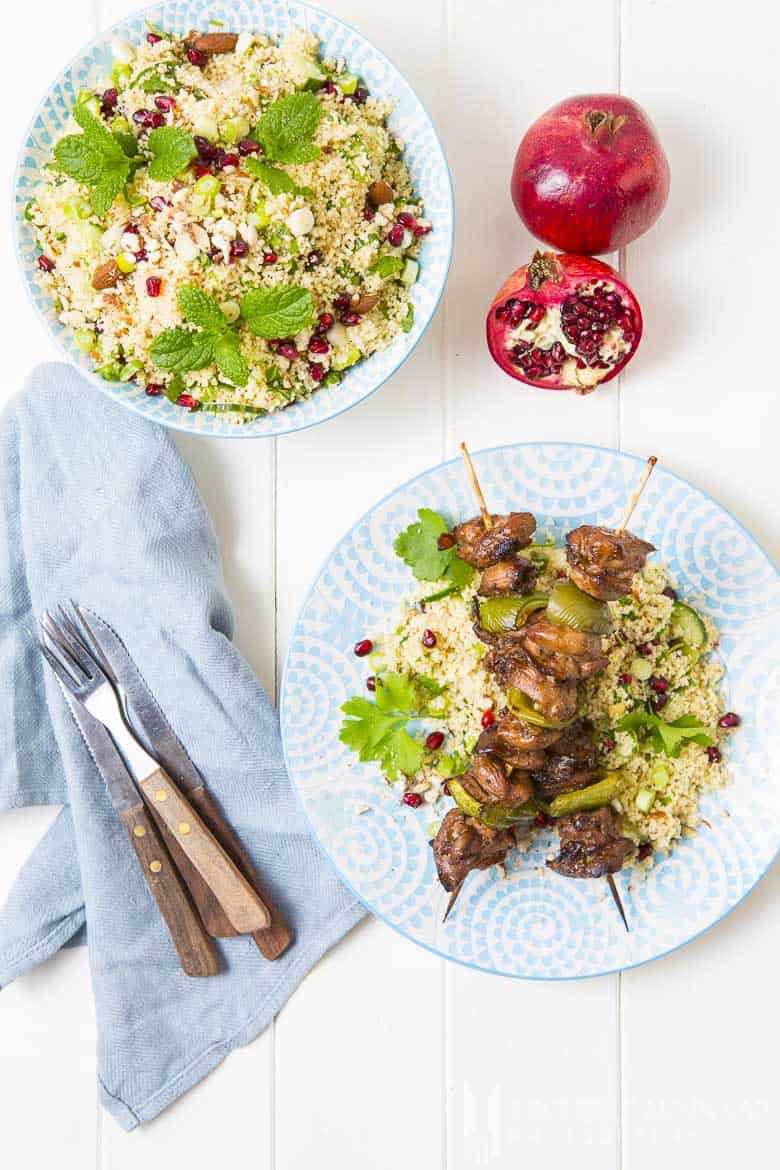 Couscous originates from North Africa the Maghreb region; mostly parts of Algeria, Morocco, and Tunisia before being adopted by other countries in and near North Africa then spreading into the eastern Arabic regions. It is thought that people started preparing it as early as 238 to 149 B.C. Discovery of the cooking tool used to prepare couscous, in the Algerian Tiaret region, dates back to the start of the 9th century.There is evidence of couscous being used towards the end of the Zirid dynasty and during the rise of the Almohadian dynasty between the 11th and 13th centuries. The earliest European reference to couscous is in a letter from Brittany; France; dated January 1699.
"This claim for the African origins of couscous was originally proposed by Professor É. Lévi-Provençal, in his monumental Histoire de l'Espagne Musulmane and is suggested in the early Arabic sources on West Africa."
2001, Clifford A. Wright
Staple Food for African and Arabic communities
Couscous is a staple ingredient and nutritional necessity for north African and Arabic cultures. It is eaten every day in some cases at every meal time. The Middle Eastern Couscous varies in names and pronunciations depending on the geographic location.
Nutritional Benefits
According to the nutritional database:
As a low-fat, low-carb, food group couscous is definitely the ideal replacement for processed starches in our current diets. It is a good source of lean protein which is critical for the maintenance of body mass. It has a high fibre content which aids in digestion thus preventing constipation. Couscous is a good source of the B-vitamins that maintain the good functioning of the nervous system and the minerals needed for sufficient absorption of these B-vitamins. The mineral levels vary within the couscous grains; for example, 61% of the daily recommended intake contains selenium which provides reproductive health and protein synthesis. One cup of Couscous contains 200 calories, 12% Protein, 87% starch and 1% fat.
Apart from its long cultural heritage, couscous is a top rated health food these days.
Couscous Cuisines around the World.
Just like rice, bread or pasta, couscous is an inexpensive food with a high nutritional value. It can be stored for long periods of time and the preparation is fairly basic. It is utilised in everyday meals and mixed with legumes, fruit, fish and meat. Couscous can be eaten as a side dish, salad or dessert. It is enjoyed in place of rice or quinoa.
Throughout the world, there are different couscous cuisines and it's prepared according to the specific preferences of that region. It is eaten with almost anything and everything, whether it be fish, meat, vegetables or fruit, in some regions it is even eaten with camel meat.
In Tunisia, the couscous is served with chicken and vegetables cooked in spices. Tunisians eat couscous regularly either with fish, octopus, squid or other seafood in a hot spicy sauce referred to as harissa. If you like hot spicy condiments and haven't tried harissa yet, you must not wait a moment longer, it is absolutely wondrous!
In Algeria, couscous is eaten with vegetables and there are different variations from the Tunisian couscous. Couscous is served at the end of a meal as "seffa", a type of dessert, made by steaming the couscous till it becomes fluffy and pale in colour and is served with milk or buttermilk.
In Latin America, the couscous is served with sugar and milk, cheese and eggs or pretty much any other ingredients you wish to pair it with.
In Israel, it is typically served on special occasions and holidays. Egyptian cuisines use it as a dessert mixing it with nuts, cinnamon, whipped cream and raisins. Other dessert options are dates, sesame seeds, pure honey, butter and sugar, again topped with thick fresh cream. Indulgently scrumptious!
I absolutely love this Pomegranate Couscous Salad, refreshingly light but filled with wholesome goodness. It leaves me feeling full but not lethargic and the taste is out of this world. I pair it with the main meal of Pomegranate and Cumin Chicken Skewers.
Print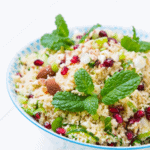 Pomegranate Couscous Salad
---
200

g

(7oz) couscous

400

ml

(2/3pt) vegetable stock

1

pomegranate, seeds only

1

cucumber, sliced

125

ml

(1/2 cup) fresh mint, chopped

125

ml

(1/2 cup) fresh flat leaf parsley, chopped

60

ml

(4tbsp) extra virgin olive oil

1

lemon, juiced

60

g

(2oz) chopped almonds
---
Instructions
Tip couscous into a large bowl and pour over the stock.
Cover with clingfilm then leave for 10 mins, until fluffy and all the stock has been absorbed.
Stir in the pomegranate seeds, cucumber, mint, parsley, oil and lemon juice.
Sprinkle with nuts and serve immediately.
Notes
This couscous salad is ideal as a side dish. As a main course, feta cheese or cooked chicken can be added.
Prep Time:

15 minutes

Cook Time:

10 minutes

Category:

Side Dish

Cuisine:

Lebanese
Nutrition
Serving Size:

1 serving

Calories:

303

Sugar:

9.8 g

Sodium:

125 mg

Fat:

21.6 g

Saturated Fat:

2.9 g

Carbohydrates:

25.4 g

Fiber:

2.9 g

Protein:

5.5 g
save the recipe to your pinterest board