This shaved Brussels sprouts salad is the perfect combination of sweet, tart, and crunchy. From the zing of Dijon mustard and the sweetness of the honey to the pleasing crunchiness of the sprouts and apples, it's a salad that has it all!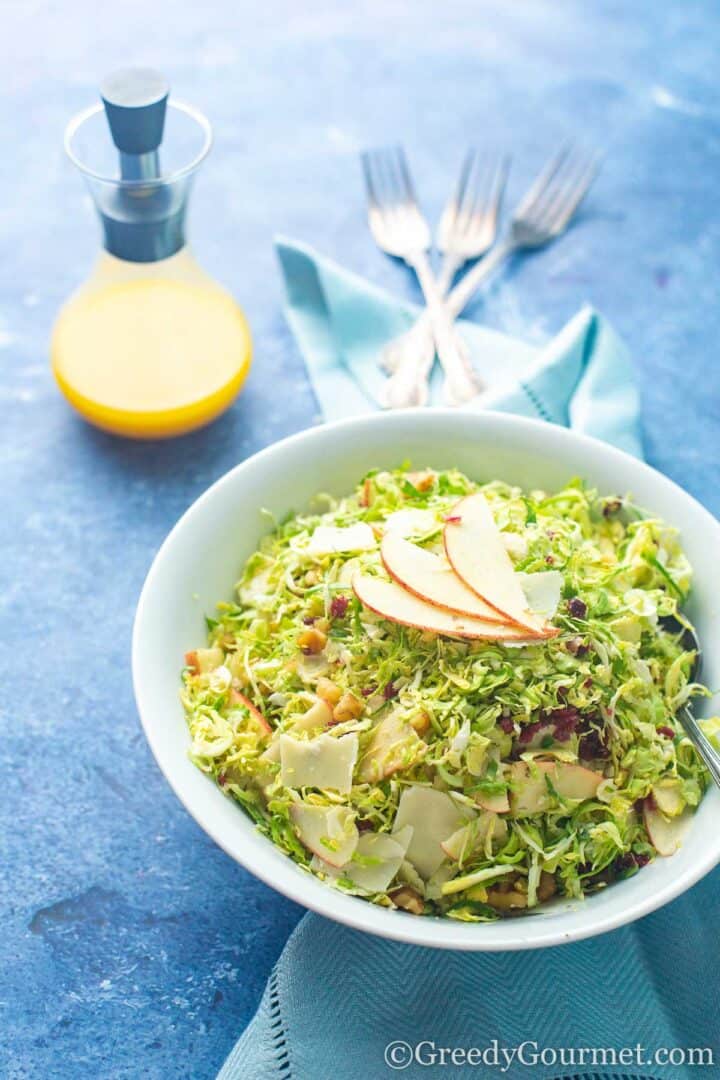 Plus, it's a cinch to prepare, making it perfect for serving up a quick lunch or as a hearty side at Thanksgiving or Christmas.
So, let's find out how to make this sumptuous salad!
Why you'll love this Brussels sprout salad recipe
Big on flavor, low on prep, it's the perfect Thanksgiving or Christmas side dish
It's gluten-free, low carb and vegan
You can make it in advance
Very adaptable – add extra ingredients to suit your personal tastes
There are only five ingredients for the salad and five for the dressing. That's it!
Equipment you'll need for this recipe
There are a few important items you'll need to make this shaved Brussels sprouts recipe: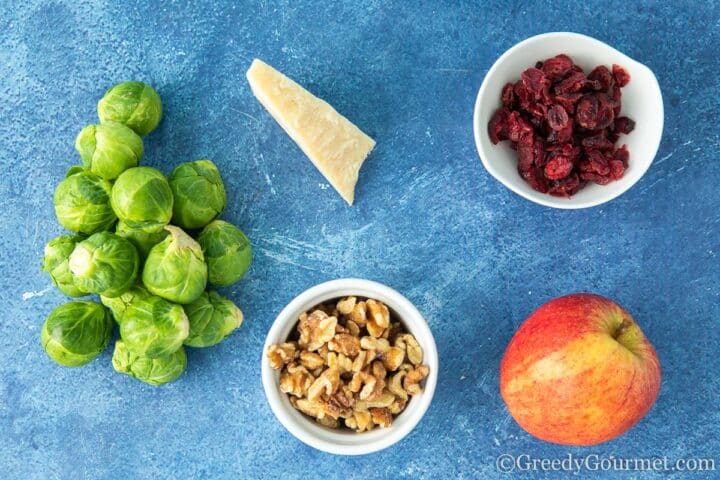 What to serve with a Shaved Brussels Sprouts Salad
Roast
For me, the perfect way to serve this Brussels sprouts salad is with a roast. It could be a Thanksgiving dinner, a Christmas Day feast, or a sensational Sunday lunch. Either way, this recipe fits the bill.
What makes it an ideal side for a big hearty roast because it's easy to prepare and light. We know all about the typical sides for a roast dinner – the potatoes, the roast vegetables, the gravy, and all that lovely stuff.
Well, this salad brings a much-needed refreshing lightness to the plate. It adds a beautiful, sweet, crunchy zing... allowing all the other ingredients on the plate to shine.
Chicken breasts
An ideal pairing with this salad, chicken breasts are quick and easy. Take it to the next level and make these delicious smoked chicken breasts. The flavor is out of this world!
Cheeseboard
Pair this sumptuous salad with a selection of your favorite cheeses.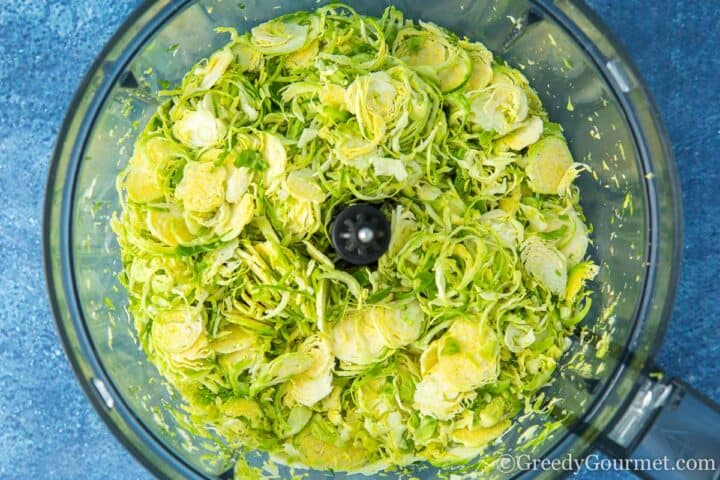 Variations to this recipe
If you're not a fan of raw Brussels sprouts, you can shred them, then sautée them in a bit of oil and butter for a few minutes. Allow them to cool, then mix your salad ingredients.
Add cooked chicken to this Brussel sprouts salad for a fuller, more protein-rich salad.
You can add seeds to this shaved Brussels sprout salad. I recommend pumpkin seeds or sunflower seeds.
Crumble some feta cheese over your shredded sprout salad for a rich taste.
Add smashed avocado for a creamier taste and texture.
If you're a garlic fiend, why not throw some crushed garlic into the mix?
Add bacon bits for a hit of salty, meaty flavor.
Add a squeeze of fresh lemon juice for an extra bit of acidity.
Take the dressing one step further and make your own honey and mustard salad dressing.
Top Tip
The components of this salad – like slicing the sprouts, making the dressing, and toasting the walnuts – can be done in advance.
Popular substitutions
If you're not a fan of sprouts, fear not! This recipe works perfectly well with the equivalent weight of raw broccoli.
You can get honey dijon mustard, which negates the need to add honey separately.
You could also replace the Dijon mustard with any other kind, including American, English, or whole-grain mustard.
You can use a different type of vinegar. I've gone for apple cider vinegar, which complements the other flavors in the salad. Other types, such as balsamic vinegar, will work well in this Brussels sprouts salad.
Replace the honey with maple syrup if you prefer the flavor.
You can replace the dried cranberries with any dried fruit. You could even add pomegranate arils for an extra refreshing fruity flavor.
You can replace the extra-virgin olive oil with grapeseed oil or walnut oil.
Top Tip
If you're short on time, shred the Brussels sprouts in a food processor. You can have them ready in seconds.
How do you shave Brussels sprouts?
You can shred brussels sprouts using a food processor or manually, using a sharp knife.
Shaving Brussels sprouts using a food processor
After thoroughly washing them, cut the end of the Brussels sprouts and remove any outer leaves that look dirty or damaged. Then place them in your food processor and shred them using the shredder attachment.
Shaving Brussels sprouts using a knife
Again, wash the sprouts and remove any blemished outer leaves. Then, using a sharp chef's knife (a blunt knife can be dangerous, as you have less control), cut each sprout in half.
With the flat side of the sprouts halves facing downwards, slice the sprouts. It may take a while when compared to shaving Brussels sprouts in a food processor, but you'll end up with a coarser shaved Brussels sprouts salad, which some people prefer.
Shaving Brussels sprouts using a mandolin
Not as tedious as using a knife, yet you get nice chunky uniform slices, which is not always the case when using a food processor, using a mandolin to shave Brussels sprouts is a good option. Again, you'll need to wash and trim the sprouts, before adding one sprout at a time to the mandolin.
If you use a mandolin to shave your sprouts, you can also use it to slice your apples. It's not for everyone, as it can be a little time consuming, but if you want a beautiful looking salad, this could be the way to go.
Can you buy pre shredded Brussels sprouts?
Yes. You can get shaved Brussels sprouts at most good supermarkets and food stores. I always prefer to use fresh ingredients, but if you haven't got the time and don't have a food processor, you can use pre-shaved sprouts.
Can you eat shaved raw Brussels sprouts?
Yes. This shaved Brussel sprout salad uses raw sprouts. It makes sense when you think about it – sprouts are like mini cabbages, and you can use raw cabbage in coleslaw and some salads. So, why not use raw Brussel sprouts in a salad?
What do raw Brussel sprouts taste like?
For most people, raw Brussel sprouts have a mellow nuttiness and a slight bitterness that's quite pleasant. It's that earthy vegetable flavor that you get from raw green vegetables – if you're a fan, this salad is for you.
Also, the hint of bitterness works really well when balanced with the other flavors in this salad – the oil, the tang of the mustard, the sweetness of the honey and the refreshing, crisp fruity apple taste.
However, for some with certain taste buds, Brussels sprouts are just too much. There's actually some science behind this, and apparently, some people have a gene that means they can taste a certain chemical in sprouts.
I'm guessing you're not one of these people, or you wouldn't be here!
What apples are best for a salad?
The best types of apples for salads are crunchy. Honeycrisp, Pink Lady, Braeburn, Fuji, Jazz, and Envy are great for this salad.
I also like Opal, Empire, and Gala apples, as they don't brown. This means they blend into the salad quite well, even after you've left it in the fridge for some time.
Can I prepare elements of this salad ahead of time?
Absolutely! If you're using Opal, Empire, or Gala apples, you can slice them beforehand, as they don't brown very quickly.
The same with the sprouts – they can be shaved ahead of time and stored in the fridge until you're ready to assemble the salad.
You can also make the dressing the day before.
Finally, you can toast your walnuts ahead of time. They are quick and easy to toast, and will make your salad taste incredible!
More sensational salad recipes
Don't stop at this salad recipe. There are so many ways to get creative with a salad. Here are some of my favorite salad recipes to inspire you:
Print
Shaved Brussels Sprouts Salad
---
Author:

Michelle Minnaar

Total Time:

25 minutes

Yield:

6

portions

1

x

Diet:

Gluten Free
Description
Elevate your salads with this Shaved Brussels Sprouts Salad recipe. Fresh, crunchy, and bursting with flavors - a healthy and delicious choice!
---
For the Salad:
680

grams

Brussels sprouts

60

grams

chopped walnuts

2

medium-sized crisp apples (about

400 grams

)

60

grams

dried cranberries

60

grams

freshly grated Parmesan cheese
For the Dressing:
60

milliliters

extra-virgin olive oil

30

milliliters

apple cider vinegar

15

milliliters

Dijon mustard

15

milliliters

honey
Salt and freshly ground black pepper to taste
---
Instructions
Prepare the Brussels Sprouts: Trim the ends of the Brussels sprouts, remove any wilted outer leaves, and wash them thoroughly. Shred them using a food processor or a sharp knife.
Prepare the Dressing: In a small bowl, whisk together the olive oil, apple cider vinegar, Dijon mustard, honey, salt, and black pepper. Taste and adjust the seasoning if necessary. Set the dressing aside.
Toast the Walnuts: Toast the chopped walnuts in a dry skillet over medium-low heat until fragrant and lightly browned, stirring frequently. Remove from heat and set aside to cool.
Assemble the Salad: In a large salad bowl, combine the shredded Brussels sprouts, sliced apples, dried cranberries, and toasted walnuts. Please make sure to toss everything together gently to distribute the ingredients evenly.
Add the Dressing: Pour the prepared dressing over the salad and toss again until all the ingredients are well coated with the dressing.
Add Parmesan Cheese: Sprinkle the freshly grated Parmesan cheese over the top of the salad. You can toss it in with the salad or leave some for presentation.
Chill and Serve: Refrigerate the salad for at least 30 minutes before serving to allow the flavors to meld together. It can also be served immediately if you prefer it.
Notes
You can use a food processor with the shredding attachment or a sharp knife to shred the Brussels sprouts.
Toast the walnuts in a dry skillet over medium-low heat until fragrant and lightly browned, stirring frequently.
Prep Time:

20 minutes

Cook Time:

5 minutes

Category:

Side Dish

Method:

Shred

Cuisine:

American
Keywords: brussels sprouts salad, shaved brussels sprouts salad, shaved brussels sprouts salad with a mustard vinaigrette, shaved brussels sprouts salad with a lemon vinaigrette, how to shave brussels sprouts, shave brussels sprouts recipes, raw brussels sprouts salad, apple brussels sprouts salad, cold brussels sprouts salad