A tremendously easy, incredibly tasty sauce, fig sauce is the perfect addition to so many different dishes.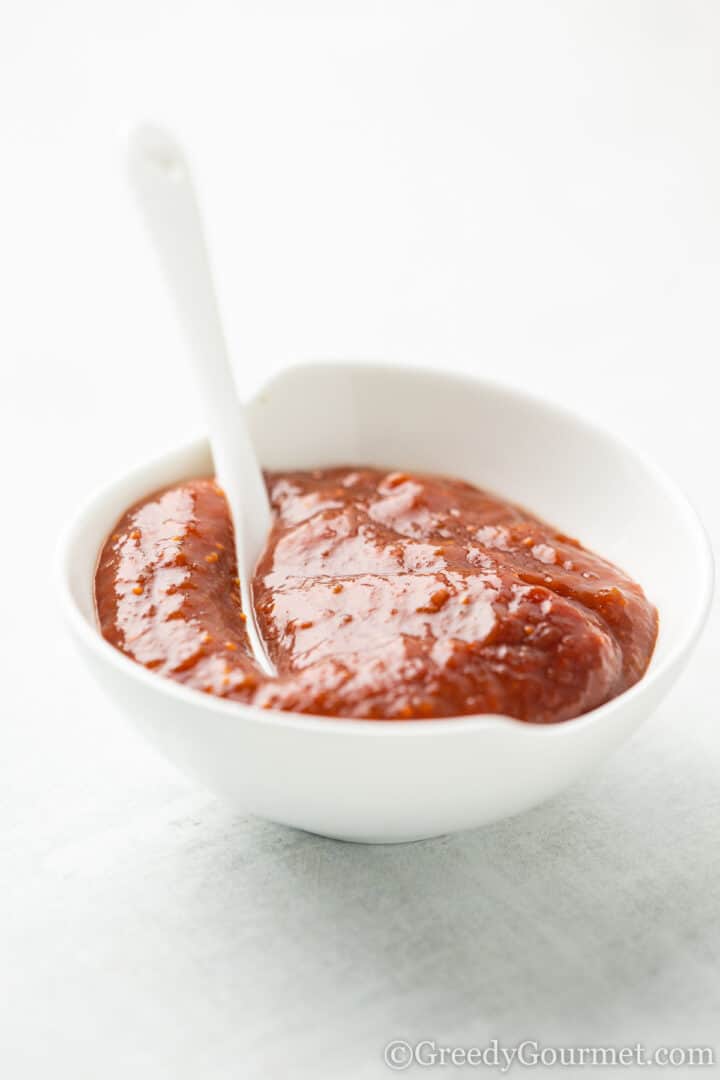 Sauces don't get much more versatile than this one. So, read on to find out how to make this taste bud tingling sauce!
Products you need for this recipe
There are a few important items you'll need for this recipe: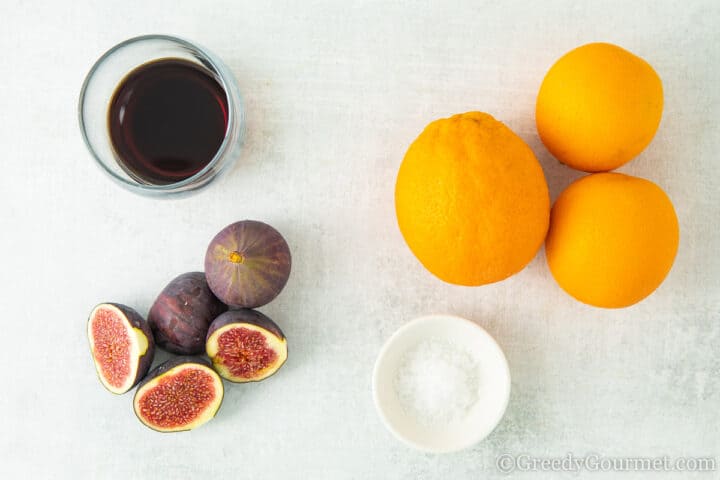 Fig sauce recipe
Homemade sauces taste so much better than the store bought kind, don't you think? This recipe is no exception – the figs mixed with the wonderfully tangy balsamic vinegar, not to mention the zesty orange juice. A match made in heaven!
It's so very easy to make – you'll wonder why you don't make homemade sauces all the time! Well, after perfecting this recipe, that's just what you'll be doing.
With a total cooking time of just over 20 minutes and only a few steps to follow, this recipe is super simple. It's just a case of quartering your sweet figs, adding them to the pan with orange juice, balsamic vinegar and salt, bring to a boil, then simmer on a medium heat for 20 minutes.
Then, when they've reached that sublime consistency – almost like a fig jam – you'll blend everything together to end up with a wonderfully smooth sauce.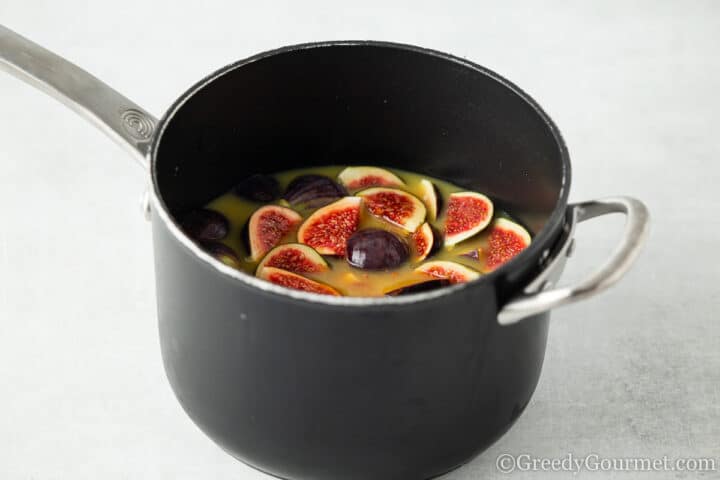 What does balsamic fig sauce taste like?
Sweet, rich and tangy, this glaze has got that kind of flavor that makes your taste buds explode. It's totally different to any flavor you get from store bought sauces – with no additives, only fresh ingredients, you really taste the difference.
When paired with a dish like pork tenderloin, it's like a party in your mouth! You can pair this versatile sauce with any number of healthy recipes – see below for more examples.
When is fig season?
There are two separate fig seasons during the year. The first is a small harvest in early summer and the second is a larger harvest in late summer to early autumn/fall.
The figs harvested in the second season tend to be sweet figs, sweeter than ones harvested in the first season. They also have thicker skins.
What's the best thing to do with lots of figs?
Make fig sauce! Cook this sauce and you'll realize just how handy it is. You can use it with so many different recipes and it tastes unbelievable.
You could also make fig jam or fig chutney, of course.
What are the different types of figs?
There are lots and lots of different types. Here are the most common types:
Black Mission
As you may have guessed from the name, these are black in color. Well, almost like a purple/black. Full of flavor, wonderfully sweet and very juicy, black mission figs are the most popular variety when it comes to dried figs.
Brown Turkey
These brownish figs are almost seedless and have a less intense sweetness than other figs. 
Adriatic
Pale green or yellow on the outside and pink on the inside, Adriatic figs are often called candy-striped figs or white figs. They are very sweet and absolutely delicious.
Calimyrna 
Larger than the average fig, these are nutty in flavor and lend well to being dried.
Kadota
A smooth flavor that's well balanced, this common yellow/green fig is very tasty.
Should I use fresh figs or dried figs?
You definitely want to use fresh figs with this recipe, as you'll be able to extract all the delicious juices into the mixture.
How do I pick fresh figs?
First of all, avoid large cracks in dry skin. Keep an eye out for soft, plump figs, with flesh that's almost squishy. Make sure the stem is still attached and slightly bent. Don't worry too much about minor bruises.
How do I store figs?
If you've bought a whole load of figs for this recipe and you want to store some for later, the best way to store them is in the refrigerator. Figs have quite a short lifespan, so you'll need to eat them within about 2 days.
Store them in a plastic bag in the coldest part of your refrigerator.
If you want to keep them for longer, you can also freeze figs. Lay them on a baking sheet and flash freeze for 1-2 hours. Then, place them in an airtight freezable container and store them for up to 8 months in the freezer.
How do I thicken fig sauce?
As you simmer the mixture in the pan, it will thicken naturally. It should take 20 minutes for the balsamic fig sauce to reduce by half. By this time, you will have a wonderful thick, jam-like consistency.
If, for some reason, you need to thicken the sauce, simply return it to the heat. Make sure you have it on a low heat, as the sauce will start to split when it becomes thick.
Do I need to use balsamic vinegar?
Yes! This balsamic fig sauce is all about that wonderful fruity tang of balsamic flavor.
I recommend you go for a high quality balsamic vinegar for your fig sauce. Quality really goes a long way with this recipe.
How do I store balsamic fig sauce?
Store this sauce in airtight containers and keep it in the refrigerator. It will keep fresh for up to 3 days.
You can also freeze your balsamic fig sauce. Simply store it in a large airtight container. Before using your sauce, be sure to fully defrost it in the refrigerator overnight.
Is fig sauce gluten free?
Yes, this fig sauce is 100% gluten free! There are only four ingredients and no additives.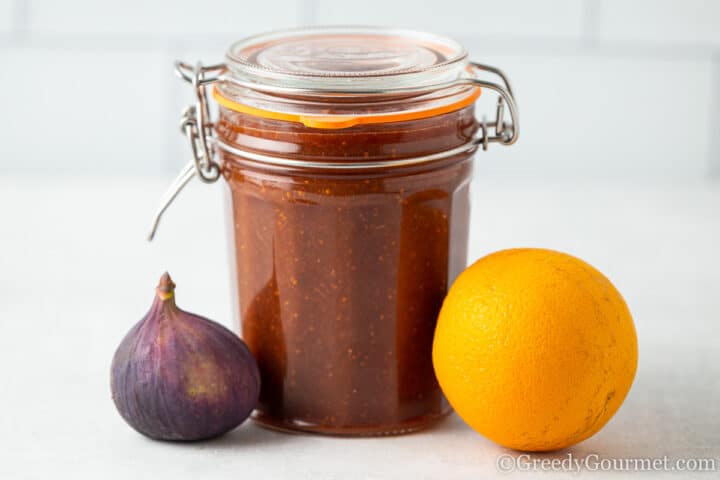 What should I serve balsamic fig sauce with?
There are so many great dishes that you can serve this balsamic fig sauce with. It's really incredibly versatile! From decadent brunch dishes to delicious dinner recipes and everything in between, this balsamic fig sauce works a charm!
Try making some of the following recipes and drizzle your delicious sauce over the top.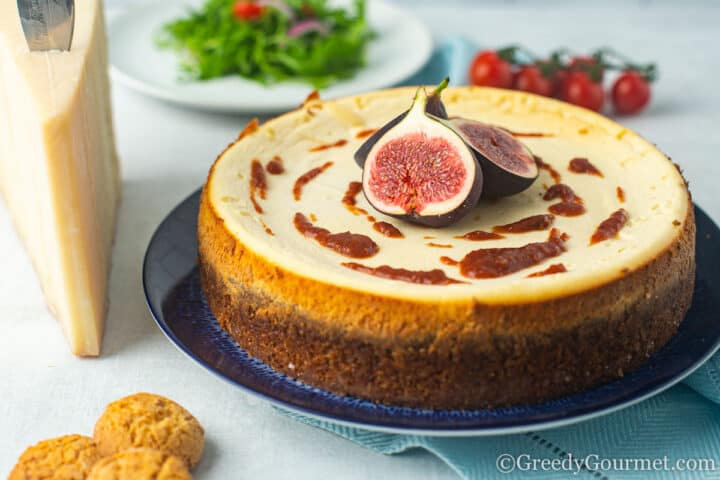 More amazing sauces
Get saucy with these fantastic sauce recipes: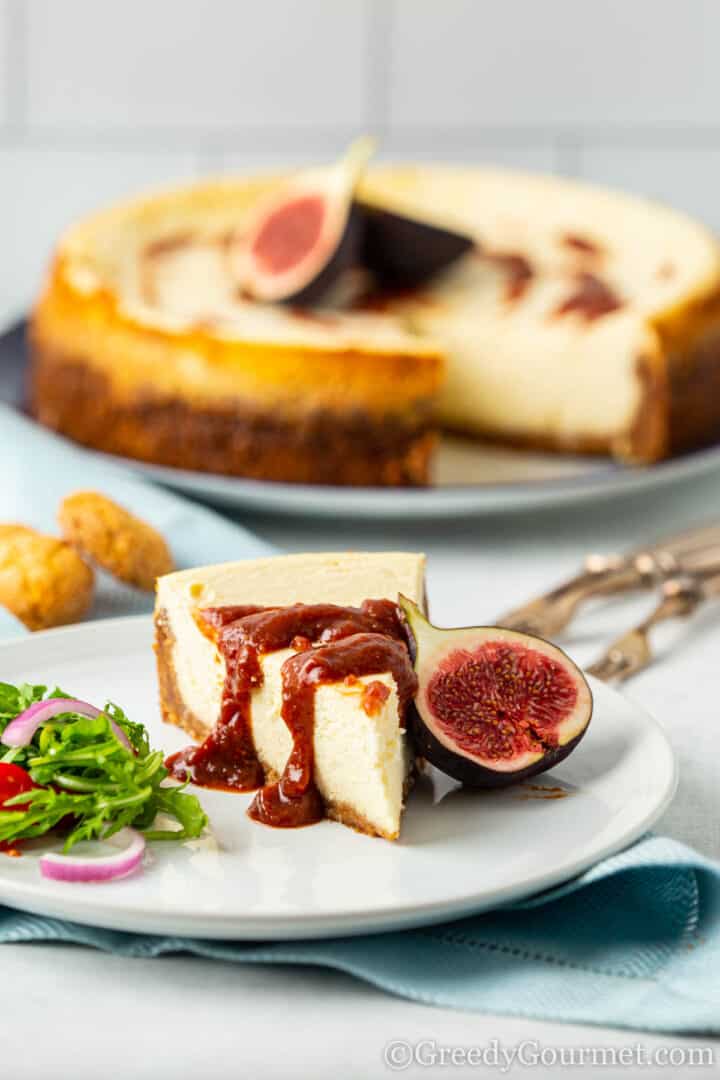 Print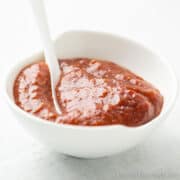 Fig and Orange Sauce
---
Author:

Michelle Minnaar

Total Time:

25 minutes

Yield:

6

Servings

1

x

Diet:

Vegan
Description
An easy, homemade sauce bursting with flavour. A blend of tangy and zesty, learn how to make my Fig and Orange Sauce.
---
3

large figs

185

ml

(3/4 cup) orange juice

45

ml

(3 tbsp) balsamic vinegar

1

g

(1/4 tsp) sea salt
---
Instructions
Quarter your figs and place them in a saucepan with the orange juice, balsamic vinegar and salt and then bring to a rolling boil.
Allow the sauce to reduce for around 20 minutes or until the figs become soft and the sauce becomes thick. Reduce by just over half the volume.
With a stick blender, blend the sauce until you have a thick jam like consistency. If it is still too loose then return to the heat but be careful as the sauce will start spitting once it is thick so make sure you have it on a low heat.
Serve with your choice of main. We have paired it with a Parmesan Cheesecake. Enjoy!
Notes
This fig sauce goes well with chicken, turkey and pork. It even works in the context of a dessert accompaniment!
Prep Time:

5 minutes

Cook Time:

20 minutes

Category:

Sauce

Method:

Boil

Cuisine:

British
Keywords: Fig Sauce, Orange Sauce, Fig And Orange Sauce, Sauce for Chicken, Sauce For Parmesan Cheesecake, Sauce For Cheese Tart