A delicious spice mix that adds so much character to so many dishes, homemade Cajun seasoning is a thing of beauty!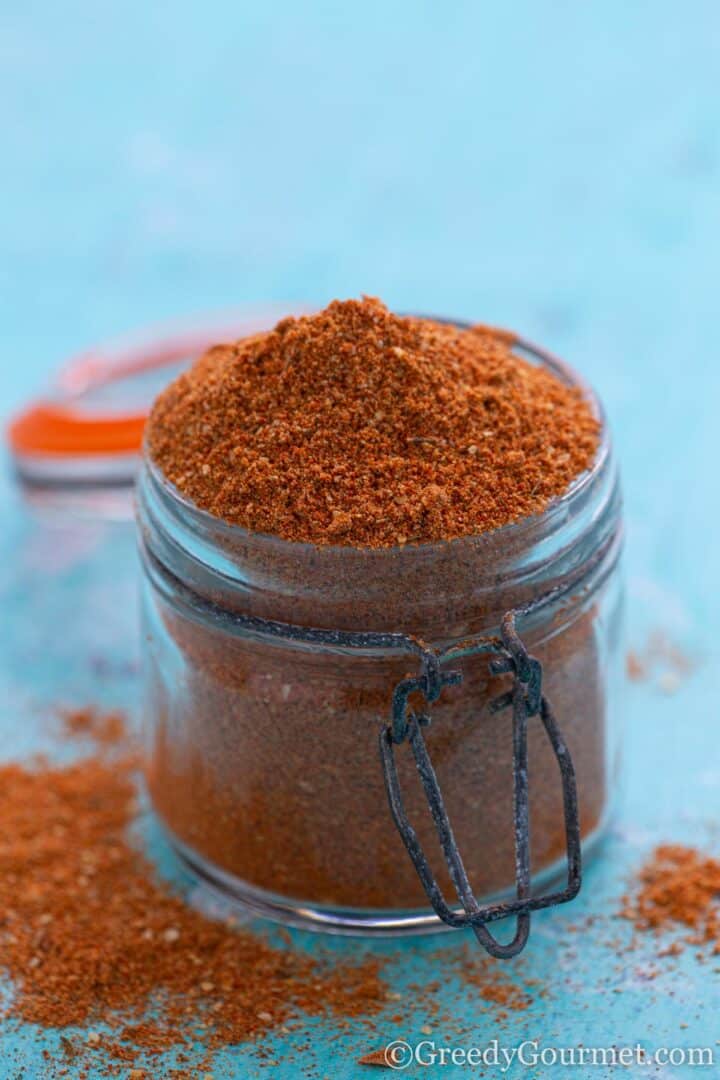 Forget store bought spice blends and make your own! It's so simple and takes just a minute or two.
Products you need for this recipe
Storage jars – it's really important to properly store your homemade Cajun seasoning, to best preserve that incredible flavor. These little jars are perfect
Spice grinder – the ultimate solution to a lumpy spice mix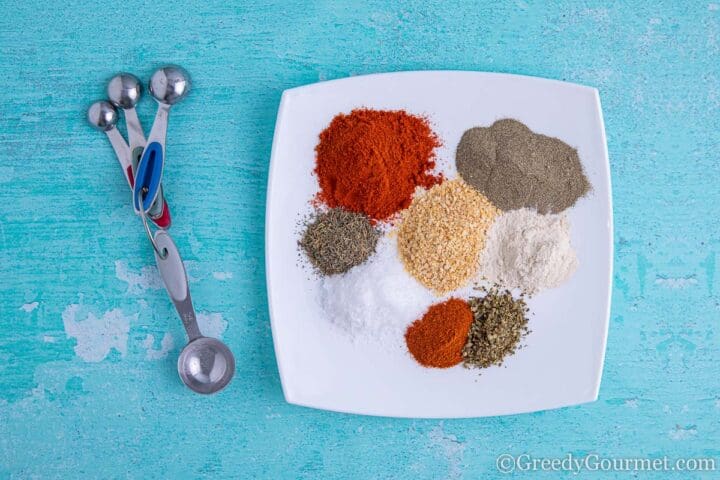 Homemade cajun seasoning recipe
Better than any store bought spice blends, this recipe combines some amazing herbs and spices and elevates pretty much any dish.
If you're after an extra hit of subtle spicy flavor, Cajun seasoning is the ingredient you need. Whether or not you're a fan of Cajun cuisine, this spice mix is going to bring a new dimension to your favorite dishes.
If you're not a fan of hot food, don't worry. This is not a super hot spice mix. It's all about subtlety and harmony.
The common spices in Cajun seasoning – paprika and cayenne pepper – bring an earthiness and warmth, which is complemented by the herbs – in this recipe, I've gone with thyme and oregano for that floral fragrance and savory taste.
Garlic powder, onion powder and salt complete the seasoning mix, adding those essential savory notes that make this a very special spice mix.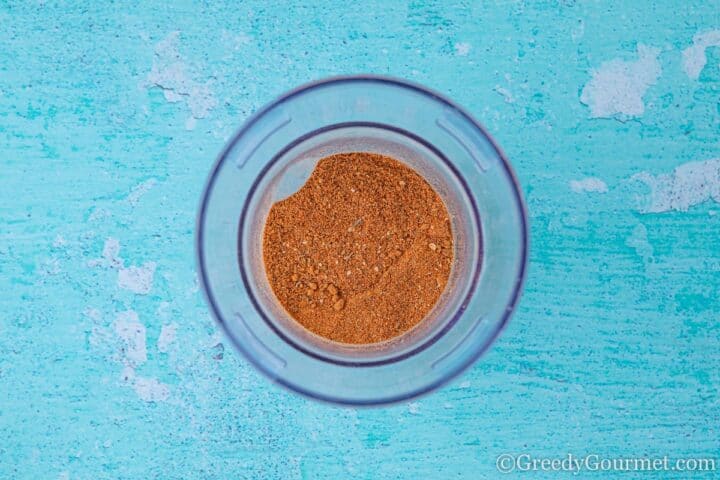 What is cajun seasoning?
It's a heady blend of earthy spices and herbs that takes the taste of meat, fish and vegetable and rice dishes to another dimension.
Although it's readily available in good supermarkets and food stores, you can easily make this wonderful Cajun seasoning blend yourself. 
What's the origin story of this spice mix? 
This magical mixture was first conjured up in Louisiana. The capital of Cajun cuisine, Louisiana became home to Acadians (French settlers), who had moved south from Canada in the 17th century.
The Acadians developed their cuisine based on the local ingredients available to them. So, oysters, crab, alligator, shrimp, crawfish and catfish, all caught off the coast of the Gulf of Mexico and in the local bayou, became staple foods.
The best seasoning for these ingredients were exotic spices like cayenne pepper and paprika, especially considering the influence of Spanish cuisine on the Acadians.
This kind of rustic, hearty cooking soon made Louisiana the home of delicious Cajun cuisine. The traditional spice blend would develop to include ground black pepper, smoked paprika, cayenne pepper, garlic powder, onion powder, pepper and oregano.
What's the difference between Cajun and Creole food?
Both types of food originated in Louisiana and both have a similar list of ingredients and flavor profile. However, there are a few key differences.
Firstly, Creole food tends to be tomato-based, unlike Cajun food. Another simple distinction is that Cajun is considered "country food", whereas Creole is said to be "city food."
How to store cajun seasoning
You need to keep Cajun seasoning in an airtight container. I recommend storing it in small glass jars and keeping them in a dry, dark place – in other words, in your cupboard.
If stored properly, Cajun seasoning will last up to a year. However, after 3 months, it will start to lose its potency.
Variations on this recipe
If you're a heat junkie, add more cayenne pepper! You could also opt for a hot paprika rather than a mild one.
In terms of herbs, you can swap out either oregano or thyme with rosemary or marjoram. You could even throw in a teaspoon of Italian seasoning blend or herbes de provence. 
Tips for the perfect spice blend
Here are a few handy tips to get the best out of this wonderful Cajun seasoning:
Double or triple the measurements of this seasoning blend to make sure you always have some readily available
There are two main types of paprika – sweet and smoked. Go for the one that best suits your tastes
There are also two types of oregano – Mexican and Mediterranean. Mexican has lemony citrus flavors, which are a better fit with the spices that make Cajun seasoning so delicious
If you find some of the ingredients become too lumpy, break them down in a spice grinder or food processor
Use freshly ground black pepper for maximum flavor
As this seasoning mix contains smoked paprika and salt, you won't need to add any extra salt to the meat, fish or vegetables that you use it with
How to use cajun spice
You don't have to use this Cajun seasoning recipe with Cajun food. Here are some ideas of how to get the best out of this magical seasoning.
With meat
This smoky seasoning works wonders with any kind of meat, particularly chicken. Use it in this oven baked barbecue chicken recipe, replacing the ingredients in the recipe with the Cajun seasoning recipe. Smoked chicken Cajun-style is another great idea and of course, you can use this very well with my Cajun Chicken Pasta recipe.
With potatoes
A great way to give your potatoes an edge is to sprinkle some Cajun seasoning over them before cooking. Make these parmentier potatoes with the addition of a bit of Cajun spice for an out of this world side.
With rice
It's got to be jambalaya. Try this vegan jambalaya for the perfect vegan Cajun rice dish.
With pasta
Take a standard in a totally new direction. Cajun seasoning works with pretty much any pasta dish, but try my Cajun chicken pasta and you'll be seriously impressed!
With fish and seafood
Meaty white fish and rich seafood make a perfect pairing with a bit of Cajun spice. Cook up some pan-fried garlic butter prawns, crab, crawfish or oysters and make it sing with some delicious Cajun seasoning. You should also check out my prawn etouffee recipe, a Cajun classic!
With vegetables
Any hearty vegetables taste great with this spice blend. Go for broccoli or cauliflower and throw into a vegetable stir fry. Also, add this seasoning to sautéed peppers and onions for a sumptuous spiced side dish.
With beans or chickpeas
Spice up a white bean dip with some of your special seasoning or make roasted chickpeas with this spice blend for a sensational snack.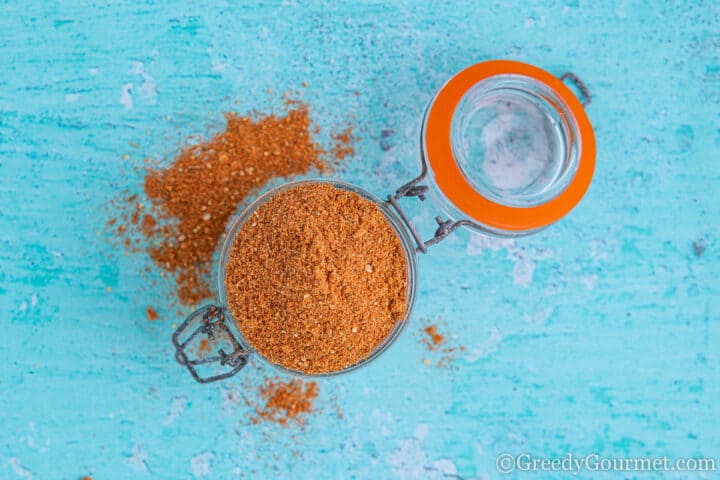 More spice mix recipes
If this Cajun seasoning recipe has left your taste buds tingling, I've got a couple more spicy secrets for you:
Jerk spice – a world-famous spice blend that brings some incredible flavor, jerk spice is extremely versatile and unbelievably tasty
Chaat masala – one of the most commonly used spice blends in Indian cuisine, chaat masala is the go-to flavor enhancer for many of Indian best-loved snack and side recipes
Print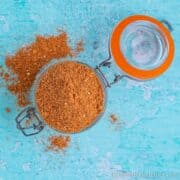 Cajun Seasoning Recipe
---
Author:

Michelle Minnaar

Total Time:

5 minutes

Yield:

almost

1 cup

(

100g

)

1

x

Diet:

Vegan
Description
Learn how to blend spices to make your own homemade Cajun Seasoning. This easy recipe will add character to your favourite dishes.
---
21

g

(3 tbsp) paprika

34

g

(2 tbsp) salt

20

g

(2 tbsp) garlic powder

7

g

(1 tbsp) ground black pepper

5

g

(1 tbsp) cayenne pepper

4

g

(1 tbsp) dried thyme

3

g

(1 tbsp) dried oregano

7

g

(1 tbsp) onion powder
---
Instructions
Mix all the ingredients together in a bowl and store in an airtight jar. 
Alternatively, if some of the ingredients are a bit lumpy, put everything in a grinder or strong food processor and blitz until the ingredients are better incorporated. Then store in an airtight jar. 
Use in dishes and recipes as you see fit. Enjoy!
Prep Time:

5 minutes

Cook Time:

0 minutes

Category:

Seasoning

Method:

Grind

Cuisine:

American
Keywords: cajun seasoning, homemade cajun seasoning recipe, how to make cajun seasoning, cajun spices, what is cajun seasoning, creaole seasoning, american seasoning recipe