This homemade recipe for Old Bay Seasoning tastes just as good as the classic spice mix. It's so easy to make at home and you'll save a good chunk of change making your own.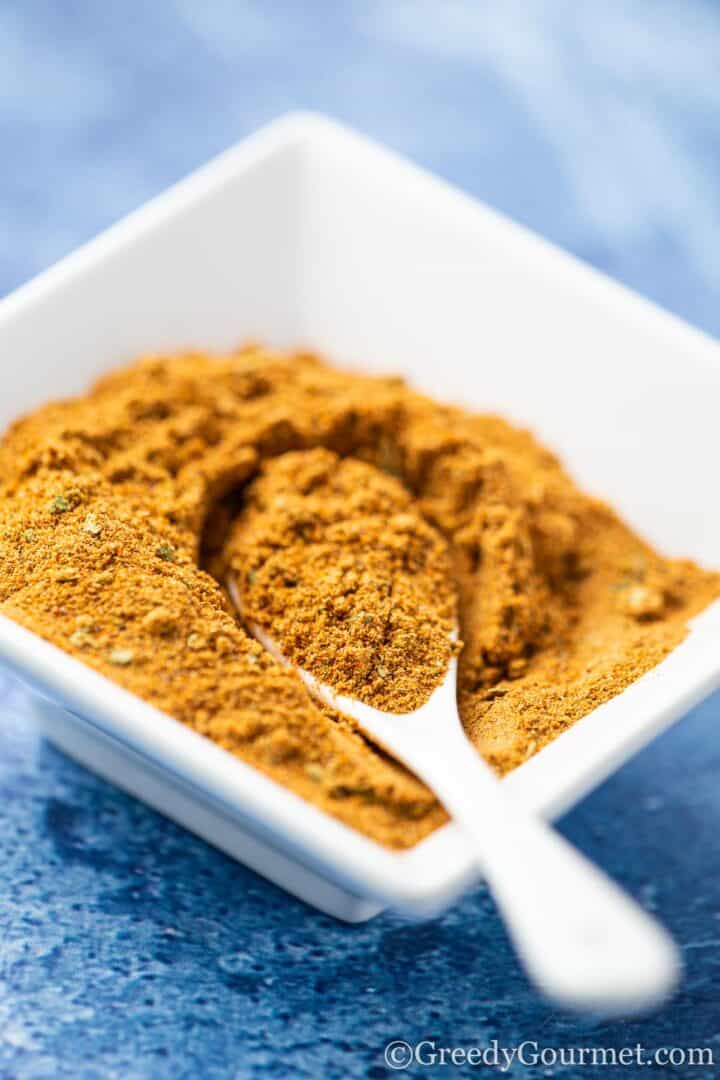 So, do you want to know how to make Old Bay Seasoning true to its original recipe? This Old Bay Seasoning copycat recipe brings the perfect flavor to enhance all your favorite dishes.
Products you need for this recipe
Here are a few key products that you'll need for this recipe
Spice grinder – nothing beats grinding your own spices! The aromas are truly incredible. So, if you want to spice up your life, get one of these gadgets… they are worth it, believe me!
Storage container – homemade spice blends deserve to be stored the right way. So, invest in some storage containers with labels. Then, once you've safely stored your homemade Old Bay Seasoning mix, make some more spice blends!
Bay leaf powder – you'd be hard pressed to find this in the shops, so snap it up online. You could even make your own, by grinding up 15 dry bay leaves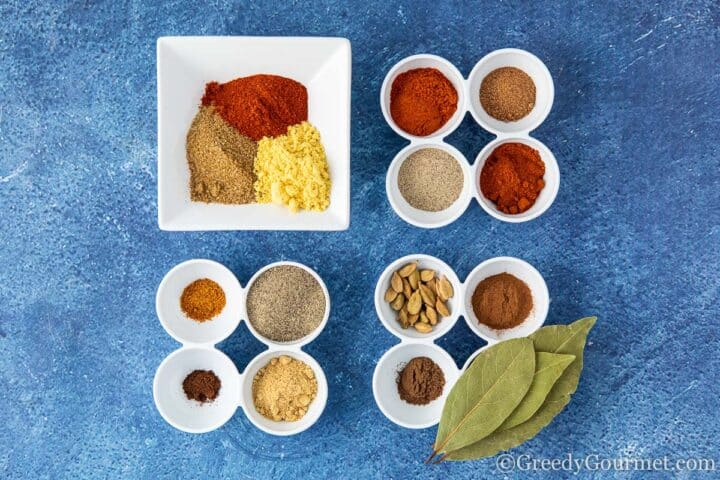 More about this recipe
A classic blend of earthy spices, Old Bay seasoning is perhaps America's favorite seasoning mix. It's definitely the favorite in Baltimore, where the original Old Bay seasoning recipe originated.
No ordinary seasoning, Old Bay is a special mix of 16 specially selected spices, each one working in harmony with the next, to produce a flavor that's out of this world.
So, if you've been looking for a way to bring an extra dimension of flavor to meat, fish or vegetable dishes, this recipe is for you.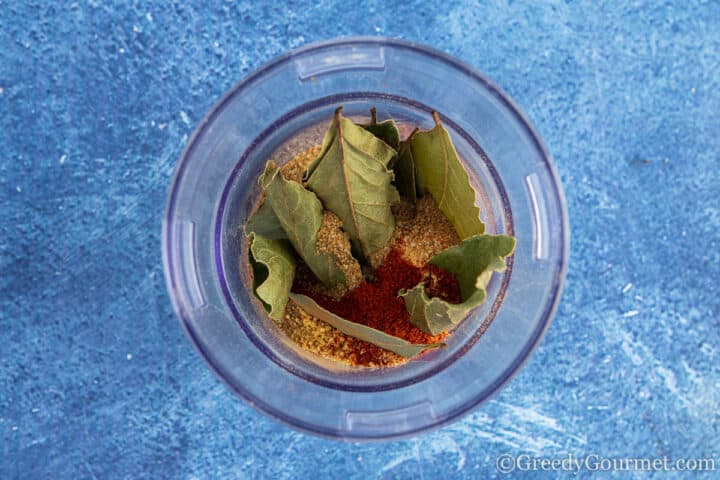 Who invented Old Bay Seasoning?
Believe it or not, the story of how this humble spice blend was created could be turned into a movie.
Old bay seasoning was invented by Gustav Brunn. Born into a Jewish family in Germany in 1893, he worked as a spice merchant, making his own ingenious spice blends and selling them to sausage makers.
By the late 1920s, Brun's sumptuous spices soon became the talk of the town (Bastheim, to be precise). However, in 1933, with the Nazi party on the rise, Brunn, fearing for his life, picked up sticks and relocated to Frankfurt with his family, where there was a large Jewish population.
Before long, Brun's business was booming in Frankfurt, although success was once again scuppered by the Nazis. The family had planned to emigrate to America by the end of 1938 when, on the night of November 10, 1938, Kristallnacht  or 'the night of the broken glass' broke out. Jewish businesses, schools and synagogues were destroyed. Brunn was arrested and taken to a concentration camp.
A prominent Frankfurt lawyer heard about the imprisonment of Frankfurt's most famous spice merchant and, following two weeks of negotiations, managed to secure Brunn's release. After recovering from pneumonia, Brunn and his family finally escaped Germany and made the trip to Baltimore, USA.
Brunn eventually landed a job at McCormick's – the country's biggest spice maker. He only lasted two days though. Brunn's son Ralph would later tell the Baltimore Sun that he was fired for being Jewish. 
So Brunn created his own business – the Baltimore Spice Company. He soon became the go-to spice guy for Baltimore's fish market vendors, who were looking for something to liven up a favorite local delicacy – steamed crab.
Brunn made a note of their chosen spices – salt, pepper, mustard – and began to add his own ideas to create the perfect seasoning mix. The final spice blend he settled on would soon become iconic.
Brunn's massive success kick started a rivalry with McCormick's that would last decades. McCormick reportedly tried to block Brunn from becoming a member of the American Spice Association and even tried to copy the old bay seasoning spice blend. 
Brunn died in 1985, leaving behind a legacy as one of America's most important spice merchants. The twist in this spicy tale? Just five years later, McCormick's bought the Baltimore Spice Company. They still own the Old Bay Seasoning brand to this day.
Why is it called 'Old Bay Seasoning?'
As Gustav Brunn's spice blend became increasingly popular, he decided he needed a catchy name to market it to fish sellers by the Baltimore docks. A friend of his who worked in the advertising industry suggested 'Old Bay Seasoning,' named after Baltimore's famous old bay steamship.
What's in Old Bay Seasoning?
The original Old Bay Seasoning mixture is a heady blend of mace, nutmeg, cinnamon, bay leaves, red pepper, cardamom, ground celery seed, cloves, mustard, paprika, celery salt, salt, pepper and ginger. 
My recipe calls for 1 pinch ground cayenne pepper and allspice to be added to the mix.
Does Old Bay Seasoning contain garlic?
My homemade blend doesn't and neither does the original.
Despite many people speculating that garlic powder was one of the secret ingredients contained in the recipe, Old Bay's makers have stated that their product contains no garlic, in response to a question from a customer with an allium allergy.
What does it taste like?
It's hard to pin down the taste of Old Bay Seasoning, as there are so many different spices that make up the mixture. The key tastes that spring to mind are salty, peppery and smoky, with a certain earthy savory quality.
As there's no chili, there's not really much heat to Old Bay Seasoning.
What's the difference between Old Bay Seasoning and Cajun?
Old Bay has got a LOT more going on.
Cajun seasoning mix is a relatively simple spice mixture containing paprika, salt, garlic powder, black pepper, cayenne, thyme, oregano and onion powder. 
Old Bay contains many more spices, particularly fragrant spices such as clove, nutmeg, cinnamon, allspice, ginger and mace. 
Is it vegetarian?
Yes! Not only is it vegetarian, but Old Bay Seasoning is vegan, gluten free and keto-friendly. 
Does Old Bay Seasoning have MSG in it?
Nope. My homemade Old Bay Seasoning contains nothing but natural ingredients.
What other spices can I add?
There are a lot of spices in this recipe, so you shouldn't need to add any. However, if you want a little extra heat, add ½ teaspoon of crushed red pepper flakes.
What's a good substitute for Old Bay seasoning?
If you can't find all the ingredients on this list and you can't find Old Bay Seasoning in the shops, there are plenty of good substitutes.
Check out my Old Bay Seasoning substitutes guide for all you need to know on replacing this spice blend.
How long can you store Old Bay?
When sealed in an airtight container and stored in a cool, dry place, Old Bay seasoning will last from six months to a year. I recommend keeping it in your kitchen cupboard.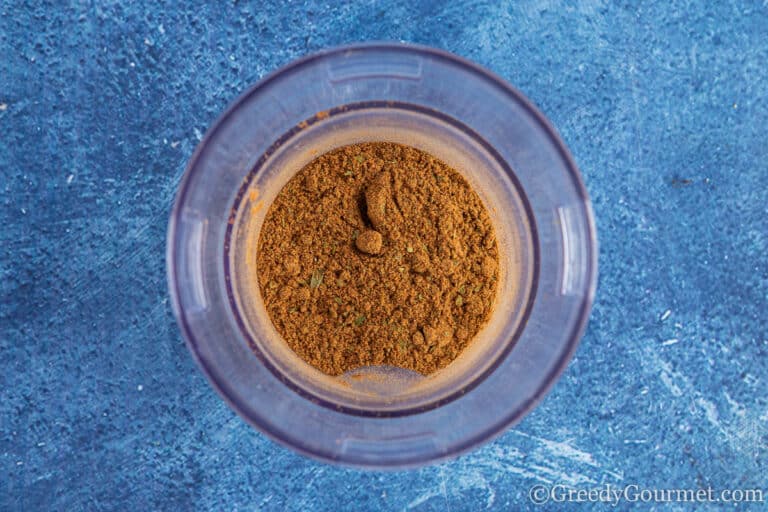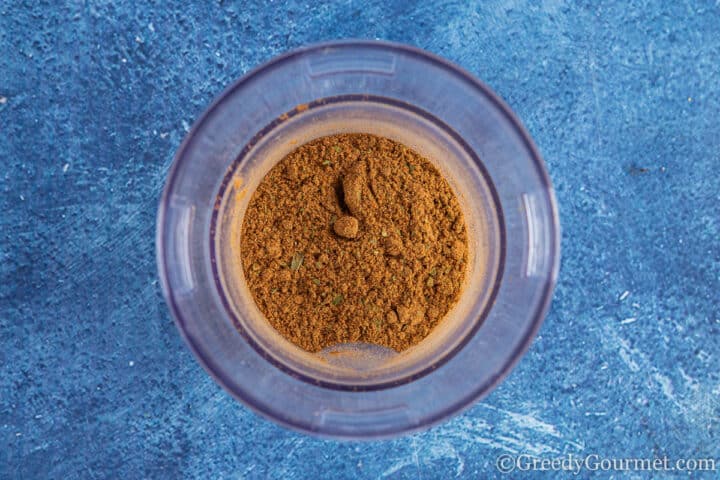 How do you use old bay seasoning?
Old Bay seasoning can be used on so many different types of food. Here are just some of the ways you can used this sublime spice:
Use as a dry rub for pork or chicken
Serve with steamed crab
Smother on corn on the cob
Sprinkle on shrimp, crab boil, fish, fries, chicken
Sprinkle on devilled eggs or in an omelet
Sprinkle over naan bread
Served with fries or roast potatoes
Add to gumbo
Bring extra flavor to brine
Sprinkle in hummus
Add to a homemade barbecue sauce
Sprinkle in a chowder
Not a fan of Old Bay seasoning? Check out these substitutes!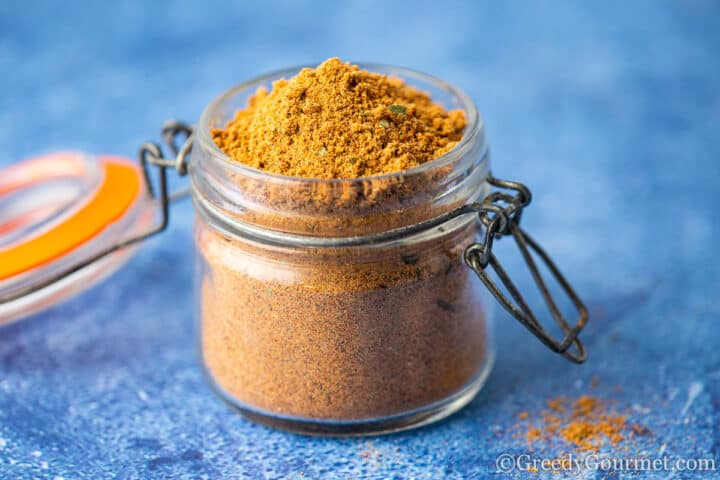 More seasoning blends
Need some more spice in your life? Try these superb spice blends: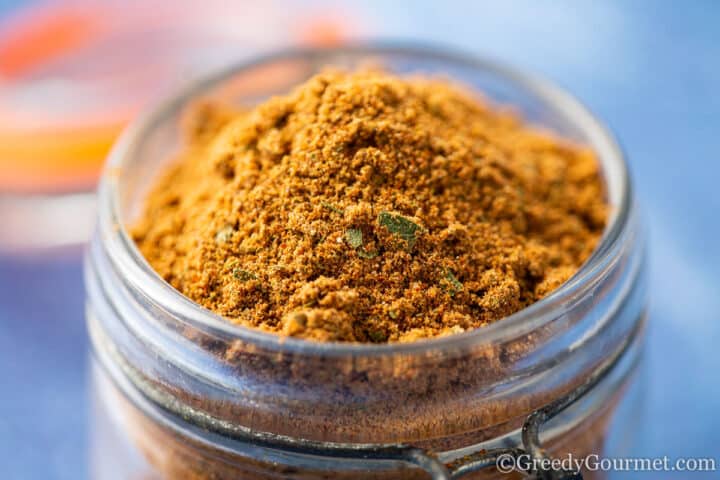 Print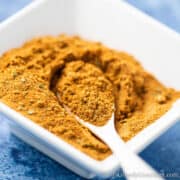 Old Bay Seasoning
---
Author:

Michelle Minnaar

Total Time:

10 minutes

Yield:

70g

(

⅔ cup

)

1

x

Diet:

Vegan
Description
This Old Bay Seasoning recipe is just as good as the original. It's super versatile and can be added to seafood & chicken. 
---
1 tablespoon

ground dried bay leaves

1 tablespoon

celery salt

1½ teaspoons

dry mustard

2 teaspoon

sweet paprika

1 teaspoon

smoked paprika

½ teaspoon

ground white pepper

1½ teaspoon

ground black pepper

1 teaspoon

cayenne pepper

½ teaspoon

ground nutmeg

1 teaspoon

ground ginger

⅛ teaspoon

ground cloves

⅛ teaspoon

ground mace

⅛ teaspoon

ground cardamom

⅛ teaspoon

ground allspice

⅛ teaspoon

ground cinnamon
---
Instructions
Place all of the ingredients in a spice grinder and blend until everything is finely ground. 
Store in an airtight container for up to 3 months. 
Use in recipes as you see fit. Enjoy!
Notes
Bay leaf powder isn't readily available. If you have a coffee or spice grinder, you can create your own by grinding 15 large bay leaves.
Prep Time:

10 minutes

Cook Time:

0 minutes

Category:

Seasoning

Method:

Grind

Cuisine:

American
Keywords: old bay seasoning, homemade old bay seasoning recipe, american seasoning, seafood seasoning, crab cake seasoning, seafood boil seasoning recipe