This cauliflower and broccoli soup is wonderfully warming, silky smooth and utterly delicious – perfect for a cold winter day.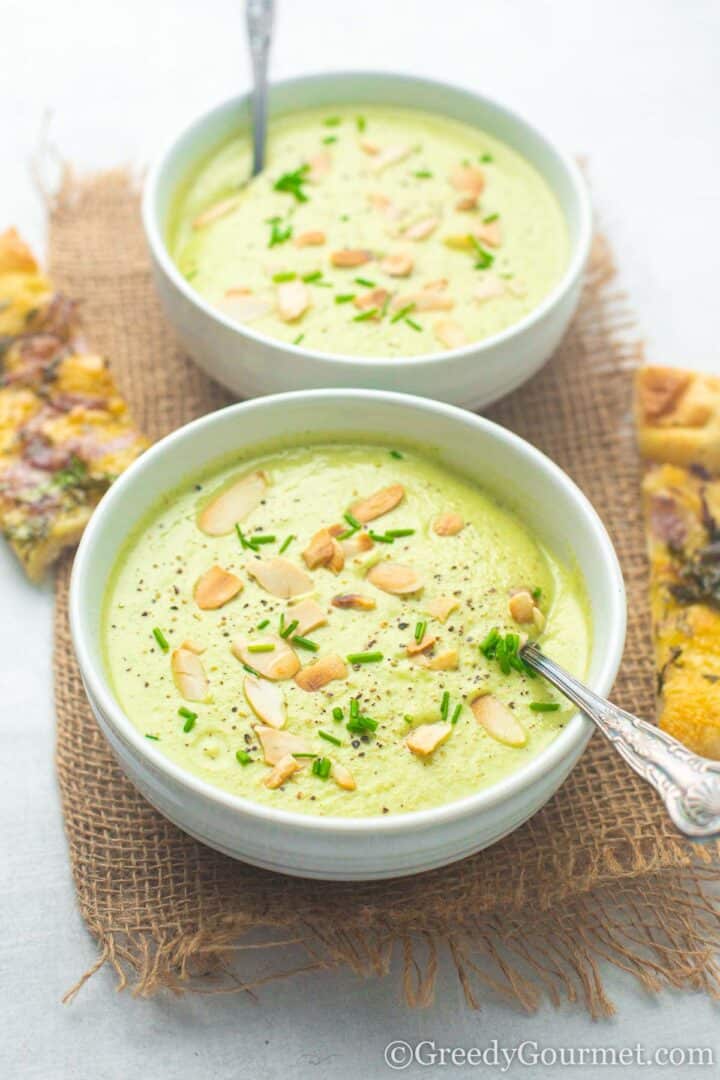 It's also incredibly easy to make. So, if you're a fan of vegetable soups that are creamy, cheesy and extremely tasty, this broccoli cauliflower soup recipe will be right up your street.
Why You'll Love This Recipe
It's smooth, creamy and delicious
All natural ingredients – no preservatives or any unhealthy ingredients
This easy broccoli cauliflower soup is very quick to make. You can even make a really big batch and freeze it for later, as freezing doesn't alter the taste too much.
It's the perfect light lunch cuisine!
Equipment Needed To Make This Recipe
There are a few essential items you'll need to make this cheesy broccoli cauliflower soup recipe:
Large saucepan – you'll need a good quality saucepan to make your soup
Blender – the secret to the perfect creamy broccoli cauliflower soup is to use a blender or food processor. Make sure it's a quality blender to get that beautiful silky smooth texture
Emulsion blender – creamy soups can also be made using an emulsion blender
Soup bowls – serve up your sublime silky smooth soup with style!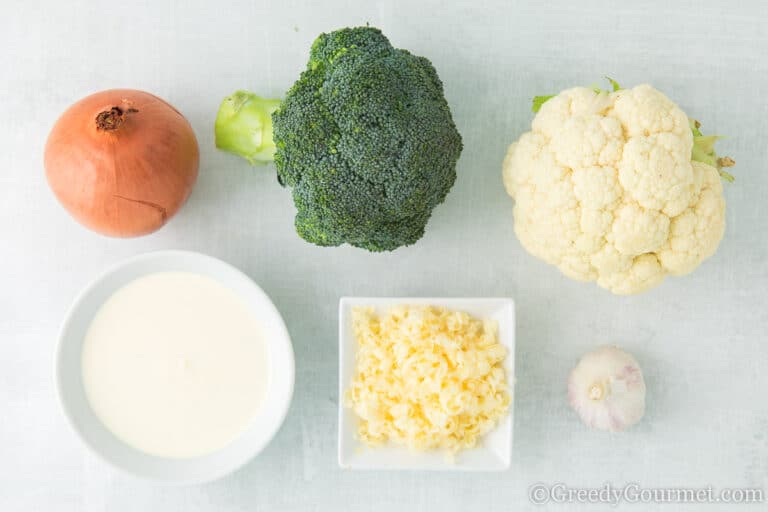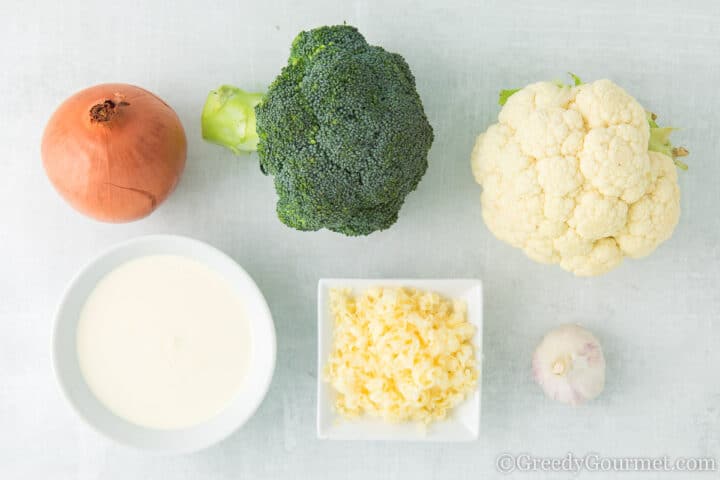 Top Tip
Don't cook the soup on too high a temperature. Simmer your soup gently – it will give the ingredients a chance to blend together and you won't kill the taste of the vegetables.
What to Serve with Cauliflower and Broccoli Soup
Wine pairing
Floral savoury wines are your best bet when it comes to finding a wine pairing for creamy cauliflower and broccoli soup. A Sauvignon Blanc would be perfect, as its crispness and grassy flavour would really work with the flavours of the soup.
Grenache Gris, Verdejo, Marsanne, Roussanne, Albillo, Chasselas, Vermentino and Sylvaner wines would also work well.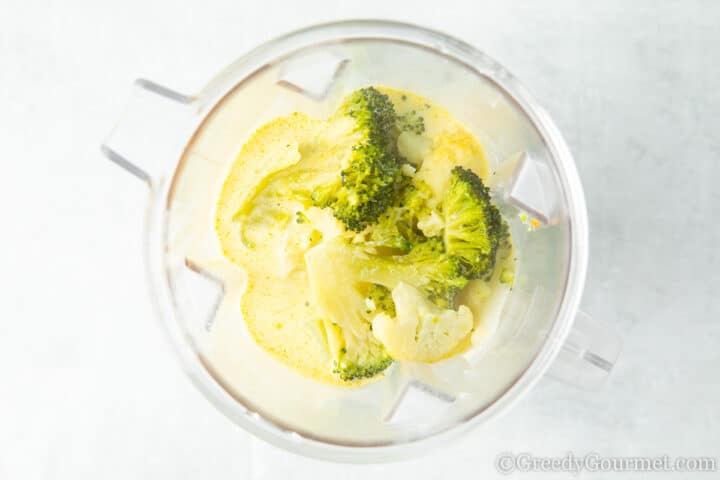 Variations To This Recipe
Add cooked meat such as chicken or turkey to your soup to bulk it out and turn it into a more filling soup.
You can use vegetable stock or, for extra richness, chicken stock.
Use any mixture of your favourite herbs for this soup recipe. I've gone for chives, but you can use parsley, oregano, rosemary, mint, chives, thyme, marjoram, basil or sage... even wild garlic!
Add some extra spice with a teaspoon of chilli flakes.
Season your soup with some freshly ground black pepper. You could also use cayenne pepper for a little more spice
Add a splash of Worcestershire sauce or a teaspoon of dijon mustard for a little extra flavour.
Add extra richness by sprinkling in some cooked bacon.
Make this soup vegan – replace the cream with coconut cream and the cheese with nutritional yeast.
Popular substitutions
You can replace the vegetable oil with olive oil. Swap at a like for like ratio.
If you're not a fan of almonds, you can use a similar kind of nut to garnish this soup. Cashews, peanuts, hazelnuts, walnuts and pistachios would all work well.
Top Tip
Make sure you precisely follow the measurements in the ingredients below. Getting the ratios right means you'll end up with a perfectly textured, smooth and silky soup. Delicious!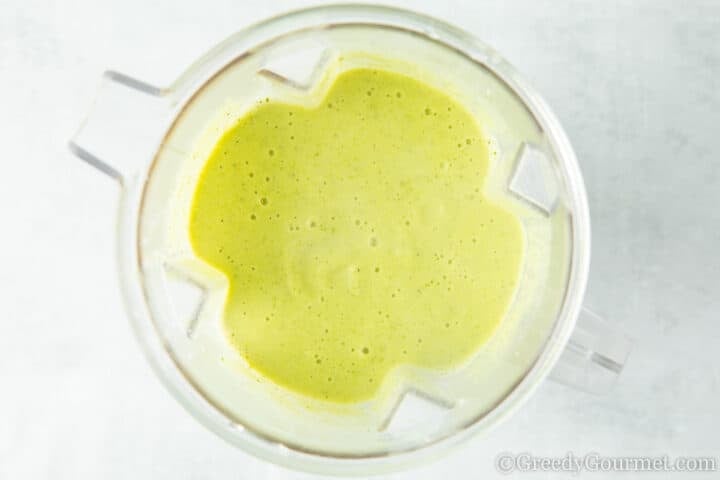 What are the ingredients for broccoli and cauliflower soup?
They are really simple and easy to get hold of. First, fresh cauliflower and fresh broccoli. Other vegetables included in this soup are onion and garlic. Double cream and cheddar cheese bring the creaminess and richer flavour, while slivered almonds and chives add an extra depth to the taste.
Finally, I've gone with vegetable stock for the base of this soup.
Can I use frozen broccoli and frozen cauliflower for this recipe?
You can use frozen veg for this soup recipe. However, my opinion is that fresh vegetables are also best, as they impart a lot more flavour into the soup. 
Frozen vegetables are a secondary option and, if for whatever reason you are not able to get hold of fresh vegetables, frozen vegetables will do.
What kind of cheese should I use for this soup?
I've gone for cheddar cheese in this recipe. It melts really well and complements the flavour of both cauliflower and broccoli really well.
However, you can also use cheese such as parmesan or Gruyère, both of which are absolutely delicious when added to this creamy broccoli and cauliflower soup.
How do you fix a watery soup?
If you precisely follow the measurements, steps and instructions below, you should be fine and won't need to worry about fixing a watery soup.
However, if you do find that your soup is on the thin and watery side, there are several tricks you can try, which should help to thicken up your soup.
Use cornflour – cornflour is a great thickener of soups, sauces and casseroles. To thicken your cauliflower and broccoli soup using cornflour, simply mix a tablespoon of cornflour with a tablespoon of liquid in a separate bowl, then whisk into a paste. 
Add the paste to the soup, while it's on the heat, and stir continuously until thickened.
Blend in bread – using an emulsion blender to blend bread into the soup is a quick and effective way to achieve a thicker texture. Use torn pieces of bread, soaked first so that they are softened. 
Add them to the soup and then blend with the hand blender.
Add more cream, cheese or yoghurt – another easy way to immediately thicken soup is to add a dairy product. This soup calls for cream and cheese, so it should be naturally thick and luscious. Adding a little more cream or cheese would be a good way to thicken it even further. 
Be careful though – you don't want the cheese or cream to overpower the soup.
How do I store leftovers?
Storing soup leftovers is easy. First, wait until the soup has completely cooled. Then, transfer it into an airtight container. You can keep kabocha soup fresh in the fridge for up to four days.
Can you freeze Cauliflower and Broccoli Soup?
Yes! Most soup freezes really well, and this one is no exception.
To freeze kabocha soup, allow it to cool, then transfer it into a freezable airtight container. You can even freeze your soup in individual servings, either by spooning it into freezer bags or by using smaller containers.
Frozen soup will keep for up to three months.
How do you thaw this dish?
Thaw your frozen soup in the refrigerator for a few hours. I recommend allowing it to defrost overnight.
How do you reheat leftovers?
You can either reheat leftover kabocha soup in a saucepan on the hob or in the microwave.
To reheat soup on the hob, place the pan on a medium heat and gently heat the soup, stirring continuously until piping hot.
To heat leftovers in the microwave, loosely cover and reheat for a total of 3 minutes, pausing to stir the soup every minute.
Can I make cauliflower and broccoli soup ahead of time?
Yes! Soup actually takes on more flavour if allowed to sit for a while. This soup can be made beforehand, then reheated on the stove just before serving. Just follow the storage and reheating guidelines above.
Can this recipe be scaled?
Yes, you can simply double or triple the measurements in the recipe below if you'd like to make a bigger batch. Making a big batch of this broccoli and cauliflower soup is a great idea, especially since it freezes well.
Other Sublime Soup Recipes You'll Love
Snooping for more soup recipes? I've got plenty for you that you're going to absolutely love!
Don't forget to come back and let me know how your recipe turned out!
Print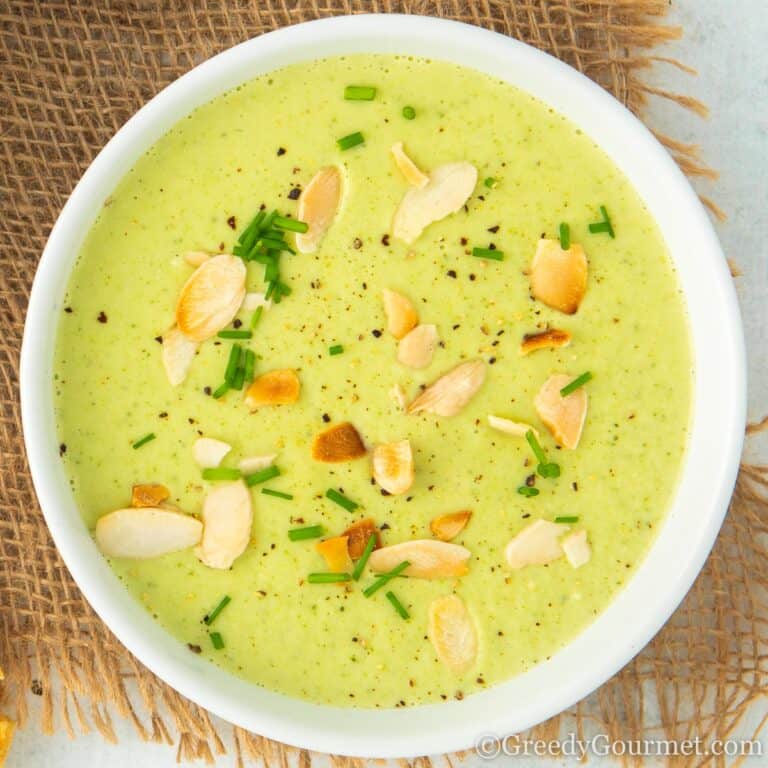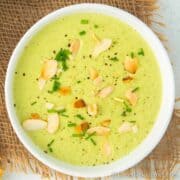 Cauliflower and Broccoli Soup
---
Author:

Michelle Minnaar

Total Time:

40 minutes

Yield:

4

servings

1

x

Diet:

Vegetarian
Description
This cauliflower and broccoli soup is wonderfully warming and easy to make on a cold day. Serve with fresh buttered bread.
---
15

ml

(1 tbsp) vegetable oil

1

onion, chopped

2

garlic cloves, minced

600

g

(2) broccoli heads, segmented

1

kg

(2) cauliflower heads, segmented

1.5

litre

(6 cups) vegetable stock

250

ml

(1 cup) double cream

166

g

(2 cups) cheddar cheese, grated

25

g

(4 tbsp) slivered almonds, toasted
chives, for decoration
---
Instructions
Heat the oil in a large saucepan, then gently fry the onion for 5 minutes, or until softened and translucent. 
Add the garlic and fry for another 2 minutes. 
Add the broccoli, cauliflower and stock, then bring to a boil. 
Lower the heat to a steady simmer and cook uncovered for about 15 minutes or until the vegetables are cooked and fork tender. 
Transfer the contents to a food processor and blitz until desired consistency. (I prefer smooth!)
Tip the soup back into the saucepan, then add the cream and cheese. 
Bring it back to heat and let the soup bubble for 2 minutes. Stir to ensure the cheese has completely melted. 
Serve immediately, topped with almonds and chives, with some crusty bread on the side. Enjoy!
Notes
Stick to fresh broccoli and cauliflower if you can. Frozen comes in second place.
Don't throw the broccoli and cauliflower stalks away! The stalks cook and blend well in this soup.
If you're vegan, you can replace the cream and cheese with vegan alternatives.
If you're not vegan or vegetarian, you can sprinkle the soup with crispy bacon.
Another cheese that pairs very well with cauliflower and broccoli is parmesan cheese. Feel free to experiment!
Prep Time:

15 minutes

Cook Time:

25 minutes

Category:

Soup

Method:

Boil

Cuisine:

British
Keywords: broccoli and cauliflower soup, vegetarian soup recipe, broccoli and cauliflower recipe, healthy vegetable soup