A Lebanese lentil soup will take you on an adventurous journey through the Middle East. Don't even hesitate for a second to make this amazing Lebanese lentil soup recipe.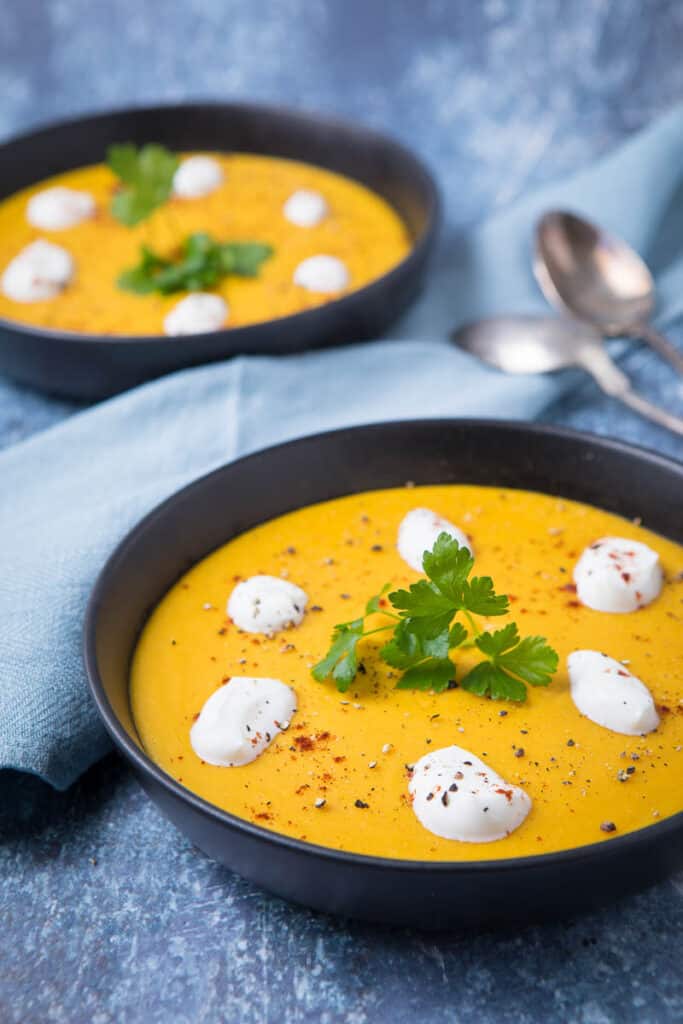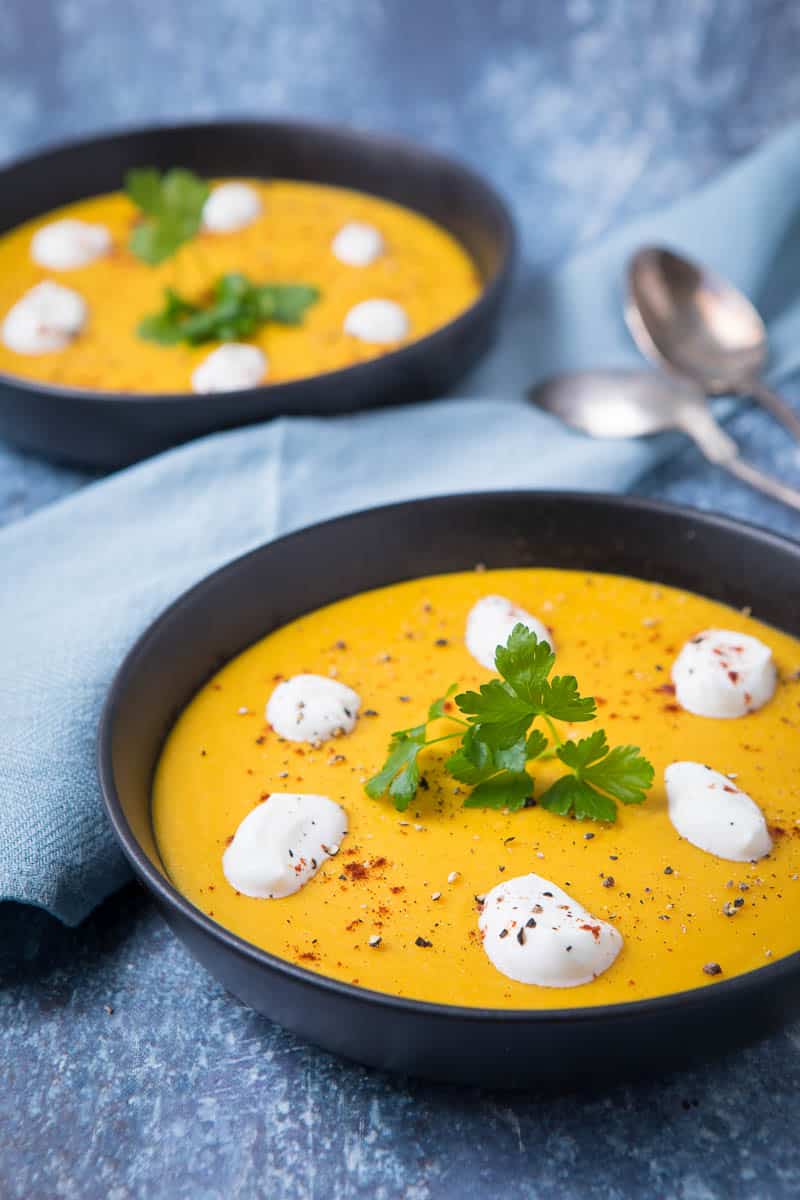 You'll have a taste of heaven in every spoonful! Every time I taste those Middle Eastern flavours in a soup, I immediately feel like travelling – not to mention stocking up on those spices.
The original name of this soup is Adas Majroush. This yellow lentil soup is both delicious as well as nutritious for those already on a vegan diet or for those who are on the way towards becoming vegan.
Just omit the yogurt element at the end. In fact, if you are looking for a similar recipe, check out my vegan split pea soup you'll love it to bits.
Nonetheless, enjoy making this vegan Lebanese lentil soup recipe and don't be shy to experiment with the consistency of the soup.
Traditionally speaking, you should serve this soup as a starter. Double up and eat it all for lunch or a healthy dinner. Enjoy!
Middle Eastern Lebanese lentil soup recipe
One of my favourite things about making this Lebanese lentil soup is that it uses a very cheap ingredient – the lentil.
Just consider the fact that this Lebanese lentil soup, or any Middle Eastern yellow lentil soup for that matter, would cost you a fortune in a typical Middle Eastern restaurant.
Why let your wallet suffer when you can make the same Lebanese lentil soup (if not a better homemade version) in the comfort of your own kitchen?
You see what I mean? Keep reading and I'll share even more examples of easy-to-make Middle Eastern recipes that you can make at home.
You can prepare an entire Middle Eastern feast and eat like a Sheikh without incurring the heavy travel costs or extravagance of a fancy restaurant.
what's in a Lebanese lentil soup?
It's simple. You need red or yellow lentils. Both are interchangeable and work very well. I've used both in similar recipes.
For example, I've used red lentils in my red lentil, tomato and coconut soup – an Asian soup. With the yellow peas I've had the opportunity to make a special Indian tadka daal recipe – oh so good. Nevertheless, either type of lentil works.
Next, you need carrots, onions, rice and vegetable stock. What gives the soup its magical and radiant colour is the turmeric combined with ground cumin.
You might also know turmeric as kurkuma. Turmeric is a flavouring agent used throughout many Asian cuisines. It brings a mustard-like fragrance but tastes quite bitter, almost peppery.
These are the core ingredients of a Lebanese lentil soup. Most of the times, it is yellow and quite spicy!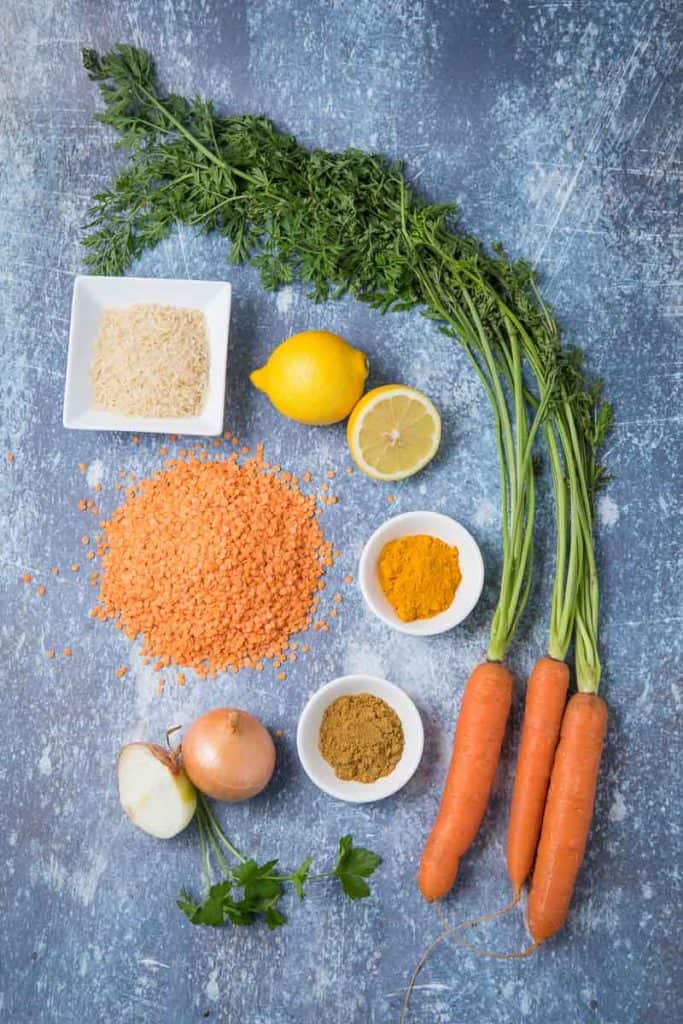 Lebanese lemon lentil soup
It is not uncommon to add lemon juice to a Lebanese lentil soup. In fact, a traditional Lebanese version of a lentil soup should call for a lemon.
That's why I've also included it in this recipe, so as to remain as authentic as possible.
I recommend juicing the lemon prior to adding it to the yellow lentil soup. Don't juice it directly into the soup. First of all, you might end up with unwanted lemon seeds that are a pain to take out once they sink in deep.
Second, if you juice the lemon separately, you can control the level of acidity you wish the Lebanese soup to have.
My recommendation is to add a little lemon juice at a time and see which level of acidity fits your taste. If you love acidity, then don't hesitate to cut another lemon in half and juice it, too.
slow cooker Lebanese lentil soup
Although slow cookers are mostly used for meaty recipes, you can also make this yellow lentil soup in a slow cooker. You can easily leave this Lebanese lentil soup cooking on very low heat slowly over several hours.
This way, all the flavours and spices will infuse into the ingredients, making this one amazing soup!
In addition, you can also consider a pressure cooker for this recipe. Generally, lentils require quite a long cooking time. But with a pressure cooker, you can whip up this soup in no time at all.
If you can't decide on which device you want to cook this soup in, click here and see the benefits of both. In either case, my recipe only calls for 10 min of preparation time and 20 minutes cooking time.
I bet you can do this Lebanese lentil soup recipe in under 30 min! Do you accept the challenge?
vegan Lebanese lentil soup
As I've mentioned before, this lentil soup is in fact vegan! Just omit the yogurt element at the end. If you do so, there is nothing in this soup that's non-vegan.
Enjoy this nutritious and protein-rich soup! If you are an active vegan, then this Lebanese lentil soup should definitely be on your weekly menu!
how to control the consistency of a lentil soup
This yellow lentil soup turns out quite thick. If you prefer to have a thinner consistency and make a larger batch, just slowly add more stock until you're happy with it. Otherwise, water it down a little bit and add more spices.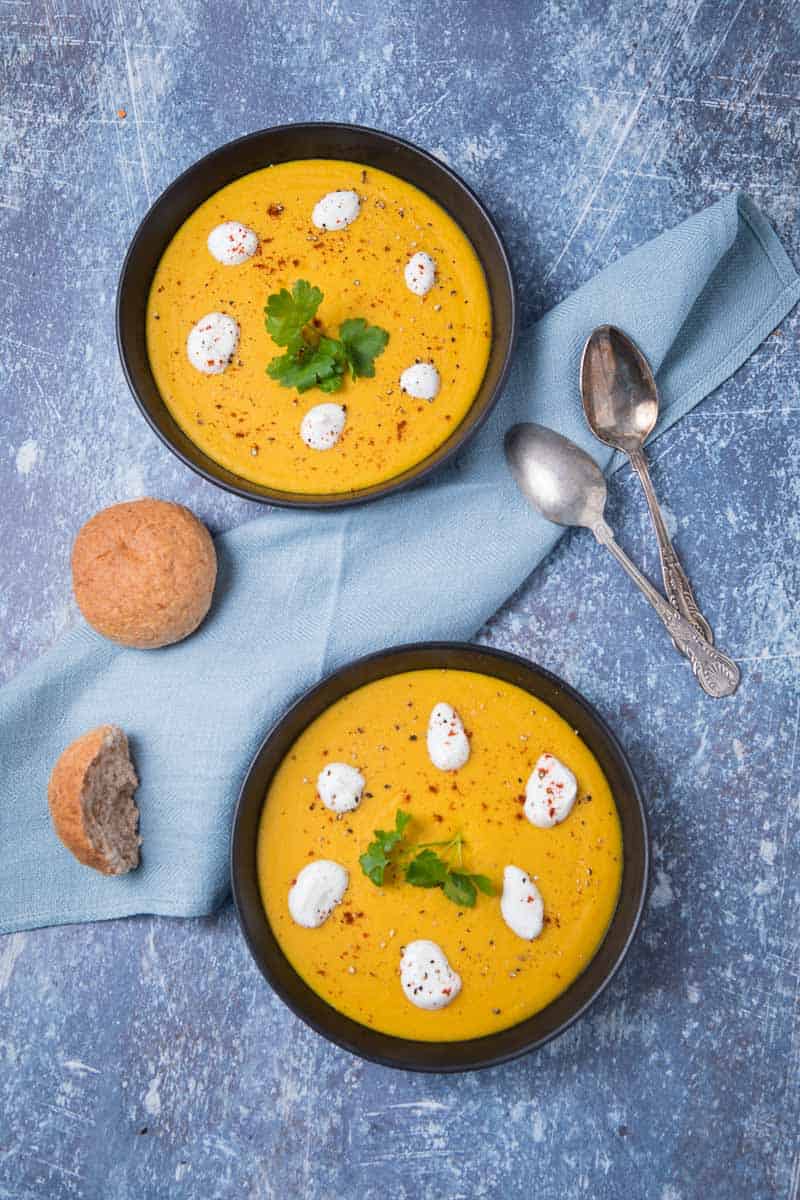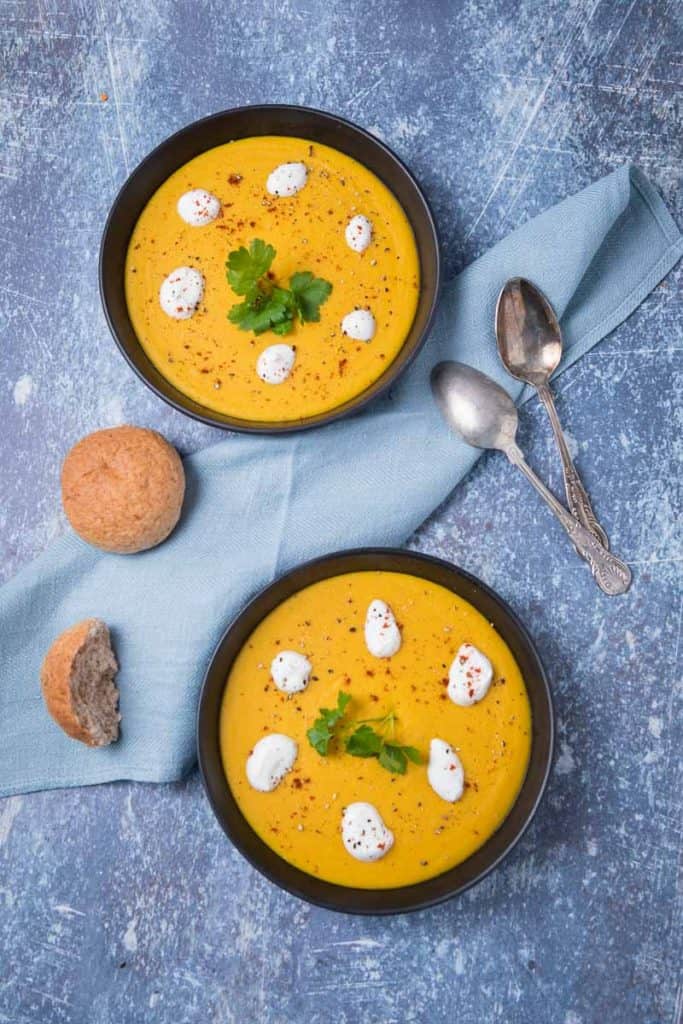 toppings
There are two toppings that you have to include to respect the authenticity of Lebanese cuisine. First, you'll need to add a dash of yogurt on top of the cooked lentil soup.
Second, don't forget the parsley. This Lebanese soup wouldn't be complete without these two ingredients.
Since there is lemon juice inside the soup already, you may opt for cutting up bits of preserved lemon. It will work perfectly and take this Middle Eastern gem to the next level.
make a feast
If you feel like making a Middle Eastern feast at home then make these recipes too:
More smooth vegetable soup recipes
Print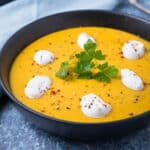 Lebanese Lentil Soup
---
Description
This Lebanese lentil soup has the authentic flavours of the Middle East in every spoonful. You'll need lentils, carrots, turmeric, cumin, lemon and more.
---
30

ml (2 tbsp) vegetable oil

2

onions, peeled and chopped

2

carrots, peeled and chopped

125

ml (1/2 cup) rice, washed

450g

(1lb) red or yellow lentils, washed

15

ml (1 tbsp) turmeric

15

ml (1 tbsp) ground cumin

2

ℓ (8 cups) vegetable stock

1

lemon, juiced

125

ml (1/2 cup) yogurt [optional]

parsley
---
Instructions
Heat the oil in a large saucepan.

Gently fry the onions until softened, which will take about 5 minutes.

Stir in the carrots, rice, lentils, turmeric, cumin and stock.

Let the mixture come to a slow simmer and leave to cook for 15 minutes, or everything is tender and cooked through.

Stir in the lemon juice.

Transfer the contents to a food processor and blend it in batches to perfectly smooth.

Serve each bowlful with a dollop of yogurt and chopped parsley.
Notes
This soup is quite thick. If you like to have a thinner consistency, slowly add more stock until you're happy with it.
Prep Time:

10 minutes

Cook Time:

20 minutes

Category:

Main Course

Cuisine:

Lebanese
Nutrition
Serving Size:

1

Calories:

133

Sugar:

6.7g

Sodium:

27mg

Fat:

4.2g

Saturated Fat:

4.2g

Carbohydrates:

21.7g

Fiber:

2.5g

Protein:

3.2g

Cholesterol:

1
save the recipe to your pinterest board