If you want to take your Christmas turkey to the next level, this buttermilk brine is a surefire way to do it!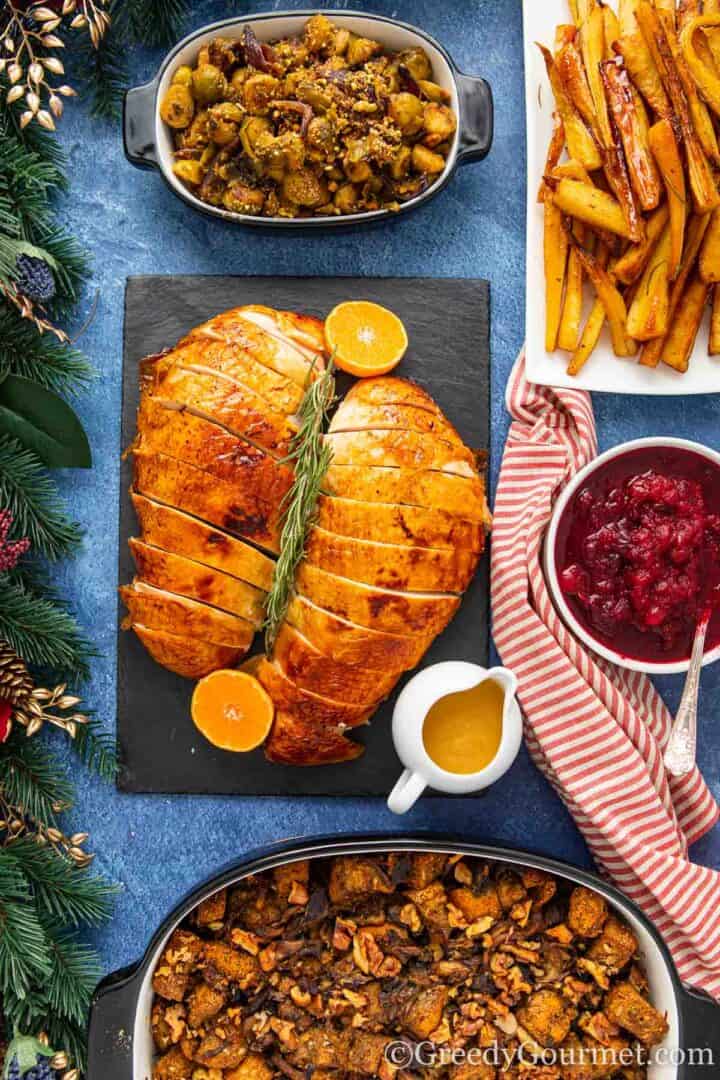 The foolproof method to achieving a wonderfully succulent turkey every time, it's so simple yet so incredibly effective. With just four ingredients, plus the option of my secret ingredient, you'll end up with the best Christmas turkey ever!
Products you need for this recipe
There are a few items you'll need to make this brine, as well as when using it to brine your turkey.
Large saucepan – you'll need either a large saucepan or a large stock pot to do the job
Kosher salt – when it comes to brining your Christmas or Thanksgiving turkey, this salt is the best salt to use. It's coarser than standard sea salt and is less salty, bringing a more subtle savory flavor
Brining bags – a large brining bag is essential for this recipe
Cooler box – if you haven't got the refrigerator space, get yourself a cooler box
Buttermilk brine recipe
This brine is so simple. With only four ingredients, most of this recipe is about having patience and allowing the brine to do its thing.
The ingredients list is water, buttermilk, kosher salt and brown sugar… simple!
However, there's a spicy little twist to this brine turkey tale… the addition of an optional 'secret' ingredient, that promises to take your brined turkey to a whole new level.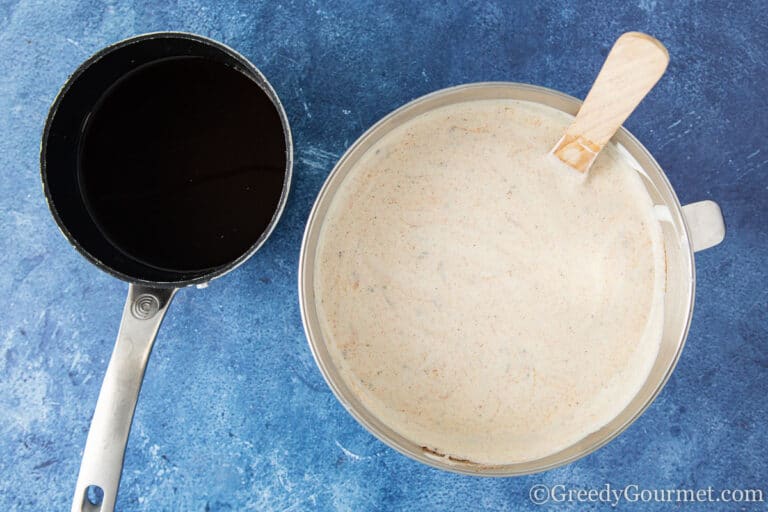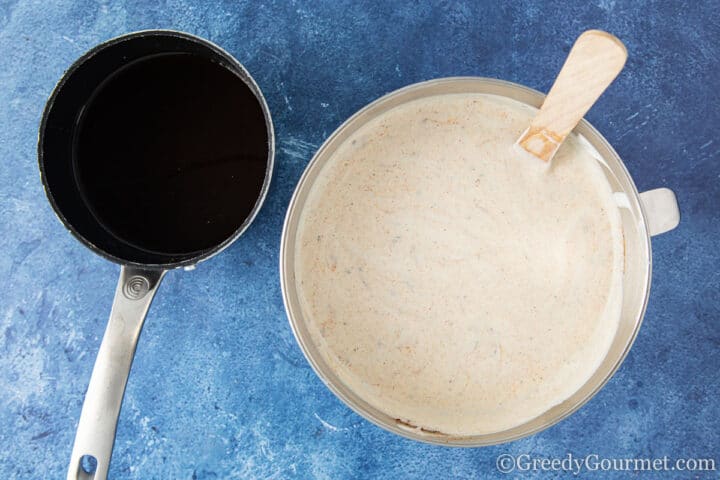 What's the secret ingredient to this brine?
Well, it's one of America's favorite spice blends. A heady concoction of at least 16 different herbs and spices, that brings a unique flavor to any dish it's used with.
Old Bay Seasoning brings such character and depth of flavor to anything it touches. While it's usually added to seafood dishes or as a meat rub, when used with this brine, it adds an incredible dimension of flavor.
Trust me… you're going to love it!
What is buttermilk?
Buttermilk is basically fermented milk. Traditionally, buttermilk was always the liquid leftover from after milk was churned to make butter.
Thinner than milk and without the fat, yet retaining that delicious sweetness, the cultures in buttermilk means it stays good for longer than milk. 
Nowadays, instead of being a by-product of the milk-churning butter-making process, buttermilk is purposely made. Modern dairies add cultures to fresh pasteurized milk to create buttermilk.
What does buttermilk do to a brine?
Buttermilk marinated turkey is wonderfully tender and incredibly delicious! Whether it's a Thanksgiving turkey or a Christmas turkey, you want it to be special. Well, brining your turkey in buttermilk is the way to go.
When you brine turkey, you help the whole turkey retain its juices – from the turkey legs and the turkey breast to the wings and every other part.
Turkey is a naturally lean meat, which means it can easily end up very dry and tasteless during the roasting process, especially if you don't get the preparation and cooking time correct. 
Brining helps to keep everything succulent and juicy. Even if you go a little over the correct cooking time, a buttermilk brined turkey tends to come out perfectly juicy and tender.
This is, in large part, down to the saltiness, acidity and the sweetness of the buttermilk mixture. The acid in the buttermilk 'denatures' and 'unravels' the protein fibres in the meat. When they reconnect, they trap moisture within the meat. 
Meanwhile, the salt in the brine gets into the cells of the meat through osmosis, while the sweetness of the buttermilk keeps the balance of flavor.  
What type of turkey is best for brining with buttermilk?
Any type of standard supermarket turkey or a normal butcher's turkey should be fine. 
There's one very important thing to bear in mind when brining a turkey. Any turkey that is labelled 'kosher' or has been pre-flavored should not be brined. This is because your turkey will end up far too salty. 
This brine, aside from keeping the inside of your turkey wonderfully tender, will add a lot of seasoning. Therefore, it's vital not to add a brine seasoning to a turkey that has already been salted.
You can also brine a frozen turkey in buttermilk. Just place the turkey in the buttermilk mixture and defrost it and brine it at the same time. Whether it's partially or fully frozen, it still works.
How long can you leave turkey marinating?
For a whole turkey, you need at least 12 hours and anywhere up to 48 hours. Bringing turkey breast could be anything from 12 to 24 hours.
Is three days too long to brine a turkey?
Yes, it's too long to brine a turkey for three days. You don't need to brine a turkey for any longer than 48 hours.
Can you brine with milk?
to brine turkey. One other thing to note is that buttermilk lasts longer than milk and is easier to keep fresh, which makes it ideal for brining.
Can you make gravy from a buttermilk brined turkey?
When you brine a turkey, in buttermilk or any other type of brine, the pan juices in the roasting pan end up very salty. 
So, if you're planning on using the roasting pan drippings to make gravy after roasting a buttermilk brined turkey, be sure to have a taste first, otherwise you'll end up with a gravy that is far too salty.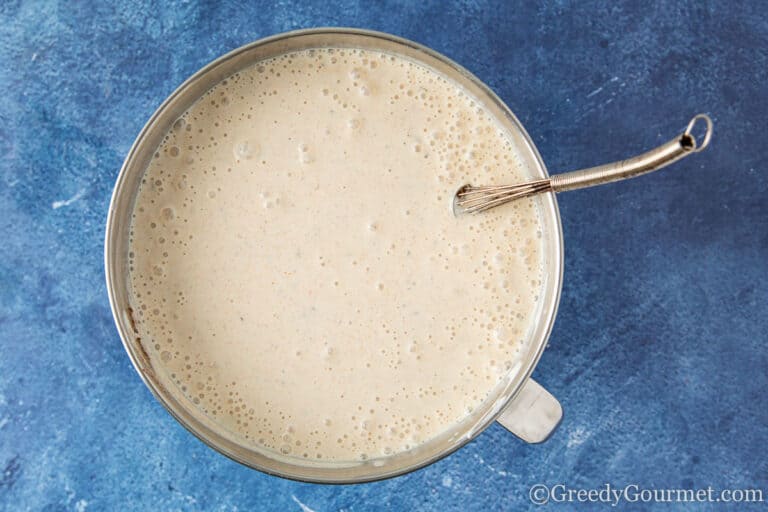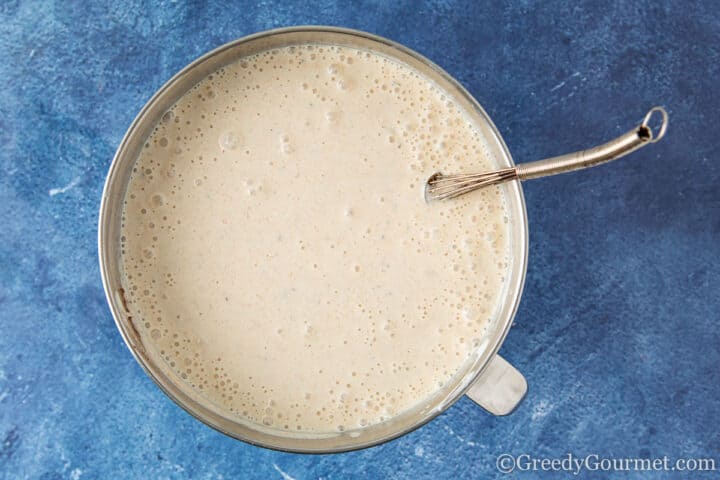 What else can I add to this brine?
Add any of the following to your brine, to get an extra dimension of flavor:
Fresh rosemary
Fresh thyme
Tarragon
Ground ginger
Coriander seeds
Fenugreek seeds
Onion
Carrot
Celery
Lemon peel
Orange peel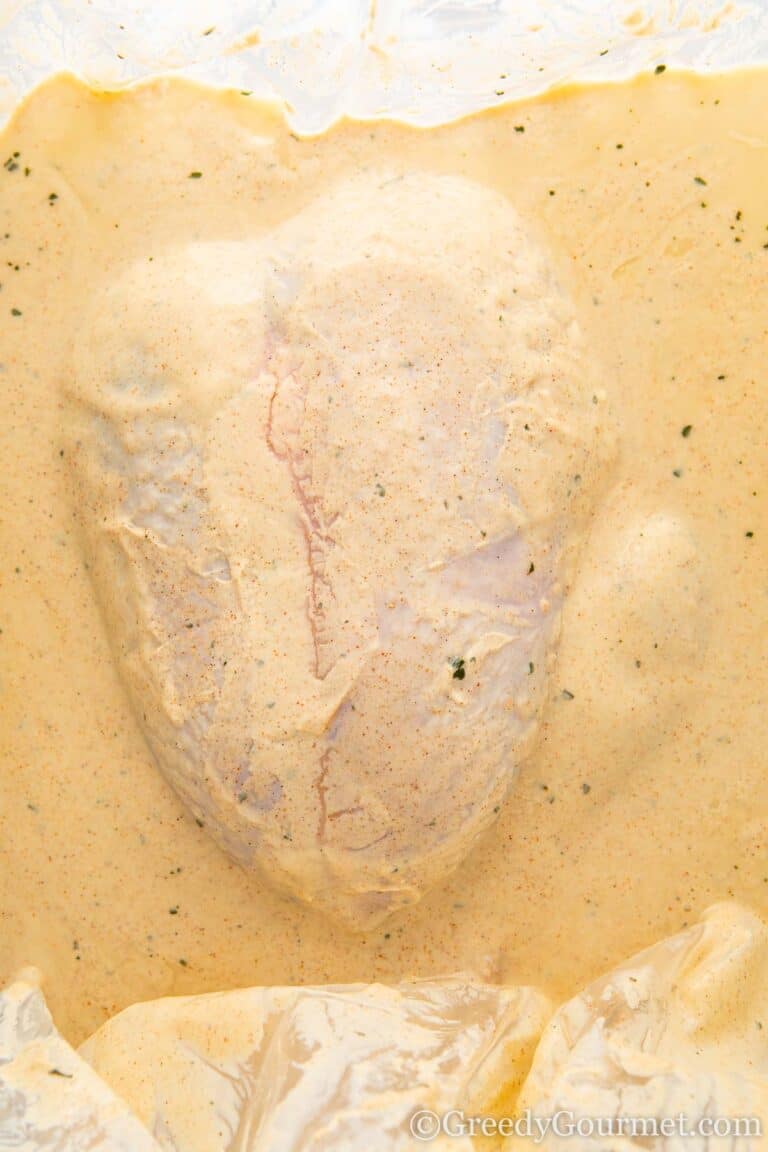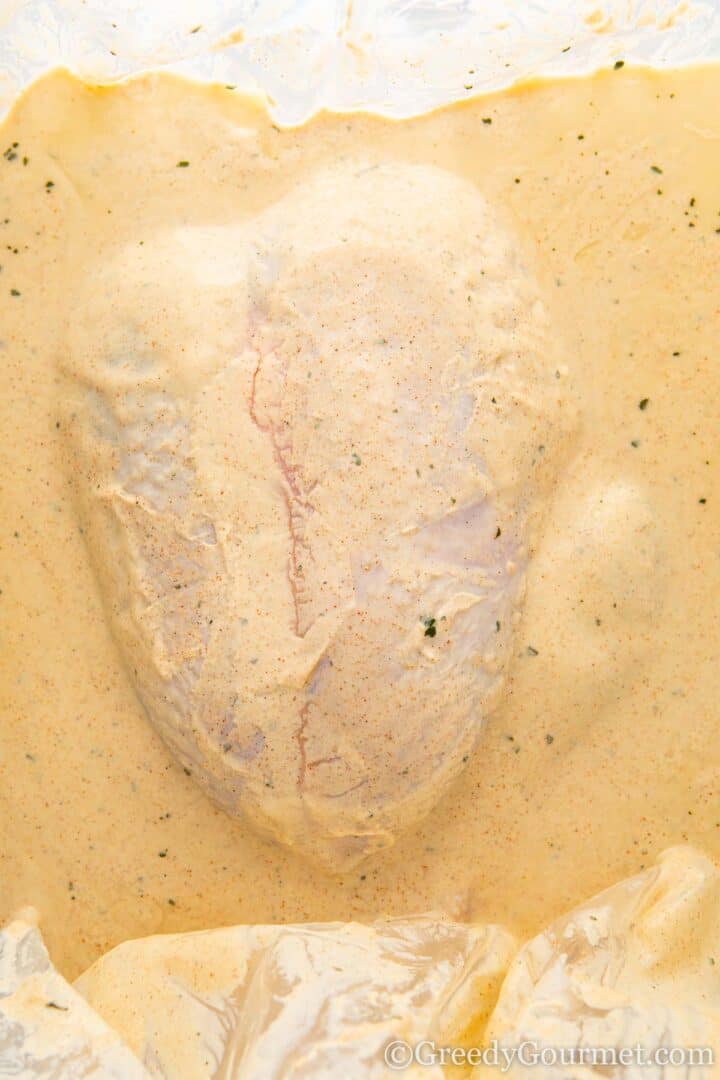 Tips for a perfect buttermilk brine
Make sure the brine has cooled completely
Adding raw poultry to warm brine is a recipe for disaster. Whether it's a fresh turkey, a frozen turkey or a thawed frozen turkey, make sure you add it to a completely cooled brine.
Use kosher salt
Don't use any other salt than kosher salt. A lot less salty than standard sea salt and a lot coarser, when brinin it's the only way to go.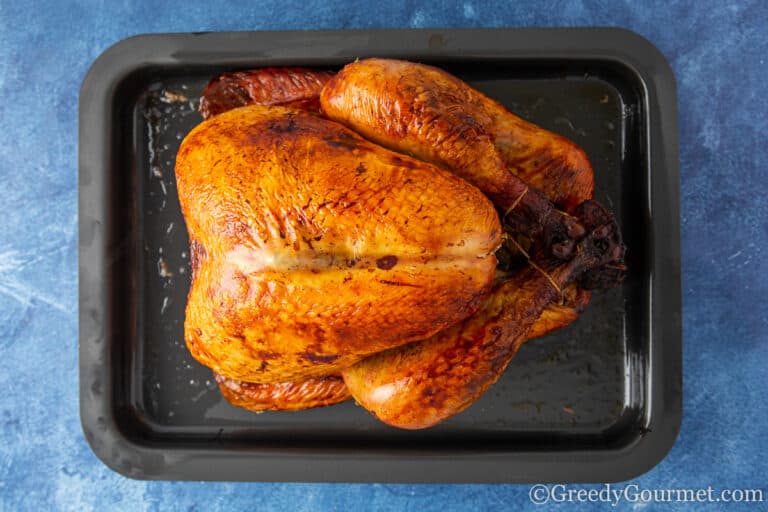 More brining recipes
Brining is a fantastic way to lock in the tenderness of meat and add to the flavor and texture. Here are a few more brining recipes for you to try:
Whole turkey brine – when it comes to making a holiday turkey, this simple brining recipe is a winner
Apple cider brine – bring some extra flavor to your turkey with this fantastic apple cider brine
Brined chicken thighs – an easy way to inject some next level flavor into your chicken thighs
Brined chicken drumsticks – don't stop at thighs… try these drumsticks on for size!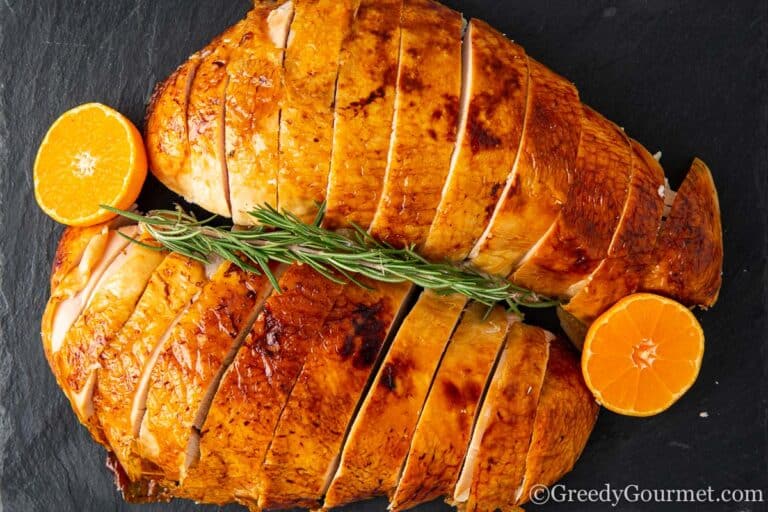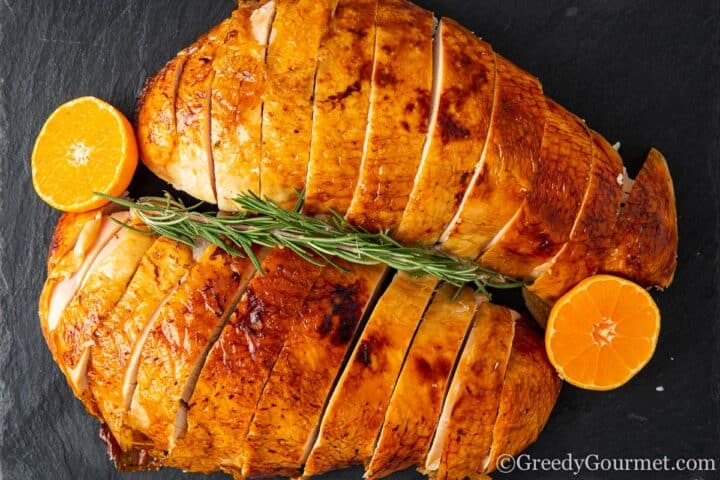 More Christmas and thanksgiving favorites
Need some more holiday season inspiration? Here are a few traditional classics to get you in the festive mood:
Print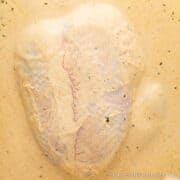 Buttermilk Brine
---
Author:

Michelle Minnaar

Total Time:

20 minutes

Yield:

Enough for

9

kg (20lbs) turkey, serves 16 people

1

x

Diet:

Gluten Free
Description
Using only four ingredients, learn how to make a delicious Buttermilk Brine for your turkey. An easy way to make sure your turkey doesn't end up dry.
---
1.75

L (7 cups) water

380

g

(1 1/3 cup) kosher salt

200

g

(1 cup) brown sugar

55

g

(1/2 cup) Old Bay seasoning [optional]

5

L (1 gallon) buttermilk
---
Instructions
Place the water in a large saucepan over a medium heat and add the salt and sugar.
Stir constantly until all the salt and sugar have dissolved.
Remove from heat and let the water reach room temperature.
When you are ready to brine your turkey, whisk the seasoned water and Old Bay seasoning into the buttermilk until smooth. You might need to do this in batches since you're working in such large quantities. I.e. Add the brine to the turkey in the brining bag as you go along. It will help you gauge how much more is needed. Ensure the turkey is completely submerged.
Brine for 1 hour per pound of meat. In the case of a 20lbs turkey it will be no more than 20 hours.
After the allotted time elapsed, discard the brine.
Rinse the turkey then pat dry with paper towels. Let it stand at room temperature for 1 hour, then proceed to cook as you see fit. Check out my Whole Roast Turkey recipe!
Notes
If you are brining chicken or smaller cuts of turkey, calculate the ratios for the bring. E.g. if you're brining a whole chicken weighing around 5lbs, then make up a quarter of the brine recipe above.
When brining a turkey, it's best to use a brining bag and place it into a plastic container, just in case there are any leaks.
We are fortunate to have a large enough fridge to accommodate a turkey in a large container. Alternatively, you can use a suitably sized cooler box and you won't even need to use a brining bag in this case. One thing to keep in mind is that the bird then has to be kept cool. If the weather outside is 35°F (1°C) or lower, you don't have to worry about ice. Just make sure animals can't get to it! If the weather is warmer than that, then you'll need to use ice packs to keep the meat cool for the duration of the brining process.
Prep Time:

10 minutes

Cook Time:

10 minutes

Category:

Brine

Method:

Brining

Cuisine:

American
Keywords: buttermilk brine, buttermilk brined turkey, buttermilk turkey brine recipe, buttermilk for chicken, buttermilk recipe, brining recipe