Who doesn't like savoury bites? To be honest, I have a weak spot for little savory snacks. Bacon wrapped dates is something you can try out next time you have guests over, ideal as a starter or party food.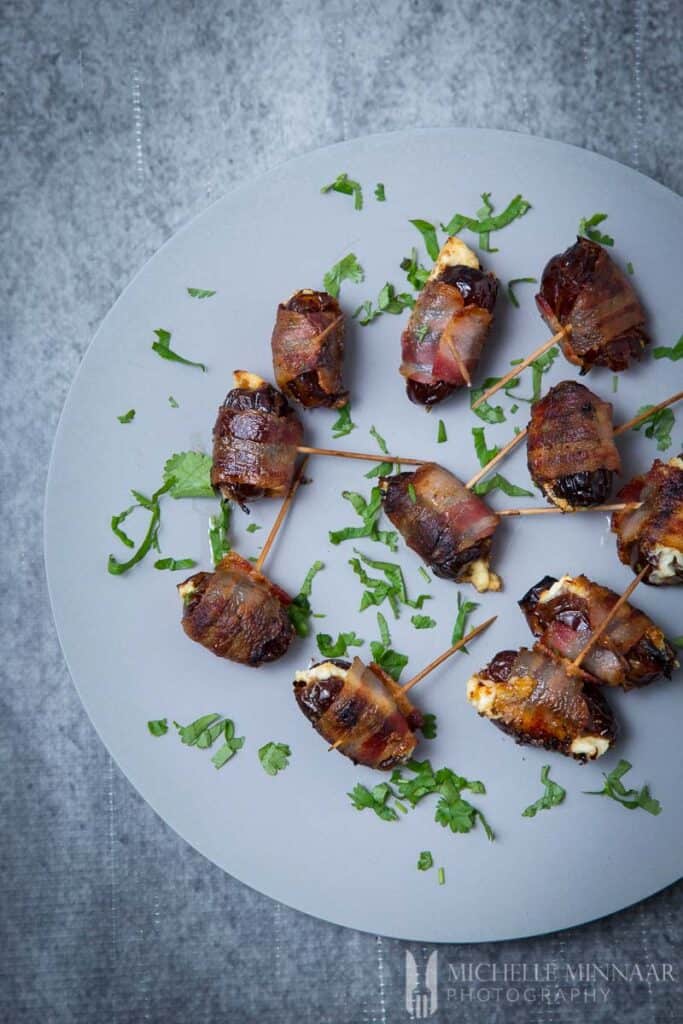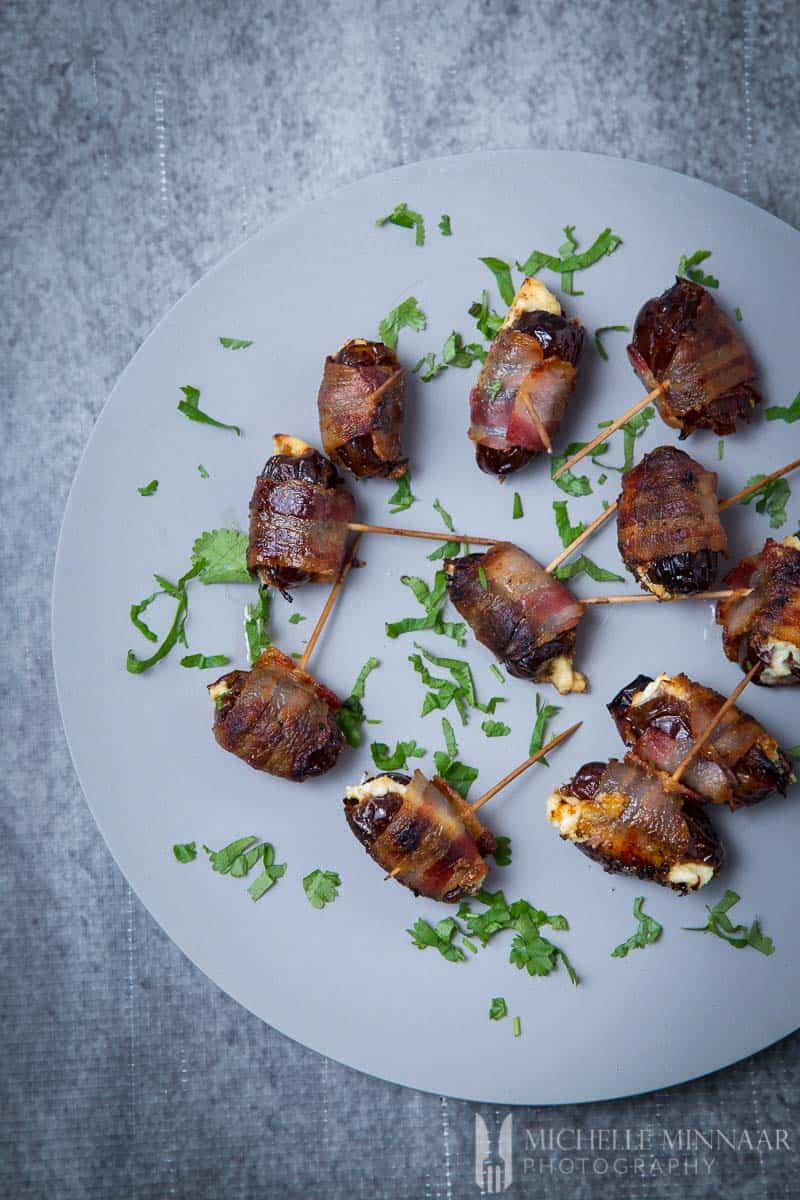 For New Years' Eve, I made these bacon wrapped dates and devils on horseback, because this was my last meal of ever eating pork! That's right, I'm systematically becoming vegetarian.
However, being such a food lover as I am, it's not easy to cut out all meat all at once. Therefore, I am starting off by slowly reducing my meat consumption while upping vegetarian intake.
I found the bacon wrapped dates with cream cheese to be the perfect cocktail finger food for New Years' Eve. My guests loved to nibble on these before the dinner and polished everything off.
The combination of the sweet date, the full cream cheese and the salty crispy bacon around it is simply divine.
more about dates
Dates are the fruits of the date palm, and the trees have been around for thousands of years because of their sweet fruits. Apparently, the date palm originates form the Middle East.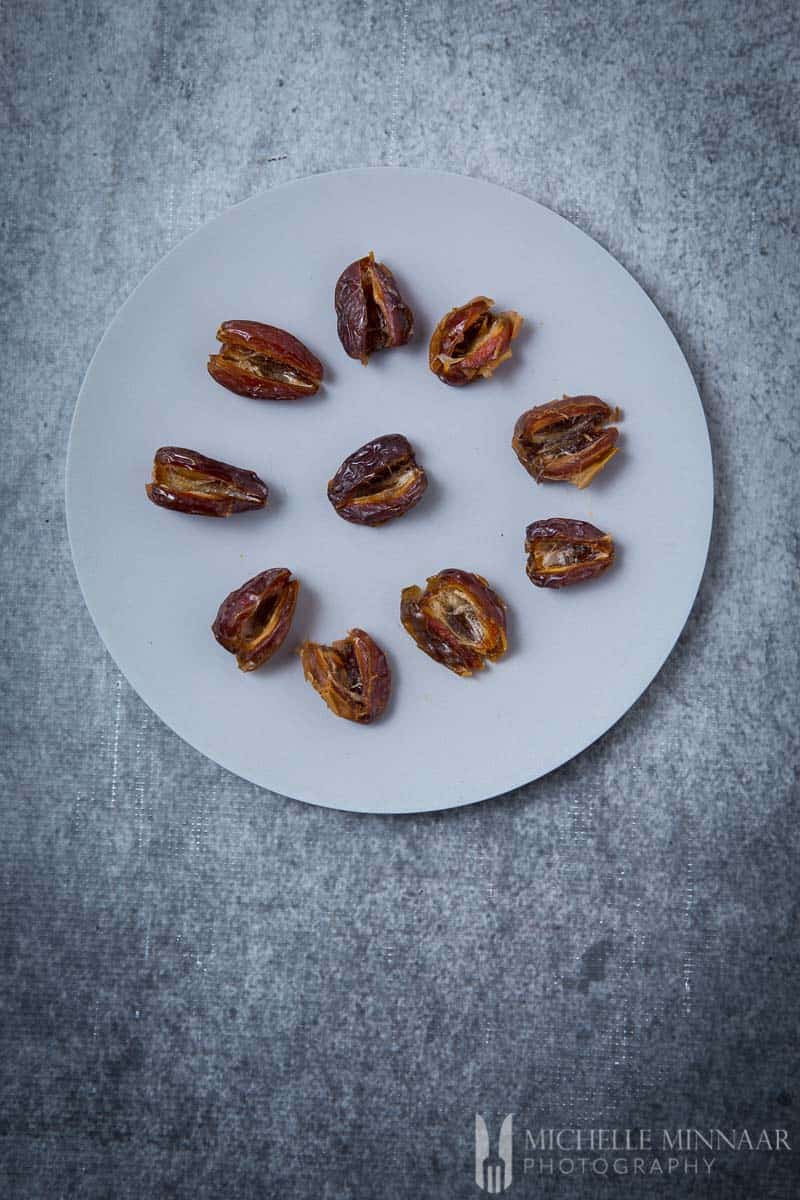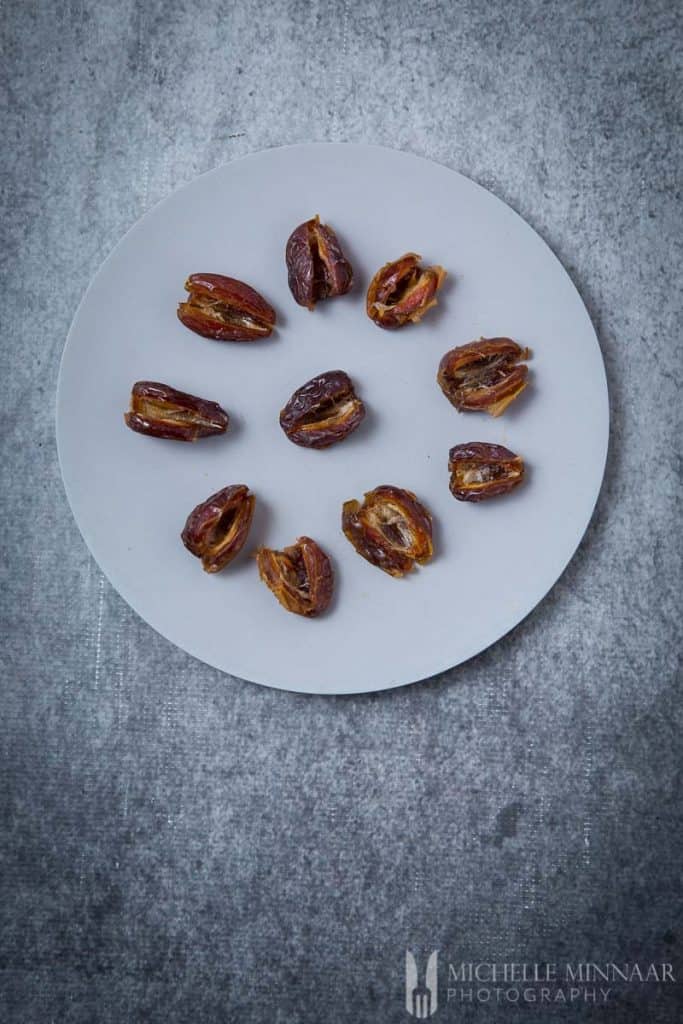 There is archeological evidence for the ancient cultivation throughout the Middle East and North Africa, and it is also here that the most dates are grown today. Ancient tradesmen and explorers brought the date to Spain and later to the New World.
Today, date palms are grown in California and Mexico too where the climate is warm enough for the palms to bear fruit. Date palms can be found throughout most of the Mediterranean countries, however most places are too cold for them to bear any fruit.
Semi-dried dates can be found all year around in the shops but are particularly popular around the holidays. Dates have a sweet taste with hints of caramel and honey in flavour.
They can be eaten straight just as a snack. Or when pitted, they can be used for cooking, such as in Moroccan tagines, or in this case my bacon wrapped dates with cream cheese.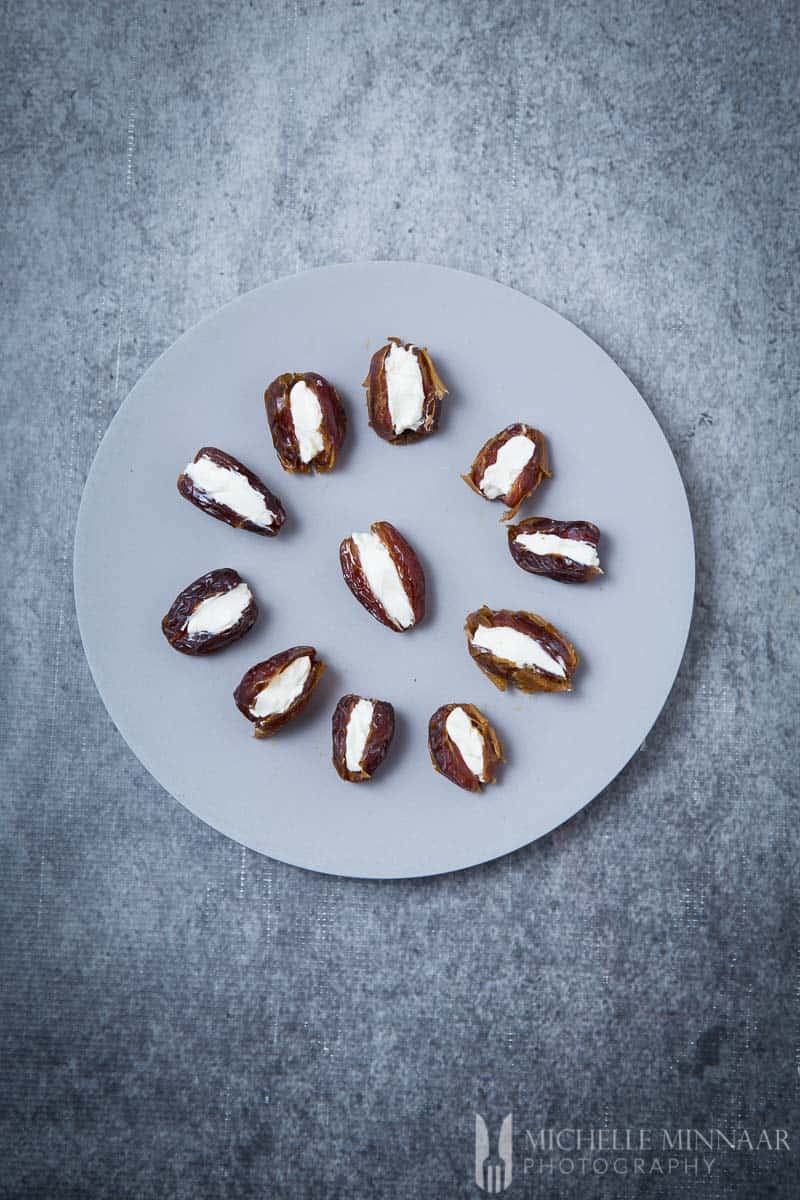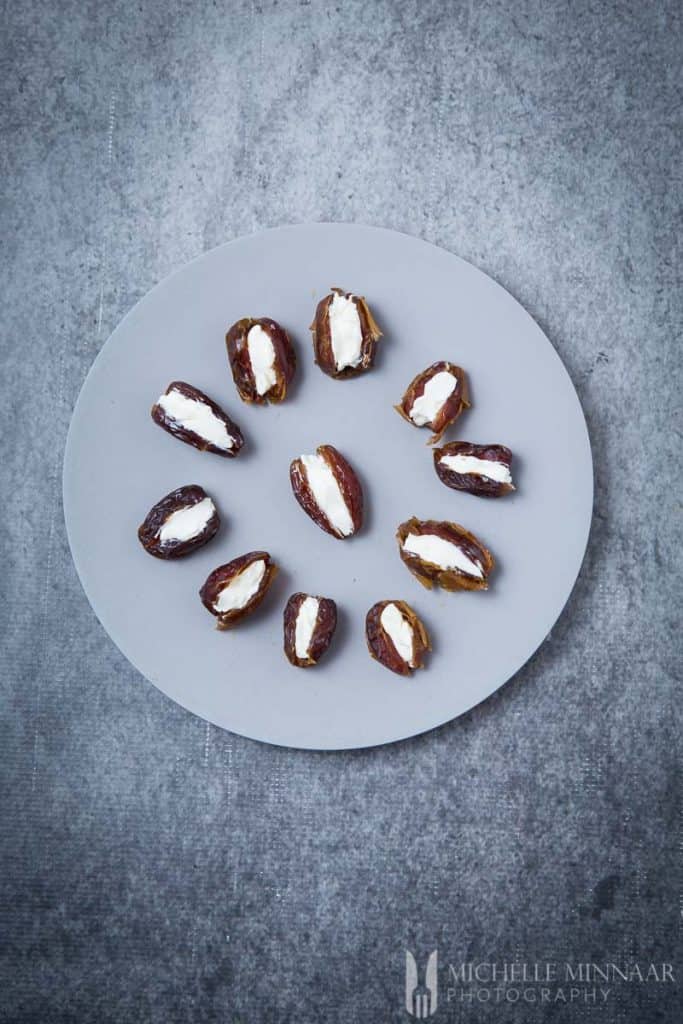 preparation
It can be tricky to pit the dates yourself without making a mess of it. For greatest convenience, I recommend buying dates already pitted, if possible.
With a small sharp knife, slice the side of the date open that it resembles a small pita bread. This way you can get lots of stuffing in there, but it will still hold together, thanks to the bacon.
Fill with cream cheese and wrap half a slice of streaky bacon around the now stuffed date. Seal the concoction using a wooden toothpick. This way the bacon will stay in place during the cook, as it would otherwise shrink, twist and fall off.
In the oven they go and that's actually all there is to it. Easy peasy, huh?
As you can see it's a simple snack to prepare but, trust me, your guests will still be impressed by it. Especially once they taste this gorgeous flavour combination.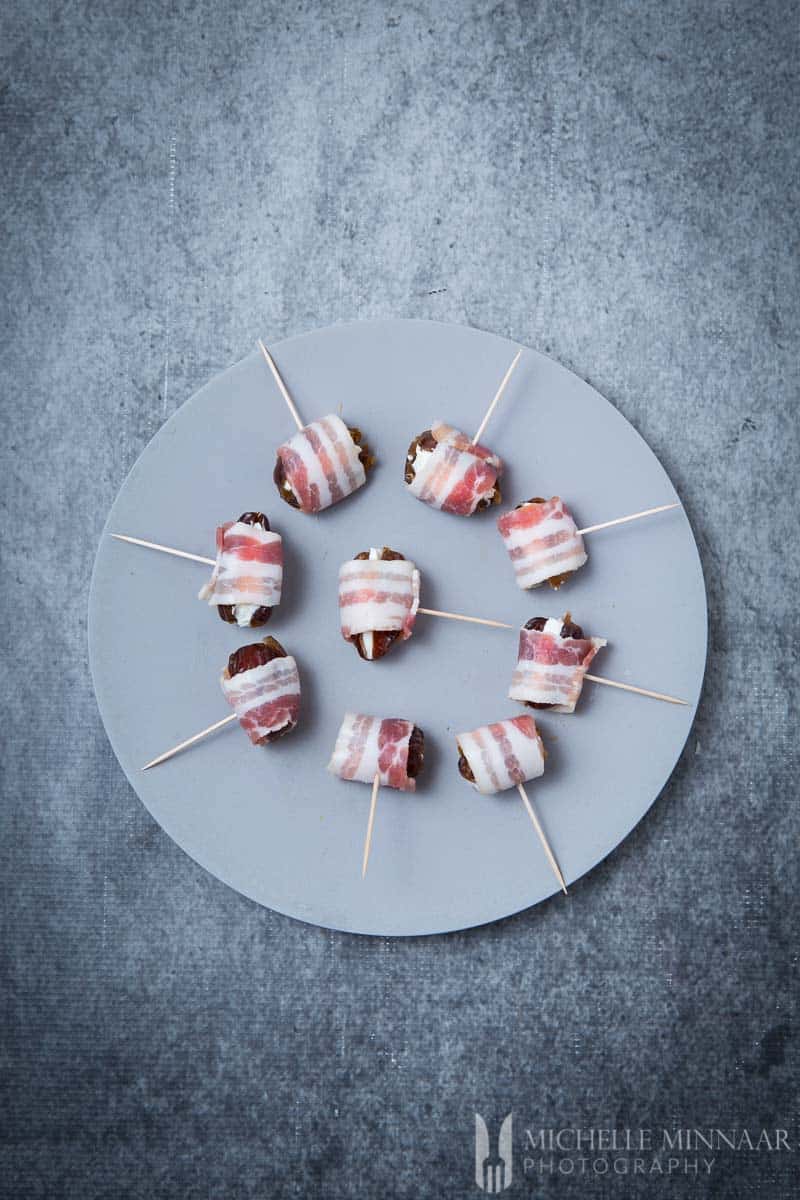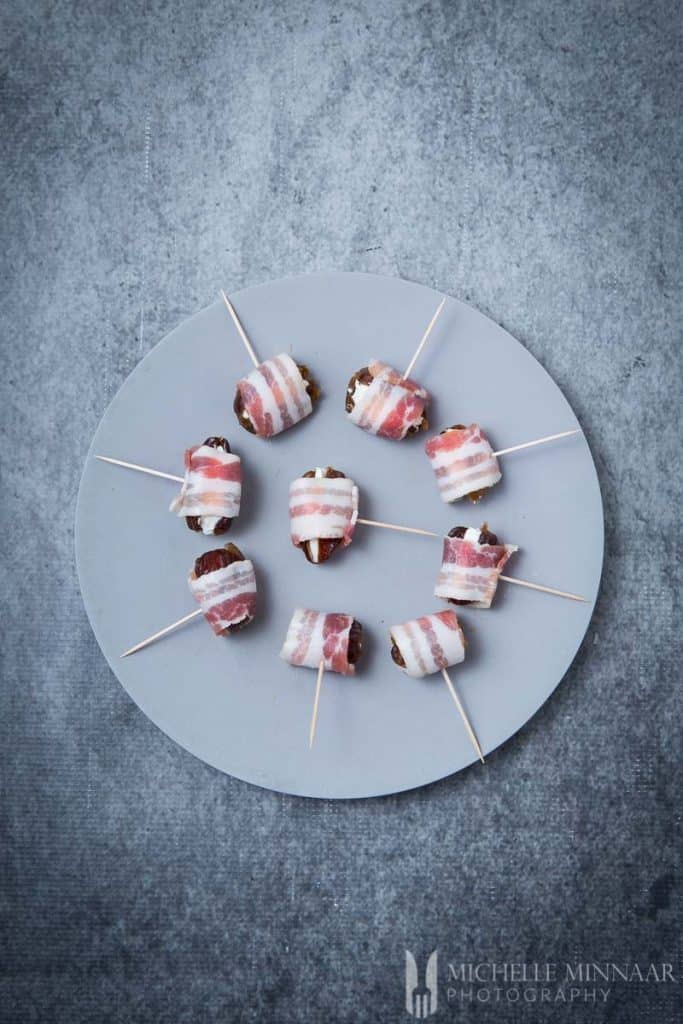 serving
If you decide to serve the bacon wrapped dates as a starter rather than a canapé, I recommend something green to go with them. For instance, you can keep along the Levantine line and serve three or four on a plate with a bit of tabbouleh or a fattoush salad.
Tabbouleh comes from the Maghreb region of Northern Africa and is popular throughout the Middle East. This salad comprises chopped fresh tomatoes fresh parsley, mint and spring onions mixed together, dressed with olive oil, lemon juice, salt and pepper.
The flavour of the tabbouleh plays well with the bacon wrapped dates with cream cheese, as well as the fattoush salad. If you serve the bacon wrapped dates as a party food there is just one thing to keep in mind. Make sure that you make enough – these things fly off the plate!
Similarly, you can also serve it with other party food. These include the asparagus wrapped in Parma ham, stuffed cherry tomatoes, bacon wrapped sweetcorn or bacon wrapped pork sausages with sweet sticky apple. Nobody can resist these!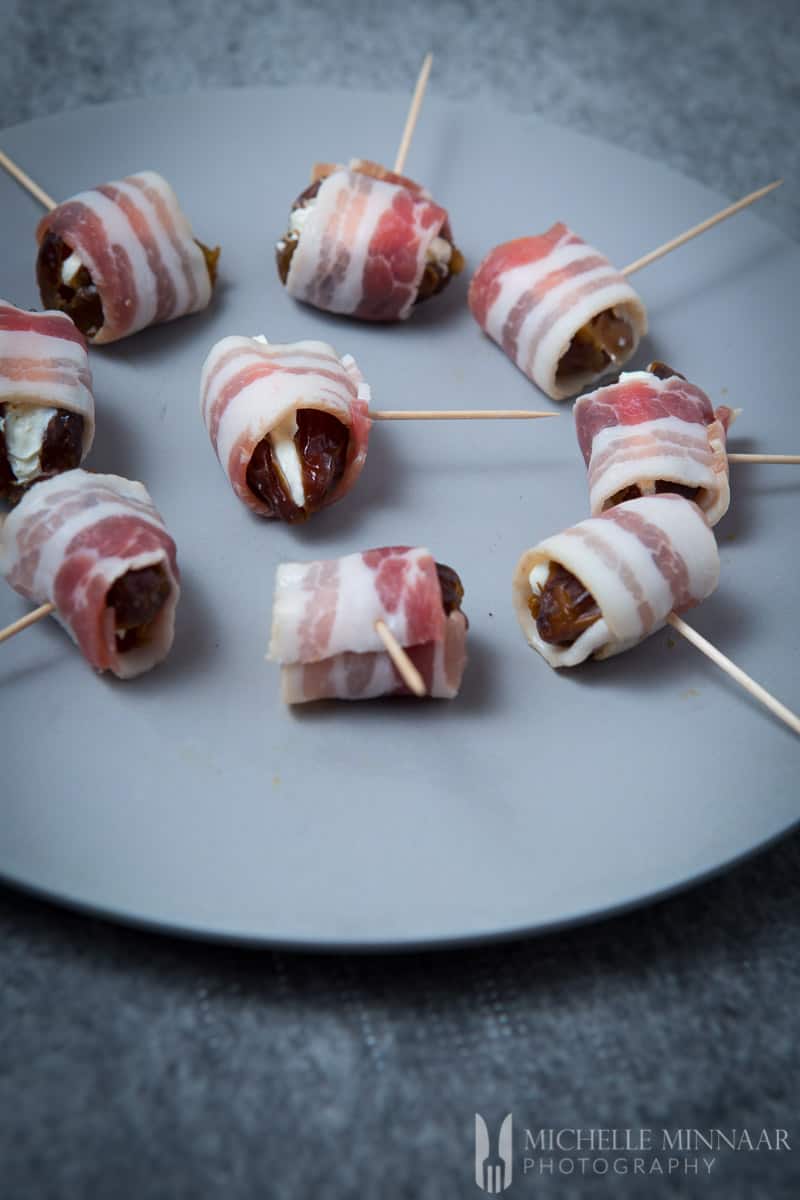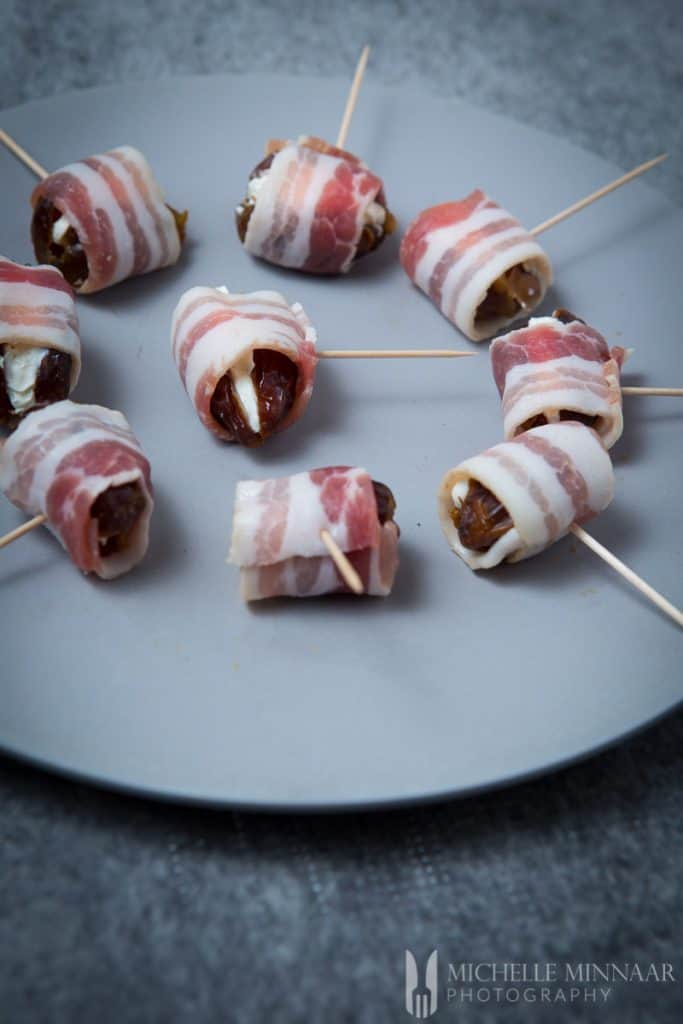 variations
Should you not like bacon, you can replace it with a strip of Parma ham. Or you can use another type of dried ham that you like. You will keep the salty savory contrast to the dates and the cream cheese only without the smoky flavour from the bacon.
If you prefer not to have any meat at all, you can of course leave out the pork. In this case use a little less of the filling and carefully close the date with a toothpick. If you do it right, each date should still hold its shape and filling.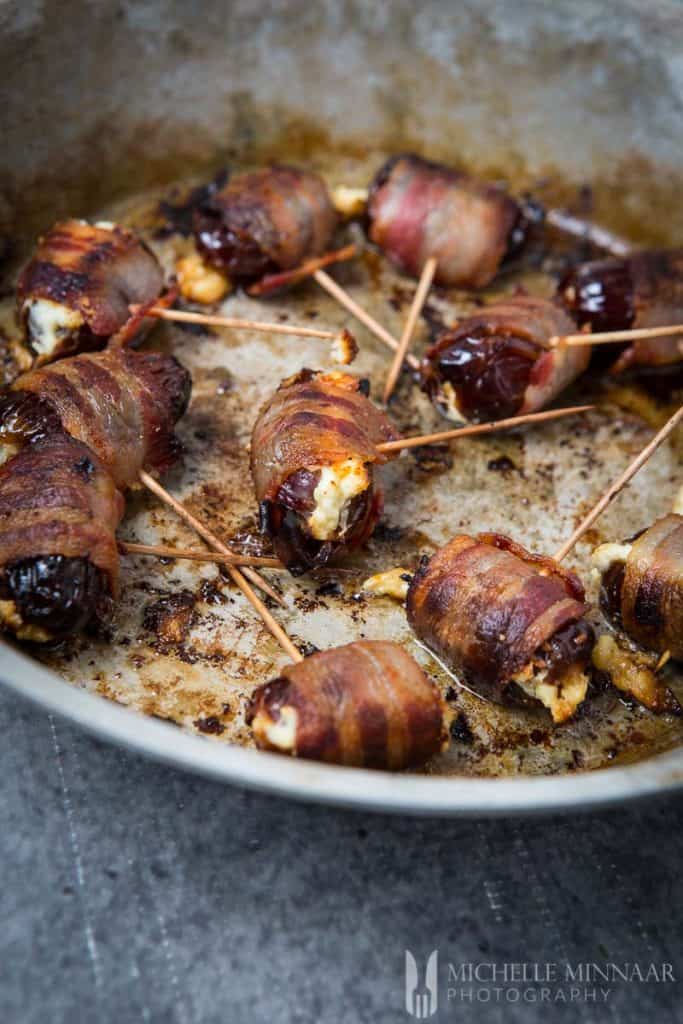 If you want to spice it up a bit you can sprinkle the dates with chili powder before baking. You can also use a cream cheese that is not plain, for example one infused with herbs or with paprika.
You can also mix your own herbs in the cream cheese before stuffing the dates with it. If you want to make it even more Middle Eastern, stuff the bacon wrapped dates with tahini paste instead of cream cheese.
It's surprisingly good. Plus, it's also a good way to get some umami flavours going.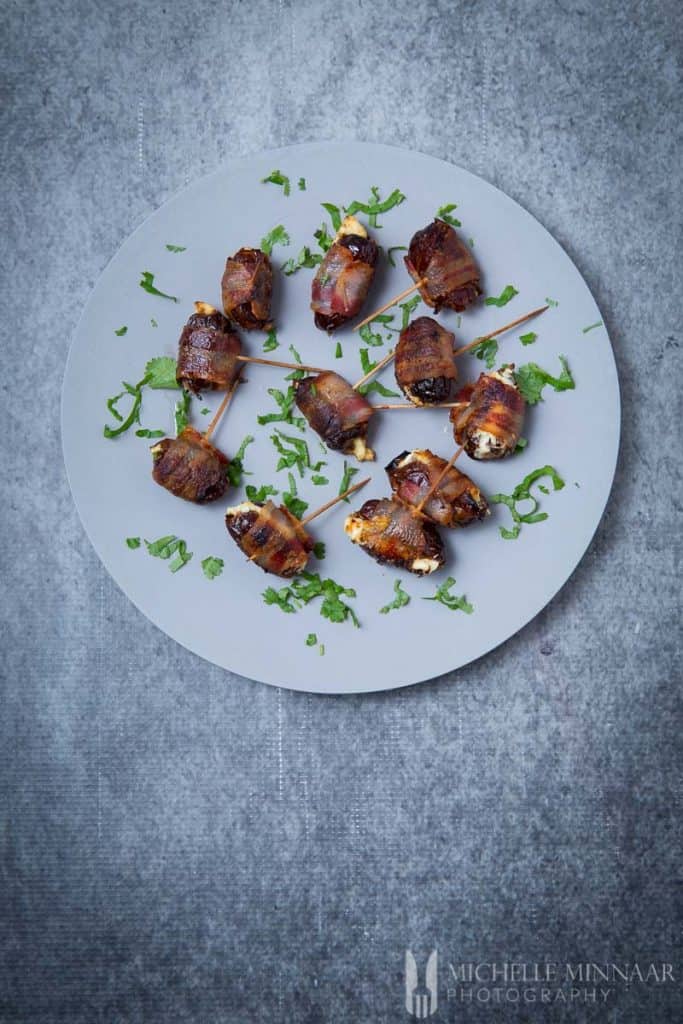 A sweet tooth?
Now this may seem a bit odd taking about bacon wrapped dates. You can also turn the pitted dates into a quick and delicious dessert. Instead of filling them with cream cheese and wrapping them in bacon, you can fill them with marzipan instead!
Obviously you shouldn't wrap them in bacon and oven-bake them if you do this. Even though the holidays are over, marzipan filled dates are still a nice little winter treat that you can enjoy with your tea or coffee instead of a biscuit.
If you find the marzipan too sweet, you can use chopped walnuts, almonds or pecan nuts instead.
What is your favourite way to enjoy dates?
Print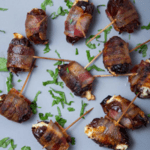 Bacon Wrapped Dates Stuffed with Cream Cheese
---
12

pitted dates

6

rashers streaky bacon

100g

(

3oz

) cream cheese
---
Instructions
Preheat oven to 200°C/180°C fan/390°F/gas 6.
Cut the bacon rashers in half.
Make a slit, from top to bottom, in each date.
Using a teaspoon, stuff each date with cream cheese.
Wrap each date with half a slice of bacon and secure the end of the bacon with a toothpick.
Arrange the dates on a baking sheet and cook for around 15 minutes until the bacon is cooked and crisp. Don't forget to turn the dates halfway through for even cooking.
Serve warm or at room temperature.
Notes
Have a lot of bacon left-over after making this recipe, don't worry! Check out my guide on freezing bacon.
Prep Time:

15 minutes

Cook Time:

15 minutes

Category:

Starter

Cuisine:

English
Nutrition
Serving Size:

1 serving

Calories:

292

Sugar:

15.8 g

Sodium:

75 mg

Fat:

19.3 g

Saturated Fat:

5.5 g

Carbohydrates:

19.4 g

Fiber:

2 g

Protein:

12.5 g

Cholesterol:

28 mg
save the recipe to your pinterest board