What better way of enjoying the last bit of summer than cooking a lovely BBQ rack of lamb? This beautiful piece of meat is one of the best bits of the animal, and with the proper preparation, you are in for a real treat. Moreover, the BBQ rack of lamb is the perfect dish for having friends or family over to enjoy a meal together. Although you need to plan ahead before cooking the BBQ rack of lamb, it is actually surprisingly easy to prepare. I urge you to just try this dish once because, trust me, afterward you'll make it again and again.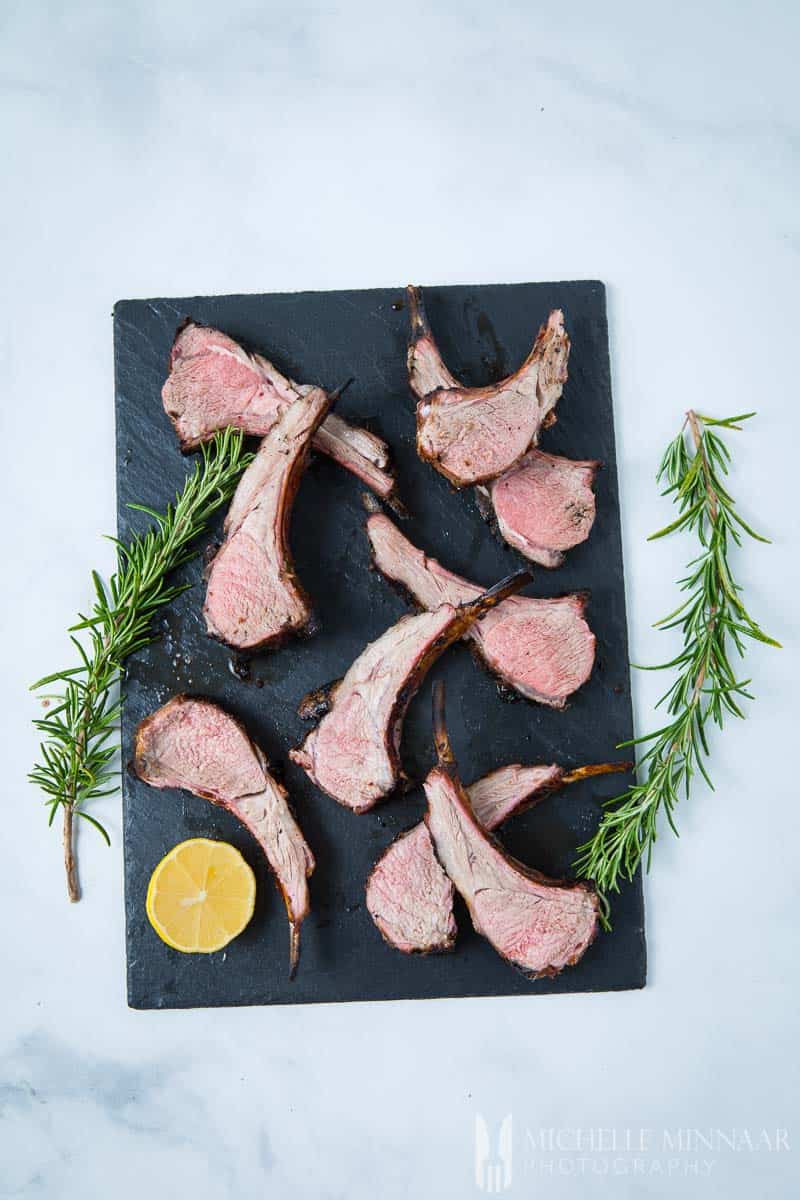 what is BBQ rack of lamb
BBQ rack of lamb, or carré d'agneau, is one of the best cuts of lamb. The whole cut generally include 16 ribs, however in stores you might only see 8 ribs. Even if the rack of lamb is generally seen as the prime part of the lamb, lamb has many delicious and inexpensive cuts as well. If you don't eat too much lamb, you've been missing out. Just one bite and you'll be swooning!
Have you heard of the EU funded campaign, called Lamb Try It Love It? This venture sets out to prove that lamb isn't just a one roast wonder, but can be utilised in many other ways because of its many different types of cuts. In essence, there are nine main cuts of lamb, which include lamb shank, leg of lamb, rump, loin, rack of lamb, lamb chop, breast, lamb shoulder and neck.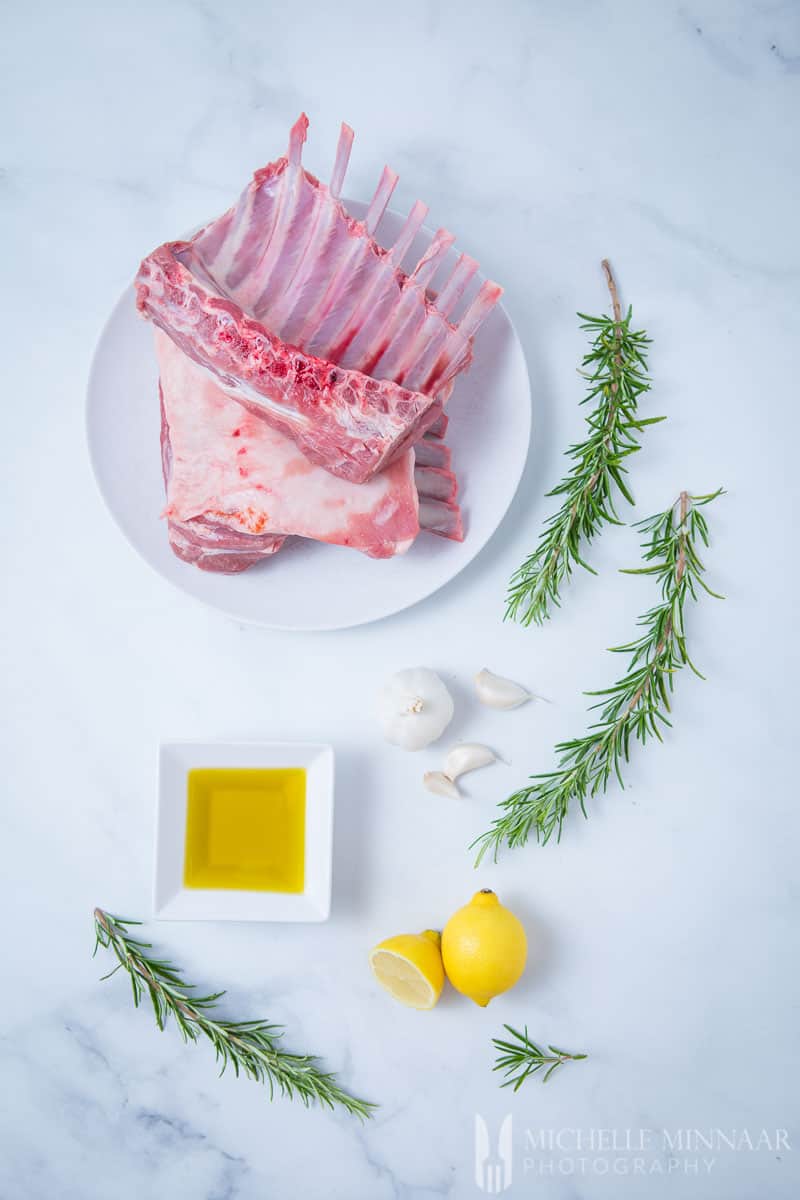 With these cuts, you can replicate easy and delicious recipes such as these grilled curried lamb chops, or this indian roast leg of lamb recipe. With so many possibilities at your fingertips, lamb is perfect for everyday meals. Especially, since lamb can be quick and easy to prepare.
Plus, the best part of eating lamb is that it is healthy. Lamb is naturally rich in protein, low in sodium, and rich in two essential vitamins – niacin and vitamin B12. Niacin aids in normal energy production in the body, as well as support the nervous system and much more. Essentially, lamb fits into a balanced diet that supports a healthy lifestyle.
how to make BBQ rack of lamb
In order to make the delicate BBQ rack of lamb even tastier, I have marinated it overnight. A simple marinade of olive oil, lemon, garlic and rosemary will certainly give you a flavourful meal. Fresh rosemary is the perfect seasoning for lamb, because it the respective flavours complement each other wonderfully. However, if you are not a huge fan of rosemary you can use thyme instead. Alternatively, lemon thyme or oregano are also good substitutes for rosemary.
Personally, I love garlic and I use it pretty much wherever I can. If you don't like garlic that much, or if you have an important meeting the next day, simply leave it out.
On the other hand, I urge you to add lemon juice and lemon zest to the marinade. I find that the acidity marries all the flavours in the marinade together perfectly. The longer you leave the BBQ rack of lamb to marinate, the better. If you don't have time to let it sit overnight then at least try to allow five to six hours for the lamb to absorb the flavours from the marinade.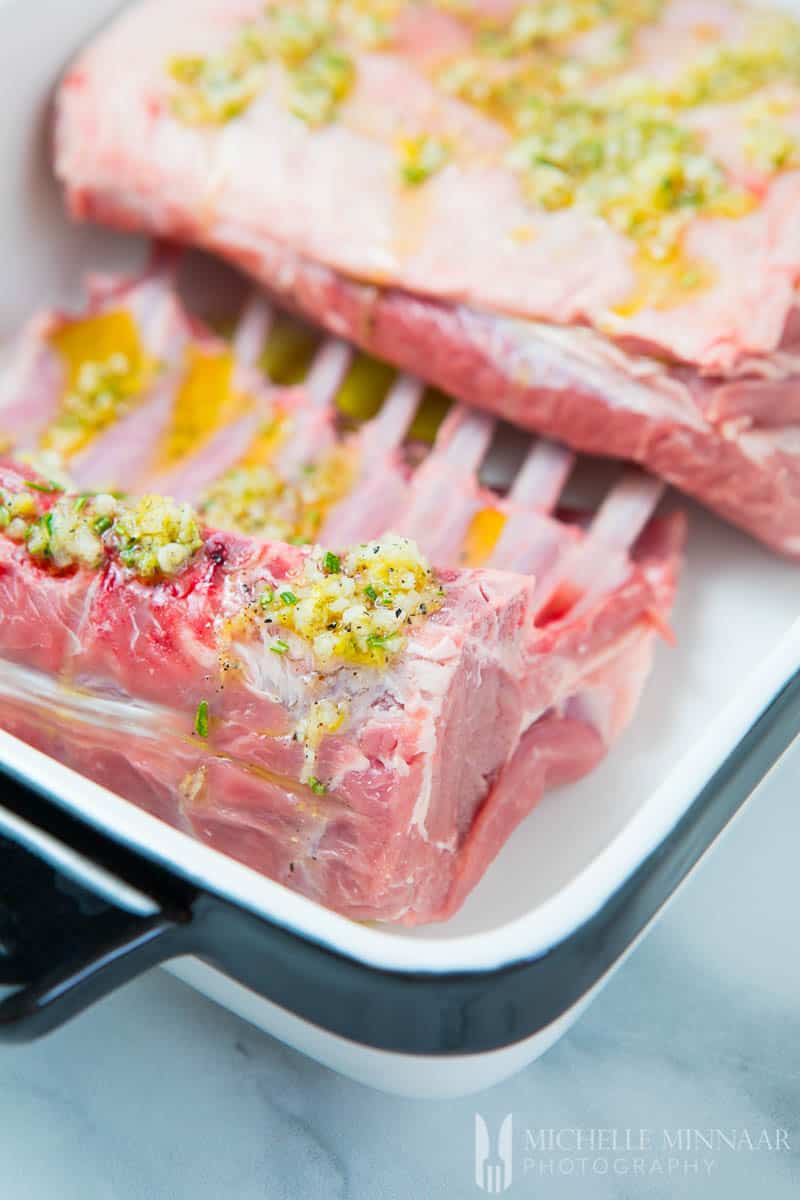 how to prepare lamb rack
Rack of lamb is a very delicate piece of meat. Before marinating the lamb you need to prepare it. If you want the prettiest BBQ rack of lamb, take a sharp knife and scrape off the excess fat from the bones. This technique is called 'frenching', read about it here. It can be a somewhat tedious and time consuming job, but if you are not in a rush, it leaves you with a beautiful end result. Alternatively, you can ask the butcher to do it for you. An experienced professional can get it done in a matter of minutes. The most important part is to remove the hard fatty layer.
For the picture perfect resul,t you can cover each of the bones in tin foil before putting them on the grill. This will prevent the bones from getting burnt and you will have a plate of beautiful lamb cutlets.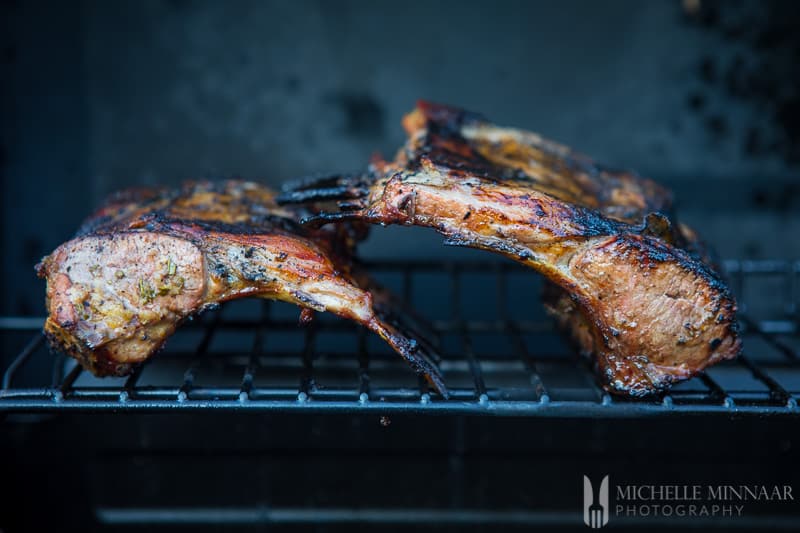 the perfect side for BBQ rack of lamb
Although the cutlets look fine and delicate once you cut up the BBQ rack of lamb, I like to keep the side dishes rather rustic. I think it is the most fitting for a meal prepared on the grill. Roast potatoes are simply a must for rack of lamb, and what better than to keep the theme of rosemary going, by serving my rosemary roast potatoes with the BBQ rack of lamb?
Add a cheesy garlic bread to the table and you have pure comfort food. Perfect for lovely evening meal with friends or family to enjoy the last days of summer.
On a lighter note, vegetables are always nice for balancing out the dish. Since you already have the grill going you can use it to grill some vegetables. Bell peppers, onions, eggplant and corn are all delicious on the grill, and complement the BBQ rack of lamb well. A refreshing salad is also great for acidity. For instance, you can try my simple cherry tomato salad.
Alternatively, if you want to be untraditional you can serve pomegranate salsa with the BBQ rack of lamb. The pomegranate salsa has a wonderful exotic, almost Middle Eastern flavour that goes very well with lamb.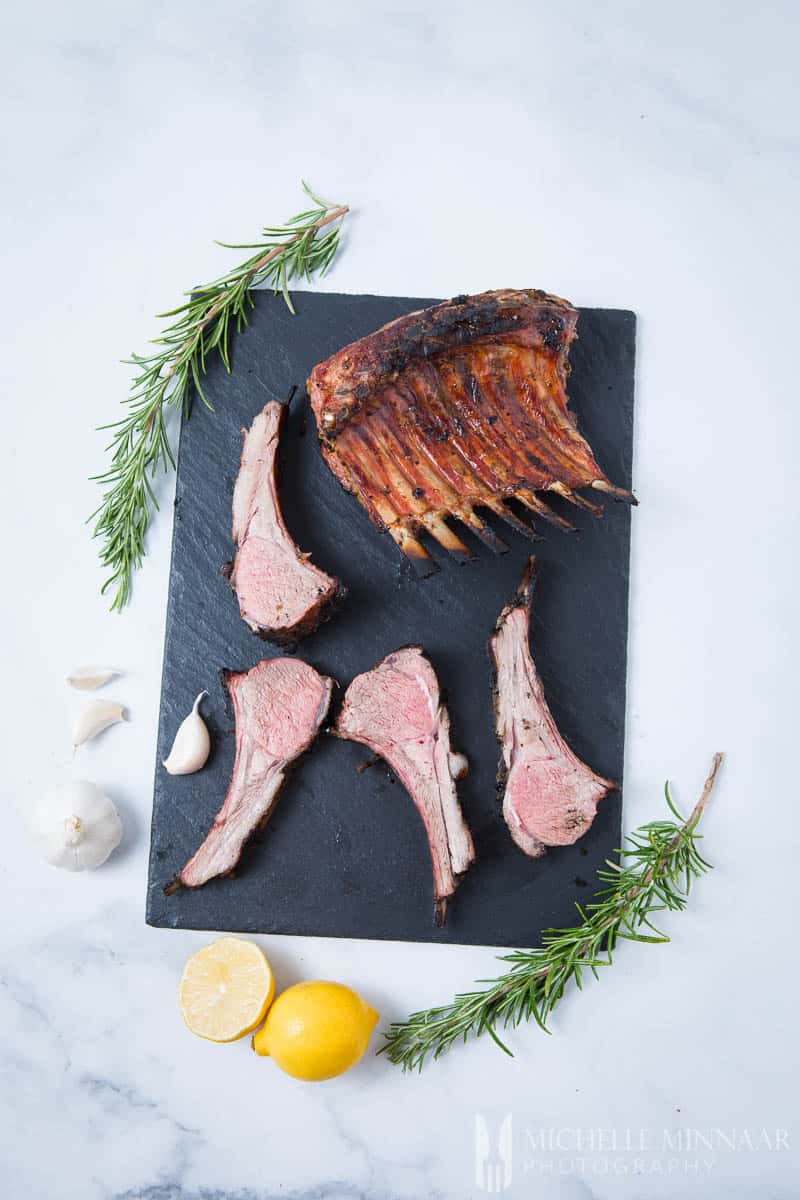 best wine for rack of lamb
A lusciously cooked BBQ rack of lamb deserves a fabulous glass of wine, especially if you are enjoying the meal with friends or family. Lamb pairs well with powerful red wines, and even more when cooked on the barbecue. For this reason I recommend you to look at ripe overseas wines from shiraz or carbernet sauvignon. South Africa and Australia produce excellent potent red wines that pair well with BBQ rack of lamb.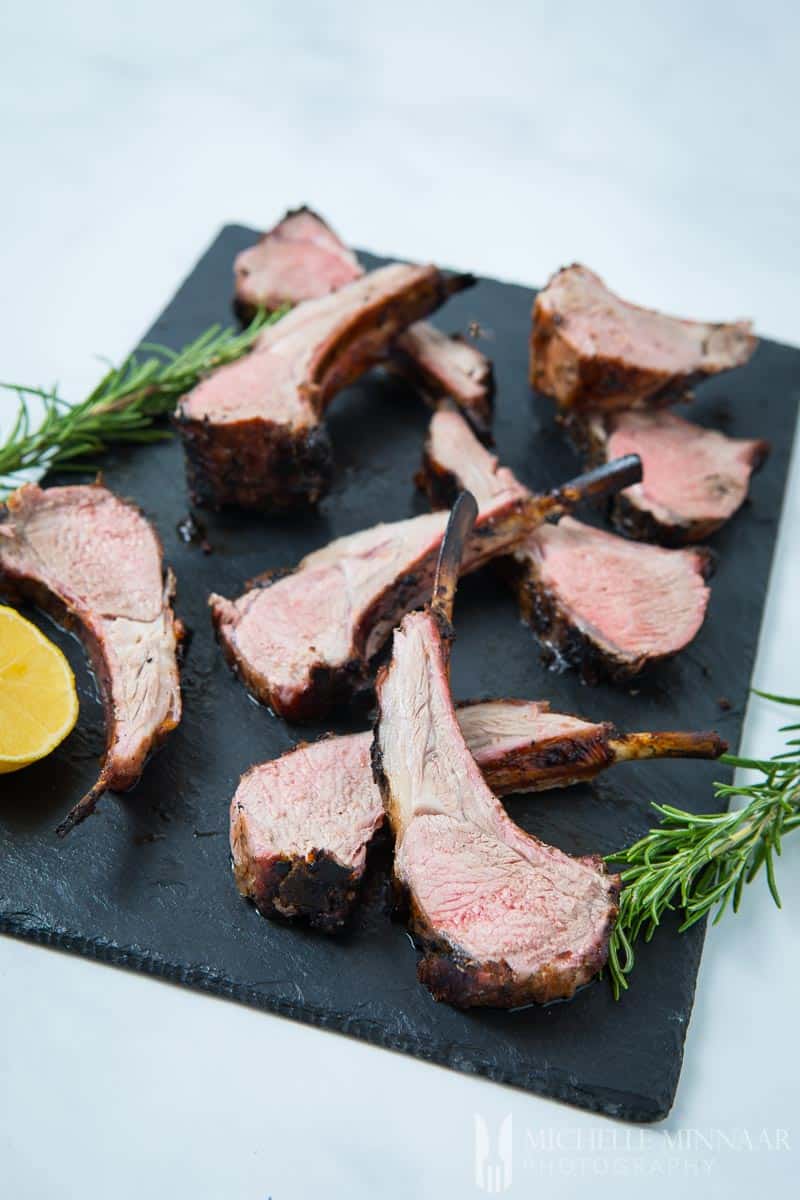 Print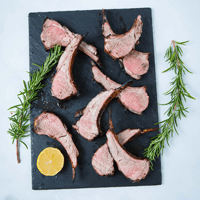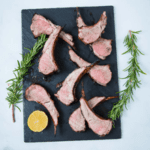 BBQ Rack of Lamb
---
Description
Once you make this BBQ rack of lamb for your friends,you'll find them coming over more and more. A beautiful cut of lamb that's finger-licking delicous!
---
60

ml (4 tbsp) olive oil

1

lemon, juiced and zested

4

garlic cloves, peeled and crushed

15

ml (1 tsbp) rosemary, washed and finely chopped

Salt and pepper

2

racks of lamb, weighing approximately 1.25kg (3lbs)
---
Instructions
For the marinade, mix the oil, lemon juice, zest, garlic, rosemary, salt and pepper in a small bowl.

Place the lamb in a large baking dish or resealable plastic bag.

Pour the marinade onto the lamb and rub the mixture all over the lamb.

Cover and leave to marinate in the fridge overnight.

Bring the barbecue

to a medium temperature, about 160

°

C.

Place the lamb bone side down first and sear for 4 minutes.

Turn the meat and place in indirect heat for 15 minutes. This will cook them to medium-rare.

[Optional] Continue cooking until desired doneness. Use a meat thermometer for optimal results.

Remove from the lamb from the heat and let it rest for 10 minutes before cutting into chops.

Serve with green salad and your favourite barbecue side dishes.
Notes
If you're not in a rush you can cover the bones with foil to prevent them from burning.

Since lamb has a high fat content, keep an eye on it because fire flare ups might occur.
Prep Time:

10 minutes

Cook Time:

20 minutes

Category:

Main Course

Cuisine:

English
Nutrition
Serving Size:

1 serving

Calories:

484

Sodium:

162 mg

Fat:

25.2 g

Saturated Fat:

7 g

Carbohydrates:

2 g

Protein:

59.9 g

Cholesterol:

191 mg
save the recipe to your pinterest board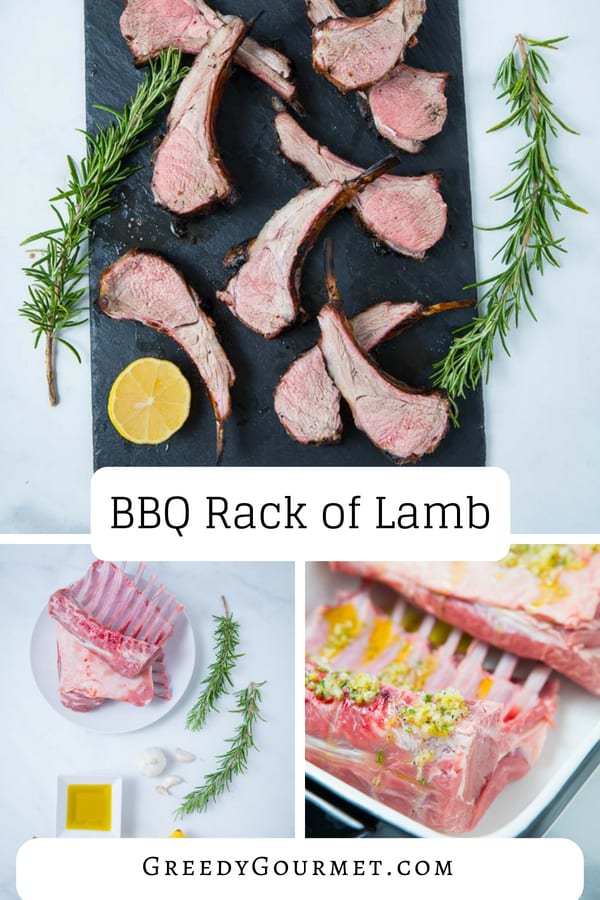 PS: This is a sponsored post.