Recently pizza may have topped the polls for Britain's preferred takeaway food but Chicken Tikka Masala is still a firm favourite.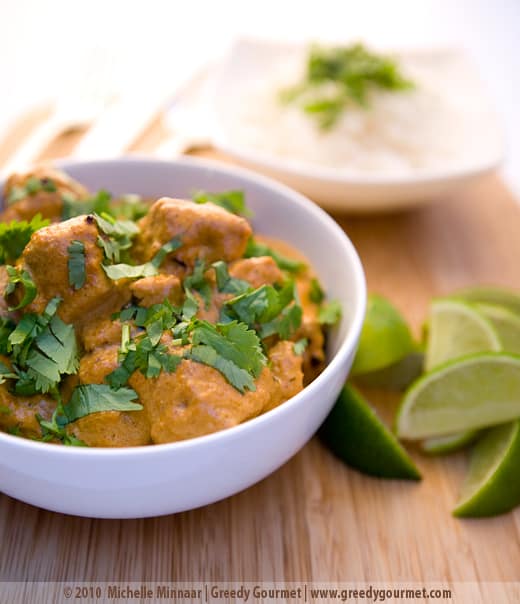 Anyone who has ever eaten it would understand why – tender and moist cubes of marinated chicken in a creamy yet not too spicy sauce. The joke is although Chicken Tikka is actually authentic Indian food (which deserves a whole post later), the Masala sauce is as British as fish and chips. Murgh Makhani or Butter Chicken is the closest to Chicken Tikka Masala you will find in authentic Indian cuisine.
Just like you would find none of the items listed on a Chinese menu in actual China, British Indian food bear little resemblance to what you find in its homeland. Why? My theory is that westerners had found the eastern cuisines too exotic and chopped and changed the dishes until they suited the public's taste. Yes, a lot of cuisines have been completely bastardised in this country.
So where does Chicken Tikka Masala come from? Here is the most popular theory that has been floating around the web for years:
In the 70's some dude complained in a Glaswegian curry house that his meat (presumably Chicken Tikka) was all dried out and whether he could have some gravy with it. The confused, ticked off, Bangladeshi chef quickly mixed some tomato soup, spices and cream together and – voila – Chicken Tikka Masala came into existence! Today almost 20 tonnes of CTM is demolished in Britain per week.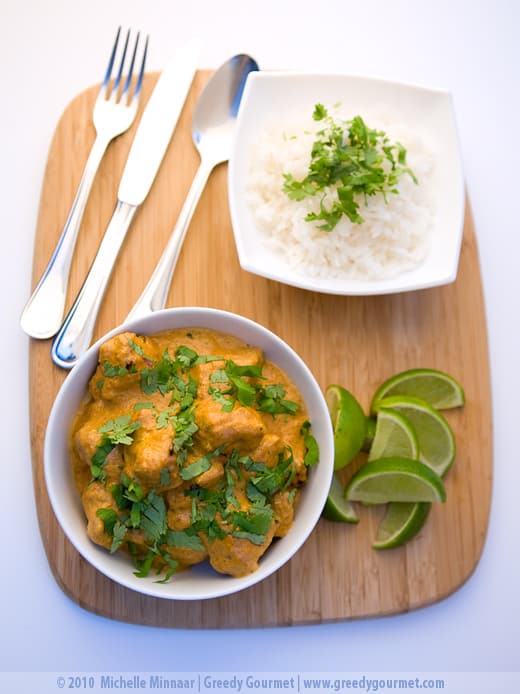 Since it is unclear where the dish originated there is no hard and fast recipe. Forty eight recipes were reviewed by the Real Curry Restaurant Guide in 1998 and the only common ingredient was chicken!
One of the reasons I started this blog was to document recipes I simply adore. It has been a journey to self-empowerment – who likes to be completely dependent on restaurants anyway to enjoy their favourite food? Chicken Tikka Masala was one of the first dishes which I wanted to master but since the "Indian" cuisine was swirled in mystery to me I didn't have a clue how to go about it. After some research and experimenting I've finally done it – and boy, does it feel and taste good! The beauty of cooking the food yourself is that is works out cheaper, you'll make it with lots of love and the necessary hygienic standards, and you can tweak it to your taste. But pretty please, guys, do let me know when you are going to prepare this delicacy because I'll be on your doorstep in a jiffy!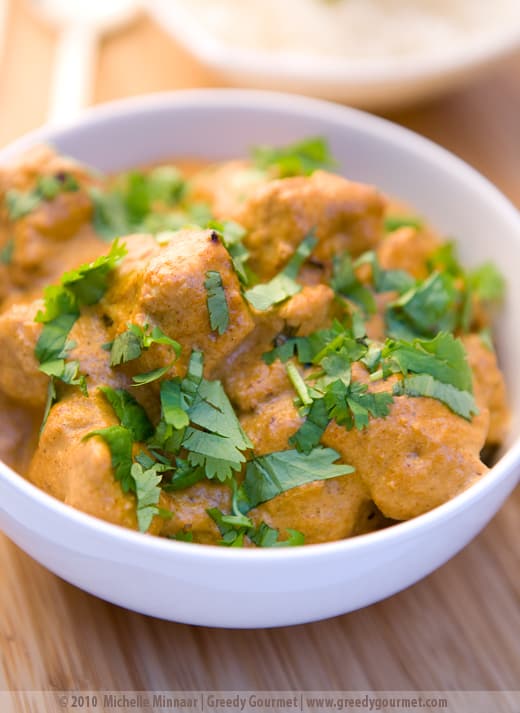 Print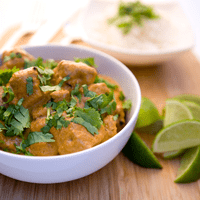 Chicken Tikka Masala
---
Author:

Michelle Minnaar

Prep Time:

20 minutes

Cook Time:

45 minutes

Total Time:

1 hours 5 minutes

Yield:

4

1

x
chicken tikka
500g

(

1

lb) boneless, skineless chicken breasts, cubed

5

ml (1 tsp) fresh root ginger, finely chopped

5

ml (1 tsp) garlic, finely chopped

5

ml (1 tsp) chili powder

1.25

ml (¼ tsp) turmeric

15

ml (1 tbsp) ground coriander

5

ml (1 tsp) salt

150

ml (¼ pint) natural yogurt

60

ml (4 tbsp) lemon juice

45

ml (3 tbsp) coriander leaves

15

ml (1 tbsp) lime juice
masala sauce
50g

(

2 oz

) ghee or 30ml (

2 tbsp

) vegetable oil

2

onions, finely chopped

2.5

cm (1 inch) piece of fresh root ginger, finely chopped

2

garlic cloves, crushed

6

cardamoms, bruised

10

ml (2 tsp) garam masala

10

ml (2 tsp) ground coriander

2.5

–

5

ml (½ – 1 tsp) chili powder

300

ml (½ pint) double cream

30

ml (2 tbsp) tomato purée

60

ml (4 tbsp) hot water

2.5

ml (½ tsp) sugar

2.5

ml (½ tsp) salt
---
Instructions
First, prepare the chicken. Mix together the chicken, ginger, garlic, chili powder, turmeric, ground coriander, salt, yogurt, lemon juice and 15ml (1 tbsp) chopped coriander in a large, non-metallic dish. Cover and leave to marinate in the refrigerator for at least 6 hours or overnight.
To make the masala sauce, heat the ghee or vegetable oil in a large flameproof casserole. Add the onions, ginger, garlic and fry over a low heat, stirring frequently, for about 5 minutes until soft but not browned.
Add the spices and fry, stirring, for 1-2 minutes until fragrant, then add the cream, tomato purée, water, sugar and salt. Bring to the boil over a moderate heat, stirring, then lower the heat and simmer gently, stirring occasionally, for 10-15 minutes. Remove the pan from the heat and leave to stand while cooking the chicken.
Remove the chicken from the marinade and thread on wooden skewers. Cook under a preheated grill, turning frequently, for 6-8 minutes until tender and cooked through.
Remove the cubes of chicken from the skewers and put them in the masala sauce. Place over a low heat and simmer, stirring, for about 5 minutes. Add the remaining chopped coriander leaves and the lime juice. Taste and adjust the seasoning if necessary.
Serve immediately, garnished and coriander leaves and slices of lime and accompanied by plain boiled rice, chapattis or naan bread.
Notes
Serve with boiled basmati rice, chapattis or naan bread.
To save time I placed the onions, ginger and garlic in a food processor and blitzed them all into a paste, which makes for a smoother sauce.
For those who don't like their food to have too much of a bite, go easy on the chili powder.
The acid in the yogurt and lemon and lime juice helps to break down the muscle fibres in meat. The longer you leave the meat in the marinade, the tenderer it will be.
Nutrition
Serving Size:

1 serving

Calories:

135

Sodium:

1559 mg

Fat:

4.3 g

Saturated Fat:

1.7 g

Carbohydrates:

3.5 g

Fiber:

1.1 g

Protein:

20.6 g

Cholesterol:

58 mg