Vegetarians and vegans will love you for this Christmas rice, for not having to eat yet another nut roast. This Christmas recipe is definitely filling, full of different textures accompanied by exciting flavours.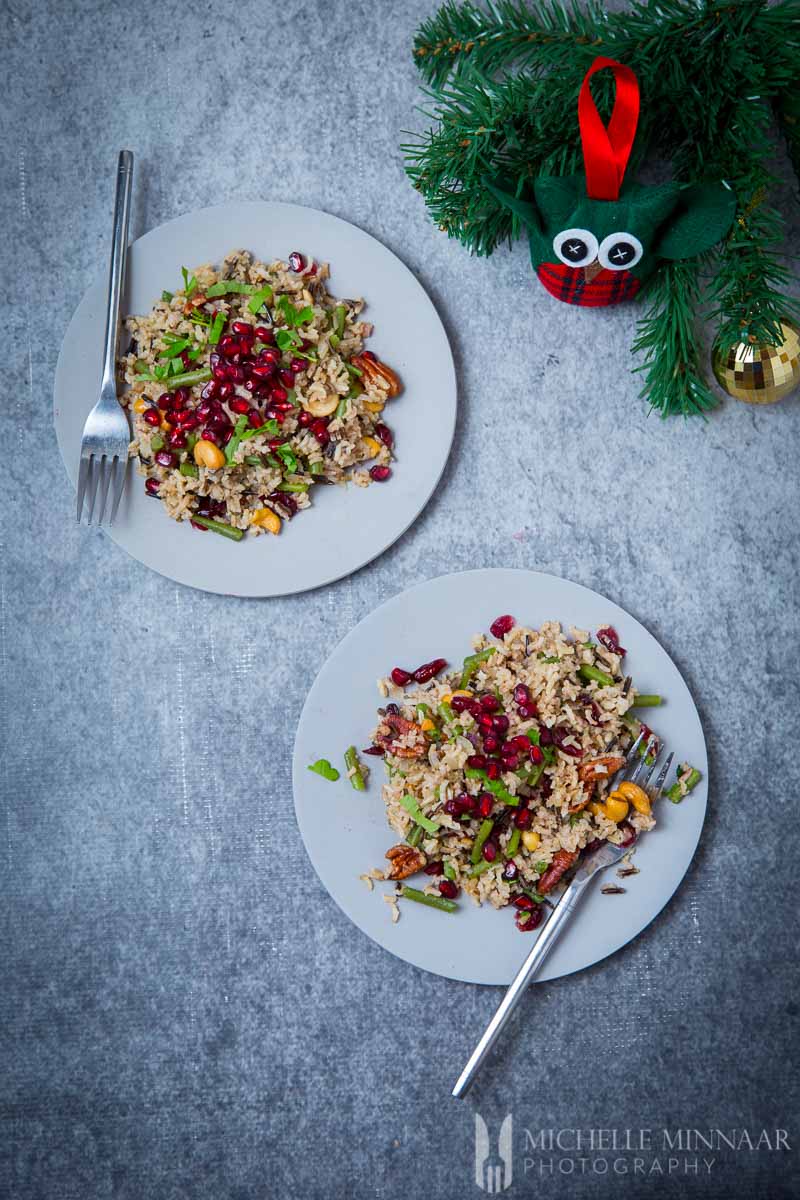 Being a custom recipe, it captures Christmas on a plate with classic Christmas spices and dried fruits. Who said vegan food was boring?
With all those rich Christmas recipes out there, it's no surprise that vegans suffer this time of year. So, this Christmas rice acts as main course and is a perfect addition or even a substitute for a healthy Christmas meal.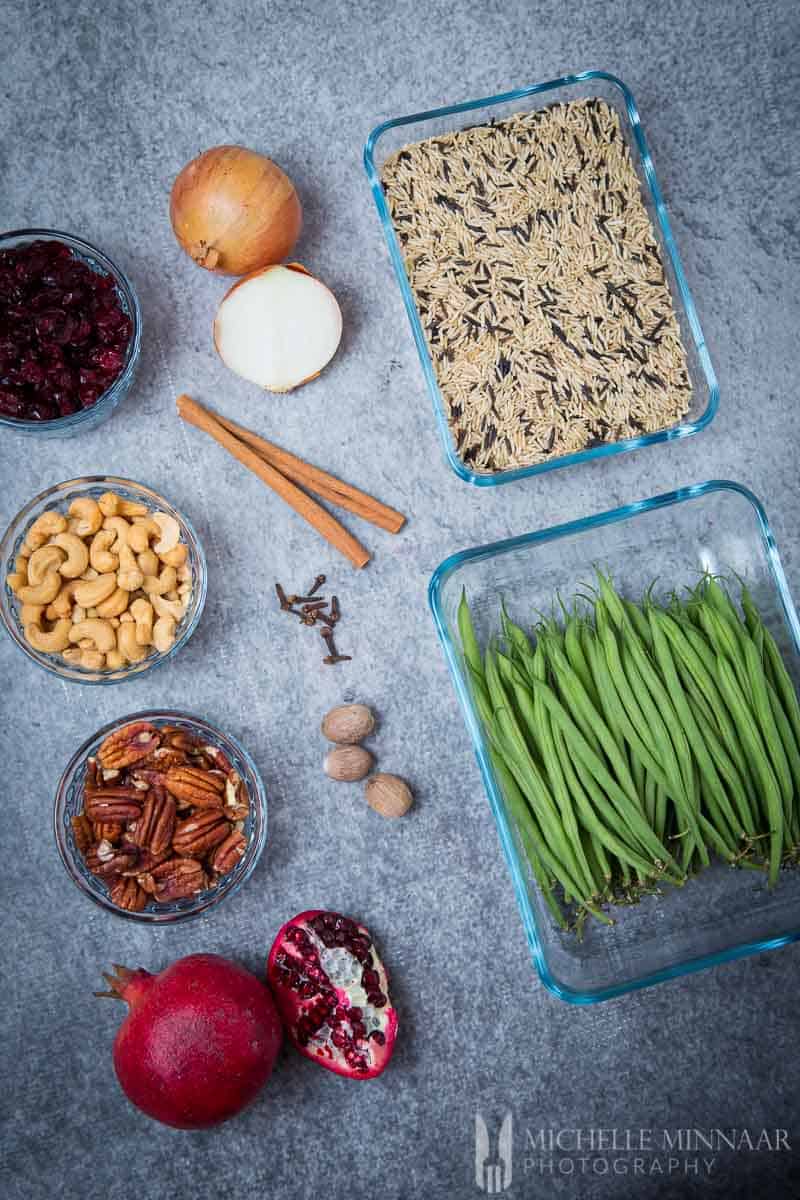 You can even serve it as a healthy side dish to your usual Christmas recipes. It is perfectly balanced with plenty of starch from the rice, beans for vegetables and nuts for protein.
Also, there is some fruitiness in these that goes down a treat! Again, an excellent feature of this Christmas rice recipe is that you can tweak it to your taste.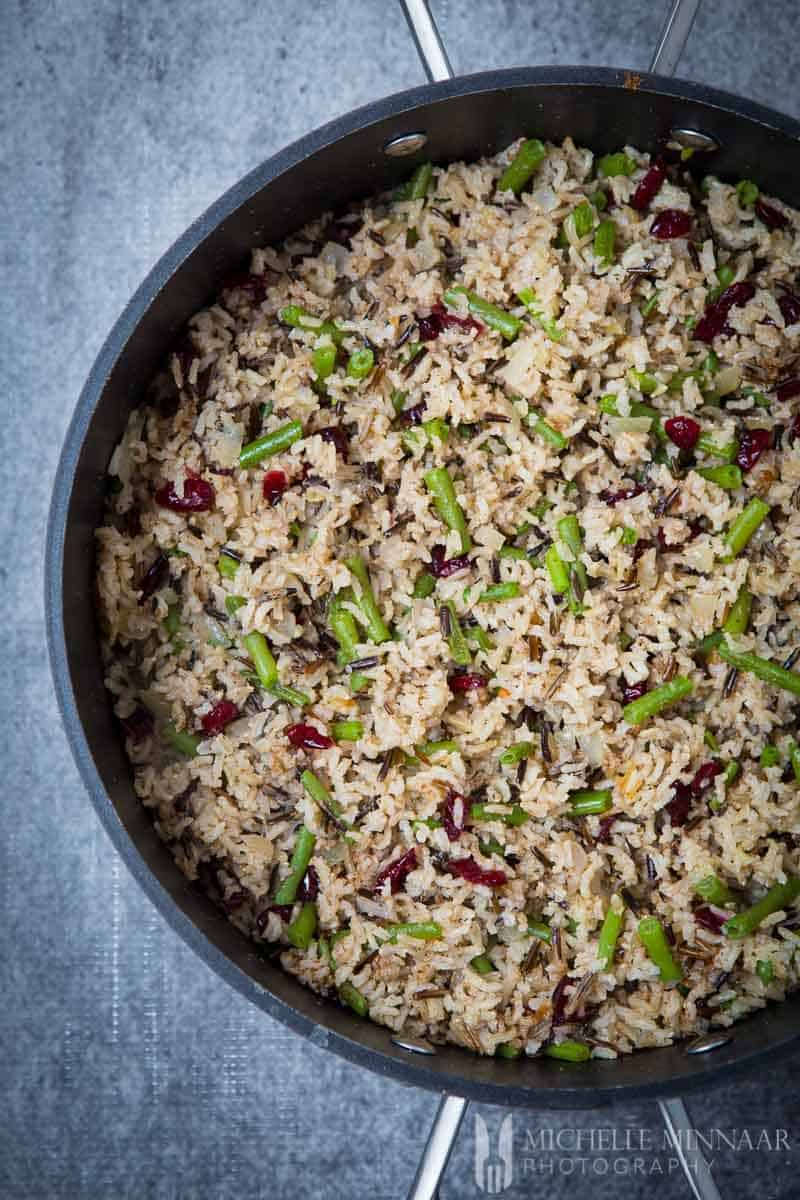 green beans
The green bean is one of my favourite vegetables to use in salads or rice dishes. I like to parboil them, leaving a bit of extra crunch. You can also cook them for a bit longer if you don't like them too firm with a bite.
Just remember to top and tail them. Also, ideally you should cut the green beans into 2.5cm (1in) bite-sized pieces.
These can be substituted with green or white asparagus, or broccoli, spinach or kale. Although, it might be hard to find these substitutes as they are currently not in season.
If you want to be seasonal, substitute with sweet potatoes, which are fantastic for people who suffer with diabetes. Sweet potatoes have a low sugar content and they help regulate sugar spikes in our blood. Plus, it'll make this Christmas rice even more colourful!
the rice
The best would be to go easy on the rice and heavy on the vegetables and nuts if you are aiming for a low-carb side dish. However, the rice itself is a healthier alternative to the traditional long grain rice.
Brown basmati and wild rice, especially, are high in protein with little fat content. This type of rice takes a bit longer to cook, but the extra crunch is totally worth waiting for.
I love the texture of wild rice and when I eat it, it sort of pops in my mouth. At this point you can freeze the rice mixture in a large Pyrex container for later use.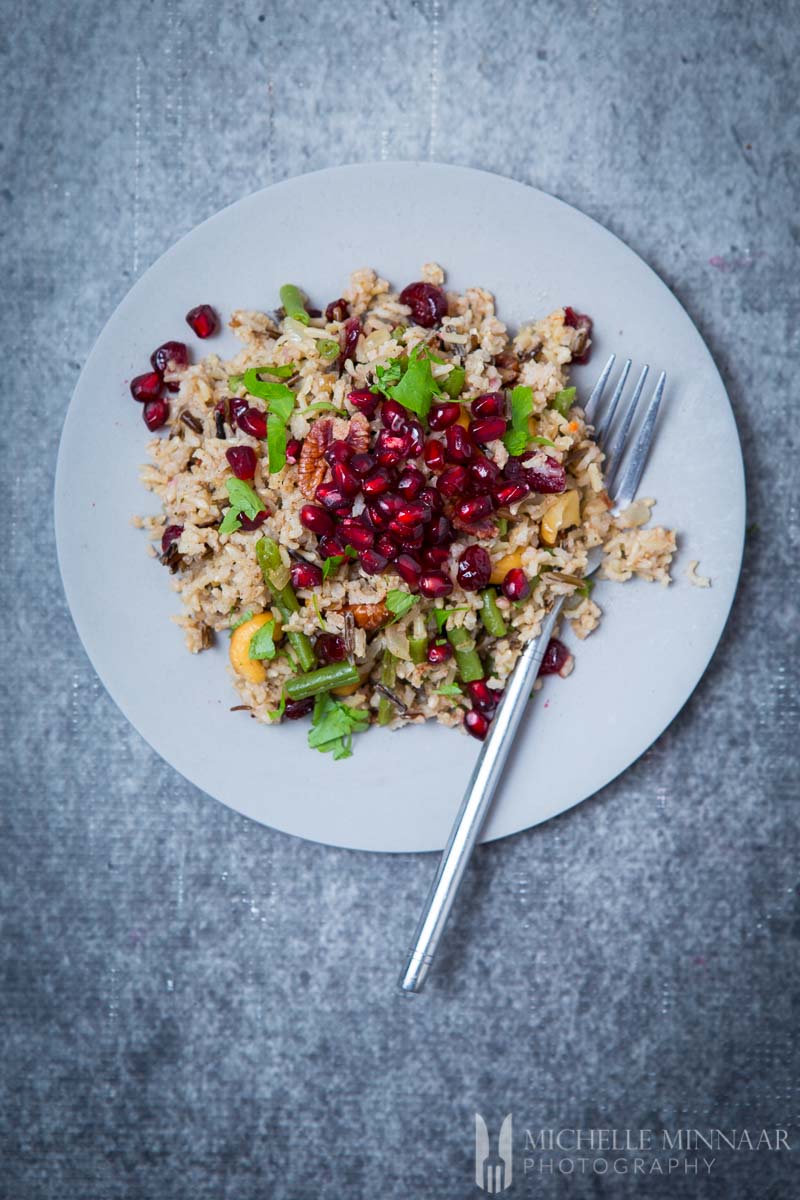 the nuts, spice and fruits
The nuts are fantastic sources of protein. Pecans and cashews have those good fats and oils that are very beneficial to the body and they fill you up. You can substitute these nuts with almonds, macadamia nuts, chestnuts or even pistachios. For healthier alternatives, buy unsalted, raw cashews.
Mixed spice, which is a combination of nutmeg, cinnamon and cloves, is delicious with this Christmas rice. You can add generously or just add a hint of it. You are in control!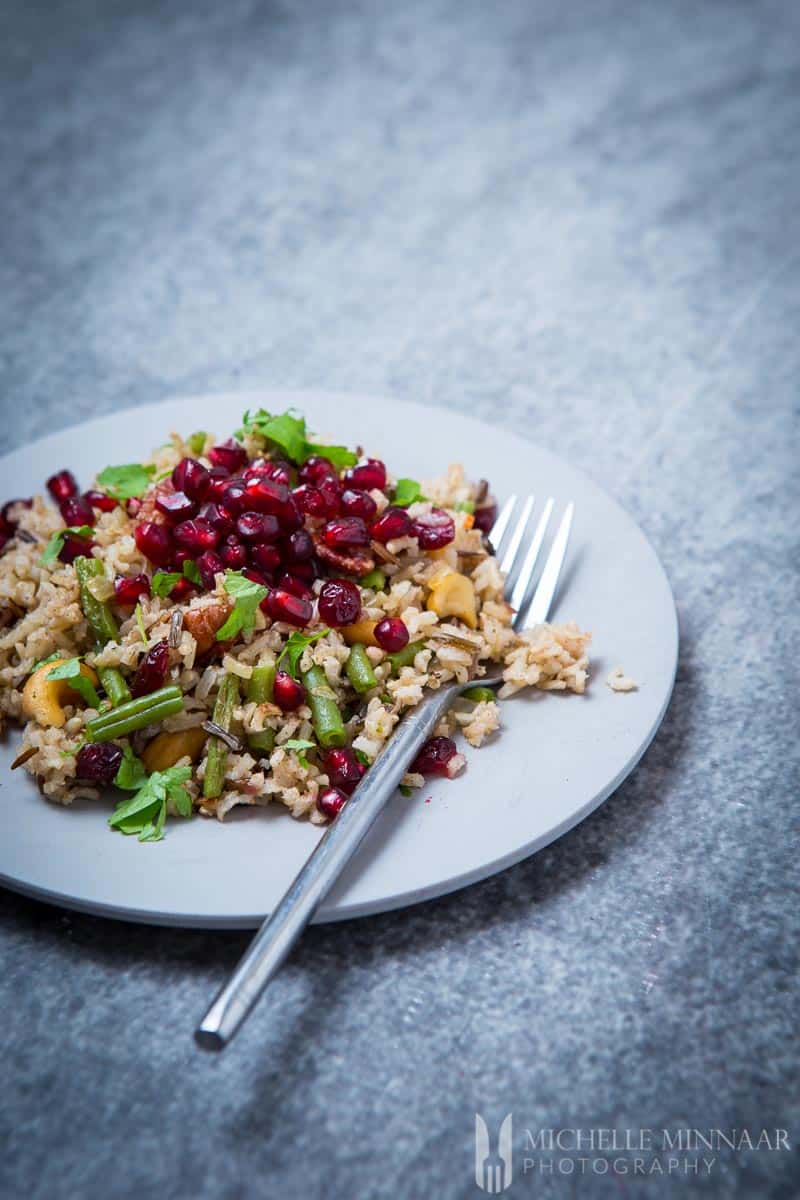 As for the fruit, I mixed the dried cranberries in with the rice, and fresh pomegranate seeds sprinkled on top of the Christmas rice. These give a lovely fruity touch and provide a subtle acidity to the overall dish.
If you'll want to substitute, you'll need to go for acidic fruit. This could be apple, apricots, raisins or figs – best dried. You can make a lot of substitutions - it just depends on your palate and preference.
I think dried apricots would work extremely well with the savoury flavours of the Christmas rice. Remember to sprinkle with fresh parsley!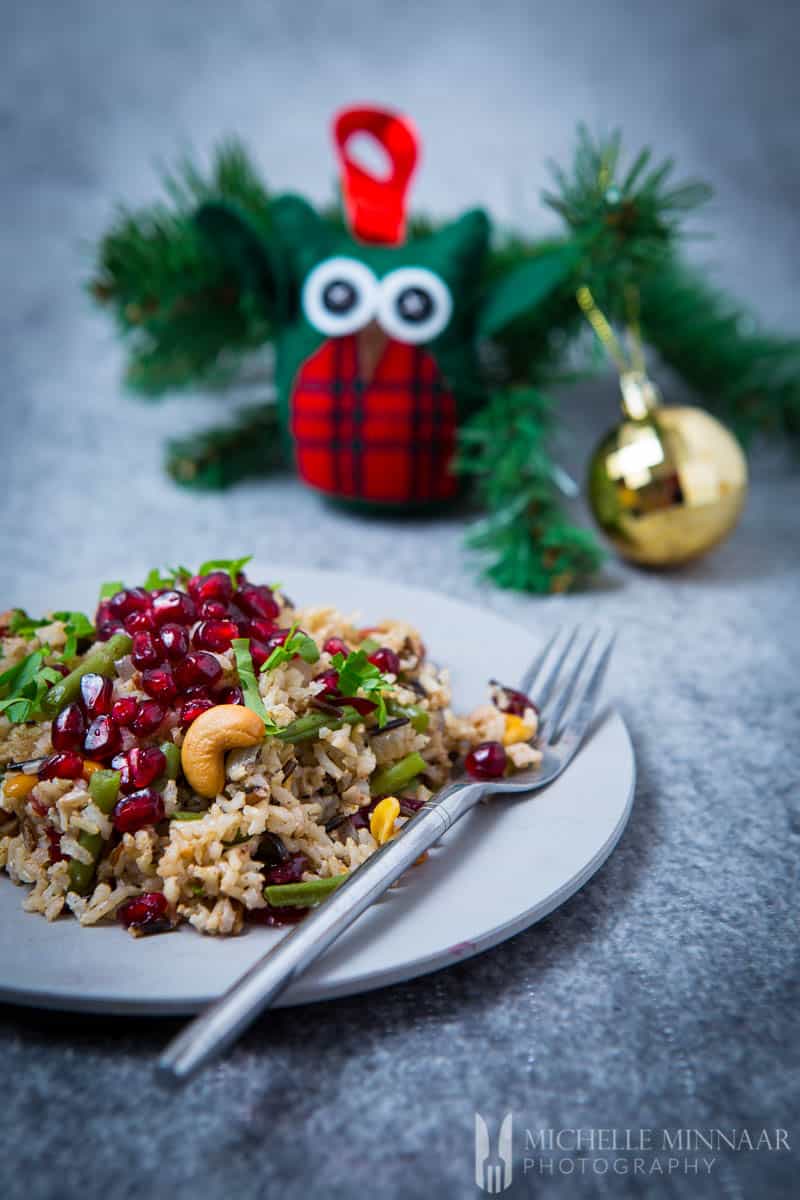 serve as a side
You can either serve this Christmas rice as a main or as a side. As a side dish, why not serve it along some delicious Marmite Potatoes, Sweet Potato Gratin, or Braised Red Cabbage?
You can also try more of my vegan-friendly recipes like the shredded rainbow salad edamame salad. If eating a delicious Christmas rice inspired you for more vegan rice recipes, you can also try a rice with delicious Indian flavours.
Finish the meal off with some boiled custard!
What is your favourite Christmas side dish you prepare before the big day?
Print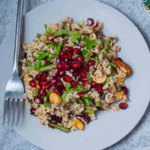 Christmas Rice
---
500

g

(1lb) brown basmati and wild rice

1.5

ℓ (6 cups) vegetable stock

300

g

(10oz) fine green beans, cut into 2.5cm (1in) pieces

2

onions, finely chopped

30

ml

(2 tbsp) vegetable oil

5

ml

(1 tsp) mixed spice

100

g

(3oz) pecan halves

100

g

(3oz) cashews, roasted and salted

100

g

(3oz) dried cranberries

1

pomegranate, seeds only

60

ml

(4 tbsp) flat leaf parsley, washed and chopped
---
Instructions
Boil the rice for 25 minutes in the stock. Drain and set aside.
Boil the beans in salted water for 10 minutes or until tender. Drain and set aside.
Meanwhile, in a large casserole dish, fry the onions in the oil until cooked and softened.
Add the beans, rice and mixed spice to the onions and stir well.
(At this point you can freeze the rice mixture in a large Pyrex container and freeze for later use. After thawing the dish can simply be placed in the oven and reheated.)
Stir in the pecans, cashews and cranberries.
Serve with pomegranate seeds and parsley sprinkled on top.
Notes
This dish is vegan-friendly but serves as a great side dish as well.
Prep Time:

10 minutes

Cook Time:

40 minutes

Category:

Side Dish

Cuisine:

International
Nutrition
Serving Size:

1 serving

Calories:

387

Sugar:

8.9 g

Sodium:

167 mg

Fat:

18.4 g

Saturated Fat:

2.9 g

Carbohydrates:

51.6 g

Fiber:

5.9 g

Protein:

3 g

Cholesterol:

1 mg
save the recipe to your pinterest board