The last time I ate devils on horseback was back in December 2017. I had them as a starter along with the bacon wrapped dates amongst four guests. You guessed it, they disappeared.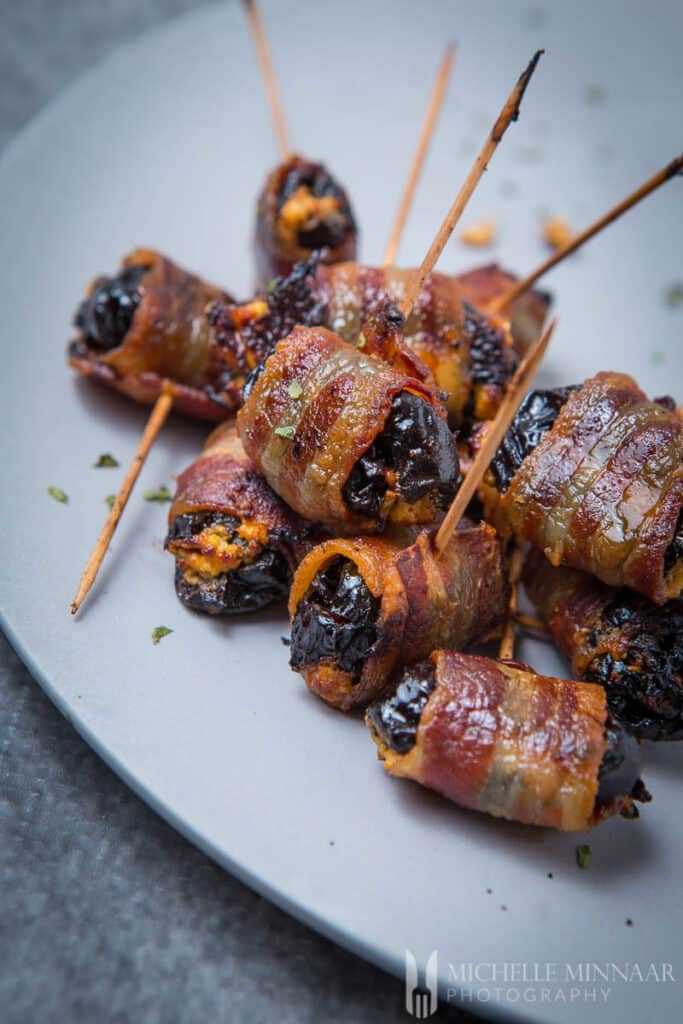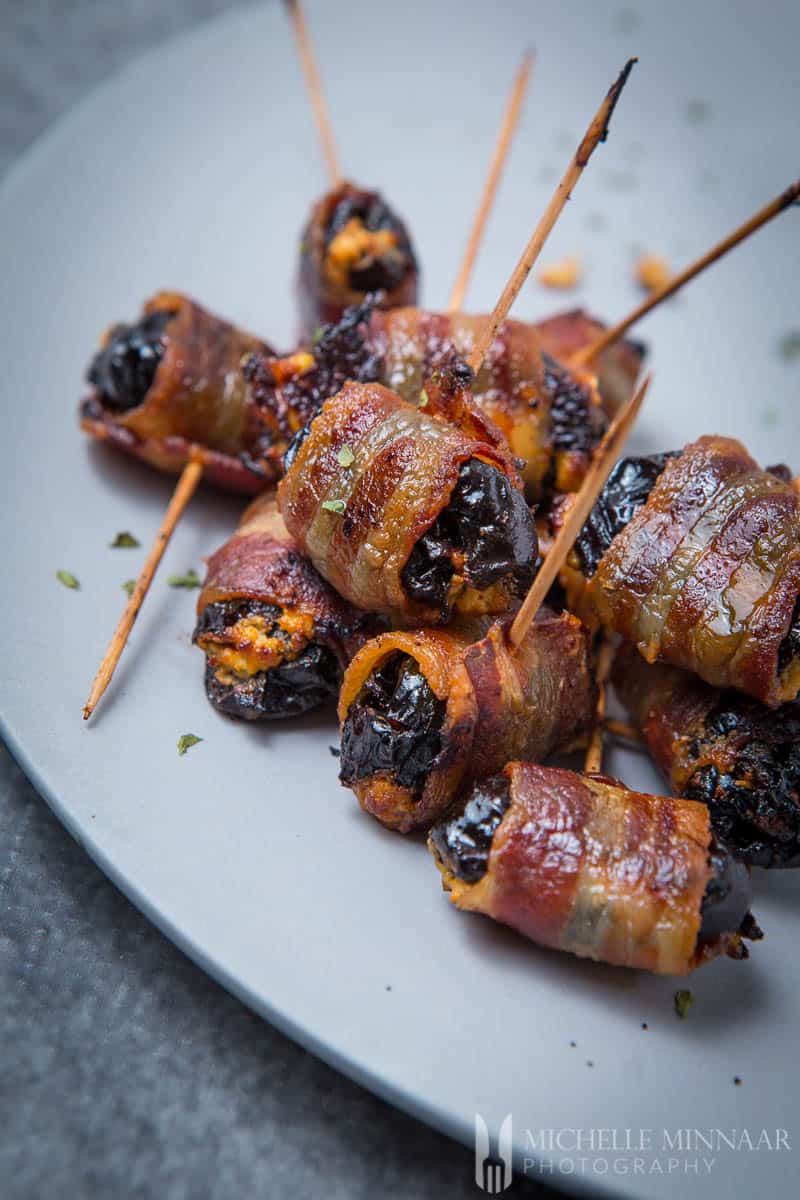 Every single piece! I was tempted to make the pork, chestnut and cranberry sausage rolls, but I decided that it would be too much as a starter. Especially, since we continued with pork rib fajitas as a main course.
Yes, it was a porky feast! Well, it was my last pork meal ever. Since January, with the resolution to live healthier, I made the decision to omit pork from my diet. So, bye bye pork!
devils on horseback
Some of you might already be confused as to what devils on horseback are. They sound so mischievous, don't they? Devils on horseback are prunes wrapped with bacon, served hot or at room temperature as a savoury starter or canapé.
Historically, the prune was first soaked in tea and then wrapped in bacon. Did you know that back in the day, devils on horseback were known as peasant food? It was only in the 20th century they became popular.
substitutes for prunes
Of course, the obvious substitute is using other dried fruits. The most popular alternatives to prunes are figs or dates because of their high sugar content.
Fresh figs might be more difficult to source compard to prunes or dates. That's why it's easier to give dates a go and see how you like them in combination with the salty, crispy bacon.
I recently made bacon wrapped dates stuffed with cream cheese. A delicious starter! If you feel like using more seasonal produce at its best, then you can also try substituting with peach or pineapple.
I would combine herbs with the exotic fruits, like pairing the peach with a bit of fresh thyme. Very sophisticated!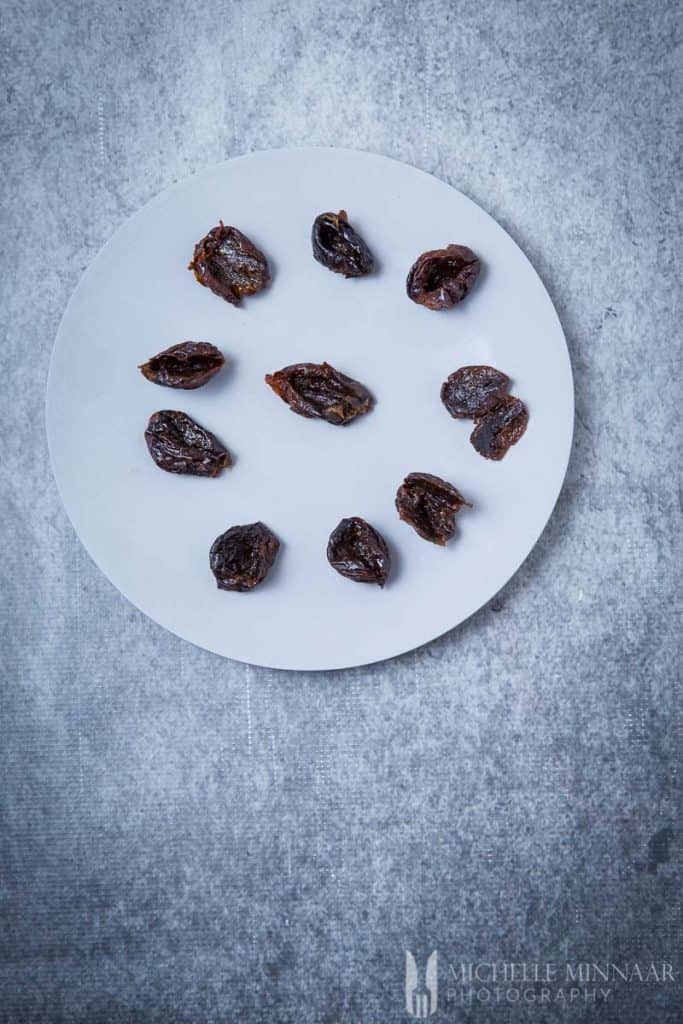 vegetable substitutes
If you've got a spare bit of bacon, why don't you use the bacon with vegetables? The classic combination includes bacon wrapped asparagus. Generally speaking, I prefer asparagus wrapped in Parma ham.
However, I also like to make bacon-wrapped sweetcorn. I feel like this combination has been forgotten. It is a shame, because the sweetness of the corn goes so well with the salty bacon or Parma ham.
You can also wrap onions, shallots or bell peppers. On the whole, you can take any type of vegetable and wrap it with bacon. It will taste amazing!
unlikely substitutes - angels on horseback
Have you ever heard of these? These are actually an alternative to the devils on horseback. The only difference is that instead of using the traditional prunes or dried fruit, you use oysters.
You might think that this is a very unlikely combination, but it does actually work. The umami flavours of the oysters are very well balanced when paired with the salty bacon.
I would even say that this is a rather fancy combo. One that you generally get to try at high-end restaurants. Basically, you roll up the oysters and then you wrap the bacon around them.
The next step is to place them on a baking tray and oven bake on each side for roughly two to three minutes. The last step involves a finishing touch with frying the angels of horseback in hot butter. Butter makes everything tastes amazing, doesn't it?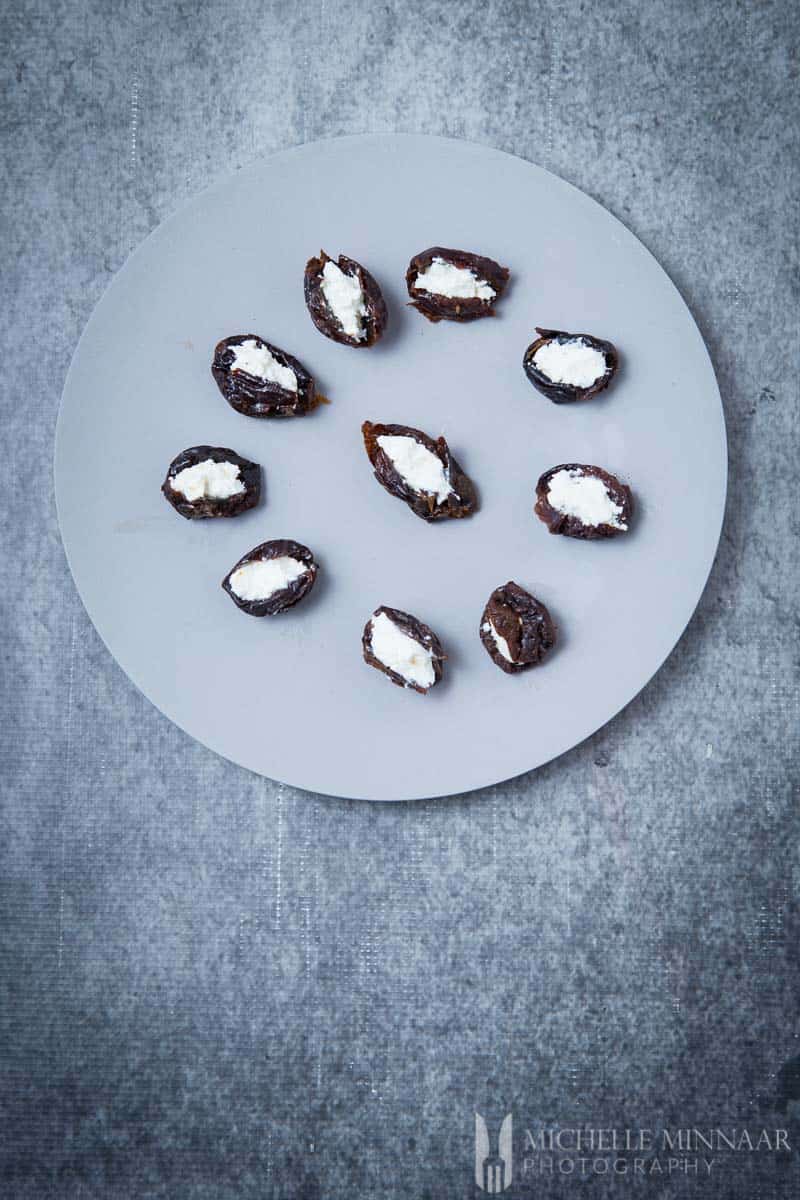 substitute for bacon
My favourite substitute for bacon is using fresh Parma ham, served raw. Parma ham is so delicious, it doesn't need to be tampered with or fried. In my opinion it's best on its own.
Plus, it doesn't have so much excess grease, so it is more likely to dry out around your fruit or vegetable of liking. Personally, I like using Parma ham around fresh ingredients, so I can enjoy all ingredients in their best state.
I highly recommend taking the Parma ham and wrapping it around fresh melon - making a delicious Parma ham and melon salad. Equally, I also like making fresh Parma ham, mango and mozzarella bites.
Fantastic as party food and canapés. Needless to say, that Parma ham and prunes are a wonderful combination.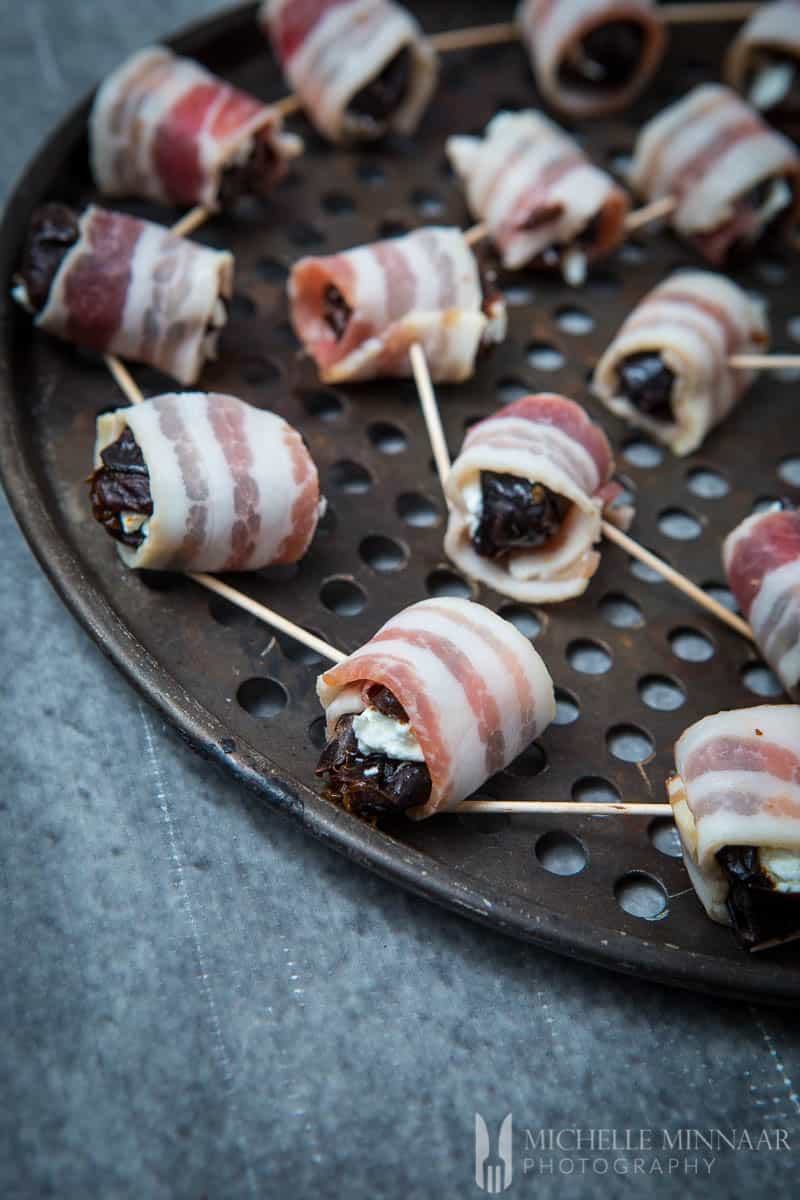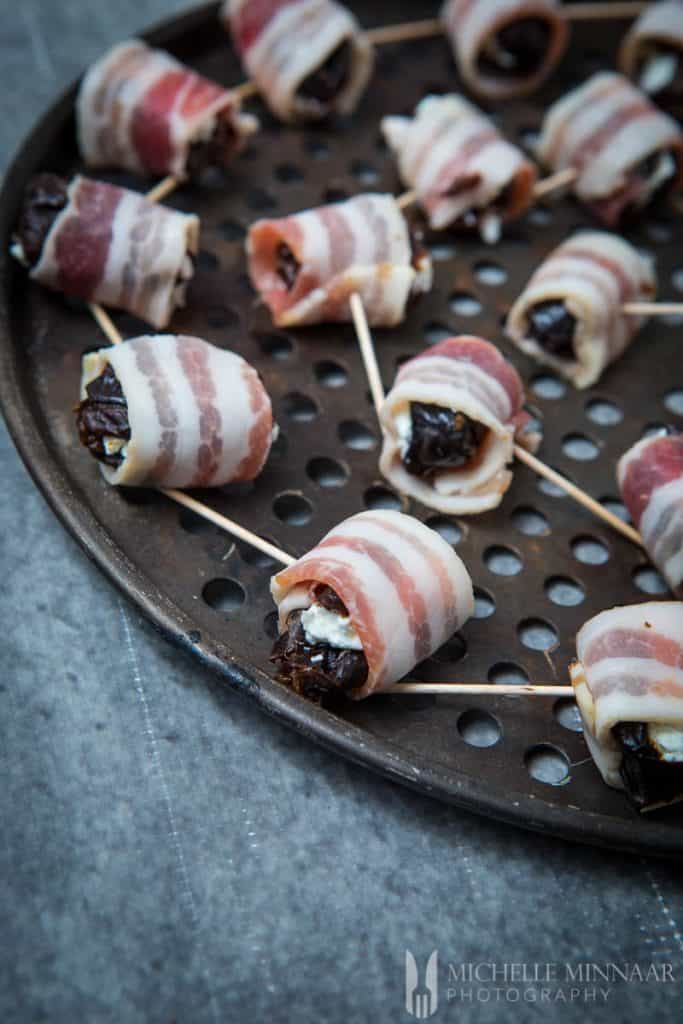 all in for carnivores
Do you love pork? Why not go all in and wrap bacon around more pork, i.e. pork sausages? If this sounds appealing to you, then the bacon-wrapped pork sausages with sweet, sticky apple are for you.
This is definitely a winter warmer recipe. We still have a couple of cold days in front of us before spring comes along. Similarly, I also have a fabulous recipe that will definitely score some points with the family.
Why don't you try making the spicy bacon-wrapped chicken thighs? The bacon definitely adds character to the bacon. Perhaps, you can even inspire yourself with the devils on horseback and stuff the prunes in between the two ingredients. Talking about a delicious savoury dish!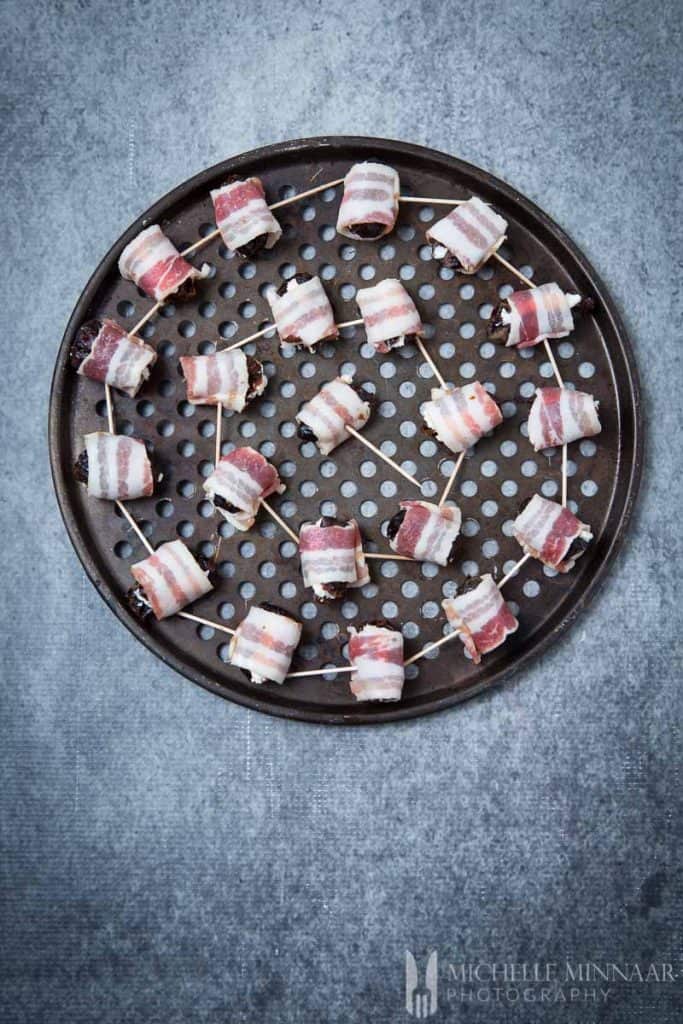 vegetarian option
No, I haven't forgotten about my vegetarian readers. Additionally, this is the option that I am going to have to eat from now one as I gave up pork since January this year.
Although this might seem tragic to some, I am very happy about my choice because I always find ways to come up with clever vegetarian or vegan substitutes.
A clever vegetarian twist to the devils of horseback is to wrap the prunes with cabbage and stuff it with cream cheese. If you want to go vegan, stuff it the mushed avocadoes.
The cabbage will give a nice contrast in textures, providing that lovely crunch against that soft tender bite of the prune. Also, these are much healthier than the original devils of horseback. No grease whatsoever!
A fantastic way to serve the devils on horseback is on a piece of toast with some fresh herbs such as watercress. Make sure you warn your guests about the tooth pick before you serve. Otherwise, there can be accidents!
For more canapé inspiration, check out these stuffed cherry tomatoes.
Print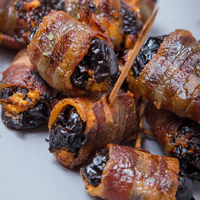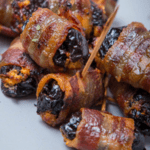 Devils on Horseback
---
12

pitted prunes

6

rashers streaky bacon

100

g

(3oz) goat's cheese
---
Instructions
Preheat oven to 200°C/180°C fan/390°F/gas 6.
Cut the bacon rashers in half.
Make a slit, from top to bottom, in each prune.
Using a teaspoon, stuff each prune with goat's cheese.
Wrap each prune with half a slice of bacon and secure the end of the bacon with a toothpick.
Arrange the prunes on a baking sheet and cook for around 15 minutes until the bacon is cooked and crisp. Don't forget to turn the prunes halfway through for even cooking.
Serve warm or at room temperature.
Notes
If you find you have a lot of bacon left-over after this recipe, don't worry! Check out my guide on freezing bacon.
Prep Time:

15 minutes

Cook Time:

15 minutes

Category:

Starter

Cuisine:

English
Nutrition
Serving Size:

1 serving

Calories:

542

Sugar:

57.9 g

Sodium:

695 mg

Fat:

14.1 g

Saturated Fat:

7.2 g

Carbohydrates:

96.8 g

Fiber:

10.7 g

Protein:

16.6 g

Cholesterol:

12 mg
save the recipe to your pinterest board