A classy, comforting dish, Jerusalem artichoke soup is a deliciously creamy winter warmer. It's perfect for a hearty evening dinner when the temperatures start to drop, or even as a scrumptious lunch all year round.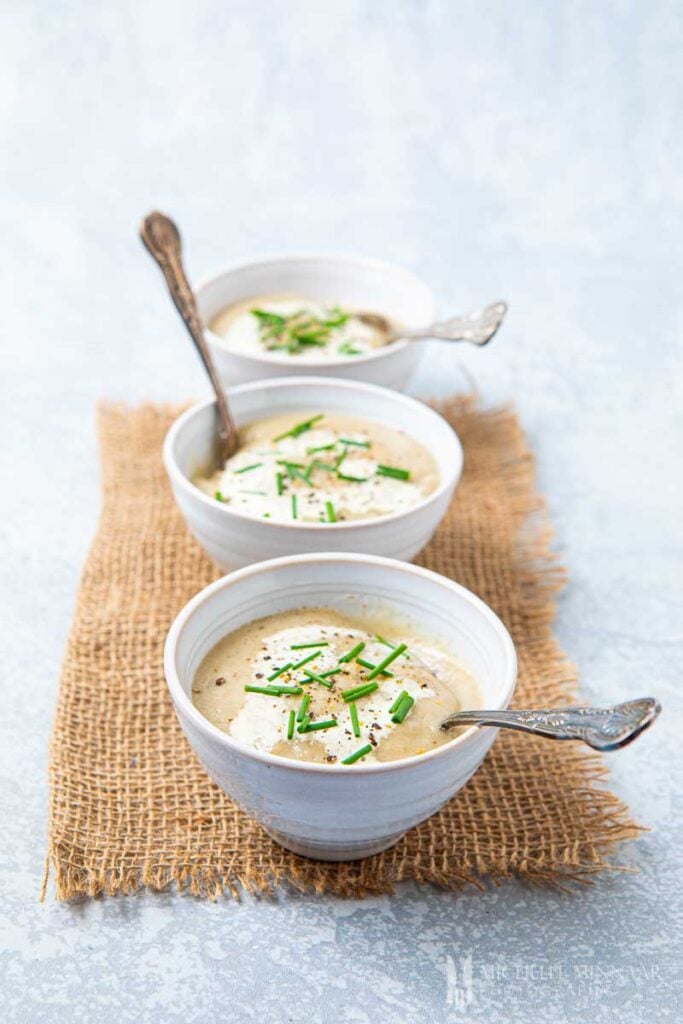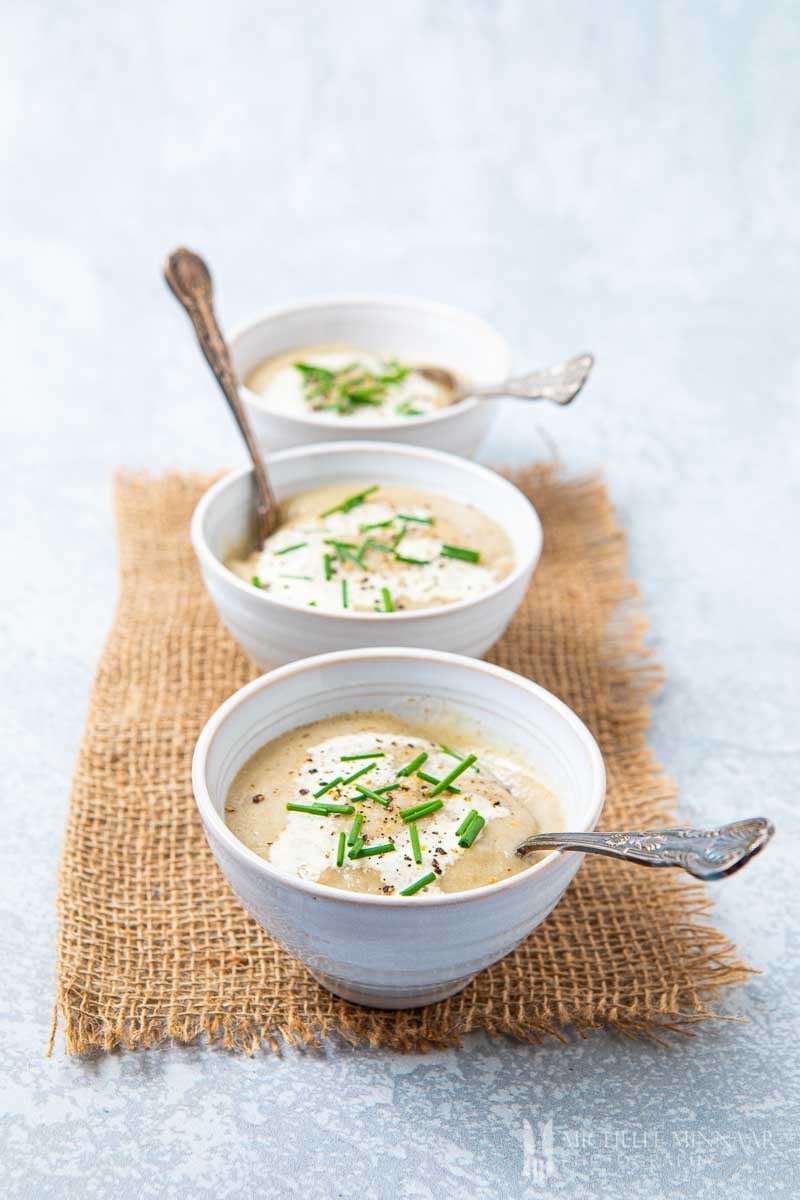 But what is a Jerusalem artichoke and how do you make this sumptuous soup? Let's go deeper and discover a little more about this terrific little tuber.
Items you'll need for this recipe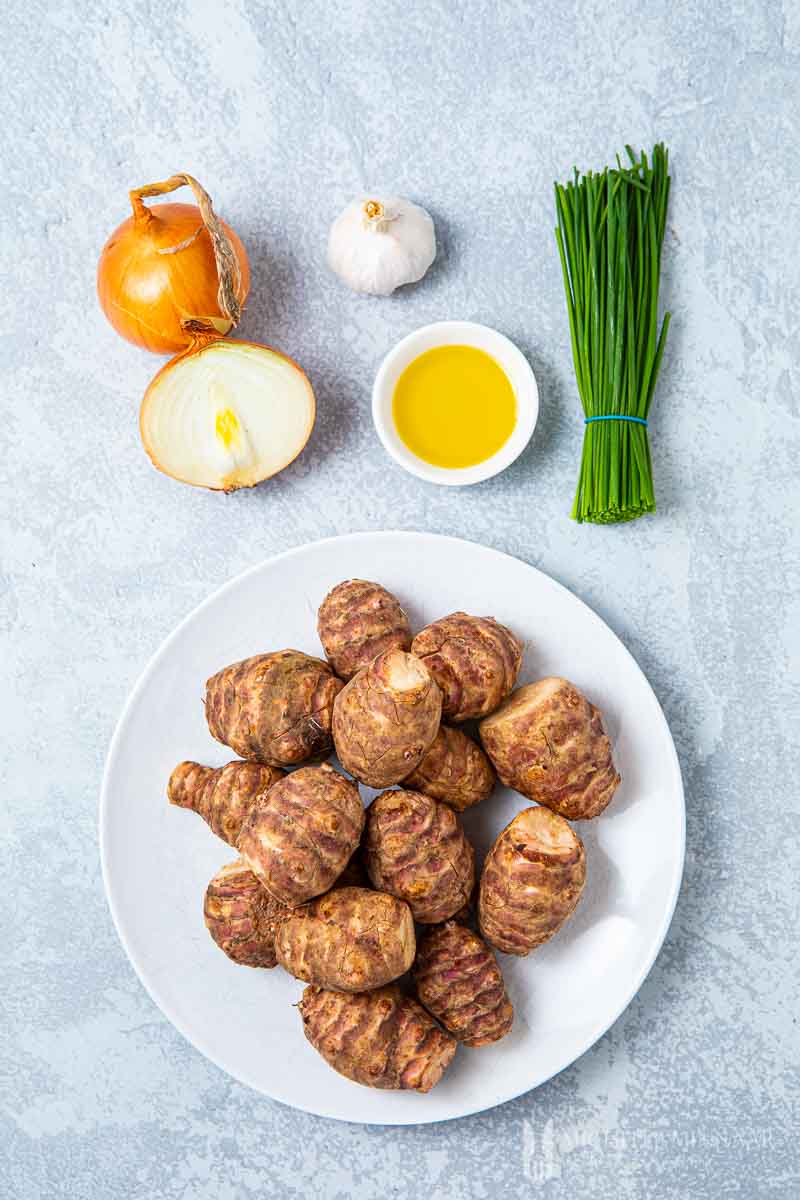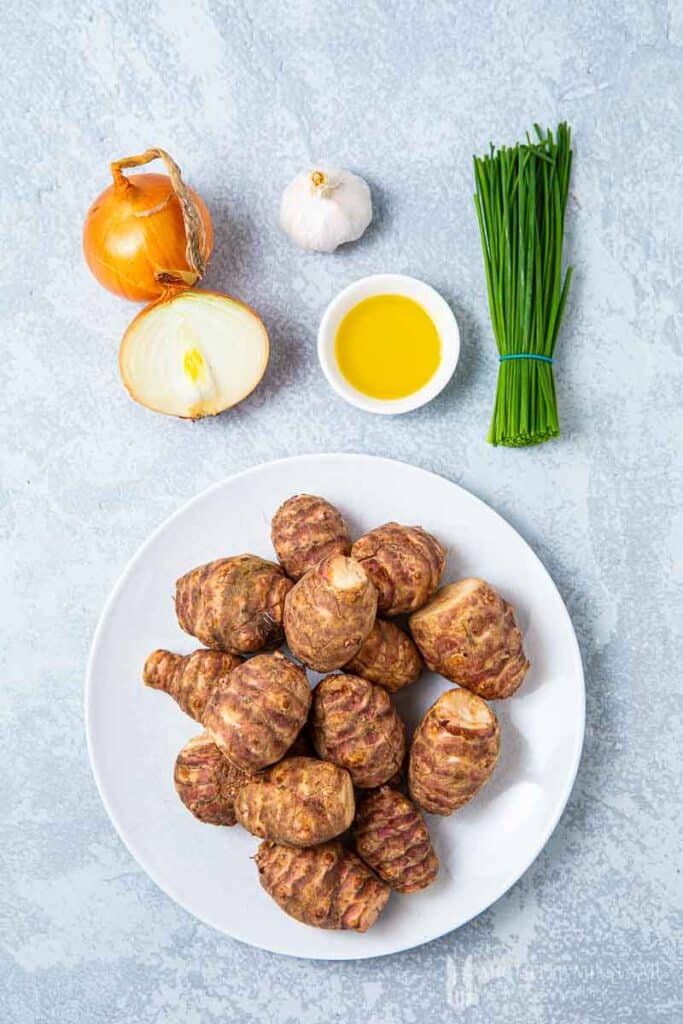 Jerusalem artichoke soup recipe
So why are they called "Jerusalem" artichokes when they come from North America? Well, one theory is that the name comes from the Italian for sunflower – "girasole", owing to the close resemblance between the two.
And how come they're called Jerusalem "artichokes", when they aren't actually artichokes? Well, the most likely answer is probably the most simple. Because, when cooked, they taste very similar to artichokes.
No great mystery then!
So how do they taste? Well, they have a sweet and nutty flavour with a very savoury undertone, a little like oyster. Think of the nicest potato you've ever tasted! When you mix them with chicken stock (or vegetable stock), onion, garlic and cream, you have a soup that tastes incredible.
When pureed, Jerusalem artichokes take on a smooth velvety cream texture, which makes them ideal in soup recipes. With a dash of cream added, you have a classy soup fit for a fine dining restaurant.
They also go great with a variety of herbs and spices. That's why, when it comes to Jerusalem artichoke recipes, soup is a winner!
From rosemary, sage, parsley, thyme and bay, to cardamom, nutmeg, turmeric, salt and cumin, so many different flavours go hand and hand with the taste of Jerusalem artichoke soup.
Recipes including salads, risottos and pastas are great. It also blends well with citrus – try slicing them thinly and grating a little lemon zest on top in a mixed salad. Heaven!
Is Jerusalem artichoke soup good for you?
These super tubers are highly nutritious and have a variety of health boosting elements. Let's take a look beneath the surface to find out just how beneficial they are for your health.
These tasty tubers are an excellent source of protein. In fact, they contain more protein than most root vegetables, which makes them a great addition to a vegan or vegetarian diet. They also contain essential amino acids, which are good for body in so many ways.
As well as being high in protein, they are also contain lots of potassium. One serving contains 643 mg of potassium. Potassium is an essential part of a balanced diet, and can help reduce heart disease.
They can also help to lower blood pressure and prevent hypertension, two big health problems that affect many people around the world.
Not only that, but eating this hearty root veg will decrease blood cholesterol and aid weight loss, as the high levels of probiotics in these tubers change the way your body metabolises fat.
Aside from this, they also contain lots of thiamin, a good amount niacin and plenty of healthy carbohydrates, promoting a good blood sugar balance, as a well as a healthy gut biome.
All in all, it's safe to say that this incredible root vegetable is a superfood!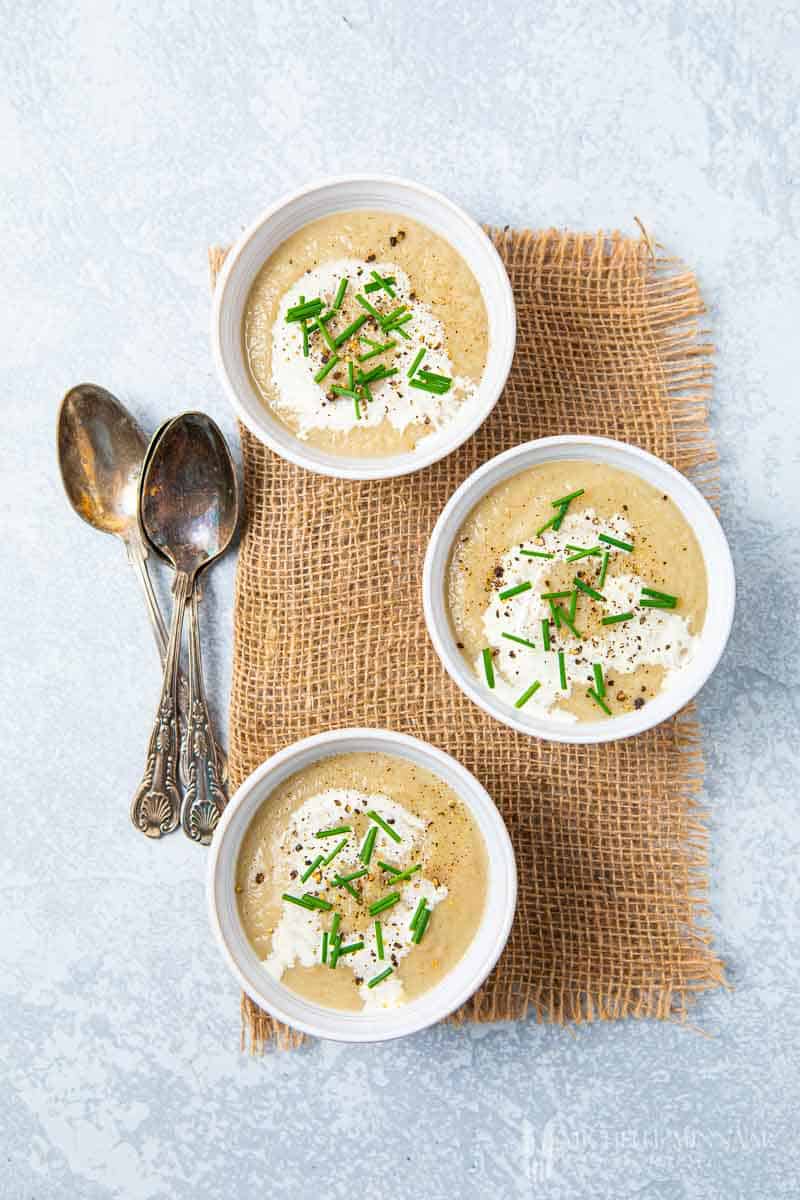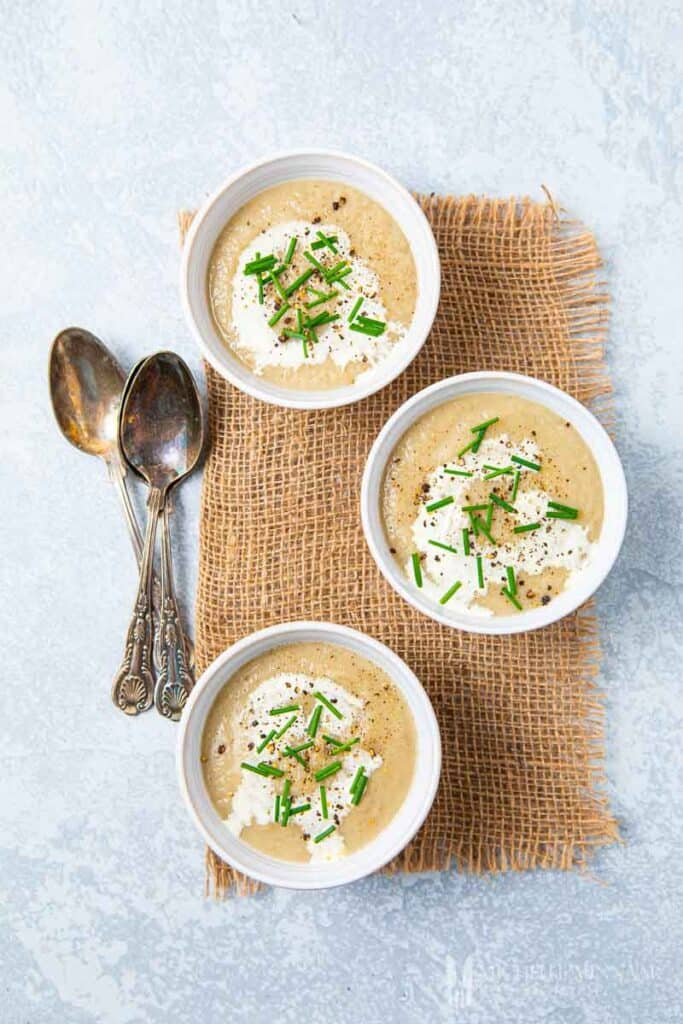 How to store Jerusalem artichokes
Jerusalem may have been around since ancient times, but its root vegetable namesake doesn't quite have the same staying power. Store them in a cool dark place, wrapped in a paper bag. They should last a week or two.
You could even keep them in the veg compartment of the fridge for up to two weeks. Just wrap them in paper towels to absorb the moisture then seal them in an airtight bag.
This root veg is not famed for its staying power but should keep for a couple of weeks in the veg locker of a fridge, and inside a paper bag left in a cool, dark place for a little longer. Don't wash them if you want them to keep.
You can store Jerusalem artichoke soup in an airtight container in the fridge for 2-3 days. If you want to keep it for longer, you can freeze it for up to 2 months (don't forget to label the date).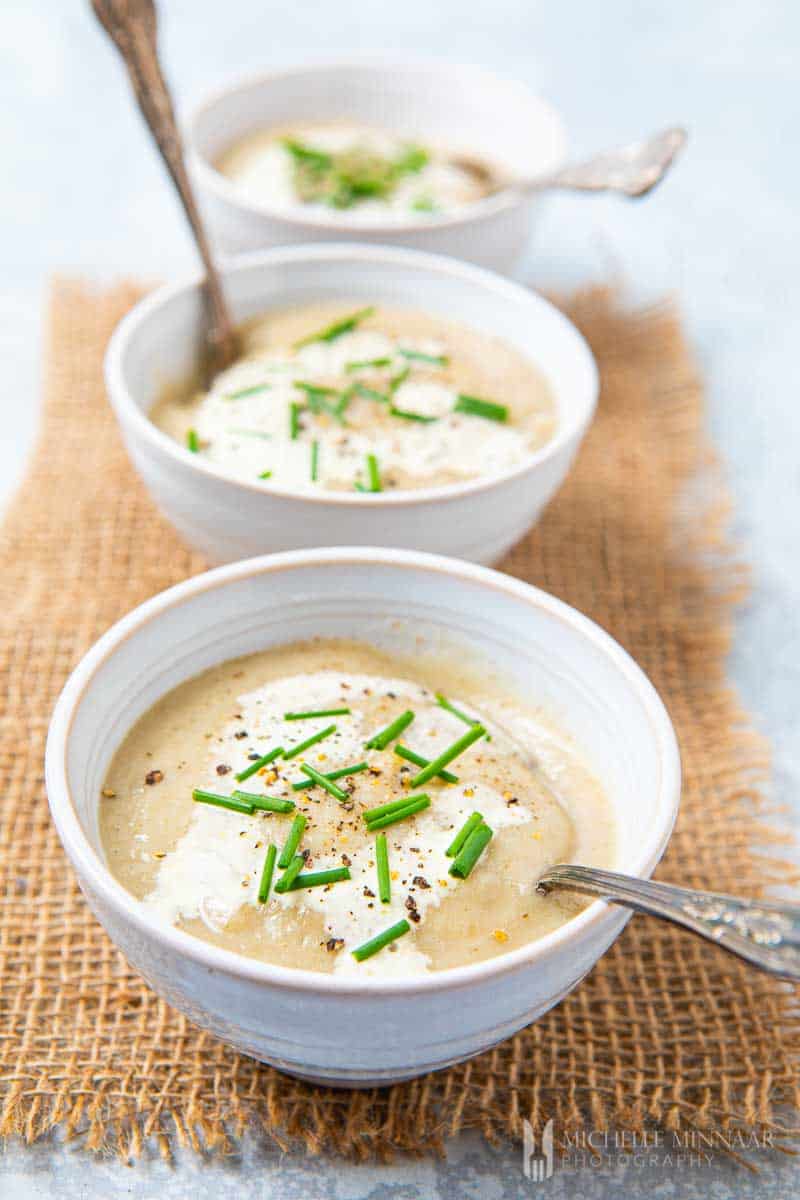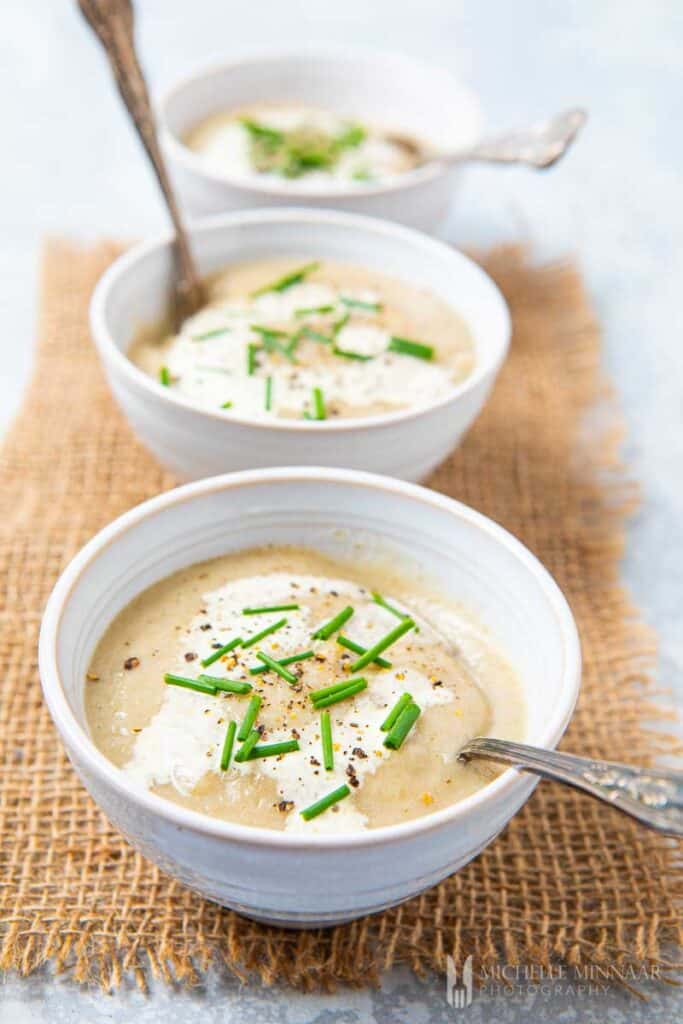 More smooth vegetable soup recipes
Need some more soup for the soul? Check out these divine recipes.
Print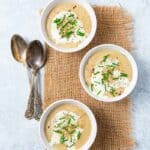 Jerusalem Artichoke Soup
---
Description
Make the most of this unique root vegetable by making Jerusalem Artichoke Soup. It is sweet, nutty and earthy and is best served with a bit of cream.
---
30

ml

(2 tbsp) olive oil

1

onion, peeled and chopped

1

clove garlic, crushed

900

g

(2 lbs) Jerusalem artichokes, peeled and sliced

900

ml

(1 1/2 pints) vegetable stock

60

ml

(2 fl oz) cream [optional]

30

g

(1 oz) chives, washed and roughly chopped
Salt and black pepper to taste
---
Instructions
Heat the oil in a large saucepan; add the onion and garlic and gently sauté.
When the onion has softened after about 5 minutes, add the Jerusalem artichokes and stock and stir well.
Bring the contents to the boil, reduce the heat and simmer gently for 20 minutes or until the butternut is soft.
Blend the soup with a hand-held blender or in a jug blender.
Add the cream, season to taste and serve in four bowls and sprinkle with the herbs.
Notes
If you're on Weight Watchers, simply omit the oil and use low-fat cooking spray instead, which will turn the soup into 0 ProPoints!
If you're not vegan, you can halve the oil and add 15ml (1 tbsp) butter instead.
If you're on a low-fat diet, leave out the oil and butter and use low-fat cooking spray.
Prep Time:

15 minutes

Cook Time:

25 minutes

Category:

Soup

Method:

Boil

Cuisine:

British
Keywords: Jerusalem artichoke soup, vegan Jerusalem artichoke soup, vegan soup recipe, sunchoke soup, sunchoke recipe, Jerusalem artichoke recipe
save the recipe to your pinterest board