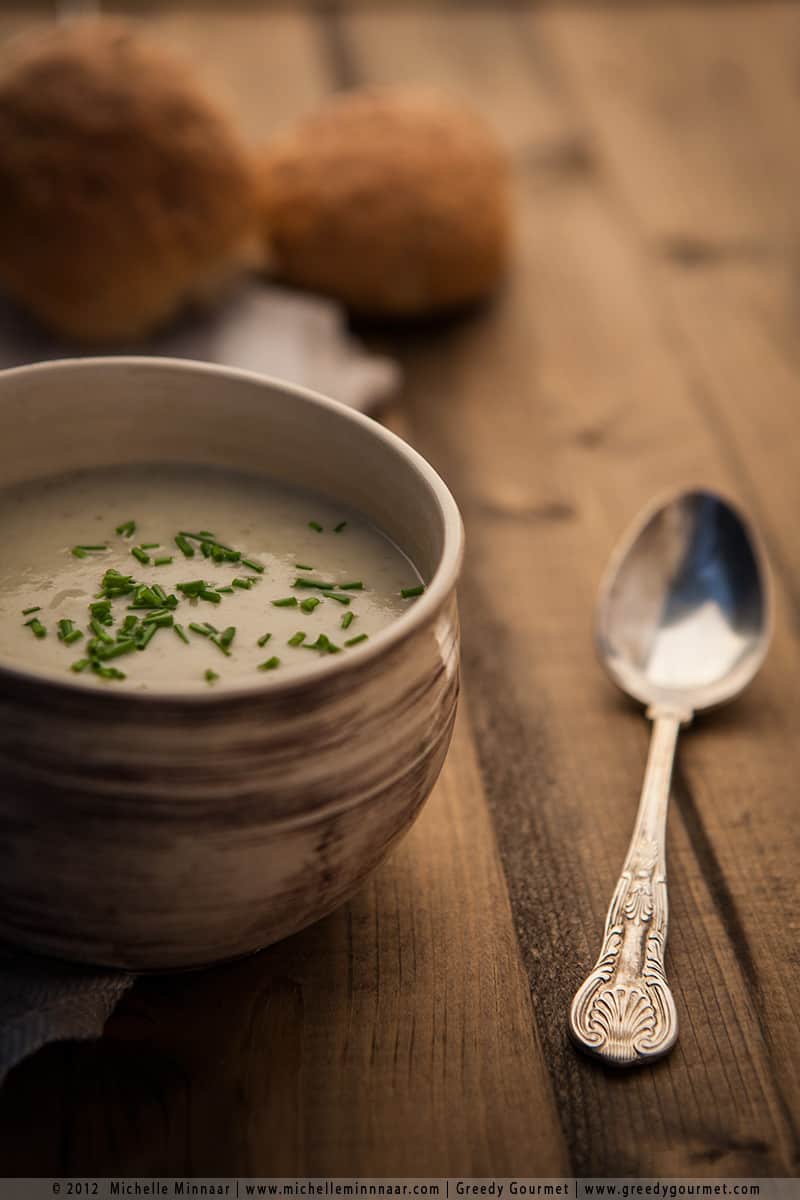 Learn how to cook jerusalem artichoke soup in a few easy steps.
You get two types of women.
Farters and liars.
Quite proudly I fall into the former category. In professional circumstances I really try to behave but it's rather unnatural, don't you think? As Cat Stevens' song goes "I can't keep it in, I've gotta let it out".
At playgroups I can really let my guard down. Firstly, because it's always noisy with one baby or another screeching. Secondly, the stench MUST be coming from THAT toddler's nappy. Ah, the joy of lots of defenceless little scapegoats running around…
Although the downside of being partially deaf is obvious, surprisingly it has its upsides as well. The world is quieter and I'm oblivious to the continuous hum of traffic normal hearing people, who live in the city, complain about. If I didn't fulfil a request someone made, I can simply say I didn't hear them (honest!) although my husband is starting to call it "selective deafness".
A few years ago a friend and I were working together when after a while she burst out laughing.
"You do know I can hear you farting, right?"
No, I didn't. Damn it, I tried so hard to do it softly. Apparently, deaf people can't hear themselves farting either!
Now why on earth would I talk about something as crude as farting on a food blog? (Obviously we have to start by blaming my parents who in this case didn't send me to a finishing school.)
Well, Jerusalem artichokes ("sunchokes" in the USA), also known as "fartichokes", contain inulin which is a non-digestible carbohydrate for humans that thus leads to flatulence. People who don't regularly eat their fruit and vegetables or have digestive problems such as Irritable Bowel Syndrome should be careful of Jerusalem artichokes.
It's never affected me though! What has your experience been with Jerusalem artichokes?
Adjusting Jerusalem Artichoke Soup for Special Diets
At just 264 calories per serving, jerusalem artichoke soup makes a healthy meal brimming with iron, potassium and thiamin. This versatile soup can also be tweaked to suit various types of diets.
Weight Watchers or other Low-Fat Diets such as Slimming World: [Option 1] Leave out the butter and use low fat cooking spray to fry the onions with which would turn this dish into 0 ProPoints! [Option 2] Omit frying the onions separately and boil them with the jerusalem artichokes instead.
Vegetarian: Use vegetable stock/broth instead of chicken stock/broth.
Vegan: Leave out the butter and use olive oil or another type of your choice.
Baby Food: Infants should avoid salt for so omit the stock/broth and salt from the recipe. Use water to boil the vegetables instead and puree until smooth afterwards.
Kids: Why not tempt them by sprinkling grated Parmesan cheese on top?
The recipe is already gluten free and if you use oil instead of butter it will be lactose/dairy free as well. It's paleo friendly too.
Don't Have Enough Jerusalem Artichokes?
Using other root vegetables can lead to interesting flavour combinations. Why not make up the deficit with celeriac, sweet potato, carrots, potato or parsnip? Other vegetables worth considering are cauliflower, pumpkin, fennel, various type of mushrooms such as porcini or wild ones, butternut squash and spinach. Just try one vegetable at a time though! To make the soup more filling lentils can be added or for an even nuttier taste why not add a few chestnuts to the mix?
Herbs & Spices You Can Add To Jerusalem Artichoke Soup
For an added flair you can add a dash of brandy to the frying onions before adding the jerusalem artichokes to the pot.
Garlic, roasted even better!
Ginger, fresh or dried
Sage
What To Add When Your Jerusalem Artichoke Soup Is Ready
Whether you are a vegetarian or not, there are numerous ways to give the dish an extra bit of oomph.
Hazelnuts, chopped
Parsley, chopped
Lemon juice
Parmesan cheese
Blue cheese, crumbled
Bacon, ham or pancetta
Scallops
Chicken, cooked
Foie gras
Truffle
Flavoured oils, e.g. hazelnut or truffle
Can you freeze Jerusalem Artichoke Soup?
Yes. Make some extra so that you can enjoy it later!
Chop your onion and peel the garlic clove. Scrub the jerusalem artichokes really well and slice them. There are other methods to making the soup. You can choose to peel them and throw the skins away and then boil the vegetables as the recipe suggests. Or you can take the peels, boil them in the stock until soft, then sieve the liquid and cook the remaining vegetables in the jerusalem artichoke stock. Every method is right, choose which one is best for you.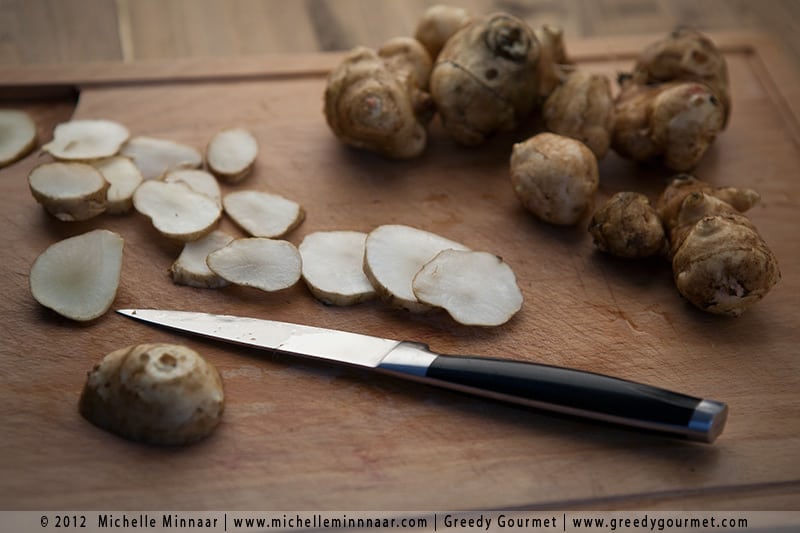 Gently fry the onion and garlic in butter until softened.
Add the jerusalem artichokes to the pot.
Add stock to the vegetables and simmer gently for a while unti the vegetables are tender.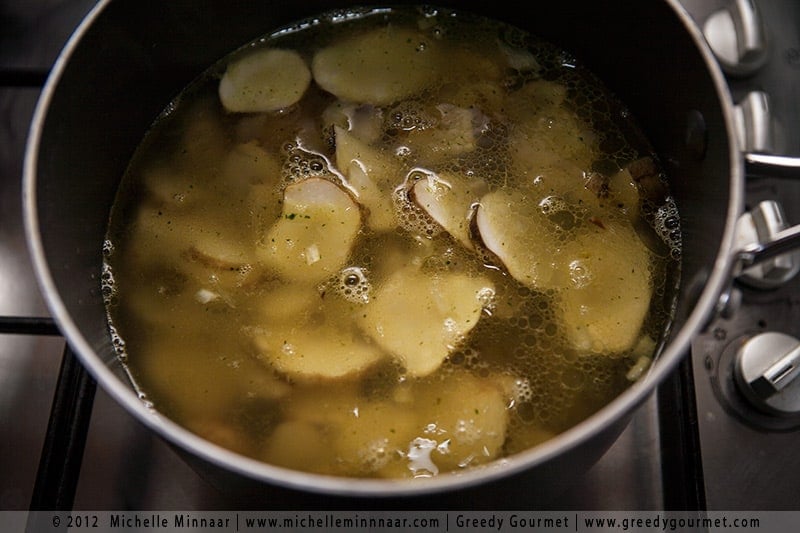 Blend the soup until smooth.
If you chose to leave the peel on, you now have the option to sieve the soup to remove all of the soup's possible graininess. I prefer not to. If you scrubbed well there's no need to worry.
Add a dash of cream to give the soup a touch of luxury. This is optional.
Voila! In a few easy steps you've just cooked yourself a fabulous meal!
Print
Jerusalem Artichoke Soup
---
Author:

Michelle Minnaar

Prep Time:

15 minutes

Cook Time:

25 minutes

Total Time:

40 minutes

Yield:

4

1

x
Description
Jerusalem Artichoke soup is sweet and nutty, perfect for the winter months.
---
Scale
Ingredients
15

ml (1 tbsp) olive oil

30

g (1 oz) butter

1

onion, peeled and chopped

1

clove garlic, crushed

900

g (2 lbs) Jerusalem artichokes, peeled and sliced

900

ml (1½ pints) vegetable or chicken stock

60

ml (2 fl oz) double cream [optional]

30

g (1 oz) chives, washed and roughly chopped
Salt and black pepper to taste
---
Instructions
Heat the oil and butter in a large saucepan; add the onion and garlic and gently sauté.
When the onion has softened after about 5 minutes, add the Jerusalem artichokes and stock and stir well.
Bring the contents to the boil, reduce the heat and simmer gently for 20 minutes or until the butternut is soft.
Blend the soup with a hand-held blender or in a food processor.
Add the cream, season to taste and serve in four bowls and sprinkle with the herbs.
---
Notes
If you're on Weight Watchers, simply omit the butter and oil and use low-fat cooking spray instead, which will turn the soup into 0 ProPoints!If you're vegan, omit the butter and add more oil to the recipe instead.If you're on a low-fat diet, leave out the oil and butter and use low-fat cooking spray.
Category:

Soup

Cuisine:

British
Nutrition
Serving Size:

269.4g

Calories:

264

Sugar:

22.9 g

Sodium:

236 mg

Fat:

9.9 g

Saturated Fat:

4.4 g

Carbohydrates:

42.3 g

Fiber:

4.1 g

Protein:

4.9 g

Cholesterol:

16 mg
More soup recipes to inspire you:
save the recipe to your pinterest board