If you haven't yet had a Yorkshire pudding wrap, then you are missing out on a recent British culinary trend. The filling of the Yorkshire pudding wrap generally consists of meat, vegetables and a sauce. There are many versions of the wrap, the most famous of which contains pork, vegetables, apple sauce and gravy. Just the thought of this version makes my mouth water. Ideally, you should include your favourite ingredients and make your ultimate Yorkshire pudding wrap. Enjoy Yorkshire's famous food in a fun way – indulge in some wrappy goodness!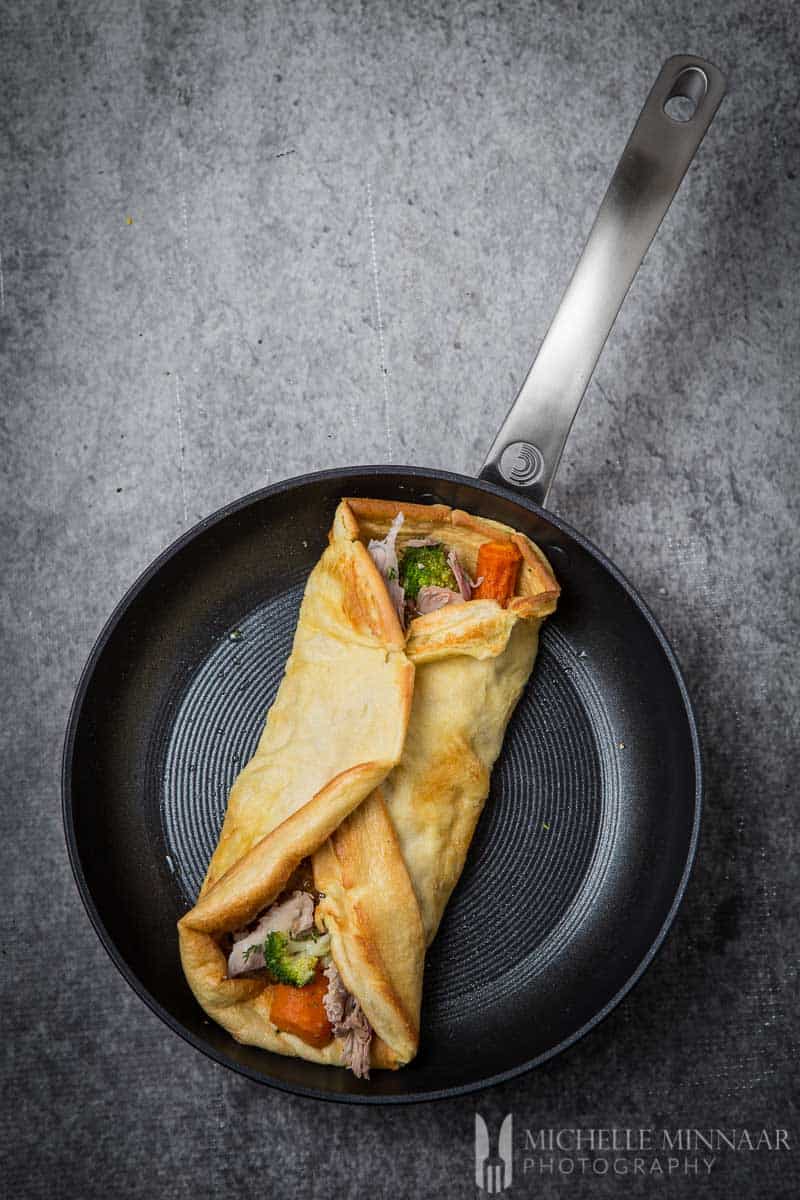 next-level Yorkshire pudding wrap recipe
Yorkshire pudding wrap is a pastry made out of milk, flour and eggs which is then fried on a round frying pan. Ultimately, the shape of the Yorkshire pudding wrap should be circular. In addition, you can also make traditional Yorkshire puddings, where you would bake them in a muffin tray. These small Yorkshire puddings are better for portion control. Ordinarily, one would serve the Yorkshire pudding alongside a roast dinner. However, here's the brilliant twist! There was a recent craze about the Yorkshire pudding being used as a wrap for a roast dinner! So you can have an entire roast dinner with you – fast-food style! For this to happen, you'll need the right type of pan.
Yorkshire pudding wrap, with Circulon
Perhaps you have already heard of Circulon. The company is the leading producer of non-stick cookware since 1985. With more than 30 years of innovation and experience in this area, they know about gourmet cookware. Circulon's cookware does not only possess the most efficient non-stick technology out there, but it is also dishwasher safe, and can be used on any type of stove top, including induction. I can't tell you how many times I've had my food stick to other so-called non-stick pans. At first, I thought it was really an issue of me applying too much heat in my cooking. However, I found out that it really does matter what pans you use. As you can see, I used Circulon pans for this Yorkshire pudding wrap. Check out the set of pans here.
As a result of the excellent Ultimum Forged High Density pans, the Yorkshire pudding wrap didn't stick to the pan and didn't burn. Another advantage is that Circulon cookware have a non-stick surface not only on the inside but also on the outside. At first, you might think this would be unnecessary, but in fact it turns the tedious cleaning of the pan into child's play! You can easily shove it in the dishwasher without a worry. If you think the non-stick surface is fragile though, you'd be wrong. Due to the unique and patented Hi-Lo non-stick system the pans can tolerate normal contact with cooking utensils. You can even put the pan in the oven at up to 240°C. So, make sure you look out for cookware marked with the Circulon logo. For more information, please visit Circulon's homepage.
Yorkshire pudding wrap – BBC
Yorkshire pudding has been around for centuries, however it is only recently that it created a buzz in the online community. Someone brilliant reinvented the Yorkshire pudding by turning it into a wrap! Suddenly, videos on how to make Yorkshire pudding have received more than 13 million views! Check out the article here that started the whole online craze.
As such, the online community started to come up with many savoury or sweet filling ideas. For my version, I've used leftovers from my smoked turkey dinner. However, you can also use leftovers from a smoked chicken and even hot smoked salmon. Keep reading to find inspiration for amazing Yorkshire pudding wrap fillings.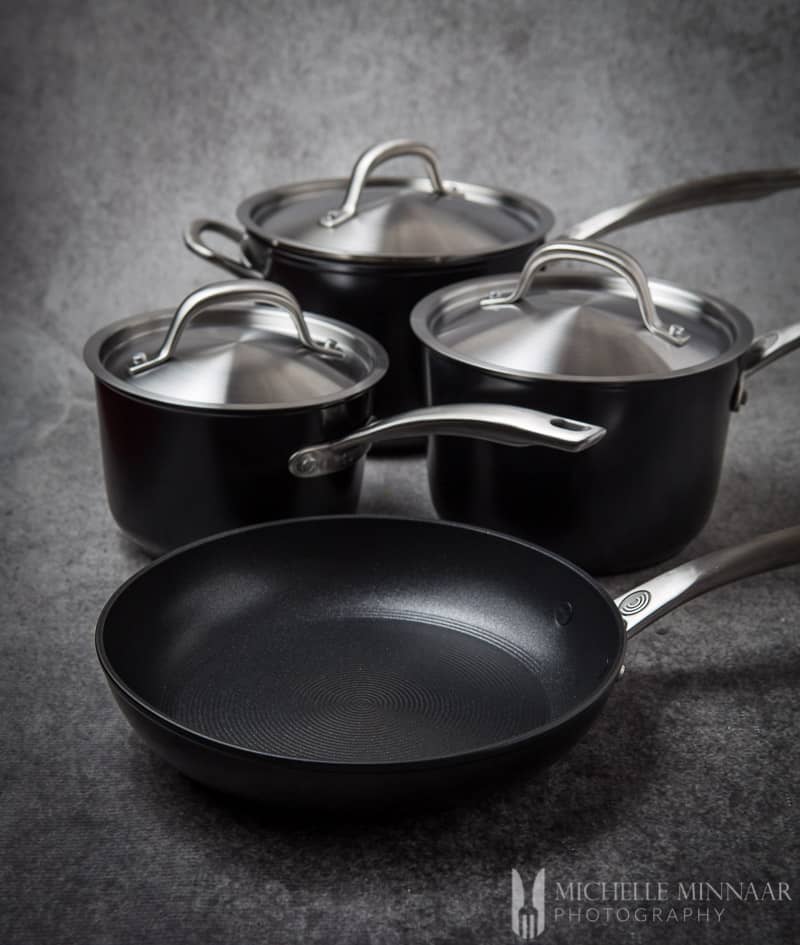 history of Yorkshire pudding
No one really knows the exact origin of Yorkshire pudding. Apparently, the first recipe ever to appear was in 1737, under the name of Dripping Pudding. In this version, the pudding was placed in the oven under the roasting meat. This way, the pastry would absorb all the delicious fat and juices dripping away. Ultimately, this would keep the pudding moist and tasty! Years later, the dripping pudding was renamed as Yorkshire pudding and it also took on the puffy form we know today.
In the old days, one would serve the Yorkshire pudding with gravy as the first course of a dinner. This was essentially done to ease the guest's hunger. However, it was soon discovered that guests wouldn't have enough appetite for the following courses to come. This was a common trick of the host to save money on the more expensive ingredients used in the next courses, such as meat. Today, people enjoy Yorkshire pudding as a side for roast meats. Especially, one cannot imagine a Sunday roast without Yorkshire pudding!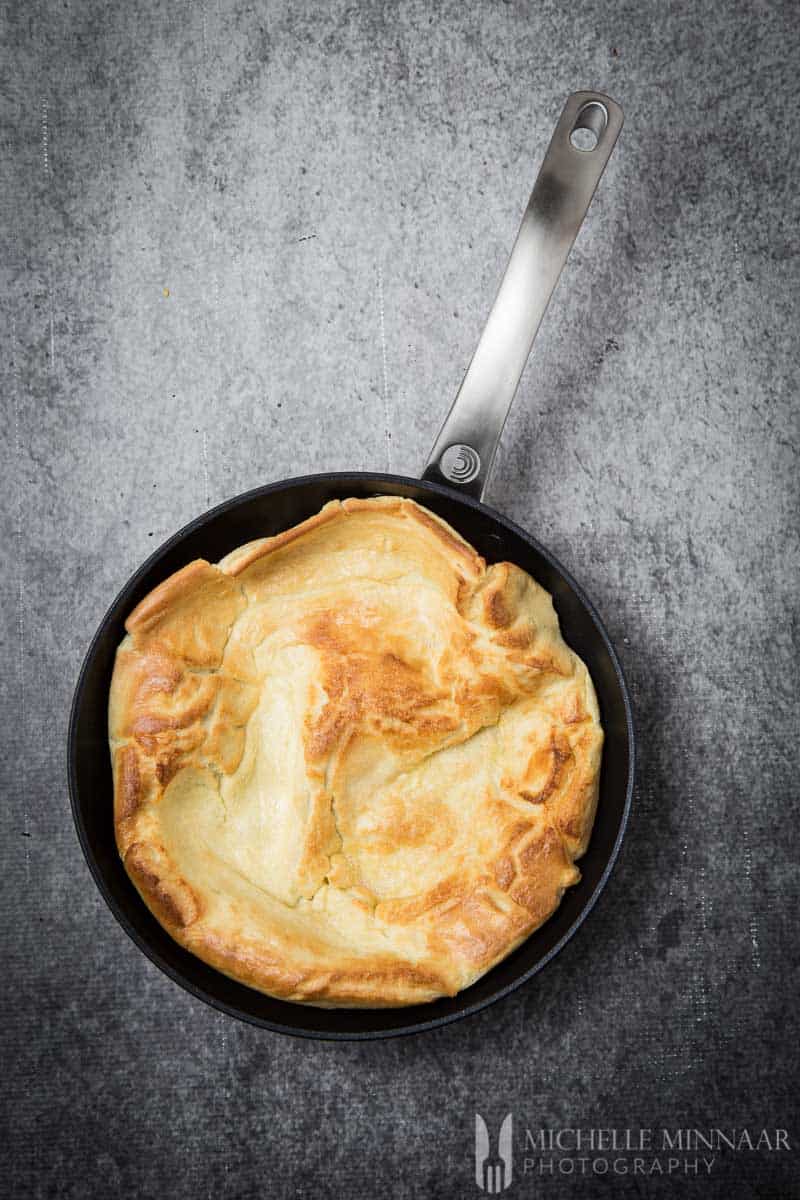 Yorkshire pudding wrap – ideas for fillings
You can consider the following savoury variations of the Yorkshire pudding wrap:
pulled pork with apple sauce and meat gravy
shredded lamb, mint sauce and vegetables
roast beef, onions, vegetables and gravy (and horseradish)
sausages with mustard filling
chicken or turkey with cranberry sauce and gravy
steamed vegetables with vegetable sauce
turkey, stuffing, vegetables and gravy
You can also go for a sweet filling – there are no rules to hold you back. You can consider these combinations:
strawberries, jam and cream
forest berries and cream
chocolate ice cream and peanut butter
Nutella, banana and whipped cream – a classic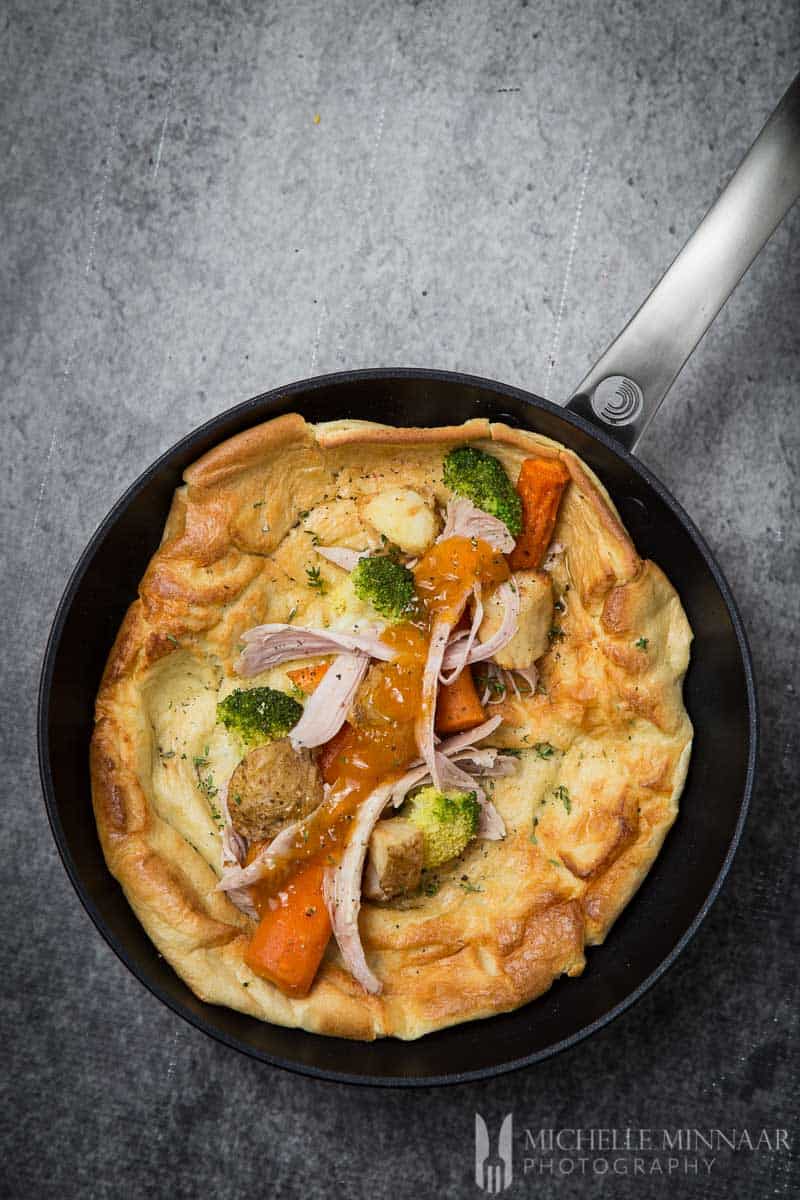 Yorkshire pudding wrap in York
If you want to get your hands on the real thing, then I suggest you try the Yorkshire pudding wrap from The York Roast Company. They claim to be the true inventors of the original Yorkshire pudding wrap and that they are behind its recent online craze.
For more information and inspiration for your next visit to York, check out these top 16 things to do in York.
So which Yorkshire pudding wrap tempts you the most? Will you go sweet or savoury?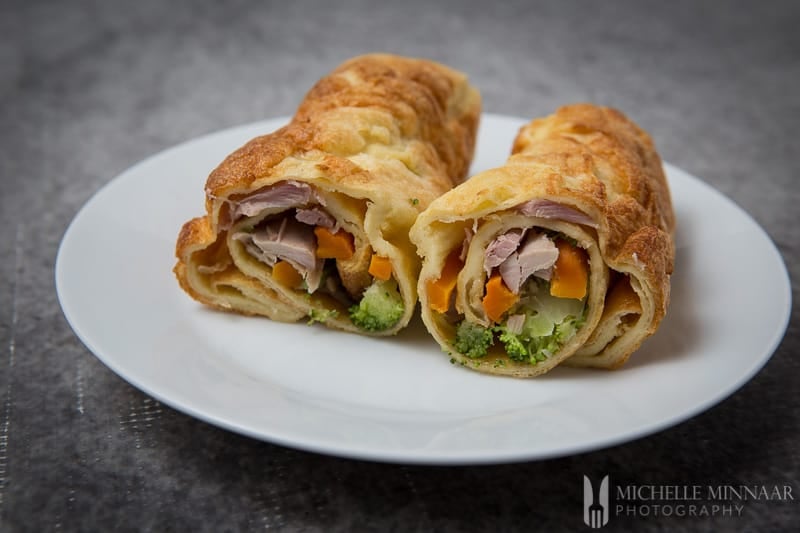 Print
Yorkshire Pudding Wraps
---
Prep Time:

30 minutes

Cook Time:

10 minutes

Total Time:

40 minutes

Yield:

4

1

x
Description
Discover how to make the best Yorkshire pudding wrap. Also, learn about the history of Yorkshire pudding. Many Yorkshire pudding wrap ideas for filling.
---
Scale
Ingredients
20

ml (4 tsp) vegetable oil

140g

(

5oz

) flour

4

eggs

200

ml (7fl oz) milk
Salt and pepper, to taste
---
Instructions
Preheat the oven to 230°C/fan 210°C/gas mark 8.
Drizzle 5ml (1 tsp) of oil into a 20cm pan or nonstick baking dish and place in the oven to heat through.
Tip the flour into a large bowl and beat in the eggs until smooth.
Gradually add the milk and carry on beating until the mix is completely lump-free. Season with salt and pepper. Pour the batter into a jug, then remove the hot pan from the oven.
Pour a quarter of the batter into the pan and swirl it around until the whole surface is covered.
Place the pan back in the oven and cook for 5 minutes or until starting to brown on the edges.
Remove the pan from the oven and flip the pudding and bake for another 5 minutes or until cooked.
Serve immediately. Arrange leftover roast meat and vegetables in the center of the wrap and drizzle with gravy and jelly to complete the meal. Enjoy!
---
Notes
You can use more than one pan at a time to shorten the cooking process.
After cooking the Yorkshire pudding wraps you can cool them and freeze for up to 1 month.
Category:

Main

Cuisine:

British
Nutrition
Serving Size:

1 serving

Calories:

257

Sugar:

2.8 g

Sodium:

87 mg

Fat:

10.4 g

Saturated Fat:

2.9 g

Carbohydrates:

29.6 g

Fiber:

1 g

Protein:

10.9 g

Cholesterol:

168 mg
save the recipe to your pinterest board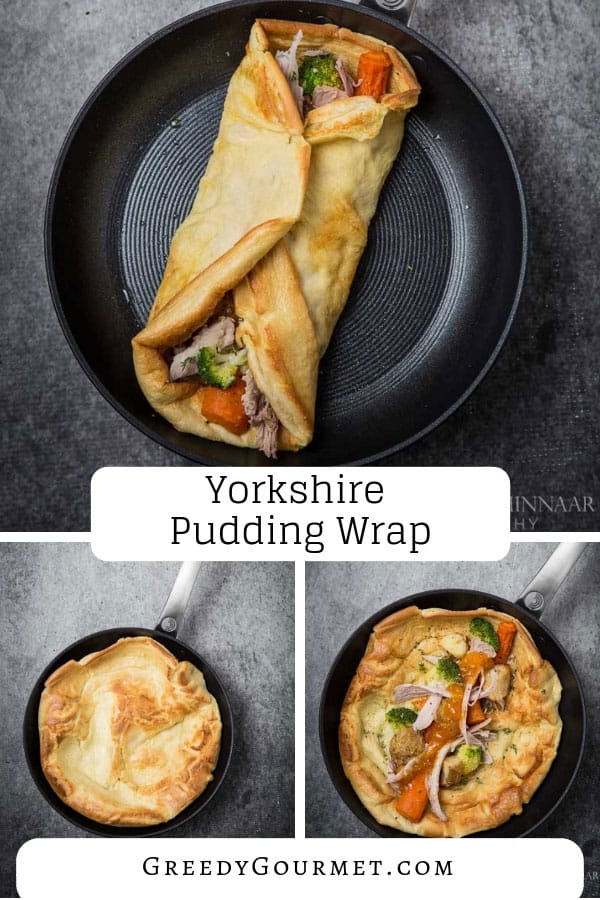 P.S. I received the Circulon pans. All opinions are my own.