Stuffed cherry tomatoes take cherry tomato appetizers to another level though, turning them into little stuffed bites of pure bliss!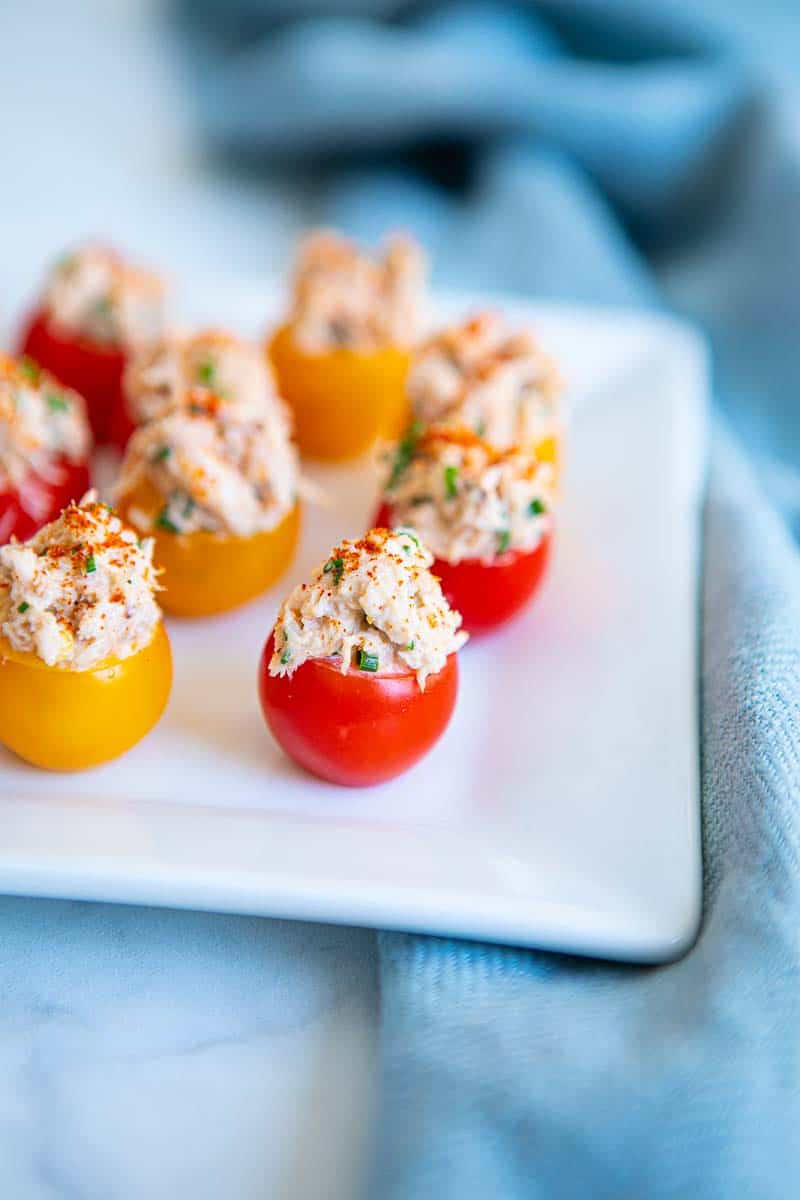 With a wonderful crab meat filling, stuffed cherry tomatoes will make a great addition to your party. They're unbelievably tasty and dangerously addictive.
Cherry tomatoes are like little juicy bites of joy. Pick them off the vine and pop them in your mouth for a taste explosion. How do you make cherry stuffed tomatoes? Read on to find out.
Items you'll need for this stuffed cherry tomatoes recipe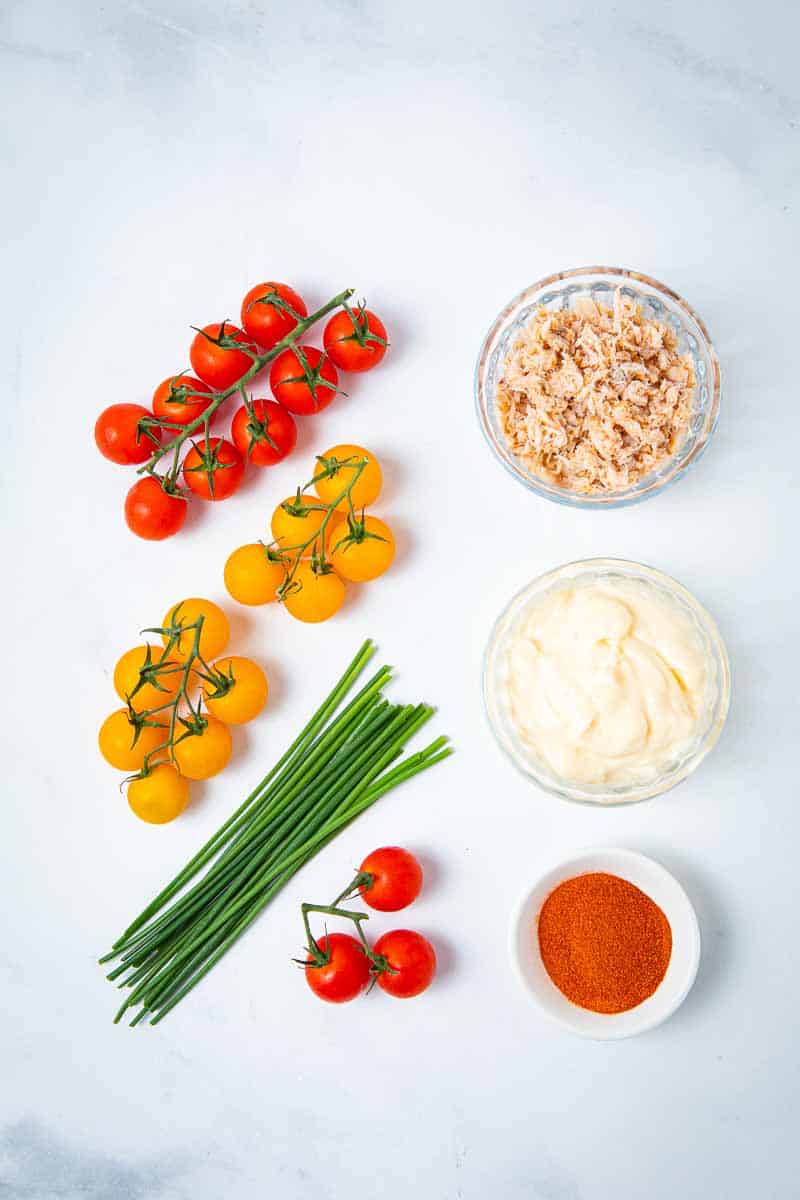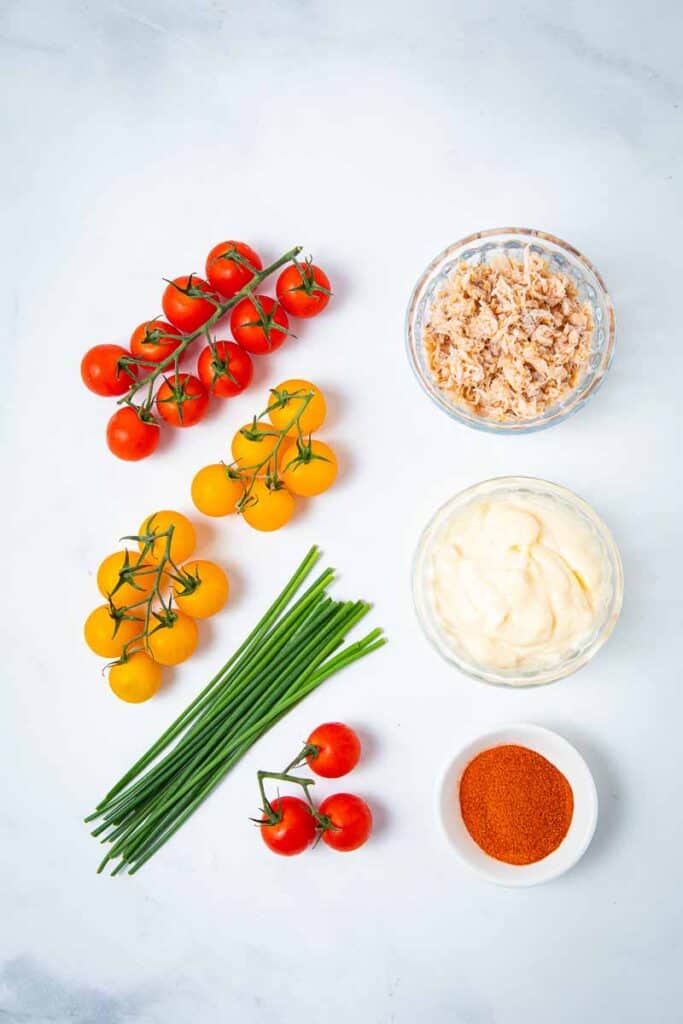 Stuffed cherry tomatoes recipe
An elegant yet simple dish, these stuffed cherry tomatoes are a guaranteed crowd pleaser. They're so moreish that they'll be gone in sixty seconds. So, prepare a big batch of stuffed cherry tomatoes and savor every bite.
These stuffed cherry tomatoes are so simple to make, with hardly any prep time – it's just a case of mixing the crab meat with mayonnaise, chili, chives and pinch of salt and pepper. Then comes the clever bit.
You'll cut a small piece off each end of the tomatoes (this helps them stay upright), then scoop out the pulp and seeds. Then comes the stuffed filling ... voilà! You have a super tasty little snack that looks the part.
Are stuffed cherry tomatoes healthy?
Tomatoes are packed full of vitamins – especially vitamin A and vitamin C. These are essential for maintaining healthy skin, a strong immune system and a healthy heart. They are also rich in lycopene – which can help protect the body against cancer.
The other main ingredient in this recipe – crab – is very good for you. It's high in phosphorous, which helps maintain healthy bones and teeth. It's also full of omega-3 fatty acids, which help you keep a balanced cholesterol level, increase your immune system and help blood circulation.
Crab is also an amazing source of protein. It contains as much protein as many types of meat, with a lot less saturated fat.
Is there a difference between grape tomatoes and cherry tomatoes?
The main difference is their shape. Grape tomatoes are shaped like a grape – a much longer, more oval shape. On the other hand, cherries are perfectly round.
They do have similar tastes, with a few key differences. Grape tomatoes have a great sugar to acidity balance, giving them a nice subtle sweetness. They also have a satisfying crunch and a meaty freshness.
Cherries tend to be a lot sweeter. They are incredibly juicy – fruitier that grape tomatoes – and have a crisp, fresh bite.
Of course, if you can't find cherry tomatoes, grape tomatoes will work just as well in this recipe.
Can cherry tomatoes be frozen?
Freezing them is easy – just wash them, dry with paper towels, place on a cookie tray and put them in the freezer. After an hour, take them out and put them in an airtight freezer bag or container.
Take them out the day before you want to use them, letting them defrost overnight in the fridge.
They'll keep in the freezer for about a year, but they'll keep their flavour will remain intact for around six months. They'll be best used in cooking rather than eating fresh.
How do you core a cherry tomato?
Use a sharp serrated knife to carefully slice either end. This will help it to stand. Then, using the end of a teaspoon, scoop out the pulp. Be careful not to tear it, otherwise it won't keep its shape when stuffed. Bigger tomatoes are easier to handle.
Can you eat overripe tomatoes?
Overripe ones are sweet and delicious. They aren't always the best ingredient in salad recipes or to eat raw, as they go a little too soft. So, drizzle with a little oil, sprinkle over a pinch of salt and place them in the oven until they begin to burst. They'll taste like heaven!
What can I do with surplus cherry tomatoes?
You can always make sauce recipes – something like this simmered fresh tomato sauce recipe would be a great way to use up the excess.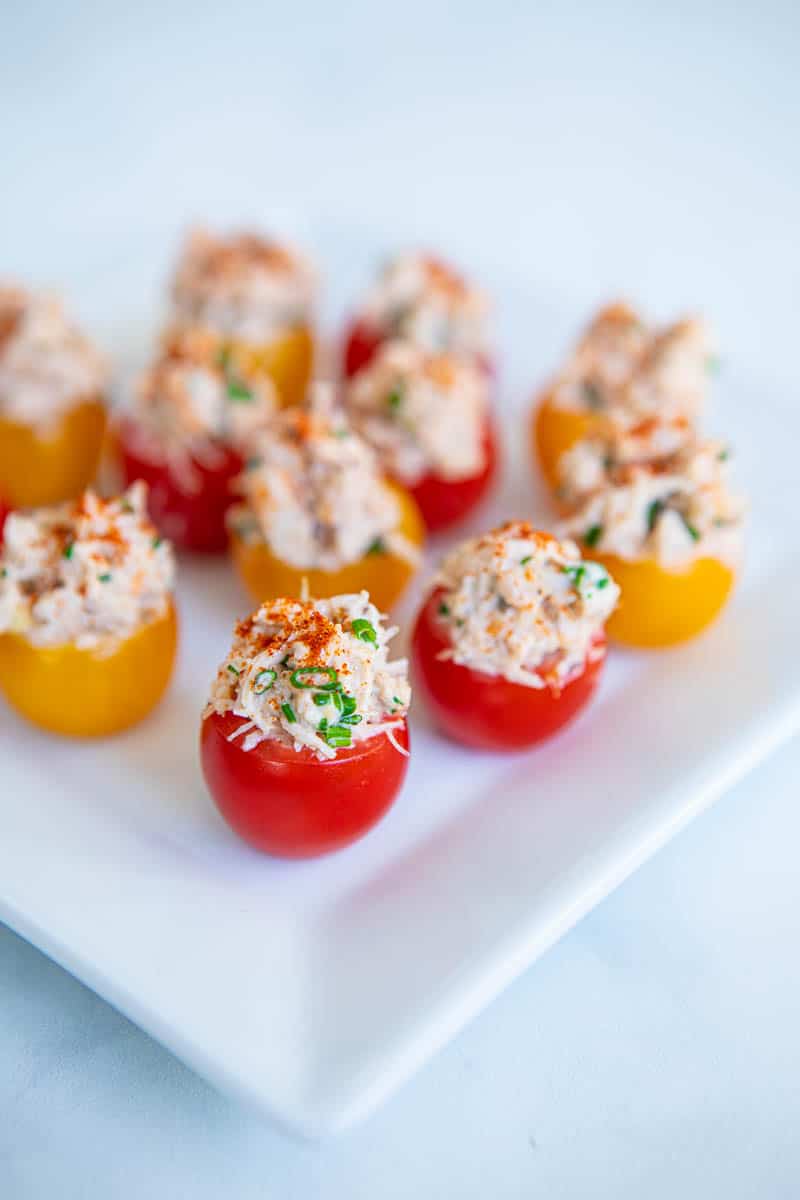 Other great recipes
Aside from this one, there are some great recipes for appetizers with cherry tomatoes. Have a look at these simple, quick recipes that all taste fantastic.
What are your favourite appetizer recipes to make over the holiday season? Let me know in the comments below.
Competition Question: What is your favourite way to use cherry tomatoes?
Print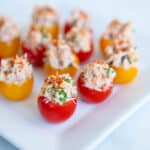 Stuffed Cherry Tomatoes
---
Author:

Michelle Minnaar

Total Time:

15 minutes

Yield:

4

servings

1

x

Diet:

Gluten Free
Description
These Stuffed Cherry Tomatoes have a luxurious crab filling and are super simple and quick to prepare. Perfect for cocktail parties!
---
---
Instructions
In a mixing bowl, combine the crab meat, mayonnaise, chili and chives. Mix well. Season to taste, then cover and refrigerate until needed.
Using a serrated knife, cut a very thin slice from the stem end of each tomato. Carefully scoop out the pulp and seeds with the tip of a teaspoon.
Sprinkle the insides of the tomato shells lightly with salt. Invert them on kitchen paper and let them drain for 15 minutes.
Using a small spoon or your fingers, stuff the tomatoes with the crab, mounding the filling slightly on top. Serve cold.
Notes
Tomatoes have a tendency to roll over thanks to their rounded bottoms. To tackle this issue, thinly slice the base of the tomato, to form a flat surface so that the tomato is stabilised.
Why not use different coloured cherry tomatoes for maximum visual impact?
In this recipe, 4 cherry tomatoes serve as a canape portion per person.
Prep Time:

15 minutes

Cook Time:

0 minutes

Category:

Starter

Method:

No Cook

Cuisine:

French
Keywords: stuffed cherry tomatoes, crab filling, crab stuffed tomatoes, cherry tomato recipe, crab recipe