This indulgent creamed spinach is rich, packed with flavour and velvety smooth. It can be served with any main meal, simply a meal on its own or as a filling for pies and pastries.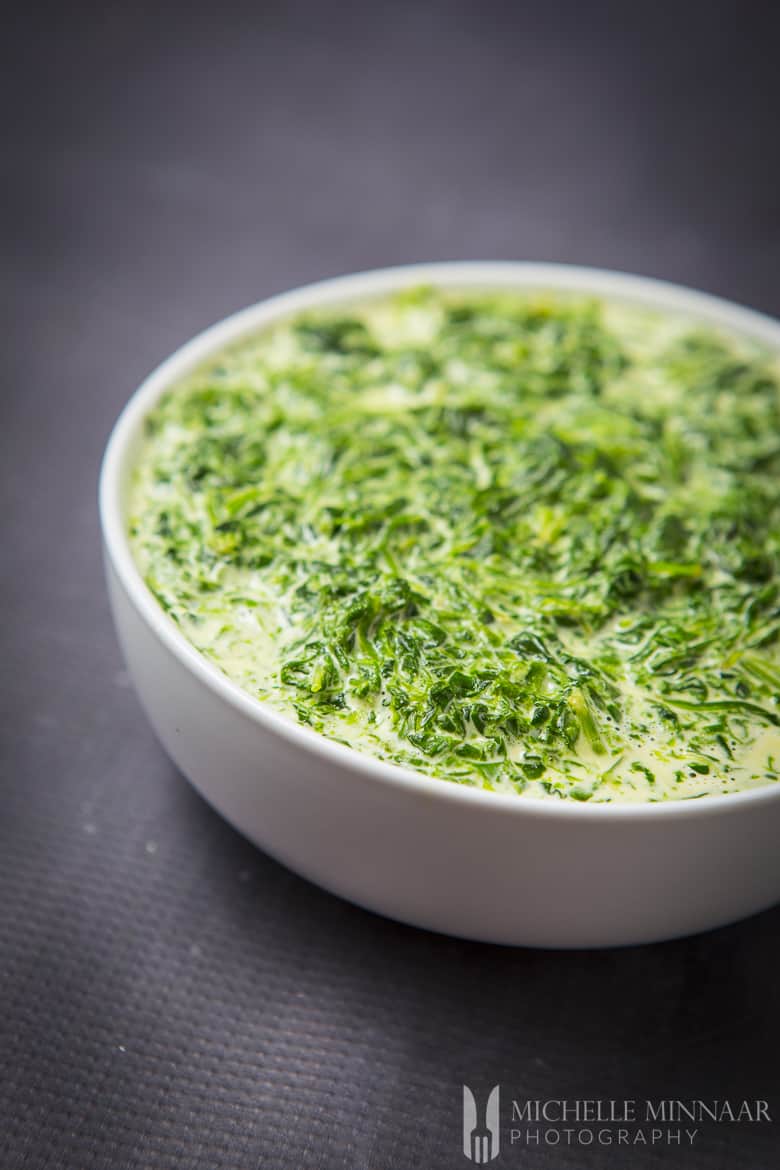 I grew up in SA where just about every single restaurant serves creamed spinach and butternut squash mash, much like in the Canaries where they serve Papas Arrugadas, with the red mojo and green mojo sauces.
South African cuisine is centred around meat, although creamed spinach is perfect for vegetarians, the cream balances out the blandness of the spinach and makes it the perfect accompaniment to grilled and roasted meats.
Almost all South Africans love a good, decadent helping of creamed spinach with their meals.
Unfortunately, growing up I was a fusspot and my father wasn't that keen on spinach either so we religiously scraped our spinach onto my mother's plate, who ate it with glee.
I missed out. I first started eating baby spinach leaves raw in a salad, then I mustered up the courage to cook it.
With none of the experience of tasting the different versions of creamed spinach, checking online recipes, it was overwhelming to see how much hassle goes into making it.
For a quick weeknight dinner it's too much work to faff about with onions and making a roux, so here's my version. It's decadent, yes.
That said, you could use single cream or crème fraiche for lighter versions if you're not planning on having any leftovers because the aforementioned will separate if reheated.
Tweak it to your desire. It's super quick to prepare.
The History and Origins of Spinach
Spinach comes from a central and southwestern Asian gene centre where it may have originated from Spinacia Tetranda, which is still gathered as a wild edible green in Anatolia, which forms a big part of Turkey. Spinach was unknown to the ancient Mediterranean world.
In Anatolia, spinach was known by the 13th century, if not earlier, and served with meat and covered in garlic-yogurt sauce, a dish that was popular with the Seljuk Turks.
Arab agronomists in the Mediterranean used sophisticated irrigation systems as early as the eighth century AD and successfully cultivated spinach in the arid climates. Usually spinach does not grow well in extreme heat.
The first references to spinach are from Sasanian Persia (about 226-640 A.D.) and we know that in 647 it was taken from Nepal to China where it was, and still is, known as the "Persian green."
Thirteenth century works are the first written evidence of spinach in the Mediterranean area, a medical work by al-Razi (known as Rhazes to westerners) and two agricultural treatises, by Ibn Wahshiya and the other by Qustus al-Rumi
Hugely popular in the Arab Mediterranean, the Arab agronomist Ibn al-'Awwam called it the "captain of leafy greens" and he can be credited for introducing this leafy, succulent green to Spain in the latter part of the twelfth century.
Spinach was also the subject of a special treatise in the eleventh century by Ibn Hajjaj.
At the beginning of the 13th century, the Italians were the predominant role players in combining this new vegetable into the Mediterranean diet. They favoured spinach along with several other new vegetables from the Old and New Worlds in their gardens.
In Venice, cooks started integrating Muslim flavouring in dishes like "saur", herring enriched with pine nuts and sultanas. Fish, meatballs, rice and spinach were all flavoured in the same way.
Also, in the thirteenth century in Damascus, "burani" was a popular dish of Persian origin, made with spinach or Swiss chard and yoghurt, garlic, and spices.
Reaching Provence, in France, it became a very popular vegetable after cabbage. Spinach is mentioned frequently as part of the 15th century "Proven al ortolagia", the vegetable production of the garden.
In the 17th century, the famous English philosopher John Locke reports having had a spinach and herb soup during his travels in southwestern France.
The Arabic influence in Spain is still evident today. A fashionable dish in Cordoba was "sajina", a watery soup made with wheat flour cooked with spinach or other leafy vegetables, obligatory at family gatherings, holiday feasts, where you would also find stew/soups of lima beans or chickpeas. Sajina is the direct descendant of a popular stew from Islamic Spain.
Mediterranean Jews, the Sephardim, were also fond of spinach and prepare dishes such as "shpongous", a savoury baked dish of sheep's cheese and spinach that was customary as a dairy dish served on Shavuot, the holiday fifty days after Passover celebrating the anniversary of the giving of the Law by Moses.
In 1614, Castelvetro calls for spinach to be used as the stuffing for "tortelli" and from there we have the luscious comfort food of spinach and feta cannelloni.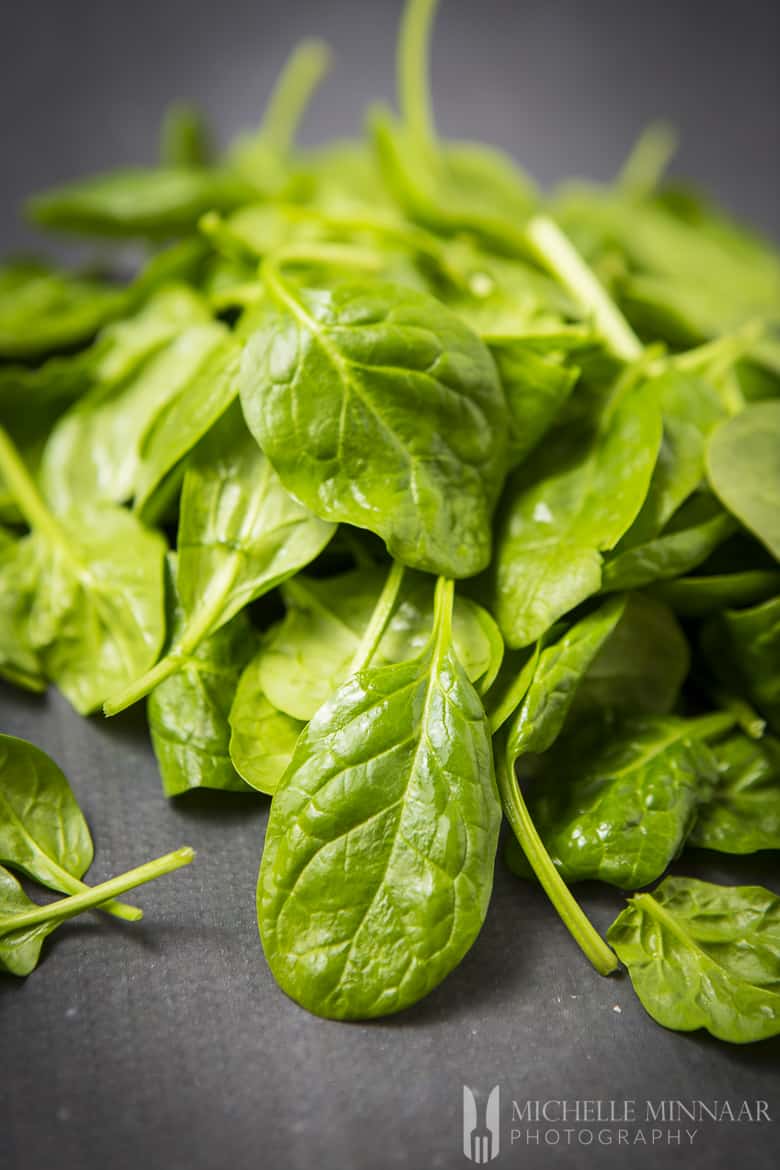 What to serve with spinach?
Creamed spinach can be served with anything. I like it with seafood, fish, chicken, pork and beef. It is complementary to savoury dishes that run the full spectrum of all meats and seafood to vegetable quiches and bakes, even pies.
The most common side dish or vegetable side found in classic steak houses across the USA.
Nothing beats a venison steak with sautéed mushrooms, a baked potato loaded with your choice of fillings and a heap of creamed spinach on the side. The classic "guy" meal!
Roasted or grilled chicken, Sunday lunch is not a proper lunch in South Africa without the creamed spinach and roasted butternut squash.
Or try this twist, garlicky, lemon roast chicken, simple wild rice pilaf, glazed carrots with fresh ginger go beautifully with creamed spinach. For more crunch and excitement on your palate, put toasted walnuts or almonds in the rice.
A huge smoked ham hock would be delectable with your green cream.
Let us not forget seafood and one of the best main meals with creamed spinach is smoked haddock fishcakes!
Stove-top creamed spinach is enriched with sour cream and topped with crunchy spiced bread crumbs.
Let us not forget the all-time favourite, fillings for the pastries and pastas, anything goes, if it looks like a pastry or a pasta, add creamed spinach to it.
I would even take the classic "broccoli chicken" and amend it a bit. Baked chicken fillets in creamed spinach, with bits of bacon and sautéed mushrooms, slathered in full, rich cheddar cheese, a thin layer of minced garlic and a fine sprinkle of breadcrumbs, with ground salt and pepper. Baked in the oven until brown and crispy on top.
Creamed spinach is a regular side to grilled whole fish with olive oil and lemon and roasted or boiled potatoes all along the Adriatic.
In most South African grills and pubs even the more elite restaurants, you have creamed spinach as an optional vegetable or side dish, everyone loves it. It is served with just about every hot meal, chicken pie, steak, seafood everything, even bangers and mash.
Spinach Alternatives
What could you use instead of spinach? Of all the super healthy greens, kale is king. The latter is definitely one of the healthiest and most nutritious plant foods in existence, loaded with all sorts of beneficial compounds… some of which have powerful medicinal properties.
Collard greens are a staple of southern American cooking and are finally starting to be embraced by the rest of the world.
They can be shaved thinly and eaten raw as a salad, sautéed quickly with garlic for a hearty side, but can also stand up to being stewed for a really long time. They also happen to taste really great with bacon and smoked pork hocks.
Turnip greens are just like turnips, sweet with a bit of spice, kind of bitter, occasionally smelly, but ultimately delicious. Just like kale, they're full of Vitamin K.
If you've never eaten raw mustard greens, be prepared for your first taste, they will bite you back. Once cooked they do mellow out, but you can still taste its namesake.
Mustards come in curly and flat varieties, red and green, just like kale. Their peppery bite gives them much more personality than kale and spinach, mustard greens are usually mixed with other greens for cooking.
Swiss chard is also known as silverbeet, spinach beet, perpetual spinach, crab beet and mangold. It has naturally-occurring red, yellow, purple and white stalks which are quite dazzling with velvety, tender leaves.
Swiss chard cooks much faster than most other leafy greens (because of its high water content), and its crunchy stems make great pickles.
Beet greens are edible and delicious. They taste like beets and kale all smashed into each other. Which means that everything that tastes good with kale and beets, also tastes amazing with beet greens. Like garlic, goats cheese, bacon and everything else you can think of!
Rabe or Rapini is a hearty, bitter green and more closely related to turnips than it is to broccoli, although their family resemblance seems totally undeniable.
Italian cuisine has mastered the pairing of rabe with chillies, garlic and sausage, try chorizo, add some thick cream give it a mix and you have a mouth-watering fountain of exotic flavours.
Gai lan, also known as kai-lan, Chinese broccoli and Chinese kale, tastes like a cross between broccoli rabe and bok choy. It is delicious simply sautéed with garlic, stir-fried with oyster sauce or even simply steamed if you want to keep things super health-nutty, it always works with cream.
Also, don't forget leek. Creamed leeks are to die for!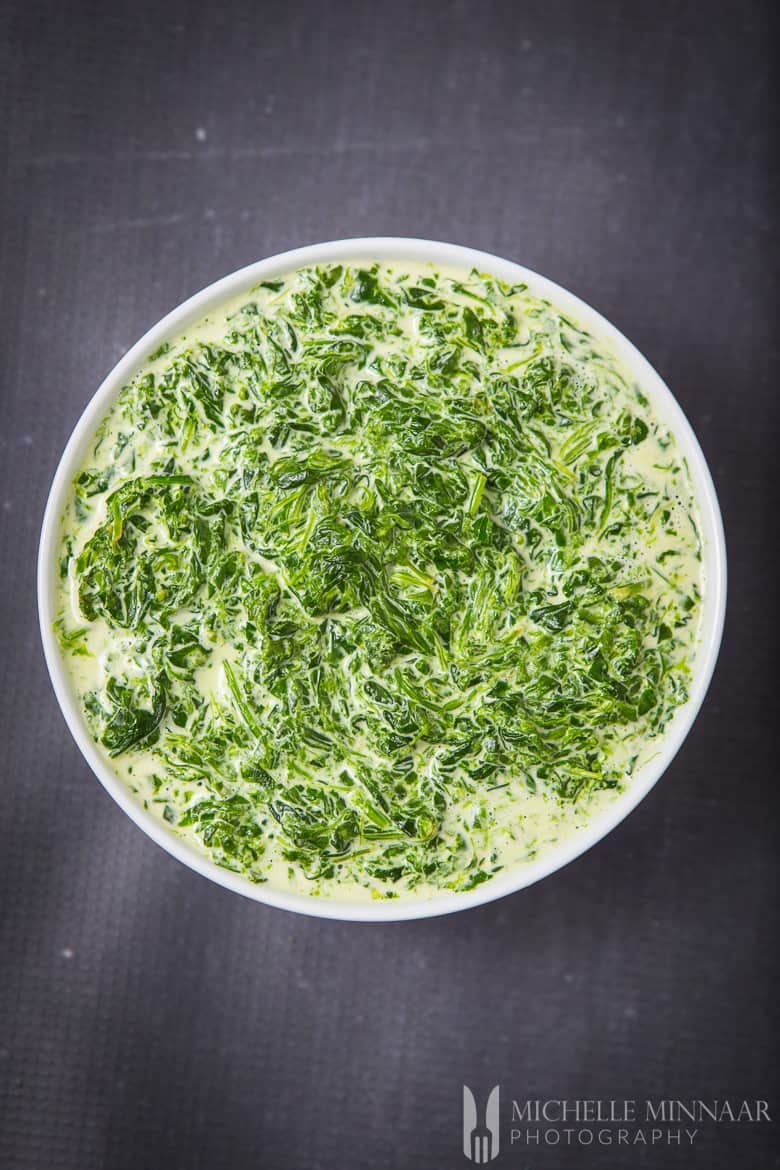 Spice it up
Don't be shy when experimenting with spices in your creamed spinach. Cream by itself can be fairly bland but when mixed with other flavours it takes on the personality of that specific taste.
Plain old salt and pepper work wonders with spinach and cream.
Always a bit of garlic for that Mediterranean flair.
Spice it up with some chilli flakes or thinly sliced fresh chillies, for extra bite add some of the seeds.
Our Scandinavian influences require nutmeg.
Then perhaps a bit of the orient, with some ginger root.
Spinach holds up beautifully to strong curry spices, so colour it amber with cumin, garam masala, cayenne pepper, coriander and turmeric.
Dried and fresh herbs both work well with spinach. Use as many fresh herbs as you like with fresh spinach to reach your desired taste, such as marjoram, thyme, sage or oregano. Add chopped fresh herbs to wilted or sautéed spinach near the end of cooking to retain their full flavour.
Try finely minced parsley, rosemary or basil. Or, add whole leaves of basil for an interesting complementary flavour.
Braise spinach in beef broth and paprika for a smoky, sweet flavour, or try Spanish smoked paprika with a much richer, fuller smoked flavour than normal paprika, just a tip of a teaspoon though it is very strong.
For extra vibrant flavour add bacon and mushrooms or some toasted walnuts and almonds.
Cheeses and creams
This creamed spinach was created to be mixed, matched and eaten with cheeses and creams. It's hard to go wrong... The only risk is over indulgence!
Sprinkle some parmesan cheese on the top before baking
Sauté onions, wilt the spinach and add in handfuls of crumbled feta cheese
Blue cheese
Goats cheese
Mozzarella
A blended mixture of mozzarella and parmesan cheese
Sour Cream
Greek yoghurt
Flavoured cream cheeses or crème fraiche and mascarpone
Double thick cream
Sour cream
Don't forget milk
For more great side dish recipes, check out the ones below:
Print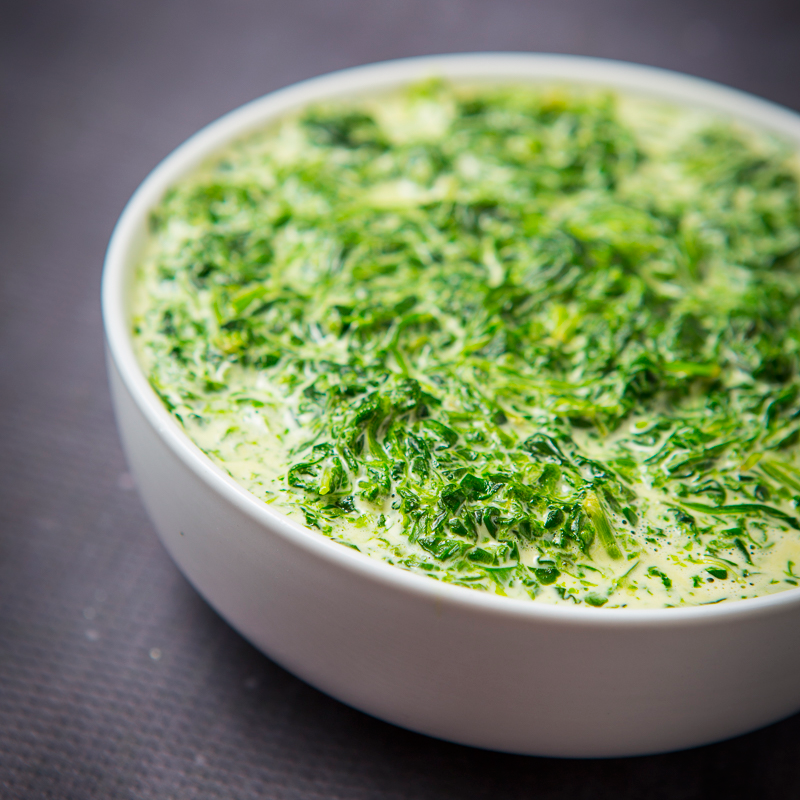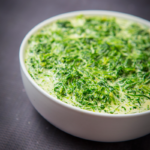 Creamed Spinach
---
Description
Creamed spinach is a classic South African recipe that is traditionally served as a side dish as part of a main meal. It is quick and easy to prepare and decadent!
---
30

ml

(2 tbsp) butter

600

g

(1 1/2lbs) spinach, washed

125

ml

(1/2 cup) double cream
salt and pepper, to taste
---
Instructions
Melt the butter in a large pan.
When it starts sizzling, add the spinach and cook for 2 minutes.
Should any excess liquid develop while the spinach is cooking you can remove some of it with a spoon.
Once the spinach has wilted and turned dark green, add the cream and let the mixture bubble for 1 minute.
Season and serve immediately.
Prep Time:

5 minutes

Cook Time:

10 minutes

Category:

Side Dish

Method:

Pan Fry

Cuisine:

South African
Nutrition
Serving Size:

1 serving

Calories:

140

Sugar:

8.1 g

Sodium:

132 mg

Fat:

8.9 g

Saturated Fat:

4.5 g

Carbohydrates:

12.3 g

Fiber:

2.2 g

Protein:

4.2 g

Cholesterol:

10 mg
Keywords: creamed spinach, South African recipes, spinach side dish, how to make creamed spinach
save the recipe to your pinterest board