The first time I had pesto baked salmon was an eye-opening experience that made me start to experiment with all kinds of pesto! In the past when my culinary journey and curiosity began, I initially thought that pestos were only used as a pasta topping or bread spread. Today, I love to add pesto to a variety of meals. For example, making pesto stuffed bread or a healthy butter bean salad with avocado, pesto and pumpkin seeds. So, this time I opted for preparing a healthy, low-carb and light dish that is an excellent choice if you need a bit of protein or brain power!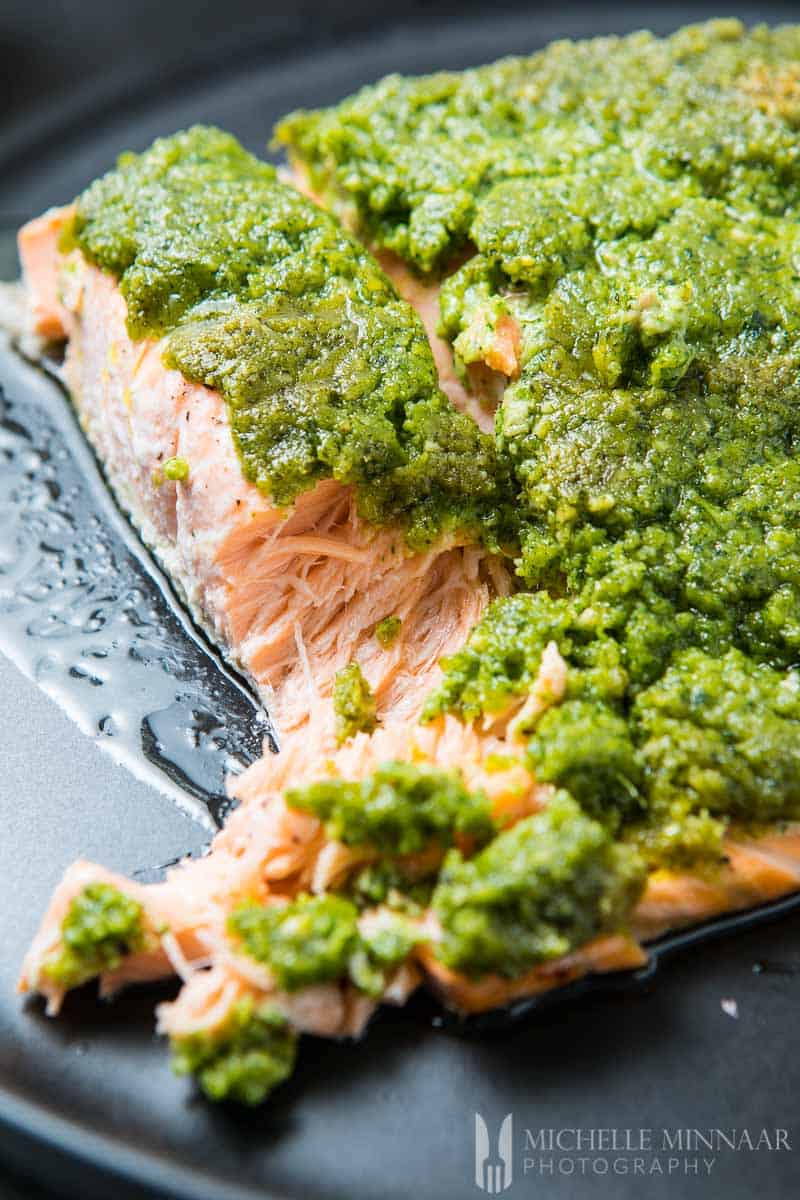 Altogether, the fatty salmon with the tangy and crunchy pesto is a summery combination that also pairs very well with a nice glass of dry white wine. You can serve the pesto baked salmon with a side of roasted vegetables for a light lunch. Or, add a couple of sides and serve it as a main course for a healthy family dinner. Let me know how it works out for you!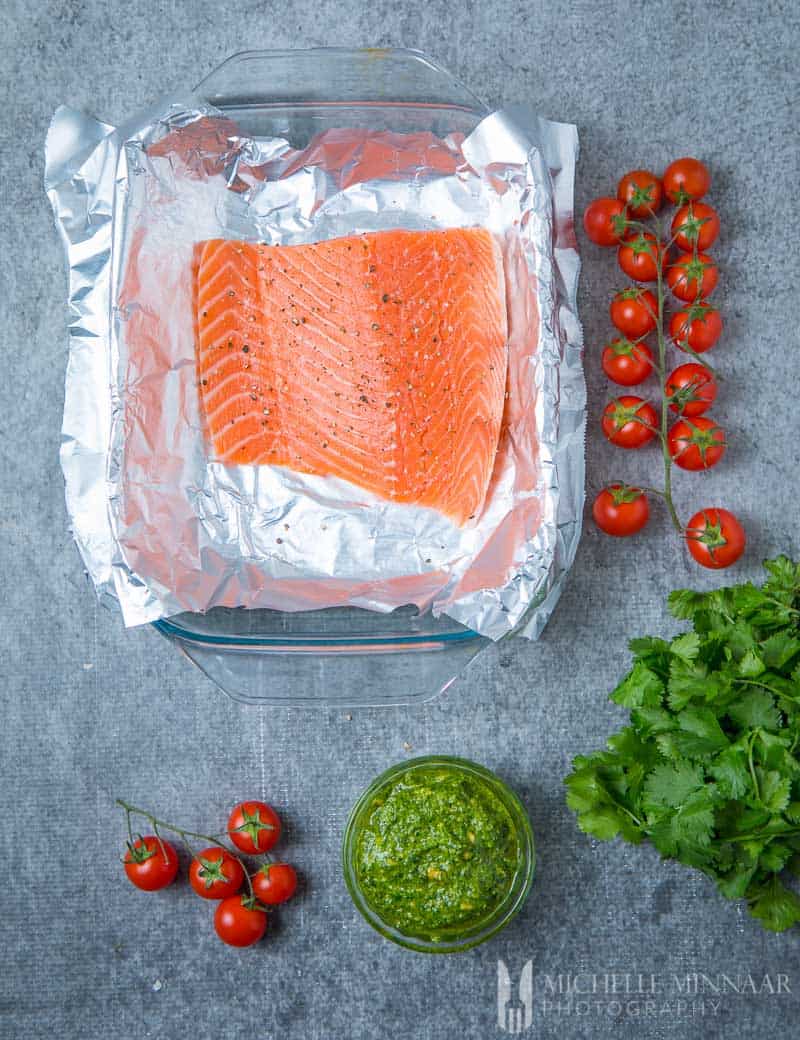 types of salmon
The integral part of making any fish dish is sourcing fresh fish. If you are looking for the best way how to buy fresh salmon, you can simply go to a farmer's market on a Saturday. It won't get any fresher than that! Admittedly, for this salmon, I used a store-bought side of salmon. You can opt to go skinless too because the pesto itself acts as the skin. For more information on the different varieties of salmon, have a look at my hot smoked salmon recipe. I detail the texture and flavor profiles of various salmon species and the salmon fillets. Click here to find out whether you can freeze smoked salmon.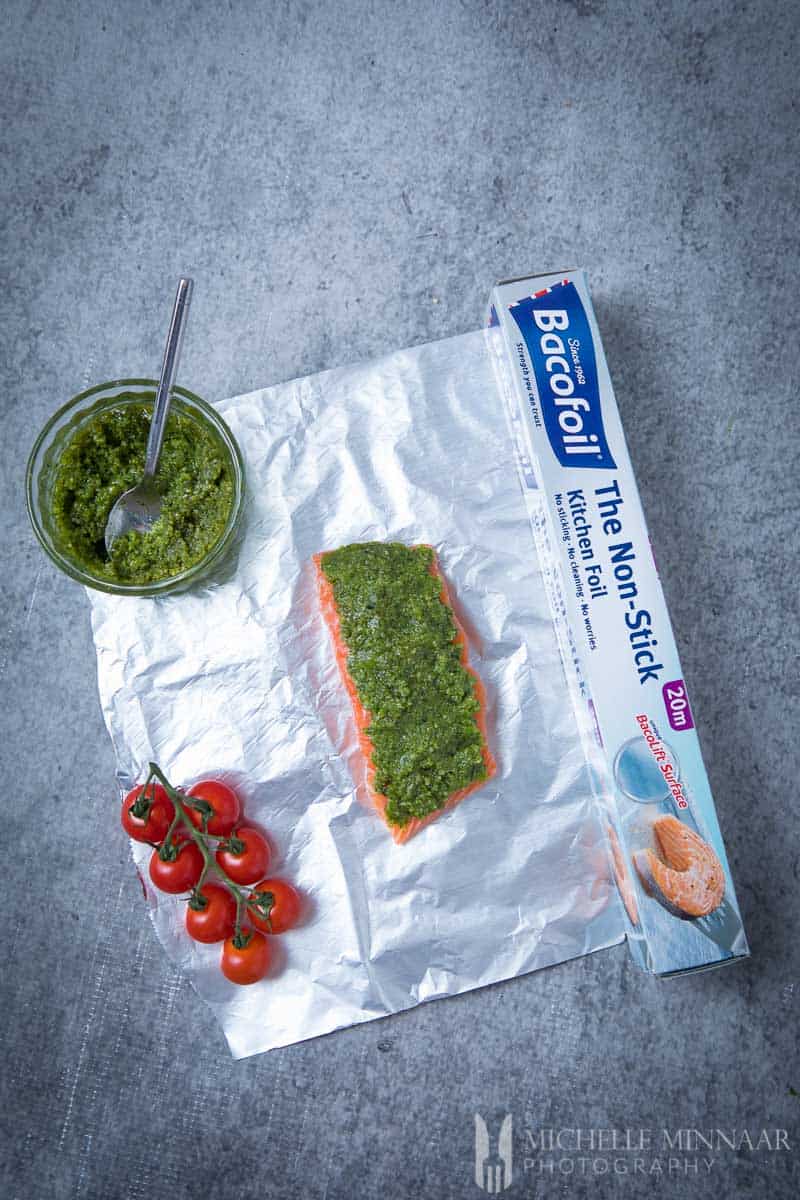 If you are not so keen on using salmon or it was sold out in the supermarket, you can also use these substitutes for salmon:
tuna
ocean trout
mackerel
stripped bass
milkfish
The pesto also works with other types of fish too, such as cod, haddock, etc.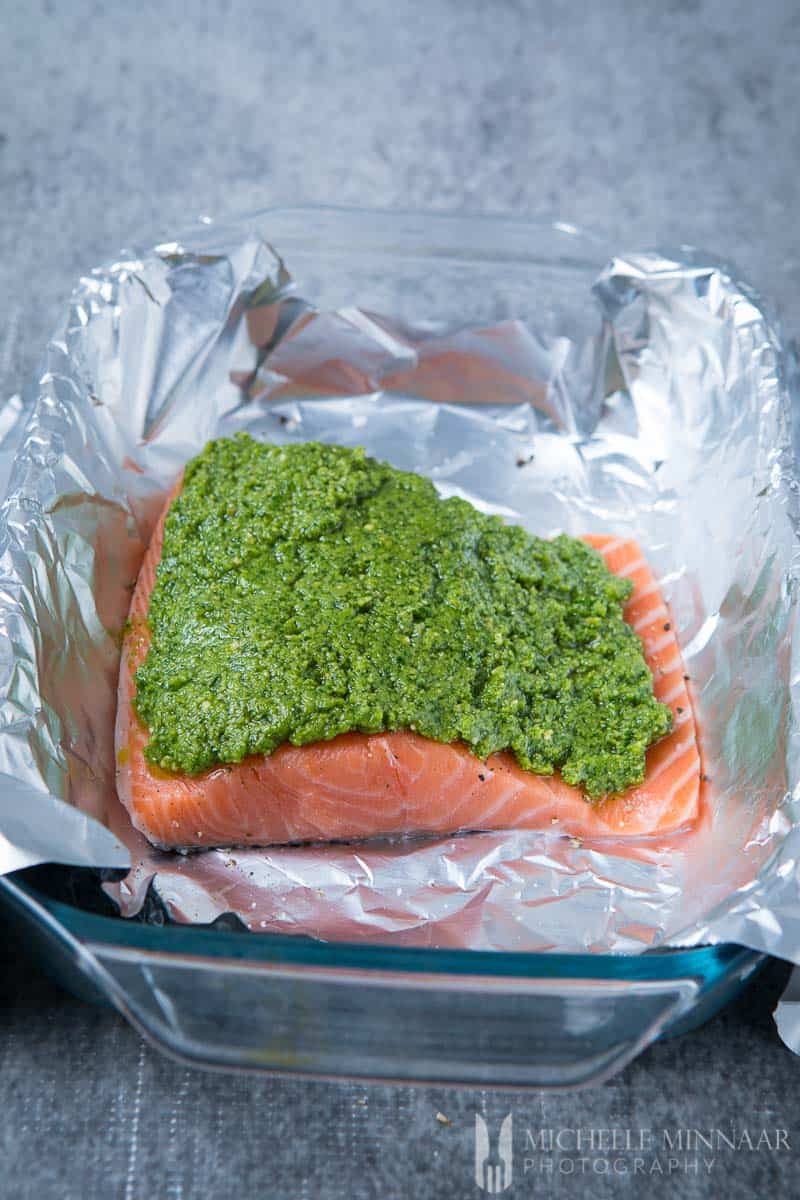 types of pesto
You can use any pesto of your liking for this pesto salmon recipe. That's the beauty of cooking with pesto recipes, the never-ending options of different flavours. For this baked salmon recipe, I used a traditional basil pesto. However you can also consider making these other varieties of pesto: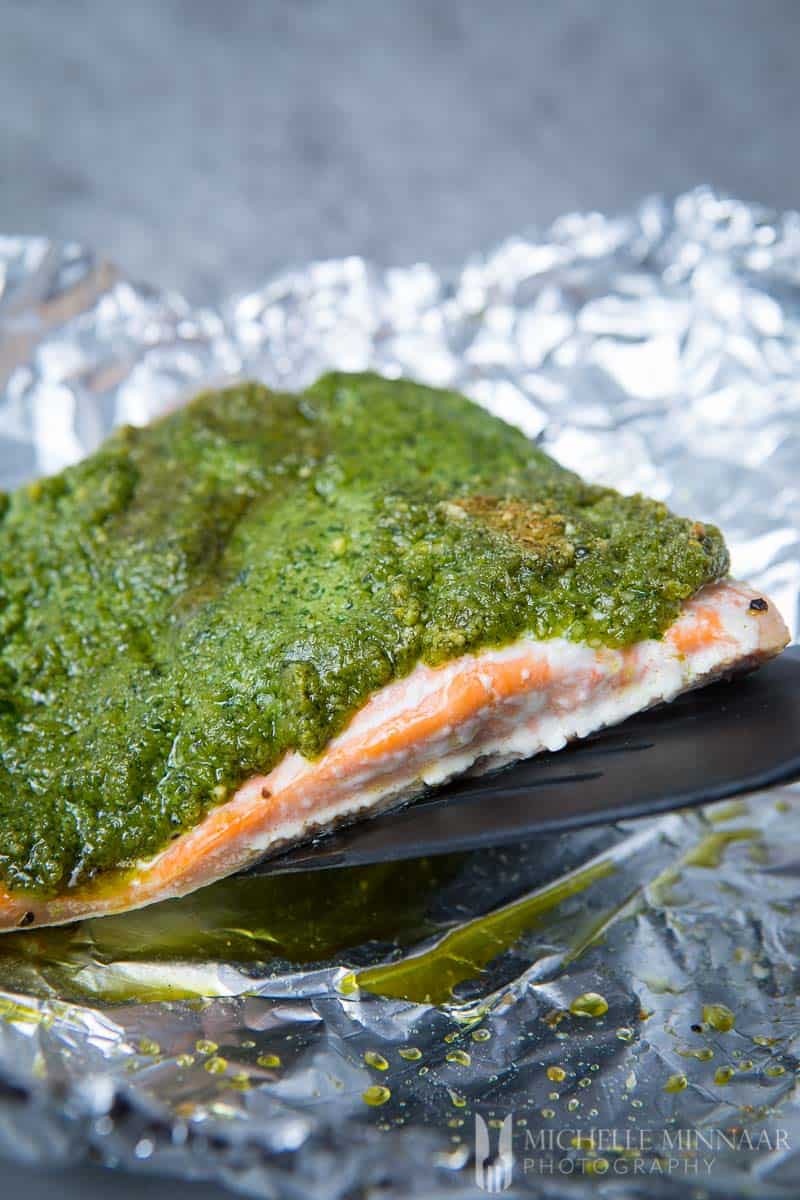 marinades
Some chefs argue that simplicity is key for mastering an ingredient like salmon. For this reason, a simple olive oil marinade is the way to go if you wish to use one. I like to keep my salmon filet covered in olive oil overnight the day before the cook. This way, the salmon filet gets more flaky and it infuses the flavor of the olive oil. This depends on the quality of the olive oil as well. For example, if you manage to purchase a really high quality Italian or Greek olive oil, do be careful. They tend to be more fragrant than regular brands. So I suggest you conduct a tasting test and see whether the aroma is too powerful for you.
The same situation comes with black olive oil. Generally, they are more fragrant and distinct than the traditional green olive oil. The best type of olive oil for this recipe is regular extra virgin olive oil. Again, it is up to you what type of quality of oil you wish to cook the pesto baked salmon with. Do remember though, with higher quality comes more fragrance!
Otherwise, you can also use more powerful marinades for more exotic flavor. For example, you can spin this pesto baked salmon in a Thai direction with a coriander and chili marinade. The basil from the pesto will pair very nicely with marinade and to enhance those Thai flavours, you can add fish sauce and lemon grass into the pesto.
P.S. - don't forget to season with salt and pepper once you have the foil baskets in place along with the fish!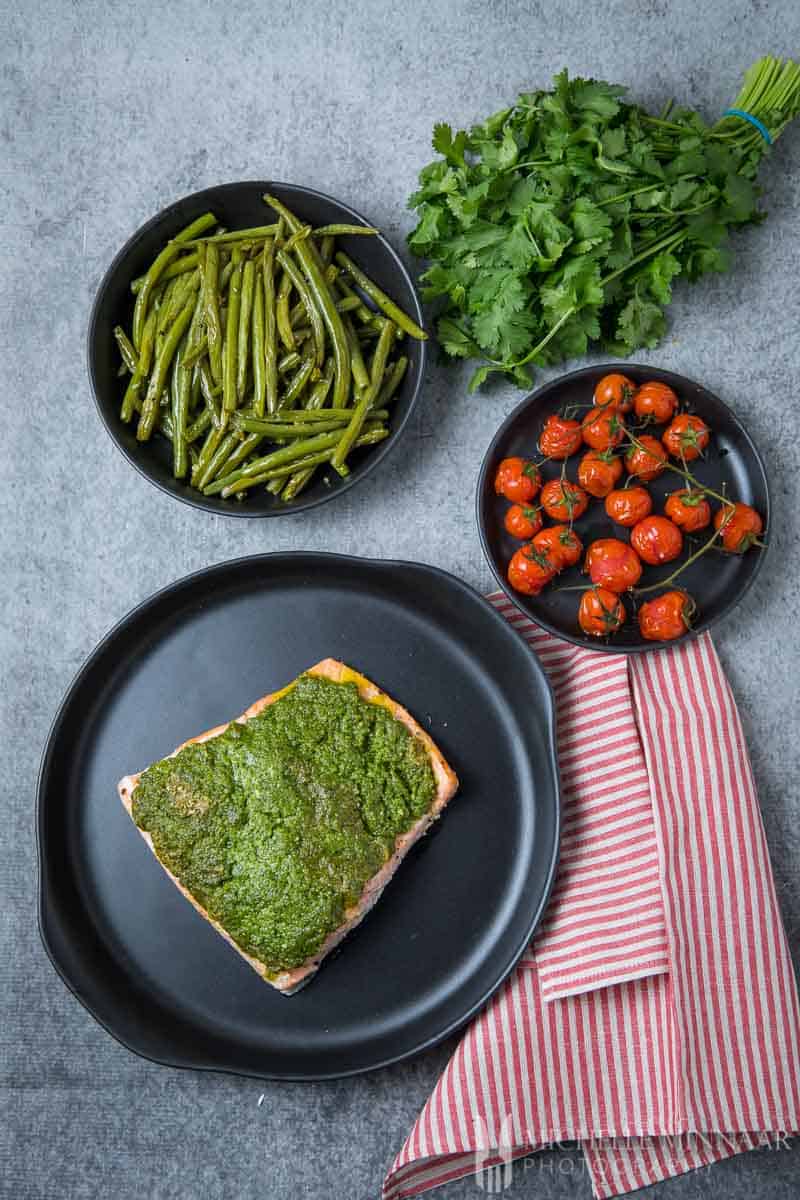 serving
To keep this recipe as low-carb and healthy as possible, serve the salmon with a side of zucchini noodles. You can even place the zucchini noodles between or under the pesto baked salmon while it's in the oven. This way, it will also absorb the umami flavours and oils released by the fish. You might also know zucchini noodles are courgetto, which I've made before in my garlic and chilli courgetti recipe.
In addition, I also oven-baked the cherry tomatoes for a bit of acidity to balance the overall flavours. Pan-fry some green beans for this finish and you've got a healthy meal. The best part is, it only takes you minutes to prepare!
What is your favourite salmon recipe?
Print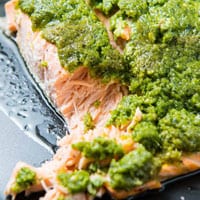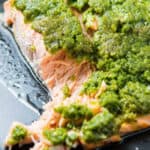 Pesto Baked Salmon
---
Description
Why not indulge yourself in making a delicious pesto baked salmon recipe? It's so easy and simple to prepare, you can make it a couple of times a week! This healthy salmon recipe requires the use of any pesto of your liking, so you can easily spin the recipe in any flavour direction you want. Serve with baked veggies.
---
450g

(1lb) side of salmon
Salt and pepper, to taste

60

ml (4 tbsp) pesto
---
Instructions
Preheat the oven to 200°C/400°F/gas mark 6.
Tear off about 60cm (2ft) of foil and place it on the kitchen table, with the non-shiny surface on top.
Lay the salmon, skin-side down, on the center of the foil sheet and season with salt and pepper.
Spoon the pest on top of the salmon, then smear across the top to coat evenly.
Pull the foil edges together and scrunch them up to seal the parcel.
Bake for 25 minutes or until cooked.
Serve with new potatoes, green beans and roast tomatoes.
Notes
The cooking time depends on the size of the fillet of salmon. A big piece will take longer to cook than 20 minutes, whereas smaller fillets will be quicker.
Use more pesto if you wish!
Prep Time:

10 minutes

Cook Time:

25 minutes

Category:

Main

Cuisine:

French
Nutrition
Serving Size:

1 serving

Calories:

228

Sugar:

1 g

Sodium:

1163 mg

Fat:

12.5 g

Saturated Fat:

2.5 g

Carbohydrates:

1 g

Protein:

26.4 g

Cholesterol:

35 mg
save the recipe to your pinterest board