Twice baked, never forgotten. This irresistible, unforgettable, utterly delectable recipe is simply divine!
If you've never made a twice baked cheese souffle, stop what you're doing, don your apron, get in the kitchen and create some magic. Because, once you've tasted this twice baked cheese soufflé, nothing else will come close.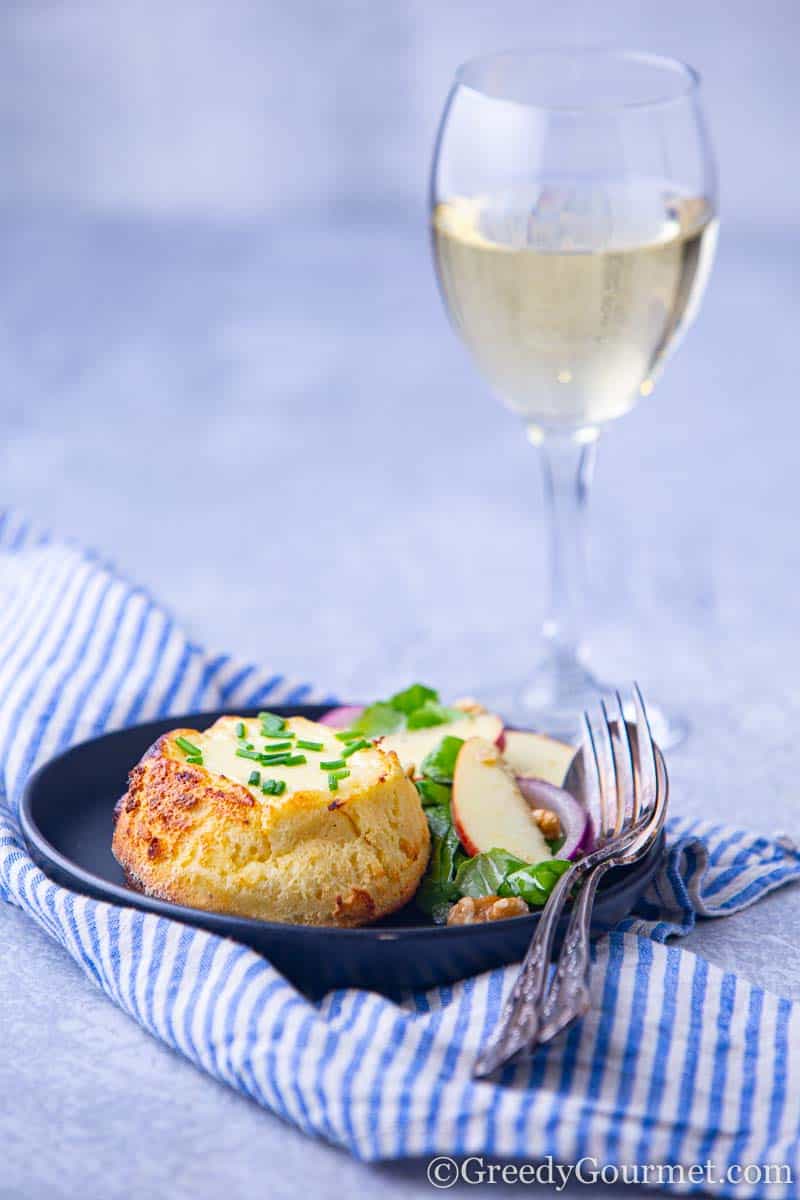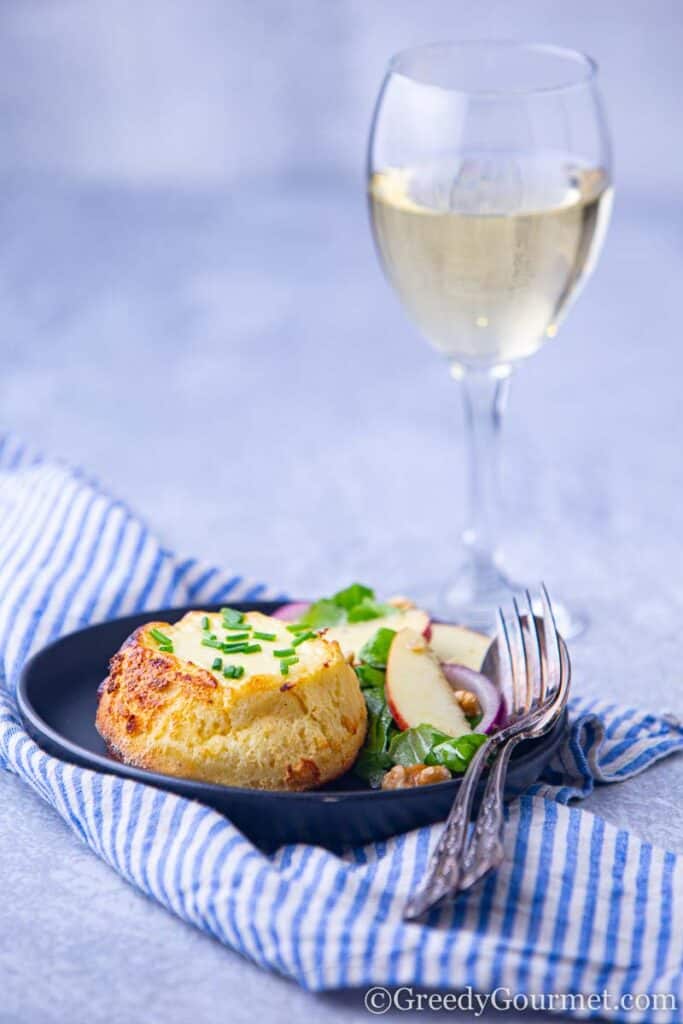 K-Mojo Digimaster recipe
Grating gets on my nerves. Any kind of monotonous boring kitchen prep for that matter. I like to get to the exciting stuff – the artful decoration, the mixing of the flavours and seeing the end results of a great recipe.
So, I nabbed an ingenious little gizmo to do all the hard work. The K-Mojo DigiMaster is perfect for this recipe – there's lots of grating required.
Instead of slaving away grating cheese, the K-Mojo makes light work of it, leaving you to concentrate on the skilled elements to this heavenly recipe.
It's not just a grater. This amazing little gadget has got 10 separate functions – it chops, juices, slices, emulsifies, kneads, blends, grates, shreds, whisks and grinds.
Not only is it super stylish, with an ultra-sleek modern design that'll blend right in with any 21st century kitchen, it's powerful, practical and extremely fast.
Cooking should be a joy. It definitely shouldn't be a chore. So if you're still grating, slicing and chopping away, leave it to this little magical Mojo machine!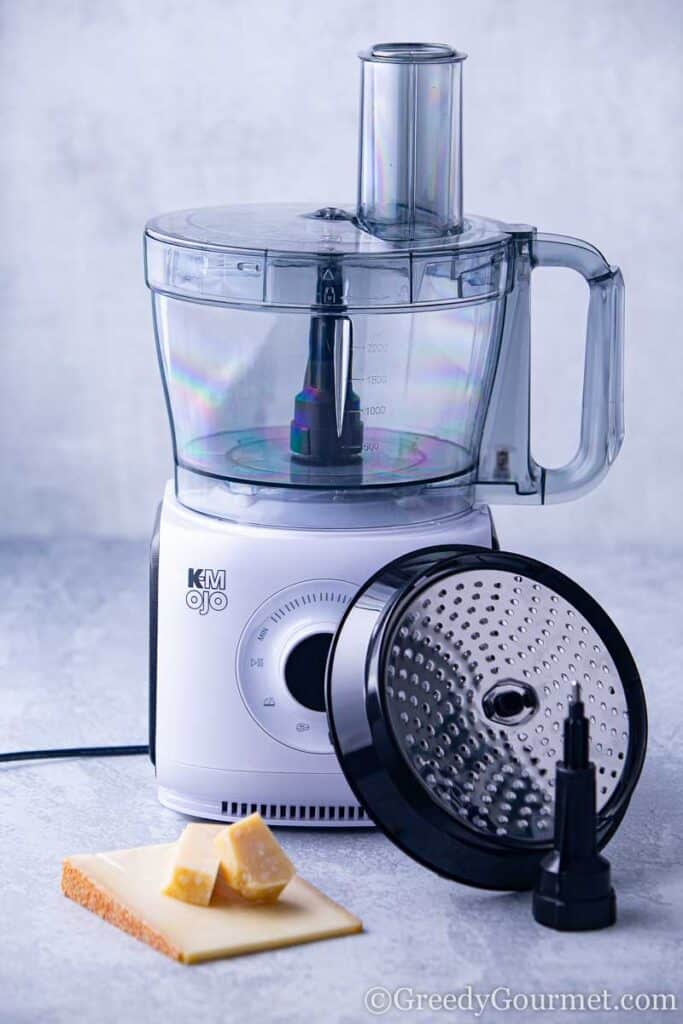 Twice baked cheese souffle recipe
If you're a proper foodie who has a taste for refined cooking, this recipe is for you. It's not one of those fast food dishes that you can bang out in an instant.
This one takes time. But the rewards are glorious.
It's pretty straightforward though. You start by making a roux – a simple mix of melted butter and flour, cooked for a couple of mins until caramel brown – then, once cooled you make a batter, first with the milk, then with your grated cheese. Don't forget to get your K-Mojo DigiMaster working and grate the cheese with ease!
Egg yolks are added to the batter, then egg whites (whisk them first, again with the K-Mojo).
Now it's time for the first part of the bake. You'll spoon batter into 8 different greased ramekins – each chilled in the freezer for a few mins beforehand.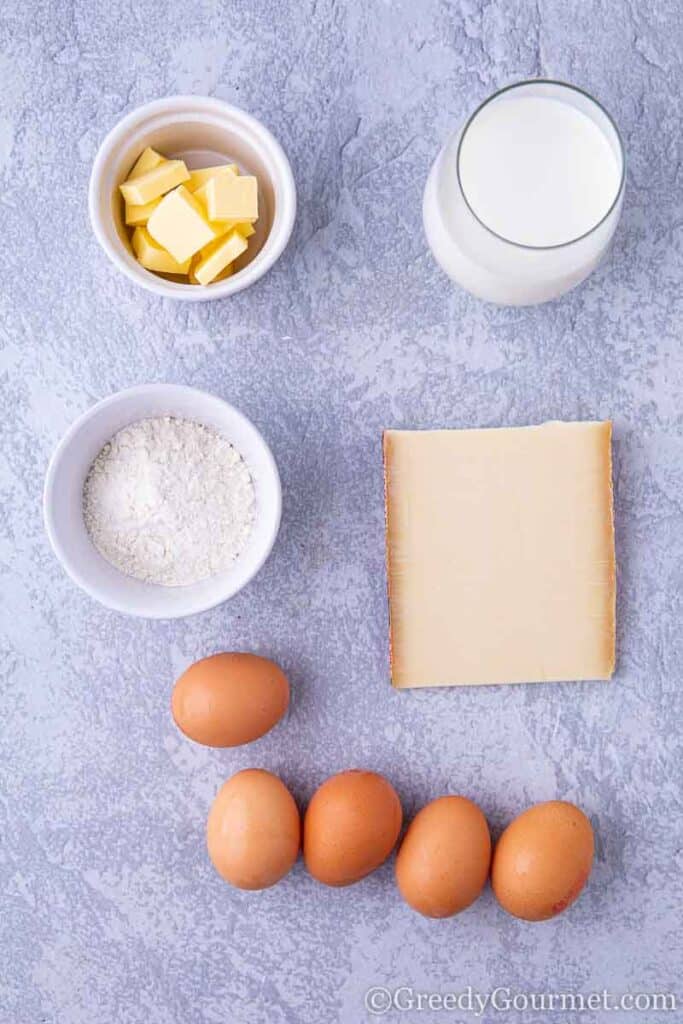 Then, you'll need to place each ramekin in a baking tray/dish and fill the tray with water – bring the level ¾ of the way up the ramekins. This 'water bath' is important – more on this later.
Once you bake them for 20 minutes, they should have risen and have a lovely golden brown top. Run a knife around the edges of each ramekin and carefully turn them out, upside down, onto a buttered oven dish.
Then, the remaining cheese is heated, along with the cream (you could use double cream, but I prefer single to double cream) for the second part of baking.
Drizzle the melted creamy cheese over each soufflé, pop them back in the oven and you're good to go.
Souf-flaming marvellous!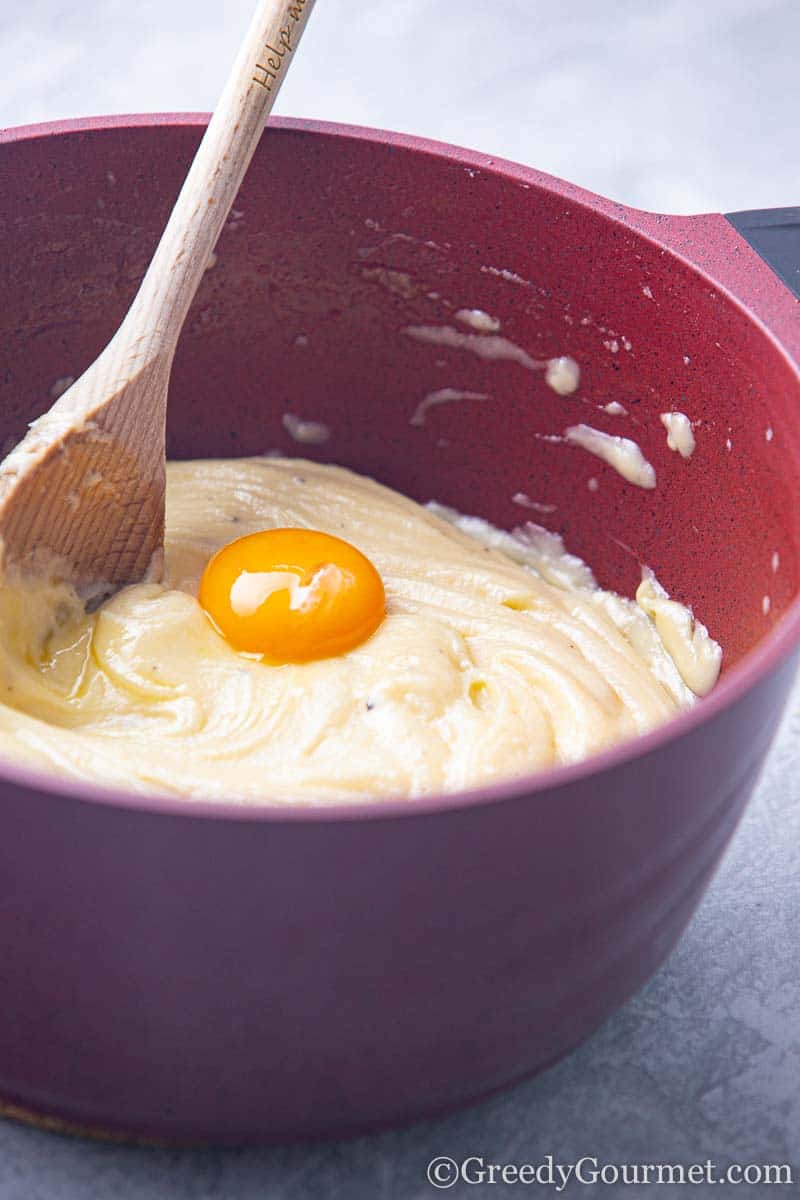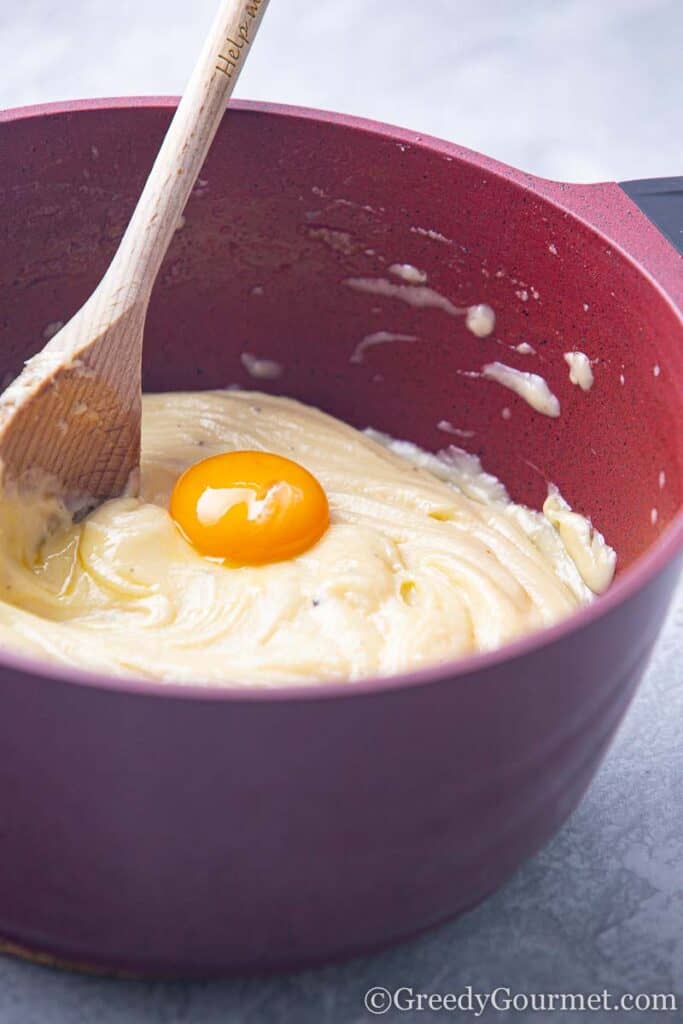 Do souffles need a water bath?
As water only heats to 100ºC, it's a great way to keep a steady heat when cooking, preventing your soufflés from overcooking. Using a ramekin helps each cheese soufflé to rise and keeps their form smooth and straight.
What are the best cheeses to use for cheese soufflés?
Can you freeze twice baked cheese souffle?
You can freeze these soufflés after the first bake. Simply cover each ramekin in clingfilm and keep in the freezer for up to a month.
Make your cheese sauce after you've thawed your once-baked souffle and start from the second part of the baking process.
Can you reheat cheese souffle?
Yes, you can! If you've frozen them after the first part of baking, thaw them in the fridge overnight, then make your sauce and bake them as per the second part of the recipe below.
How far in advance can you prepare a souffle?
You can prepare a souffle 2-3 days in advance. Store them in the fridge and, before baking them, bring your cheese soufflés to room temperature.
How do you get a souffle to rise evenly?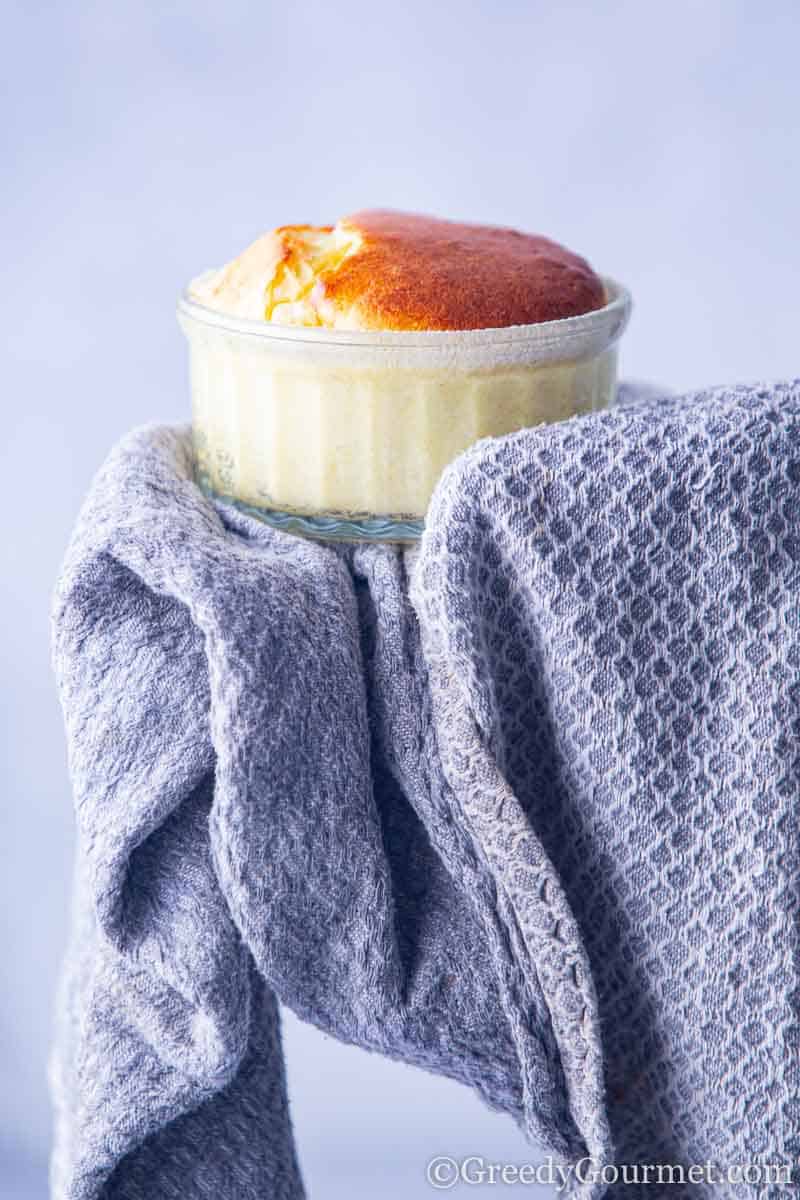 One very important element is properly separating the yolks from the whites. The less egg yolk in your egg white, the better your cheese soufflé will rise.
When beating your whites, use a clean bowl and don't overwhisk.  
Is it true you have to be quiet when assembling a souffle?
There's a myth that any loud noises will cause your cheese soufflé to collapse. Well, that's exactly what it is! A myth.
If your cheese soufflé collapses, it's not because you've made a racket. It's because the egg whites haven't been whisked properly.
Why does my souffle taste eggy?
It could be because there's not enough air in your batter. When whisked properly, you'll end up with a light and airy twice baked cheese souffle, instead of a heavy eggy flavour.
How can you tell if a souffle is done?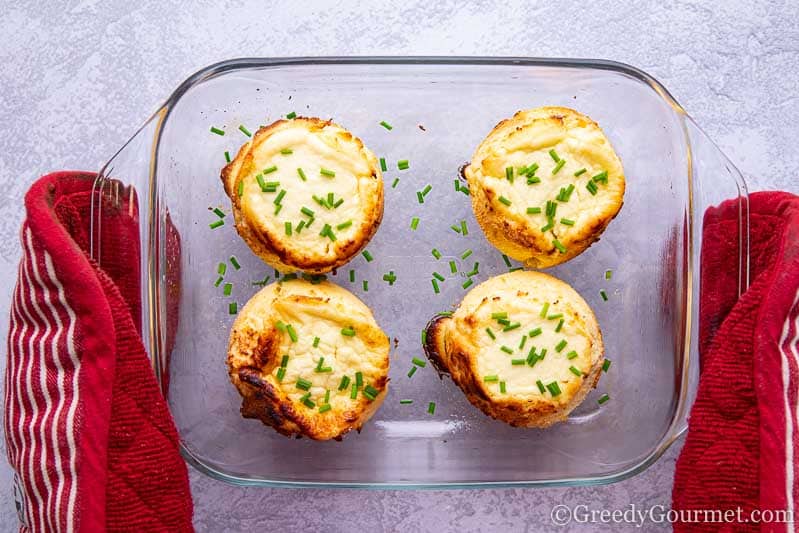 Soufflés are done if they wobble gently when you tap the side of each ramekin. If they shake furiously from side to side, like Elvis in his pelvis-shaking prime, then they're not ready.
You can also go by appearance. They should have risen to the occasion and should be golden brown on top.
What do you eat with a twice baked cheese soufflé?
If you want to keep it simple, a twice baked cheese soufflé goes really well with crusty bread. Think French baguette with lashings of butter. 
You could also serve your sumptuous twice baked cheese soufflé with any of the following:
Pear and rocket salad – the sweetness of the pear and pepperiness of the rocket make this green salad a perfect pairing with your soufflé
Creamy apple salad with pecans and dried cherries – again, the sweetness works well, this time from the apples and cherries, while the pecans add a lovely nutty crunch to your meal
Pumpkin and beetroot salad – another fresh green salad, this one would make for a sumptuous autumn meal when made with your cheese souffle recipe
More cheesy delights
If you liked cooking this twice baked cheese soufflé recipe, you'll love these recipes:
Homity pie – a sumptuous pie that's easy to make, this is a must-make recipe. The cheese is the star of the show!
Cauliflower cheese – pure indulgence! This recipe is absolute cheesy heaven. Serve it on the side of a Sunday roast, or serve a whole big helping for a sensational stand-alone supper
Blue cheese dip – a fully-flavoured dip that will have your taste buds tingling!
Which cheesy recipe will you prepare with the K-Mojo DigiMaster's grater attachment?
Print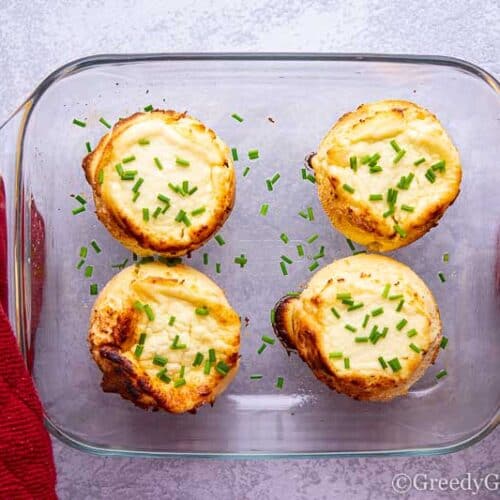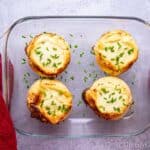 Twice Baked Cheese Souffle
---
Author:

Michelle Minnaar

Total Time:

1 hour 30 minutes

Yield:

8

servings

1

x

Diet:

Vegetarian
Description
Twice Baked Cheese Souffle is easier to make than you think. It's freezable, so you can make a big batch and enjoy some more later!
---
Cheese Souffles
150

g

(1 1/2 cups) Gruyere cheese

50

g

(1/3 cup) Parmesan cheese

130

g

(1/2 cup) butter

130

g

(1 cup) flour

750

ml

(3 cups) milk

8

eggs, separated

2

egg yolks
salt and pepper, to taste
Second Bake Cheese Sauce
---
Instructions
For the First Bake Cheese Souffles: Using the K-Mojo DigiMaster's grater attachment, grate the Gruyere and Parmesan cheeses.
Melt the butter in a saucepan and stir in the flour, forming a roux.
Cook for 2 minutes to give the roux a caramelised flavour.
Slowly add the milk, about 125ml (½ cup) at a time, while stirring vigorously to avoid any lump forming. Once the milk has been incorporated, add the next splash of milk until it's all used up and you end up with a smooth batter.
Add the grated cheese to the batter and season to taste.
Continue to cook and stir for 5 minutes. Remove the heat and let it cool for 10 minutes.
While your mixture is cooling, preheat the oven to 180°C / fan 160°C / 355°F / gas mark 4.
Grease 8 large ramekins with butter and place them in the freezer.
Beat the egg yolks into the batter, one at time until all the egg yolks have been incorporated.
Whisk the egg whites until soft peaks form.
Fold the egg whites gently into the batter.
Remove the ramekins from the freezer and divide the batter evenly.
Place the ramekins in large roasting trays, and pour boiling water until the water level reaches ¾ of the height of the ramekins.
Place in the oven and cook for 20 minutes, or until golden and risen.
Remove from the oven and let it cool for 5 minutes.
Turn them out, upside down, onto a buttered ovenproof dish. Keep covered until needed.
For the Second Bake: Preheat the oven to 200°C / fan 180°C / 390°F / gas mark 6.
Gently heat the cream and cheese in a small saucepan and pour over each souffle.
Bake the souffles for 10 minutes, or until golden and the sauce bubbling.
Serve immediately with a green salad of your choice. Enjoy!
Notes
Once souffle would serve as a starter. You can enjoy two of them, along with a peppery salad, as a main course. We enjoyed ours with a rocket, apple and walnut salad. The pepperiness of the rocket, and sweet crispness of the apple work really well with the souffle!
After the first bake, you can cool the souffles down, then freeze them for later consumption. Thaw them first before proceeding with the recipe.
Prep Time:

30 minutes

Cook Time:

1 hour

Category:

Starter

Method:

Bakee

Cuisine:

French
Keywords: twice baked cheese souffle, cheese souffle, souffle recipe, how to make souffle, what to serve with cheese souffle
P.S. This is a sponsored post.