When you think of barbecue, you automatically assume a lot of meat being served but actually vegetarians can enjoy grilled halloumi too! With smoky flavours and char marks on each side, grilled halloumi is a welcome addition to any BBQ and can be served with grilled vegetables and a crunchy salad. Trust me, you won't miss meat!
Popular throughout Europe, and especially the Mediterranean region, the grilled cheese can be served as an appetizer, or as a main course such as a filling grilled halloumi salad. Otherwise, you can experiment and prepare a grilled halloumi sandwich instead of a burger. Give the cheese a quick soak for best results, toss it on the grill and it's done in a few seconds!
best grilled halloumi recipes
Believe it or not, halloumi or something very similar was eaten by ancient Egyptians. The word halloumi itself is derived from the Egyptian Arabic word halom, which was actually the cheese eaten back in those days.
Hailing from the Mediterranean, halloumi cheese specifically comes from the island of Cyprus. Originating from the Medieval Byzantine period which dates back to almost 400 A.D. Throughout time, halloumi made its way to Middle Eastern cuisine.
It is brined cheese made with goat's milk, sheep's milk and sometimes from cow's milk. It has a semi-soft texture, so it is perfect for the grill, especially because it has a high melting point. So if you want to learn which are the best grilled halloumi recipes, keep reading as I've got a few in store for you. For those of you who don't never came across halloumi, it is a white semi-soft cheese, with a texture very similar to that of mozzarella. More distinctly, it is famous for its salty flavour.
To learn more about halloumi, click here.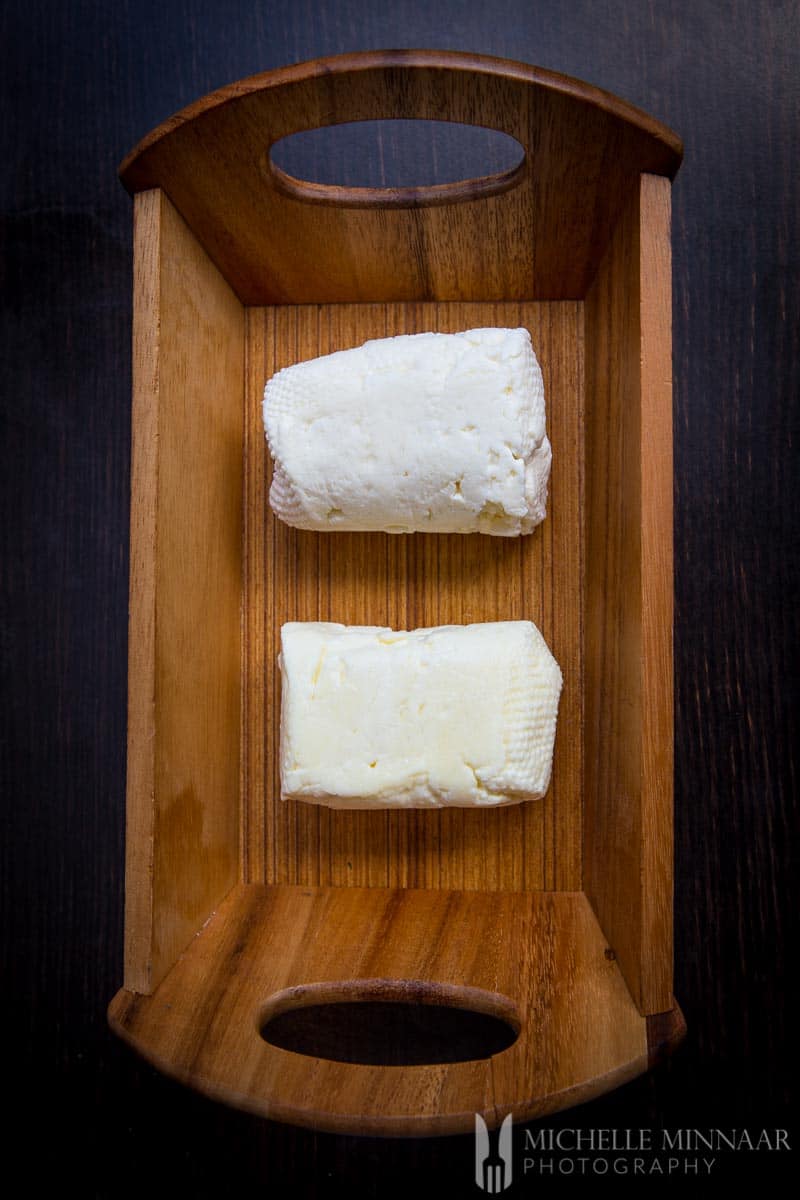 how to grill halloumi cheese
Grilling halloumi cheese is super easy! For best results you need to soak the block of halloumi in water first, then cut the cheese into even slices. You can decide on the thickness – remember, the thinner the slices are, the quicker they cook. After the halloumi pieces have been grilled, you can season them. Be careful though, the cheese is already quite salt, so don't overdo it with the salt.
grilled haloumi marinade
If you wish to pack more flavour into the grilled halloumi, I recommend spreading some sundried tomato pesto on the halloumi prior to cooking. The sundried tomatoes carry a subtle sweetness that pair well with the salty umami flavours of the halloumi cheese. For a fresher and more tangy flavour, use the green cashew pesto instead. Alternatively, serve the pesto with the grilled cheese.
grilled haloumi calories
Grilled haloumi is perfect for those striving towards a low calorie diet because it's nutritious and protein rich. As a result, it is the perfect substitute for meat and complements a healthy vegetarian diet. The best part about grilled halloumi is, that you can control your serving size, while still taking in lots of vitamins and nutrients. You can even find low-fat versions in the shops!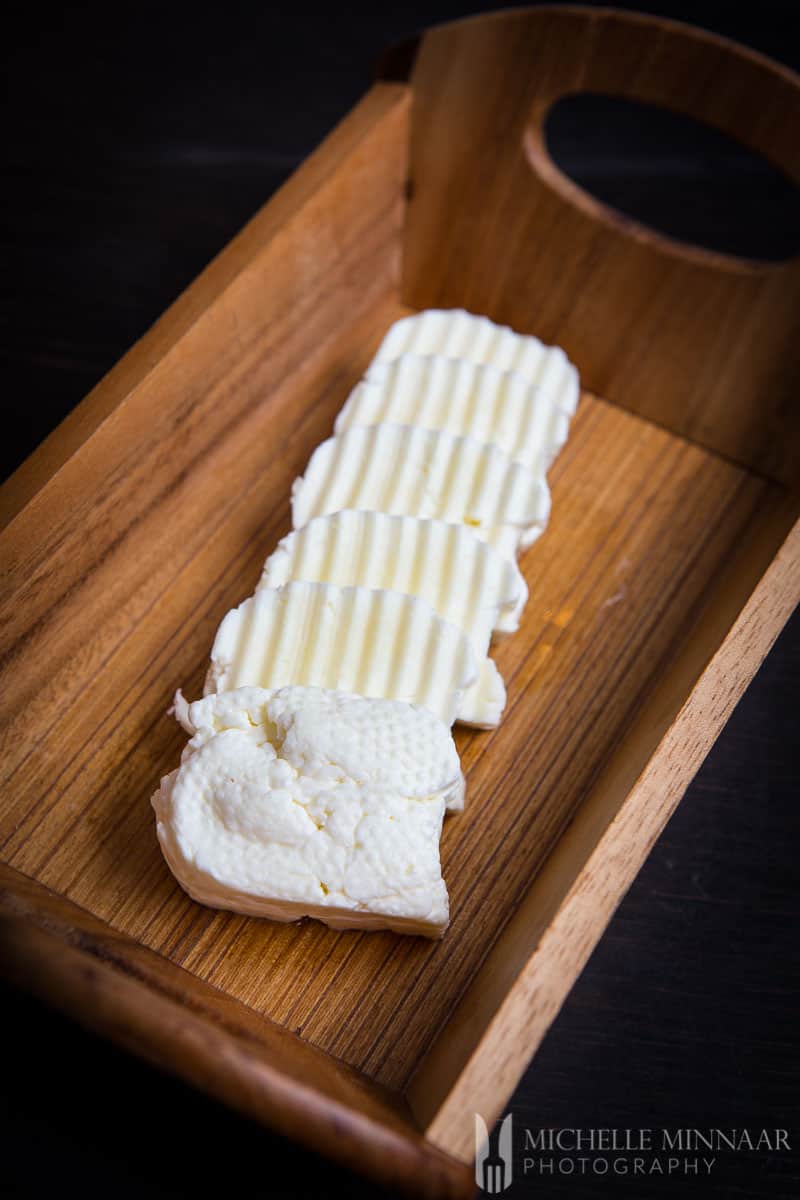 how to grill halloumi in oven
Barbecue recipes are also easily replicated in the oven. For example, you can attempt this BBQ chicken recipe but use halloumi instead. Take a flat tray and place a slice of halloumi on a sheet of baking paper. Next, crank up your oven on very high heat or turn on your grill function. The grill function in the oven will give the grilled haloumi a nice golden colour and a crispy exterior. You won't get those char marks as you would with a grill, so look for that golden colour. That's how you'll know that the grilled halloumi is ready. Give it a quick slather with sauce and give it one last blast before serving.
top grilled halloumi cheese recipes
What I love about halloumi is that you can serve it for breakfast, as commonly done in Israel, or serve it as an appetizer, salad or main course. You can put a twist on just about any halloumi recipe to what you fancy.
grilled halloumi appetizer
I love grilled halloumi served on its own with a sweet chilli paste. The cheese also pairs well with a chilli and lime yoghurt dip. This way you can have a quick and fresh grilled halloumi appetizer.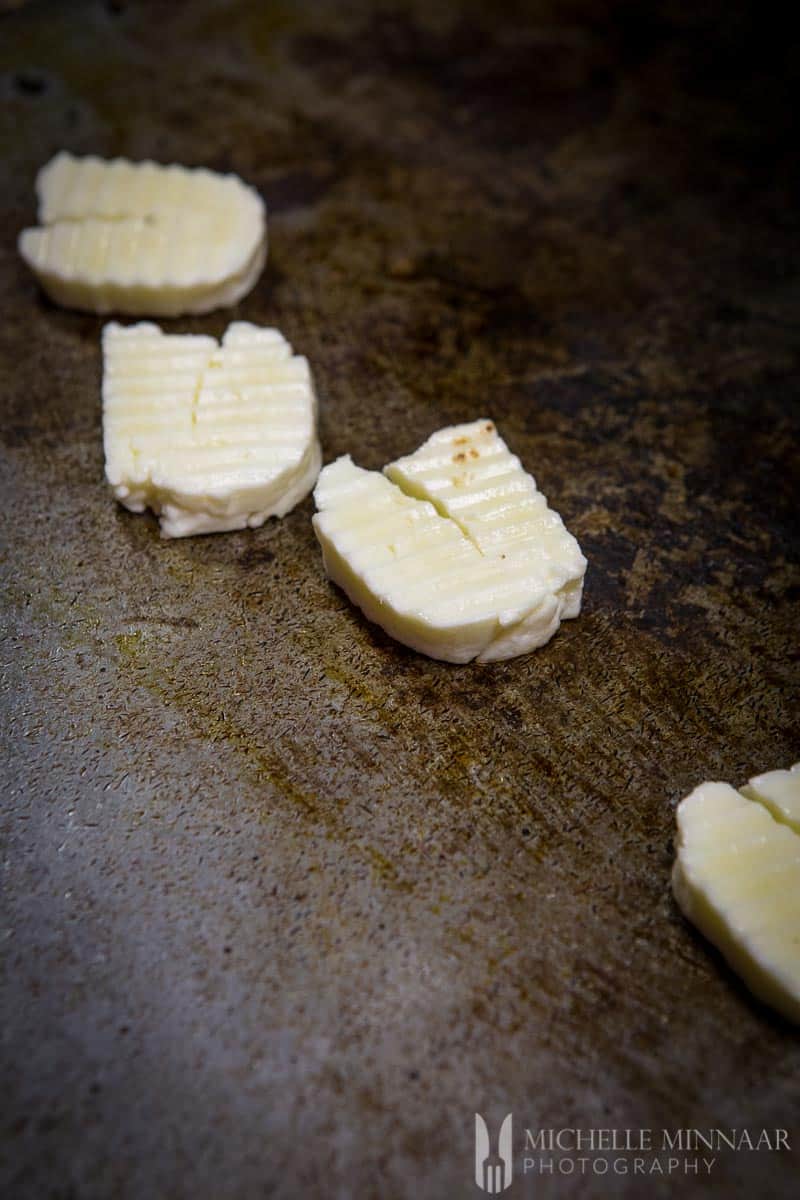 grilled halloumi salad
Otherwise, I recommend cutting up the grilled halloumi into small pieces and including them in a fresh, crispy salad. For example, you can make a grilled halloumi salad with apricots, avocado and almonds. This salad has the perfect balance of textures and flavours. Since halloumi is very popular in the Mediterranean region, it works with Italian or Greek themed salads. For example, substitute the parmesan with halloumi in this Italian rocket salad recipe with papaya. Or, substitute the feta with halloumi in a Greek salad.
grilled haloumi and vegetables
If you are looking for more filling halloumi cheese recipes, then why not complement the grilled halloumi with other roasted vegetables? For example, the grilled halloumi pairs brilliantly with roasted beetroot, roast carrot hummus or a roasted traybake of vegetables.
grilled halloumi sandwich
A halloumi sandwich is perfect for an office lunch because it will take no time at all to prepare in the morning. Also, it is a healthy snack between meals. Combine the halloumi sandwich with some salad leaves, fresh tomatoes and you are good to go.
Whether you eat the grilled halloumi as an appetizer, main course or as a side dish, the most important factor is that you serve it fresh off the grill!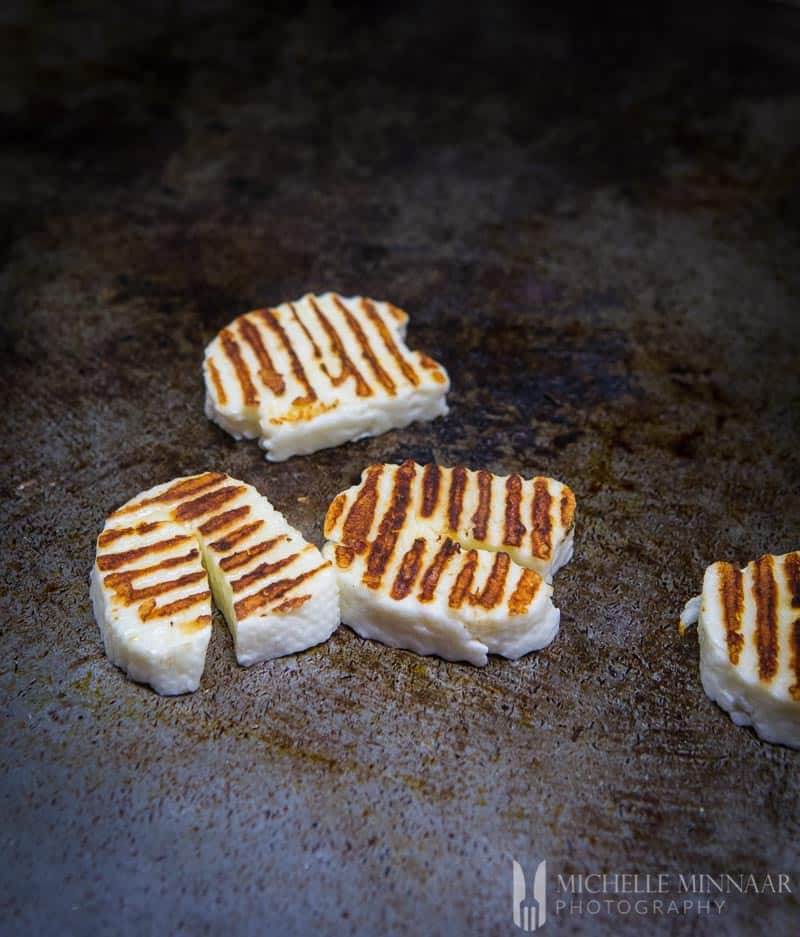 how to store halloumi
There are two ways to store halloumi. First, you should store halloumi correctly in the refrigerator prior to cooking. Apparently, mint leaves help preserve the halloumi cheese and make it last longer. That's why sometimes you'll find some mint leaves with halloumi.
Once you grill it, the cheese can keep for a few days, however the texture of the cheese will harden. If you store it too long, the cheese might even become rubbery. That's why, it's best to serve halloumi immediately.
Print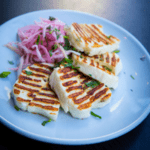 Grilled Halloumi
---
Description
Learn how to master any type of grilled halloumi recipe. You can make a grilled halloumi apetizer, grilled haloumi sandwich or grilled halloumi salad.
---
500g

(1lb) halloumi

30

ml (2 tbsp) olive oil

15g

(

½ oz

) fresh coriander or parsley
---
Instructions
Soak halloumi blocks in water. Each 250g block should be used with 3 litres of water. Halloumi should be soaked for a minimum of 3 hours maximum 6 hours.
Cut each block into 8 slices.
Give each cheese slice a light coating of olive oil.
Place halloumi in hot frying pan and cook until browned on both sides, turning only once halfway.
Sprinkle with fresh herbs and serve immediately.
Notes
Serve with Pickled Cabbage and Red Onion Slaw.
Prep Time:

5 minutes

Cook Time:

5 minutes
Nutrition
Serving Size:

1 serving

Calories:

463

Sodium:

1250 mg

Fat:

38.2 g

Saturated Fat:

23.3 g

Carbohydrates:

4.5 g

Protein:

26.9 g

Cholesterol:

85 mg
save the recipe to your pinterest board